In case you managed not to notice, Team Dem is in a very bad spot. It's evident that the Obama-era strategy of treating better propaganda as the solution to every problem has run out of runway. Intra-party rifts and a global pandemic have made a mockery of grandiose Biden Administration incoming spin, like evocations of a Rooseveltian first one hundred days. The Democrats were already looking at a possible wipeout at the mid-terms. The odds of that have risen considerably in the last two weeks.
Mind you, we've said for quite a while that the fact that Joe Manchin hadn't voted for Biden's ineptly branded Build Back Better bill after several attempts to get it across the line meant he wasn't going to vote for it. The only thing that was surprising about Manchin's statement on Fox Sunday that he would not support the bill now was that he apparently felt the need to Say Something…when he'd said a month ago that "I cannot vote to continue with this piece of legislation."
Oddly, only progressives called Manchin and Sinema out when they reneged on their earlier commitment to pass a then-bigger bill under reconciliation. And progressives were scolded for even mild efforts to move Manchin:
Remember when Bernie Sanders wrote one polite oped asking Manchin to help workers, and then everyone in DC freaked out, told Bernie to shut up, and said Manchin would come around if everyone was just nice to him?

Good work everyone – brilliant strategy right there.

— David Sirota (@davidsirota) December 20, 2021
And recall how Kamala Harris (and her minder) first bobbed and weaved when Charlemagnethagod tried to pin her down on Manchin's roadblocking, and then point blank asked her about President Manchin, came off looking petty and defensive and looks even worse now in light of Manchin's throat-clearing:
Know your enemies they will never miss an opportunity to tell you how they really think of you. #TheOps #DiabolicalDemocrats @VP @POTUS @cthagod pic.twitter.com/apizTNeg4h

— Logic Supreme-Freedmen ?? (@DrLogicSupreme) December 19, 2021
But as we said repeatedly, Manchin's body language has been clear for some time. Nevertheless, many press outlets took up the Administration theme that Manchin had acted in bad faith. Even though true, politics ain't beanbag. For instance, from the Financial Times:
But on Sunday morning, Manchin plunged a knife into Biden's economic agenda — and his presidency — by spurning the legislation with a hastily scheduled Fox interview and a sneering statement about its shortcomings.

"My concerns have only increased as the pandemic surges on, inflation rises and geopolitical uncertainty increases around the world," Manchin said. "I have always said: 'If I can't go back home and explain it, I can't vote for it'."

Manchin's stand means the bill, which includes new social investments in areas such as childcare, measures to fight climate change, and a number of tax increases on the wealthy and large companies, is at serious risk of never passing Congress.

This would be a huge blow to the domestic agenda of Biden and Democrats heading into next year's midterm elections, and members of the president's party from across its ideological spectrum were united in denouncing the coal-state senator.
Or as reader Wukchumni put it:
BBB going down in flames while student loan repayment will be soon reinforced is tantamount to a 14 point swing in a football game.

You almost get the feeling the Donkey Show not only wants to be beaten to a pulp in November, but is hoping to get tarred & feathered too.

Career advice

Then: 'Learn to code'

Now: 'Learn to cope'
Irate Democrats seem to think that Manchin is playing them…when as far as the headline number for the bill is concerned, Manchin is digging in over concerns about inflation, which are hitting lower and middle income voters hard. Never mind that he didn't get the memo that these price increases are largely due to Covid whipsawing of suppliers like oil producers and chip makers, workers not keen about risking getting Covid, plus other supply chain issues. The Chicago School has done a great job of indoctrinating pols that too much government spending causes inflation….and don't worry your heads about other things that might generate it.
And it isn't the mere fact of not getting the BBB done, and the resulting appearance of Administration impotence, that will further damage the Democrats' already not wonderful 2022 and 2024 prospects. The BBB also represented incremental fiscal spending.
A smaller or no deal means less demand in the economy than if the BBB had passed. We already saw a pretty limp Black Friday due to not so hot third and fourth quarter incomes. Ongoing pump priming has helped offset Covid disruptions and concerns. Consumer confidence has already taken a serious dive, so large that it's at recession-warning levels. A smaller or no BBB further increases the odds of an economic stallout in 2022. From Bloomberg:
Goldman Sachs Group Inc. lowered its forecast for U.S. economic growth after Senator Joe Manchin said Sunday he won't support the $2 trillion tax-and-spending plan that's the heart of President Joe Biden's economic agenda.

The bank's economic research team cut next year's real GDP forecast to:

2% from 3% in first quarter
3% from 3.5% in second quarter
2.75% from 3% in third quarter
The Administration is looking awfully lame-duck-y awfully early. And Biden having the temerity to hew to the Trump timetable for leaving Afghanistan and worse executing that badly, already produced a barrage of press criticism. Mind you, I don't think much of condemnation stuck with the American public, who have some sense of what we've spent in lives and treasure in the Middle East. But it does mean that a significant swathe of the punditocracy will no longer give Biden the benefit of the doubt.
And that's before we turn to the Administration's and the nation's biggest problem, Covid. The lead story in Wall Street Journal is about how investors in the US and abroad are getting rattled that a resurgence of Covid could whack growth and worsen inflation. And they continue to perform badly, to the degree that the great unwashed American public is starting to wake up.
Despite the Democrats' fondness for blaming everything bad on Trump and Trump voters, Hair Furore left the Biden Administration in a good position. He'd supported Operation Warp Speed, and the vaccines were just starting to be administered as Trump was leaving office, meaning Biden would benefit from their initial success (recall they were developed based on the wild type of Covid, and did somewhat reduce contagion as well as disease severity).
Despite promising that the new Administration represented "adults in the room" and would "follow the science", in practice they've squandered a year and fallen back on HR-style scolding in lieu of policy. Rochelle Walensky has been a complete train wreck at the CDC, failing to address the agency's poor performance at data gathering and not bothering to build bridges to state public health agencies, who constitutionally are the lead actors. Our IM Doc has excoriated the CDC for failing at another core mission, keeping practitioners abreast on treatments and evolving/emerging symptoms. Admittedly I haven't surveyed the medical/science tweets and news exhaustively, but I have yet to see anyone make a short list of presumed Omicron symptoms as IM Doc did yesterday in comments:
For the majority, it is a bad head cold. But for those who are really ill, the respiratory symptoms that used to predominate are now replaced with intense nausea-inducing headaches at times leading to severe vomiting, intense fever, chills, and now I have been seeing a few patients with intense diarrhea. Interestingly, the muscle cramps and pain seem to all of a sudden be really bad.
As an aside, a friend in North Carolina reported having just those symptoms for two weeks, said the "two week flu" was going around, but she'd tested negative. However, three of the CDC-authorized Covid tests don't pick up Omicron. So on top of home test results not being captured in the CDC, there's also evidence of probably Omicron cases getting false negatives.
Not surprisingly, Walensky has been less and less of a presence at official briefing or on the Sunday talk show circuit.
And the Administration's vax only approach, and its corollary of blaming everything bad on the unvaxxed, is going to wear thin as more and more of the vaxxed and boosted like Elizabeth Warren get Omicron. Note that Warren is still waving the vaccine flag by saying that her symptoms are mild thanks to having been jabbed, when as someone who has just gotten sick, it's early to call how her case will progress.
And as more and more of the vaccinated and boosted fall ill, the Administration is set to lose credit for having oversold the vaccines. Do not forget that in popularity polls, the subcategory in which Biden has gotten the best marks is managing Covid. What happens when that starts to erode? For instance:
The mother of all COVID montages, "public health expert" edition. h/t @KanekoaThaGreat pic.twitter.com/y7yvUQ7QZW

— Jordan Schachtel @ dossier.substack.com (@JordanSchachtel) December 18, 2021
But Fauci is still putting all blame on the unvaxxed. Biomedical professor KLG read a Financial Times interview with him and despaired. For instance:
"We have so many people in this country who are eligible to be vaccinated who have not yet been vaccinated. And that's going to be a real problem for stress on the hospital system," he added.
And the White House is putting out slides even more dumbed down than the ones for CalPERS' board, an accomplishment of sorts: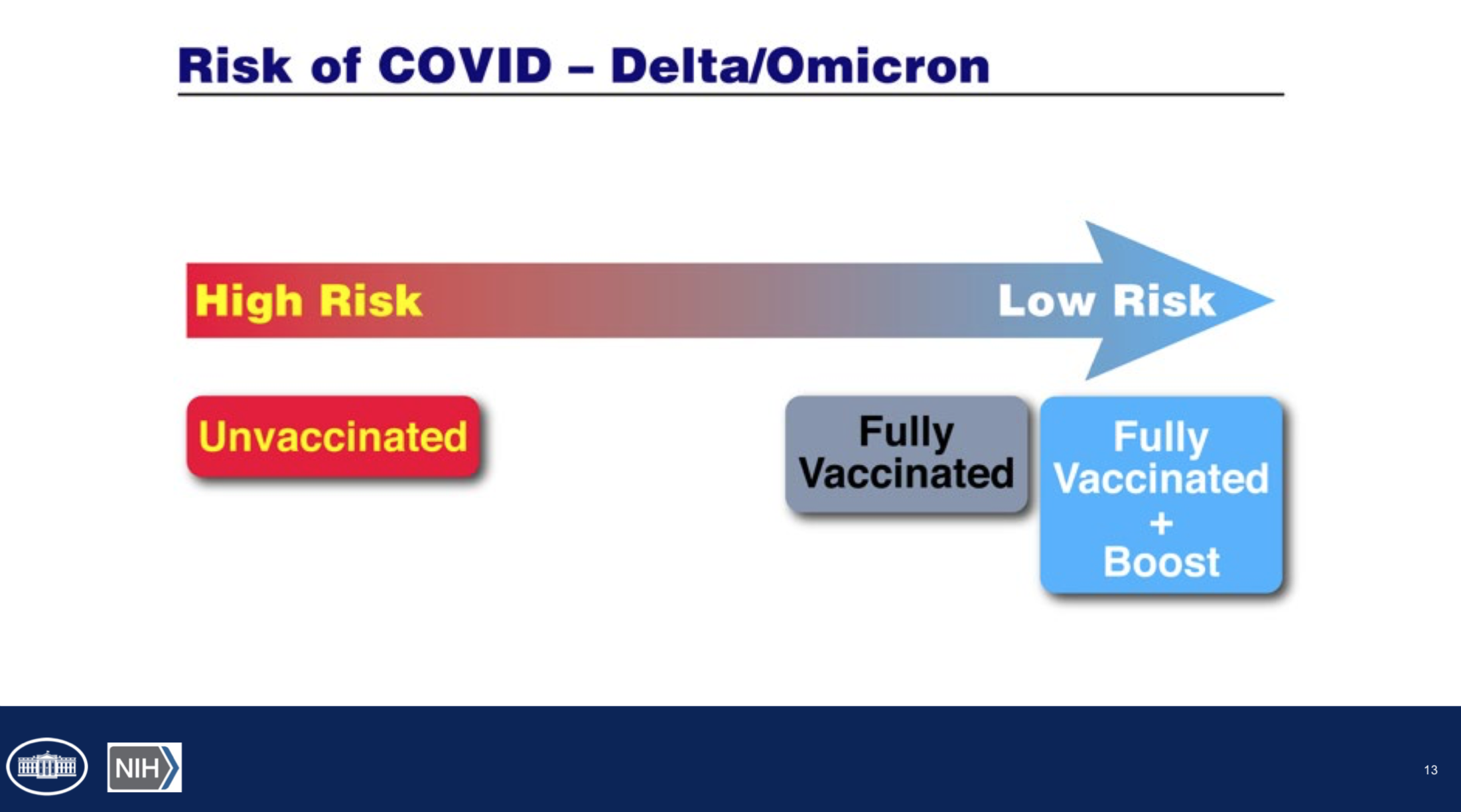 By contrast, IM Doc, who is in a hospital system that is already stressed by Covid, mainly due to staff-burnout-generated attrition, reports that cases requiring hospital attention (which included outpatient, they monitor patients at home more aggressively than the overwhelming majority of practices) are proportional to vaccination levels in the community:1
How have things changed? – Way way more vaccinated and boostered patients are now becoming positive. Many of them quite ill. Indeed, as OUTPATIENTS, I would say our vaccinated ill is basically on par with the vaccinated population at large. The same is true of the boosters. So, basically, just like Denmark, we seem to be at complete par. Ergo, the vaccines are basically worthless for transmission of the virus. So far, it remains about 60-40 unvaccinated-vaccinated in the hospital. However, the vaccinated are becoming more and more ill.
IM Doc is hardly alone in that view. GM says that Florian Krammer is a really serious scientist, not a random doomer:
Hospital admissions are going up. Hysteria isn't an appropriate reaction to this, but the virus does well in double and triple vaccinated individuals and actually causes quite some disease. https://t.co/hFAiOSBmmk, https://t.co/r42Cz2dyaD
VE for doubled vaxxed is basically gone.

— Florian Krammer (@florian_krammer) December 19, 2021
Yet we see, as we also warned, despite the fact that it was evident the vaccines would not confer durable immunity, that they would not halt transmission, and that starting in December 2020, experts started seeing mutations that could affect disease behavior, the officialdom is also attempting the intelligence-insulting "Whocoulddanode" defense, made worse by the nod to Rumsfeld:
WATCH: @margbrennan asks @ScottGottliebMD why the US lacks a larger stockpile of monoclonal antibodies?
"We haven't looked ahead at the unknown unknowns, tried to predict what could happen and prepare for it… We should have crashed the production of that stockpile much more" pic.twitter.com/tNljU7orZS

— Face The Nation (@FaceTheNation) December 19, 2021
In fact, from the very outset of Covid, KLG expected treatments to be the main line of defense, not vaccines, and he put monoclonal antibodies top of the list. And recall that the Trump Operation Warp Speed process was to create demand by having the government place large orders early on. That included for monoclonal antibodies. 55,000 doses for a country of 330 million is a joke.
, @MountSinaiNYC just announced that due to the prevalence of Omicron and its resistance to Monoclonal Antibodies they will no longer be providing them as treatment.

We are literally back at the beginning. Without a single available early intervention.

We knew this was coming!!

— Diana Zicklin Berrent ? (@dianaberrent) December 20, 2021
Part of why the US is "out" is apparent widespread betting on the wrong horses. Most of the current monoclonal antibody treatments don't work on Omicron, as Thomas Peacock and others noted as soon as its sequence was published. As GM pointed out:
This wasn't an unknown unknown.

Sotrovimab was loudly touted as "resistant to all variants"/pan-CoV mAb from the start. It's not even derived from a SARS-CoV-2 serum, but from a SARS-CoV-1 one.

It was always known it will be the last line of defense.
But the monoclonal antibody fail may cause Team Dem more trouble among top donors than its Covid tsuris generally. There was already ample demand for them. Look at just Birmingham, a city of 200,000 people in a state of just under 5 million. From September:
Health leaders said the demand for monoclonal antibody treatment continues to be in high demand in Alabama. State Health Officer Dr. Scott Harris has said if you get this treatment early on in a COVID infection it can keep you out of the hospital.

This week Alabama received about 6,600 doses of monoclonal antibodies. The cost of the drug is covered, but you can expect to pay some administrative costs if you seek this valuable treatment.

At MainStreet Family Care they have seen the demand for monoclonal antibody treatments skyrocket. Betsey Stewart with MainStreet said," Companywide we were doing between 60-80 IV treatments a day. Keep in mind that treatment takes two hours per patient."

The monoclonal drug is expensive but the federal government is covering the cost. "The drug itself is provided free to the sites. That is significant because the drug normally costs between $3,000 to $5,000 a dose," Dr. Michael Saag, UAB Infectious Diseases, said.
But the treatments aren't free. They are intravenous and we've read of patient charges of $1,200 and higher….with 36% of Americans reporting that they'd have difficulty meeting a $400 emergency expense.
Moreover, monoclonal antibodies need to be administered in a tight time window to be effective, shortly after symptoms strike.
With supplies this short, even some of rich might be unable to cut into the line. From IM Doc, who recall has patients that skew disproportionately towards squillionaries and centimillionaries:
Furthermore, these treatments are being heavily restricted and patients must now meet strict criteria to get them. I have been told there is quite a supply problem….It is alarming to me that intense preparation was not done on these anti-virals by our officials …it is clear that further variants were not even on the radar of our officials this year. Omicron came out of nowhere, don't you know. Who could have expected this to happen? And it was also crystal clear that this antibody therapy was not on Dr. Fauci's or Biden's list of things to take care of. If you live in certain states like Texas or Florida and others, your governor and health officials had the foresight to secure your own supply, limited as it may be. Everywhere else – well – good luck.
In other words, the "vax vax vax" policy appears to have included deliberate neglect of treatments as well as non-pharmaceutical interventions, not just the much demonized horse paste but even medically recognized monoclonal antibodies. After all, only the morally remiss unvaccinated could possibly need them, right?
IM Doc has taken to pointing out that Nemesis inevitably follows Hubris, and she seems to be showing up right on schedule. But the self-destructiveness of our leaders is so apparent to anyone who is not part of the problem that this looks more like Götterdämmerung to me. And in that story, even though their war burns down the world, it also produces its renewal. Will that be the Democrats, or a wider conflagration?
____
1 IM Doc's county has a very high vax rate, but the neighboring counties are pretty low, and his hospital pulls in patients from them too.