By Lambert Strether of Corrente.
We've been reading a lot about shipping containers being "strewn about" Southern California because of congestion at the Port of Los Angeles, so I set out to learn a little bit more about them (not for housing purposes). As it turns out, shipping containers embody two subjects I really enjpy: Transportation, and international standards. (Most of the general knowledge in this post, such as it is, is taken from Marc Levinson, The Box: How the Shipping Container Made the World Smaller and the World Economy Bigger, a solid business history I bought a couple years ago and never got round to reading).
As transportation, container shipping is as global as it gets. Here is an image of the "CSC plate" (Convention for Safe Containers), which must be attached to every international shipping container: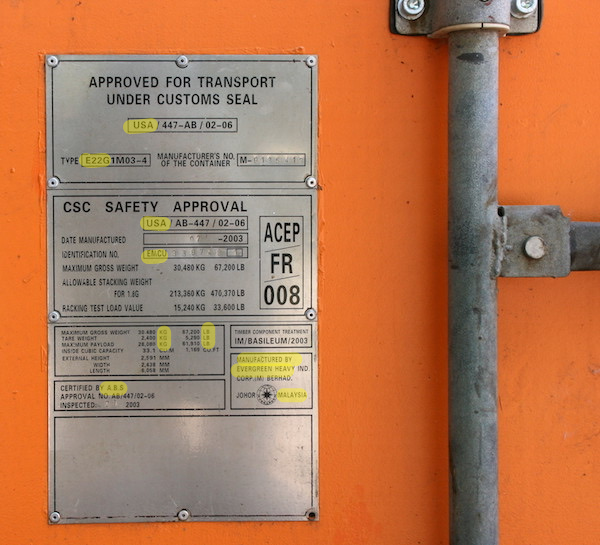 Among the political and commercial entities listed: E22G (ISO size type, I believe), USA (the United States of America), EMCU of Johor, Malaysia (Evergreen Marine Corporation, the manufacturer, a subsidiary of the famous Evergreen Group of Taiwan), A.B.S. (American Bureau of Shipping), and the realms of metric and Imperial/US customary measurement ("KG" and "LB" respectively). And much more I do not have time to decode.
As a product of standardization, container shipping is about as standard as it gets. That's why a business in China can have the following image in their catalog: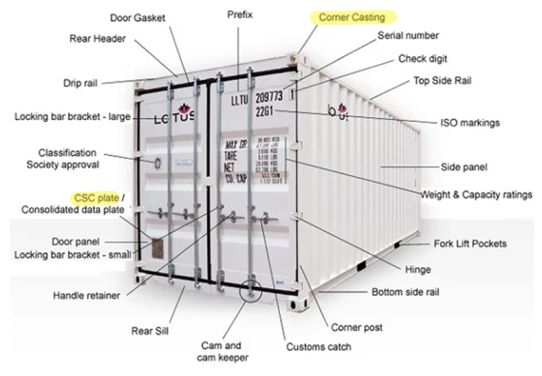 (I have highlighted the CSC plate, above, and the "corner casting," which we will get to. Interchangeable parts, exactly as conceived by Eli Whitney, but manufactured and sold on a global basis.
Or maybe three subjects, besides transportation and standardization. As a child, I loved building with blocks, and the great thing about shipping containers, of course, is that they are stackable: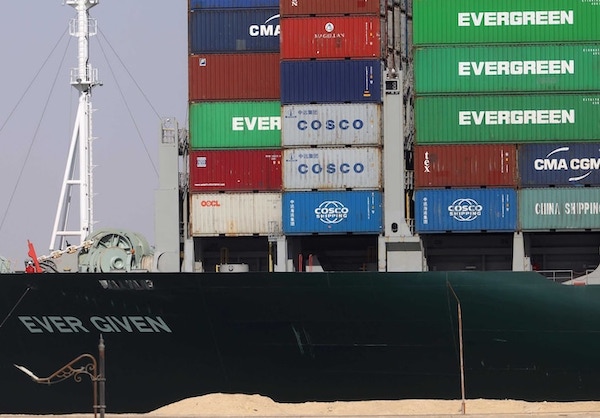 In this post, I'll look at four topic areas that show the stackabilty of container boxes.
Stackable Boxes
Boxes in Standard Sizes
Locks Connect the Boxes at Each Corner
Ships Are Designed to Handle Big Stacks of Boxes.
Stackable Boxes
Here is a simple diagram of a container boxL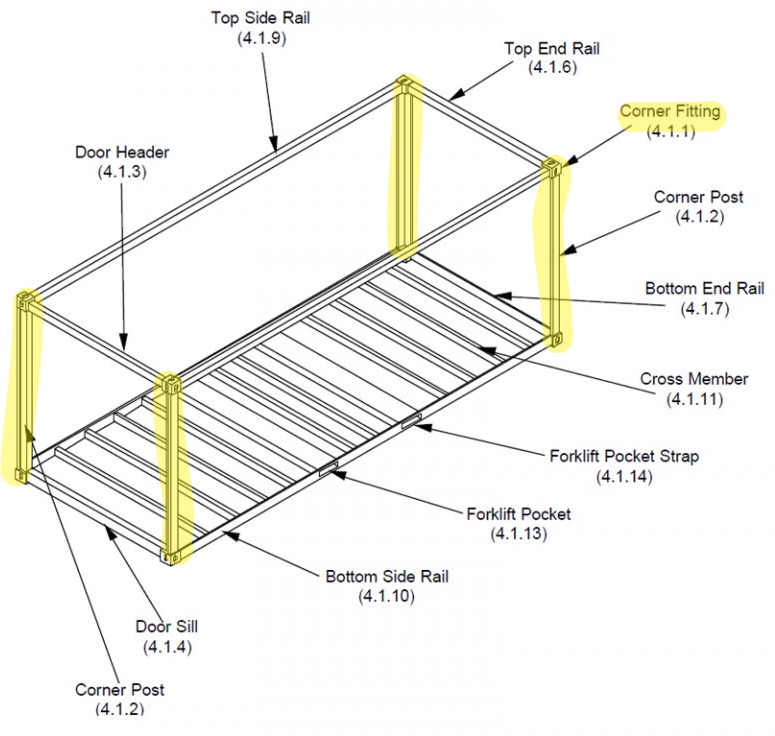 I have highlighted the vertical "corner posts" in yellow; they are the load-bearing elements, per the standard. The sides, the roof, and the bottom are not. I have also highlighted the "corner fittings"; these are used to connect boxes together through "locks" (see below), and also to lash them to each other and to the ship.
Of course, if the boxes were randomly sized, it might be fun for a child to stack them, but industrial stacking requires that the box dimensions (and fittings) be standardized.
Standardized Boxes
Standards development — after committee work worthy of the Bolsheviks, as we shall shortly see — for shipping containers began with the United States Marine Administration, was moved (or dragged) to ASA (the American Standards Organization, now ANSI, The American National Standards Institute), and then was moved (or dragged) to ISO, The International Organization for Standardization, where it resides today. The key ISO standard is ISO 668, "Series 1 Freight Containers — Classification, dimensions, and ratings." which is eight pages long, not including the Annexes. Here is the standard's scope:
This International Standard establishes a classification of series 1 freight containers based on external dimensions, and specifies the associated ratings, and, where appropriate, the minimum internal and door opening dimensions for certain types of containers.
Being an ISO standard, there are other standards it references normatively:
IS0 830, Freight containers – Terminology; IS0 1161, Series 1 freight containers – Corner fittings – Specification; IS0 1496-1, Series 1 freight containers – Specification and testing – Part I: General cargo containers for general purposes; IS0 1496-2, Series 1 freight containers – Specification and testing – Part 2: Thermal containers; IS0 6346, Freight containers – Coding, identification and marking.
Being an ISO standard, the text is a little dry, but to me it's a thing of great beauty, because of the collective effort it enabled. Naturally, I expected the process of creating such beauty to be a virtual Platonic Symposium of engineering prowess and disinterested advocacy. Nothing could have been further from the truth. Here are several passages from Chapter 7 of Box, "Setting the Standard."
On committee work: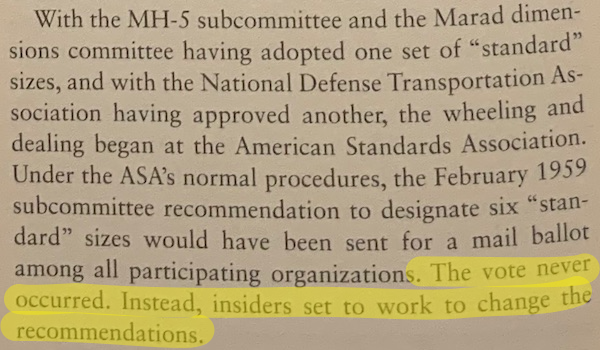 On engineering: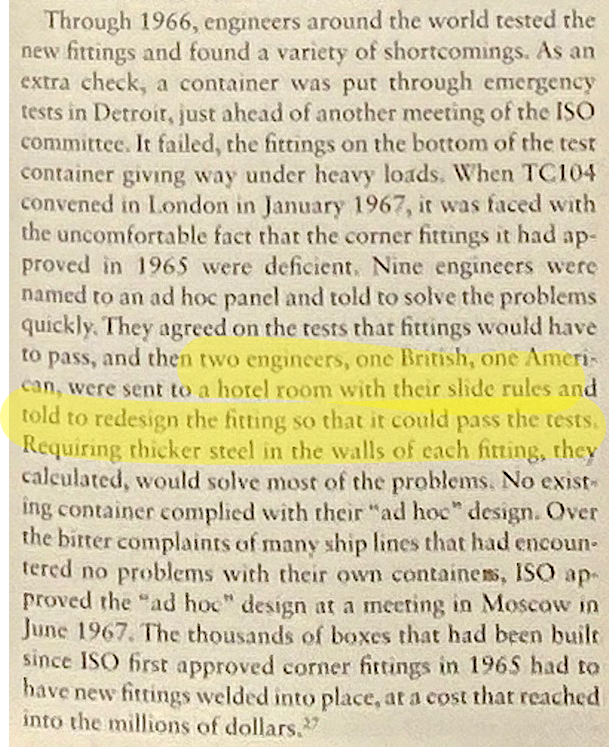 And yet, the ultimate result: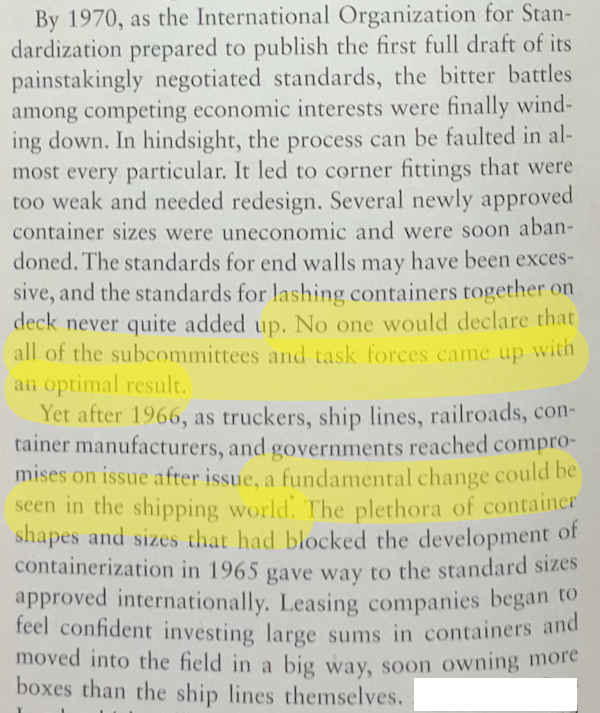 So now we have stackable boxes with standardized ("external") dimensions. But what prevent the boxes in the stack from slipping out of position, turning a ginormous stack-bearing ship into a collapsing Jenga tower? The answer is that neighboring boxes can be locked together at their corner fittings. The corner fittings and the locks are also standardized.
Locks Connect the Boxes at Each Corner
The "corner fittings" are metal castings with holes in them, into which the locks ("twist locks") can be inserted. (Ropes for lashing, or hooks for lifting by cranes, can also be inserted into them. Truck chassis also have corner fittings, to which the trucker locks the container.) From a manufacturer:
ISO1161 [naturally] corner castings are the big three-holed blocks of corten steel which form the corners of all ISO shipping containers. Cast from corten steel, usually in India or China and weighing 2.5 kg (5.5lb) they are the structural elements that are used to lift shipping containers as well as to connect them to whichever mode of transportation is being used to move the container such as ships, trains or road vehicles. They are also the connection point for shipping containers to be attached to each other, as in the case of stacks of containers aboard a container ship.

In order that all lifting and container transportation equipment works properly across the world, these corner casting have holes in them which have been standardised to a tolerance of mere millimetres. It is because of this standardisation, that no matter what you need to attach to your container, and no matter where in the world you are, Domino Clamps are guaranteed to be compatible with your ISO shipping container
(To a person like me, who puts the "stan" in standard, "Domino Clamps are guaranteed to be compatible with your ISO shipping container" should be accompanied by swelling music.)
Here is a manufacturer video that shows how corner fittings work:
(There is a whole world of container videos on YouTube. What's interesting is that the comments that I saw were sober and well-informed, possibly because working with containers on ships, in port, or on trucks and rail is a skilled occupation with some risk to it.)
And here is how locks ("twist locks") connect containers together at the corners. From Warsila:
A mechanical locking device at the corner of a container. Conventional twistlocks are locked and unlocked manually with operating rods. Rotating the movable part around a vertical axis locks the device and a container to a twistlock foundation on a hatch cover or another container. Reversing the motion effects unlocking. Semi-automatic twistlocks are locked automatically and unlocked manually by the operating rods. Fully-automatic locks are placed in the lower corners of the container at the pier. They lock automatically after the container is placed on the top, and unlock automatically when the container is lifted.
Here is a manufacturer video that shows how twist-locks work:
(Here is a link to a much grittier video, that shows a container ship and its containers as rusty and salt-encrusted.)
Ships Are Designed to Handle Big Stacks of Boxes
I didn't really mean to wander into naval architecture, but I found this so fascinating I had to include it. In any case, we might as well know something about how the stacks of boxes travel over the sea to cool their propellers at the Port of Los Angeles. Here is some information on container ship design.
First, commercial considerations dictate speed. From Marine Insight:
Goods shipped in containers are often of high value, and high priority. For example, if a marine diesel engine for a ship being constructed in a shipyard in India is to be shipped in from Germany, the shipment would be made in a container, and is a high priority shipment because the installation of the engine into the engine room is a step in the construction process that would determine the possibility of delays in the later stages of construction. Also, the equipment needs to be delivered without any impact or damage. Thus, container ships are tightly time bound ships. They have a very low turnaround time, that is, the time they spend at a port for loading and unloading has to be minimum in order to be able to call the next port without delay. It is due to this reason, container ships fall in the category of high speed ships. In order to achieve a high speed, the resistance of the hull needs to be minimized, which is obtained by a fine form hull. In other words, container ship hulls have low coefficient of buoyancy, ranging from 0.6 to 0.7.
The Ever Given may have looked like a grotesquely fat tub, but it nipped along at 22.8 knots (26.2 miles per hour. A cruise ship travels at 20 knots; tankers lumber along at 12 or so). So, if I understand "fine form" correctly, a container ship should move through the water like a yacht, not a barge. However, in the middle of the ship, we have a big box to hold the stack of boxes:
Another notable geometrical characteristic of container ships is the high prismatic coefficient of the hull-form. That is, the hull section for most part of the length of the ship is almost rectangular. This is done in order to accommodate maximum number of containers below the deck.
And we need to make sure the big box ("torsion box") doesn't get twisted by the violence of the ocean:
Imagine the effect of cutting the strengthened rim off the paper cup. The same effect when extrapolated to that of a container ship, would result in devastating failures of the hull structure due to torsion. In order to prevent this, the topmost edges of the port and starboard sides of a container ships are strengthened with high scantling web sections, creating a box like structure at every frame. This is called torsion box. A torsion box runs along the entire length of the ship from the aft peak bulkhead to the forward collision bulkhead.
Conclusion
I hope this escapade was informative or at least fun. In reviewing the marvelous engineering and manufacturing that goes to make up the container revolution, I'm struck by a couple of things.
First, by the contrast of container shipping to the operations of the Port of Los Angeles: What's holding matters up seems to be fees, rents (and profit). Nothing to do with containers, ships, trains, trucks, cranes, or anything material. One is almost tempted to imagine that the forces of production and the relations of production are somehow in conflict.
Second, by the contrast to software engineering. Why is it that a fantastic system for distributing commodities in a standardized way developed for goods, but never for data or code?