By Lambert Strether of Corrente
Bird Song of the Day
"Individual 4 and 5. Two birds chasing each other around, alternating songs."
* * *
Politics
"But what is government itself, but the greatest of all reflections on human nature?" –James Madison, Federalist 51
"They had learned nothing, and forgotten nothing." –Charles Maurice de Talleyrand-Périgord
"When the going gets weird, the weird turn pro." –Hunter Thompson
Capitol Seizure
"Jan. 6 committee asks Ivanka Trump to sit for interview" [The Hill]. "The House committee investigating the Jan. 6, 2021, attack on the Capitol is asking Ivanka Trump, former President Trump's daughter and one of his White House advisers, to voluntarily sit down with the committee. The request — the first official outreach to a member of the Trump family — notes that Ivanka Trump spent considerable time with her father in the days leading up to Jan. 6, including witnessing a conversation between him and Vice President Mike Pence ahead of Congress's certification of the 2020 presidential election. 'The Select Committee wishes to discuss the part of the conversation you observed between President Trump and Vice President Mike Pence on the morning of January 6th. Similarly, the Select Committee would like to discuss any other conversations you may have witnessed or participated in regarding the president's plan to obstruct or impede the counting of electoral votes,' the committee wrote in the letter to Trump. The president's elder daughter was one of the officials with the greatest access to the president at the time, likely leaving her with wide-ranging knowledge of the activities in the White House surrounding Jan. 6."

"Oath Keeper charges renew attention on Trump orbit" [The Hill]. Working their way up the chain? "[Barbara McQuade, a former U.S. attorney] said the Oath Keeper indictment's reliance on communications over encrypted messaging apps also suggests the Justice Department has been doing just that. 'Those are not communications they can get through normal legal process with the providers. They can't go to Signal, into that data, because they don't have it. The only way they got that was from other people who had them on their phones. And so that says to me there are people who are cooperating who said, 'Yeah, here's all the stuff I got from Stewart Rhodes. Here are all the text messages.' So that's where they're getting the stuff,' she said. 'So they are, as Garland said, working with lower-level people who are cooperators, charging them, they're pleading guilty, getting information from them, and using that information to build cases. So if they've been able to charge this group, perhaps they've also been able to obtain other types of similar information using the same tactics to build cases against other groups who may have been there.'"

"Perspectives on the January 6th Committee" [Narratives Project]. The method: "Below, we break down how the left and right view the January 6th committee and how that leads each side to reach distinct, internally reasonable conclusions. Your opinion might not fit neatly into one side or the other — and that's okay." • Oh, only two sides, then?
Biden Adminstration
"First look: Biden inaugural to blanket airwaves today" [Axios]. "President Biden's Presidential Inaugural Committee will mark his first anniversary in office by blanketing today's airwaves — from breakfast to evening news to prime time — with a video promoting a recovering, resilient America. The video is narrated by Tom Hanks, who was part of Biden inaugural festivities, and features cameos by everyday Americans — a UPS driver, a Teamster from Michigan and a bed-and-breakfast owner in Wisconsin." • Who let that happen:

I'm here watching The Simpsons Movie and Tom Hanks pops up and listen what this man says.. pic.twitter.com/kEusWpFTN3

— Bigg Clay (@BiggClay1) June 21, 2020

"The U.S. government has lost its credibility. So it's borrowing some of mine!"

"Journey" is one of those bullshit words:

One year ago, we began a journey towards healing together.💕 You continue to inspire us, and we're working hard for you every day. pic.twitter.com/wkUECY7g4o

— Jill Biden (@FLOTUS) January 20, 2022

* * *

And the retrospectives continue to pour in:

"Biden's First Year: The Goals He Hit and the Ones He Missed" [Wall Street Journal]. "Heading deeper into a midterm election year, Mr. Biden's ability to regain momentum may soon dwindle, with Republicans opposed to many of his efforts and Democrats, themselves split on some of the president's priorities, increasingly focused on the campaign trail. With a narrow majority in the House of Representatives and a 50-50 split in the Senate, Democrats already have little room to maneuver. Polls have shown Americans' view the nation as headed on the wrong track, and the president's approval ratings have foundered in recent months, standing at 42% Wednesday, according to FiveThirtyEight's aggregation of public polls, down from 53% when he took office. 'They elected him for four years, not one year. And I think that ,' White House chief of staff Ron Klain said." • Democrats have entirely erased FDR from their collective memory. This is a remarkable achievement, especially considering that the FDR brought Democrats legislative majorities they can only dream of today.

"One Year Into His Presidency, Biden Hits a Wall. Can He Recover?" [Bloomberg]. "On the timeline imagined by the White House when he took office a year ago, widely available vaccines would have effectively ended the Covid-19 pandemic in the U.S. by now. The economy would be growing strongly, and a narrowly divided Congress would have already passed the bulk of Biden's agenda. With those mega-missions accomplished, the president could have spent 2022 focusing on voting rights, cutting ribbons on infrastructure projects, and telling Americans what he'd done to make their lives better—with vaccines, stimulus checks, and Great Society-scale investments in child care, education, and the fight against climate change. It's just not, to put it mildly, how things have played out. Hard on the heels of the delta variant, omicron is now roiling the country. School closures and a shortage of tests are fueling Americans' frustration and despair. Meanwhile, Biden's Build Back Better bill has stalled over the objections of West Virginia Democratic Senator Joe Manchin, leaving the president's agenda in a rut." • In other words, Biden's Vax-only strategy was a disaster. Biden squandered a year. Plus he still owes me six hundred bucks. Commentary:

Mencius said to King Hui, "Is there any difference between killing a man with a sword, and doing it with a style of government?" (Mn. 1A.4)

— Confucian Classics (@UnwobblingPivot) January 19, 2022

I really think it's time to retire this talking point:

President Biden: "I did not anticipate that there would be such a stalwart effort to make sure that the most important thing was that President Biden didn't get anything done."pic.twitter.com/QtCUS0DQg5

— Waleed Shahid (@_waleedshahid) January 19, 2022

How is it even possibly for this to be a sincerely held belief? (If it were a mere talking point, you'd expect a better one to be invented. But we heard the same thing from Obama.)

* * *

"It's Ron Klain's turn in the barrel" [Politico]. ""The president was elected because we all thought he was going to be good at governing," said a House Democratic lawmaker, who spoke candidly about Klain on condition of anonymity. "He was going to govern from the center, he was going to work with Republicans. And to have a chief of staff that apparently has decided that he's going to be Bernie Sanders, I think that's confusing. It's just not helpful." • The effrontery of these mediocrities. It is, precisely, moderates who are responsible gutting Biden's agenda (such as it was). More: "In the first few months, Klain made it clear he embraced the view that Biden had a mandate to act boldly and only a small window in which to do so. He welcomed comparisons to the likes of FDR and LBJ. And Biden acted similarly, holding all 50 Senate Democrats together to pass the huge Covid-relief package that's credited with helping turn around the U.S. economy, and standing up a robust vaccination campaign." • The "robust vaccination campaign" was the Vax-only disaster. And the article helpfully fails to mention that one reason to pick Klain was that Klain was Obama's ebola czar; he was supposed to know something about epidemics.

"With Broad Safety Net Bill Stalled, Democrats Weigh What to Salvage" [New York Times]. "President Biden's concession this week that his marquee social safety net and climate package must be broken apart to have any hope of becoming law reignited a debate among Democrats over which pieces of the plan to prioritize as they work to salvage it." • Apparently, the whole concept of passing it under reconciliation because nothing would pass individually has been abandoned. Oh well, nevertheless.
Democrats en Déshabillé
I have moved my standing remarks on the Democrat Party ("the Democrat Party is a rotting corpse that can't bury itself") to a separate, back-dated post, to which I will periodically add material, summarizing the addition here in a "live" Water Cooler. (Hopefully, some Bourdieu.) It turns out that defining the Democrat Party is, in fact, a hard problem. I do think the paragraph that follows is on point all the way back to 2016, if not before:

The Democrat Party is the political expression of the class power of PMC, their base (lucidly explained by Thomas Frank in Listen, Liberal!). ; if the Democrat Party did not exist, the PMC would have to invent it. . ("PMC" modulo "class expatriates," of course.) Second, all the working parts of the Party reinforce each other. Leave aside characterizing the relationships between elements of the Party (ka-ching, but not entirely) those elements comprise a network — a Flex Net? An iron octagon? — of funders, vendors, apparatchiks, electeds, NGOs, and miscellaneous mercenaries, with assets in the press and the intelligence community.

Note, of course, that the class power of the PMC both expresses and is limited by other classes; oligarchs and American gentry (see 'industrial model' of Ferguson, Jorgensen, and Jie) and the working class spring to mind. Suck up, kick down.

* * *

If you want a friend in Washington, buy a dog:

I am so ashamed to have worked for @kyrstensinema. I had considered her to be, not only my former boss, but a friend that I could count on. That's all gone. I have no idea what happened, but she's not there anymore.

The vote she just took is devastating and dangerous. Period.

— Erika Andiola (@ErikaAndiola) January 20, 2022
2022
* * *

I dunno how the voters will feel, but on the Twitter, this guy is pitch perfect:

65% of U.S. Senators are millionaires. It seems like every other Senate candidate is self-funding these days, so I tried having a garage sale to keep up. pic.twitter.com/0PQTZfDDRI

— Tom Nelson (@NelsonforWI) January 21, 2022
2024
"Trump by the numbers: 2024 isn't simple" [The Hill]. "2022 is a critical year for Donald Trump. By wading into primary race after primary race, he has put a vital asset on the line: the perception that he is a winner. A strong year for Trump will set the stage for running in 2024, an announcement he is clearly itching to make. So, how is Trump doing in the polls? Well, it's a mixed bag…. Democratic voters are looking for someone other than Biden to carry their standard in 2024: 41 percent want "someone else," while only 32 percent want Biden and 27 percent aren't sure. But for the 68 percent of Democrats who've either gone off Biden or are at least starting to look around, there is not much to pick from…. Trump has generally pulled ahead of Biden in the 2024 ballot test…. When you dig into the numbers, he has significant problems. For one thing, his approval rating is just as bad as Biden's. The latest FiveThirtyEight average has Trump at 43 percent approval. In addition, most Americans don't want to see Trump run again — even more than oppose a Biden candidacy. According to YouGov, 59 percent do not want Trump to run, while 57 percent are against Biden running. In that same YouGov poll, 30 percent of Republicans want someone other than Trump to seek the GOP nomination — which points to a worrying trend among Republican voters. Simply put, Trump's support is not as strong as it seems…. More concerning for Trump is how much his primary test vote falls off from his approval ratings. Trump sees a 25-point to 35-point fall-off from his approval ratings when Republicans are asked if they actually want to vote for him. … What makes these numbers really problematic for Trump is that there is virtually no public opposition to him among high-profile Republicans…. What makes these numbers really problematic for Trump is that there is virtually no public opposition to him among high-profile Republicans." • Hence Trump going after DeSantis. So far, he hasn't invented a nickname that sticks….

Big if true:

Sweat factories in China are the first to know who's running. https://t.co/hX8nCa6QnD

— Huey Li (@DrHueyLi) January 21, 2022

The account and the retweeting account look OK, but digital evidence is not evidence….

"NYC Mayor Adams to Convert First Paycheck to Bitcoin, Ethereum via Coinbase" [Bloomberg]. • The man is going places. We just don't know where!
Republican Funhouse
"Who's "Cleaning" Our Voter Rolls? Soros Founded and Funded ERIC Is Now Used In 31 States" [Gateway Pundit]. "The ERIC database is comprehensive and would be one of the most coveted by bad actors looking to influence an election. Member States must not only submit all details on inactive and active voters to ERIC every 60 days. But they must also provide every individual in their states Motor Vehicle Department database, both licensed and ID recipients. This combo of data is breathtaking. It's everyone who could generate a legal ballot. It includes those approaching voting age, even those here illegally yet issued an ID by their left leaning State. This data includes names, addresses, DOB, License #, last 4 of social #, voter activity, phone, email, title and type of citizenship documentation, and much more! ERIC doesn't just manage lists, they demand action. But it's not the action you would expect, like cleaning voter rolls. ERIC provides each member State a targeted list of people that are not registered to vote. The Membership Bylaws require the State to contact at least 95% of these people within 90 days, soliciting them to register." • So, technically, this data structure is superior to the Republican CrossCheck voter data? Which, ludicrously, the article defends. (CrossCheck assumes a one-to-one relation between database name and person? (Which you know from your own life is absurd: Middle initials, misspellings, Jr. v. Junior; there is an entire line of business devoted to cleaning this data, which CrossCheck ignored.) But, more: "Oddly, ERIC has no requirement or mandate that member States clean up their voter rolls. States are only "strongly encouraged" to request ERIC's voter updates at least once a year. If a member fails to make a request in 425 days, the data will be sent automatically. What's even more odd, and seemingly corrupt, is that ERIC does NOT want to know who is voting illegally. Their rules explain that "Under no circumstances shall the members transmit any record indicating an individual is a non-citizen of the U.S." as stated in Exhibit A, 2b. If ERIC hears no evil, then they see no evil."
2020 Post Mortem
"New Filings Reveal Another Billionaire Behind the Big Lie" [Daily Beast]. "It's usually the images of a violent mob attacking the U.S. Capitol that are associated with the effort to overturn the 2020 presidential election. But as more financial records become public, another image is emerging—of billionaires in MAGA gear writing large checks. And one billionaire in particular. Among the ranks of 'dark money' groups and anonymous megadonors who bankrolled the effort is a familiar name in GOP fundraising circles: Dick Uihlein, founder of the multinational Uline shipping company. According to tax disclosures first published online by the Center for Media and Democracy, Uihlein's nonprofit—the Ed Uihlein Family Foundation—poured millions of dollars in 2020 into a sprawling number of groups connected to efforts to challenge Joe Biden's victory and reimagine election law, as well as other right-wing extremist organizations, including ones designated as hate groups. And the money is pure Uihlein—the foundation's $16.8 million in 2020 donations came exclusively from Dick Uihlein himself. And over the course of that pivotal year, the organization gave it all away." • Ooooh, a family office?
Realignment and Legitimacy
"Newsom backs away from single-payer health care pledge" [CalMatters]. "When he unveiled a new state budget last week, Gov. Gavin Newsom crowed about California becoming the nation's first state to embrace universal health care coverage. His budget would accomplish that goal by extending state Medi-Cal coverage to undocumented immigrants of all ages, beginning in 2024. 'I campaigned on universal health care,' Newsom said a day later. 'We're delivering that.' Not quite. While running for governor in 2018, Newsom pledged to create a single-payer system for California, making the state the sole supplier of coverage." • The party of betrayal. And falsely equating single payer and universal coverage is one of the most well-thumbed pages in the liberal Democrat anti-single payer playbook.
#COVID19
Case count by United States regions: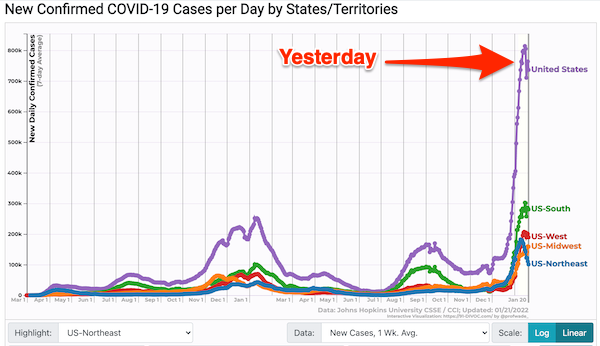 Bouncy bouncy, all this week. Starting to look like peak behavior. If you look at previous peaks, you'll see we've had declines, followed by rises, followed by final declines.That said, it would sure be nice if "rise like a rocket, and fall like a stick" applied, but we can't know that yet. Previous peaks — how small the early ones look now — have been roughly symmetrical on either side. But the scale of this peak, and the penetration into the population, is unprecedented.
The official narrative that "Covid is behind us," and that the pandemic will be "over by January" (Gottlieb), and "I know some people seem to not want to give up on the wonderful pandemic, but you know what? It's over" (Bill Maher) was completely exploded. What a surprise!
* * *
MWRA (Boston-area) wastewater detection: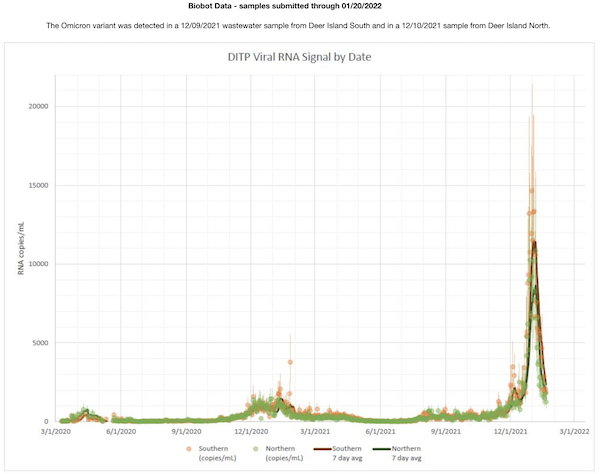 Continues encouraging, though let's see what happens when the students come back.
The Massachusetts Water Resources Authority (MWRA) service area includes 43 municipalities in and around Boston, including not only multiple school systems but several large universities. Since Boston is so very education-heavy, then, I think it could be a good leading indicator for Covid spread in schools generally.
* * *
For wastewater stans:
"How Wastewater Became a COVID Crystal Ball" [New York Magazine]. "[W\]ith the seven-day average of COVID cases rocketing toward 1 million, it's striking that Biobot Analytic's data suggests a national undercount. 'From summer 2020 to fall 2021, we saw a consistent correlation between wastewater concentration and clinical counts of cases,' says Matus. But that correlation broke in December, when the more transmissible Omicron variant began to dominate in the U.S. At the moment, Matus estimates that 'there's the most undercounting of cases at least since the summer of 2020,' when sewage monitoring of COVID began to be implemented at scale. While the company cannot quantify exactly how large the undercount is, Matus says that 'however much we were undercounting before Omicron, we are now undercounting five times more.'"
"Wastewater Samples Help Researchers Monitor Nursing Home for COVID-19 Outbreak" (press release) [San Francisco Water Power Sewer]. "[A]t a large skilled nursing facility in San Francisco… the SFPUC sampled the wastewater. Samples were taken every 15 minutes for 24 hours a day, two days a week. They were then delivered to UC Berkeley for rapid analysis. The wastewater data was also used by the nursing facility to corroborate the clinical testing they performed on their staff and residents. Staff at the nursing facility compared data from their clinical testing with data from the wastewater testing. This helped the facility determine whether they had successfully identified and quarantined all infected individuals identified by clinical testing."
"Feature Article: S&T Joins Coalition Seeking to 'Flush' out COVID-19 in Wastewater" (press release) [Department of Homeland Security]. "The Department of Homeland Security (DHS) Science and Technology Directorate (S&T) recently joined a multiagency WBE initiative that will not only gather virus data from sewer systems but standardize the science. The coalition is led by the CDC National Wastewater Surveillance System, whose goal is to turn sewers into health monitors. CDC is also collaborating with the Department of Health and Human Services and agencies like the U.S. Environmental Protection Agency, Food and Drug Administration, and DHS, to accelerate the WBE research. The goal is to better understand the spread of the virus in communities to contain and defeat it."
"Spatial and temporal distribution of SARS-CoV-2 diversity circulating in wastewater" [Water Resources]. From the Abstract: "The present study focuses on the genomic analysis of SARS-CoV-2 in 76 sewage samples collected during the three epidemiological waves that occurred in Spain from 14 wastewater treatment plants distributed throughout the country. The results obtained demonstrate that the metagenomic analysis of SARS-CoV-2 in wastewater allows the detection of mutations that define the B.1.1.7 lineage and the ability of the technique to anticipate the detection of certain mutations before they are detected in clinical samples. The study proves the usefulness of sewage sequencing to track Variants of Concern that can complement clinical testing to help in decision-making and in the analysis of the evolution of the pandemic."
* * *
From CDC Community Profile Reports (PDFs), "Rapid Riser" counties: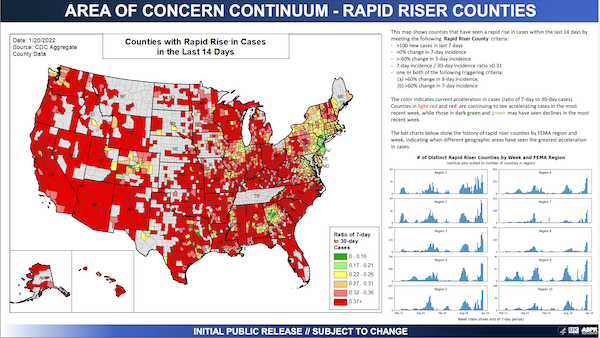 Really good news in the Northeast, a relapse in the Midwest. (Remember that these are rapid riser counties. A county that moves from red to green is not covid-free; the case count just isnt, well, rising rapidly.
The previous release: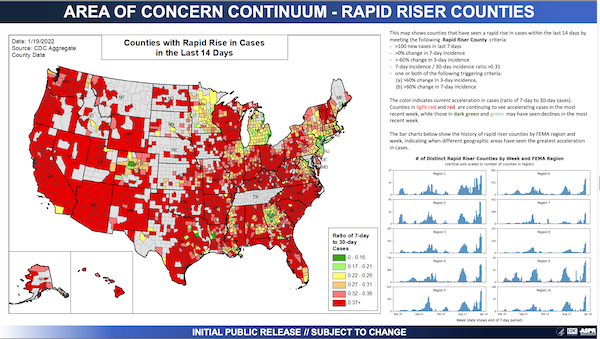 Hospitalization (CDC Community Profile):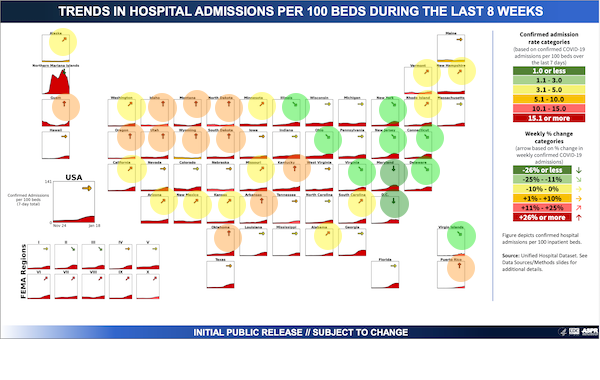 Very encouraging. I added green for the states trending down. And dark green for states dropping straight down. (Note trend, whether up or down, is marked by the arrow, at top. Admissions are presented in the graph, at the bottom. So it's possible to have an upward trend, but from a very low baseline.)
Death rate (Our World in Data):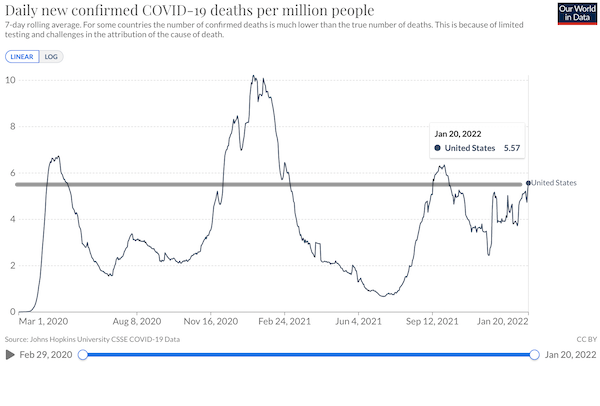 Total: 883,903 880,976. I have added an anti-triumphalist black "Fauci Line."
Covid cases in top us travel destinations (Statista):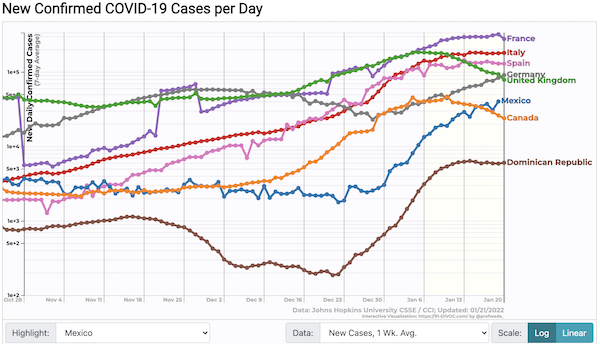 Good news here too. For the time being.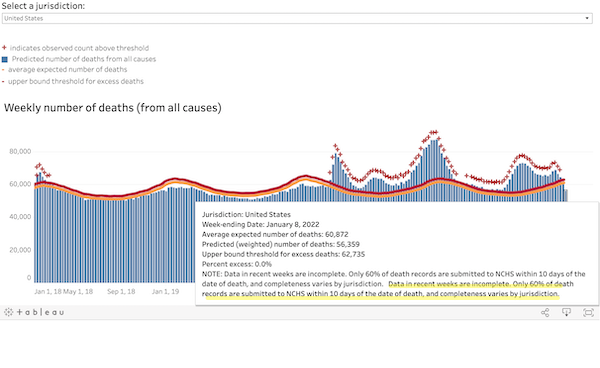 Look at the qualifications in that drop-down. And the enormous typo, helpfully highlighted, which was there last week too. I know the CDC copy editing process is slow, but this is ridiculous.
Stats Watch
There are no official statistics of note today.
* * *
Shipping: "Yantian restricts container entry to ease overflow" [Splash 247]. "With containers overflowing in and out of its borders, the operators of Yantian terminal, the largest port facility in Shenzhen, have from today ruled that full containers can only be trucked in four days before vessels are due to berth. Shenzhen, the world's fourth largest container port, is suffering from severe congestion just ahead of the Lunar New Year holidays, exacerbated by recent Covid-19 outbreaks that have seen parts of the city forced into lockdown. Ships arriving at Yantian are currently having to wait around one week for a berth space. According to Kuehne+Nagel's global congestion map, as of Wednesday, Shenzhen was the third most congested port complex in the world after Los Angeles and Long Beach in southern California and Shanghai and Ningbo on China's east coast. New analysis published today by British risk management firm Russell Group suggests port congestion at Shanghai is costing an estimated $4.5bn a week in lost trade."
Shipping: "Crew-change issues likely to persist amid travel restrictions" [Lloyd's List]. "Crew changes will remain problematic this year as stringent travel restrictions remain in place aimed at containing the spread of the highly transmissible Omicron coronavirus strain. The International Maritime Employers' Council said it has obtained the support of different United Nations agencies, including the International Maritime Organization, for an easing of pandemic-related travel restrictions. 'But dealing with and getting the support of concerned governments, including those in traditional crew change hubs like Singapore, is much more difficult,' said IMEC chief executive officer Francesco Gargiulo. 'The situation today is far from healthy and it's very difficult to repatriate seafarers to the Philippines, India, China and Indonesia because of travel restrictions.' A case in point is Singapore, which no longer allows polymerase chain reaction tests for coronavirus for seafarers who are returning to their countries. As a result of this policy, the island state can no longer be used as a transit point for returning seafarers, said Mr Gargiulo. Chinese seafarers also cannot return to their country unless they take direct flights home after which they are subjected to a three-week quarantine." • See NC on crew change here.
The Bezzle: "Once billed as a revolution in medicine, IBM's Watson Health is sold off in parts" [STAT]. "IBM said Friday it will sell the core data assets of its Watson Health division to a San Francisco-based private equity firm, marking the staggering collapse of its ambitious artificial intelligence effort that failed to live up to its promises to transform everything from drug discovery to cancer care. Data and analytics assets held by the health business, which was not profitable, were sold to Francisco Partners as IBM seeks to refocus its business on cloud computing and AI services to help clients in multiple industries build machine learning tools and secure and manage their data. Terms of the transaction were not disclosed." • Oopsie.
The Bezzle: "Neuralink, Musk's brain chip company planning human clinical trials" [Al Mayadeen]. "[Musk] claims people should conceive technology as 'replacing faulty/missing neurons with circuits.'" • "Faulty," you say….
"Was the Viral Metaverse Rave Fun? An Investigation" [Vice]. No: "On Thursday morning, Alex Moss, a member of the Mutant Ape Yacht Club and CTO of an NFT company, tweeted a video from a 'live rave happening right now in Decentraland.' 'This is the metaverse," he said. The video quickly went viral because it shows a bunch of avatars aimlessly shuffling and standing around doing nothing on a 'dance floor'—a bleak view of fun in the so-called metaverse." • At least with the NBA metaverse, the only reason you're there is that you don't have the money to be where you really want to be.
,
* * *
Today's Fear & Greed Index: 43 Fear (previous close: 52 Neutral) [CNN]. One week ago: 57 (Greed). (0 is Extreme Fear; 100 is Extreme Greed). Last updated Jan 21 at 1:19pm.
Our Famously Free Press
"China Holds the Line on 'Zero Covid,' but Some Wonder for How Long" [New York Times]. "Many in China support and which has allowed most people to live fairly normally during the pandemic. But the recent outbreaks have led to frustration and grumbling as more and more people have been caught up in the virus-control dragnet." • "Frustration and grumbling." Oh the humanity! The anti-Zero Covid propaganda, uniform across the mainstream, is incredibly thick right now, no doubt in preparation for the Olympics.
Health Care
Government should not be run like a business:
USPS form takes one minute to complete! https://t.co/c7zJPJlfQj

— Eduardo Sanchez (@edusanchez19us) January 19, 2022
That the left isn't screaming that free vax, free mask, free test is all a proof-of-concept for single payer…. I mean, not even the actual left is doing this.
"Why big data didn't deliver on its big promises to combat Covid-19" [STAT]. "'You have this really, really large, opaque ecosystem of companies which generate, buy, sell, and modify these datasets,' said Nishant Kishore, who worked in the lab of Caroline Buckee, another of the [the Covid-19 Mobility Data Network's] leaders. Kishore, who worked closely with public health authorities using the network's data, said that while it's useful to researchers to have that data available, 'unfortunately, what is collected is decided by entities whose priorities are different than that of the general public health.' Data collection and analysis is typically optimized for maximum commercial impact, not public health." • Kidding, right?
Zeitgeist Watch
Sheep may safely graze:
Australian farmer Ben Jackson couldn't attend his Aunt's funeral due to Covid restrictions.

So instead he laid out grain for his Sheep in the shape of a heart in order "that she could see it through the clouds".

❤️

— Michael Warburton (@MichaelWarbur17) January 16, 2022
"It Won't Be January Forever" [Molly Jong-Fast, Vogue]. "It will not stay January forever, it can't. Time ticks away, seasons blend into each other, the warm weather will come back, days will get longer. There will be melting ice-cream and eating outdoors, and the warm sun on your shoulders. There will be walks in the park and movies and puppies. It won't always be this gray. Eventually we'll properly bury our dead and mourn them the way humanity has since inception. We'll build monuments and hold ceremonies just like we've done for other tragedies. We'll continue on. We'll do it because there aren't any other choices and because that's what we do. Living through a pandemic is hard and painful, but my great-great-grandfather was murdered in a hayloft for being Jewish. We don't get to choose the pieces of history that we experience. I don't know what will happen tomorrow or even later this afternoon but I do know there will be spring, there always is." • Puppies? Really? I mean, logically, I agree with the writer, but puppies? Melting ice cream?
Class Warfare
"'That's live TV': Reporter hit by car during live shot quickly gets back on camera to wrap story" [USA Today]. • Some working conditions you've got there.
News of the Wired
"Two-thirds of passengers on first flight to Covid-free Kiribati diagnosed with virus" [Guardian]. "After remaining Covid-free for the entirety of the pandemic, Kiribati has reopened its borders – only for two thirds of the passengers on the first international flight to arrive in ten months to test positive for the virus. The island nation is now set to impose a four-day lockdown from Monday after the virus was found to have spread into the community." • Maybe at some point we're going to figure out that air travel is really a problem?
You would have thought?
Yes… I am trawling through the internet trying to figure out how to get help for a grieving child in case my clumsy attempts don't work.

You would have thought a government that planned to let a killer disease loose would have this sorted.

😡

— #MasksInSchools Dr Noor Bari (@NjbBari3) January 21, 2022
Australia, but it might as well be here.
"Indignity Vol. 2, No. 5: Cash Rules Editing Around Me" [Indignity]. "Our "$" is like a word, but not exactly. It's not enough like a word, as any editor can tell you, to prevent people from turning in copy with things like '$1 million dollars' in it. It doesn't go where the word goes, the way an ampersand or a percentage sign does, but before it, where it leaves writers confused. … [T]he $ is so invisibly fixed in the background that even as banal observations go viral all the time, Google as of this writing can't find "Money has its own punctuation" anywhere on the internet… But it shapes one's thinking, doesn't it? It gives the dollar a default level of formality or respect in writing. If you want to say 'twenty bucks,' or that you tipped somebody 'a five,' you have to consciously decide not to use the standard punctuation. What other feature of everyday life gets this treatment?"
* * *
Contact information for plants: Readers, feel free to contact me at lambert [UNDERSCORE] strether [DOT] corrente [AT] yahoo [DOT] com, to (a) find out how to send me a check if you are allergic to PayPal and (b) to find out how to send me images of plants. Vegetables are fine! Fungi and coral are deemed to be honorary plants! If you want your handle to appear as a credit, please place it at the start of your mail in parentheses: (thus). Otherwise, I will anonymize by using your initials. See the previous Water Cooler (with plant) here. Today's plant (RH):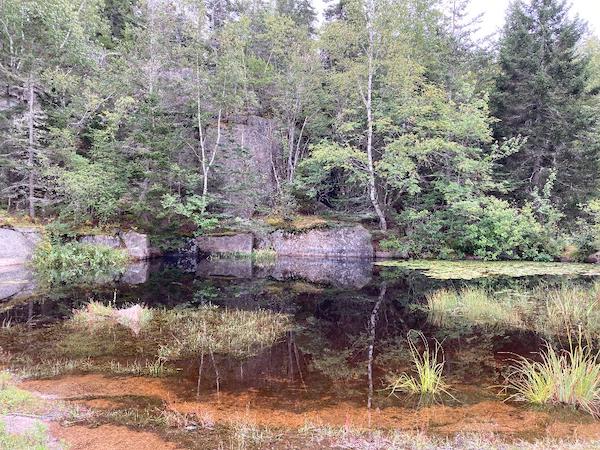 A Maine pond.
Bonus plant (SV):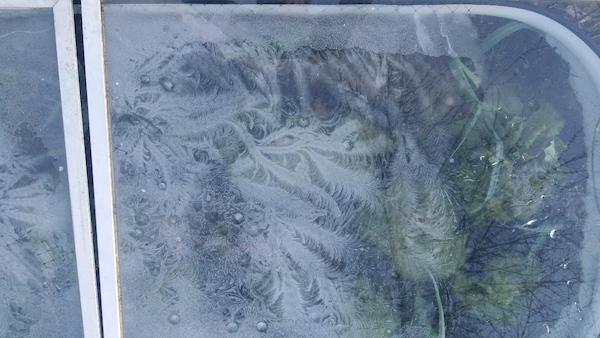 SV writes: "Another By-laws appeal, inspired by CV'S plantidote. Except Lettuce is kind of visible. I'd love to hear a scientific explanation of the phenomenon a friend calls frost faeries." Readers?
* * *
Readers: Water Cooler is a standalone entity not covered by the recently concluded and — thank you! — successful annual NC fundraiser. So if you see a link you especially like, or an item you wouldn't see anywhere else, please do not hesitate to express your appreciation in tangible form. Remember, a tip jar is for tipping! Regular positive feedback both makes me feel good and lets me know I'm on the right track with coverage. When I get no donations for five or ten days I get worried. More tangibly, a constant trickle of donations helps me with expenses, and I factor in that trickle when setting fundraising goals:
Here is the screen that will appear, which I have helpfully annotated.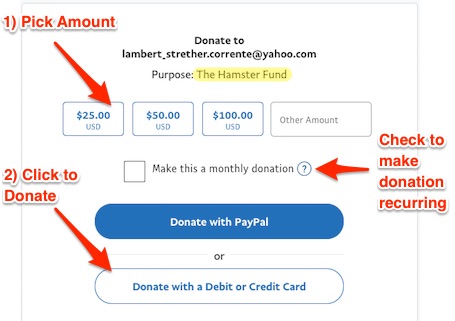 If you hate PayPal, you can email me at lambert [UNDERSCORE] strether [DOT] corrente [AT] yahoo [DOT] com, and I will give you directions on how to send a check. Thank you!