By Lambert Strether of Corrente
Bird Song of the Day
"Butts for nuts: can crows do our dirty work (and should they)?" [Corvid Research]. "A Swedish start up, Corvid Cleaning, is attempting to train corvids to pick up cigarette butts in exchange for food, as a means of combating the pervasive litter problem across their city. They plan do this through a machine that according to their website, they've already successfully ground tested with wild birds. So, will this work and is it a good idea? In my opinion no and no, for many reasons. This whole idea rests on the premise that corvids are smart, (which they are,) but being smart and being motivated are very different. It's not an issue of whether crows *can* learn it, but how you keep them engaged over time (the company hopes to save 75% of the city's current cigarette clean-up costs). Having fed a lot of crows a lot of peanuts, I can tell you that the appeal of unlimited peanuts wanes drastically over time. While there might be an initial rash of participants, or at least a couple highly exuberant ones, there's a serious question of meaningful sustainability without the introduction of a more desirable (and more expensive) food. My skepticism here is born both from my experience with crows and the cold hard fact that this has simply never worked before. This isn't the first time someone has tried this, but the 4th." • Examples follow. Maybe we should try the same idea with cats.
* * *
Politics
"But what is government itself, but the greatest of all reflections on human nature?" –James Madison, Federalist 51
"They had learned nothing, and forgotten nothing." –Charles Maurice de Talleyrand-Périgord
"When the going gets weird, the weird turn pro." –Hunter Thompson
Capitol Seizure
"In Scrutinizing Trump and His Allies, Jan. 6 Panel Adopts Prosecution Tactics" [New York Times]. "The House select committee scrutinizing the Jan. 6 assault on the Capitol is borrowing techniques from federal prosecutions, employing aggressive tactics typically used against mobsters and terrorists as it seeks to break through stonewalling from former President Donald J. Trump and his allies and develop evidence that could prompt a criminal case." • Don't we have a Department of Justice for for criminal prosecutions? Madison did not look with favor on mixing legislative and executive functions. Federalist 47: "The accumulation of all powers, legislative, executive, and judiciary, in the same hands, whether of one, a few, or many, and whether hereditary, self-appointed, or elective, may justly be pronounced the very definition of tyranny."
Biden Adminstration
"White House gets set for cautious pivot on pandemic" [The Hill]. "'It's time to have a serious conversation with the American people and say that we are going to be living with this for a long time,' said Democratic strategist Rodell Mollineau. 'We've been looking at this in a very binary way. Things are likely to never go back to normal, but it doesn't mean we have to .'" • I hate that talking point so much, so I'm unsurprised to see a Democrat strategist adopting it. Quoting myself yesterday: "Imagine if when you put your seatbelt on, people said 'Oh, so you're a coward? I'm so done with seatbelts.' A society that confuses fear with carefulness (and care for others) is sick to the core. This will not end well." Anyhow, how do we gin up war fever without getting people to live in fear?
Democrats en Déshabillé
I have moved my standing remarks on the Democrat Party ("the Democrat Party is a rotting corpse that can't bury itself") to a separate, back-dated post, to which I will periodically add material, summarizing the addition here in a "live" Water Cooler. (Hopefully, some Bourdieu.) It turns out that defining the Democrat Party is, in fact, a hard problem. I do think the paragraph that follows is on point all the way back to 2016, if not before:

The Democrat Party is the political expression of the class power of PMC, their base (lucidly explained by Thomas Frank in Listen, Liberal!). ; if the Democrat Party did not exist, the PMC would have to invent it. . ("PMC" modulo "class expatriates," of course.) Second, all the working parts of the Party reinforce each other. Leave aside characterizing the relationships between elements of the Party (ka-ching, but not entirely) those elements comprise a network — a Flex Net? An iron octagon? — of funders, vendors, apparatchiks, electeds, NGOs, and miscellaneous mercenaries, with assets in the press and the intelligence community.

Note, of course, that the class power of the PMC both expresses and is limited by other classes; oligarchs and American gentry (see 'industrial model' of Ferguson, Jorgensen, and Jie) and the working class spring to mind. Suck up, kick down.

"How the Establishment Functions" [Craig Murray]. We ran this in Links on 2/4, but I want to call out this nugget for the record: "On Alan Duncan's birthday on 7 June 2017 Ian Burnett and his wife were part of the dinner celebration, alongside former Tory leader William Hague, and the arms dealer Wafic Said and wife. Wafic Said was central to the largest bribery scandal in British history, the Al-Yamamah BAE contract for arms to Saudi Arabia, where an eighty billion pound contract involved hundreds of millions in corrupt bribery payments swirling around Wafic Said and his friend Mark Thatcher. The only reason several very rich people did not go to prison is that Tony Blair – another Oxford University man – and Jack Straw, the recipient himself of BAE largesse, made a historic decision that the Serious Fraud Office investigation must be stopped 'in the public interest'. The Serious Fraud Office subsequently 'lost' all the thousands of documents proving the corruption. Thus enabling the central fixer, arms dealer Said, to enjoy a jolly dinner and banter with the new Lord Chief Justice of England and Wales, rather than eat his dinner in Ford open prison. That, my friends, is how the British Establishment functions." • Jolly dinners:

fyi (L to R, 2004):

Alan Dershowitz, lawyer, Harvard prof
Jeffrey Epstein, child rapist & billionaire, dead.
Robert Trivers, Rutgers prof
Larry Summers, Former Pres of Harvard
Steven Pinker, Harvard prof
Seth Lloyd, MIT profhttps://t.co/Embv1I46OS

— Rudy Havenstein. Stay Awake. (@RudyHavenstein) February 1, 2021

"Ghislaine Maxwell Trial: Day 18" (podcast) [TrueAnon]. Concluding sentence: "The message is very clear here: If you have enough money in your bank account, you can rape a kid. And it'll be fine."

"The paradox that leads professionals into temptation" [Financial Times]. "Now a professor at Cornell University and an honorary fellow at Cambridge's Judge Business School, [Sunita Sah] has filled in more gaps with a new study that sheds light on the dark side of professionalism and how to avoid it. Her findings are stark and surprising. The greater a manager's sense of professionalism, the more likely he or she is to accept a gift or bribe. Worse, high-minded professionals may be more susceptible to unconscious bias towards gift-givers, precisely because they are convinced they think they know how to ignore their blandishments…. 'I NEVER turn down something for free that I know isn't going to kill me!" retorted one manager in response to Sah's survey. "A free lunch from someone? Go for it! If the guy is fool enough to think his free lunch/dinner/use of cabin, etc, is going to influence me, he doesn't know me at all! People don't influence me beyond what I, and I alone, allow!/. In the study for the Academy of Management Perspectives, Sah equates this 'professionalism paradox' to the Dunning-Kruger effect, according to which poor performers lack even the ability to recognise their own hopelessness…. Professionalism 'isn't an individual characteristic, or a feeling', says Sah. Instead, she would like to redefine it as 'repeated behavioural practices that demonstrate a deep understanding of the concept, backed by appropriate rules and codes. In that form, anyone can aspire to deep professionalism." • "We are what we repeatedly do. Excellence, then, is not an act, but a habit." –Aristotle. See above: "The Democrat Party is as 'unreformable' as the PMC is 'unreformable.'"

What Stoller said:

I think the most surprising thing I've learned over the last couple of years is just how insane elite liberal institutions have become. I don't really know what to do about it.

— Matt Stoller (@matthewstoller) February 2, 2022

Disentangling this insanity is an ongoing project at Water Cooler, however inadequately. My view is that the best way forward is to give an account of the Democrat Party, since that's the conduit or circuit through which elite liberal institutions exercise political power (and see my first cut on the structure of the Democrat Party, above. Electeds and apparatchiks are only one aspect or component of the Party).

* * *

"The Congressional Black Caucus Foundation Has a New Corporate Megadonor" [ReadSludge]. "E-commerce, web hosting, and media giant Amazon donated $1.8 million to the Congressional Black Caucus' (CBC) affiliated foundation and institute last year, according to new lobbying contributions filings. The majority of the money, $1.7 million, was donated to the Congressional Black Caucus Foundation, a 501(c)(3) that researches how policies affect Black communities, publishes legislative reports, and hosts an annual legislative conference." The foundation has eight House representatives and CBC members on its board of directors. The donations are a dramatic increase in Amazon's prior giving to CBC groups." • That's nice.

Neera needs to get Stacy a better team:

The fact that her team even let this happen is amateurish. They should know better by now https://t.co/CQ6o1ElOnZ

— Niles Francis (@NilesGApol) February 6, 2022
2022
* * *
2024
"Michelle Obama: Democrats' 2024 'break glass in case of emergency' candidate" [The Hill]. "1) She has a winner's aura that could instantly clear the primary field and allow Democrats to focus on the general election. No Democrat would want to contest her if Biden does not run, including the vice president. 2) Michelle Obama's popularity would attract crowds equal to Trump's and reminiscent of her husband's. Crowd momentum translates into positive news coverage and voter enthusiasm. Her record-breaking 2019 book tour filled arenas in 31 cities. 3) She is "qualified" to be president with the new qualification standard: If you get elected, you are qualified. 4) Mrs. Obama is active in the 2022 elections with a hot-button issue. Consider this recent Hill headline: 'Michelle Obama announces push to register 1 million new voters ahead of midterms,' affording her unlimited media exposure." • Well, it worked for Imelda Marcos. (The author is a Republican strategist, so perhaps there is a "Please don't throw me in the briar patch" aura to this….)

"Judge temporarily halts Youngkin order making masks optional in Va. schools after lawsuit from school boards" [WaPo]. "An Arlington judge on Friday barred enforcement of Gov. Glenn Youngkin's mask-optional order for schools — a major victory for the seven school boards that sued to stop it, and a sharp rebuke for the new governor. In her 10-page order, Arlington Circuit Court Judge Louise DiMatteo offered a check to Youngkin's assertion of gubernatorial authority, writing that the Virginia Constitution gives authority to local school boards to make safety and health decisions — including masking — for their students. She also wrote that a state law passed over the summer requiring school districts to comply with federal health guidance makes Youngkin's mask-optional order impossible to carry out, because it, too, delegates authority over decisions such as masking to local school boards. 'The single issue before the Court is whether the Governor, via his emergency powers, can override the decision of local school boards delegated to them,' DiMatteo wrote in the ruling granting a temporary restraining order. 'On this pivotal point, the Court concludes that the Governor cannot.' Youngkin (R), in a statement issued by spokeswoman Macaulay Porter on Friday, vowed to appeal. Porter called the Arlington judge's ruling 'just the first step in the judicial process.'" • Since Virginia governors can't succeed themselves, its up or out for Youngkin.
Our Famously Free Press
"Surprise! Tucker Carlson Draws the Most Democratic Viewers in Key Demo, Even Topping Rachel Maddow" [The Wrap]. "There is an entire cottage industry within media dedicated to disseminating Tucker Carlson's nightly Fox News musings to presumably liberal audiences who may not be tuning in to hear what the leading conservative voice is telling his large following. But recent data from Nielsen MRI Fusion suggests those nightly dispatches may not be necessary: In October, the most recent month for which data is available, Carlson's 9 p.m. ET program was the top cable news show among Democrats in the advertiser-coveted age range of 25-54." • Lol.

Consistency:

Man, we went super fast from "not teaching a book is a ban" to "disappearing episodes of a podcast is responsible and necessary"

— PoliMath (@politicalmath) February 6, 2022
Realignment and Legitimacy
"When People Lose Trust In The Mainstream, They End Up Swimming With Crocs" [Indi.ca]. The author writes from Sri Lanka: "Take the American CDC for example. They're issuing obviously corrupt and politicized advice and failing on every front. You can't trust them. But then who do you trust? Everybody has to do their own research and that can lead to very different places. Some people like me are furious for the CDC not doing enough. Others are furious for them doing too much. Into this void of authority step all kinds of snake-oil salesmen and women, telling people even worse bullshit and selling them ever worse 'solutions'. You fall out of the mainstream and suddenly you're swimming with crocs and logs. What do you cling onto? One will float and the other will tear you apart…. I have found that in times of trouble you often attract the worst people, people trying to profit from your misery, people preying on you when you're weak and separated from the herd. This is where so many Americans are now. I dunk on America but I honestly feel so bad for Americans. Collectively y'all suck, but individually it's hard." • Bracing. (I don't agree that the State is a representation of Americans collectively, though it may appear that way outside the country.)

"The Covid Policy That Really Mattered Wasn't a Policy" [Ezra Klein, New York Times] (original). "More unexpected was what the researchers found when they looked at the factors that predicted how many people got infected. Some of the obvious candidates — population density, G.D.P. per capita, and exposure to past coronaviruses — failed to predict much in the way of outcomes. But both trust in government and trust in fellow citizens proved potent. This yields the paper's most striking finding: Moving every country up to the 75th percentile in trust in government — that's where Denmark sits — would have prevented 13 percent of global infections. Moving every country to the 75th percentile of trust in their fellow citizens — roughly South Korea's level — would have prevented 40 percent of global infections." • I wonder what makes Korea like that…

"Rensselaer man says ballots filed for him and his wife are frauds" [Times-Union]. " A 32-year-old Rensselaer man said absentee ballots applied for on behalf of him and his wife — and submitted to the Rensselaer County Board of Elections — were fraudulent because he has never voted in an election or applied to vote by absentee ballot, and that someone had forged their signatures on the documents. The man, who spoke to the Times Union on condition of not being identified, also said that he has never met Rich Crist, whose name was listed on the absentee applications as the person authorized to pick up the couple's ballots from the board of elections. Crist is the county's operations director, a longtime Republican operative and a confidant of county Executive Steve McLaughlin. The ballots, sealed in envelopes, were returned to the board the day before the Nov. 2 election, records show. They are among more than 120 absentee ballots in the city of Rensselaer that have not been counted and are the subject of a court battle between incumbent Mayor Michael E. Stammel, a Republican, and Democratic challenger Richard J. Mooney, who trails by 11 votes…. He also recounted what he described as an unsettling telephone call he received from Stammel on Sunday regarding his ballot. 'I told him me and my wife would not be talking about this matter, and his exact words were (that) it would be in my best interest just to say that this vote was mine and just that nothing was done wrong,' the man said. 'To tell you the truth, me and my wife know nothing about this — we don't know why ballots were applied for in our name; we didn't take part in the election. … It's now affecting our lives. We want nothing to do with it. We didn't vote. We don't vote. I don't like either of the candidates.'" • Hmm.
#COVID19
Case count by United States regions: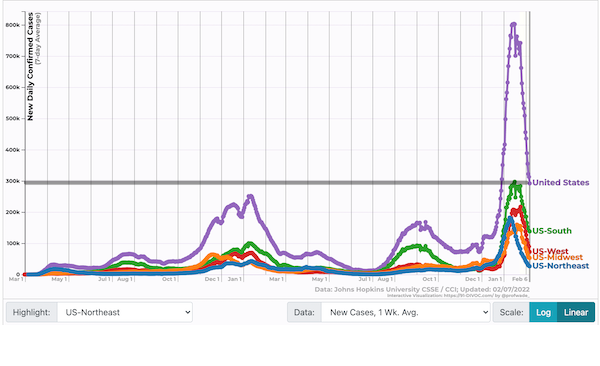 Rise like a rocket, and fall like a stick; the slope of the downward curve is more or less the same as the upward curve. I have added an anti-triumphalist "Fauci Line" to highlight that even though we are "done with" Covid, the case count, after a steep decline, is higher than the previous highest peak. (Previous peaks — how small the early ones look now — have been roughly symmetrical on either side. But the scale of this peak, and the penetration into the population, is unprecedented.) I wonder if there will be plateau when BA.2 takes hold. Since the Northeast has form, that is probably the region to watch for this behavior first.
The official narrative was "Covid is behind us," and that the pandemic will be "over by January" (Gottlieb), and "I know some people seem to not want to give up on the wonderful pandemic, but you know what? It's over" (Bill Maher) was completely exploded. What a surprise!
NOT UPDATED MWRA (Boston-area) wastewater detection: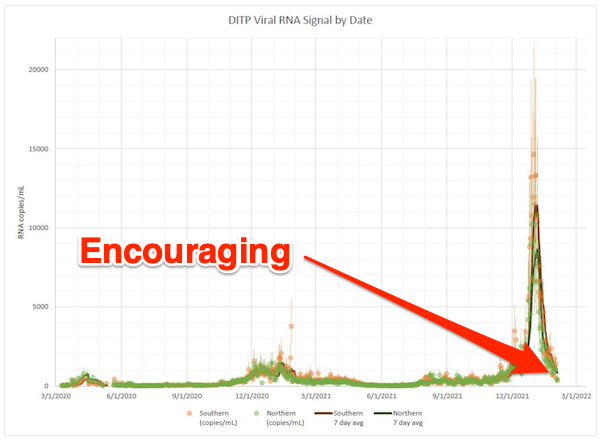 Continues encouraging. No jump from the return of the students yet, which is even more encouraging.
The Massachusetts Water Resources Authority (MWRA) service area includes 43 municipalities in and around Boston, including not only multiple school systems but several large universities. Since Boston is so very education-heavy, then, I think it could be a good leading indicator for Covid spread in schools generally.
"In New York City Sewage, a Mysterious Coronavirus Signal" [New York Times]. "Last January, a team of researchers searching for the coronavirus in New York City's wastewater spotted something strange in their samples. The viral fragments they found had a unique constellation of mutations that had never been reported before in human patients — a potential sign of a new, previously undetected variant. For the past year, these oddball sequences, or what the scientists call 'cryptic lineages,' have continued to pop up in the city's wastewater…. 'At this point, what we can say is that we haven't found the cryptic lineages in human databases, and we have looked all over,' said Monica Trujillo, a microbiologist at Queensborough Community College and an author of the new paper [in Nature]. The researchers themselves are torn about the lineages' origins. Some lean toward the explanation that the virus is coming from people whose infections aren't being captured by sequencing. But others suspect that the lineages may be coming from virus-infected animals, possibly the city's enormous population of rats. Even then, the favored theory can change from day-to-day or hour-to-hour."
From CDC Community Profile Reports (PDFs), "Rapid Riser" counties: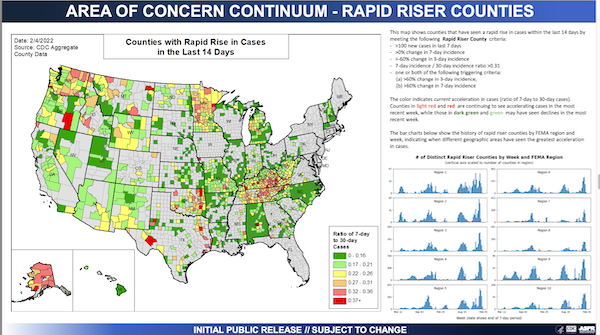 Continued improvement, especially in lagging Minnesota. (Remember that these are rapid riser counties. A county that moves from red to green is not covid-free; the case count just isn't, well, rising rapidly.)
The previous release: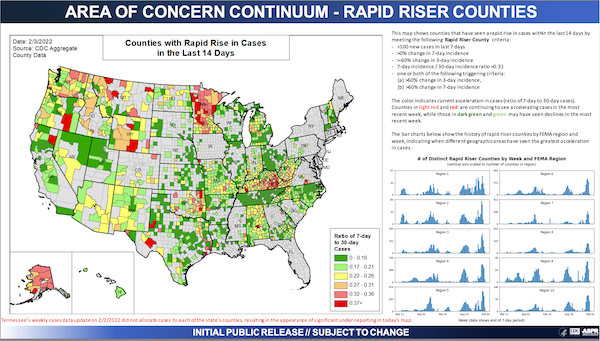 Hospitalization (CDC Community Profile):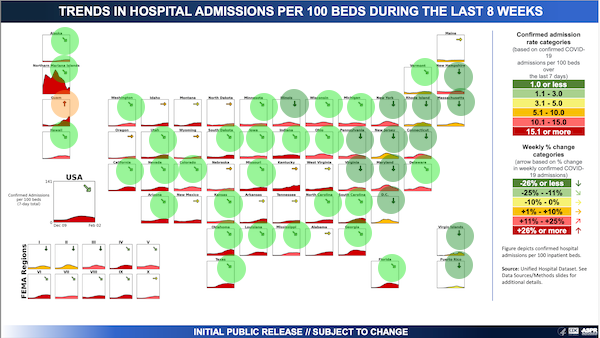 C'mon, Guam! (Note trend, whether up or down, is marked by the arrow, at top. Admissions are presented in the graph, at the bottom. So it's possible to have an upward trend, but from a very low baseline.)
Death rate (Our World in Data):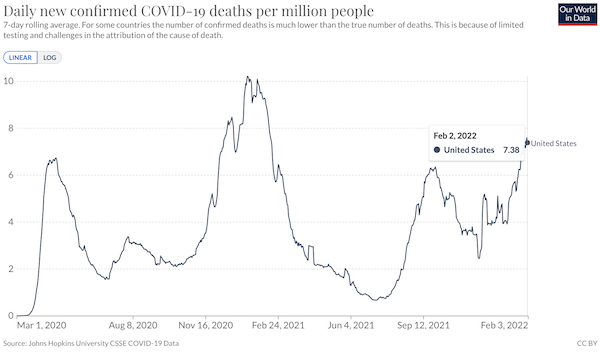 Total: 926,029 920,829. I sure hope we break a million before Biden's State of the Union speech.
Covid cases in top us travel destinations (Statista):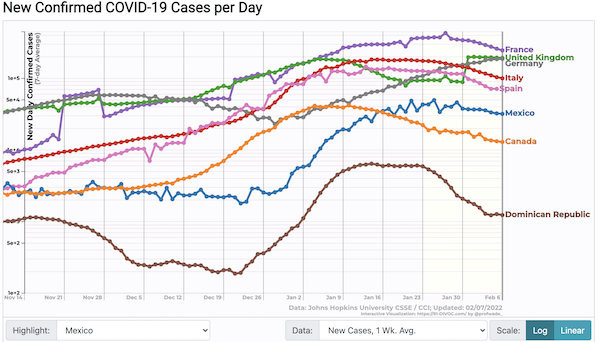 Good news here too. For the time being.
Stats Watch
Supply Chain: "United States LMI Logistics Managers Index Current" [Trading Economics]. "The Logistics Manager's Index in the US increased to 71.9 in January of 2022 from an eleven-month low of 70.1 in December, amid unseasonably high rates of inventory accumulation although capacity remains constrained, and prices continue to grow quickly. Inventory grew the most since early 2018 as firms that had stocked up anticipating a continuation of the hot consumer economy may now be facing the opposite problem, with more inventory than needed to meet demand. Meanwhile, warehousing capacity read in at 47.1 marks 17 consecutive months of contraction and firms will continue to require more warehouse space, particularly in urban areas as soon as it becomes available…. Looking forward, respondents do not predict much relied over the next 12 months."
* * *
The Bezzle: "Chicago Raises New Allegations in Lawsuit Against Grubhub" [Eater Chicago]. "Grubhub's "Supper for Support" promotion, which offered consumers $10 off orders of $30 or more, entreated consumers to "help save the restaurants we love" by placing orders through the Grubhub Platform. Grubhub misrepresented Supper for Support as a win-win opportunity for consumers and restaurants. In reality, Grubhub required that participating restaurants cover the steep cost of the discount and charged them Grubhub's full commission on the pre-discount order price."
The Bezzle: "In retrospect":
"In retrospect" – *weep-rages on behalf of entire professions of researchers and practitioners saying this for decades and whom he could have consulted at any time* #Ludicrous #Autonomous pic.twitter.com/izgD9ScUHW

— Tara Goddard 🚸 (@DrTaraGoddard) February 5, 2022
Tech: We're not the only ones:
google search has become almost unusable

there was a period before censorship, maybe coming to an end around 2014/2015, where you could even find forum posts or section comments with a close enough search

an old Wired magazine article did a neat article on it – so advanced

1/2

— Rich 🐺 (@heywildrich) February 7, 2022
* * *
Today's Fear & Greed Index: 35 Fear (previous close: 35 Fear) [CNN]. One week ago: 38 (Fear). (0 is Extreme Fear; 100 is Extreme Greed). Last updated Feb 7 at 1:27pm.
Rapture Index: Closes unchanged [Rapture Ready]. Record High, October 10, 2016: 189. Current: 185. (Remember that bringing on the rapture is a good thing, so higher is better.)
Our Famously Free Press
What could account for the change in tone:
NYT May 24, 2020: U.S. Deaths Near 100,000, An Incalculable Loss

NYT February 5, 2022: 900,000 Dead, but Many Americans Move On pic.twitter.com/CfRccN7ijy

— southpaw (@nycsouthpaw) February 5, 2022
The Agony Column
"Memory Replacement, Confabulation, and Repression: Remembering" [Inquiries Journal]. "The specific purpose of this paper is to discuss some of the factors that would permit an individual to dissociate himself from his true identity, including at a minimum threshold the change in knowledge of some personal events. It is not required that a person believe he is superman to have dissociated from his true identity; all that is required to fit the definition is for the person to blot out a memory of a single event and replace it with another…. The two main concepts involved in this discussion are confabulation and repression…. Confabulation is the falsification of memory in which gaps in recall are filled by fabrications that the generating individual accepts as fact (APA, 2006). Patients with confabulatory disorders have been known to fabricate information, remember the confabulation, be presented with proof of the truth and continue to believe their initial confabulation…. Most people do not suffer from pathologies that tend to give rise to significant gaps in memory. The next part of this paper will discuss how gaps can be created in a string of memories through the process of repression. The concept of memory repression was first described by Freud in 1915 as a "banishment of unacceptable thoughts, feelings or wishes". (Repression, 2001). That that is "unacceptable" is to be defined as that which cannot be assimilated into the repressor's schema." • Note that any ideological proposition or formulation — schema — that propagates through a class must survive or adapt to these processes.
Guillotine Watch
Whatever these rooms are, they are not an "enchanted fantasy world":
These rooms are really jaw-dropping. And hopefully, for a brief moment, take you away from your troubles into some enchanted fantasy world. #FridayNightZillow pic.twitter.com/18gdQ1R5gt

— Steven Dennis (@StevenTDennis) February 5, 2022
Nor do they take me away from my troubles, except in the sense that when I'm grinding my teeth I'm not thinking of anything else. Readers, do these rooms take away your troubles?
Class Warfare
"Vaccine mandates and the labor left (with Richard D. Wolff)" (audio) [Eoin Higgins, Callin]. • No transcript. Sorry! But Wolff is always worth a listen.
News of the Wired
"Sunlight as Infrastructure" [Boston Review (anon y'mouse)]. "What would the energy transition look like if—at least, in part—we tried to make free, public light even freer and more democratic?…. By the end of the 1950s, passive solar had become the province of boutique suburban and rural houses and a handful of urban projects, mostly in Europe. Little has changed. In 2020 a beautiful eighteen-unit building of subsidized housing opened in Vienna. Along the entire five-story south façade, glass and automatic sliding doors afford winter gardens, thermal masses, and terraces for each unit. The structure is—to quote a review of its ground-floor café and bike shop—"a wonderful place where lovely and open people stand up for the quarter and have great visions for the public space!" Meanwhile, back in New Jersey, I teach in a top-floor classroom with two small panes of glass. They cut horizontal light to a shard while the solid roof without skylights blocks overhead insulation. Two feet below that roof and various ducts, fluorescent bulbs illuminate my students and me. This is nonsensical and wasteful: . This is the windowless, all-electric, not-so-great vision that we are supposed to embrace."
Jackpot-ready:
Think about it pic.twitter.com/MvF8gz9qor

— Oilinki (@oilinki) February 6, 2022
Important thread:
A quick thread on in the importance of being careful what data you share – even if you're the Queen. Today, Her Maj tweeted this lovely picture, gor bless er, etc. You might think that the contents of the red box would be official business. And you'd be right. 1/6 pic.twitter.com/y1RspNRUzy

— Adam Kay (@amateuradam) February 6, 2022
* * *
Contact information for plants: Readers, feel free to contact me at lambert [UNDERSCORE] strether [DOT] corrente [AT] yahoo [DOT] com, to (a) find out how to send me a check if you are allergic to PayPal and (b) to find out how to send me images of plants. Vegetables are fine! Fungi and coral are deemed to be honorary plants! If you want your handle to appear as a credit, please place it at the start of your mail in parentheses: (thus). Otherwise, I will anonymize by using your initials. See the previous Water Cooler (with plant) here. Today's plant (IM):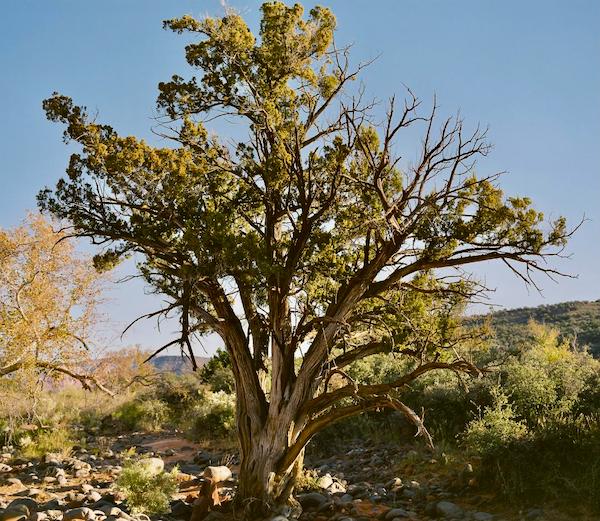 IM writes: "First trip to the states since the pandemic started! A juniper in a dry streambed near Sedona."
* * *
Readers: Water Cooler is a standalone entity not covered by the recently concluded and — thank you! — successful annual NC fundraiser. So if you see a link you especially like, or an item you wouldn't see anywhere else, please do not hesitate to express your appreciation in tangible form. Remember, a tip jar is for tipping! Regular positive feedback both makes me feel good and lets me know I'm on the right track with coverage. When I get no donations for five or ten days I get worried. More tangibly, a constant trickle of donations helps me with expenses, and I factor in that trickle when setting fundraising goals:
Here is the screen that will appear, which I have helpfully annotated.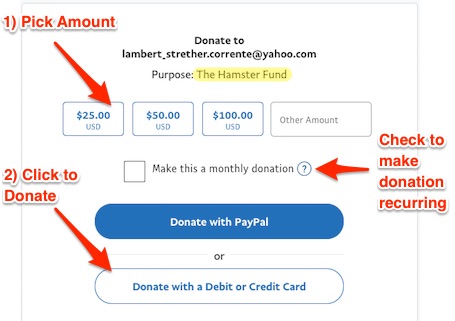 If you hate PayPal, you can email me at lambert [UNDERSCORE] strether [DOT] corrente [AT] yahoo [DOT] com, and I will give you directions on how to send a check. Thank you!