James Webb Space Telescope has locked onto guide star in crucial milestone Space.com
SpaceX and our space junk problem Vox
Climate
#COVID19
As BA.2 subvariant of Omicron rises, lab studies point to signs of severity CNN. Nobody could have predicted…. See Yves here.

* * *

CDC wants to "give people a break" from masks, says new guidance coming Ars Technica. About time:

I'm not a COVID denier. I let our nanny quarantine in our townhouse while were in Gstaad, so that she wouldn't give COVID to her grandmother. But at a certain point, we have to say it's over. And that time is now, no matter what the "numbers say".

— New York Times Pitchbot (@DougJBalloon) February 17, 2022

(A parody account. I think.)

After lifting mask mandate, California unveils plan to ease into next stage of life with COVID San Francisco Chronicle. The plan is called –wait for it — SMARTER. Don't ever change, liberal Democrats. To be fair, the plan does call for "creating a task force to improve indoor air quality statewide."

The Mask Debacle The Tablet. Word of the day: plerophory. I'm more than a little surprised, however, not to see the author cite to the work of Trisha Greenhalgh on masks. Greenhalgh does not suffer from plerophory. I think this post is interesting on the politics, but dangerously close to tendentiousness on the science.

* * *

Coronaviruses are 'clever': Evolutionary scenarios for the future of SARS-CoV-2 STAT. Not very impressive. More impressive–

Covid-19 Medium-Term Scenarios – February 2022 SAGE. Handy chart:

Which scenario are you?

* * *

Estimated 73% of US now immune to omicron: Is that enough? AP. Throwing a flag on the Betteridge's Law violation.

Aerosol generation in public restrooms Physics of Fluids. From the Abstract: "Flushing biomatter can lead to the aerosolization of micro-organisms; thus, there is a likelihood that bioaerosols generated in public restrooms may pose a concern for the transmission of COVID-19, especially since these areas are relatively confined, experience heavy foot traffic, and may suffer from inadequate ventilation…. Covering the toilet reduced aerosol levels but did not eliminate them completely, suggesting that aerosolized droplets escaped through small gaps between the cover and the seat. In addition to consistent increases in aerosol levels immediately after flushing, there was a notable rise in ambient aerosol levels due to the accumulation of droplets from multiple flushes conducted during the tests. This highlights the need for incorporating adequate ventilation in the design and operation of public spaces, which can help prevent aerosol accumulation in high occupancy areas and mitigate the risk of airborne disease transmission." Don't linger!

About transmission between deer:

12) If people wonder how deer can easily get infected with #SARSCoV2, this video shows how much their exhaled breath stays suspended in the air when simply breathing or snorting. Reminder— you do that too when you're at a concert / stadium.

HT @PPEtoherospic.twitter.com/SUnedQuHbG

— Eric Feigl-Ding (@DrEricDing) February 8, 2022

* * *

Was a 19th Century Global Pandemic a Case of COVID 1.0? MedPage Today
China?
Myanmar
Evergreen halts ship calls at junta-controlled terminal in Myanmar Container News

ASEAN envoy seeks Myanmar junta blessing to meet its opponents Reuters. Let me know how that works out.
Another U.S.-Trained Soldier Stages a Coup in West Africa The Intercept
France announces military withdrawal from Mali France24
New Cold War
No Invasion Wouldn't Mean an End to the Ukraine Crisis Foreign Policy. Commentary:

#BREAKING Anglo-Saxon-led Caucasian tribal axis continues bellicose talk of "consequences" in case of invasion, despite unverified reports in Caucasian media of Russian Slavs withdrawing from Ukranian border where they had reportedly massed, sparking fears of regional ethnic war.

— gathara (@gathara) February 16, 2022

Dispatch From Ukraine The Flashpoint. Full podcast. Sending a message, but to whom:

Amazing, an Air Moldova Airbus with the callsign 'RELAX' appears to be "writing" the world 'Relax' using the ADSB track. pic.twitter.com/x6dQbLXmxY

— Kyle Glen (@KyleJGlen) February 17, 2022

(Moldova is a southern neighbor of Ukraine.)

People Are Looking For Designated Bomb Shelters In Kyiv, But Some Have Become Cocktail Bars, Restaurants, And Even A Strip Club Buzzfeed

Russia announces nuclear exercises as fresh Ukraine talks planned FT. The shape of the negotiating table?

— Wouter K (@ketser) February 15, 2022

Senate passes symbolic Russia rebuke as Ukraine threat looms Politico

"Worse than Skabeeva and Solovyov." Arakhamia accused CNN, Bloomberg and WSJ of publishing fakes about the Russian invasion (Google Translate) New Times (HB). Davyd Arakhamia.
Canada
Who supports the 'freedom' protesters and why Toronto Star. The deck: "Alarmingly, 65 per cent of Canadians believe that if the concentration of wealth at the top continues, Canadians may see 'violent class conflict.'"

Liberals cite CBC 'analysis' to justify freezing bank accounts Toronto Sun

While constitutional law experts and civil liberties groups have said the threshold has not been met for the government to invoke the Act, the 14-page document the Liberals offered up presents their own more formal argument to back them up…. [T]his conclusion wasn't arrived at after detailed study by anyone in the Ministry of Finance or Public Safety Canada. Instead, the only evidence they offer is 'the Canadian Broadcasting Corporation's February 14, 2022 analysis of the data' of the GiveSendGo.com fundraisers list that was hacked and released publicly.

Seems a little circular. Couldn't they are least quote some anonymous intelligence officials?

The Battle of Billings Bridge Breach Media (marym).

Reality Honks Back The Upheaval
Biden Administration
Covid Funding Is Drying Up, White House Warns U.S. Lawmakers Bloomberg

Federal court must reconsider religious exception to United employees' vaccine mandate Houston Chronicle. Amusing thread on the opinion:

Let me start with Judge Smith's dissent. It is hard to convey the ferocity of it on here. He disagrees in every possible respect. This passage is representative. /4 pic.twitter.com/CyqiHaROh3

— Raffi Melkonian (@RMFifthCircuit) February 17, 2022

As I understand the opinion, the ruling says the religious, contra Smith's dissent, would suffer "irreparable harm" if forced by the State to act against their beliefs, which has broad implications when you think about it. However, "irreparable" seem at odds with the notion of a forgiving God (see e.g.). In any case, the case brought by the employees has already been settled, and by the putatively highest of authorities: See Matt 22:17-22.

Protecting the U.S. Postal Service from Amazon's Anticompetitive Assaul (PDF) Hal Singer and Ted Tatos, Econ One
Health Care
Nonprofit Hospital CEO Compensation: How Much Is Enough? Health Affairs
Supply Chain
A burning cargo ship with thousands of Porsches, Lamborghinis and VWs is adrift in the Atlantic Bloomberg

Competition authorities in the US, UK, Canada, Australia and NZ team up to investigate cartel conduct in global supply chains Splash 247

Global production linkages and stock market co-movement (PDF) Bank of International Settlements
The Bezzle
Bored Apes, BuzzFeed and the Battle for the Future of the Internet Vice

Hypocrisy and The Consequences of Monkey Laundering Ed Zitron, Where's Your Ed At

Oh great, there's DRM in printer PAPER now Cory Doctorow
Realignment and Legitimacy
Revisiting the Resilience of Chestnut Forests in Corsica: from Social-Ecological Systems Theory to Political Ecology (PDF) Ecology and Society. From 2011, still germane.

"When all you have is a hammer…": why Agamben's ideas were bound to lead to this Monthly Review. Interesting thoughts on "states of exception."
Imperial Collapse Watch
New scientific review punctures myth of missile defense Responsible Statecraft
Searching for The Pigeon Lady Chicago Reader
Antidote du jour (via):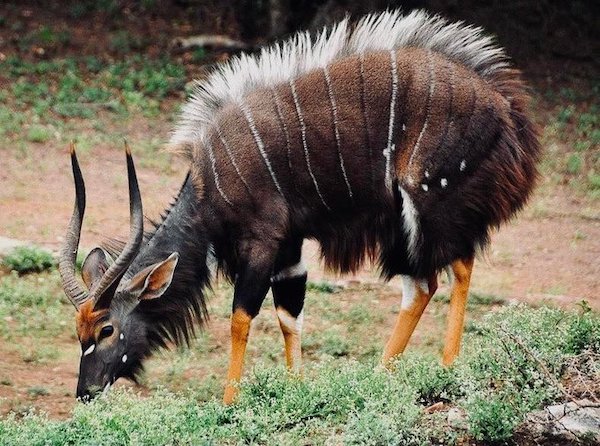 Bonus antidote:
Watch the moment a sloth, facing electrocution and certain death, was rescued just in time after it climbed onto a power line in Colombia ? pic.twitter.com/mHmJQ579z3

— Al Jazeera English (@AJEnglish) February 16, 2022
>/center>
Double bonus antidote:
Had to stop… It's a zebra crossing. pic.twitter.com/nm96fOVh0d

— Raj Palsingh (@HipsterYogi) February 18, 2022
See yesterday's Links and Antidote du Jour here.