By Lambert Strether of Corrente
Readers, a quick update on 2022's Water Cooler Mini-Fundraiser: We have around 210 contributions, so we are a little less than two-thirds of the way to our goal of 350. (Note that the goal is a count of donors, not a dollar total, so small contributions are important too; cf. Luke 21:1-4). So please, if you can, help out. I will unblushingly quote myself. If you have enjoyed Water Cooler, or found it useful, over the past year:
If you can dig deep, please consider doing so. Not only is this quarter tax time for me, I have responsibilities in the real world. Further, you will be paying me for work I have already done — unlike the Naked Capitalism fundraiser proper, which sets the budget for the following year — and so having played the fiddle, I am now passing my cap, which I hope will shortly sag with your contributions. Please click the Donate button below and contribute what you can.
Also, for those who have not encountered my PayPal form before: It works. Don't worry! (PayPal's know-your-customer rules require that I disclose my secret identity — that is, not "Lambert Strether," like "Yves Smith" a pen name — which, although pretty porous at this point, I still don't put out on the Intertubes. (The hamster reference is an old joke about our server technology). Also, I only control values I pop into PayPal's design, not the design itself. The form, for a decade or so, has included my email address. This year, for whatever reason, PayPal decided to change that. I have updated the image at the bottom of the page accordingly. I apologize for the kerfuffle, but the kerfuffle also makes me happy, because we have new readers who are appropriately careful and skeptical!
* * *
Bird Song of the Day
Northern Bobwhite week at Naked Capitalism continues. Not long, but I like the night sounds.
* * *
Politics
"But what is government itself, but the greatest of all reflections on human nature?" –James Madison, Federalist 51
"They had learned nothing, and forgotten nothing." –Charles Maurice de Talleyrand-Périgord
"When the going gets weird, the weird turn pro." –Hunter Thompson
Capitol Seizure
"Revealed: Trump used White House phone for call on January 6 that was not on official log" [Guardian]. "Trump called Lee at 2.26pm on January 6 through the official 202-395-0000 White House number, according to call detail records reviewed by the Guardian and confirmation by the two sources, who spoke on the condition of anonymity to discuss sensitive matters. The call was notable as Trump mistakenly dialed Lee thinking it was the number for Republican Senator Tommy Tuberville. Lee passed the phone to Tuberville, who told Trump Mike Pence had just been removed from the Senate chamber as rioters stormed the Capitol. But Trump's call to Lee was not recorded in either the presidential daily diary or the presidential call log – a problem because even though entries in the daily diary are discretionary, according to several current and former White House officials, the call log is not.. [T]he presidential call log, typically generated from data recorded when calls are placed by the White House operators, is supposed to be a comprehensive record of all incoming and outgoing calls involving the president through White House channels, the officials said…. It was not immediately clear how a Trump White House official might obfuscate or tamper with the presidential call log, or who might have the authority to make such manipulations. Trump's calls on January 6 might not have been recorded in the presidential call log if he used his personal phone or the cellphones of aides, the officials said, and Trump sometimes called people with the cellphone of his then White House deputy chief of staff, Dan Scavino."
Biden Adminstration
"The media avoided the ties between Joe Biden and Hunter's laptop" [New York Post]. Thank heavens somebody owns this story. "[D]espite acknowledging that the material on the laptop showed that Hunter was 'trading on his ­father's name to make a lot of money,' as CNN White House correspondent John Harwood put it, both the Washington Post and CNN were at pains to absolve Joe Biden of any involvement in the scheme. 'There is zero evidence that Vice President Biden, or President Biden, has done anything wrong in connection with what Hunter Biden has done,' Harwood said….. the Washington Post curiously left out crucial facts in two detailed stories about the laptop on Tuesday that totaled a hefty near 7,000 words. [First,] the $6 million [Chinese energy conglomerate] CEFC wired into the business bank account of trusted Biden family friend Rob Walker, a former Clinton administration official whose wife, Betsy Massey Walker, had been Jill Biden's assistant when she was second lady. That money was payment for work done by Hunter and his business partners during the last two years of Joe Biden's vice presidency in countries from Romania to Russia, using the Biden name to open doors and find acquisitions for CEFC. Nor does the Washington Post mention the company SinoHawk Holdings, which was set up on May 15, 2017, for a joint venture between CEFC and Hunter and his business partners. This was the deal for which Joe Biden was to get a 10% cut, as cited in an infamous 2017 email on the laptop, '10 [percent] held by H [Hunter] for the big guy.' Hunter's former business partner, the CEO of SinoHawk, Tony Bobulinski, has publicly said that Joe Biden is the "big guy." But the Washington Post curiously does not mention Bobulinski, even though his name is all over the emails and documents on the laptop relating to CEFC, and even though the naval veteran held a press conference spilling the beans on the Bidens in October 2020. It does not mention that Bobulinski met Joe Biden twice in 2017, to be vetted as CEO of SinoHawk." • A cursory search on Betsy Massey Walker turns up nothing. I would have expected her to be an Ambassador or something. Oh well.

"Senate Turns Back David Weil as Labor's Top Wage-Hour Enforcer" [Bloomberg]. "The Senate Wednesday turned back President Joe Biden's nomination of David Weil as the U.S. Department of Labor's top wage-hour regulator…. Weil came under criticism from business groups and Republicans over his scrutiny of gig-economy companies' labor practices since that time. … Sen. Joe Manchin (D-W.Va.), who expressed concerns about Weil's nomination last year, voted 'no' in the procedural vote. Sens. Kyrsten Sinema (D-Ariz.) and Mark Kelly (D-Ariz.) also voted 'no.'" • That's quite an act. What do you call it? "The Democrats!"

"Biden to invoke Defense Production Act for electric vehicle battery materials" [The Hill]. "President Biden is set to invoke the Defense Production Act (DPA) as early as this week to step up production of minerals used to manufacture electric vehicle batteries, a source familiar the plans confirmed to The Hill. Biden is set to issue a presidential determination to stoke domestic production of the minerals, which are used for both stationary batteries and vehicles. The person emphasized that the production will not bypass existing permitting or environmental review processes. The addition of certain minerals, including lithium, cobalt, graphite, nickel and manganese, to the list of items covered under the law could give mining companies access to some $750 million under the DPA's Title III fund, the person told The Hill." • If this were The Matrix, I can think of another source of raw materials for those batteries…..

"Louis DeJoy, the Postmaster Democrats Love to Hate, Isn't Going Anywhere" [Bloomberg]. "Once Joe Biden defeated Trump, a lot of people figured the incoming president would move swiftly to dump the postmaster general. But DeJoy is still very much on the job, and he's achieved more than you might expect in the face of continued challenges. The Postal Service's handing of mail-in ballots in the 2020 presidential election was hardly a debacle. With a record 43% of Americans voting by mail, the USPS transported the vast majority of ballots to state election officials within three days. When DeJoy unveiled the 10-year plan in March 2021, it was criticized by Democrats and some of his agency's largest customers, because it included price increases and the slowing of some first-class mail. However, it was praised by Fredric Rolando, president of the National Association of Letter Carriers, the Postal Service's largest employee union, which has tangled with some of DeJoy's predecessors. The union declined to comment for this story, but in a statement at the time of the plan's introduction, Rolando lauded its aspirations to improve working conditions for postal workers and put the USPS back on a growth trajectory by encouraging smaller businesses to use the service more for packages. The Biden administration has periodically signaled its unease with DeJoy. "That has not changed," press secretary Jen Psaki said in January. Yet the postmaster general collaborated recently with the White House to successfully deliver 320 million free Covid-19 test kits to American households in an average of less than two days."
Democrats en Déshabillé
I have moved my standing remarks on the Democrat Party ("the Democrat Party is a rotting corpse that can't bury itself") to a separate, back-dated post, to which I will periodically add material, summarizing the addition here in a "live" Water Cooler. (Hopefully, some Bourdieu.) It turns out that defining the Democrat Party is, in fact, a hard problem. I do think the paragraph that follows is on point all the way back to 2016, if not before:

The Democrat Party is the political expression of the class power of PMC, their base (lucidly explained by Thomas Frank in Listen, Liberal!). ; if the Democrat Party did not exist, the PMC would have to invent it. . ("PMC" modulo "class expatriates," of course.) Second, all the working parts of the Party reinforce each other. Leave aside characterizing the relationships between elements of the Party (ka-ching, but not entirely) those elements comprise a network — a Flex Net? An iron octagon? — of funders, vendors, apparatchiks, electeds, NGOs, and miscellaneous mercenaries, with assets in the press and the intelligence community.

Note, of course, that the class power of the PMC both expresses and is limited by other classes; oligarchs and American gentry (see 'industrial model' of Ferguson, Jorgensen, and Jie) and the working class spring to mind. Suck up, kick down.

* * *

Good to see Cori Bush in the chair:

"Because you are a human, you deserve healthcare."

—Madam Chair, The St. Louis Congresswoman @CoriBush, who today secured and helped chair the historic first congressional Medicare for All hearing since the start of the pandemic. pic.twitter.com/NsTMat3o1w

— Lynese Wallace (@lynesewallace) March 29, 2022

That said, why weren't these hearings held in January 2021? Does the Democrat leadership want a cookie for a performative gesture before the midterms? (Also, I hear the word "innovation" was used a lot.)

"Amazon hired an influential Democratic pollster to fight Staten Island union drive" [CNBC]. "Amazon tapped an influential consulting and polling firm with close ties to Democratic political groups to help the company thwart a critical unionization effort at a Staten Island, New York, warehouse, CNBC has learned. Global Strategy Group, which served as a polling partner for a pro-Biden super PAC ahead of the 2020 election, has been working for Amazon since at least late last year to produce anti-union materials, according to documents viewed by CNBC." • Indeed, Democrats are the party of the working class. Except when there are billable hours at stake.

"Where'd Hochul get the Buffalo Bills stadium money? NY forces $564M in casino payments" [Democrat & Chronicle]. 10,000 jobs lol. They always say that. "And [Seneca Nation President Matthew] Pagels didn't stop there. He also took aim at Bill Hochul, the governor's husband, who is senior vice president and general counsel for Delaware North, which runs concessions at the Bills' current home, Highmark Stadium, in Orchard Park, New York. Delaware North could reap big dividends if the Buffalo business keeps feeding Bills fans in the new stadium. 'I'm sure that was welcome news to the governor's husband, whose company not only operates video lottery terminals within the Seneca Nation's supposed gaming exclusivity zone with the state's blessing, but the company will also make millions of dollars in concession business inside the state-owned stadium. And it's being paid for on the backs of the Seneca Nation. Quite a sweetheart deal.'" • And then, the owners:

The Pegulas are worth $5.8 BILLION, and will continue to exclusively retain the profits of their team, despite the city and state paying for over half of the stadium. https://t.co/Mlp2Pq1ctC

— Naomi Burton (@NaomiABurton) March 31, 2022

Don't ever change, New York Democrats!
Republican Funhouse
"McCarthy: Cawthorn had 'no evidence' for orgy allegations, has 'got to turn himself around' [The Hill]. "Cawthorn frustrated GOP colleagues after he appeared on the "Warrior Poet Society" podcast last week and said that racy elements of the Netflix television drama 'House of Cards' are not far from reality. 'All of the sudden you get invited to, 'Well, hey, we're going to have kind of a sexual get-together at one of our homes. You should come.' … You realize they are asking you to come to an orgy,' Cawthorn said. He added that he has seen people who advocate against addiction doing 'key bumps of cocaine.' McCarthy said Cawthorn gave him no evidence to back up that characterization. The explanation for the cocaine allegation was that 'he thinks he saw maybe a staffer in the parking garage from 100 yards away.' 'This is unacceptable. There's no evidence to this,' McCarthy said. 'That's not becoming of a congressman. He did not tell the truth.'"
2022
"The House Map's Republican Bias Will Plummet In 2022 — Because Of Gerrymandering" [FiveThirtyEight]. "No matter which way you slice it, Democrats have gained blue seats from the mapmaking process, making the House playing field between the two parties more balanced than it has been in decades. But that doesn't mean the 2022 congressional map should be considered 'fair.' As the maps stand on March 30 at 5 p.m. Eastern, 175 congressional districts have a FiveThirtyEight partisan lean1 of D+5 or bluer, 181 have a partisan lean of R+5 or redder and 33 are in the "highly competitive" category between D+5 and R+5…. Still, Democrats are likely to gain seats from redistricting in 2022 even after you consider that they already hold a lot of those newly blue-leaning seats. By my calculations, redistricting alone should net Democrats about two more seats in the House next year,2 while Republicans are in position to lose around three or four seats on net from the process.3 Of course, the national political environment (which is currently Republican-leaning) will have a much bigger impact on the 2022 midterms than redistricting, so this doesn't mean Democrats are favored to hold onto the House — but it does mean that redistricting made that task slightly more possible." • I noted that the Democrat NGOs were hysterical about redistricting and the injustice of it all, but that Democrat electeds were not. So I declined to get hysterial, rightly.

"Busch beer heiress enters Missouri US Senate race" [Associated Press]. "Anheuser-Busch beer heiress Trudy Busch Valentine on Tuesday announced her candidacy for U.S. Senate, shaking up what has been a low-profile Democratic primary in a solidly red state. Busch Valentine's announcement comes amid widespread calls from Republicans for Eric Greitens to drop out of the race after the Republican former governor's ex-wife accused him of physically abusing her and one of their kids…. Busch Valentine, a 64-year-old registered nurse, described herself as still being a 'nurse at heart' in her campaign announcement." • Now might a good time to review this: The Busch Family Brood.
2024
"Poll: Trump leads Biden, Harris in 2024 match-ups" [The Hill]. "Former President Trump is leading President Biden in a hypothetical 2024 match-up, according to a new Harvard CAPS-Harris Poll survey released exclusively to The Hill on Monday. If the 2024 presidential election were held right now, the poll finds Trump getting 47 percent support compared to 41 percent for Biden. Twelve percent of voters are undecided. Vice President Harris performs even worse in a hypothetical match-up with Trump. Forty-nine percent said they would choose Trump, while 38 percent said they would support Harris."

"The Future of Trumpism" [Jonathan Chait, New York Magazine]. " As DeSantis spoke, he looked like a man who had been mimicking Donald Trump's speeches in front of the mirror. He performed a series of hand thrusts, in which he drew his thumbs together until they were almost touching, then jerked them apart in quick horizontal motions, as if he were playing an invisible accordion. After five such accordion pulls, he swung his right hand, thumb pointing up, in a semi-circular motion back inward to the center. DeSantis tweeted out the clip, and any MAGA fan watching, even without the sound on, would have grasped the gist just through the eerie physical impersonation. Republicans have collectively recognized that however much Trump may exasperate them, their president-in-exile will not be purged, nor will the changes he brought to their party be rolled back. He might, however, be co-opted. And if this is to happen, they have settled with remarkable unanimity on DeSantis as the person to do it." • If either Chait or Republicans think that Trump's connection to voters comes down to body language…. the country is in a very bad way.

"Jamaica PM to meet with VP Kamala Harris as White House works on Caribbean relationships" [Miami Herald]. • So Harris's European trip went well, then?

"'This City. These People. All Sheep, And I Am Their Shepherd,' Says Eric Adams, Looking Out Over New York" [The Onion]. "Without me, without my power and my will, each of these 8 million souls would be condemned to a wretched life and death amidst a twisted, seething cesspool of humanity. As they cling to a crumbling precipice, they reach out, in their desperation, to the one man whose whims control their destiny: to me, to their protector, to New York's greatest benefactor, to Eric Adams!" At press time, sources reported Adam had retired for the night to his apartment in New Jersey." • New Jersey? Maybe. Do readers have more current information?
RussiaGate
"Clinton campaign, Democratic Party to settle campaign finance inquiry for $113K" [The Hill]. "Hillary Clinton's 2016 presidential campaign and the Democratic National Committee (DNC) have settled a campaign finance inquiry, agreeing to pay a collective $113,000 in fines that stemmed from the controversial dossier on then-candidate Donald Trump's ties to Russia, known as the Steele Dossier. The Federal Election Commission (FEC) fined the campaign $8,000 and the DNC $105,000 for failing to properly report money spent on research for the dossier. The financial penalties came to light in a letter the FEC sent to the Coolidge Reagan Foundation, a conservative group, after it filed a complaint. The FEC determined that Clinton's campaign disclosed the $175,000 it spent on research for the dossier as 'legal services,' but the complainant alleged it was meant for 'opposition research done by Fusion [GPS].' The funds went to Perkins Coie, the law firm that recruited opposition research group Fusion GPS, which brought on retired British spy Christopher Steele. The regulatory agency noted that political committees must disclose the purpose of expenditures or disbursements that are larger than $200." • What?! You mean everybody knew the Clinton campaign paid for the Steele Dossier all the time? Say it's not so! (Money well spent, so far as I'm concerned, considering the leverage the permanent Clinton campaign got from it.)
Realignment and Legitimacy
#COVID19
If you missed it, here is yesterday's post on my queasiiness with CDC numbers, especially case count, which I (still) consider most important, despite what Walensky's psychos at CDC who invented "community levels" think. But these are the numbers we have.
Case count by United States regions: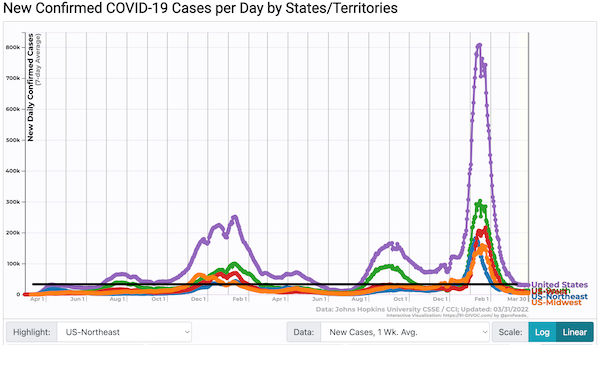 For grins, here is the case count for the last four weeks: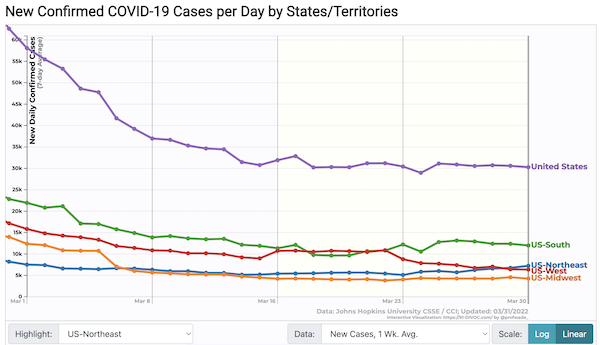 Slow rise in the Northeast consistent with MWRA data.
Fellow tapewatchers will note that "up like a rocket, down like a stick" phase is done with, and the case count– such as it is — is now leveling out. At a level that, a year ago, was considered a crisis, but we're "over" Covid now, so I suppose not. I have added a Fauci Line. Perhaps this says more about my temperament than it does about the data, but occasionally I watch Japanese tsusami videos. The first signs, at least in the videos I've watched, are not roaring sounds or giant waves, but strange ripples in the water, boats rocking when they should not, and so on. And so, for those inclined to pick up on creepy little signals, we seem to be getting rather a lot of them, even leaving Europe out of the equation.
"Concern for COVID-19, pandemic precautions falls further: poll" [The Hill]. "Concern surrounding the ongoing COVID-19 pandemic and safety precautions has yet to level off, according to a new survey published by the AP-NORC Center for Public Affairs Research on Tuesday…. Fewer adults also said they were taking precautions when going outside their homes. When it came to specific precautions, 64 percent said they wore a mask outside of their homes often or sometimes, 62 percent said they avoided nonessential travel and 59 percent said they avoided others as much as possible. These percentages of people who said they took these precautions all dropped by about 17 or 18 percentage points from when the poll was conducted in January." • Good job. Double down on the propaganda.
And then there's BA.2:
Welp—England's nasty new #BA2 wave has now caused more #COVID19 hospitalizations than the last old Omicron wave. #CovidIsNotOver

Figure by @Antonio_Caramia pic.twitter.com/d96nFOvaDK

— Eric Feigl-Ding (@DrEricDing) March 31, 2022
BA.2 is here…
The official narrative is "Covid is Over." In the fall, the official narrative was "Covid is behind us," and that the pandemic will be "over by January" (Gottlieb), and "I know some people seem to not want to give up on the wonderful pandemic, but you know what? It's over" (Bill Maher). That narrative was completely exploded. What a surprise! This time, it may be different. But who knows?
NOTE I shall most certainly not be using the CDC's new "Community Level" metric. Because CDC has combined a leading indicator (cases) with a lagging one (hospitalization) their new metric is a poor warning sign of a surge, and a poor way to assess personal risk. In addition, Covid is a disease you don't want to get. Even if you are not hospitalized, you can suffer from Long Covid, vascular issues, and neurological issues. For these reasons, case counts — known to be underestimated, due to home test kits — deserve to stand alone as a number to be tracked, no matter how much the political operatives in CDC leadership would like to obfuscate it.
MWRA (Boston-area) wastewater detection: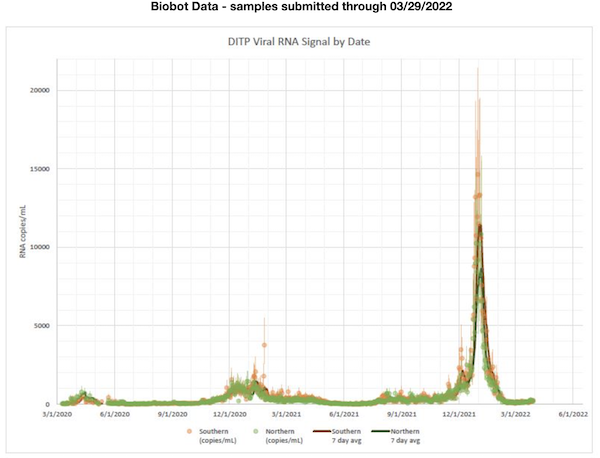 The MRWA is divided into two sections, North and South. North is distinctly up, South is rising slowly. The rise has visibly affected this chart, which aggregates them. The aggregate of the enormous Omicron spike conceals change, but change there is. Of course, it's a very small rise. Maybe this time the movie will end differently.
The Massachusetts Water Resources Authority (MWRA) service area includes 43 municipalities in and around Boston, including not only multiple school systems but several large universities. Since Boston is so very education-heavy, then, I think it could be a good leading indicator for Covid spread in schools generally.
From CDC Community Profile Reports (PDFs), "Rapid Riser" counties: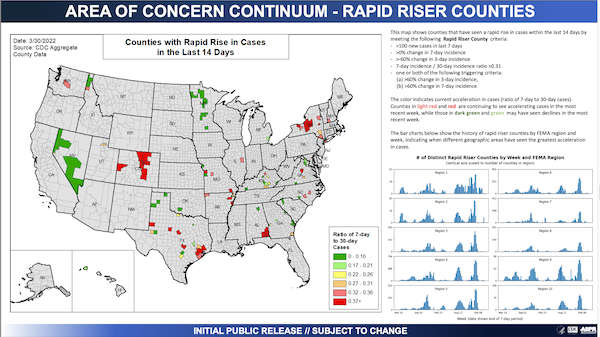 Every so often I think of doing away with this chart. I remember using the metaphor of flying coals in a forest fire — many land, but sputter out; a few catch, and the first spreads. What I notice about this round of flareups is that the "coals" are the size of multiple counties, not, as previously, single ones. FWIW! (Remember that these are rapid riser counties. A county that moves from red to green is not covid-free; the case count just isnt, well, rising rapidly.)
The previous release: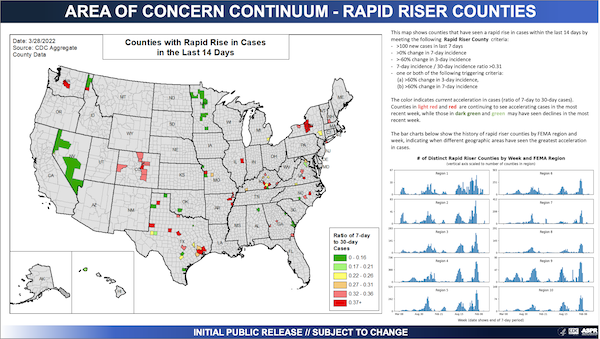 Here is CDC's interactive map by county set to community transmission: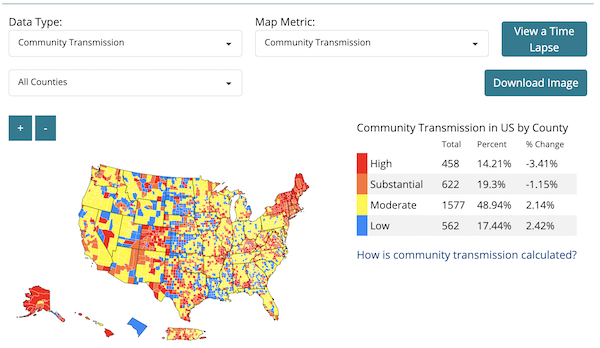 Continuing slow improvement, assuming the numbers aren't jiggered.
Hospitalization (CDC Community Profile):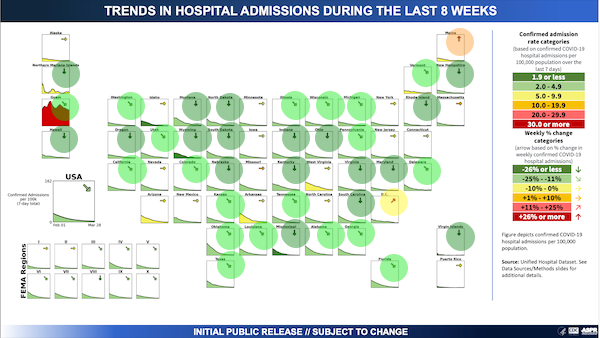 Again, I don't like the sudden effloresence of yellow and orange. I don't care that the baseline is low. From the point of view of our hospital-centric health care system, green everywhere means the emergency is over (and to be fair, this is reinforced by case count and wastewater). However, community transmission is still pervasive, which means that long Covid, plus continuing vascular damage, are not over. (Note trend, whether up or down, is marked by the arrow, at top. Admissions are presented in the graph, at the bottom. So it's possible to have an upward trend, but from a very low baseline.)
Death rate (Our World in Data):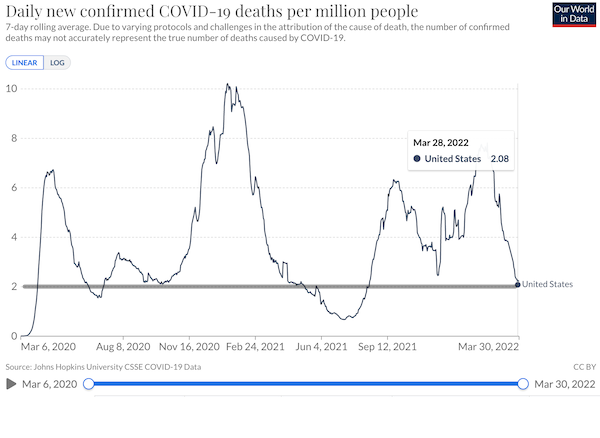 Total: 1,006,445 1,004,244. We did it. Break out the Victory Gin. Fortunately, the numbers are headed downward. I have added an anti-triumphalist Fauci Line.
Covid cases in top us travel destinations (Statista):
Stats Watch
Employment Situation: "United States Initial Jobless Claims" [Trading Economics]. "The number of Americans filing new claims for unemployment benefits rose by 14 thousand to 202 thousand in the week ended March 26th, above market expectations of 197 thousand. Still, it remained not far from the previous period's revised level of 188 thousand, which was the lowest since 1969."
Employment Situation: "United States Challenger Job Cuts" [Trading Economics]. "US-based companies announced plans to cut 21,387 jobs from their payrolls in March of 2022, the most in five months. Most cuts were due to store, unit, or plant closing (5,301) and vaccine refusal (3,278). By sector, for the fourth consecutive month, Health Care/Products announced the most job cuts (4,995). There appears to be a return of a healthier churn in the labor market. Some U.S. Employers report hiring is getting easier, particularly with the incentives many companies put in place to attract and retain talent."
* * *
Tech: Sounds innovative:
In 2016 @Dyson began working on a wearable air purifier. When they received their first patent on this device in 2018 the use case was fairly straightforward- mitigate pollution and lower PM2.5 levels via dilution by directing a stream of filtered air at the user's nose and mouth pic.twitter.com/5koliQFNTv

— Naomi Wu 机械妖姬 (@RealSexyCyborg) March 30, 2022
"Snot cannon"? That's harsh.
* * *
Today's Fear & Greed Index: 53 Neutral (previous close: 53 Neutral) [CNN]. One week ago: 46 (Neutral). (0 is Extreme Fear; 100 is Extreme Greed). Last updated Mar 31 at 1:18pm.
Rapture Index: Closes unchanged [Rapture Ready]. Record High, October 10, 2016: 189. Current: 188. (Remember that bringing on the rapture is a good thing, so higher is better.)
The Gallery
"Meet Magritte – the man behind the apple" [Apollo]. "'He did not speak about things that touched him deeply,' [said Magritte's wife, Georgette said. 'He painted them away.'" • I had no idea Magritte had worked as a commercial artist. Like Warhol–
"Life Lessons from Liza Minnelli" [Interview]. Minelli: "When [the skies are] clear, New York looks like the inside of a diamond." • She's right! Back in the day, when Interview was Andy Warhol's Interview, it was filled with sumptuous black and white photography. What a time, when you could buy it, and New York Spy, at the same newsstand in Harvard Square….
Our Famously Free Press
Sounds legit:
"Remarkably, they all agree: the pandemic is over"

— Esther C, MD (@choo_ek) March 29, 2022
Class Warfare
"Trouble in the Tulips: Organized Farmworkers Win Basic Demands in a Quick Strike" [Labor Notes]. "Yes, the fields of flowers are so beautiful they can take your breath away, but the conditions under which they're cultivated and harvested can be just as bad as they are for any other crop. 'Tulips have always been a hard job, but it's a job during a time of the year when work is hard to find,' says farmworker Tomas Ramon. 'This year we just stopped enduring the problems. We decided things had to change.' On Monday, March 21, their dissatisfaction reached a head. Three crews of pickers at Washington Bulb accused the company of shorting the bonuses paid on top of their hourly wage, Washington's minimum of $14.69. Workers get that extra pay if they exceed a target quota set by the company for picking flowers. The parent company of RoozenGaarde Flowers and Bulbs is Washington Bulb, the nation's largest tulip grower. When the company wouldn't talk on that Monday, 70 workers voted to strike the following day. Another 20 joined them the next morning, when they again demanded to talk with the company. This time one of the owners told them he wouldn't talk if the president of Familias Unidas, Ramon Torres, was present. 'So we said, 'If you won't talk with our representative, we won't talk without him," Tomas Ramon remembers. 'We have a union and you have to make an agreement with him.' So the owner got angry and left.' That Wednesday the flowers were just waving in the breeze, waiting for someone to pick them. The day after, the company lawyer was on the phone to union attorney Kathy Barnard. With a commitment to begin negotiations, workers agreed to go back into the rows after the weekend, and talks got started. 'By the first day of the strike the workers had already met, elected a committee, and put their demands in writing,' said FUJ's political director Edgar Franks. ;After the four years of fighting for the contract at Sakuma Farms, they knew how to organize themselves quickly. They had community supporters on their picket lines after the first day. They had their list of demands, and finally forced the company to accept it.'" • Heartening!
News of the Wired
"The Father of Modern Neuroscience Discovered the Basic Unit of the Nervous System" [Scientific American]. "Since researchers first began to study the nervous system in ancient times, they have tended to compare its structure to contemporary technologies. The ancient Egyptians saw in the exterior casing of the brain, with its fissures and convolutions, the corrugated slag left over from smelting ore. The ancient Greeks thought the brain functioned like a catapult. René Descartes believed that animal spirits flowed from the brain through hollow nerves and inflated the muscles, just as hydraulic fluid traveled through machines in the royal gardens at Saint-Germain. In the 19th century, a new era of transportation, anatomist Otto Deiters, among many others, conceived of the nervous system as a railroad, with junctions at which traffic could be routed. In the mid-19th century the railway metaphor for the nervous system gave way to another transformative technological advance: the telegraph." • Today, of course, the computer….
* * *
Contact information for plants: Readers, feel free to contact me at lambert [UNDERSCORE] strether [DOT] corrente [AT] yahoo [DOT] com, to (a) find out how to send me a check if you are allergic to PayPal and (b) to find out how to send me images of plants. Vegetables are fine! Fungi and coral are deemed to be honorary plants! If you want your handle to appear as a credit, please place it at the start of your mail in parentheses: (thus). Otherwise, I will anonymize by using your initials. See the previous Water Cooler (with plant) here. Via Re Silc: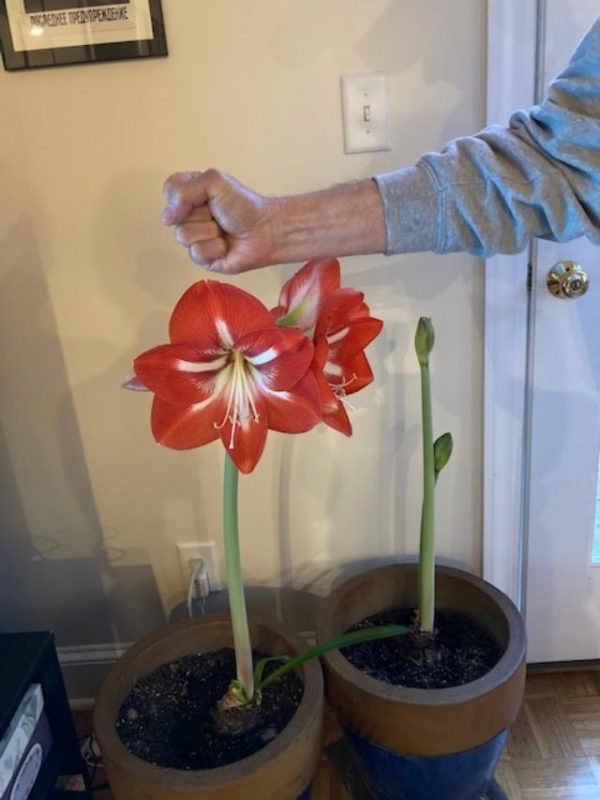 Re Silc writes: "Big flower!" I have no skill for growing houseplants whatever. So I find this impressive!
* * *
Readers: Water Cooler is a standalone entity not covered by the recently concluded and — thank you! — successful annual NC fundraiser. So if you see a link you especially like, or an item you wouldn't see anywhere else, please do not hesitate to express your appreciation in tangible form. Remember, a tip jar is for tipping! Regular positive feedback both makes me feel good and lets me know I'm on the right track with coverage. When I get no donations for five or ten days I get worried. More tangibly, a constant trickle of donations helps me with expenses, and I factor in that trickle when setting fundraising goals:
Here is the screen that will appear, which I have helpfully annotated.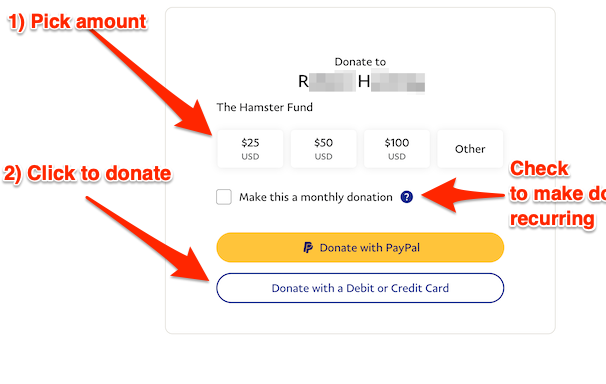 If you hate PayPal, you can email me at lambert [UNDERSCORE] strether [DOT] corrente [AT] yahoo [DOT] com, and I will give you directions on how to send a check. Thank you!