By Lambert Strether of Corrente
Dear Readers,
As you know, I hate to talk about money — for those who can't stand to see me dance around the topic, my goal this year is 350 donors, and you can click here for the tip jar; dig deep! — so I thought I would begin this year's fundraiser by mentioning some of the Water Cooler features we've introduced and refined to smooth out a very rough couple of years.
First, we have Birdsong of the Day. In fact, since at reader suggestion this is Northern Bobwhite week at Naked Capitalism, herewith:
I really enjoy starting a new Water Cooler post by searching for birdsongs. I hope you enjoy starting your reading by listening to birdsongs just as much!
Second, I've made a big effort to curate artworks, especially paintings. For example:
'National Gallery.' (c1956) Bernard Dunstan was a great admirer of Pierre Bonnard's dictum that: 'The thing must start with a vision, with a moment of excitement. After that, you study the model.' His own paintings combine direct observation and meticulous draughtsmanship. pic.twitter.com/NBmV1hBQyr

— Richard Morris: Art History in a Tweet (@ahistoryinart) March 12, 2022
I subscribe to a lot of artbots, because I think they are "timeline cleansers"; just like a contemplative perambulation through a quiet museum can take the edge off a stressful day, so viewing these works soothes the irritation from pervasive mis- and disinformation, general hysteria, emotional manipulation, lying officialdom, and — in short — the news flow in its usual state. I hope what works for me works for you.
Third, we have the daily plant pictures (and gardening projects) that so many of you regularly send in. Today's plant is from JB: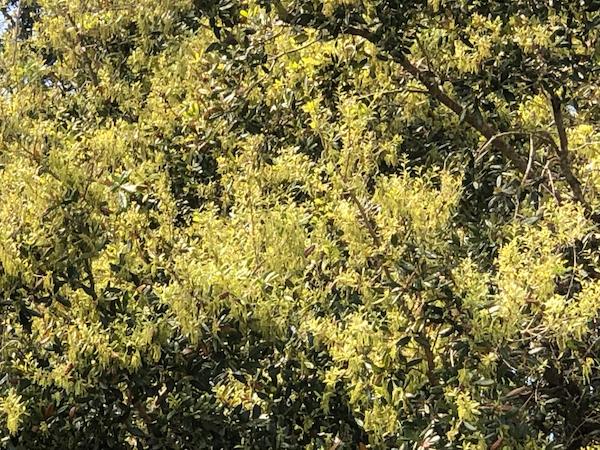 JB writes: "It's that time of year when our oaks have dropped their leaves and spring growth is underway. It's gorgeous! Not 'showy' but beautiful in its own right."
Michael Pollan expresses the idea that plants cultivate us as much as we them, and the message I take — the message they are, possibly, sending? — is that the earth is more various, more beautiful, and more full of hopeful possibility than we realize. Even if plants are the ones who end up taking it over from us!
Now that you have had your ration of Water Cooler features, let me quote some of the nice things all y'all have said about Water Cooler over the last year:
Thanks for doing what you do. Water Cooler brings me joy. (and depending on the article content, sadness, rage. . . the entire range of human emotions :)) –M.Y.

Thank you for running the Water Cooler – I have truly come to depend on it for perspective Stay safe! –K.M.

A lot of what you write and post pisses me off, but I realize that I need to keep reading. –J.M.

Thank you for the Water Coolers and your other thoughtful writings! –R.S.N.

Thank you. Water-cooler shows up at 6am (I'm in New South Wales), and I settle to read it first thing over a cup of coffee. Your work means a lot to me. I find Lambertisms creeping into my conversation . . . Stay well! –A.D.

I have to say that you manage to be sharp on just about any topic you turn to, my hat is off to you, and in addition to great content – what style! I only wish I could contribute more. –B.T.

Thank you for all you do to inform, illuminate, and keep me somewhat sane through these wild times. –G.S.

Thanks for the Water Cooler! –S.F.

Hey Lambert! Nothing much to say but hey. –H.C.
Thank you all. What Yves wrote in 2017 is a better description of Water Cooler than any I have ever been able to come up with:
Besides providing general business news, Water Cooler files all the scamming and grifting and phishing under the heading of "The Bezzle," provides a contextual view of official statistics, maintains a watch on important indices, and follows shipping and supply chain news as a non-financial window into globalization. In politics, Water Cooler provides detailed, gritty coverage of important races, of sausage-making on policy, especially health care, and tracks the continuing legitimacy crisis of the political class as a whole, especially out in the "flyover states." In addition, Water Cooler gives dispatches from the front of Class Warfare. That's a lot of material to cover and bullshit to wade through on a daily basis!
I should also mention that I'm rubbing my hands gleefully gearing up to cover the cast of characters in the coming midterms, which I expect to be more than "gritty" and clarifying in a number of ways.
I should also pat myself on the back for tape-watching the Covid statistics (IM Doc called my work "meticulous"). Horrid though the state of the data is, I think I have called the turns correctly so far, and, just as important, have not called turns that never happened. I have always thought of this work — which would be numbing or enraging if I allowed it to be — as a reader service, and I hope it helped you in your decision-making about precautions, travel decisions, family gatherings, and so forth. We need to watch these numbers even more closely today, considering that the dominant — and clearly false — narrative is "Covid is over."
* * *
2021's Water Cooler fundraiser went very well, and we would like 2022's to go just as well. Our goal is 350 donors, an increase of 25 over last year. Please give what you can.
Readers, I couldn't write Water Cooler — which depends on my having my head down over my iPad during every free moment to keep my head in the news flow — without independent funding from you; there's no mainstream market for calling out bullshit — let alone helping people to keep their balance with bird songs and artwork and plants!
What Yves wrote back in 2017 is true this year as well:
To be crass, Lambert is making well under a living wage for his work on Water Cooler and that is not right. We need you to live up to what we hope is one of the widely-held values in the commentariat, that people should be paid fairly for their work, especially work that has already been done! That means digging into your wallets, whether a little or for a lot, and chipping in for Water Cooler.
If you can dig deep, please consider doing so. Not only is this quarter tax time for me, I have responsibilities in the real world. Further, you will be paying me for work I have already done — unlike the Naked Capitalism fundraiser proper, which sets the budget for the following year — and so having played the fiddle, I am now passing my cap, which I hope will shortly sag with your contributions. Please click the Donate button below and contribute what you can.
Again, our target is 350 donors, and we'd like to return to our regularly scheduled programming as soon as possible. I really enjoy writing Water Cooler, and I hope you enjoy reading it. Thank you!
* * *
To make the business relationships clear, Yves writes:
Water Cooler is a separate store front within Naked Capitalism to pay for [Lambert's] considerable effort on it over and above all the work he already does on the site… Yes, Lambert also gets paid out of the annual fundraiser, but that is for the considerable amount of work he does besides Water Cooler, such as DJing the site, helping manage the comments section, managing a lot of the tech issues, and helping in tooth-gnashing over other "business of running the business" matters.
* * *
Here is the screen that will appear, which I have helpfully annotated.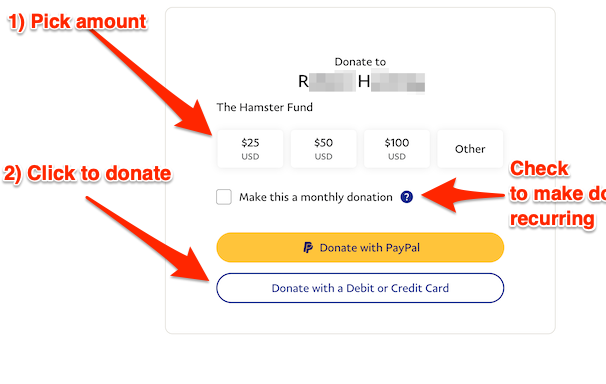 If you hate PayPal, you can email me at lambert [UNDERSCORE] strether [DOT] corrente [AT] yahoo [DOT] com, and I will give you directions on how to send a check. Thank you!