By Lambert Strether of Corrente.
How does an old man like you stay alive, George?
I don't eat.
You don't eat?
Yes, but it hasn't affected my appetite!
—Don't Crush That Dwarf, Hand Me the Pliers, Firesign Theatre
When I saw that President Biden's Chief of Staff, Ron Klain, had given a speech at the Economic Club of Washington DC, I actually looked forward to reading the transcript (here), because I've heard other public figures give presentations to regional Economic Clubs in places like Cleveland or San Francisco, and the talks have often been interesting, the questions trenchant. Boy, was I naive. Of course, the Economic Club of Washington is on K Street: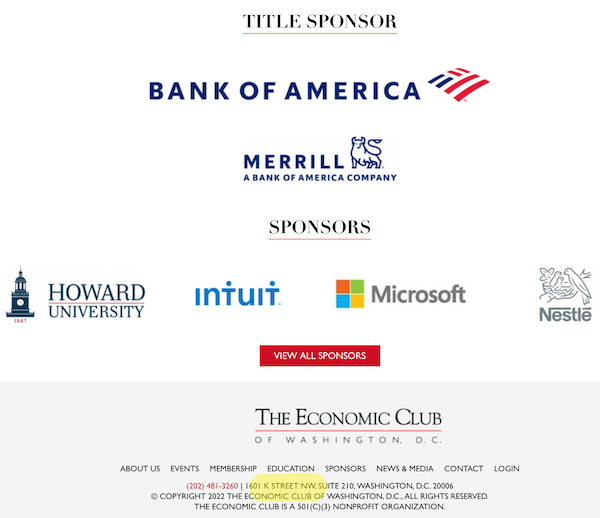 And the sycophancy was so gummy and blobby that you couldn't cut it with a shovel. (Thomas Frank, if you're reading this, this event is worthy of your attention.) Fortunately for us all, or at least many of us, Klain's speech, as a matter of public record, is about to sink beneath the waves; I searched for a line from interviewer David Rubenstein's introduction, and it doesn't show up in Google at all, and only yields one hit in DuckDuckGo: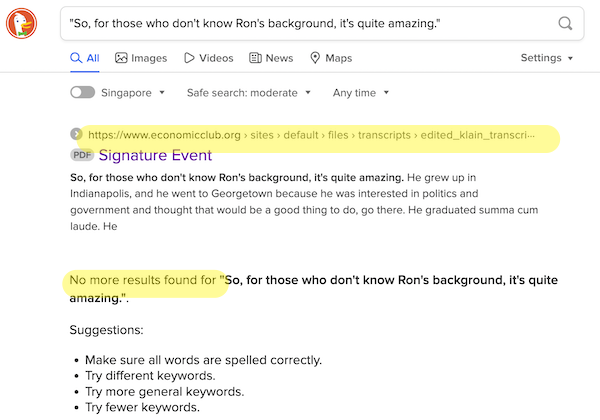 But wait, you say. David Rubenstein? Rubenstein is a squillionaire, and co-founder and co-chairman of the ginormous private equity firm The Carlyle Group, "the CIA of the business world." So what we have here isn't really a speech to a club; it's a subordinate (Klain) reporting to a superior (Rubenstein), on matters of interest to that superior. (Bourdieu would love this.)
Mostly, Rubenstein is interested in Ukraine. I'm not, because I think we have no way of knowing what's happening on the ground. I'm interested in details of how Washington works, and especially interested in Covid. (I'm also a little bit interested in Klain, a spectacular mediocrity who should not hold high office.) So I'm going to cut out snippets from the speech, and comment on them. I'm sorry I can't give this speech the full treatment; it would be like putting on my yellow waders to dive into a bowl of oatmeal at a rolling, gummy, blobby boil. Not advisable.
Again, the first salient feature of the talk is the sycophancy. Here's Rubenstein introducing Klain:

Rubenstein: "I am but a humble squillionaire, hardly as qualified as you!"
The second salient feature is West Wing Brain:

Yes, just how Toby and Josh would explain it!
The fourth feature — I don't know how salient it is, but it sure is interesting — is the secret entrance:

A sekrit entrace rings a bell with me, because as an old-timer who actually blogged about the first Bush Administration, I remember the Jeff Gannon/James Guckert scandal. Guckert, whose professional name was "Bulldog," spent several nights in the Bush White House without being logged in, and later, under the name Gannon, became a White House correspondent for Talon News (which no longer exists). In any case, I'm not sure exactly what message Rubenstein is sending Klain, except possibly "we both know I can get a clandestine meeting with The Big Guy" whenever I want.
Returning to less salty matters, we have more West Wing Brain:

I think what this translates to is that the White House staff conforms to the liberal Democrat norm of conflict avoidance. The passage also — unsurprisingly — screams groupthink, as well as authoritarian followership (since the ideology of the "team" is that we're all contributors, and power relation are not to be discussed).
That said, it would be churlish of me to dismiss the White House successes: They are running the two largest and most pervasive propaganda compaigns I've ever experienced: "Covid is over!" and "Ukraine! Ukraine! Ukraine!" And they're doing this quite successfully (though with more success for the latter than the former, having had 2022 – 2016 = 6 years of RussiaGate and Trump/Putin to build on). So Klain's White House staff is indeed very good; it's just a question of at what.
And now we come to Covid. Rubenstien presents two topics for discussion: Masks and vax. From this, we deduce that those are the only two topics Rubenstien cares about — and hence, I would speculate, his class. No mention of non-pharmaceutical interventions, no mention of ventilation, no mention of layered protection, no mention of variants, no mention of the CDC, not even a theory of tranmission (i.e, aerosols). He doesn't even ask Klain if another wave is coming, and whether the Administration is prepared for it; this is, I assume, a matter of indifference to him. On masks:

[Pounding my head on my desk at the banality of it all.] So, we see that Walensky comes by her hatred ("Scarlet Letter") of masks honestly; her class superiors hate them, and so she does too. We also see — something else Bourdieu would love — that socializing is very important to the squillionaires; I would imagine that's how they decide on and propogate high policy; or "rule," as we might say. (It all sounds very nice, as one may "socialize" in the neighborhood bar, but trust me, a neighborhood bar is nothing like a Georgetown cocktail party.) I am not certain why Rubenstien believes that masks make it harder to "socialize"; plenty of cultures that mask socialize perfectly well. I again put forward my speculation that masks hide smiles, smiling is essential to lying, and lying is essential to our ruling class.
So, Klain reports to Rubenstein that masks are going away. Klain also reports by omission that vax-only remains the policy: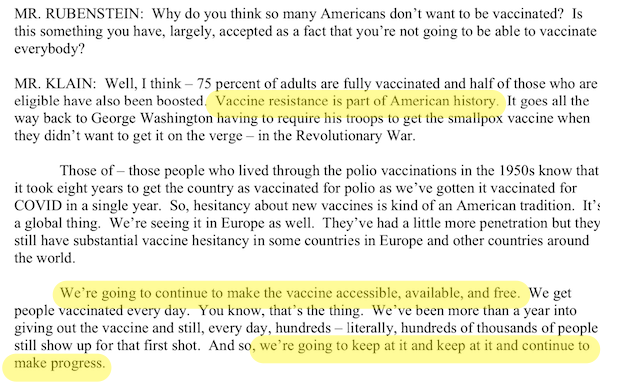 Klain doesn't seem to think that it's within a President's purview to change history. or even try. And the vaccines may be "accessible, available [why the distinction], and free," but Klain has nothing to say about safety, the immuno-compromised, children, Long Covid, unlocking IP so poor countries can manufacture their own, or the fact that the vaccines aren't sterilizing, despite what we were initially told. Presumably, again, these are matters of indifference to Rubenstein and his class.
* * *
Since Klain has reported to his superiors that no masks and vax-only are the twin pillars of Biden's Covid policy, expect nothing except that dictated by "events, dear boy, events" until 2024. (The unknown variable is that the dogs aren't eating the dogfood on masking, but the answer there will be to double down on the propaganda, as usual. And of course, some nasty whistleblower might make the Pharma executives wish they'd dumped all their stock.) Of course, such "events" could be emerging right now in China, or at the international airport near you. So [here Rubenstein smiles gently] "Let 'er rip" and — and unless you got a ticket to HappyVille, and not Pain City — "You're on your own, kid!"