Lambert and I, and many readers, agree that Ukraine has prompted the worst informational environment ever. We hope readers will collaborate in mitigating the fog of war — both real fog and stage fog — in comments. None of us need more cheerleading and link-free repetition of memes; there are platforms for that. Low-value, link-free pom pom-wavers will be summarily whacked.
And for those who are new here, this is not a mere polite request. We have written site Policies and those who comment have accepted those terms. To prevent having to resort to the nuclear option of shutting comments down entirely until more sanity prevails, as we did during the 2015 Greek bailout negotiations and shortly after the 2020 election, we are going to be ruthless about moderating and blacklisting offenders.
–Yves
P.S. Also, before further stressing our already stressed moderators, read our site policies:
Please do not write us to ask why a comment has not appeared. We do not have the bandwidth to investigate and reply. Using the comments section to complain about moderation decisions/tripwires earns that commenter troll points. Please don't do it. Those comments will also be removed if we encounter them.
* * *
Humans bred dogs to have puppy-dog eyes CNN
Okay, Caesar, Let's Go Home Werk-In-Progress
The hidden world of octopus cities and culture shows why it's wrong to farm them The Conversation
Climate
As Climate Fears Mount, Some Are Relocating Within the US Wired

Green investing: the global system for rating companies' ethical credentials is meaningless The Conversation
#COVID19
A paradigm shift to combat indoor respiratory infection (PDF) University of Leeds. From the Abstract:

"the rapid growth in our understanding of the mechanisms behind respiratory infection transmission should drive a paradigm shift in how we view and address the transmission of respiratory infections to protect against unnecessary suffering and economic losses. It starts with a recognition that preventing respiratory infection, like reducing waterborne or foodborne disease, is a tractable problem

Multi-scale modelling reveals that early super-spreader events are a likely contributor to novel variant predominance Journal of the Royal Society. From the Abstract: "We find stochasticity remains a powerful determinant of predominance. Variants that predominate are more likely to be associated with higher infectiousness, an [Super-spreading event] SSE early after variant emergence and ongoing decline of the current dominant variant. Additionally, our simulations reveal that most new highly infectious variants that infect one or a few individuals do not achieve permanence in the population. Consequently, interventions that reduce super-spreading may delay or mitigate emergence of VOCs." And importantly: "From a public health perspective, our results provide yet another reason to intensely focus NPIs on preventing large SSEs. This policy prescription includes the prohibition of large indoor gatherings among unvaccinated people, a focus on adequate ventilation in indoor work environments and schools, and enforcement of highest quality masks (K95 or N95) in circumstances where high-risk group exposures cannot be avoided. Prevention of SSEs will limit number of infections, lower the introduction of new variants and decrease the probability that a single large SSE will initiate a more rapid local epidemic as has already been documented in Boston, South Korea and multiple other locations during the pandemic "

COVID-19 cases rise rapidly in New York City, DC The Hill and My Burnank. Is this a movie we have seen before?

In the Rush to Return to 'Normal,' What Happens to the Vulnerable? NYT
China?
Covid-19 in China: Shanghai wasn't prepared for Omicron, Zhong Nanshan says SCMP

3 Shanghai officials sacked over COVID-19 response AP

Shanghai (1):

Things are quite bad in Shanghai. China has a long and ugly history of famine, displacement, and civil unrest. The social contract we have is basically; no more of that, and a steady improvement in quality of life, and we won't quibble too much about the path that takes us there.

— Naomi Wu 机械妖姬 (@RealSexyCyborg) April 9, 2022

Shanghai (2):

Earlier in the week I said our neighborhood committee was doing alright, not great. They're doing their best to lower their eval to "f*cking terrible".

No one knows what they're doing now, no one can reach them, none of the stuff they say happens on time, or at all.

— David Fishman (@pretentiouswhat) April 10, 2022

Problems at the municipal level then?

Shanghai (3):

6) More remarkable in this telephone conversation is how philosophical of a chat the resident and police officer got toward the end. Censors blocked the subtitles—but in Shanghainese the caller gets the cop to think about repercussions for violent rebellion if hunger continues.👇 https://t.co/kh96kqMYS1

— Eric Feigl-Ding (@DrEricDing) April 10, 2022

Revising Down the Rise of China Lowy Institute
Pakistan's Imran Khan removed as prime minister after no-confidence vote Axios
US asked Pakistan not to proceed with Prime Minister Imran Khan's visit to Russia: Qureshi The Print
Pakistan's prime minister accuses US diplomat of 'conspiracy' to overthrow his elected government Multipolarista
Thousands in Sri Lanka insist Rajapaksa family quit politics Al Jazeera
India
In Punjab, Caste Discrimination In Key Employment Guarantee Programme Denies Minimum Wage To Dalits, Women Article14
In Africa, U.S.-Trained Militaries Are Ousting Civilian Governments in Coups WSJ
South African court halts Amazon HQ project Times of Africa
UK/EU
French polling:

Final numbers from the major French pollsters, on the eve of the presidential election's first round (Ipsos, Harris, Elabe, OW, Ifop, BVA):

—Macron: 26-27% in all
—Le Pen: 22-24% in all
—Melenchon: 16.5%-18% in all

—other right/far-right: ≈20%
—other left/far-left: ≈11-12%

— Taniel (@Taniel) April 9, 2022
New Not-So-Cold War
Read all about it: Final days of the battle for Mariupol Gilbert Doctorow. Interesting:

The Azov fighters, other irregulars and Ukrainian army forces numbered about 4,000 at the start and now have been reduced due to casualties. They include among them "foreign mercenaries" as the Russians have said for some time. Now from intercepted phone conversations of these belligerents, it appears that among the foreigners are NATO instructors. This means that the proxy war between Russia and the USA/NATO begins to approximate a direct confrontation, contradicting the public pronouncements coming from the Biden administration. Should the Russians succeed in taking/ these NATO instructors alive, which is one of their priority tasks, the next sessions of the UN Security Council could be very tense.

Sitrep: Operation Z Veteran's Today. Interesting on Russian artillery.

Of Roadside Bombs And Drones: Putin's Looming Insurgency Problem War on the Rocks. Big if true.

* * *

The Observer view on the west's response to war in Ukraine Guardian. No-Fly Zones, but on the ground. What could go wrong?

The Threat to the West Is Inside the House Foreign Policy. Hungary and Serbia.

* * *

Half A Dozen Chinese Y-20 Cargo Jets Popped Up Over Europe Last Night The Drive (RobertC). "Reports later emerged that the planes delivered HQ-22 surface-to-air missile systems to the Serbian military." It's a beautiful day in the neighborhood….

* * *

Kyiv Independent Deep Dive: The West's In-Kind Answer to Putin's Propaganda Mint Press. Just another NGO….

Photos show Kramatorsk missiles had Urkainian serial numbers:

bombing of civilians at Kramatorsk rail station by Tochka missile was criminal. But let's look at available data before uncritically accepting claims from Zelensky regime. The tail section of missile was found in parkette to WSW of rail station. pic.twitter.com/lHmv7R6G9H

— Stephen McIntyre (@ClimateAudit) April 8, 2022

Normalizing fascism:

Stepan the #cat from #Kharkiv has been nominated for the most prestigious award in the Influencers industry – World Influencers and Bloggers Awards 2022.
All funds for this event will be transferred to charity. pic.twitter.com/VHFX5qpjSl

— NEXTA (@nexta_tv) April 9, 2022

"Stepan" as in Stepan Bandera, fascist.

* * *

U.S. quietly paying millions to send Starlink terminals to Ukraine, contrary to SpaceX claims WaPo

Antonov An-225 Mriya: World's largest plane wrecked in Kyiv fight Al Jazeera. Not clear by whom, interestingly.

Intel: Putin may cite Ukraine war to meddle in US politics AP. The RussiaGate Doom Loop. For those who came in late, the Times solemnly presented this meme as one of the "Russian" memes that stole the election:
The Caribbean
Navigating Alternate Realities Venezuelanalysis
American Think Tanks Are Fueling the Mexican Right Jacobin
Biden Administration
And, folks — (applause) — let me close with what I've long said: America is a nation that can be defined in a single word. I was in the foothi- — foot- — excuse me, , traveling with him. (Inaudible) traveled 17,000 miles when I was Vice President at the time. I don't know that for a fact.

And we were sitting alone. I had an interpreter and he had an interpreter. And he looked at me. In all seriousness, he said, "Can you define America for me?" And I said what many of you heard me say for a long time. I said, "Yes, I can, in one word: possibilities." (Applause.) "Possibilities." That, in America, everyone should be able to go as far as their hard work and God-given talent will take them. And possibilities. We're the only ones. That's why we're viewed as the "ugly Americans": We think anything is possible. (Laughter.)

* * *
Supply Chain
Trade Data Shows the Negative Impact of Russia's Invasion of Ukraine Maritime Executive
History Nook
April 9, 1865:

150 years ago today at Appomattox, Robert E. Lee unveiled the Confederate flag's final design. pic.twitter.com/47NbFlxN3Z

— Matt Ford (@fordm) April 9, 2015
Zeitgeist Watch
Supersize me (1):

With their greater size and power, several new battery-powered SUVs and trucks are heightening pedestrian and traffic safety concerns https://t.co/GepjbwR9BP

— Bloomberg CityLab (@CityLab) April 10, 2022

Supersize me (2):

This photo frequently does the rounds to troll air travellers.

It's fake. 1: It was staged. 2: The 747 didn't start commercial flights until the 1970s.

But look how thin everybody was back then. pic.twitter.com/ITNEeG5U0i

— Thos Major (@ThosMajor) April 10, 2022
Class Warfare
Body Parts Aren't Gendered. So Why Are Sex Toys? Wired
The Internet Is Not What You Think It Is: A History, A Philosophy, A Warning LA Review of Books
Antidote du Jour (via):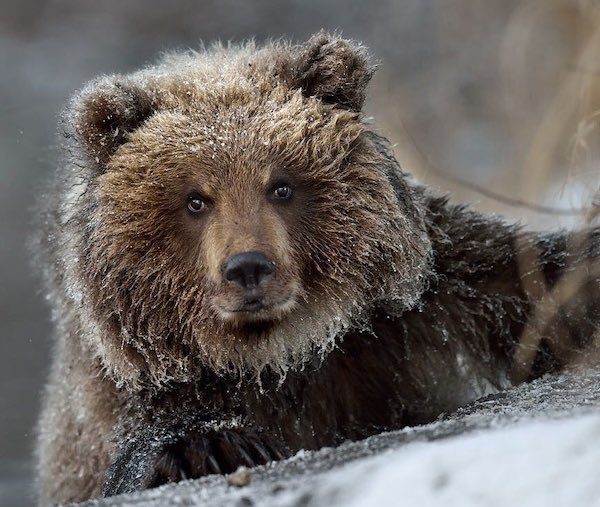 Bonus Antidote:
Mommy and her babies.. pic.twitter.com/jaTxga5HN1

— Buitengebieden (@buitengebieden_) April 8, 2022
See yesterday's Links and Antidote du Jour here.