By Lambert Strether of Corrente
Bird Song of the Day
I think I'll try some Evening Grosbeaks.
* * *
Politics
"But what is government itself, but the greatest of all reflections on human nature?" –James Madison, Federalist 51
"They had learned nothing, and forgotten nothing." –Charles Maurice de Talleyrand-Périgord
"When the going gets weird, the weird turn pro." –Hunter Thompson
Biden Adminstration
"Biden urges unity to stem racial hate after Buffalo shooting" [Star Tribune]. • I've always, er, hated the liberal Democrat "hate" trope. Here's why:

"Hate" is the most useless framing that minimizes what is clearly far-right white supremacist violence organized and facilitated by elected officials, courts, police and media, carried out by ppl organized or inspired by armed militia orgs. "Hate" obscures the labor involved.

— Kenyon Farrow (@kenyonfarrow) May 16, 2022

"Obscures the labor involved" is the key point for me. It's not clear to me how the liberal Democrats draping blue and yellow flags over their "In this house" signs reconcile their passionate opposition to white supremacy with supporting the Azov Battalion, but the double-thinking brain worms are powerful.

If you look at this photo from the Buffalo shooting as a stage set:

In the background, a building destroyed by deindustrialization. In the middle ground, an imperial facade, possibly made from styrofoam. In the foreground, cops. White cops, in fact. (Yes, I know that the TOPS store was induced to move into a black neighborhood, once a food desert, through community action. That's the "friendly markets" part.)
2022
* * *

"Kurt Schrader Blasted Nancy Pelosi as "Truly a Terrible Person" While Killing Biden's Build Back Better" [The Intercept]. "[Rep. Kurt Schrader, D-Ore] was a leader of an effort by centrist Democrats to disrupt Pelosi and President Joe Biden's plan to pair a bipartisan infrastructure package with a reconciliation bill that included Biden's social policy agenda as well as an ambitious attempt to tackle the climate crisis. In June, Schrader had joined with Rep. Josh Gottheimer, D-N.J., and seven other Democrats demanding that the bipartisan bill be split apart from the broader agenda." Fast forward to today: "On May 12, House Majority PAC, Pelosi's super PAC, gave the maximum $5,000 to Schrader's campaign. A Pelosi spokesperson wasn't immediately available to respond to Schrader's claim that the House speaker is truly a terrible person." • A big, beautiful tent!

"Republican Money Is Gushing Into Democratic Primaries To Nominate Conservative Dems" [Down with Tyranny]. "Massive amounts of Republican money is being laundered into Democratic primaries via AIPAC's sleazy United Democracy Project and Mark Mellman's even sleazier Democratic Majority for Israel. The two crooked right-wing organizations are attacking– usually with out-right lies– Erica Smith and Nida Allam in North Carolina, Summer Lee in Pennsylvania, Jamie McLeod-Skinner in Oregon, Jessica Cisneros in Texas." • What Pelosi seems not to understand is that we have an effective Republican Party. It's just that some of them are Democrats.

PA: "Fetterman suffers stroke days ahead of Pennsylvania Senate primary" [The Hill]. "Pennsylvania Lt. Governor and Democratic Senate candidate John Fetterman on Sunday said he had suffered a stroke late last week but was on the way to 'a full recovery.' 'On Friday, I wasn't feeling well, so I went to the hospital to get checked out,' Fetterman said in a statement released from Penn Medicine Lancaster General Hospital. 'I hadn't been feeling well, but was so focused on the campaign that I ignored the signs and just kept going. On Friday it finally caught up with me. I had a stroke that was caused by a clot from my heart being in an A-fib rhythm for too long,' he explained. 'The good news is I'm feeling much better, and the doctors tell me I didn't suffer any cognitive damage. I'm well on my way to a full recovery,' Fetterman added."

PA: "EXPLAINER: What do we know about John Fetterman's diagnosis?" [Associated Press]. "[I]t's not clear when he will get out of the hospital in Lancaster or whether he will attend the primary night event that his campaign had scheduled in Pittsburgh on Tuesday…. Fetterman did not say by what method the doctors removed the clot. His campaign said his exact treatment regimen is still being worked out, but will include rest in the short term and a healthier diet…. People who develop A-fib are almost always put on a blood-thinning medication for the rest of their life to help prevent the stroke-causing blood clots that untreated A-fib can create, Dr. Lloyd-Jones said." • NOTE It does not seem, at first sight, that Fetterman's stroke has anything to do with Covid. At the same time, Senator Chris Van Hollen has had a stroke, but due to a "venous tear." So I'm not sure the dots connect on this one.

WI: "Opinion | Tom Nelson says he knows how to fight for workers" [The Cap Times]. "When he heard that members of United Auto Workers Local 180 were on strike against CNH, the multinational corporation that makes Case agricultural equipment in Racine County, Tom Nelson raced to join their picket line…. Nelson had heard this story before. He's something of an expert on labor relations, having written a book, "One Day Stronger: How One Union Local Saved a Mill and Changed an Industry — and What It Means for American Manufacturing," on the fight to prevent the shuttering of the Appleton Coated plant in the Fox River Valley." • I'm not sure how Nelson is polling…..
Democrats en Déshabillé
I have moved my standing remarks on the Democrat Party ("the Democrat Party is a rotting corpse that can't bury itself") to a separate, back-dated post, to which I will periodically add material, summarizing the addition here in a "live" Water Cooler. (Hopefully, some Bourdieu.) It turns out that defining the Democrat Party is, in fact, a hard problem. I do think the paragraph that follows is on point all the way back to 2016, if not before:

The Democrat Party is the political expression of the class power of PMC, their base (lucidly explained by Thomas Frank in Listen, Liberal!). ; if the Democrat Party did not exist, the PMC would have to invent it. . ("PMC" modulo "class expatriates," of course.) Second, all the working parts of the Party reinforce each other. Leave aside characterizing the relationships between elements of the Party (ka-ching, but not entirely) those elements comprise a network — a Flex Net? An iron octagon? — of funders, vendors, apparatchiks, electeds, NGOs, and miscellaneous mercenaries, with assets in the press and the intelligence community.

Note, of course, that the class power of the PMC both expresses and is limited by other classes; oligarchs and American gentry (see 'industrial model' of Ferguson, Jorgensen, and Jie) and the working class spring to mind. Suck up, kick down.

* * *

"Democrats' Major Campaign Tech Firm Shifts Under New Private Equity Owner" [The Intercept]. "In August 2021, when the parent company of NGP VAN, a privately owned database that hosts Democrats' most sensitive data, was sold to Apax Partners, a British private equity firm, a major vulnerability in the party infrastructure was exposed. NGP VAN, which is part of the fundraising management software company EveryAction, is one of two major organizations that run the coveted organizing, voter file, and compliance tools that the Democratic Party relies on to build power…. Progressive operatives have long been critical of NGP VAN's effective duopoly over software for Democratic campaigns. Action Network, built to protect voter data from being used outside an organizing purpose, is its major nonprofit competitor. ActBlue, a major Democratic fundraising firm, integrated its services with NGP in 2018." More: "The next week, the firm introduced its new corporate name: Bonterra. An umbrella that covers what were once four companies — EveryAction; another fundraising software for nonprofits called Network for Good; and two nonprofit and philanthropic tech companies that Apax combined with EveryAction in the August merger, Social Solutions and CyberGrants — Bonterra's stated goal is to connect nonprofits to donors. While the four companies adopted the Bonterra name, NGP VAN, though functionally in the same position, remained a stand-alone brand." "Bonterra." Get it? More: "Apax partner Jason Wright, who is a director on Bonterra's board, gave near-maximum contributions to Republican Senate candidates David Perdue and Kelly Loeffler in November 2020, several weeks after they both lost their elections. That month, he also gave $5,600 to WinRed, the GOP fundraising platform. Wright previously contributed to committees for Democratic and Republican presidential candidates Hillary Clinton and Mitt Romney. In a statement after the 2021 merger, Wright and Apax principal Adam Garson, another Bonterra director, said that the "resulting scale and connectivity between donors and non-profits will help reshape philanthropic giving." A spokesperson for Apax, who declined to comment on the record, said Wright's role at Bonterra was in oversight and that he had no operating control." • What could go wrong?
Republican Funhouse
"Trump criticizes spending for Ukraine" [The Hill]. Trump: "The Democrats are sending another $40 billion to Ukraine, yet America's parents are struggling to even feed their children." • And he's not wrong, is he?

"The Plotters Against America" [John Ganz, Unpopular Front]. "[W]hen you begin to tally up the California think tank's tanks accomplishments, things start to appear a little eerie: just about every illiberal, anti-democratic, and demagogic project attempted by the Right in the past few years is connected to Claremont in some way…. With all this activity, you might expect Claremont Institute's ideological underpinnings to derive from neo-Confederatism or European fascism, but the intellectual sources of its revolt against American democracy are somewhat surprising. The Claremont Institute was founded by students of Harry V. Jaffa (1918-2015), himself a student of Leo Strauss and the American Right's premier interpreter and defender of Abraham Lincoln." • Leo Strauss? Hmm….
RussiaGate
"Trial by fire: Durham takes former Clinton lawyer to court" [Washington Examiner]. "The trial of former Hillary Clinton presidential campaign lawyer Michael Sussmann, charged with lying to the FBI about not having a client when he passed along since-debunked claims of collusion between then-candidate Donald Trump and Russia in 2016, is set to begin Monday. The clash in federal court in Washington, D.C., represents the biggest and most public test yet for John Durham and his special counsel investigation." More: "Christopher Cooper, the U.S. district court judge presiding over the Sussmann case, has said he was "professional acquaintances" at the Justice Department with Sussmann in the 1990s. The judge's wife has represented former FBI lawyer Lisa Page since at least 2018." • Oh.
Realignment and Legitimacy
"Episode 175 – Musk Rat Race (w/ Matt Stoller)" (podcast) [Briahna Joy Gray, Bad Faith]. "What started off as a conversation about free speech, Section 230, Elon Musk's Twitter buy, and the antitrust solutions to social media censorship became an energetic debate about the nature of American exceptionalism, identity politics, & patriotism vs afro pessimism. Matt Stoller, anti-monopoly expert behind the substack BIG & author of Goliath: The Hundred Year War Between Monopoly Power and Democracy returns to the pod for a fun and unexpectedly rigorous debate." • This is really, really good; passionate, informed, no game playing. Both Gray and Stoller are clearly having the time of their lives!
#COVID19
I've been treating the charts as topic areas and putting relevant snippets of content under them. But I'm afraid readers miss the snippets. So I decided to put bullets in front of the snippets in the #COVID19 section, as here:
• Hi, Rochelle!
Oh for — pic.twitter.com/dxRMUgrqLp

— Jonathan Mesiano-Crookston 🌬️🔅#COVIDisAirborne (@jmcrookston) May 14, 2022
Check the title and the author list. From the Abstract:
We demonstrated the practical measurement of carbon dioxide levels to which individuals are exposed in a sequence of non-steady state indoor environments. A novel metric of rebreathed air volume reflects social and environmental factors associated with airborne infection and can identify locations with high transmission potential.
So naturally Walensky is recommending CO2 measurement in indoor spaces. Oh, wait…. (I seem not to have awarded Walensky "Sociopath of the Day," and I should have, for this. Oh well, I'm sure there will be further opportunities!
• If Mead's test for civilization is correct, we're failing:
in an ancient culture was a femur (thighbone) that had been broken and then healed. Mead explained that in the animal kingdom, if you break your leg, you die. You cannot run from danger, get to the river for a drink or hunt for food. You are meat for prowling beasts. No 2/4

— James Bramble (@BrambleJim) May 14, 2022
Rule #2 is not a cultural universal, who knew.
• "The Covid Capitulation" [Eric Topol, Ground Truths]. "The United States is now in the midst of a new wave related to Omicron variants BA.2 and BA.2.12.1 with over 90,000 confirmed new cases a day and a 20% increase in hospitalizations in the past 2 weeks. That belies the real toll of the current wave, since most people with symptoms are testing at home or not testing at all; there is essentially no testing for asymptomatic cases. , far greater than any of the US prior waves except Omicron. . They are infections that beget more cases, they beget Long Covid, they beget sickness, hospitalizations and deaths. They are also the underpinning of new variants." Topol [lambert preens] catches up with what Water Cooler has been saying for months, good job. More: ". Three of these are in late stage clinical trials and success of any would markedly ameliorate our problems of transmission, no less the alluring aspect of achieving mucosal immunity and being variant-proof." [lambert preens once more.] The whole piece is well worth a read, and not just because of my preening.
• Maskstravaganza:
I went to a gathering with a friend I hadn't seen in ages. The first thing he said when he saw me masked, even before "hello" was "c'mon, take that off". A bit later he started telling me about all the people he lost from covid 🙄

— Diana Ojeda Revah (@ocelotito) May 10, 2022
* * *
Lambert here: I am but a humble tape-watcher, but if some trusting, non-realist soul tells you that "Covid is over," you can tell them that cases are up, transmission is up, test positivity is up, hospitalization is up, rapid riser counties are up, and wastewater is up, too. And this is all from data designed to support the narrative that "Covid is over," and gamed within an inch of its life. So, if signals like that are flashing red, consider what the real signal must be like. (Note also this is all with BA.2 only, and with what the establishment considers an "immune wall" made from vaccination and prior infection. Since semper aliquid novi Africam adferre, and we've let 'er rip at the airports…. Well, I just hope we get lucky with BA.4 and BA.5. "God has a special providence for fools, drunkards, and the United States of America." –Otto von Bismarck.
* * *
If you missed it, here's a post on my queasiness with CDC numbers, especially case count, which I (still) consider most important, despite what Walensky's psychos at CDC who invented "community levels" think. But these are the numbers we have.
* * *
Case count by United States regions: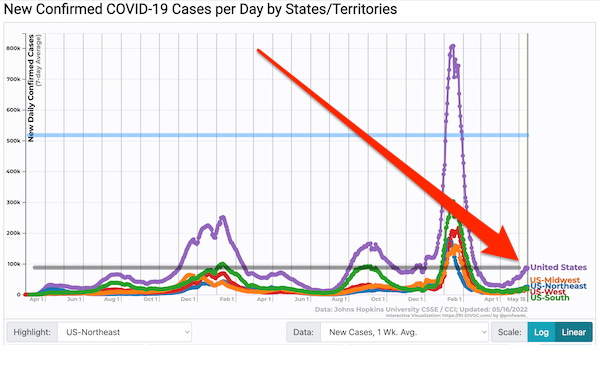 The train is really rolling, now. Remember these data points are weekly averages, so daily fluctuations are smoothed out. Also remember, it's 100% certain the cases numbers are significantly understated. They've always been gamed, but it's worse than before. One source said they though cases might be undercounted by a factor of six. Gottlieb thinks we only pick up one in seven or eight. The black "Fauci Line" is a counter to triumphalism, since it compares current levels to past crises. The blue "Biden Line" shows what the case count would be if it were 86,000 * 6 = 516,000, i.e. not gamed.
Here are cases for the last four weeks: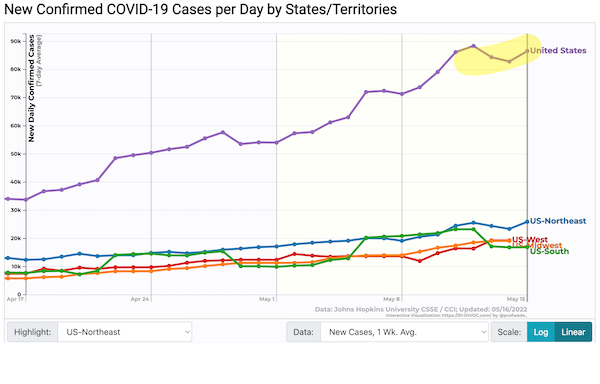 Worth noting that cases have doubled in four weeks.
NOTE I shall most certainly not be using the CDC's new "Community Level" metric. Because CDC has combined a leading indicator (cases) with a lagging one (hospitalization) their new metric is a poor warning sign of a surge, and a poor way to assess personal risk. In addition, Covid is a disease you don't want to get. Even if you are not hospitalized, you can suffer from Long Covid, vascular issues, and neurological issues. For these reasons, case counts — known to be underestimated, due to home test kits — deserve to stand alone as a number to be tracked, no matter how much the political operatives in CDC leadership would like to obfuscate it.
• "The CDC says to think again before getting a second COVID booster. Is it rationing vaccines?" [Fortune]. "The government wants you to wait on getting that fourth vaccine shot, and it won't say exactly why. Americans eligible for a second COVID booster shot—including those 50 and older and the immunocompromised—may want to consider waiting before getting a fourth jab, the U.S. Centers for Disease Control and Prevention said Friday, as it launched an online tool to help individuals determine if they qualify. Per the agency's booster guidance website, updated Friday, those who are eligible for a second booster should consider how likely they are to get "very sick" from the virus based on preexisting health issues and potential community exposure. '' asks the guidance, urging those who have had COVID-19 in the past three months or who feel 'that getting a second booster now would make you not want to get another booster in the future' to consider holding off." • This is really innovative; CDC has introduced complex eligibility requirements and gotten citizens to impose the requirements on themselves!
From the Walgreen's test positivity tracker: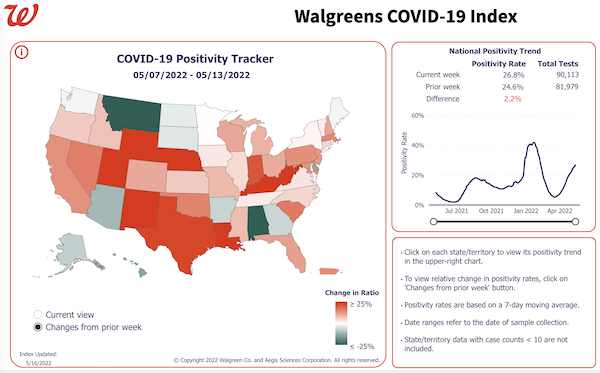 I'm leaving the corporate logo on as a slap to the goons at CDC.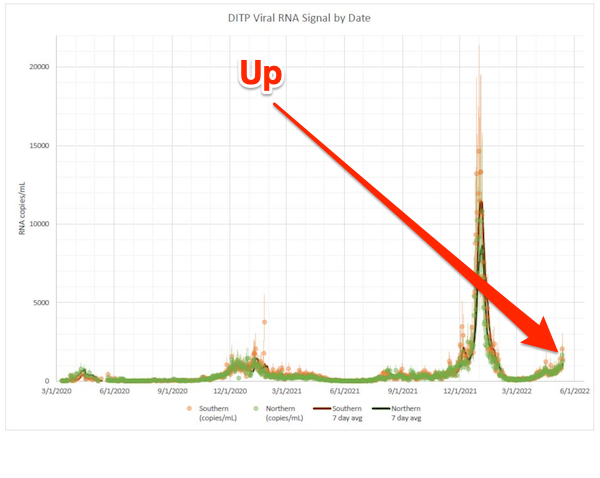 This is starting to look like acceleration.
The Massachusetts Water Resources Authority (MWRA) service area includes 43 municipalities in and around Boston, including not only multiple school systems but several large universities. Since Boston is so very education-heavy, then, I think it could be a good leading indicator for Covid spread in schools generally.
From Biobot Analytics: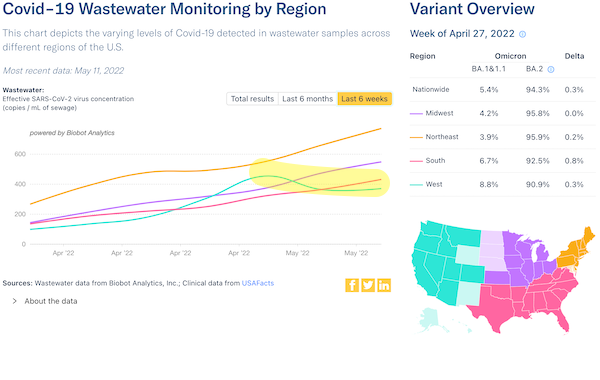 Looks like the West was readjusted too, upwards. What's going on with these guys?
Cases lag wastewater data.
From CDC Community Profile Reports (PDFs), "Rapid Riser" counties: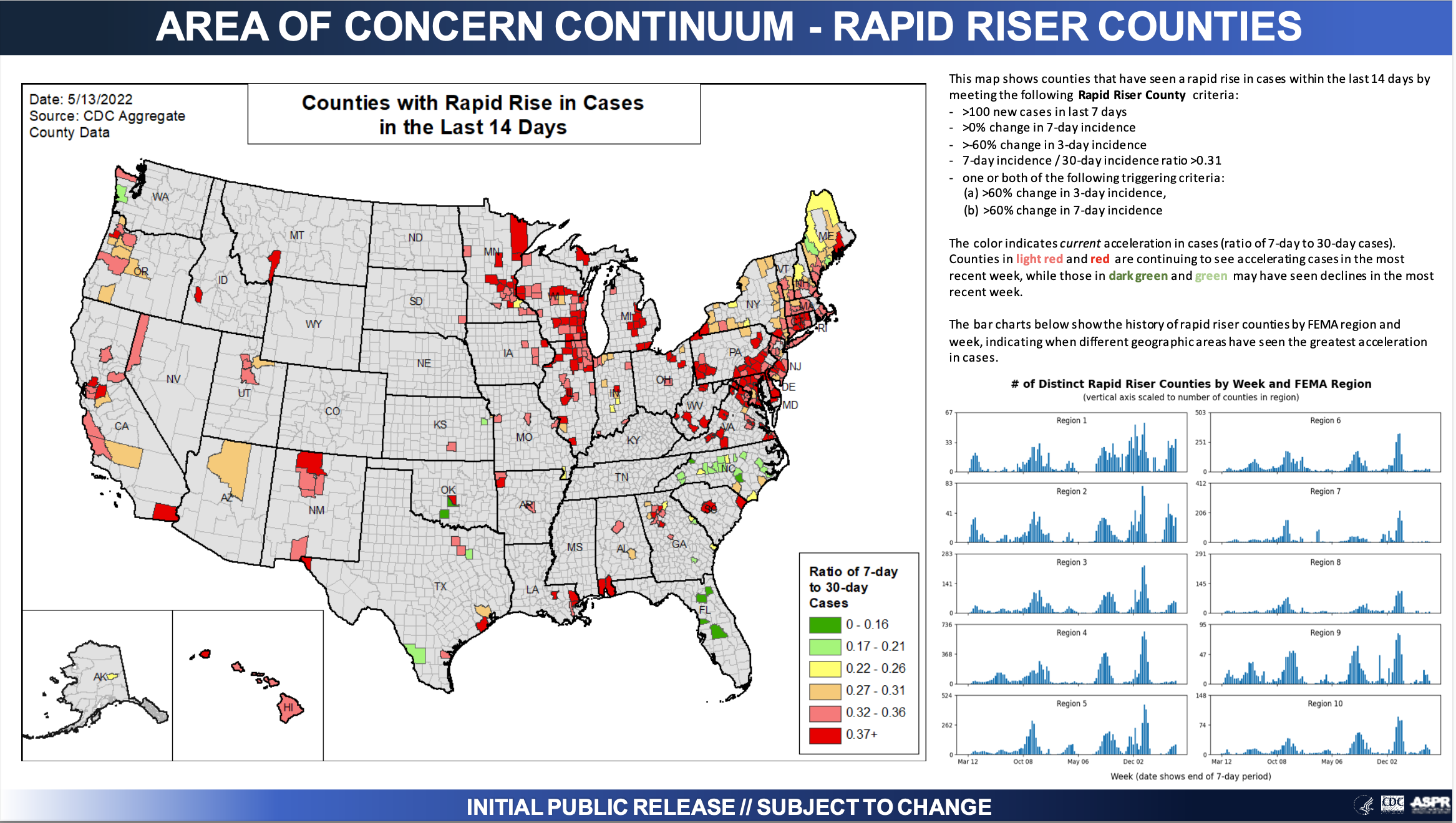 New England and New York improved. Pennsylvania from green to red. West improved. Midwest staatus quo.
The previous release: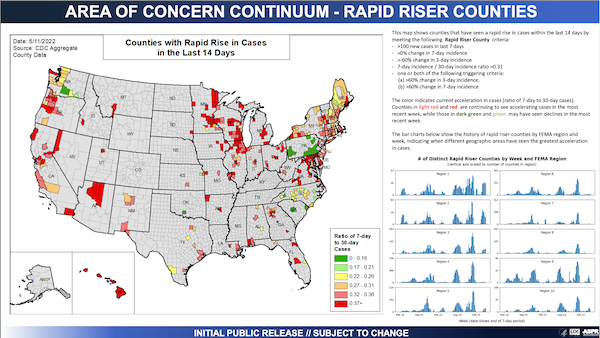 Here is CDC's interactive map by county set to community transmission. This is the map CDC wants only hospitals to look at, not you: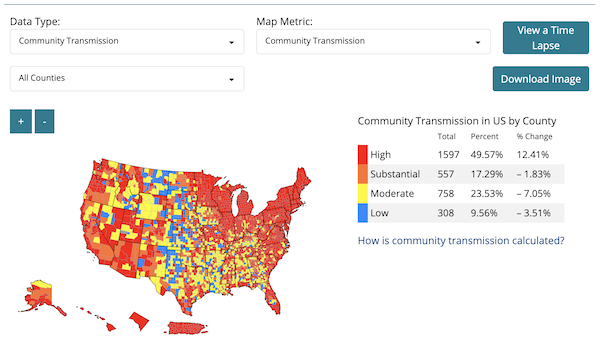 The Northeast remains stubbornly and solidly red. Now California is red as well. The Upper Midwest is moving that way, too. (The Unorganized Territories in Maine are back to red, good job.)
Hospitalization (CDC Community Profile):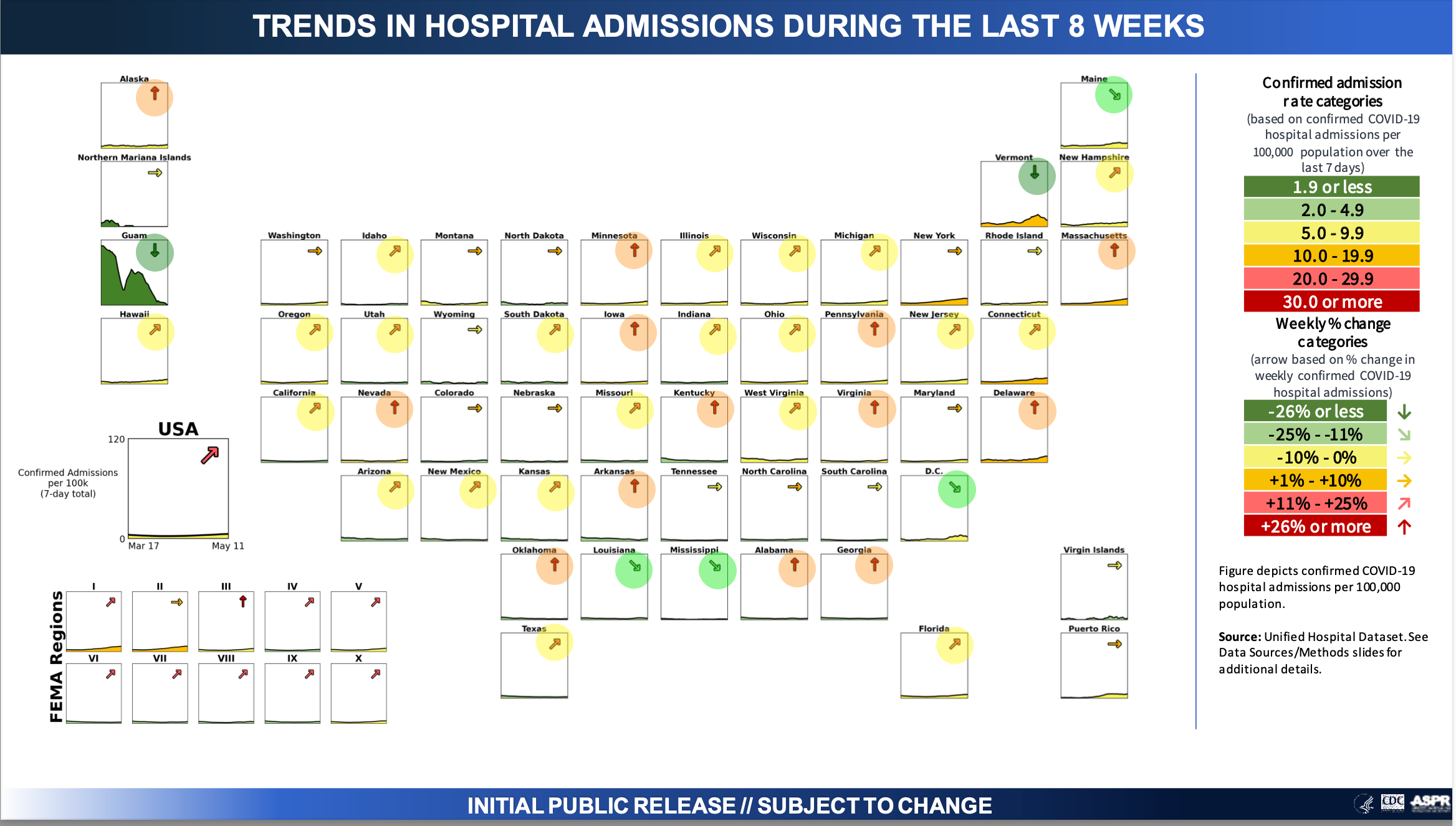 This map is very dynamic! Now the orangization back to the Northeast. (Note trend, whether up or down, is marked by the arrow, at top. Admissions are presented in the graph, at the bottom. So it's possible to have an upward trend, but from a very low baseline.)
• Personal risk assessment:
I'm an uninsured stay-at-home dad. I have told my wife that no matter how sick COVID makes me, I'll die in our home before going to the hospital. Going to the hospital would ruin my family more than my death. https://t.co/bu2CXyAXgO

— Isaac 0_0 (@IDirect_TheNews) May 14, 2022
Death rate (Our World in Data):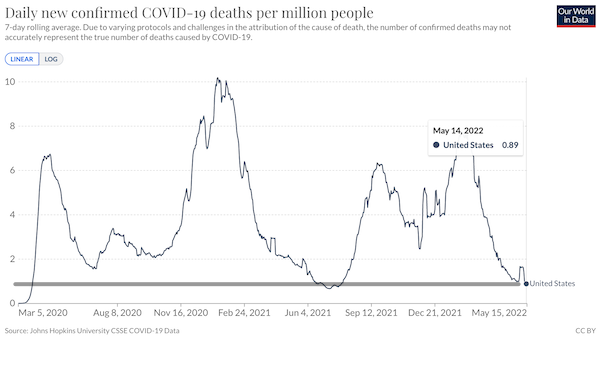 Total: 1,026,109 1,025,764. Still down and way too high. I have added an anti-triumphalist Fauci Line.
Covid cases in top us travel destinations (Statista):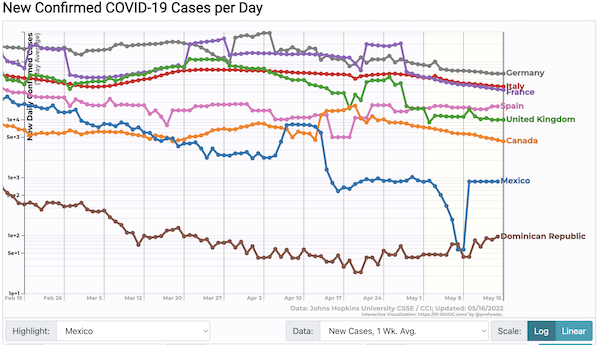 Broadly down. (Note the quality of these numbers varies wildly. For example, the UK is cutting back on testing data.
Zeitgeist Watch
Our Famously Free Press
Crocodile tears:
TFW you're part of the answer pic.twitter.com/K7nzt86Xnl

— Walker Bragman (@WalkerBragman) May 15, 2022
Normalizing war with China:
Go inside our exclusive war game with @CNASdc —

The year is 2027. The briefing: China is poised to attack Taiwan

Which side would prevail? Would China attack the U.S. mainland? Could nuclear war break out?

Watch the full episode on @PeacockTV and at https://t.co/CN76hzJHEj pic.twitter.com/XOjyry0QEY

— Meet the Press (@MeetThePress) May 15, 2022
The Gallery
I wonder what this looks like on the wall. Post-impressionism:
1899, The Merchant of Four Seasons #pierrebonnard #postimpressionism https://t.co/MaEZgPh0ig pic.twitter.com/tfnA3iKF18

— Pierre Bonnard (@pierre_bonnard) May 14, 2022
When I was living in DC, I visited the Phillips Collection a few time; it has quite a number of Bonnards. Scholars apparently classify Bonnard as a member of the Nabis School, which they call "decorative." What I remember is how the colors seemed to thrillingly float in the air above the surface of the canvas, as Rothkos (IIRC) are said to do, but I've never gotten them.
Games
"Pioneer Rediscovered: The Woman Who Brought Female Representation to Games" [Game History]. "Last year, ran an article about our search for an Atari VCS game developer by the name of 'Ban Tran.' As we understood it, Tran was a Vietnamese woman who worked for a short-lived, Texas-based game company called Apollo, where she wrote Wabbit — the first console game to star a human girl — before the company declared bankruptcy towards the end of 1982…." Turns out "Van," not "Ban." More: "Mai was born in Vietnam. As a teenager, she entered the US as a refugee at the end of the Vietnam War, settling in with her family in Dallas. After dropping out of high school due to the language barrier (she later got a GED), she said a friend of hers suggested they take night classes to learn how to operate and program computers. She didn't know much about computers going into those classes, but found she liked working with them, even if the school's IBM 370 meant her first forays into programming were done using punch cards. Upon getting her certification, Mai was hired as a programmer at the Dallas Independent School District. The district had a team developing lesson plans as part of a computer-based curriculum, and Mai's job was to program these lessons in BASIC for the district's TRS-80 computers. The work was simple, but introduced her to working on computer graphics and animation, which she enjoyed. Eventually the district cut the computer lessons program, and Mai was back to looking for a new job. She just happened to spot a Help Wanted ad Apollo had printed in the newspaper looking for programmers to work on video games. Since her family lived near the Apollo offices at the time, she figured it was worth checking out." • This is great, great story, and I'm not certain it could happen today.
Groves of Academe
Covid minimizers play rough (1):
I thought that was pretty strange, but laughed the matter off. After all, the complaint didn't go anywhere and I was supported by my university.

But last week, she made a complaint to a publisher about an article I recently wrote. It was this article:https://t.co/2Vizlj1IOQ

— Dr Zoë Hyde (@DrZoeHyde) February 23, 2021
Covid minimizers play rough (2):
I was accused of being a conspiracy theorist 2 wks ago when I said "where are the serologies?" and "cause could be recent COVID infection"

Now that the door is propped open once I took the hit, careers are being made via invited Lancet hypothesis papers on COVID being a cause

— Farid Jalali MD (@farid__jalali) May 15, 2022
Guillotine Watch
"Forget Burning Man — Psychedelic Shamans Now Heading to Davos" [Bloomberg]. "But this [World Economic Forum] will host a 'House of Psychedelics' program with almost 40 sessions and speakers, including researchers, entrepreneurs, investors — and some who consider themselves shamans…."It's a really big shift for world leaders to inquire about how they might be able to use psychedelics," said Marik Hazan, chief executive officer of Energia Holdings Inc., the New York-based business hosting the event. Energia is a holding company for Tabula Rasa Ventures, an incubator for psychedelic companies, and Hazan is a managing partner at Tabula Rasa. The program aims to spark conversations about rolling out psychedelics responsibly for medical use and encourage countries and companies to include such treatments in health coverage." • Just what we need. The 1%, who are already doing whacko things like using twenty-somethings as blood bags, who are full of cray cray ideas like (say) loanable funds theory, who because of their extreme wealth have lost the capacity for compassion, and who are probably losing brain cells by the boatload as they continually infect themselves at superspreader events, are going to start dropping acid. I shudder to think what it would take for their trips to be good; and I wonder what will happen if their trips are bad.
Class Warfare
"A planned economy is the only way to save the planet. Here's how" [OpenDemocracy]. "[Neurath] blamed the Left's defeat less on adverse circumstances than on a failure of the imagination in the years that preceded the revolution. Neurath argued that the Left was unprepared for power because of the longstanding Marxist aversion to utopian thought, which he saw less as daydreaming than the practical work of building a new society. "This misery has befallen us not at least because we lacked clear aims," he lamented in the aftermath of defeat. "Marxists killed playful utopianism… paralysing the resolve to think up new forms…. In his work as a planner and in his later writings, Neurath deftly outlined the principles of socialist governance. He argued that any system based on a single metric would be "pseudorational" because it would lead to the optimisation of one criterion, while life was actually a messy mix of ethical, environmental, social, and political goals. This is why the capitalist pursuit of profit alone led to illogical outcomes." • Confusing the pointing finger (the metric) with the moon (the objective), with the Harvard Business Review calls "surrogation."
"Teens help lead union drive at Starbucks" [San Francisco Examiner]. "Before she from graduates high school, Mill Valley teenager Ella Clark will already have checked off her to-do list calling out a major corporation that doesn't believe in the value of organizing. Then, she thinks she plans on studying constitutional law. Clark is the reason the nascent movement to unionize Starbucks is making its entrance in the Bay Area. Because she reached out to Starbucks Workers United, a collective of Starbucks employees across the United States bargaining for better working conditions, a local National Labor Relations Board election will take place soon." • Great stuff. Too bad about the career choice….
Remember "essential workers"? Good times:
Also vulnerable were those whose jobs required in-person work, including those in food services, health care and transportation, deemed "essential" workers. Nearly 80% of workers ages 20 to 64 who died of Covid in 2020 worked in essential industries. pic.twitter.com/iAPP13hPp3

— The New York Times (@nytimes) May 16, 2022
Everything's going according to plan!
Amazon is managed by Harkonnens:
There is no capacity for the vans to settle into a decent temperature when they're constantly being shut off. Not to mention this adds more time to every delivery. Even in Michigan the heat can be unbearable in the vans. The shut offs are being actively monitored by Amazon! 7/8

— Boner Fart (@fartsandboners) May 13, 2022
Some sadist did this because they could.
News of the Wired
Not feeling wired today!
* * *
Contact information for plants: Readers, feel free to contact me at lambert [UNDERSCORE] strether [DOT] corrente [AT] yahoo [DOT] com, to (a) find out how to send me a check if you are allergic to PayPal and (b) to find out how to send me images of plants. Vegetables are fine! Fungi and coral are deemed to be honorary plants! If you want your handle to appear as a credit, please place it at the start of your mail in parentheses: (thus). Otherwise, I will anonymize by using your initials. See the previous Water Cooler (with plant) here. From Angie Neer:
Angie Neer: "I believe this is an Alder, in the process of releasing its seeds, aided by Pacific northwest rain. Sorry about the shallow depth of focus, Lambert ;-)" This is lovely, including the bokeh :-)
* * *
NOTE ON PAYPAL: As some readers may know, PayPal whacked Consortium News's account, for no justification that I can see. It's to be hoped that Consortium News has its account completely restored, and that NC doesn't come under the same ban hammer. In the meantime, until I/we can come up with an alternative, I must continue to rely on PayPal (and rely I do). I will be cleaning out the account daily, and PayPal does give a heads-up, so your risk is minimal. Please carry on as before, or, if you feel you must, write me and I will send you directions for sending a check. Please put "PayPal" in the subject line. Thank you for your support! It is much appreciated, and helps me with responsibilities. –lambert
Readers: Water Cooler is a standalone entity not covered by the recently concluded and — thank you! — successful annual NC fundraiser. So if you see a link you especially like, or an item you wouldn't see anywhere else, please do not hesitate to express your appreciation in tangible form. Remember, a tip jar is for tipping! Regular positive feedback both makes me feel good and lets me know I'm on the right track with coverage. When I get no donations for five or ten days I get worried. More tangibly, a constant trickle of donations helps me with expenses, and I factor in that trickle when setting fundraising goals:
Here is the screen that will appear, which I have helpfully annotated: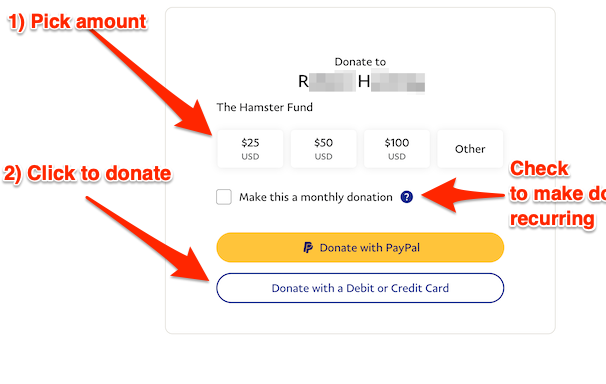 If you hate PayPal, you can email me at lambert [UNDERSCORE] strether [DOT] corrente [AT] yahoo [DOT] com, and I will give you directions on how to send a check. Thank you!