By Lambert Strether of Corrente
Bird Song of the Day
This is Evening Grosbeak Week at Naked Capitalism. Ontario, Canada. From the Media Notes: "Old apple orchard, overgrown…. Single male singing at top of small maple tree."
* * *
Politics
"But what is government itself, but the greatest of all reflections on human nature?" –James Madison, Federalist 51
"They had learned nothing, and forgotten nothing." –Charles Maurice de Talleyrand-Périgord
"When the going gets weird, the weird turn pro." –Hunter Thompson
Biden Adminstration
"2 Secret Service employees being sent home from South Korea ahead of Biden's arrival after alleged incident: Sources" [ABC]. "Two Secret Service employees — an agent and an armed physical security specialist — in South Korea to prepare for President Joe Biden's impending arrival are being sent home after an alleged alcohol-fueled incident that ended with a report being filed with local police, according to two sources briefed on the situation. The personnel were assigned to help prepare for the presidential visit when they went out for dinner and then stopped at several bars, the sources told ABC News. As the evening progressed, the two Secret Service staffers became apparently intoxicated and the agent wound up in a heated argument with a cab driver, according to the sources." • Sounds like somebody successfully buried yet another "wheels-up" scandal, to me.

"Biden's response to the baby formula shortage is disappointing — and disingenuous" [MSNBC]. "The claim that he couldn't have anticipated a particular crisis is an excuse the president and his allies reach for often when they are confronted with the consequences of their own actions. That excuse, however, is never convincing…. The Food and Drug Administration issued a recall of select lots of Similac, Alimentum and EleCare in February, after four infants were hospitalized with bacterial infections related to the formulas. The recall prompted the shuttering of a major manufacturing facility from Abbot Labs, America's largest domestic producer of baby formula. While necessary, those recalls exacerbated a preexisting baby food shortage that was already hard to miss…. "Baby formula shortages are worsening throughout the United States, causing parents to be increasingly concerned about how they will feed their infants," The New York Times had reported in January. That same month, a Wall Street Journal report had listed many contributing factors for the scarcity of baby formula, but no one disputed that formula was becoming hard to find. Well before it reached crisis proportions, local media outlets from San Antonio, Texas, to Knoxville, Tennessee, to Columbus, Ohio described how shortages were impacting parents. Biden didn't have to read anyone's mind to know the situation was becoming unsustainable. He only had to read the news." • Biden doesn't read the news. He has people for that.

"Is the Justice Department Incompetent?" [New York Magazine]. "The department's missteps have already prompted criticism and concern among some observers and former prosecutors. Perhaps the most surprising thing about some of the more sharply critical comments of recent weeks is that they are being made publicly at all — a reflection of how difficult it can be in the ordinary course to have a real discussion among informed observers about the department's frequent shortcomings. One department veteran, who noted that "DOJ successes ebb and flow" but that "it is often interesting to take stock of a trend," published a three-part critique that questioned recent "stumbles" and prosecutors' choice of "misguided targets." There is an unspoken arrangement among the white-collar bar in which credible defense lawyers typically refrain from criticizing the department publicly on questions of prosecutorial competence. This is in part because, to the extent they are former prosecutors themselves, they may be justifiably reluctant to second-guess decisions that can be challenging. It's also because many of them — particularly those at large corporate defense firms — are repeat players representing clients before the department, and it can be perilous to criticize prosecutors who can make life difficult for you and your clients. On more than one occasion, I have been amused to read a charitable or otherwise equivocal quote in the press about a loss for prosecutors from a defense lawyer who, in private, had offered me a far more aggressive critique of prosecutors' work." • Hmm…

"Trump Nominees Still Control A Key Mine Safety Agency Well Into Biden's Second Year" [HuffPo]. • Better check with President Manchin on anything mining-related.
2022
* * *

"Biden's approval dips to lowest of presidency: AP-NORC poll" [Associated Press]. "Overall, only about 2 in 10 adults say the U.S. is heading in the right direction or the economy is good, both down from about 3 in 10 a month earlier. Those drops were concentrated among Democrats, with just 33% within the president's party saying the country is headed in the right direction, down from 49% in April. Of particular concern for Biden ahead of the midterm elections, his approval among Democrats stands at 73%, a substantial drop since earlier in his presidency. In AP-NORC polls conducted in 2021, Biden's approval rating among Democrats never dropped below 82%."

"Overturning Roe v. Wade WILL drive voter turnout in midterms, poll shows: 68% favor some restrictions on abortion and only 9% say it should be banned completely in fierce debate that officials fear could spark violence" [Daily Mail]. "[The latest NPR/PBS NewsHour/Marist poll] found that nearly two-thirds of Americans said the top court should not overturn the federal abortion protections granted in its landmark 1972, as a recently-leaked draft ruling suggests it is poised to do…. Two-thirds of surveyed Democrats said the ruling would make them more likely to cast ballots, compared to 40 per cent of Republicans." • Maybe so. Depends on what districts those voters are in, though.

AK: "Zito: Sarah Palin dishes on her run for Congress, Trump and divorce" [Detroit News]. "Sarah Palin is standing on the back deck of her father's home in Wasilla, Alaska, spending the day like she usually does: getting her youngest child, Trig, ready for school while checking in with her 84-year-old dad as he adjusts to life without her mom, who passed away suddenly last year. While Trig is at school, Palin said, she works on her campaign for Congress. The mother of five is running for Alaska's lone House seat, which became vacant when longtime Rep. Don Young died in March… Since her resignation as governor in 2009, Palin has become a powerful force in the conservative populist movement — first dubbed the Tea Party during the 2010 midterm elections. She has since served as a Fox News contributor, hosted several outdoor lifestyle shows on the Sportsman Channel, and written the memoir "Going Rogue: An American Life," which spent six weeks on the New York Times bestseller list in 2009. She also endorsed former President Donald Trump's run in 2016 before the first caucus primary votes were even cast…. Currently, there are at least 50 people running in the June special election. In a new system, the four who garner the most votes will move ahead to the special general election in August." • Fifty?

NC: "Madison Cawthorn's cardinal sin against the GOP had nothing to do with misconduct" [MSNBC]. "But the reality is that Cawthorn was not ousted from the party purely for affiliation with scandals, which Republican voters have shown they have a very high tolerance for. Rather, he was plagued by association with the wrong kind of scandals. More important than his acts of deception or alleged mistreatment of women or extreme political positions was the fact that he embarrassed and rankled politicians in his own party by implicating them in his allegations that Washington is the site of 'sexual perversion.' The whole episode illustrates how the bright red line for the GOP is not authoritarianism or other potentially criminal acts, but undermining the power of the party." • Commentary:

I saw the statement after he lost and knew they'd taken his phone and locked him in a room. https://t.co/ZPemHC1KaY

— Richard M. Nixon (@dick_nixon) May 19, 2022
2024
"'I talk to CEOs constantly': Gina Raimondo is corporate America's best friend in the White House" [Business Insider]. "[Commerce Secretary Gina] Raimondo, a centrist whose politics are much closer to the president's than those of the progressives he bested in the 2020 primaries. As commerce secretary, Raimondo has emerged as the administration's most quietly effective Cabinet member. She serves as the president's Republican whisperer on the Hill, deploying her credentials as a former business executive to eke out votes for some of Biden's biggest legislative initiatives, most notably the $65 billion broadband portion of the bipartisan infrastructure law. Politico called her the Cabinet's 'hidden player,' and the Washington Post columnist James Hohmann has argued that she represents the 'real future' of the Democratic Party… Raimondo's ambition is palpable, and there's little doubt among Beltway insiders that she's angling to replace Biden should he decide not to run in 2024. But as Hohmann's observation suggests, her centrist appeal and business bona fides have put her on the front lines of the civil war raging within the Democratic Party. At the very moment when progressives have found themselves in a position to begin imposing some measure of regulation on monopolies like Facebook and Amazon, Raimondo has used her position as commerce chief to defend the interests of Big Tech. 2024 is likely to serve up a bitter and messy reprise of the Democratic battle in 2020, with Raimondo — who served as cochair of Mike Bloomberg's short-lived run the last time around — standing in for Biden as the moderate in the middle. Even Pete Buttigieg and Kamala Harris, her closest contenders for the centrist mantle, are more palatable to the party's progressive wing than a former venture capitalist who once worked at a firm backed by Bain Capital. Sure, Raimondo has won plaudits for her get-it-done pragmatism. But is she too out of touch with the populist, grassroots energy of her own party to serve as its standard-bearer?"
Democrats en Déshabillé
I have moved my standing remarks on the Democrat Party ("the Democrat Party is a rotting corpse that can't bury itself") to a separate, back-dated post, to which I will periodically add material, summarizing the addition here in a "live" Water Cooler. (Hopefully, some Bourdieu.) It turns out that defining the Democrat Party is, in fact, a hard problem. I do think the paragraph that follows is on point all the way back to 2016, if not before:

The Democrat Party is the political expression of the class power of PMC, their base (lucidly explained by Thomas Frank in Listen, Liberal!). ; if the Democrat Party did not exist, the PMC would have to invent it. . ("PMC" modulo "class expatriates," of course.) Second, all the working parts of the Party reinforce each other. Leave aside characterizing the relationships between elements of the Party (ka-ching, but not entirely) those elements comprise a network — a Flex Net? An iron octagon? — of funders, vendors, apparatchiks, electeds, NGOs, and miscellaneous mercenaries, with assets in the press and the intelligence community.

Note, of course, that the class power of the PMC both expresses and is limited by other classes; oligarchs and American gentry (see 'industrial model' of Ferguson, Jorgensen, and Jie) and the working class spring to mind. Suck up, kick down.

* * *

"The primary battles of Dems' uncivil war" [Politico]. "It was about two years ago that Sanders withdrew from the presidential primary. Since then, the progressive wing of the party has been almost historically well-behaved. It lined up behind Joe Biden in 2020 and supported his legislative agenda once he took office. In return, progressives are getting hit with millions of dollars in outside spending. The leadership-aligned House Majority PAC went in for the moderate Democrat in Oregon, who was defeated by progressive Andrea Salinas on Tuesday. A super PAC called Mainstream Democrats is helping Cuellar ahead of his runoff next week. The repercussions are likely to be long-lasting, both in November and in the next presidential race, in 2024. 'Temperatures [could] be cooled substantially' between the center and the left, [Jeff Weaver, Sen. Bernie Sanders' former presidential campaign manager] said, 'by the corporatist wing standing down, and understanding if they want to win the White House again for Democrats, they can't go spending untold millions against loyal progressive Democrats.' But if not, he said, progressives have other options. One possibility, Weaver said, is that the left will become 'much less thoughtful in the future about which incumbents get challenged.'" • Well, the Democrats are the party of betrayal….

"Ocasio-Cortez Amps Up Democrats' Feud Over Draft N.Y. House Map" [Bloomberg]. "A fight among New York Democrats over a redrawn district map is escalating as Representative Alexandria Ocasio-Cortez called for the head of the party's House campaign to step down if he ends up in a primary challenge with another incumbent. 'I think it's ridiculous,' Ocasio-Cortez said Thursday of Representative Sean Patrick Maloney's announcement that he would run for re-election in a district that may pit him against progressive Democrat Mondaire Jones. 'If he's going to enter in a primary and challenge another Democratic member, then he should step aside from his responsibilities' as head of the Democratic Congressional Campaign Committee."

"AOC Is Engaged to Her Partner Riley Roberts, She Confirms" [Teen Vogue]. "Representative Alexandria Ocasio-Cortez, 32, has confirmed that she is engaged to her longtime partner Riley Roberts, 33, whom she met while in college at Boston University…. 'Yep! It's true!' AOC confirmed over Twitter DM. She says she and Roberts got engaged in April in Puerto Rico and are 'savoring' their engagement before diving into wedding planning. 'No future details yet,' she said."

Texas Governor Abbot keeps sending buses of migrants to DC. And the only people taking care of them are grassroots volunteers (DCBlogger):

.@POTUS & @MayorBowser you all have been SILENT & left the labor on local Grassroot orgs & community volunteers to keep migrants safe. 37 buses have been dropped off in DC, the Community have supported over 1000 migrants in the last month. Press statement https://t.co/4w2MhBeqnd https://t.co/qrUkyer9CT

— Harriet's Dreams (@HarrietsDreams) May 18, 2022
RussiaGate
"Marc Elias throws Durham trial into disarray with Sussmann comments" [Washington Examiner]. "Marc Elias threw special counsel John Durham's trial against Democratic cybersecurity lawyer Michael Sussmann into disarray over comments seemingly hinting at the accused's possible decision not to testify. During his time on the stand Wednesday, Elias, the top lawyer for Hillary Clinton's 2016 presidential campaign, said that "you'd have to ask Mr. Sussmann" about whether the defendant had gone to the FBI with Alfa-Bank claims on behalf of the Clinton campaign. The defense team believed that was a clear nod to Sussmann's pending decision on whether to invoke the Fifth Amendment. The team argued Elias's comments should be struck, and if they weren't, then a mistrial should be declared. On Thursday morning, Judge Christopher Cooper ruled out declaring a mistrial but said he would make a decision on striking the comments from the record once Sussmann decided whether he would testify." • So one member of ClintonWorld tries to engineer a mistrial for another member of ClintonWorld.

"Tale of Two Trials: How Sussmann is Receiving Every Consideration Denied to Flynn" [Jonathan Turley]. "Looking at the jury box, one can understand Shaw's unease. During jury selection, one juror admitted he was a Clinton donor and could only promise to "strive for impartiality as best I can." Prosecutors objected to his being seated, but Judge Christopher Cooper overruled them…. Other jurors include a woman who said she thought she was a Clinton donor but could not remember…. [Cooper also refused to dismiss a juror whose daughter is playing on the same team with Sussmann's daughter. For John Durham, it may seem that the only person missing from the jury at this point is Chelsea Clinton." • Burn!
Trump Legacy
"Fiona Hill says Putin 'had to keep explaining things' to Trump" [The Hill]. "Former Trump White House national security official Fiona Hill said Russian President Vladimir Putin had 'to explain everything to all the time' to former President Trump. 'He had to keep explaining things, and Putin doesn't like to do that,' Hill said this week, speaking at a Chicago Council on Global Affairs event in remarks reported by Insider." • Yes, if you want somebody to underestimate you (and get them to tell you the same thing over and over again so you can check their story for inconsistencies) do exactly as Trump did.
Obama Legacy
"Obama discusses why 'change is hard in this country'" [The Hill]. "Obama's chat with Conover came after the pair crafted a snack suggested by the 44th president: peanut butter and jelly sandwiches. 'I'm very particular about how you make PB&J,' Obama said during the lighthearted segment. 'You have to get every corner,' he advised as he spread the ingredients on the bread.'" • Stretch goals.
#COVID19
I've been treating the charts as topic areas and putting relevant snippets of content under them. But I'm afraid readers miss the snippets. So I decided to put bullets in front of the snippets in the #COVID19 section, as here:
• Welcome to the magical world of Soviet psychiatry, oh wait….
My GP referred me to a website about "Health Anxiety" She thinks I'm crazy because I am fearful of working at the front screening door of a busy hospital where people only wear surgical masks, badly. There are hundreds of nurses off sick with covid, & wards are filling with covid

— Lily McCoy (@LilyMcC42480141) May 20, 2022
• The power play in "smiling face" couldn't be more clear:
The first big lie I've ever caught my 4yo in is about masking. The principal clued me in, "I've just loved seeing [4yo's] smiling face lately!" I asked 4yo if she was still wearing a mask at school like we talked about, and she got squirmy, and finally blurted, "Noone does!" 1/

— Sim Kern (@sim_kern) May 16, 2022
The whole thread is worth reading.
• Sociopath of the Day Lucy McBridge is still cashing in on minimization. This whole thread is a savage beatdown, well worth a read:
Names are capitalized. It's Joe Biden, not joe Biden. It's Smallpox, not small Pox. The first clue @drlucymcbride
is up to no good in her Newsletter is the lower case "l" of "long Covid" as if "long" was only an adjective & not part of the name of a syndrome: Long Covid. 🧵 pic.twitter.com/DqyQHgvfFi

— Loretta Torrago (@Loretta_Torrago) May 20, 2022
* * *
Lambert here: I am but a humble tape-watcher, but if some trusting, non-realist soul tells you that "Covid is over," you can tell them that cases are up, transmission is up, test positivity is up, hospitalization is up, rapid riser counties are up, and wastewater is up, too. And this is all from data designed to support the narrative that "Covid is over," and gamed within an inch of its life. So, if signals like that are flashing red, consider what the real signal must be like. (Note also this is all with BA.2 only, and with what the establishment considers an "immune wall" made from vaccination and prior infection. Since semper aliquid novi Africam adferre, and we've let 'er rip at the airports…. Well, I just hope we get lucky with BA.4 and BA.5. "God has a special providence for fools, drunkards, and the United States of America." –Otto von Bismarck.
* * *
If you missed it, here's a post on my queasiness with CDC numbers, especially case count, which I (still) consider most important, despite what Walensky's psychos at CDC who invented "community levels" think. But these are the numbers we have.
* * *
Case count by United States regions: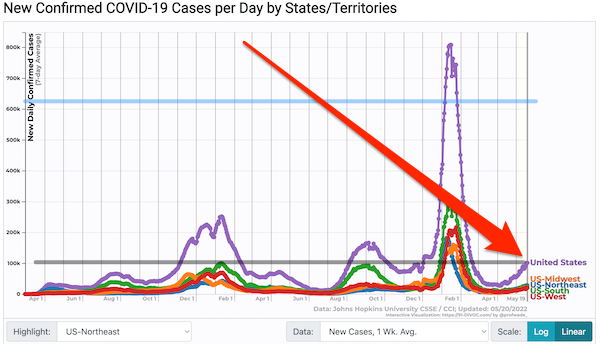 The train is really rolling, now. Biden has handily beaten Trump's first two peaks, even accepting the data, which of course nobody does. (Remember these data points are weekly averages, so daily fluctuations are smoothed out. Also remember, it's 100% certain the cases numbers are significantly understated. They've always been gamed, but it's worse than before. One source said they though cases might be undercounted by a factor of six. Gottlieb thinks we only pick up one in seven or eight.) The black "Fauci Line" is a counter to triumphalism, since it compares current levels to past crises. The blue "Biden Line" shows what the case count would be if it were 101,000 * 6 = 606000, i.e. not gamed. Biden has now broken 600,000, good job.
Here are cases for the last four weeks: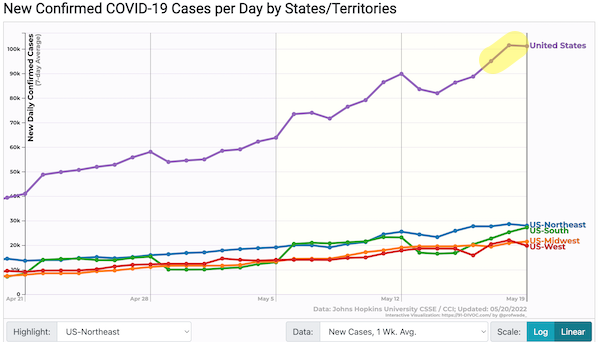 Worth noting that cases have doubled tripled in four weeks.
NOTE I shall most certainly not be using the CDC's new "Community Level" metric. Because CDC has combined a leading indicator (cases) with a lagging one (hospitalization) their new metric is a poor warning sign of a surge, and a poor way to assess personal risk. In addition, Covid is a disease you don't want to get. Even if you are not hospitalized, you can suffer from Long Covid, vascular issues, and neurological issues. For these reasons, case counts — known to be underestimated, due to home test kits — deserve to stand alone as a number to be tracked, no matter how much the political operatives in CDC leadership would like to obfuscate it. That the "green map" (which Topol calls a "capitulation" and a "deception") is still up and being taken seriously verges on the criminal.
From the Walgreen's test positivity tracker: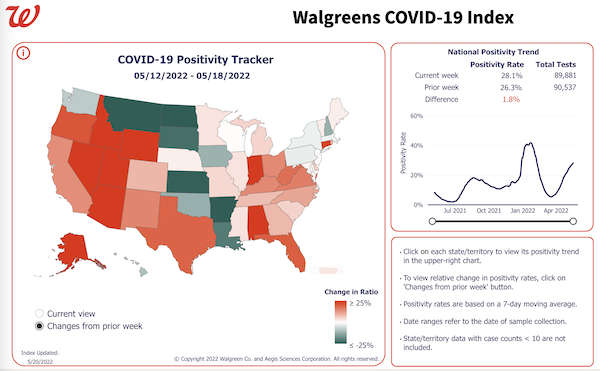 I'm leaving the corporate logo on as a slap to the goons at CDC.
NOT UPDATED MWRA wastewater data: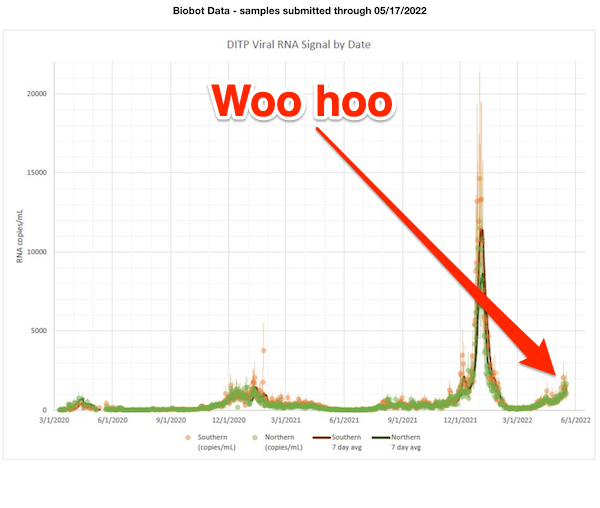 Look vertical to me…..
The Massachusetts Water Resources Authority (MWRA) service area includes 43 municipalities in and around Boston, including not only multiple school systems but several large universities. Since Boston is so very education-heavy, then, I think it could be a good leading indicator for Covid spread in schools generally.
Cases lag wastewater data.
From Biobot Analytics: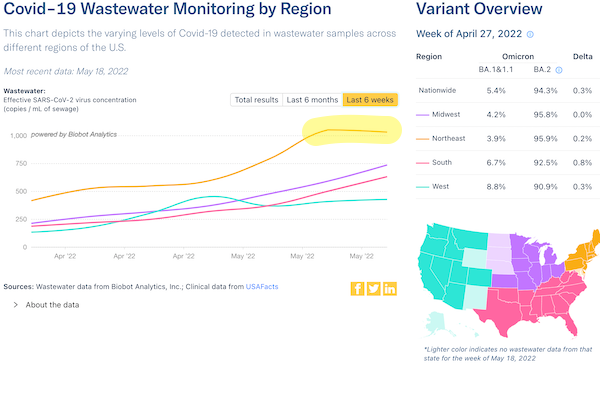 Northeast retrospectively revised downward. I don't like this at all, and maybe I should drop this chart. The other thing I'm not liking is that big time lag with the variants. April 27? I want to know about BA.4 and BA.5 (dubbed "variants of concern" by The European Centre for Disease Prevention and Control (ECDC) last week, but not WHO).
• For grins, the Biobot Data from Portland, ME (Re Silc):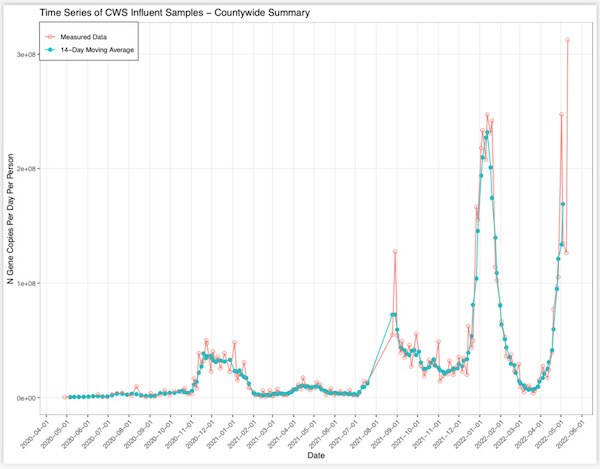 Highest EVAH!
From CDC Community Profile Reports (PDFs), "Rapid Riser" counties: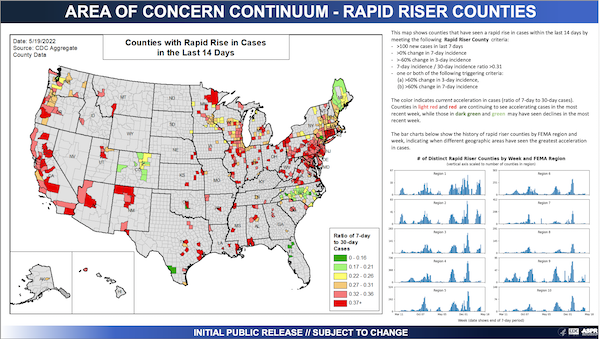 Status quo. The West and the Northeast are worse (so the chart is dynamic).
The previous release: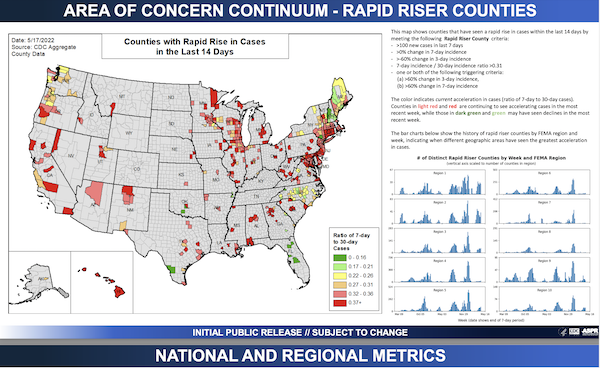 Here is CDC's interactive map by county set to community transmission. This is the map CDC wants only hospitals to look at, not you: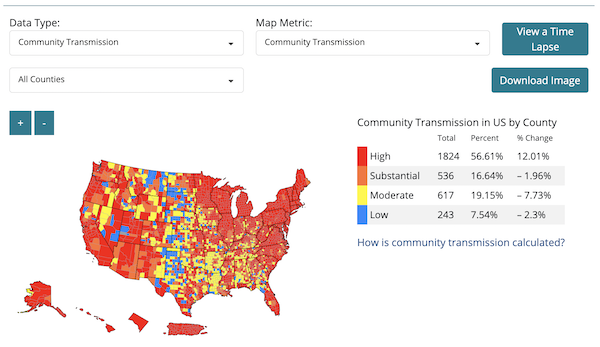 The Northeast remains stubbornly and solidly red. Now California is red as well. The Upper Midwest is moving that way, too. Puzzlingly, the South remains yellow.
Hospitalization (CDC Community Profile). Back to normal, so yesterday's debacle (this chart disappeared) was only an editorial screw-up (CDC drone: "That guy Strether is onto us!"):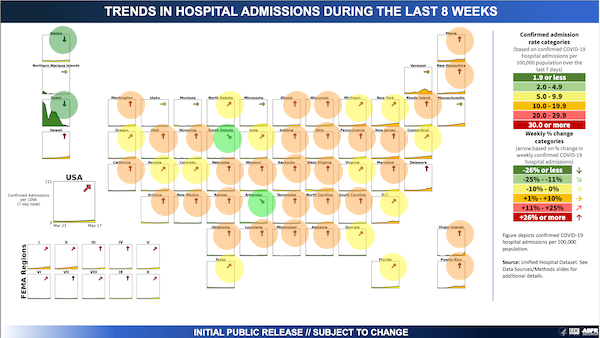 Sure is orange!
The table of contents for the CDC Community Profile still lists "Trends in hospital admissions per 100 beds during the last 8 weeks (state, regional, and national hospital admission curves)" on page 22, as has been true for months. However, the title at 22 is: "Trends in Hospital Inpatient Covid Utilization During the Last 8 Weeks"; there is no "per 100 beds" qualifier.
Death rate (Our World in Data):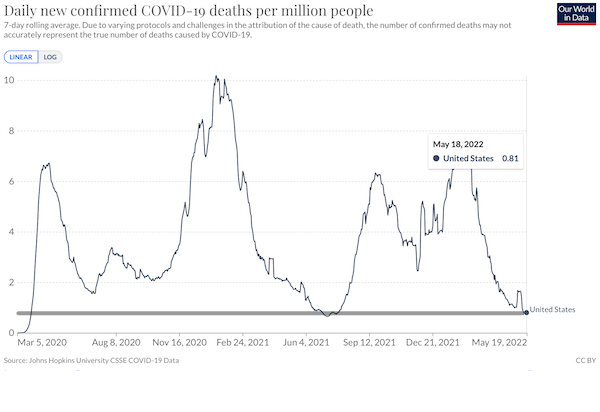 Total: 1,028,337 1,028,014. Now at the second-lowest "valley," which is good. I have added an anti-triumphalist Fauci Line.
Covid cases in top us travel destinations (Statista):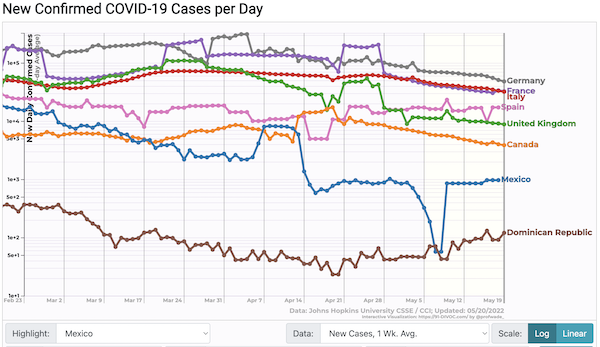 Broadly down. Looks like that enormous jump in the UK was data. (Note the quality of these numbers varies wildly. For example, the UK is cutting back on testing data.
The excess deaths chart appears weekly, on Friday: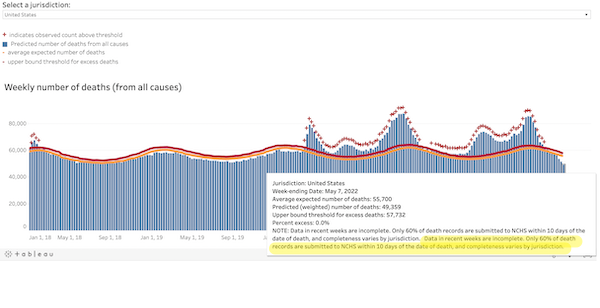 What kind of organization puts "in recent weeks" in an explanatory dropdown, and then obviously never comes back to check? Look at the qualifications in that drop-down. And the ginormous typo, helpfully highlighted, has been there for weeks. CDC, if you're reading this, please send a signal by getting this fixed. And then throw some documents over the transom. In complete confidentiality! Obviously, nobody at CDC is checking the excess deaths chart, because otherwise the typo would be fixed. I certainly hope there are no "coding errors" in the algo.
•​ "Excess Mortality in Massachusetts During the Delta and Omicron Waves of COVID-19" (Research Letter) [JAMA]. "Given reports that the Omicron variant may confer less risk than prior variants, we compared excess mortality in Massachusetts, a highly vaccinated state, during the Delta and initial Omicron periods. More all-cause excess mortality occurred in Massachusetts during the first 8 weeks of the Omicron period than during the entire 23-week Delta period. Although numerically there were more excess deaths in older age groups, there was excess mortality in all adult age groups, as recorded in earlier waves, including in younger age groups. Moreover, the ratio of observed to expected all-cause deaths was similar in all age groups, and increased during the Omicron period compared with the Delta period. Others have reported that the Omicron variant may cause milder COVID-19. If true, increased all-cause excess mortality observed during the Omicron wave in Massachusetts may reflect a higher mortality product (ie, a moderately lower infection fatality rate multiplied by far higher infection rate)." • When I hear "mild," I think both less danger for me, and less death for society. Clearly, the "mild" talking point played on that confusion. "'They lie to you,' Hunter said. 'They f*cking lie right to your face.'" –Elmore Leonard, City Primeval. But sometimes the lies are complex….
Stats Watch
There are no official statistics of note today.
* * *
The Bezzle: "What the Terra crash means for the future of crypto" [The New Statesman]. "It is now possible to imagine a great schism in the crypto world. Some will continue to regard it as a market for exciting new technologies. They may accept greater public regulation if that means access to larger sources of capital. Slowly, crypto might start to change the way finance works. Smart contracts will replace human decision in many economic areas, but the political energy of crypto will be lost or tamed in the process. A large part of the crypto space will never reconcile itself with this outcome. For the true revolutionaries, Terra's implosion showed crypto is not going far enough. Stablecoins still look to fiat currencies as their model and so suffer from the same flaws the US dollar and its peers have always exhibited. They are tools of power, ways to control wealth and channel it in certain directions. Crypto utopians picture a world where mathematical truth becomes the overriding political authority. If this sounds like Platonism, it's because it is Platonism. But there is a reason Platonism continues to attract us. Behind the notion of an immutable blockchain lies the dream of the unmediated rule of truth over society. We saw it on 12 May. There was real anger in the crypto world and many complained of foul play from the establishment. Perhaps a hedge fund had launched an attack against Terra. After all, many famous investors have spent the past year or two proclaiming that crypto needs to be destroyed. Warren Buffett called Bitcoin "rat poison". It is unlikely that crypto believers will lose faith. They may lose their savings, but as a result the movement will gain a political edge it has lacked so far. A sense of danger and vulnerability will turn crypto into a leading political movement – Platonism for the people – and one sharing very little with existing creeds."
* * *
Today's Fear & Greed Index: 8 Extreme Fear (previous close: 12 Extreme Fear) [CNN]. One week ago: 12 (Extreme Fear). (0 is Extreme Fear; 100 is Extreme Greed). Last updated May 20 at 1:45 PM EDT. Bear market? The Fed?
Feral Hog Watch
"Smart, co-operative, emotional: what cutting-edge science tells us about pigs" [Financial Times]. "Pigs had been domesticated from European wild boar for at least 9,000 years, mixed with domesticated Asian pigs from the 18th century. They had been selectively bred to produce more meat and piglets and acclimatised to human company. They looked startlingly different from their ancestors: adult wild boars are dark, hairy and females produce about six piglets a year on average; adult pigs are pink, hairless and females can produce more than 30. The assumption was that, even in a semi­wild setting, pigs would behave very differently too. The pigs surprised. They formed small groups. They spent most of their waking hours grazing and rooting in the soil. They built communal nests just as wild boar do. Most nests had walls set against prevailing winds. They tended to open southwards, suggesting the pigs sought an open view. Before giving birth, sows left the group, and made their own nests. As they grew up, young piglets played. After three and a half years, Wood-Gush and Stolba concluded that the pigs exhibited "most of the behaviour of the European wild boar". Thousands of years of domestication had fundamentally changed their bodies, but not their minds." • Well worth reading in full.
Our Famously Free Press
From the paper that gives Covid minimizer David Leonhardt a huge platform:
gutting https://t.co/WIZ5hj9QxT

— ryan cooper (@ryanlcooper) May 20, 2022
The Times story is classic PMC self-congratulatory sentimentality. Shedding tears about the very situation you helped bring about!
Zeitgeist Watch
"My Husband and I Had Sex Every Day for a Year — Here's How We're Doing Now" [Good Housekeeping (!)]. "First, we learned that it's hard and that's normal. The majority of people around you are not having sex every single day. They're busy being stressed at work, coordinating their kids' soccer schedules and paying bills. Fitting sex into all of that is difficult, but for us, it's necessary. Sex is what reminds us that we're intimate partners and not just roommates in charge of keeping kids alive." • "Love doesn't just sit there, like a stone, it has to be made, like bread; remade all the time, made new." –Ursula K. Le Guin, The Left Hand of Darkness
The 420
Not what I had in mind when I thought about legalization, back in the day. I was so naive:
how a factory makes pre-rolled joints pic.twitter.com/1dbhsIdGwo

— no context viral (@nocontextviral) May 19, 2022
Guillotine Watch
"HSBC AM global head of responsible investing: 'Who cares if Miami is six metres under water in 100 years?'" [Investment Week]. HSBC Asset Management global head of responsible investing Stuart Kirk: "'At a big bank like ours, what do people think the average loan length is?' he asked. 'It is six years. What happens to the planet in year seven is actually irrelevant to our loan book. For coal, what happens in year seven is actually irrelevant. Let's get back to making money out of the transition." More: "Amsterdam has been six metres underwater for ages and that is a really nice place. We will cope with it." • Who's "we," champ?
Class Warfare
"The truckers who keep our world moving" [Financial Times]. "Without the drivers' knowledge, experience and chutzpah, we would never have made the delivery deadline in Romania. As we snaked thunderously into that first night, dodging checkpoints and weigh bridges, gathering intelligence about queues at Dover and the chaotic ferries (P&O was out of action, due to ships failing inspections), watching for police, tight turns and bad drivers, monitored constantly by tachographs, tracked by hundreds of automated number-plate recognition cameras, I began to understand how resilient and resourceful drivers such as Charlie and Ian are, and how complex and vexing their world. No satnav shows the truth of road haulage. And no computer would design this trading world the way politicians have, with chaotic obstructions caused by Brexit, for example, requiring trucks going into the Republic of Ireland from the UK to present 700 pages of documents that take eight hours to prepare."
"'The Quarantine Atlas' Maps How 65 Lives Turned Upside Down" [Bloomberg]. • Here is one cute map: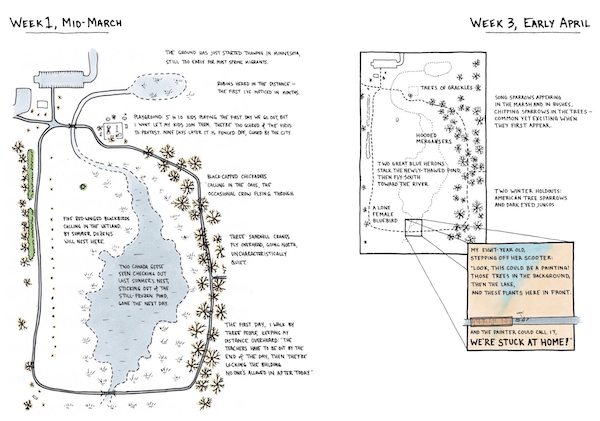 I'm all for walks, and I'm all for birdwatching. I'd like to see a map made by an essential worker, and I bet they exist.
News of the Wired
I don't know if this is the only Inuit account on Twitter, but it's the only Inuit account I follow. This looks like the makings for some pretty nice jewelry:
Neck Laces and ear rings to be, work in progress. IF interested, they $35 to $45, plus shipping. pic.twitter.com/TVKKbD6X1H

— angusandersen900 (@AndersenAngus) May 18, 2022
He and his wife are in bad financial straits. Please circulate on the Twitter (since he only operates through Twitter Direct Message, apparently).
* * *
Contact information for plants: Readers, feel free to contact me at lambert [UNDERSCORE] strether [DOT] corrente [AT] yahoo [DOT] com, to (a) find out how to send me a check if you are allergic to PayPal and (b) to find out how to send me images of plants. Vegetables are fine! Fungi and coral are deemed to be honorary plants! If you want your handle to appear as a credit, please place it at the start of your mail in parentheses: (thus). Otherwise, I will anonymize by using your initials. See the previous Water Cooler (with plant) here. From Re Silc:
Re Silc writes: "Planting in the rain. Chokecherries, gums, maples."
* * *
NOTE ON PAYPAL: As some readers may know, PayPal whacked Consortium News's account, for no justification that I can see. It's to be hoped that Consortium News has its account completely restored, and that NC doesn't come under the same ban hammer. In the meantime, until I/we can come up with an alternative, I must continue to rely on PayPal (and rely I do). I will be cleaning out the account daily, and PayPal does give a heads-up, so your risk is minimal. Please carry on as before, or, if you feel you must, write me and I will send you directions for sending a check. Please put "PayPal" in the subject line. Thank you for your support! It is much appreciated, and helps me with responsibilities. –lambert
Readers: Water Cooler is a standalone entity not covered by the recently concluded and — thank you! — successful annual NC fundraiser. So if you see a link you especially like, or an item you wouldn't see anywhere else, please do not hesitate to express your appreciation in tangible form. Remember, a tip jar is for tipping! Regular positive feedback both makes me feel good and lets me know I'm on the right track with coverage. When I get no donations for five or ten days I get worried. More tangibly, a constant trickle of donations helps me with expenses, and I factor in that trickle when setting fundraising goals:
Here is the screen that will appear, which I have helpfully annotated: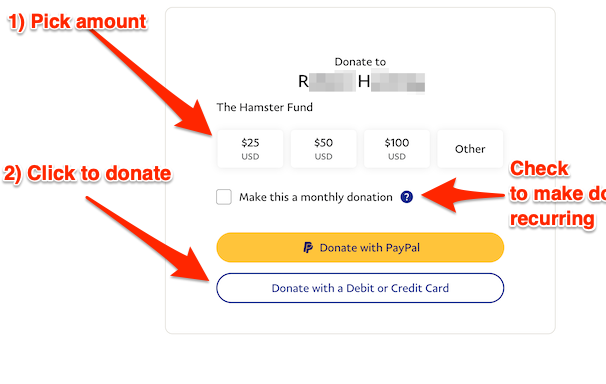 If you hate PayPal, you can email me at lambert [UNDERSCORE] strether [DOT] corrente [AT] yahoo [DOT] com, and I will give you directions on how to send a check. Thank you!