By Lambert Strether of Corrente
Bird Song of the Day
This is Tanager week at Naked Capitalism. Sao Paolo, Brazil.
* * *
Politics
"But what is government itself, but the greatest of all reflections on human nature?" –James Madison, Federalist 51
"They had learned nothing, and forgotten nothing." –Charles Maurice de Talleyrand-Périgord
"When the going gets weird, the weird turn pro." –Hunter Thompson
Biden Adminstration
Sleeping on the job?

VP @KamalaHarris on GOP's opposition to a policing reform: "They walked away from their moral obligation to address what caused millions of Americans to march in the streets – the critical need that the coalition of Americans were demanding, were pleading for." pic.twitter.com/GRopyCfQ9O

— The Hill (@thehill) May 26, 2022

To be fair to Biden, Harris was speaking.

"Biden has limited options, but there are some things he can do on guns" [The Hill]. "Senate Majority Leader Charles Schumer (D-N.Y.) is holding back on votes to give space to bipartisan negotiations on gun legislation, though hope is slim that those talks will bear fruit. Jean-Pierre said Thursday that Biden would defer to Schumer and House Speaker Nancy Pelosi (D-Calif.) on the mechanics of the legislative negotiations."

"Biden to visit Uvalde on Sunday after school massacre" [Dallas Morning News]. "'When in God's name will we do what needs to be done? If not completely stop, fundamentally change the amount of the carnage that goes on in this country,' the president said. 'I'm sick and tired. I'm just sick and tired of what's going on and continues to go on.'" • Applies to just about anything, including Covid. And including "carnage." "This American carnage stops right here and stops right now." –Donald J. Trump, 2020 Inaugural Speech. Ah well, nevertheless….

"White House sidesteps question about police response to Texas school shooting" [Washington Examiner]. "The White House refused to call for an investigation into the police response to the school shooting in Uvalde, Texas, saying President Joe Biden 'has the utmost respect for the men and women of law enforcement.'" • Every good liberal Democrat loves cops.
2022
* * *

After the debacle:

I can just hear Manchin: "See what you made me do" (dk):

"Mitch McConnell: 'Get Your Crying Done Now Because We're Not Passing Shit'" [The Onion].

A scenario that I'd recommend Joe Biden and Congressional Dems prepare for is Manchin and possibly others becoming Independents (or Republicans) immediately after the Dems lose the midterms, denying the Dems the ability to pass any bills or nominations in the lame duck.

— Michael Tae Sweeney (@mtsw) May 27, 2022

* * *

MI: "The 'straight, white, Christian, suburban mom' taking on Republicans at their own game" [Guardian]. "Why did the speech strike such a chord? McMorrow suggests that Democrats have been afraid of talking about religion and faith openly while Republicans have sought to weaponise Christianity and create the illusion that they speak on behalf of all white suburban mothers. She reflects: 'It feels like Democrats have ceded ground to the Republican party on Christianity and religion and family values and patriotism. Waving a lot of American flags tends to be associated with the Republican party now despite the fact that many of my colleagues supported the insurrection [in Washington on January 6, 2021]." • Well, perhaps in Mallory's district. I think, as with Beto, Democrat voters are simply tired of Democrats who have the muscle tone of a corpse. I know "spineless Democrats" has been a trope for years, and as an account of how the party works, it's seriously inadequate, not least because it doesn't consider money, or other institutional factors. That said, it's nice to see a Democrat moving out of the usual focus-grouped defensive crouch and standing up on their hind legs. That, I think, was the appeal of Mallory nationally; it wasn't ideological at all. Ditto O'Rourke the other day. Say something, for pity's sake! It was the same with AOC. Ah well, nevertheless….

TX: "Two critical Democratic runoffs in South Texas remain too close to call. Here's what comes next." [Texas Tribune]. "U.S. Rep. Henry Cuellar, D-Laredo, is leading his challenger, Jessica Cisneros, by 177 votes, while the margin is even smaller in the 15th Congressional District, where Michelle Vallejo is ahead of Ruben Ramirez for the open seat…. Cuellar declared victory on election night, but Cisneros has not conceded and told reporters Thursday she is "within reach to go and win this thing." After speaking with election offices, she said, it is "very clear" there are still hundreds of uncounted mail-in and provisional ballots. Due to the upcoming holiday weekend, many probably will not get counted until early next week, she said…. .In the 15th District, Vallejo came out of election night with a 23-vote lead, and both she and Ramirez agreed it was too close to call. At least two counties — Hidalgo and Jim Wells — have since updated their results, changing her lead to 27 votes. But like in Cuellar's race, a final resolution likely will not come into focus until early next week. Both runoffs have national implications. The moderate Cuellar's long political career is on the line against Cisneros, a progressive. Ramirez ran as a moderate, while Vallejo campaigned as a progressive."

TX: "Why the Cuellar-Cisneros race is far from over" [Politico]. "The third face-off between Rep. Henry Cuellar and Jessica Cisneros remains undecided. The veteran Texas Democratic incumbent declared victory over his progressive challenger, but his lead is less than 200 votes, and there are still outstanding votes to be counted." And: "'Cuellar can lose this race [in November] as easily as Cisneros,' Rocha said. 'If it continues to be a one-sided conversation where the only messaging is coming from Republicans, then they'll continue to make inroads, making [this seat] even more competitive.'" • Subtext here; Sanders won the Hispanic vote in California in 2020. Why not Texas? What went wrong?
Democrats en Déshabillé
I have moved my standing remarks on the Democrat Party ("the Democrat Party is a rotting corpse that can't bury itself") to a separate, back-dated post, to which I will periodically add material, summarizing the addition here in a "live" Water Cooler. (Hopefully, some Bourdieu.) It turns out that defining the Democrat Party is, in fact, a hard problem. I do think the paragraph that follows is on point all the way back to 2016, if not before:

The Democrat Party is the political expression of the class power of PMC, their base (lucidly explained by Thomas Frank in Listen, Liberal!). ; if the Democrat Party did not exist, the PMC would have to invent it. . ("PMC" modulo "class expatriates," of course.) Second, all the working parts of the Party reinforce each other. Leave aside characterizing the relationships between elements of the Party (ka-ching, but not entirely) those elements comprise a network — a Flex Net? An iron octagon? — of funders, vendors, apparatchiks, electeds, NGOs, and miscellaneous mercenaries, with assets in the press and the intelligence community.

Note, of course, that the class power of the PMC both expresses and is limited by other classes; oligarchs and American gentry (see 'industrial model' of Ferguson, Jorgensen, and Jie) and the working class spring to mind. Suck up, kick down.

* * *
RussiaGate
"Durham trial: FBI agents who opened Alfa-Bank inquiry testify about 'typos' in launch document" [Washington Examiner]. "As revealed in the trial that is part of John Durham's special counsel inquiry, the electronic communication marking the opening of the investigation wrongly cited a nonexistent 'referral' from the Justice Department rather than correctly saying the Alfa-Bank allegations came from a lawyer for Hillary Clinton's 2016 presidential campaign. The opening communication, titled 'Alfa Bank,' was authored by FBI agents Curtis Heide and Allison Sands, who both testified this week in Washington, D.C., and the investigation initiated on Sept. 23, 2016, four days after Sussmann's meeting with FBI General Counsel James Baker. Sands and Heide both referred to the glaring errors as 'typos,' and Heide suggested it was possible they may have conflated the FBI's Office of General Counsel, which Baker led, with the Justice Department." • Hmm.

"John Durham's case against Michael Sussmann just got tougher" [Andrew McCarthy, FOX]. "In a predictable but nevertheless damaging blow to the prosecution, the judge in the Michael Sussmann trial ruled Thursday that the government may not argue that Sussmann's text message to the FBI's then-general counsel constitutes the false statement charged against him. Rather, prosecutors must rely on their evidence that Sussmann made the false statement the following day, when he met with the general counsel, James Baker, at the latter's FBI office. The problem for Russiagate Special Counsel John Durham is two-fold. First, his prosecutors did not have the text, or even know about it, when they indicted Sussmann in September 2021. Consequently, the text is not pled as a false statement in the charging document. The indictment, instead, charges that Sussmann made the false statement while meeting in person with Baker on September 19. That makes the case much more challenging for prosecutors. The 20-minute meeting between Baker and Sussmann was not a standard FBI interview. It was more like a short, one-on-one meeting between a pair of old friends. The session was not recorded, and there was no second FBI official on hand to take notes and clarify any ambiguities…. Durham's second big problem is the five-year statute of limitations. He was right up against the deadline to file charges when he indicted Sussmann in September 2021. Six months later, when interviewing Baker in preparation for his upcoming testimony, Durham asked Baker – who no longer works for the government – to check his personal records for any information that might be relevant to the case. At that point, Baker checked his stored text messages and found several from Sussmann, including the smoking-gun text from September 18, 2016. Ordinarily, a prosecutor who'd received such ironclad proof of a false statement would simply go back to the grand jury and obtain a superseding indictment, charging the text as a separate false-statement count. In this instance, however, the five-year statute of limitations had already lapsed." • Oy.
Realignment and Legitimacy
"Did Elites Really Take Over Identity Politics?" [Jacobin]. "[Olúfémi Táíwò defines elites] as a small group of people who have power over a larger group. Crucial to this definition is that the concept of an elite is nonessentialist: there is nothing about a specific racial or ethnic group that classifies it as an elite. This is a good corrective to the excesses of identity politics, which encourage an obsession with combating the dangers of 'whiteness' and men, heterosexual or otherwise. It is, nevertheless, hard to avoid asking the question: Where does this broad notion of an elite leave the Marxist definition of capitalists, defined by control over the means of production? In providing an account of elite capture, Táíwò relies on a number of theoretical approaches, some of which are liberal and others Marxist. Undoubtedly, pluralism can be a virtue, but it is unclear exactly in what mechanism he locates the cause of elite capture. Is it, as Wolfgang Streeck, who he makes references to suggests, that decades of slow growth have hollowed out the capacity of liberal states, providing them with no means of ensuring profitability to capitalists other than by directly distributing resources to them via tax cuts and other forms of corporate welfare? Is elite capture a contingent phenomenon, resulting from the continued existence of predemocratic institutions within democratic states who seize power during moments of crisis, as another of Táíwò's sources suggests? Is elite capture another term for antidemocratic tendencies and institutions such as the World Bank and the IMF, which Táíwò blames for the indebtedness of nations in the Global South? Or is elite capture a cultural phenomenon, referring to the ways the formerly radical movements for queer or minority liberation have been defanged by conservatives? Táíwò answer is, dubiously, all of the above. Elite capture is a general term that describes these disparate phenomena." • Hmm.

"We Don't Live In A Society" [John Ganz, Unpopular Front]. "We seem to be in the slow and torturous process of dissolving ourselves as a civil and political society. Laws cannot be changed or passed. No one wants the responsibility of governance. The answer is always "it can't be done." But it was done to us. The laws actually were made worse. The main symbol and the main engine of this process is the anarchy of our gun laws. Max Weber said the state was the monopoly on the legitimate use of force. Carl Schmitt said the sovereign was he who decided on the state of exception. Now each man can be his own commando force, an army of one, each man is the sovereign that can decide on the exception when the laws of society no longer apply, when he can suddenly resort to violence. No one can tell him otherwise: he has a gun. There's no 'legitimate' or 'illegitimate,' just force. The only solution on offer is to further distribute sovereignty: make more men their own armed-to-the-teeth statelet to be a check the other guy. The idea is hopefully that will create stasis—if not exactly peace— through mutual fear. Every man his own nuclear-armed power. Haven't they heard of the Wild West?" And: "Not the Leviathan, dictatorship from above, but the decentralized, endlessly distributed, granular, block-by-block tyranny of the assault rifle, preventing people from coming together freely. More atomization, more loneliness, more hatred, more fear: a war of all against all, lives that are solitary, poor, nasty, brutish, and short. We will have to figure out how to join again, or die."
#COVID19
Lambert here: I am but a humble tape-watcher, but if some trusting, non-realist soul tells you that "Covid is over," you can tell them that cases are up, transmission is up, test positivity is up, and hospitalization is up. And this is all from data designed to support the narrative that "Covid is over," and gamed within an inch of its life. So, if signals like that are flashing red, consider what the real signal must be like. (Note also this is all with BA.2 only, and with what the establishment considers an "immune wall" made from vaccination and prior infection. Since semper aliquid novi Africam adferre, and we've let 'er rip at the airports…. Well, I just hope we get lucky with BA.4 and BA.5. "God has a special providence for fools, drunkards, and the United States of America." –Otto von Bismarck.
* * *
"Delta to 'strategically decrease' flights this summer" [CNN]. "Delta said it would continue to adjust its schedule in the coming weeks. 'More than any time in our history, the various factors currently impacting our operation — weather and air traffic control, vendor staffing, — are resulting in an operation that isn't consistently up to the standards Delta has set for the industry in recent years," said Allison Ausband, chief customer experience officer, in a statement." • Could there be a reason:
@Delta Why are you encouraging and praising people for not wearing masks when we are in the middle of a pandemic that has killed millions of people? Shameful. pic.twitter.com/aftgu4mN5R

— Annabananabread (@annafalk33) May 18, 2022
Smile, proles! Musical interlude:
* * *
If you missed it, here's a post on my queasiness with CDC numbers, especially case count, which I (still) consider most important, despite what Walensky's psychos at CDC who invented "community levels" think. But these are the numbers we have.
* * *
Case count by United States regions: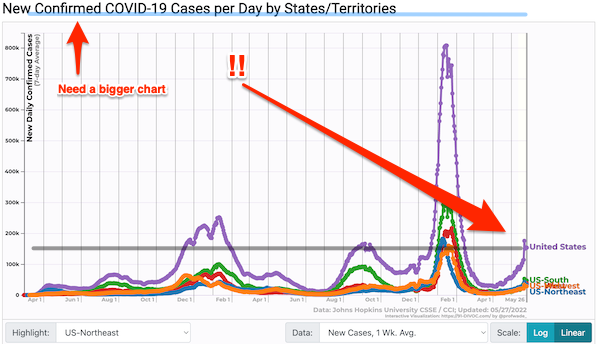 Yikes! Biden beats Trump decisively, and I need a bigger chart! Remember that cases are undercounted, one source saying by a factor of six, Gottlieb thinking we only pick up one in seven or eight.) Hence, I take the case count and multiply it by six to approximate the real level of cases, and draw the blue "Biden Line" at that point. Yesterday, the count was 106,000. Today, it's 153,000, and 153,000 * 6 = a Biden line at 918,000. Again, yikes! At least we have confirmation that the extraordinary mass of case anecdotes had a basis in reality. (Remember these data points are weekly averages, so daily fluctuations are smoothed out.) The black "Fauci Line" is a counter to triumphalism, since it compares current levels to past crises.
Here are cases for the last four weeks: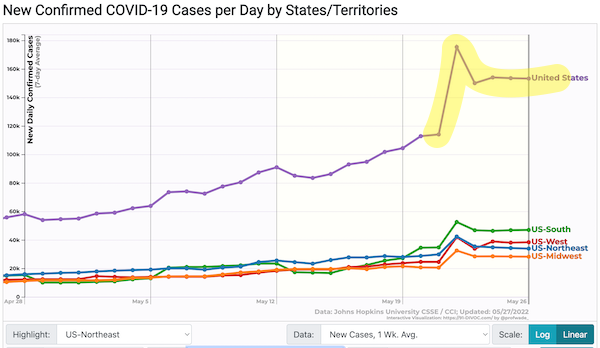 Looks like CDC found a bale of case reports in a warehouse somewhere. Holy moley!
NOTE I shall most certainly not be using the CDC's new "Community Level" metric. Because CDC has combined a leading indicator (cases) with a lagging one (hospitalization) their new metric is a poor warning sign of a surge, and a poor way to assess personal risk. In addition, Covid is a disease you don't want to get. Even if you are not hospitalized, you can suffer from Long Covid, vascular issues, and neurological issues. For these reasons, case counts — known to be underestimated, due to home test kits — deserve to stand alone as a number to be tracked, no matter how much the political operatives in CDC leadership would like to obfuscate it. That the "green map" (which Topol calls a "capitulation" and a "deception") is still up and being taken seriously verges on the criminal.
From the Walgreen's test positivity tracker: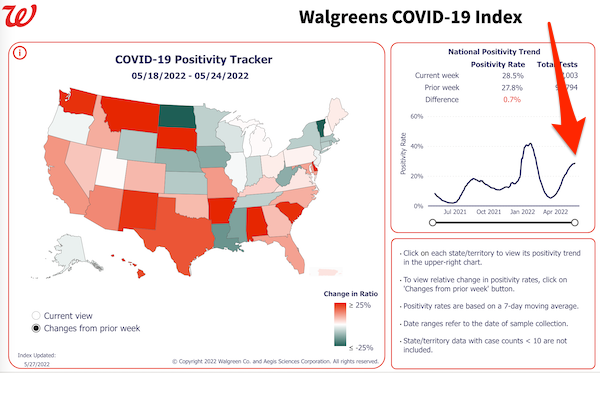 First signs of a peak? I'm leaving the corporate logo on as a slap to the goons at CDC.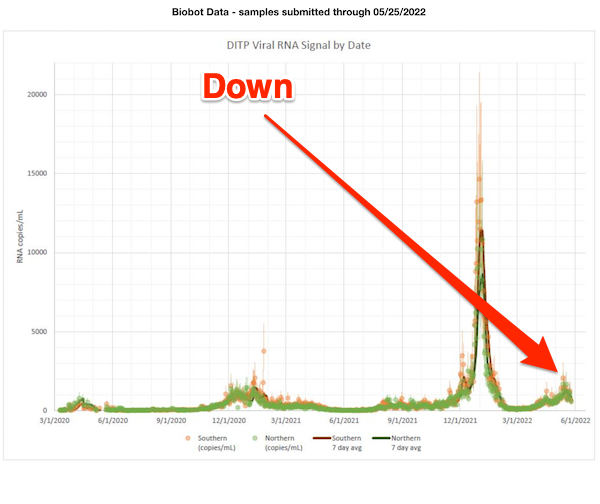 Down (for both north and south systems). Colleges and universities are finishing the semester, with commencements. We'll see where the trend line ends up after summer school begins.
The Massachusetts Water Resources Authority (MWRA) service area includes 43 municipalities in and around Boston, including not only multiple school systems but several large universities. Since Boston is so very education-heavy, then, I think it could be a good leading indicator for Covid spread in schools generally.
Cases lag wastewater data.
From Biobot Analytics: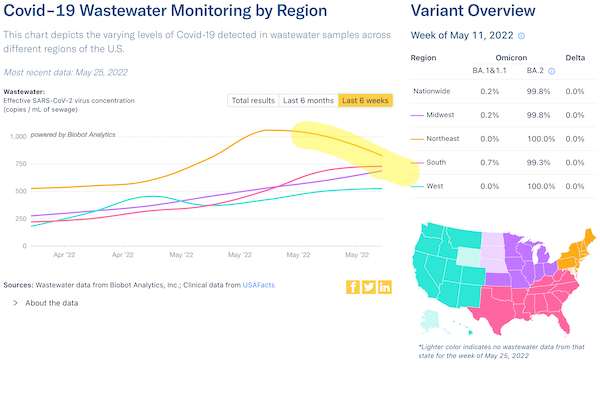 Now another enormous backward revision, this time for the South (a signal that had been doing on for weeks). I don't like this at all, and maybe I should drop this chart. The other thing I'm not liking is that big time lag with the variants. May 11? Really? I want to know about BA.4 and BA.5 (dubbed "variants of concern" by The European Centre for Disease Prevention and Control (ECDC) last week, but not WHO).
From CDC Community Profile Reports (PDFs), "Rapid Riser" counties: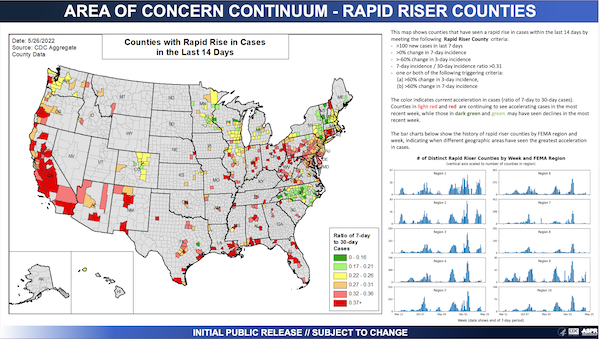 California is bad. Pennsylvania improved. Midwest much improved. Note that the South is not pulling away, as from the national wastewater data I'm looking for (except a Louisiana, perhaps). And indeed Biobot has just retrospectively revised away the rise in the South!
The previous release: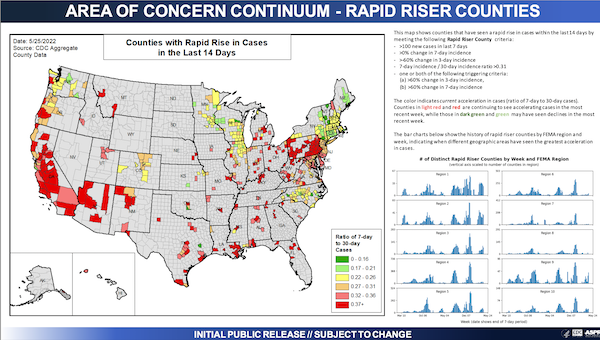 Here is CDC's interactive map by county set to community transmission. This is the map CDC wants only hospitals to look at, not you: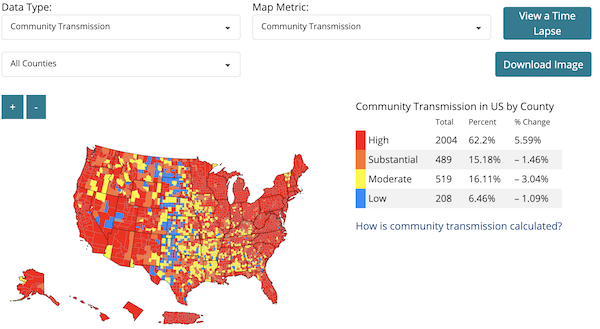 East coast, West Coast, and Midwest are all red. Although New Hampshire has gone yellow!
Hospitalization (CDC Community Profile). Back to normal, so yesterday's debacle (this chart disappeared) was only an editorial screw-up (CDC drone: "That guy Strether is onto us!"):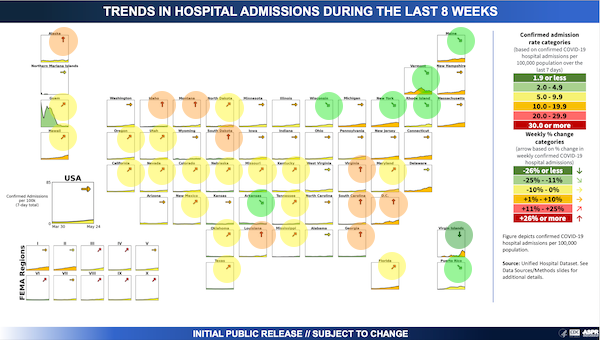 Less and less green. Very dynamic.
Death rate (Our World in Data):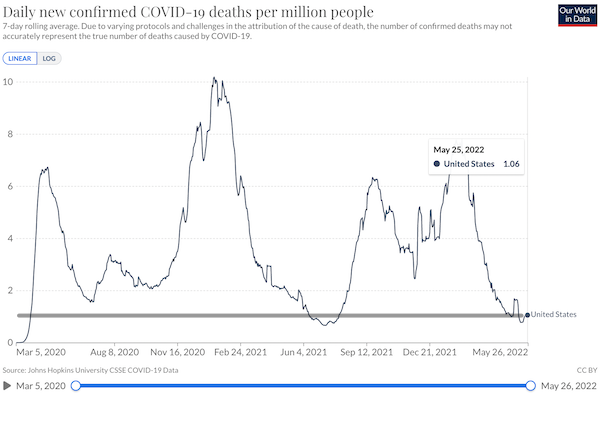 Total: 1,030,775 1,030,415. Now at the second-lowest "valley," which is good. I have added an anti-triumphalist Fauci Line.
Covid cases in top us travel destinations (Statista):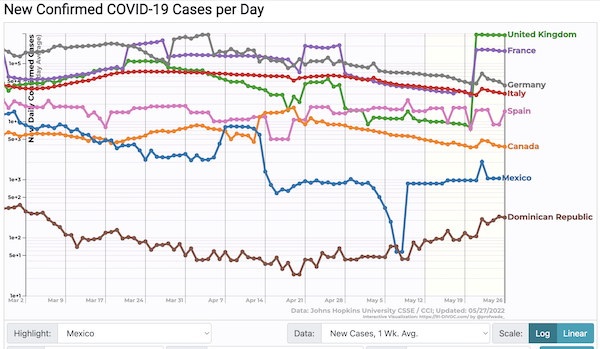 Big jump in the UK and France! Why both together? Coincidence? (Note the quality of these numbers varies wildly. For example, the UK is cutting back on testing data.
The excess deaths chart appears weekly, on Friday: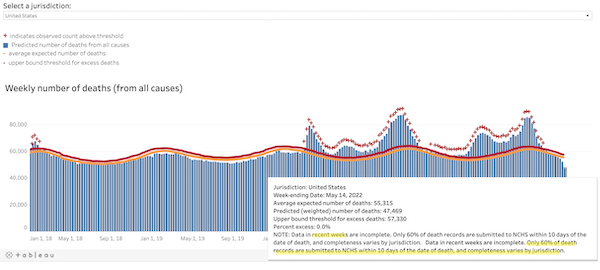 What kind of organization puts "in recent weeks" in an explanatory dropdown, and then obviously never comes back to check? Look at the qualifications in that drop-down. And the ginormous typo, helpfully highlighted, has been there for weeks. CDC, if you're reading this, please send a signal by getting this fixed. And then throw some documents over the transom. In complete confidentiality! Obviously, nobody at CDC is checking the excess deaths chart, because otherwise the typo would be fixed. I certainly hope there are no "coding errors" in the algo.
Stats Watch
United States Michigan Consumer Sentiment: "United States Michigan Consumer Sentiment" [Trading Economics]. "The University of Michigan consumer sentiment for the US was revised down to 58.4 in May of 2022, the lowest since August 2011, from a preliminary reading of 59.1. Consumers continued to have negative views on current buying conditions for houses and durables, as well as the future outlook for the economy, primarily due to concerns over inflation. At the same time, consumers expressed less pessimism over future prospects for their personal finances than over future business conditions."
* * *
The Bezzle:
Adam Neumann is the cofounder of a company called Flowcarbon that just raised $70M.

This is the opening slide in their deck that describes what they do.

You guys, they are selling something called the Goddess Nature Token.

$70M.

This is not a shitpost. pic.twitter.com/NPM2E2nkMx

— Chris Bakke (@ChrisJBakke) May 26, 2022
The Bezzle: "Mark Zuckerberg Is Blowing Up Instagram to Try and Catch TikTok" [Bloomberg]. "Reels are a kind of short-form video that influencers like Sharp see as a lesser copycat of TikTok's namesake posts. Instagram owner Facebook (which rebranded in the fall as Meta Platforms Inc.) needs talented users to start posting entertaining Reels to draw young people to the app, and to Facebook by extension. The main social network's user numbers have flatlined, sending investors running and contributing to a 47% drop in the company's share price since the start of the year. Chief Executive Officer Mark Zuckerberg's strategy to reverse the trend—and shore up investor support for his long-term bets on virtual reality—is centered almost entirely on copying TikTok. Over 14 years, since the invention of its news feed, Facebook has become extremely good at one thing: showing people what they definitely want to see, based on their past behavior and online activity…. The upside of that kind of algorithm is a $116 billion advertising business. The downside is, people get bored…. TikTok delivers a level of algorithmic magic that's a step beyond, introducing people to stuff they had no idea they would be entertained by…." Reels is a brutal UI/UX change. And: "Instagram became a generation's go-to social app on the strength of its filtered, aspirational lifestyle photography. Now the company is actively killing that identity in the name of beating TikTok, and it might not even work."
Tech: "Who Owns 4chan?" [Wired]. "OVER THE PAST 19 years, the imageboard 4chan has been tied to Gamergate, the inception of QAnon, the incubation of a particular brand of online racism, and a raft of domestic terror attacks that have killed scores of people… Even as the imageboard continues to rise in infamy, a question lingers: Who actually owns 4chan? For years, its ownership has been murky: Invented by an American, sold to a Japanese businessman in 2015, its corporate structure is largely unknown, beyond a pair of Delaware-registered corporations. New information, shared exclusively with WIRED, provides greater detail into 4chan's largely unpublicized relationship with a major Japanese toy firm called the Good Smile Company. Legal documents, corporate records, and interviews with those familiar with both companies show that Good Smile played a role in 4chan's 2015 acquisition. In addition to being 4chan's silent partner, Good Smile has struck major deals with some of the world's largest entertainment companies, including Disney and Warner Bros. Good Smile also produces figurines depicting underage anime girls in various states of undress. The company said last year that it is just a passive investor in 4chan. Records of a nondisclosure agreement, however, reveal that Good Smile Company and a major Japanese telecommunications company were involved in the 2015 acquisition of 4chan by its current owner." • Good smile?!
* * *
Today's Fear & Greed Index: 20 Extreme Fear (previous close: 13 Extreme Fear) [CNN]. One week ago: 12 (Extreme Fear). (0 is Extreme Fear; 100 is Extreme Greed). Last updated May 27 at 1:53 PM EDT.
Zeitgeist Watch
"This Olivia Rodrigo TikTok Doppelgänger Has the Internet Freaking Out" [Teen Vogue]. " O-Rod's doppelgänger, Aurea Ocampo, attended SOUR Tour L.A. basically wearing an Olivia uniform: a purple satin mini-dress with combat boots, black knee-high socks, layered silver necklaces, and chunky black sunglasses. Complete with Olivia's signature middle-part pigtails, Aurea could perfectly cosplay as the popstar. Aurea plays up the likeness in the TikTok, fake-shielding her face from concert-goers and posing in classic Olivia fashion, parted lips and all. The clip also catches a few fellow concert-goers staring at Aurea, clearly trying to figure out if Olivia was really standing in front of them. The resemblance is truly uncanny, with dozens of shocked commenters pointing out that it took them the entire video to realize Aurea wasn't actually Olivia. 'I thought ur sister was the little girl in the beginning 💀,' wrote one user. 'I didn't read and really thought it was her LMAOOO,' said another. 'THE POSES AND THE WALK ARE SO ACCURATE,' someone else added. Aurea looks so much like Olivia Rodrigo, that even Olivia herself got confused. "No I thought she was me too," the actual Olivia commented on the TikTok video, totally seeing the undeniable resemblance."
Class Warfare
"Elif Batuman Wants Her Tea to Taste Like Candy 'Add milk, and you're basically drinking a bowl of Apple Jacks.'" [New York Magazine]. "I was nervous because I had to give a four-minute talk about how I thought we should prioritize our scattered energies at this unprecedented time. I talked about Putin's and Trump's childhoods and the way adverse early experiences can lead to war and environmental disaster." Classic PMC, personalizing. More: "Afterward, I met my grad-school friends Luba and Marilena for lunch at Maman on the Upper East Side." Because of course. And: "We then headed to the Met, where we talked nonstop for three hours" — quietly, I hope — "while looking at paintings by Winslow Homer and Jacques-Louis David." • Not this one, I don't think, it's in the Louvre, but this certainly gives the congenial tone: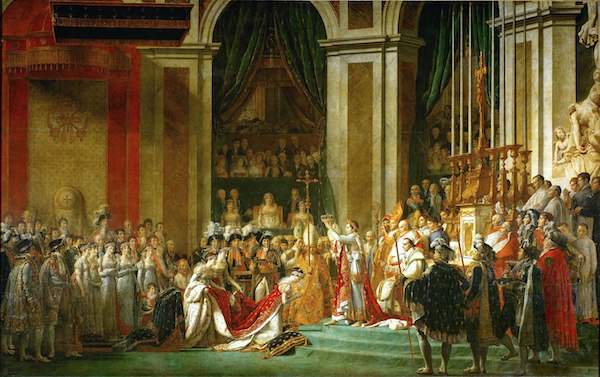 What ticks me off here is that everybody can benefit from humanity's heritage of painting, and sculpture, and music. The Met was conceived of as a national museum, not a club for grad school friends. Everybody! And society should be arranged so that everybody had time to do so, not just Manhattanites angsting about their "scattered energies." (You want to scatter your energy? Try working in a warehouse. Or meeting the public in retail!)
News of the Wired
"Surveillance Tech Didn't Stop the Uvalde Massacre" [Gizmodo]. • So far as I can tell, from this and this morning's links, the Uvalde school did everything the Security Industrial Complex consultants told them to do. It didn't work. Operational incapacity, it seems, applies across the political spectrum.
* * *
Contact information for plants: Readers, feel free to contact me at lambert [UNDERSCORE] strether [DOT] corrente [AT] yahoo [DOT] com, to (a) find out how to send me a check if you are allergic to PayPal and (b) to find out how to send me images of plants. Vegetables are fine! Fungi and coral are deemed to be honorary plants! If you want your handle to appear as a credit, please place it at the start of your mail in parentheses: (thus). Otherwise, I will anonymize by using your initials. See the previous Water Cooler (with plant) here. From:
* * *
Readers: Water Cooler is a standalone entity not covered by the recently concluded and — thank you! — successful annual NC fundraiser. So if you see a link you especially like, or an item you wouldn't see anywhere else, please do not hesitate to express your appreciation in tangible form. Remember, a tip jar is for tipping! Regular positive feedback both makes me feel good and lets me know I'm on the right track with coverage. When I get no donations for five or ten days I get worried. More tangibly, a constant trickle of donations helps me with expenses, and I factor in that trickle when setting fundraising goals:
Here is the screen that will appear, which I have helpfully annotated: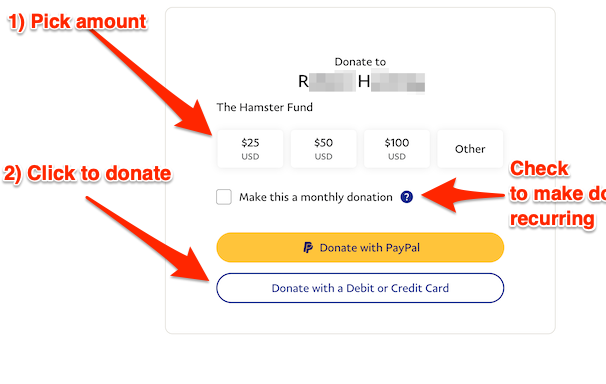 If you hate PayPal, you can email me at lambert [UNDERSCORE] strether [DOT] corrente [AT] yahoo [DOT] com, and I will give you directions on how to send a check. Thank you!