Yves here. My understanding is that it's not possible to criminalize activity under state law that takes place in another state, but that won't prevent a lot of effort in that direction. And even if a defendant in a abortion case has good odds of prevailing, who wants to be caught up in a prosecution, particularly since the results too often are a crapshoot? In other words, the aftermath of the expected reversal of Roe v. Wade could become very ugly.
The flip side is, as some experts have pointed out, Alito's draft is a lobbying document to his fellow justices. They might find a way of coming to a narrowly-construed ruling that supports the Mississippi law but leaves Roe v. Wade intact. But even a positive-for-now outcome does not mean its days are not numbered.
By Kerry Stancil. Originally published at Common Dreams
As the U.S. Supreme Court's right-wing majority appears poised to overturn landmark decisions protecting reproductive rights and more, experts are warning that the GOP's war on abortion will lead to interstate legal battles that threaten to "tear America apart," as New York Times opinion columnist Michelle Goldberg put it on Friday.
Justice Samuel Alito's leaked draft majority opinion indicates that the high court has voted 5-4 to strike down Roe v. Wade and its companion, Planned Parenthood v. Casey.
If this ruling is not dramatically altered before it is officially issued in June or July, "we will have two wildly different abortion regimes in this country," wrote Goldberg. "The demise of Roe will exacerbate America's antagonisms, creating more furious legal rifts between states than we've seen in modern times."
Abortion could be outlawed in up to 26 states as soon as next month, with no exceptions for rape or incest in 11 states, according to the Guttmacher Institute. Louisiana Republicans are advancing a bill that would allow prosecutors to charge abortion patients and providers with homicide.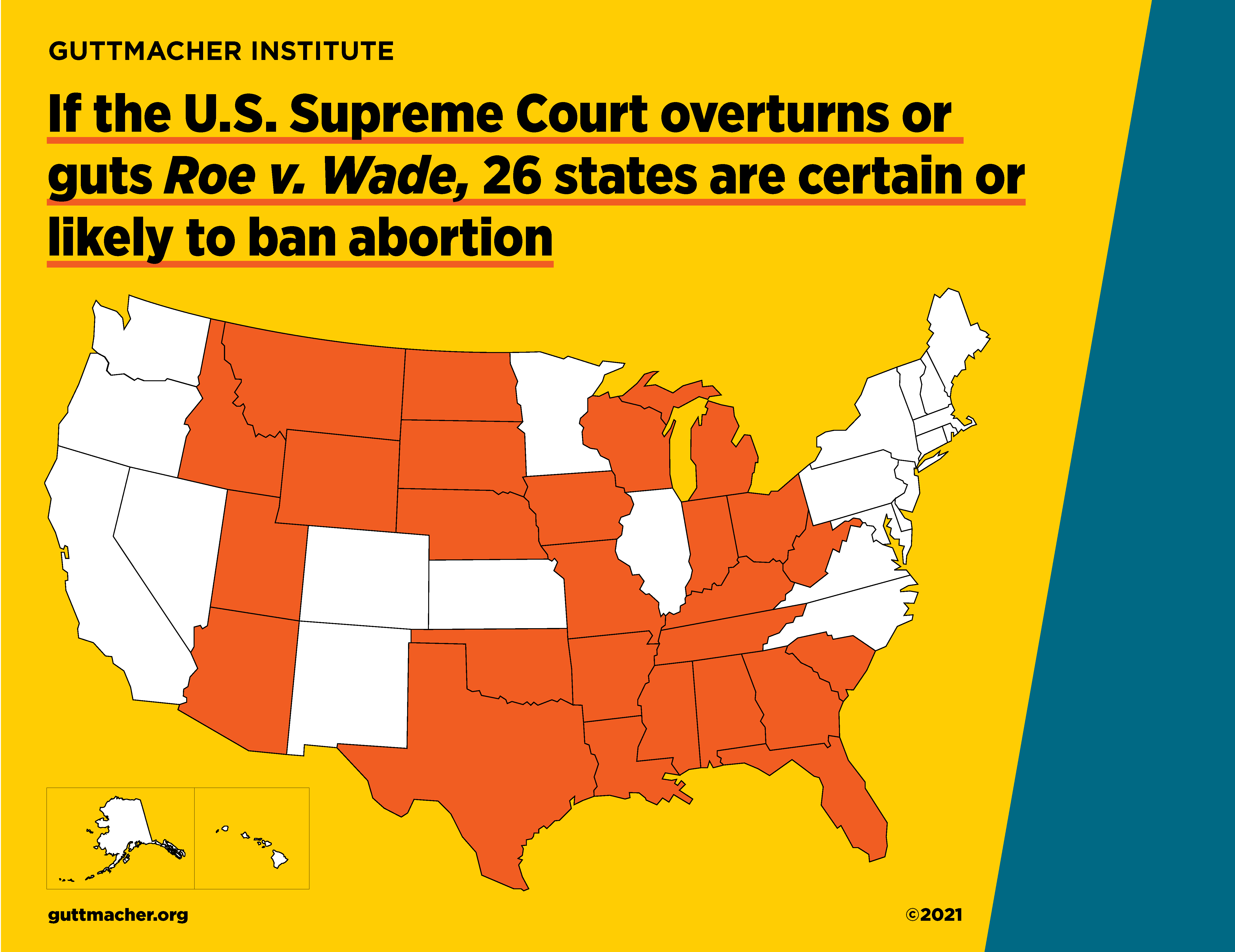 "Blue states, meanwhile, are setting themselves as abortion sanctuaries," Goldberg wrote. "Oregon lawmakers recently passed a bill to create a $15 million fund to help cover abortion costs, including for those traveling to the state for the procedure. Something similar is in the works in California. Abortion clinics in Illinois, bordered by several states where abortion is likely to be made illegal, are preparing for a huge influx of patients."
"The right won't be content to watch liberal states try to undermine abortion bans," Goldberg continued. She cited a forthcoming article in The Columbia Law Review, which argues that "overturning Roe and Casey will create a novel world of complicated, interjurisdictional legal conflicts over abortion."
David S. Cohen, a law professor at Drexel University and co-author of the paper, told Bloomberg Law earlier this week that imposing forced-pregnancy laws on other states is "the next frontier in anti-abortion legislation."
"It's going to be an invitation to states to innovate in restricting and banning abortion," said Cohen. "There are going to be a number of states [that] are not satisfied with just knowing that there's no abortion happening in their own state. They're going to want to do more than that."
Missouri state Rep. Mary Elizabeth Coleman (R-97) is already attempting to bar pregnant people from leaving the state to get an abortion, as thousands of residents have done since Republican Gov. Mike Parson enacted a ban in 2019.
The GOP lawmaker's proposal would allow private citizens to sue anyone who performs or helps a Missouri resident obtain an out-of-state abortion. It is modeled after S.B. 8, the devastating Texas law that rewards vigilantes with at least $10,000 each time they successfully sue a person who provides or helps someone access an abortion after six weeks—before many people know they are pregnant.
The Supreme Court has refused to intervene against the "bounty-hunting scheme," as pro-choice advocates have called S.B. 8 and its copycats, and "no court has been able to stop it because it's enforced by private parties through civil litigation, not government officials," Bloomberg Lawreported.
The news outlet added:
Coleman's proposal didn't get a vote in the House this year, but that doesn't mean lawmakers in Missouri and in other Republican-led states won't consider it in the future. An attorney involved in abortion litigation, who requested anonymity for personal safety reasons, said the only way to control abortion travel may be to enact a law like the one Coleman proposed.

"That's the only plausible strategy I can see for anti-abortion lawmakers if they want to stop abortion tourism," the attorney said.

"If they just say it's illegal to leave the state to get an abortion, someone can sue and challenge the constitutionality of the statute. If they do it the way Mary Elizabeth Coleman drafted it, by this sort of private civil enforcement, it can't be challenged in court pre-enforcement."
From the time S.B. 8 went into effect in September until the end of last year, Planned Parenthood clinics in surrounding states saw a nearly 800% increase in abortion patients from Texas compared with the same time period in 2020. If states prohibit abortion and pass travel bans of the sort that Coleman has proposed, thousands of people could be forced to carry unwanted pregnancies to term or seek out dangerous methods to terminate pregnancies.
Goldberg noted that under S.B. 4, a separate Texas law passed last year, "people in other states sending abortion pills through the mail to Texas residents could be extradited to face felony charges, though the authorities in liberal states are unlikely to cooperate."
Medication is now used for a majority of abortions nationwide. Cohen told The Guardian that "pills are going to be a major part of how people continue to get abortions after the Supreme Court rules, so I think that we'll see states trying to ban pills in all sorts of different ways."
Anticipating such legislation, Goldberg wrote, "Connecticut just passed a lawmeant to shield doctors and patients. Among other things, it ensures that no one can be extradited to another state for performing or obtaining an abortion that's legal in Connecticut, and ensures that people sued under a law like the one proposed in Missouri could countersue to recover their costs."
Legal experts aren't sure how these types of interstate fights are going to play out, though Cohen told The Guardian that they "are really going to divide this country even deeper on this issue."
Mary Ziegler, a visiting professor at Harvard Law School, told Goldberg that the closest parallels in U.S. history are fugitive slave laws "because there are not many times in history when states are trying to tell other states what to do in this way."
"The point," Goldberg wrote, "is not that abortion bans are comparable to slavery in a moral sense, but that they create potentially irreconcilable legal frameworks."
According to Bloomberg Law: "Some legal scholars think any attempt to stop people from leaving the state for an abortion would be unlawful since the Constitution protects individual liberty and gives people the right to travel. There's also a legal doctrine called the Dormant Commerce Clause that prevents states from discriminating against or unduly burdening interstate commerce."
But it remains unclear if the courts will agree.
"Unfortunately, there's no real clear precedent on this issue," said Cohen. "A particularly anti-abortion court like we have at the U.S. Supreme Court, I think, might find enough wiggle room in the past cases to say it's not unconstitutional because states are allowed to have extraterritorial effect of their laws."
Citing Cohen, Bloomberg Law reported that "prosecutors could argue that as long as some part of the crime took place in the state, then they are allowed to have jurisdiction and developing the guilty intent to travel may be enough… If a young woman and her best friend decide in Missouri they're traveling to Illinois to get an abortion, the criminal intent has taken place in Missouri."
As Goldberg pointed out, reactionaries "have a plan for reconciling clashing abortion laws." Earlier this week, Republicans vowed to enact a federal six-week ban if they retake Congress and the White House.
"At some point, there will almost certainly be a Republican president and a Republican Congress," wrote Goldberg. "It's easy to imagine conservative activists demanding that their leaders jettison the filibuster in order to push through a national abortion ban. It's hard to imagine the Republican senators who've defended the filibuster putting procedural principle above one of their base's most cherished goals."
"But long before we get there, the death of Roe will intensify our national animus, turning red states and blue into mutually hostile legal territories," she added. "You think we hate each other now? Just wait until the new round of lawsuits start."
More than three-fifths of Americans think abortion should be legal in all or most cases, according to a recent survey conducted before Alito's draft ruling was leaked. The Women's Health Protection Act would enshrine healthcare professionals' right to provide abortions and patients' right to receive care.
Every Democrat in the U.S. House of Representatives except Rep. Henry Cuellar (Texas) supported the bill's passage last year. However, Sen. Joe Manchin (D-W.Va.) in February joined Republicans to block the measure.
Senate Majority Leader Chuck Schumer (D-N.Y.) announced Thursday that the upper chamber will vote next week on a modified version of the bill.
"It's long past time," Sen. Elizabeth Warren (D-Mass.) tweeted. "And we can't let the filibuster stand in our way."