By Lambert Strether of Corrente
Bird Song of the Day
House Sparrow, Texas, United States. "Early morning flock chorus," plus barking dog. This is Sparrow week at Naked Capitalism.
"Sparrow ID Guides from Macaulay Library and Bird Academy" [The Cornell Lab of Ornithology]. Free downloads. "Sparrows are a challenge to birders of all skill levels because they're often skulky and hard to see. At first they seem like dull brown birds, but when you get a good look, they show beautiful and intricate patterns on their feathers. Because many species are hard to see, they are sought after by avid listers and those who appreciate the beauty of birds. Whether you're at home or out in the field, these helpful four-sheet sparrow reference guides have full-color photos of eastern, central, western and widespread sparrows."
* * *
Politics
"But what is government itself, but the greatest of all reflections on human nature?" –James Madison, Federalist 51
"They had learned nothing, and forgotten nothing." –Charles Maurice de Talleyrand-Périgord
"When the going gets weird, the weird turn pro." –Hunter Thompson
Biden Adminstration
"Largest-ever Medicare premium hikes: Biden just handed a huge "gift to McConnell" ahead of midterms' [Salon]. "The Biden administration quietly announced last week that it will leave in place one of the largest-ever Medicare premium hikes for the remainder of 2022, despite federal health officials' decision to restrict coverage of the expensive and potentially ineffective Alzheimer's drug that drove the increase…. In a five-page analysis released Friday, CMS insisted that carrying out a mid-year change to Medicare's 2022 premiums would be "prohibitively complex and highly risky, requiring significant resources and unproven technical solutions from the varied entities which manage premium collection and payment…. Lamenting the "legal and operational hurdles" flagged by CMS, Becerra promised the administration will work to ensure that seniors see premium relief next year—cold comfort to those hurt by higher costs in 2022." • First we've heard from Becerra in some time. Refreshing!

"Biden not aware of infant formula crisis until April" [The Hill]. "President Biden on Wednesday said he was not personally aware of the severity of the infant formula shortage until early April, months into the shutdown of a manufacturing plant operated by Abbott Nutrition and subsequent recall of its products. 'I became aware of this problem sometime in early April, about how intense it was. We did everything in our power from that point on,' Biden said during a White House roundtable with formula manufacturers. 'I don't think anyone anticipated the impact of the shutdown of one facility,' Biden added. Biden's comments stand in contrast to administration officials, who have said repeatedly that the White House has been working around the clock since February to address the issue." • Didn't anybody brief Biden? Or is Biden not briefable? Or both?

"Clarence Thomas calls out John Roberts as Supreme Court edges closer to overturning Roe v. Wade" [CNN]. "Last week at a Dallas conference, Thomas took a surprising, public jab at Roberts. Thomas has long touted the good relations inside the court and avoided public criticism of colleagues. He might not always have embraced his colleagues, but he avoided letting any enmity slip. Thomas last week recalled the court atmosphere before 2005, when Roberts joined, and said, 'We actually trusted each other. We may have been a dysfunctional family, but we were a family, and we loved it.' Thomas' blunt remarks suggest new antagonism toward Roberts and added to the uncertainty regarding the ultimate ruling in Dobbs v. Jackson Women's Health Organization, expected by the end of June. Roberts, with his institutionalist approach, is positioned as the one justice who might generate a compromise opinion that stops short of completely overturning Roe v. Wade, at least this year. That would thwart an outcome that Thomas has worked toward for decades."

During Pride Month, good job:

INBOX: @FLOTUS will unveil a new Nancy Reagan stamp on Monday pic.twitter.com/f8d1szHN9K

— Andrew Feinberg (@AndrewFeinberg) June 1, 2022
Democrats en Déshabillé
I have moved my standing remarks on the Democrat Party ("the Democrat Party is a rotting corpse that can't bury itself") to a separate, back-dated post, to which I will periodically add material, summarizing the addition here in a "live" Water Cooler. (Hopefully, some Bourdieu.) It turns out that defining the Democrat Party is, in fact, a hard problem. I do think the paragraph that follows is on point all the way back to 2016, if not before:

The Democrat Party is the political expression of the class power of PMC, their base (lucidly explained by Thomas Frank in Listen, Liberal!). ; if the Democrat Party did not exist, the PMC would have to invent it. . ("PMC" modulo "class expatriates," of course.) Second, all the working parts of the Party reinforce each other. Leave aside characterizing the relationships between elements of the Party (ka-ching, but not entirely) those elements comprise a network — a Flex Net? An iron octagon? — of funders, vendors, apparatchiks, electeds, NGOs, and miscellaneous mercenaries, with assets in the press and the intelligence community.

Note, of course, that the class power of the PMC both expresses and is limited by other classes; oligarchs and American gentry (see 'industrial model' of Ferguson, Jorgensen, and Jie) and the working class spring to mind. Suck up, kick down.

* * *

"Democrats Should 'Do Something' the Way the GOP Does Things" [Molly Jong-Fast, The Atlantic]. "Let's see how they like it when blue states decide to fight back. Democrats might feel powerless, but it's because they're relying on an outdated playbook. It's time to be brave, think big, and deliver for the American people." • Dear Lord. This is 2022.

"Progressives Call for Greater Outreach by DNC as GOP Invests in Community Centers" [Common Dreams]. "The Republican National Committee is investing considerable money and energy in expanding its voter base by building up its presence in largely Black, Latino, and Native American communities, according to new reporting by The American Prospect which led progressives on Wednesday to warn that Democrats have largely abandoned such boots-on-the-ground efforts. As Alexander Sammon wrote at the outlet, the Republican Party has opened at least 21 community centers in places including Robeson County, North Carolina—a former Democratic stronghold which former Republican President Donald Trump won in 2016—and the College Park section of Atlanta…. [T]he Republican Party appears to be modeling its approach on "the sustained organizing model of the Bernie Sanders campaign," which spent months organizing in predominantly immigrant, working-class communities in Nevada before shocking the Democratic establishment by winning the state's primary in February 2020." • The Democrats have forgotten nothing, and learned nothing.
2022
* * *

"Democratic Senate hopefuls take cautious tack on assault weapons ban" [The Hill]. Because of course. "Democratic Senate candidates in the year's most competitive races are treading lightly on an issue that has the backing of the party's top officials: an assault weapons ban. From Pennsylvania to Arizona, only a handful of Democratic Senate candidates have homed in on calls for reinstating the long-expired federal ban on so-called assault weapons in the wake of the mass shooting at an Uvalde, Texas, elementary school that left 21 people — including 19 children — dead. Most candidates have walked a finer line, urging the Senate to take up other measures, like expanded background checks for gun purchases and red flag laws, which in most cases would allow law enforcement officials to temporarily seize firearms from individuals who are seen as a threat to themselves or others. The reluctance to openly advocate for a new ban on assault-style weapons illustrates how the issue has become a political third rail for battleground-state Democrats in an already difficult election year for the party." • The suburban voters liberal Democrats want like their guns?

MI: "Mallory McMorrow, rising Democratic star, says it's time to answer conservative culture war attacks" [Yahoo News]. "Describing herself as 'a straight, white, Christian, married, suburban mom,' the 35-year-old New Jersey native and Notre Dame graduate positioned herself as precisely the kind of suburban voter whom the GOP "grooming" attacks were trying to court…. In Virginia, suburban frustrations helped power the Republican business executive Glenn Youngkin to an upset victory over Democratic candidate and former governor Terry McAuliffe in that state's gubernatorial race last fall. The suburbs hugging the Potomac — the same ones that had voted for Biden only months before — provided the crucial difference. 'Suburban moms who have left the Republican Party in big numbers came back,' a jubilant Bob McDonnell — Virginia's last Republican governor before Youngkin — told the Washington Post after the latter's unlikely win over McAuliffe." • Again, I wonder what "suburban moms" think about guns…..

OR: "Biden-backed Democrat defeated by progressive in Oregon primary" [CNN]. "Jamie McLeod-Skinner will win the Democratic nomination in Oregon's 5th Congressional District, CNN projects, ousting seven-term Rep. Kurt Schrader in a rebuke to national Democrats, including President Joe Biden. Schrader, a moderate who has crossed Democratic leadership repeatedly — but nonetheless still won Biden's first endorsement of the cycle, had been bolstered in the final weeks of the race by a pair of outside groups that ended up spending nearly $2 million on the race. But it was not enough to blunt fierce backlash from local party leaders and grassroots groups who endorsed McLeod-Skinner. … Schrader's voting record and efforts with a small group of House moderates to complicate the passage of Biden's Build Back Better package last year, which ultimately died in the Senate, caused an uproar among local groups." • Blue Dogs or whatever their current name are eminently beatable. And then Schumer or Pelosi bring in a new crop. We've seen this repeatedly since the days of Rahm Emanuel.
RussiaGate
"Scoop: Blockbuster witness for Jan. 6 hearings" [Axios]. "J. Michael Luttig, a former federal judge and lawyer who advised former Vice President Mike Pence, is expected to testify in the Jan. 6 select committee's public hearings this month, Axios has learned…. Luttig, who served on the U.S. Court of Appeals for the Fourth Circuit, was a key behind-the-scenes figure in the lead up to Jan. 6. He furnished Pence with the legal argument the vice president used to publicly reject Trump's unconstitutional order to overturn President Biden's victory. The upcoming public hearings, spread across two weeks, will mark the first time the committee has had an opportunity to reveal the complete findings of its months-long investigation into the breach of the Capitol. Committee sources told Axios they want to tell a story of Jan. 6 in such a way that the American people understand the gravity of what happened — and the role former President Trump and his associates played in ginning up the mob that tried to interrupt the peaceful transfer of power." • Interesting….
Realignment and Legitimacy
"Justices allow depositions of Texas lawmakers in Voting Rights Act lawsuit" [SCOTUSBlog]. "The Supreme Court on Tuesday morning rejected a request from three Texas lawmakers to put off their depositions in lawsuits seeking to block redistricting legislation in that state. There were no dissents noted from the brief order, which clears the way for the depositions to go forward next month…. The order came in a dispute that arose after the Texas legislature's October 2021 adoption of new maps for congressional and state elections. Ten different lawsuits followed, filed by individual voters, civil rights groups, and the U.S. Department of Justice, alleging that the maps violated Section 2 of the Voting Rights Act, which bars racial discrimination in election policies. As part of their case before a three-judge district court, the challengers want to depose Texas legislators about the process that led to the new maps and the legislators' motives in adopting them…. Three Republican members of the Texas House of Representatives came to the Supreme Court on May 21, asking the justices to step in. They contended that allowing the depositions to go forward would violate legal doctrines that generally shield legislators from having to answer questions from other branches of government about their actions. If the lawmakers are deposed, they argued, the challengers will be allowed to probe "the very innerworkings of the legislative process, examining the legislators' thoughts, impressions, and motivations for their legal acts." They told the justices that there are other ways to examine the legislature's reasons for enacting the redistricting maps – for example, by looking at the history leading up to the decision and the events surrounding it. And there is "no way to un-ring the bell once they testify," the lawmakers stressed.
#COVID19
• No such thing as "common decency" under neoliberalism:
The failed response to the COVID-19 pandemic is best understood as an ethical failure, not a scientific or technical one.

It is rooted in the abdication of responsibility on the part of those in authority, but of everyday people as well. It is a failure of common decency.

— Jon Parsons (@jwpnfld) May 30, 2022
And:
In fact, the strategy for this "learning to live with it" phase of the pandemic is precisely to allow people to believe they are not responsible for the predictable consequences of their actions, encapsulated in the ideas of "personal risk management."

— Jon Parsons (@jwpnfld) May 30, 2022
"If a child, an untrained person, an ignorant person, or an insane person incites trouble, it is the fault of authority for not predicting and preventing that trouble." –Frank Herbert, Dune. Not exactly a democratic perspective, though.
• Takedown of sociopathic Covid minimizer David Leonhardt on masks. Thread:
In yesterday's @nytimes @DLeonhardt explores an apparent contradiction, saying masks work against #COVID19 but mask mandates do not. The premise of this article is wrong. The evidence is clear that mask mandates work. Let's take a look (1/14)https://t.co/t7QXGEqLSw

— Justin Lessler (@JustinLessler) June 1, 2022
* * *
If you missed it, here's a post on my queasiness with CDC numbers, especially case count, which I (still) consider most important, despite what Walensky's psychos at CDC who invented "community levels" think. But these are the numbers we have.
* * *
Case count by United States regions: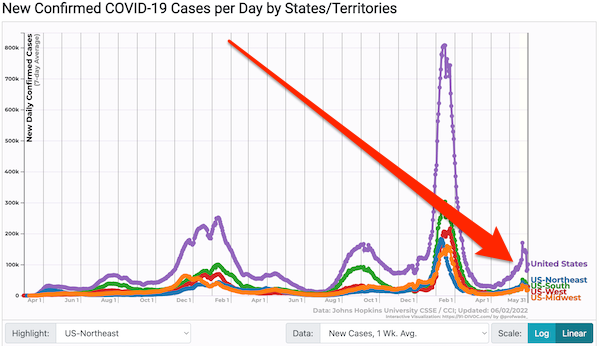 This looks like we're catching up on the record keeping, to me. (I'm not drawing any lines on the chart because it would be pointless.) Note, however, that similar "fiddling and diddling" behavior is seen at previous peaks. So maybe there's a signal here, and maybe there isn't.
Here are cases for the last four weeks: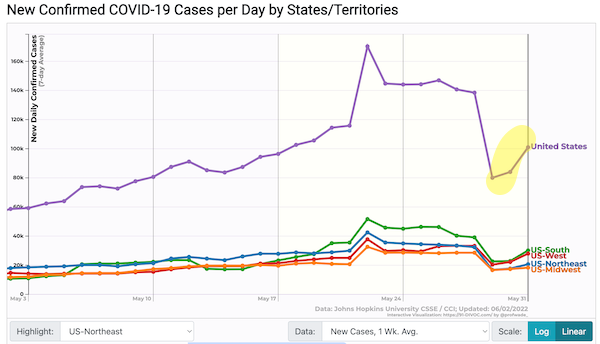 As above.
• "'We're playing with fire': US Covid cases may be 30 times higher than reported" [Guardian]. Interpretation of the preprint we published yestereday. "But , an early survey of the surge in New York City indicates. 'It would appear official case counts are under-estimating the true burden of infection by about 30-fold, which is a huge surprise,' said Denis Nash, an author of the study and a distinguished professor of epidemiology at the City University of New York School of Public Health. About one in five – 22% – of adult New Yorkers likely had Covid between 23 April and 8 May, according to the preprint study, which has not been peer-reviewed or published. That would mean 1.5 million adults in the city had Covid in a single two-week period – far higher than official counts during that time. While the study focused on New York, these findings may be true throughout the rest of the country, Nash said. In fact, .' And: "There is also a 'huge disincentive' for many people to get tested for Covid, said Lara Jirmanus, a family physician and clinical instructor at Harvard Medical School. Americans have been told the virus is mild and won't affect their lives, she said, but if they test positive, they need to stay home from work and school. 'It's almost as though we've created a national 'don't ask, don't tell' Covid policy – and that is ,' she said – especially concerning given as much as 60% of Covid transmission happens from people who never have any symptoms." • Everything's going according to plan.
• Yep:
Today's IDK who needs to hear this:

No matter what "data" you see or what some say about this current surge being smaller than previous ones, most families and communities in the real world are experiencing more cases than they ever have- the tests just aren't being reported.🤦🏽‍♂️

— Jerome Adams (@JeromeAdamsMD) June 1, 2022
• Gaming the case data:
The CDC data shows that Covid New cases have increased by 92% over the last week in Ok. The #Oklahoma State Department of Health shows that new Covid cases have increased by 1.09% over the last week. This is due to a very strange and restrictive OSDH definition of a new case. pic.twitter.com/3RfVg0vVYn

— George Monks, M.D. (@GeorgeMonks11) April 22, 2022
Go, Federalism!
NOTE I shall most certainly not be using the CDC's new "Community Level" metric. Because CDC has combined a leading indicator (cases) with a lagging one (hospitalization) their new metric is a poor warning sign of a surge, and a poor way to assess personal risk. In addition, Covid is a disease you don't want to get. Even if you are not hospitalized, you can suffer from Long Covid, vascular issues, and neurological issues. For these reasons, case counts — known to be underestimated, due to home test kits — deserve to stand alone as a number to be tracked, no matter how much the political operatives in CDC leadership would like to obfuscate it. That the "green map" (which Topol calls a "capitulation" and a "deception") is still up and being taken seriously verges on the criminal.
From the Walgreen's test positivity tracker: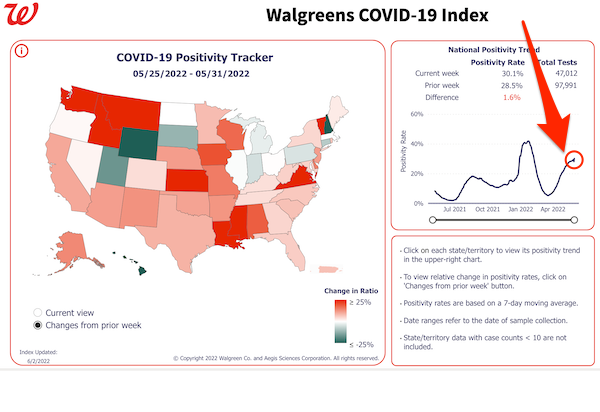 I imagine that little notch is Memorial Day reporting; the 2021 data seems to begin after that year's holiday. I'm leaving the corporate logo on as a slap to the goons at CDC.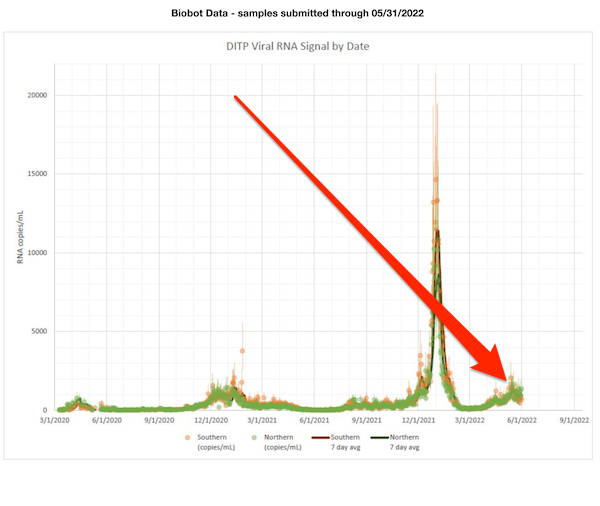 Still fiddling and diddling, with South a little up, and North a little down. We'll see where the trend line ends up after summer school begins.
The Massachusetts Water Resources Authority (MWRA) service area includes 43 municipalities in and around Boston, including not only multiple school systems but several large universities. Since Boston is so very education-heavy, then, I think it could be a good leading indicator for Covid spread in schools generally.
Cases lag wastewater data.
From Biobot Analytics: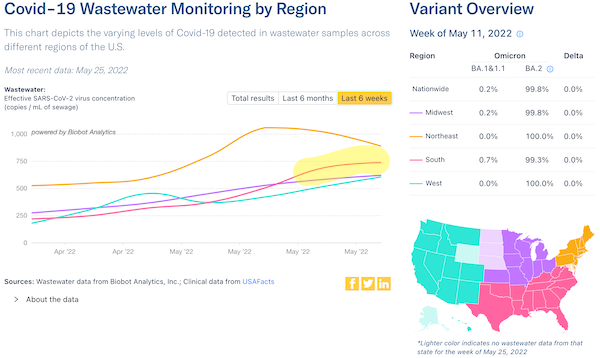 Still May 11 for the variants? Really? I want to know about BA.4 and BA.5 (dubbed "variants of concern" by The European Centre for Disease Prevention and Control (ECDC)).
From CDC Community Profile Reports (PDFs), "Rapid Riser" counties: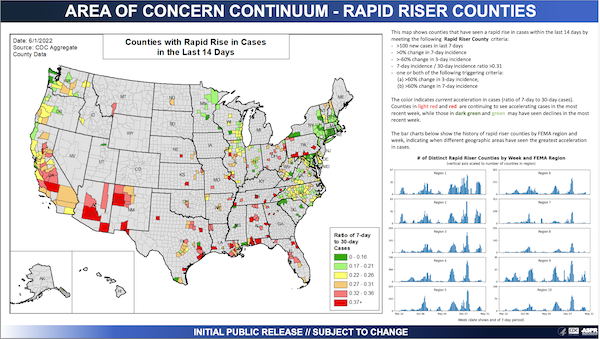 California better, Southwest worse, Midwest, New York, New England, and Gulf Coast improving, Pennsylvania better (why).
The previous release: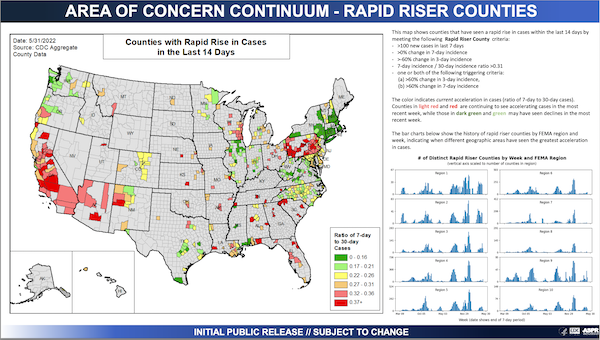 Here is CDC's interactive map by county set to community transmission. This is the map CDC wants only hospitals to look at, not you: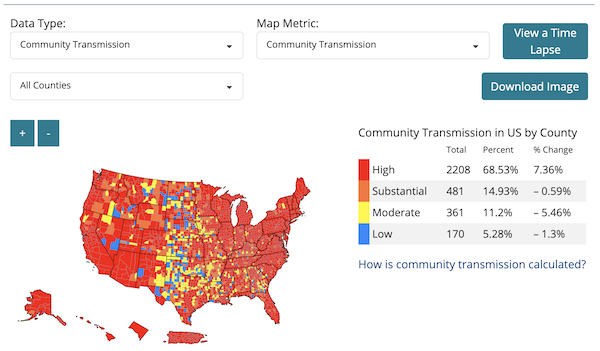 East coast, West Coast, and Midwest are all red. That bit of Upstate New York is still yellow.
Hospitalization (CDC Community Profile):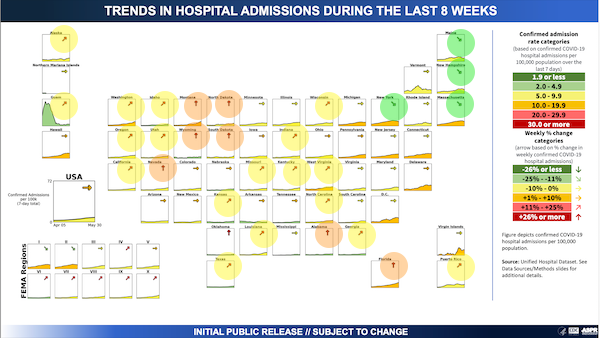 Still very dynamic.
Death rate (Our World in Data):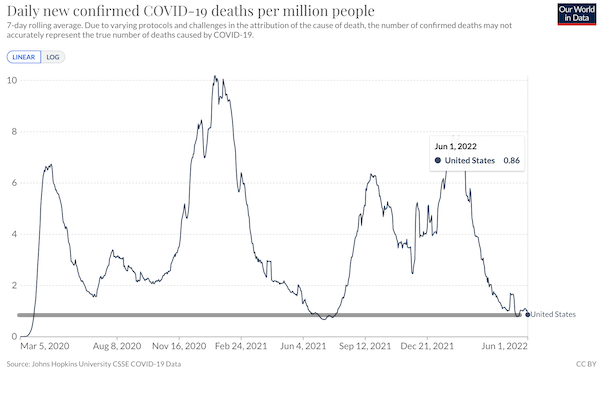 Total: 1,032,410 1,031,613. I have added an anti-triumphalist Fauci Line.
• "COVID death tolls: scientists acknowledge errors in WHO estimates" [Nature]. • I can't really excerpt this; the issue seems to be bad data, bad extratrapolations, and a hard problem.
Covid cases in top us travel destinations (Statista):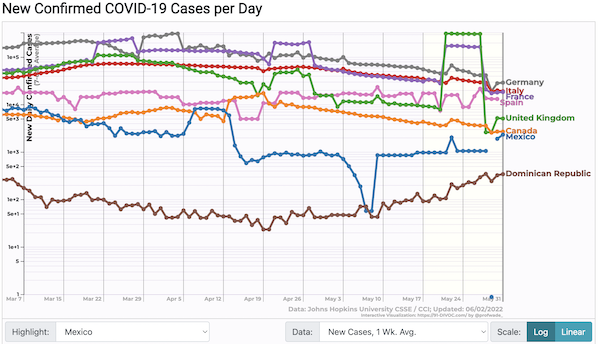 More weird fluctuations. (Note the quality of these numbers varies wildly. For example, the UK is cutting back on testing data.
Stats Watch
Employment Situation: "United States ADP Employment Change" [Trading Economics]. "Private businesses in the United States hired 128K workers in May of 2022, the least since the job losses in 2020, and well below forecasts of 300K. The services sector added 104K jobs, led by education and health (46K), and professional and business (23K) while the information sector shed 2K jobs."
Employment Situation: "United States Initial Jobless Claims" [Trading Economics]. "The number of Americans filing new claims for unemployment benefits fell by 11 thousand to 200 thousand in the week ended May 28th, from the previous week's revised level of 211 thousand and below market expectations of 210 thousand, signaling a tight labour market."
Employment Situation: "United States Challenger Job Cuts" [Trading Economics]. "US-based companies announced plans to cut 20,712 jobs from their payrolls in May of 2022, the lowest reading in three months. It is 15.8% lower than the 24,586 cuts announced in May of 2021. So far this year, employers announced plans to cut 100,694 job cuts, the lowest on record for the first five months of the year. Still, four industries saw more job cuts announced in May than in the previous four months of the year combined: technology (4,044, the highest since December of 2020); fintech (2,059); construction (817); and automotive (2,918)."
Manufacturing: "United States Factory Orders" [Trading Economics]. "Factory orders in the US went up 0.2% from a month earlier to $533.2 billion in April of 2022, after a downwardly revised 1.8% gain in March and missing market forecast of a 0.7% rise. Orders slowed in industries producing both durables (0.5% vs 0.7% in March) and nondurable goods (0.2% vs 2.9%)."
* * *
Retail: "Why Nordstrom Steamed Ahead as Old Navy Sank" [Wall Street Journal]. "A clear signal from apparel retailers reporting results lately is that customers are finally starting to dress like adults again. But, just as with the customers they attract, there are haves and have-nots: Brands with higher price tags are feeling much less of a pinch from inflation than affordable ones. Among Gap's portfolio of brands, Banana Republic, which sells dressier, work-relevant clothes, saw sales in the quarter ended April 30 grow 24% compared with a year earlier while sales for more value-, comfort-focused Old Navy declined 19%, compounded by self-inflicted inventory woes. Sales of women's suiting, dresses and skirts at Banana Republic grew 62%, while men's suit sales nearly doubled. Urban Outfitters URBN -0.68% saw its pricier brands, Anthropologie and Free People, fare far better last quarter than its namesake brand, which caters to younger buyers. A similar dynamic played out among department stores."
The Bezzle: ML = Machine Learning (a more honest name for AI). A thread:
3/ These Compute Rich companies will be the new platform gatekeepers of the coming decade. Just like Apple or FB can expel companies dependent on their ecosystems today (Epic Games, Zynga), in the future, if you lose access to your language model, your product won't function.

— Russell Kaplan (@russelljkaplan) April 10, 2022
I hope somebody passes this on to Stoller. (I file ML under "The Bezzle' because nobody knows how ML systems work, they're wildly dependent on training sets, which if not outright bad, are biased by definition, and when they crash, which they do, the only solution is to reboot them ("Have you tried turning your ML off and on?")
More:
5/ This is also why most serious AI companies are now designing their own training chips. You can either pay NVIDIA their 65% gross margins, or have each marginal dollar go ~3x as far on your inevitable billions in capex by using in-house training chips.

— Russell Kaplan (@russelljkaplan) April 10, 2022
The Bezzle: "Sheryl Sandberg, long Facebook's No. 2 exec, steps down" [Associated Press]. "Sheryl Sandberg, the No. 2 executive at Facebook owner Meta, who helped turn its business from startup to digital advertising empire while also taking blame for some of its biggest missteps, is stepping down…. The author of "The Age of Surveillance Capitalism," Shoshana Zuboff, said Sandberg is as responsible as anyone for what Zuboff considers one of Big Tech's most insidious invention: the collection and organization of data on social media users' behavior and preferences. For years Facebook shared user data not just with advertisers but also with business partners. Sandberg did this, wrote Zuboff, 'through the artful manipulation of Facebook's culture of intimacy and sharing.'" • Commentary:
I heard this may be coming. I would be fairly certain it's also a sign things are about to get real. On my short list: a-NDCal just denied transfer of section 1 market rigging claim so FB is fighting a potentially criminal allegation of market rigging based on her signature. /1 pic.twitter.com/4hwP1L1P8F

— Jason Kint (@jason_kint) June 1, 2022
The Bezzle: "Quantum computing startup probed in report, securities suit" [The Register]. "Quantum computing startup IonQ is facing a securities fraud lawsuit after a barrage of accusations came to light in a blistering report from Scorpion Capital, which claims the company lied about the maturity (and even existence of) its quantum device in addition to a smattering of claimed financial fictions." • So, Schrödinger's device? Surprised this hasn't happened already.
* * *
Today's Fear & Greed Index: 27 Extreme Fear (previous close: 26 Extreme Fear) [CNN]. One week ago: 13 (Extreme Fear). (0 is Extreme Fear; 100 is Extreme Greed). Last updated Jun 2 at 1:32 PM EDT.
The 420
"How this 154-year-old company became one of the biggest players in cannabis" [CNN]. "Over the past decade, [Scotts Miracle-Gro] has quietly entrenched itself in the young and fast-growing industry. Its Hawthorne Gardening Company subsidiary has scooped up the biggest players in hydroponics, lighting and other supplies used for growing. Now, Scotts is ramping up its involvement by throwing its lobbying weight behind legalization efforts, and funneling money into investments that eventually could enable the company to sell cannabis directly to consumers. 'It's our belief, and this is not a grand revelation by any stretch: Federal legalization is obviously going to happen; the question is when and how,' said Chris Hagedorn, executive vice president of Scotts and division president of Hawthorne. 'When it does, what are the most valuable assets going to be in a post-legalization world? I think anybody who thinks about it for a while says consumer-facing brands [that make and sell cannabis products] will be the most valuable.'" • Since "consumer-facing" implies that Joe and Jane spliff can be growing weed in their own soil for their own use — as opposed to ginormous corporations selling through what might as well be package stores — I support Scott's entry.
The Gallery
Circles (1):
Torcs, lunulae, hats, mugs, amulets and magical solar symbols from the age of Stonehenge,c2500-500BCE, now on show in the jaw-dropping World of Stonehenge show at the BM. pic.twitter.com/aiaezMr5mR

— William Dalrymple (@DalrympleWill) May 31, 2022
Circles (2):
Some animals are illiterate, 1973 #surrealism #ernst https://t.co/ftJp2MDnye pic.twitter.com/Rih6WYulkx

— Max Ernst (@artisternst) May 31, 2022
Zeitgeist Watch
A lot going on here:
In Poland, there is a LARP group that roleplays as contemporary Americans. Here they are doing "Ohio." pic.twitter.com/ckZRIYZHzV

— ✨𝖇𝖊𝖓✨ (@PenBercifield) May 28, 2022
Of course, it's always OK to trash white trash. Nevertheless, Opioid Epidemic Re-enactment wasn't on my Bingo Card for soft power propagation.
"Why Were Asylums and State Hospitals Built?: Abandoned Asylums Part 1" (podcast) [Abandoned America]. "Of all the American ruins, asylums are perhaps the most iconic – but how did so many come to be left to rot across the country?" • I like Abandoned America's photography project a lot:
nothing ever dies. 2007

A curved hallway at the now-demolished Taunton State Hospital. Elevated hallways connecting the wards were a rare decorative feature that helped prevent the spread of fire between wings of the hospital. pic.twitter.com/0cve9AVydV

— Abandoned America (@abandonedameric) June 1, 2022
Class Warfare
"One-Third of Americans Making $250,000 Live Paycheck-to-Paycheck, Survey Finds" [Bloomberg]. "More than a third of Americans earning at least $250,000 annually say they are living paycheck to paycheck, underscoring how inflation is taking a bigger bite out of Americans' budgets at all ends of the pay spectrum…. Some 36% of households taking in nearly four times the median US salary devote nearly all of their income to household expenses, according to a survey by industry publication Pymnts.com and LendingClub Corp. It's particularly true among millennials, who are now in their mid-20s to early 40s: More than half of top earners in that generation report having little left at the end of the month." • Carpe diem?
News of the Wired
"Guardians of the brain: how a special immune system protects our grey matter" [Nature]. "A large body of evidence now shows that the brain and the immune system are tightly intertwined. Scientists already knew that the brain had its own resident immune cells, called microglia; recent discoveries are painting more-detailed pictures of their functions and revealing the characteristics of the other immune warriors housed in the regions around the brain. Some of these cells come from elsewhere in the body; others are produced locally, in the bone marrow of the skull. By studying these immune cells and mapping out how they interact with the brain, researchers are discovering that they play an important part in both healthy and diseased or damaged brains…. No longer do scientists consider the brain to be a special, sealed-off zone." Here however is the first sentence: "The brain is the body's sovereign, and receives protection in keeping with its high status." Hmm. Block that metaphor?
* * *
Contact information for plants: Readers, feel free to contact me at lambert [UNDERSCORE] strether [DOT] corrente [AT] yahoo [DOT] com, to (a) find out how to send me a check if you are allergic to PayPal and (b) to find out how to send me images of plants. Vegetables are fine! Fungi and coral are deemed to be honorary plants! If you want your handle to appear as a credit, please place it at the start of your mail in parentheses: (thus). Otherwise, I will anonymize by using your initials. See the previous Water Cooler (with plant) here. From SC: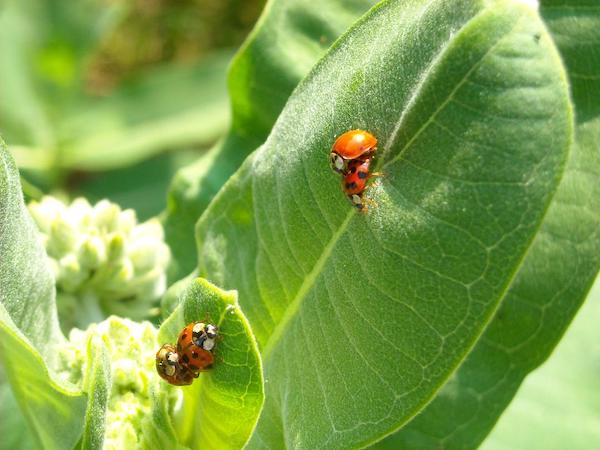 SC writes:
It's late Spring and evidently Ladybird beetle mating season has arrived. These are on Common Milkweed, which I am using as a sacrifice plant to feed the Monarchs and the Ladybug-attracting aphids. The Purple MW colony is smaller and more valuable and I'm destroying aphids I find on them, and moving Monarch larvae to the Common patch. At some point in future, when I have multiple strong Purple MW patches, I'll remove the Common patch (or at least try to suppress it; perhaps removal is not a realistic short-term goal) and let the plant/aphid/ladybird dynamic run unmolested on the Purple MW.

There are more Ladybugs this year than last, and while there are aphids here and there on the Common MW, they seem to be under control and the plants do not seem to be visibly suffering from their presence. One small part of a permaculture is in place, and getting stronger. It's not much in the grand scheme of things, but I derive a bit of comfort from it.
A great project!
* * *
Readers: Water Cooler is a standalone entity not covered by the recently concluded and — thank you! — successful annual NC fundraiser. So if you see a link you especially like, or an item you wouldn't see anywhere else, please do not hesitate to express your appreciation in tangible form. Remember, a tip jar is for tipping! Regular positive feedback both makes me feel good and lets me know I'm on the right track with coverage. When I get no donations for five or ten days I get worried. More tangibly, a constant trickle of donations helps me with expenses, and I factor in that trickle when setting fundraising goals:
Here is the screen that will appear, which I have helpfully annotated: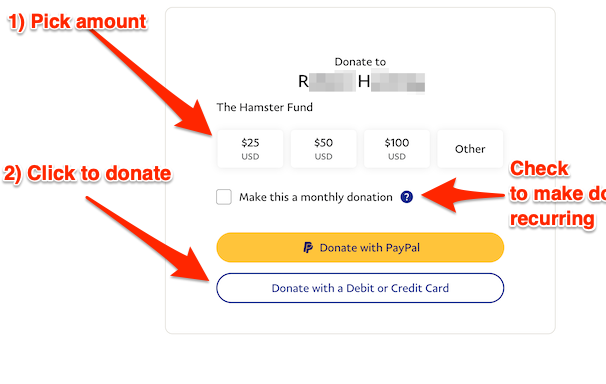 If you hate PayPal, you can email me at lambert [UNDERSCORE] strether [DOT] corrente [AT] yahoo [DOT] com, and I will give you directions on how to send a check. Thank you!