By Lambert Strether of Corrente
Bird Song of the Day
Lincoln's Sparrow, and how we need one (hat tip, drumlin woodchuckles). This is Sparrow week at Naked Capitalism. Ontario, Canada. If you've spotted any sparrow species, let me know!
"Sparrow ID Guides from Macaulay Library and Bird Academy" [The Cornell Lab of Ornithology]. Free downloads. "Sparrows are a challenge to birders of all skill levels because they're often skulky and hard to see. At first they seem like dull brown birds, but when you get a good look, they show beautiful and intricate patterns on their feathers. Because many species are hard to see, they are sought after by avid listers and those who appreciate the beauty of birds. Whether you're at home or out in the field, these helpful four-sheet sparrow reference guides have full-color photos of eastern, central, western and widespread sparrows."
* * *
Politics
"But what is government itself, but the greatest of all reflections on human nature?" –James Madison, Federalist 51
"They had learned nothing, and forgotten nothing." –Charles Maurice de Talleyrand-Périgord
"When the going gets weird, the weird turn pro." –Hunter Thompson
Biden Adminstration
Everything's going according to plan:

The CDC/Biden admin are predicting 100 million infections for fall. They have also informed us that 1 in 5 get long covid. That's 20 million people. Just in fall wave…

— Incindery 🔥 (@Incindery1) May 31, 2022

When historians, a century from now — I'm being optimistic, here — want to mark the beginning of The Jackpot on a timeline, I think they'll drop the pin at the Biden Administration.

* * *

"The War in Ukraine Can Be Over If the U.S. Wants It" [New York Magazine]. "The trouble with the seemingly bottomless pleas for more armaments for Ukraine is that with them a viable end to the war falls ever further out of reach. Though many American foreign-policy analysts and pundits believe the only acceptable outcome of the war is full freedom for Ukraine and a total repulsion of Russian forces, this remains highly unlikely and may put the world in further danger. That is Kissinger's contention, and it's one that must be heeded. If the American-backed military gains for Ukraine are fleeting and merely increase the odds of a more ruinous collision between NATO and Russia, should Ukraine keep receiving American missiles? This is the dilemma both Kissinger and Chomsky[(!!)] confront. The economic shocks of the war cannot be dismissed any longer. Skyrocketing energy prices across the globe are destabilizing for affluent and precarious nations alike. Mass starvation looms — Russia is trapping 20 million tons of grain in Ukraine, which has been one of the world's great breadbaskets. Ordinarily, Russia and Ukraine account for one-quarter of the grain traded internationally. Even before the war, strains on the global food supply were emerging with the pandemic and ongoing droughts in North America and the Horn of Africa. Wheat prices are now surging. And there is the faint possibility, always to be taken seriously, of nuclear conflict. Kissinger is one of a vanishing number of men who worked in American government when nuclear war was a much-discussed existential threat to be averted at all costs. Russia is an enormous country that is going to play a role in global affairs for the rest of this century, just as it did in the past one. This fact cannot be hand-waved away…" • Hand-waving has had a lot of success so far. IMNSHO, the player most at existential threat is The Blob who got the war they wanted and planned for. What would a loss look like to them, if we mere citizens were allowed to see it? A "Banner of Victory #5" waving over the Odessa opera house?
2022
* * *

TX: "Cuellar accuses political director for Texas Democratic Party of wrongfully accessing private voter database" [FOX]. "Henry Cuellar (D-Texas) has accused the Texas Democratic Party's political director of viewing his private voter data without his consent before he ran for the 28th Congressional District in the Lone Star State…. Cuellar, in a Tuesday letter to the Texas Democratic Party's co-executive directors, addressed "grave Concerns" and stated that Ryan Garcia, the state party's political Director, accessed Ryan Garcia's private account at NGP-VAN "without us authorization or consent" April 25, 2022…. According to the letter, the discovery of Garcia's login to Cuellar's VAN account was made on May 26, 2022 – two days after the primary runoff election." Hmm. "After last week's counting of ballots, Cuellar was just 177 votes ahead of his primary opponent Jessica Cisneros in the runoff contest." • So that race is still not decided?
Democrats en Déshabillé
I have moved my standing remarks on the Democrat Party ("the Democrat Party is a rotting corpse that can't bury itself") to a separate, back-dated post, to which I will periodically add material, summarizing the addition here in a "live" Water Cooler. (Hopefully, some Bourdieu.) It turns out that defining the Democrat Party is, in fact, a hard problem. I do think the paragraph that follows is on point all the way back to 2016, if not before:

The Democrat Party is the political expression of the class power of PMC, their base (lucidly explained by Thomas Frank in Listen, Liberal!). ; if the Democrat Party did not exist, the PMC would have to invent it. . ("PMC" modulo "class expatriates," of course.) Second, all the working parts of the Party reinforce each other. Leave aside characterizing the relationships between elements of the Party (ka-ching, but not entirely) those elements comprise a network — a Flex Net? An iron octagon? — of funders, vendors, apparatchiks, electeds, NGOs, and miscellaneous mercenaries, with assets in the press and the intelligence community.

Note, of course, that the class power of the PMC both expresses and is limited by other classes; oligarchs and American gentry (see 'industrial model' of Ferguson, Jorgensen, and Jie) and the working class spring to mind. Suck up, kick down.

* * *
RussiaGate
Big if true:

BREAKING: In response to a letter sent by Rep. Matt Gaetz and @Jim_Jordan, Perkins Coie, the legal arm of the DNC and Hillary Clinton, admits they have been operating an FBI workspace in their Washington, D.C. office since 2012. pic.twitter.com/D2k19wQ2n5

— Rep. Matt Gaetz (@RepMattGaetz) June 1, 2022

I have not found a copy of the letter (there is no transcript of this Carlson show at FOX yet; here is a video). I made the rounds of Red State, Conservative Treehouse, etc., and none of them link to the letter either. Readers?
Realignment and Legitimacy
Cray cray elites:

Good ol' George getting very dark… pic.twitter.com/uXjkEOmhJC

— Kitty Kitty gang bang (Carlo Casio) (@INArteCarloDoss) June 1, 2022

I want to hoist a comment of my own here:

Every individual member of the 1% has a personal portfolio (composed of "horses"). Some have massive portfolios (Soros), some have small ones or none (some obscure family offices). The twists and turns of the moneyflow from the portfolio to party/NGO is Ferguson et al. territory.

Every NGO and every party member who's funded by Soros is going to read that quote and wonder: "How can I work that into my next grant proposal?" And so it goes.
#COVID19
Lambert here: I am but a humble tape-watcher, but if some trusting, non-realist soul tells you that "Covid is over," you can tell them that cases are up, transmission is up, test positivity is up, and hospitalization is up. And this is all from data designed to support the narrative that "Covid is over," and gamed within an inch of its life. So, if signals like that are flashing red, consider what the real signal must be like. (Note also this is all with BA.2 only, and with what the establishment considers an "immune wall" made from vaccination and prior infection. Since semper aliquid novi Africam adferre, and we've let 'er rip at the airports…. Well, I just hope we get lucky with BA.4 and BA.5. "God has a special providence for fools, drunkards, and the United States of America." –Otto von Bismarck.
If you missed it, here's a post on my queasiness with CDC numbers, especially case count, which I (still) consider most important, despite what Walensky's psychos at CDC who invented "community levels" think. But these are the numbers we have.
* * *
I hope it passes quickly, without lingering effects.

I'm currently shopping to restock my family's N95 stash. They are getting harder to find in stores, especially ones that fit 4-yr olds.

— Dr. Lauren Drogos (@LDrogosPhD) May 31, 2022
Readers, have you had the same experience?
• "US airlines are so desperate for pilots they are dropping some requirements and considering cutting training hours to get more pilots flying sooner" [Business Insider]. "Because of the lack of pilots, carriers are considering changing long-standing requirements to get more pilots flying sooner, like nixing degree requirements, dropping the mandatory number of flight hours needed to be hired, and increasing the pilot retirement age." • Oddly, the article never mentions the cause of the pilot shortage. I wonder what it could be?
• "Relief, Reunions and Some Anxiety as Shanghai (Mostly) Reopens" [New York Times]. The lead: "They strolled and cycled through their own city like dazed tourists. They hopped onto ferries once again, crossing the Huangpu River, and crowded onto the famed Bund waterfront. They honked car horns and lit fireworks. As Shanghai eased one of the longest, toughest lockdowns anywhere since the pandemic began, many of its 25 million residents celebrated being free to move around." Paragraph 25: "Mr. Xi and other Chinese officials maintain that their zero-tolerance strategy has spared the country the millions of deaths that the virus has inflicted in the United States, Europe and other richer countries." "• Well, life is cheap in the Occident.
* * *
Case count by United States regions: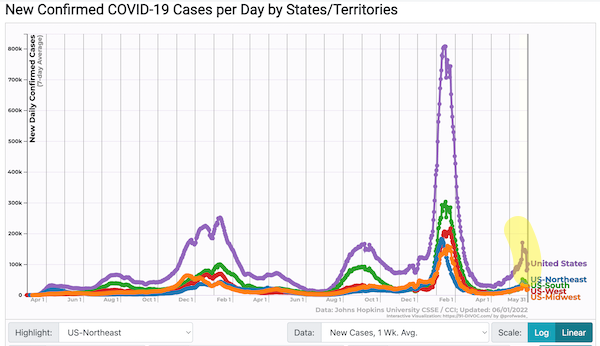 This looks like a three-day weekend reporting issue to me. Let's see what happens later in the week when CDC digs itself out from under the reports. (I'm not drawing any lines on the chart because it would be pointless.)
• Brain genius Wachter is at it again:
It's feeling like Dec-Jan was the Beethoven's 5th of surges, and this one is the Ravel's Bolero. pic.twitter.com/WH2qWiucpK

— Bob Wachter (@Bob_Wachter) May 31, 2022
That's only if you believe CDC's case count….
• I have been muttering about BA.4 and BA.5 and wondering when they would make an appearance and carry us all to new heights, since we've given up any idea of screening people at airports, let alone quaranting them. And here we are–
• "Omicron subvariants BA.4 and BA.5 found in Santa Clara County's wastewater as cases continue to climb" [Mercury-News]. From May 25; this is why I keep whinging that Biobot's variant chart is slow to update. "Two highly contagious omicron subvariants that recently swept through South Africa and sparked a rapid rise in coronavirus cases in that country have been detected in Santa Clara County's wastewater systems, according to public health officials. Health experts say the newly discovered subvariants — BA. 4 and BA.5 — are more transmissible than the nation's current dominant variants — BA.2 and BA.2.12.1 — and have so far evaded immunity protection. This month, the European Centers for Disease Control recently classified the two strains as 'variants of concern.' Though the new subvariants account for about of the total amount of COVID-19 measured in the county's four wastewater sites, it remains to be seen whether it will become the dominant strain in Santa Clara County, said UC Berkeley epidemiologist Dr. John Swartzberg.. BA.4 and BA.5 has been present in the United States over the last couple of months and last week San Diego health officials announced that ." • Oh, a handful. So that's alright then. But from June 1–
• ""Battle Of Omicron" Being Won By New BA.4 And BA.5 Variants As Overlapping Covid Waves Hit U.S." [Deadline]. "Estimates released by the Centers for Disease Control and Prevention today indicate that the share of cases tied to Omicron variants BA.4 and BA.5 increased 79% in the past week.That means, even as the more transmissible BA.2.12.1 Omicron subvariant became officially dominant in the U.S. last week, it's already being pushed out by newcomers BA.4 and BA.5. The result would seem to be overlapping waves of Omicron. The CDC data released today show BA.4 and BA.5, which are folded into the B.1.1.529 designation but likely make up the vast majority of the new cases in that grouping, still with a modest 6.1% share of new cases analyzed at the end of last week. Compare that to 59% for BA.2.12.1 and 6.1% doesn't seem like much, but the fact that BA.4 and BA.5 are making inroads at all is remarkable." • Oh. Here is the CDC data: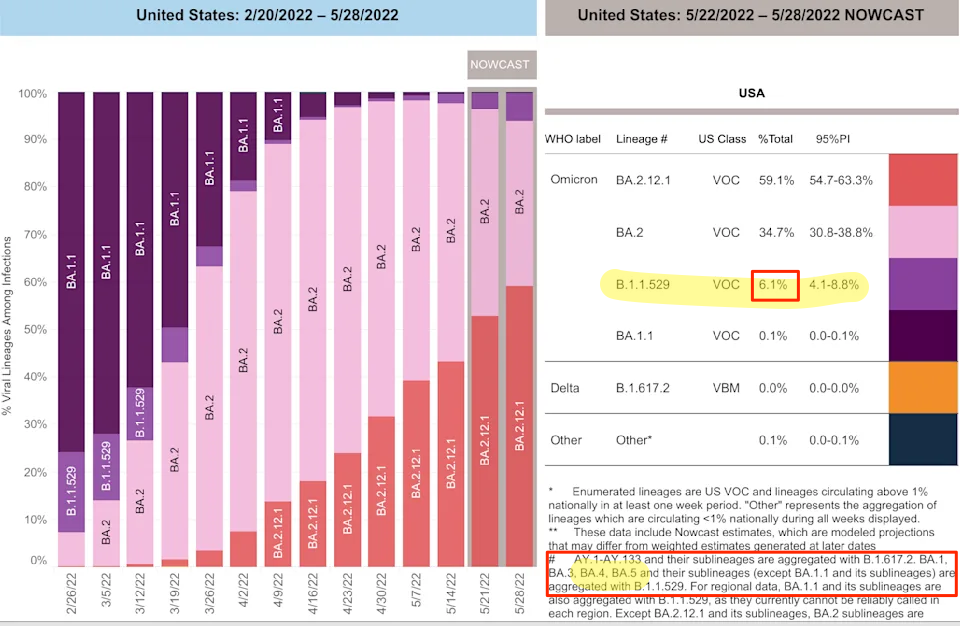 • "SARS-CoV-2 Omicron BA.2.12.1, BA.4, and BA.5 subvariants evolved to extend antibody evasion" (preprint) [bioRxiv]. From the Abstract: " BA.2.12.1 [currently dominant; see chart above] is only modestly (1.8-fold) more resistant to sera from vaccinated and boosted individuals than BA.2. On the other hand, … The Omicron lineage of SARS-CoV-2 continues to evolve, successively yielding subvariants that are not only more transmissible but also more evasive to antibodies."
• "COVID State of Affairs: May 31" [Your Local Epidemiologist]. "Many eyes are on Portugal as BA.5 takes hold. Like South Africa, Portugal preceded their BA.4/5 wave with a huge BA.1 wave. So far, cases, hospitalizations, and deaths are all increasing and, in fact, are much higher than in South Africa. This only solidifies that a variant's impact in one country will not necessarily be the same in another due to variability in demographics, environment, behaviors, and immunity…. The "battle of Omicron" is currently taking place in the U.S. After our first massive BA.1 wave, BA.2 tried to take hold only to be overtaken by BA.2.12.1. Now, and seem to be easily outcompeting the rest. Given recent lab studies, though, this isn't a surprise. Once BA.4/5 account for the majority of cases in the U.S., we should expect another (or extended) case surge." • "Or extended" [lambert screams quietly].
Here are cases for the last four weeks: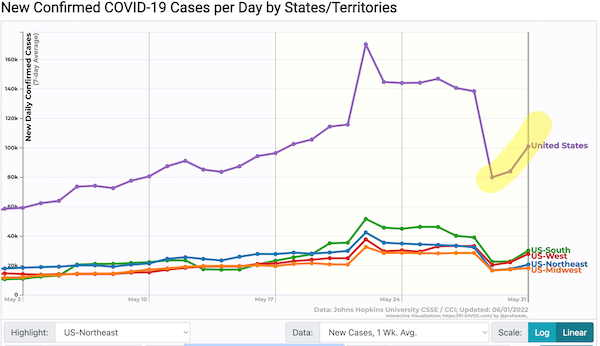 As above.
NOTE I shall most certainly not be using the CDC's new "Community Level" metric. Because CDC has combined a leading indicator (cases) with a lagging one (hospitalization) their new metric is a poor warning sign of a surge, and a poor way to assess personal risk. In addition, Covid is a disease you don't want to get. Even if you are not hospitalized, you can suffer from Long Covid, vascular issues, and neurological issues. For these reasons, case counts — known to be underestimated, due to home test kits — deserve to stand alone as a number to be tracked, no matter how much the political operatives in CDC leadership would like to obfuscate it. That the "green map" (which Topol calls a "capitulation" and a "deception") is still up and being taken seriously verges on the criminal.
From the Walgreen's test positivity tracker: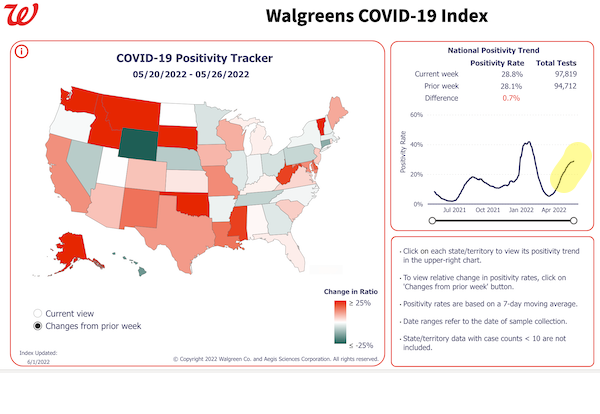 First signs of a peak? I'm leaving the corporate logo on as a slap to the goons at CDC.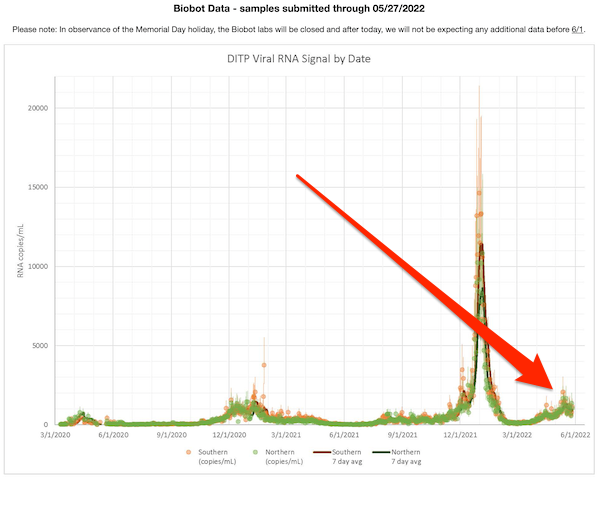 Fiddling and diddling, with South a little up, and North a little down. We'll see where the trend line ends up after summer school begins.
The Massachusetts Water Resources Authority (MWRA) service area includes 43 municipalities in and around Boston, including not only multiple school systems but several large universities. Since Boston is so very education-heavy, then, I think it could be a good leading indicator for Covid spread in schools generally.
Cases lag wastewater data.
From Biobot Analytics: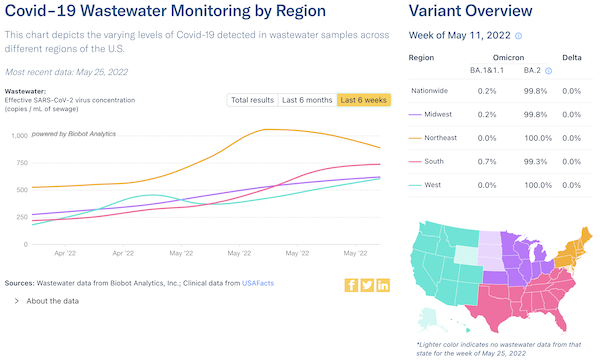 I'm not liking is that big time lag with the variants. Still May 11? Really? I want to know about BA.4 and BA.5 (dubbed "variants of concern" by The European Centre for Disease Prevention and Control (ECDC) last week, but not WHO).
From CDC Community Profile Reports (PDFs), "Rapid Riser" counties: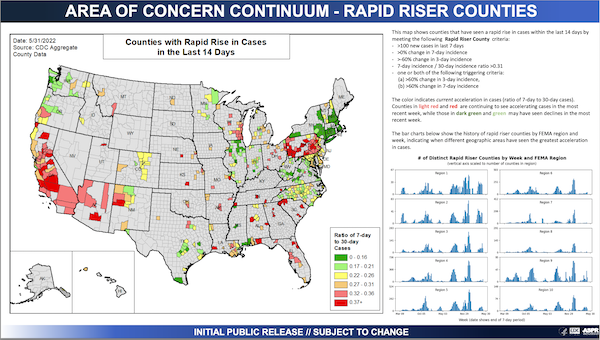 California better, Midwest, New York, New England, and Gulf Coast improving, Pennsylvania worse (why).
The previous release: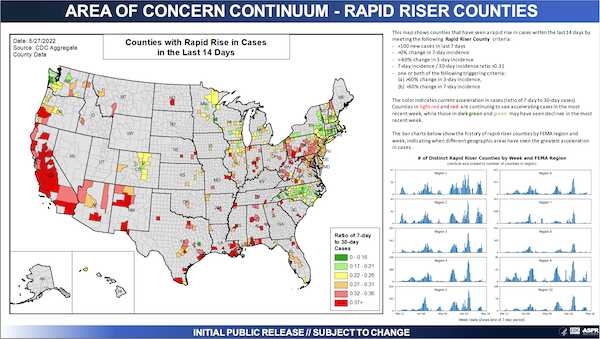 Here is CDC's interactive map by county set to community transmission. This is the map CDC wants only hospitals to look at, not you: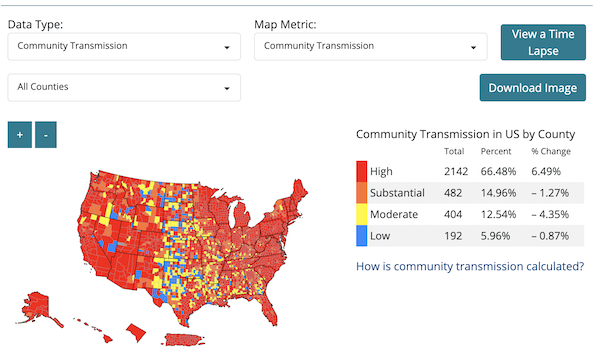 East coast, West Coast, and Midwest are all red. Now New Hampshire is red again, after having been yellow. OTOH, a bit of Upstate New York has gone yellow.
Hospitalization (CDC Community Profile):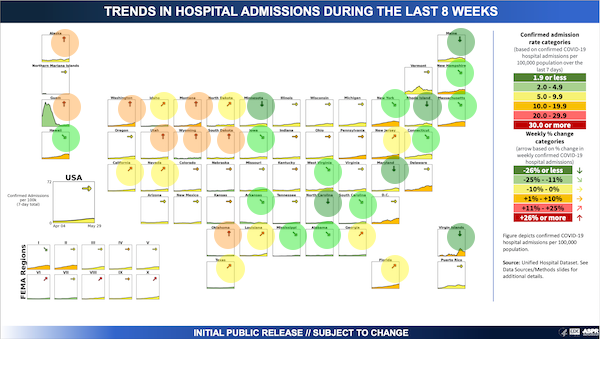 More green, more yellow, less orange. Very dynamic.
A new way for hospitals to game the data:
Covid hospitalizations are only counted in Massachusetts if the patient is given Dexamethasone, which is only recommended for those on oxygen. I feel the death & hospitalization criteria will extend across other states soon 😣 pic.twitter.com/J6ykG56Zrz

— MayasMommy2 #NotMeUs (@SheriD17536431) April 1, 2022
IM Doc writes: "I would guess with Omicron about 60% of the patients were on Dexamethasone – so no – not an adequate proxy" for hospitalization.
Just a reminder:
As with everything else, because the United States is not a serious country, our hospitalization data is bad. Here the baseilne is off:
Hospital trick: patients admitted with covid in 10-12 days become post-covid & no longer counted as hospitalized covid patients. ICU is full of post-covid patients that are here for 30, 40, 50 & more days. Not counted in the official stats.

— Dr. Natalia 💉😷 (@SolNataMD) January 24, 2022
Death rate (Our World in Data):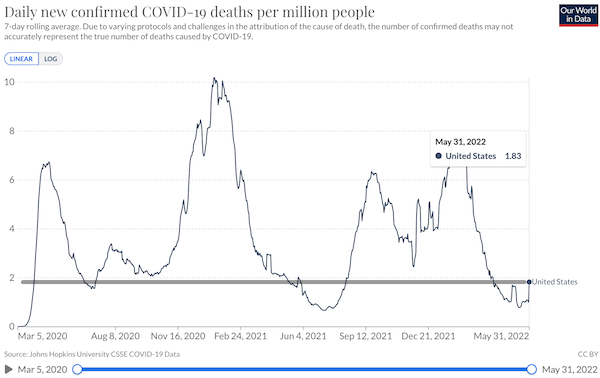 Total: 1,031,613 1,031,286. CDC found more death certificates in a drawer? I have added an anti-triumphalist Fauci Line.
Covid cases in top us travel destinations (Statista):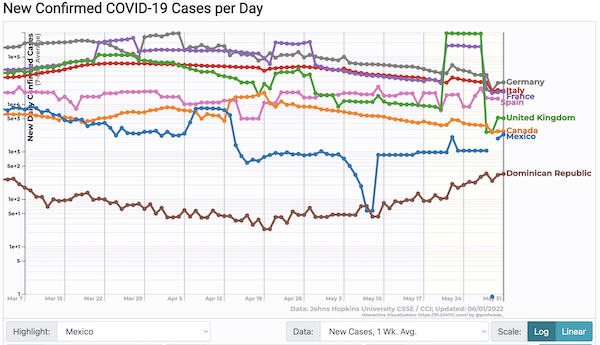 More weird fluctuations. (Note the quality of these numbers varies wildly. For example, the UK is cutting back on testing data.
Stats Watch
Employment Situation: "United States Job Openings" [Trading Economics]. "The number of job openings in the US was 11.400 million in April of 2022, down from a revised record high of 11.855 million in March, matching market expectations and suggesting firms continued to struggle to hire new workers."
Manufacturing: "United States ISM Purchasing Managers Index (PMI)" [Trading Economics]. "The ISM Manufacturing PMI for the US unexpectedly rose to 56.1 in May of 2022 from 55.4 in April and beating market forecasts of 54.5. Faster increases were seen for new orders (55.1 vs 53.5), production (54.2 vs 53.6) and inventories (55.9 vs 51.6). Also, price pressures eased for a second month (82.2 vs 84.6) while employment contracted (49.6 vs 50.9), although companies improved their progress on addressing moderate-term labor shortages at all tiers of the supply chain. Meanwhile, business sentiment remained strongly optimistic regarding demand but supply chain and pricing issues remain the biggest concerns."
* * *
The Economy: "Strippers say a recession is guaranteed because the strip clubs are suddenly empty" [Indy100 (mikel)]. "On Thursday (9 May), a woman who goes by @botticellibimbo on the platform said the following about the clubs: 'The strip club is sadly a leading indicator, and I can promise y'all we r in a recession, lmao.' 'Me getting stock alerts just to decide whether it's worth it to go to work,' she further wrote in a subsequent tweet. People took to the comment section of her post to confirm her sentiments about the strip clubs, as well as their own experiences in other industries that seemed to be declining." • So she's a stripper and a day trader?
* * *
Today's Fear & Greed Index: 24 Extreme Fear (previous close: 21 Extreme Fear) [CNN]. One week ago: 11 (Extreme Fear). (0 is Extreme Fear; 100 is Extreme Greed). Last updated Jun 1 at 1:27 PM EDT.
Zeitgeist Watch
"Vibrating Pill Counters Constipation" [MedScape]. "A swallowable, vibrating capsule improved symptoms among patients with chronic idiopathic constipation in a phase 3 multicenter, randomized, controlled trial. The method represents a mechanical approach to the treatment of constipation. The swallowable pill acts by vibrating during passage through the gut, where it is thought to augment colonic biorhythm and peristalsis. Traditional treatments for constipation generally increase motility or secretion…. The sponsoring company, Vibrant Gastro, expects to obtain Food and Drug Administration approval by the end of 2022." • I applaud the relief of human suffering (not ironically). And I love the company name, "Vibrant Gastro."
Police State Watch
"Uvalde police, school district no longer cooperating with Texas probe of shooting: Sources" [ABC]. "The Uvalde Police Department and the Uvalde Independent School District police force are no longer cooperating with the Texas Department of Public Safety's investigation into the massacre at Robb Elementary School and the state's review of the law enforcement response, multiple law enforcement sources tell ABC News…. According to sources, the decision to stop cooperating occurred soon after the director of DPS, Col. Steven McCraw, held a news conference Friday during which he said the delayed police entry into the classroom was 'the wrong decision' and contrary to protocol."
"Video captures moment in radio call of child saying 'I got shot'" [CNN]. • Hard to believe a child hit shredded with an AR-15 would be able to speak, let alone call. Friendly fire?
News of the Wired
One for the personal risk assessment file:
Today marks the official start of hurricane season. It only takes one storm to change your life. Tropical cyclones are among nature's most powerful and destructive phenomena. If you live in an area prone to tropical cyclones, you need to be prepared: https://t.co/I3lPOVTi0P pic.twitter.com/u8s78lJIM8

— National Weather Service (@NWS) June 1, 2022
Of course, one should do all these things. But why to I feel that any support for people doing these things will be withdrawn? For example, note the 495 road sign logo (top right) for "Plan Several Routes" (PMC: "Great! Homework!"). What about people who don't own cars or don't drive? Phone for an Uber?
* * *
Contact information for plants: Readers, feel free to contact me at lambert [UNDERSCORE] strether [DOT] corrente [AT] yahoo [DOT] com, to (a) find out how to send me a check if you are allergic to PayPal and (b) to find out how to send me images of plants. Vegetables are fine! Fungi and coral are deemed to be honorary plants! If you want your handle to appear as a credit, please place it at the start of your mail in parentheses: (thus). Otherwise, I will anonymize by using your initials. See the previous Water Cooler (with plant) here. From Copeland: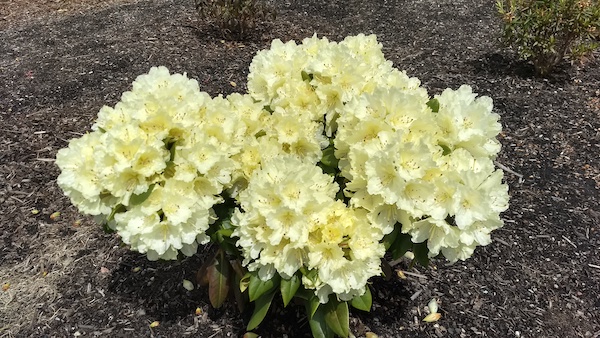 Copeland writes: "This is Rhododendron 'Capistrano' – We painted our front door Sherwin Williams 'Friendly Yellow' and chose this Rhody to repeat the color, matches almost perfectly."
* * *
Readers: Water Cooler is a standalone entity not covered by the recently concluded and — thank you! — successful annual NC fundraiser. So if you see a link you especially like, or an item you wouldn't see anywhere else, please do not hesitate to express your appreciation in tangible form. Remember, a tip jar is for tipping! Regular positive feedback both makes me feel good and lets me know I'm on the right track with coverage. When I get no donations for five or ten days I get worried. More tangibly, a constant trickle of donations helps me with expenses, and I factor in that trickle when setting fundraising goals:
Here is the screen that will appear, which I have helpfully annotated: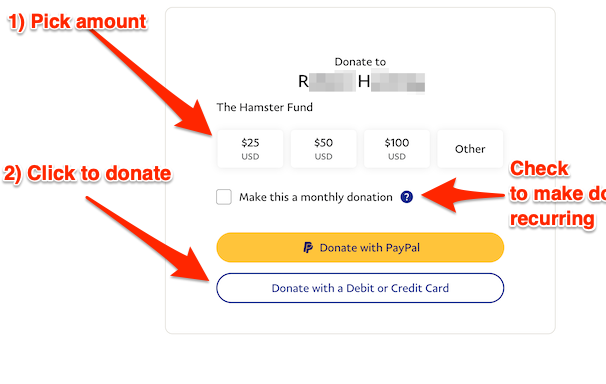 If you hate PayPal, you can email me at lambert [UNDERSCORE] strether [DOT] corrente [AT] yahoo [DOT] com, and I will give you directions on how to send a check. Thank you!