By Lambert Strether of Corrente
Bird Song of the Day
Towhee (hat tip, MT_Wild). Oaxaca, Mexico. If you have a suggestion for a sparrow species, please leave it in comments.
"Sparrow ID Guides from Macaulay Library and Bird Academy" [The Cornell Lab of Ornithology]. Free downloads. "Sparrows are a challenge to birders of all skill levels because they're often skulky and hard to see. At first they seem like dull brown birds, but when you get a good look, they show beautiful and intricate patterns on their feathers. Because many species are hard to see, they are sought after by avid listers and those who appreciate the beauty of birds. Whether you're at home or out in the field, these helpful four-sheet sparrow reference guides have full-color photos of eastern, central, western and widespread sparrows."
* * *
Politics
"But what is government itself, but the greatest of all reflections on human nature?" –James Madison, Federalist 51
"They had learned nothing, and forgotten nothing." –Charles Maurice de Talleyrand-Périgord
"When the going gets weird, the weird turn pro." –Hunter Thompson
Readers, I will put up an open thread on the 1/6 hearings at 7:30PM ET today. I look forward to your comments!

* * *

"Hundreds charged with crimes in Capitol attack" [Associated Press]. "More than 800 people across the U.S. have been charged in the Jan. 6 riot at the U.S. Capitol, which left officers bloodied and sent lawmakers into hiding, and federal authorities continue to make new arrests practically every week. The charges against members of the angry pro-Trump mob range from low-level misdemeanors for those who only entered the Capitol to felony seditious conspiracy charges against far-right extremists. It's the largest prosecution in the history of the Justice Department, whose leader, Attorney General Merrick Garland, has vowed to hold accountable 'all January 6th perpetrators, at any level.' • Here is the chart of the charges under which they were convicted (there's no legend, but orange seems to sentenced, and grey not yet sentenced:

The #1 charge: "Illegal parading." Illegal parading?

"How to watch the House January 6 Committee hearings on the Capitol attack" [Business Insider]. "The first public hearing is scheduled for primetime on Thursday, June 9 at 8 p.m. ET. in the House Cannon Office Building…. Major television networks including ABC, CBS, CNN, and NBC/MSNBC are expected to air the hearings in full or in part, especially the hearings scheduled for primetime hours in the evening. The hearings will also be live-streamed and available to watch in full on C-SPAN and on the Select Committee's YouTube channel.

"How to watch Jan. 6 insurrection hearings and what to know" [Associated Press]. "Several members of the committee have promised new and explosive information to arise from the public hearings, but it remains unclear what that will entail. The hearings are expected to be exhaustive but not the final word from the committee. It plans to release subsequent reports on its findings, including recommendations on legislative reforms, ahead of the midterm elections." • I'm not exactly sure what legislative reforms would prevent an insurrection.

"Jan. 6 committee sets the stage for a historic presentation" [MSNBC]. "It's a safe bet that this won't be like a typical committee hearing. The presentation is about telling a story to the nation. To that end, by some accounts, the panel has even partnered with a former ABC News executive to help 'hone a mountain of explosive material into a captivating multimedia presentation.'" • Oh. "A captivating multimedia presentation."

"Made-for-TV Jan. 6 hearings won't rescue Democrats" [The Hill]. "To counter ominous signs like lagging voter turnout in recent primary contests and a pronounced "enthusiasm gap," Democrats have lined up the prime time special on the Jan. 6 hearings. To make sure it is riveting TV, they have hired a production pro — the former head of ABC News, James Goldston. To make sure it is a failure, Democrats have scheduled a 'carefully choreographed rollout of revelations over the course of six hearings to remind the public of the magnitude of Mr. Trump's effort to overturn the election, and to persuade voters that the coming midterm elections are a chance to hold Republicans accountable for it,' according to the New York Times. Six hearings? This isn't The Crown, or Ted Lasso; this will be, at best, a stultifying partisan show trial that follows, please remember, two impeachments and numerous Russia-gate hearings that featured Democrats undermining whatever confidence Americans still have in Congress. Remember, too, that the supposed blockbuster TV airing of Trump's first impeachment trial pulled in only 13 million viewers, fewer than re-runs of 'Friends.'" • Well, I don't think "The Fiona Hill Show" was ever going to be anything another than a ratings disaster; in retrospect, it was for insiders, and part of the run-up to our proxy war with Russia in Ukraine. Six hearings is fine, though — if an only if they've got content to fill the air-time. Unlike, say, Benghazi.

"Pregaming the prime-time Jan. 6 hearing" [Politico]. Two Politico reporters interviewing each other. "WU: The committee is stocked with many different types of lawmakers, from nationally famous Trump critic Rep. Liz Cheney (R-Wyo.), to the constitutional law professor and Trump impeachment manager Rep. Jamie Raskin (D-Md.), to the retiring centrist Rep. Stephanie Murphy (D-Fla.). Who's your pick for the sleeper player here, the possible breakout, and why? CHENEY: I'd watch out for Rep. Zoe Lofgren (D-Calif.). She's one of the savviest members and best communicators that the committee has. She's not always the chattiest with reporters, so you won't see her making off-the-cuff comments a lot, but when she gets into gear, she can drive home important points more succinctly and powerfully than many of her colleagues. She showed this during the first impeachment of Donald Trump, and she worked as a lawmaker and staff on the only other impeachment inquiries in modern history. WU: My pick for breakout star is Rep. Pete Aguilar (D-Calif.). He's the kind of guy who's a relatively under-the-radar House player but is poised to move higher in the chamber. He has been somewhat of a conduit between the committee and the rest of the Democratic caucus, and has taken on a highly visible role on the select panel. As for a sleeper player? It's not like we haven't seen much of her before, especially as she's taken on a role as a top Trump critic, but my vote would be for Cheney." Personality! Personality!

"January 6 committee to hear from Raffensperger, Sterling" [Atlanta Journal-Constitution]. "Secretary of State Brad Raffensperger and his top deputy Gabe Sterling are slated to testify this month before the House select committee investigating the Jan. 6 attack, according to a person with knowledge of the situation…. Raffensperger became nationally known for his refusal to overturn Georgia's election results following the 2020 elections in the face of substantial pressure from former President Donald Trump and his allies. 'Mr. President, the challenge that you have is the data you have is wrong,' Raffensperger told Trump during an infamous leaked call on Jan. 2, 2021, during which the president cajoled him to 'find' 11,780 votes to reverse Democrat Joe Biden's win in Georgia…. Sterling, currently deputy secretary of state, was Georgia's voting system manager during the 2020 election. He's best known for his emotional appeal during a December 2020 press conference, during which he called for Trump to 'stop inspiring people to commit potential acts of violence' against poll workers and elections officials."

"Documentarian who filmed Proud Boys to testify at first Jan. 6 committee hearing" [NBC News]. "Some of the footage gathered by Quested includes a meeting with Enrique Tarrio of the Proud Boys and Stewart Rhodes of the Oath Keepers on Jan. 5, 2021. The leaders of the two far-right militia groups met at a parking garage just blocks from the Capitol…. Much of Quested's footage from Jan. 6 has not been seen by the public. A federal grand jury indicted Tarrio and four other members of the Proud Boys on Monday on new seditious conspiracy charges related to the riot. According to the allegations, Tarrio was aware of discussions around a plan to breach the Capitol on Jan. 6 and was involved in discussions about occupying buildings, including some in the Capitol complex."

"Proud Boys charged with seditious conspiracy in Capitol riot" [Associated Press]. "WASHINGTON (AP) — The former top leader of the far-right Proud Boys extremist group [Henry 'Enrique' Tarrio] and other members were charged with seditious conspiracy for what federal prosecutors say was a coordinated attack on the U.S. Capitol to stop Congress from certifying President Joe Biden's 2020 electoral victory…. The seditious conspiracy charges are among the most serious filed so far, but aren't the first of their kind. Eleven members or associates of the anti-government Oath Keepers militia group, including its founder and leader Stewart Rhodes, were indicted in January on seditious conspiracy charges in a serious escalation in the largest investigation in the Justice Department's history." • Hilariously, Tarrio was also a "prolific" FBI informant. Shades of the Czar's Ohkrana!

"Trump privately raised Jan. 6 Capitol appearance with Secret Service agent, select panel hears" [Politico]. "As then-President Donald Trump left a rally with his supporters on Jan. 6, 2021, he appears to have held out hope until the last minute — even as chaos unfolded — that he'd be able to join them at the Capitol. Trump even raised the prospect privately with the head of his Secret Service detail at the time, Robert Engel, according to a person familiar with the agent's congressional testimony." • But then… he didn't.
Biden Administration
"Does Biden Really Think the Saudis Will Help Him on Gas Prices?" [The New Republic]. "The reason for Biden's about face is largely a product of petroleum politics. Biden is buffeted by inflation concerns at home, and he needs Saudi Arabia to increase oil production in order to push gas prices lower."
2022
* * *

"Democratic group launches 7-figure campaign highlighting efforts to cap insulin costs" [The Hill]. "The Democratic group House Majority Forward is launching a seven-figure digital and mail campaign in 17 congressional districts on Thursday highlighting efforts to cap insulin costs, The Hill has learned exclusively. The buy lauds House Democratic lawmakers' work to cap insulin prices at $35 a month and calls on the Senate to pass the Affordable Insulin Now Act." • So the Democrats are running on something they've failed to accomplish?

"Progressives see signs of hope fade after disappointing night" [The Hill]. "In San Francisco, crime dominated the discussion. Considered one of the left's biggest vulnerabilities, the issue proved to be a losing one at the ballot box, and validation for moderates who had for months warned of the electoral problems with the "defund the police" mentality."

MI: "FBI arrests Michigan GOP gubernatorial candidate on Jan. 6 charges" [NBC News]. "A Republican candidate for governor in Michigan was arrested by the FBI on Thursday and charged with misdemeanors for his role in the U.S. Capitol riot on Jan. 6, 2021, the agency said. Federal agents raided Ryan Kelley's home in Allendale, Michigan, on Thursday morning. NBC News received a tip about the raid, which was confirmed by a law enforcement official. An FBI spokesperson later confirmed that a search warrant was executed at the home where Kelley was arrested. He faces four charges related to his alleged actions at the Capitol, including disorderly conduct and willfully injuring or attacking U.S. property, according to the criminal complaint." • Nice timing!

PA: Looks to me like a careful rollout:

.@NBCNews was media to see #PASEN candidate John Fetterman in person since his stroke. He's not doing formal interviews but stopped to say hello after we sat down with his wife, Gisele. Livin the Jeep life and running errands. Told me he's feeling good. More on @NBCNightlyNews pic.twitter.com/wFUYUxKbxL

— Dasha Burns (@DashaBurns) June 9, 2022
2024
"Mike Pence Is an American Hero" [The Atlantic]. "Per Haberman's reporting, the Secret Service wanted to evacuate Pence from the Capitol, but the vice president refused to leave, because he judged that doing so would weaken our democracy and give Trump and his violent followers a victory. So he stayed in an underground loading dock until it was safe for him to return to the Joint Session and formalize Joe Biden's victory. Pence single-handedly averted the next catastrophe, and then tried to restore some sense of normal functioning to our democracy."
Democrats en Déshabillé
I have moved my standing remarks on the Democrat Party ("the Democrat Party is a rotting corpse that can't bury itself") to a separate, back-dated post, to which I will periodically add material, summarizing the addition here in a "live" Water Cooler. (Hopefully, some Bourdieu.) It turns out that defining the Democrat Party is, in fact, a hard problem. I do think the paragraph that follows is on point all the way back to 2016, if not before:

The Democrat Party is the political expression of the class power of PMC, their base (lucidly explained by Thomas Frank in Listen, Liberal!). ; if the Democrat Party did not exist, the PMC would have to invent it. . ("PMC" modulo "class expatriates," of course.) Second, all the working parts of the Party reinforce each other. Leave aside characterizing the relationships between elements of the Party (ka-ching, but not entirely) those elements comprise a network — a Flex Net? An iron octagon? — of funders, vendors, apparatchiks, electeds, NGOs, and miscellaneous mercenaries, with assets in the press and the intelligence community.

Note, of course, that the class power of the PMC both expresses and is limited by other classes; oligarchs and American gentry (see 'industrial model' of Ferguson, Jorgensen, and Jie) and the working class spring to mind. Suck up, kick down.

* * *
Realignment and Legitimacy
"Americans' Views of Government: Decades of Distrust, Enduring Support for Its Role" [Pew Research Center]. "Americans remain deeply distrustful of and dissatisfied with their government. Just 20% say they trust the government in Washington to do the right thing just about always or most of the time – a sentiment that has changed very little since former President George W. Bush's second term in office." • Handy chart:

Interesting to see that the two two "Good Emperors" are Reagan and Clinton. And everything does indeed collapse after Bush. Surprisingly, there's a gradual incread under Trump, which I would speculate is due to Trump delivering concrete material benefits via the CARES Act.
#COVID19
Lambert here: I am but a humble tape-watcher, but if some trusting, non-realist soul tells you that "Covid is over," you can tell them that cases are up, transmission is up, test positivity is up, wastewater detection is up, and hospitalization is elevated in many states. And this is all from data designed to support the narrative that "Covid is over," and gamed within an inch of its life. So, if signals like that are flashing red, consider what the real signal must be like. (Note also this is all with BA.2 only, and with what the establishment considers an "immune wall" made from vaccination and prior infection. Since semper aliquid novi Africam adferre, and we've let 'er rip at the airports…. Well, I just hope we get lucky with BA.4 and BA.5. But it's starting to look like we won't.
* * *
• From the Annals of Scientific Communication:
The general public doesn't seem to know that Covid is airborne, that reinfection is common, that the vaccinated can get it, that Covid is a vascular disease with serious neurological complications possible, that #LongCovid is common and can disable anyone including the vaxed.

— Ellison Cooper PhD (@ECooperAuthor) June 9, 2022
• Airlines and masks (1):
'It was beyond belief!': Alaska Airlines Removes 'Disruptive' Passenger Over Facemask Dispute – https://t.co/Z22s38ZUzi pic.twitter.com/tZZaQtxan6

— KUAC (@KUACFMTV) October 15, 2020
I'd love to see Alaska Airlines lose a packet on a lawsuit:
• Airlines and masks (2):
It is so confusing which mask works that @united thinks this mask with no nosepiece and not snug to the skin is a good mask to mandate employees wear. @FlyingWithSara pic.twitter.com/LLpe3Jwp6F

— Theo Allen – Universal Masking 💉x3 🇺🇦 (@UniversalMaski2) October 16, 2020
But the masks have cute logos on them!
• This is so pathetic:
Masks have played a critical role in combatting COVID-19. The BARDA, @NIOSH & @NIST #MaskInnovationChallenge is accelerating the development of the next generation of masks to protect the public from a variety of airborne threats. Read more: https://t.co/b3E27dYmGQ pic.twitter.com/DHYHSG95P4

— BARDA (@BARDA) June 6, 2022
Instead of an Operation Warp Speed for masks — remember, The Former Guy bequeathed this very effective business model to Biden, who promptly squandered it — we get a contest.
* * *
If you missed it, here's a post on my queasiness with CDC numbers, especially case count, which I (still) consider most important, despite what Walensky's psychos at CDC who invented "community levels" think. But these are the numbers we have.
* * *
Case count by United States regions: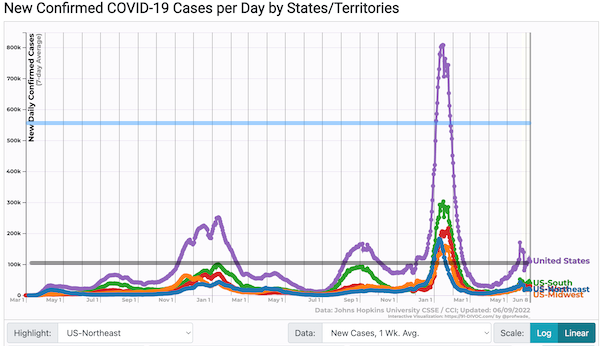 A tick down. Remember that cases are undercounted, one source saying by a factor of six, Gottlieb thinking we only pick up one in seven or eight.) Hence, I take the case count and multiply it by six to approximate the real level of cases, and draw the blue "Biden Line" at that point. Yesterday, the count was 117,300. Today, it's 108,900, and 108,900 * 6 = a Biden line at 653,400. At least we have confirmation that the extraordinary mass of case anecdotes had a basis in reality. (Remember these data points are weekly averages, so daily fluctuations are smoothed out.) The black "Fauci Line" is a counter to triumphalism, since it compares current levels to past crises.
Here are cases for the last four weeks: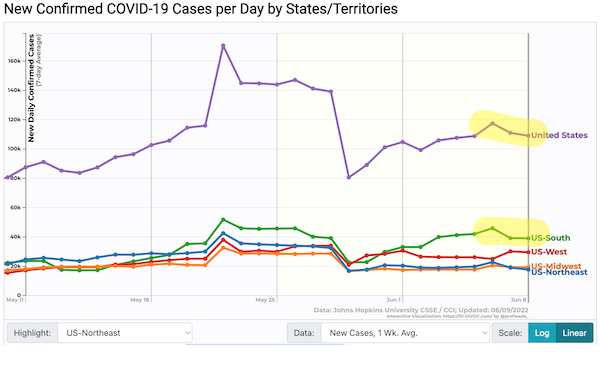 A tick down.
From the Walgreen's test positivity tracker: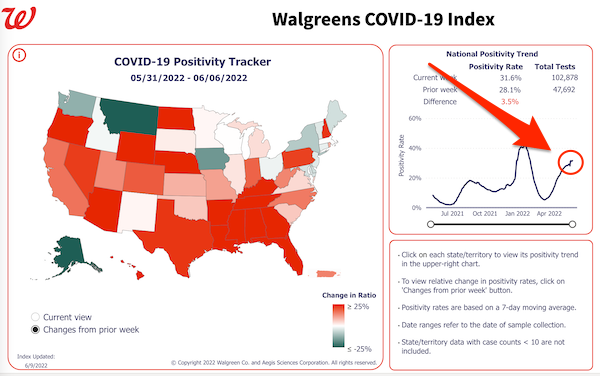 Up, but fiddling and diddling. This tracker does this at peaks, but also not at peaks. (I'm leaving the corporate logo on as a slap to and check on the goons at CDC.)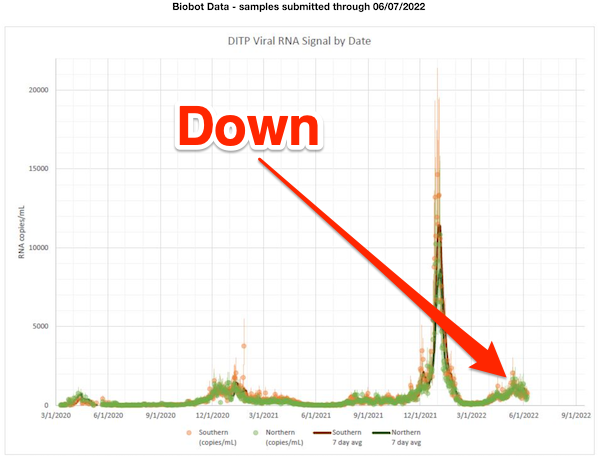 Both South and North down.
The Massachusetts Water Resources Authority (MWRA) service area includes 43 municipalities in and around Boston, including not only multiple school systems but several large universities. Since Boston is so very education-heavy, then, I think it could be a good leading indicator for Covid spread in schools generally.
Cases lag wastewater data.
From Biobot Analytics: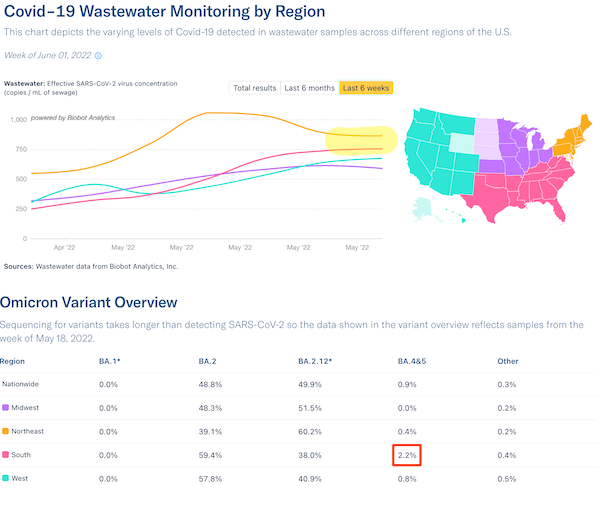 Note that BA.4 and BA.5 are increasing in the South (as of May 18).
From CDC Community Profile Reports (PDFs), "Rapid Riser" counties: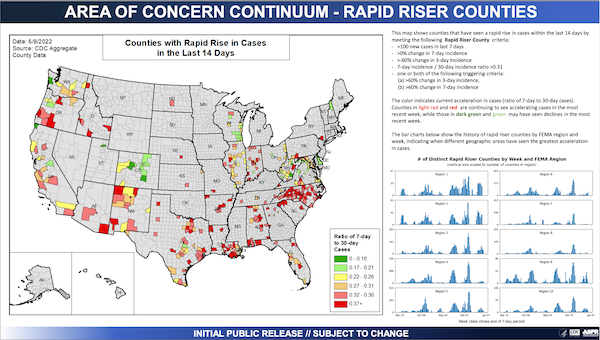 Colorado, New Mexico, Texas, Louisiana, and Arkansas better, Illinois and Indiana better, Alabama and West Virginia better. That little speck of red in New York state is not New York City, fortunately.
The previous release: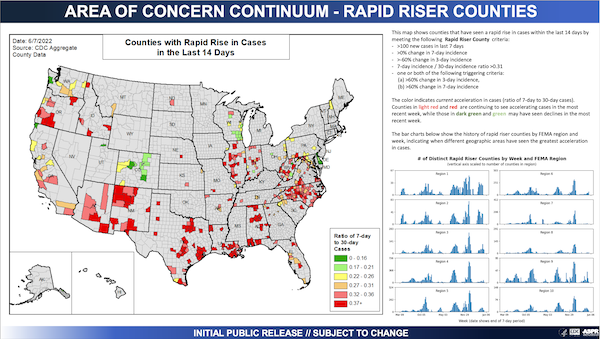 NOTE I shall most certainly not be using the CDC's new "Community Level" metric. Because CDC has combined a leading indicator (cases) with a lagging one (hospitalization) their new metric is a poor warning sign of a surge, and a poor way to assess personal risk. In addition, Covid is a disease you don't want to get. Even if you are not hospitalized, you can suffer from Long Covid, vascular issues, and neurological issues. For these reasons, case counts — known to be underestimated, due to home test kits — deserve to stand alone as a number to be tracked, no matter how much the political operatives in CDC leadership would like to obfuscate it. That the "green map" (which Topol calls a "capitulation" and a "deception") is still up and being taken seriously verges on the criminal. Use the community transmission immediately below.
Here is CDC's interactive map by county set to community transmission. This is the map CDC wants only hospitals to look at, not you: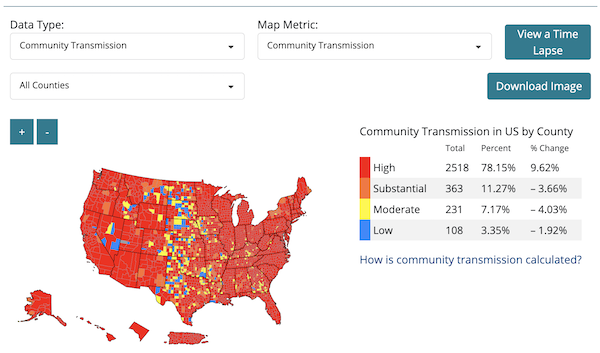 West Coast, and Midwest are all red. Seeing some orange ("substantial") on the East Coast. Great Plains speckled with yellow. (As has been the case for weeks, even while people were yammering that "Covid is over!")
Hospitalization (CDC Community Profile):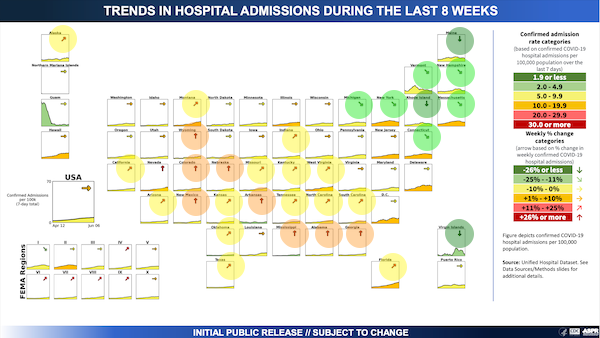 Very volatile. Hospitals unhappy in the South.
Death rate (Our World in Data):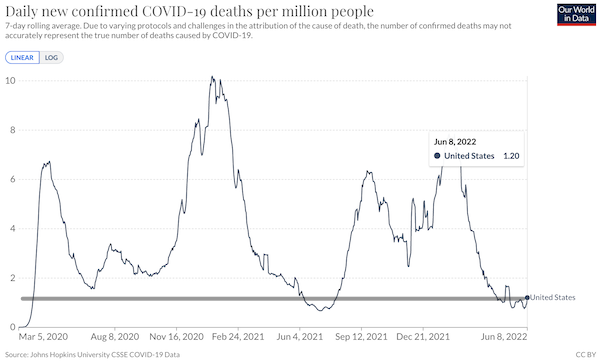 Total: 1,035,031 1,034,284. I have added an anti-triumphalist Fauci Line.
Covid cases in top us travel destinations (Statista):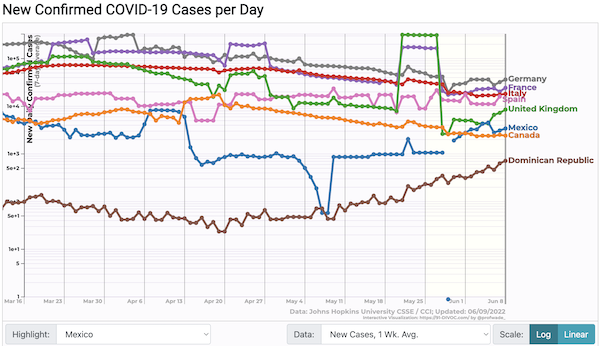 Note the quality of these numbers varies wildly. For example, the UK is cutting back on testing data.
Stats Watch
Employment Situation: "United States Initial Jobless Claims" [Trading Economics]. "The number of Americans filing new claims for unemployment benefits increased by 27K to 229K in the week ended June 4th, the highest since mid-January and above market forecasts of 210K. Still, claims have been below the 200K-250K range which is viewed as consistent with healthy labor market conditions since late November."
* * *
The Economy: "Why everyone is freaking out about Target's inventory" [Freight Waves]. This is a good aggregation of real economy downturn signs (and not-signs). I'll pick transportation: "More and more spooky recession signs are cropping up seemingly every day, ranging from cooling housing starts to meek GDP growth, all amid the Fed tightening rates. …. A downturn, if not a full-on recession, is clear in the transportation world. While the rest of the economy debates whether things are that bad, it's been clear for months to logistics providers that the situation has worsened — and the velocity of that change is still stunning. The cost to move a container from Asia to a major port in North America or Europe has sunk by 23% since the beginning of this year, according to maritime research firm Drewry. Spot rates have plummeted even faster; marketplace Freightos said rates from China to the West Coast are down 38% month-over-month. FreightWaves forecast this week that ocean shipping volumes will "drop off a cliff" by this summer, based on slumping bookings out of China. Spot van rates in trucking are down 31% since the beginning of this year, with some truck drivers reporting that rising diesel and plummeting rates have already harmed their business. Even our mighty railroads are reporting a 3% year-to-date decline in volumes across the board, with only carloads of coal, chemicals and "stone, sand and gravel" (aka, frac sand) increasing. The pullback in transports has been quicker and swifter than anyone imagined. In the ocean world, carriers have deployed more vessels than ever before, according to research firm Sea-Intelligence. In March, Sea-Intelligence forecast carriers to increase their capacity following Chinese New Year by 20% over 2019 levels. Asia-East Coast services were forecast to grow an eye-popping 40%. And in trucking, small carriers flooded the market, with more than 10,000 new trucking companies established every month since early 2021. Since the beginning of the pandemic, the number of trucks available to haul a load is up 10%. Transporters built up record capacity to move loads that are suddenly shrinking." • Well worth a read.
The Economy: "Homebuilder Comments in May: "Builder metrics quickly deteriorating" [Calculated Risk]. • Aggregation of homebuilder anecdotes, but impressively long. "These are clear signs of a market shift."
Tech: "New EU Rules on USB-C Charging Could Force an iPhone Redesign" [Wired]. "Legislators in the European Union have selected one charging port to rule them all. And that charging port is USB-C. On Tuesday, EU officials ruled that any mobile electronic devices sold within the EU must come with a USB-C charging port by the fall of 2024. The new mandate applies to rechargeable mobile devices like phones, tablets, laptops, handheld game consoles, headphones, and cameras." • That's gonna make Apple very unhappy; they have an entire division devoted to designing expensive cables that fray, and screwing up your ports, so you're forced to buy dongles.
Tech: "Britain will NOT follow the EU and make USB-C charging ports mandatory on all phones – meaning Apple's 'lightning connector' will be allowed everywhere in the UK except Northern Ireland" [Daily Mail]. • Boris Johnson's got his bojo working: blue passports and dongles.
* * *
Today's Fear & Greed Index: 34 Fear (previous close: 32 Fear) [CNN]. One week ago: 26 (Fear). (0 is Extreme Fear; 100 is Extreme Greed). Last updated Jun 9 at 12:42 PM EDT.
Our Famously Free Press
"Washington Post's Felicia Sonmez blasts colleague David Weigel for retweeting sexist joke" [New York Post]. "A Washington Post reporter has apologized after he was called out by a female colleague at the newspaper for retweeting a sexist joke. David Weigel, who covers politics for the Jeff Bezos-owned daily broadsheet, tweeted on Friday that he had removed a post that he retweeted earlier in the day. Weigel retweeted a post by a Twitter user who wrote: 'Every girl is bi. You just have to figure out if it's polar or sexual.' Felicia Sonmez, who also covers politics for the Washington Post, was angered by Weigel's retweet, writing: 'Fantastic to work at a news outlet where retweets like this are allowed!' Weigel later tweeted: "I just removed a retweet of an offensive joke. I apologize and did not mean to cause any harm.'" • This controversy is past its sell-by date now, but this late-to-the-dogpile tweet makes an excellent point:
The correct action to take in a unionized environment is to file a grievance against the co-worker in question. The incorrect action is to rally management, peers, and the public to get that co-worker (and anyone who speaks against you) shitcanned.

— RZNWA (@RZNWAMedia) June 9, 2022
I've had problems with Yang's term "successor ideology," until I figured out that when you encounter a successor ideologue, they want to be your successor. Working through union channels is unlikely to achieve that objective. Stay clear!
Class Warfare
"How One Billionaire With a 300-Year Plan Fueled the Popping Tech Bubble" [Vice]. Masayoshi Son, of SoftBank. "All this brings us to the main point: the Vision Fund invested in firms that depended on directly or indirectly achieving monopolies, which they failed in doing, even as they successfully altered regulations, consumer behavior, and daily life to be more hospitable to their business model….. 'Here's a different way of thinking about it: you have large international investors who have funneled billions of dollars into these business models and a core part of their logic was that the only way they were ever going to get any return on their investment is this effort to fundamentally restructure regulatory structures around work,' Veena Dubal, a law professor at UC Hastings, told Motherboard. 'They were banking, literally, on doing what capitalists have attempted to do for over a century: evading, lowering, or getting rid of the minimum wage. This was an investment in deregulation.'" • I've been muttering about this for some time; glad somebody else is saying it so coherently.
News of the Wired
Dad.
I bought this jug whilst on holiday in Barbados.

It's the Pyrex of the Caribbean… pic.twitter.com/BEkYNSIBdt

— The Dad Joke Man (@DadJokeMan) June 9, 2022
* * *
Contact information for plants: Readers, feel free to contact me at lambert [UNDERSCORE] strether [DOT] corrente [AT] yahoo [DOT] com, to (a) find out how to send me a check if you are allergic to PayPal and (b) to find out how to send me images of plants. Vegetables are fine! Fungi and coral are deemed to be honorary plants! If you want your handle to appear as a credit, please place it at the start of your mail in parentheses: (thus). Otherwise, I will anonymize by using your initials. See the previous Water Cooler (with plant) here. From EM: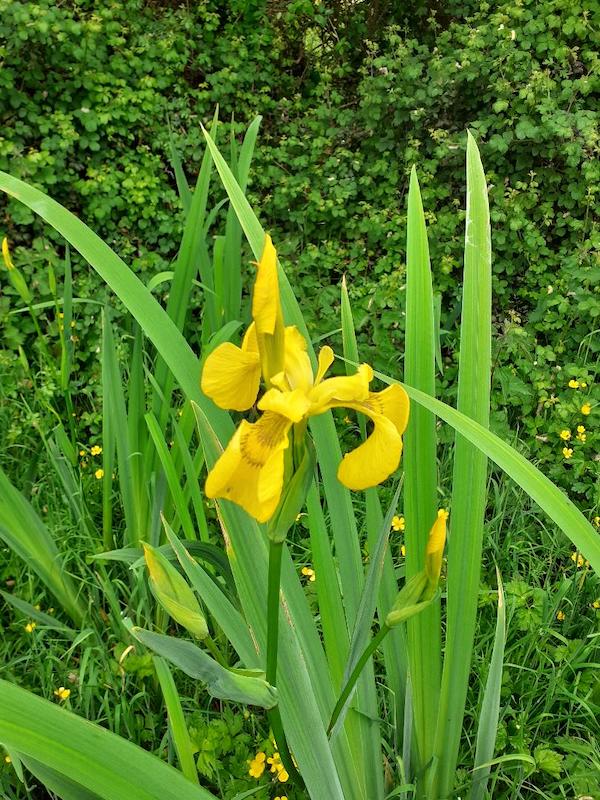 EM writes: "This is a flag iris, they are everywhere in Ireland at the minute, when they bloom it means the fish are back for the summer (allegedly)". Green!
* * *
Readers: Water Cooler is a standalone entity not covered by the recently concluded and — thank you! — successful annual NC fundraiser. So if you see a link you especially like, or an item you wouldn't see anywhere else, please do not hesitate to express your appreciation in tangible form. Remember, a tip jar is for tipping! Regular positive feedback both makes me feel good and lets me know I'm on the right track with coverage. When I get no donations for five or ten days I get worried. More tangibly, a constant trickle of donations helps me with expenses, and I factor in that trickle when setting fundraising goals:
Here is the screen that will appear, which I have helpfully annotated: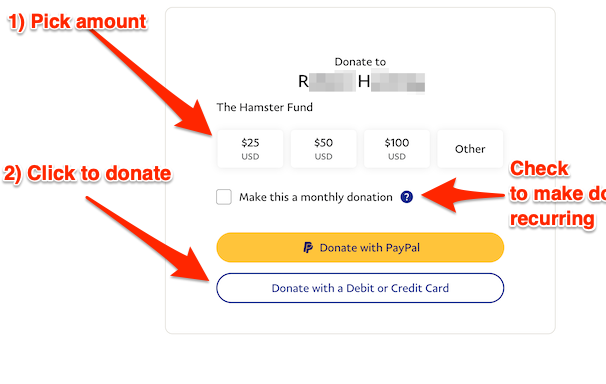 If you hate PayPal, you can email me at lambert [UNDERSCORE] strether [DOT] corrente [AT] yahoo [DOT] com, and I will give you directions on how to send a check. Thank you!