By Lambert Strether of Corrente.
Fortunately, I don't have long Covid (and the anecdotes below make it clear that I would know if I had it). I don't have it yet, I suppose. First, I'll give a quick overview of what Long Covid is (not so easy to answer). I'll look at the methodological problems in moving from symptoms to diagnosis, how long it lasts, and its prevalence. Next, I'll zero in on one symptom universally acknowledged to be a symptom of Long Covid — "Brain Fog." I'll conclude by musing on one of the societal implications of large numbers of brain-damaged people in our population. Also, readers, if any of you have Long Covid, I and I am sure other readers would like to hear about it. Naturally, I welcome corrections and amplifications from our Brain Trust of Covid experts!
What is Long Covid?
The question "What Is Long Covid?" is not so easy to answer. ("Long" seems to be a median of 15 months. That's long.) For one thing, we haven't agreed on a name. From the CDC:
People call post-COVID conditions by many names, including: long COVID, long-haul COVID, post-acute COVID-19, post-acute sequelae of SARS CoV-2 infection (PASC), long-term effects of COVID, and chronic COVID.
(Long Covid, like Lyme Disease, has gathered around itself a community of activists and advocates; they seem to prefer "Long Covid," so Long Covid it is.)
Nor is getting a diagnosis so easy, for cultural reasons within the medical community. From the Yale School of Medicine:
Millions of those who have recovered from COVID-19 are now experiencing a long string of often debilitating symptoms that persist weeks, months, or even two years or more following the original infection. As these long-haulers, most of whom are women, seek answers for their devastating and mysterious condition, many are also facing dismissal by their health care providers.

"It took a long time for medical researchers to recognize that this was a real disease," [Yale researchers Akiko Iwasaki] says. "In the early days of the pandemic, women—as well as some men—were pretty much dismissed by their physicians, and some believed that it was all psychosomatic. And there are still physicians who believe this."
But that doesn't mean diagnosis would be easy, even for a non-dismissive physician. Politico:
There is no test for long Covid, and the CDC and the medical community have no official definition. But health care workers across the country are diagnosing patients who have previously contracted Covid-19 based on a wide-ranging set of symptoms that often include fatigue, shortness of breath and brain fog.
One approach to developing a symptoms checklist would be to ask Long Covid sufferers themselves. From the Lancet:
We conducted an online survey of people with suspected and confirmed COVID-19, distributed via COVID-19 support groups (e.g. Body Politic, Long COVID Support Group, Long Haul COVID Fighters) and social media (e.g. Twitter, Facebook).

The most frequent symptoms after month 6 were fatigue, post-exertional malaise, and cognitive dysfunction. Symptoms varied in their prevalence over time, and we identified three symptom clusters, each with a characteristic temporal profile. 85.9% of participants (95% CI, 84.8% to 87.0%) experienced relapses, primarily triggered by exercise, physical or mental activity, and stress. 86.7% (85.6% to 92.5%) of unrecovered respondents were experiencing fatigue at the time of survey, compared to 44.7% (38.5% to 50.5%) of recovered respondents. 1700 respondents (45.2%) required a reduced work schedule compared to pre-illness, and an additional 839 (22.3%) were not working at the time of survey due to illness. Cognitive dysfunction or memory issues were common across all age groups (~88%). Except for loss of smell and taste, the prevalence and trajectory of all symptoms were similar between groups with confirmed and suspected COVID-19.
Despite the methodological issues, there have been several estimates of Long Covid prevalence; they are all two-digit percentages, so we can be confident that there is rather a lot of it about. In no particular order:
JAMA: 10–30% (of people who caught Covid).
If COVID-19 moves toward endemicity, then it should not disrupt everyday life. However, with ongoing transmission and with an estimated 10% to 30% of individuals experiencing long COVID symptoms after infection, this issue will require careful attention to further define the syndrome and possible intervention.
CDC: 20%[1].
COVID-19 survivors have twice the risk for developing pulmonary embolism or respiratory conditions; one in five COVID-19 survivors aged 18–64 years and one in four survivors aged ≥65 years experienced at least one incident condition that might be attributable to previous COVID-19.
WHO: 10%-20%.
Most people who develop COVID-19 fully recover, but current evidence suggests approximately 10%-20% of people experience a variety of mid- and long-term effects after they recover from their initial illness. These mid- and long-term effects are collectively known as post COVID-19 condition or "long COVID."
Visser, et al. : 36-53% (aggregating several studies[2).
Approximately of COVID-19 patients develop long-lasting, chronic complaints, a condition known as post-acute sequelae of SARS-CoV-2 infection (PASC) or 'long COVID' (1-4).
What Is "Brain Fog"?
Let us now turn to one symptom prominently mentioned by Long Covid sufferers: "Brain Fog." Let me begin with some tweets[3]:
"Feel like death":
Commentators online: Don't worry about Covid! If you're healthy & vaccinated it's just a little flu!

Actual people I know: It's day 14, still testing positive, fever is worse, can barely move, feel like death… [2 months later] still fatigued with brain fog but can jog sorta…

— Katie Mack (@AstroKatie) June 5, 2022
"Like I was operating in a language I didn't speak":
"Then the brain fog really set in.…was like I was operating in a language I didn't speak. It went beyond forgetting words—it was like I'd never known them. I'd start sentences with no idea if or how I would finish them…"https://t.co/N0iuvY5c45

— Nisa Malli (@nisamalli) June 6, 2022
"Y'all know them too":
And y'all know them too, they're just not saying "I have long Covid" to you. They may not even know. It's "I'm still coughing a lot" or "extreme fatigue" or "I have brain fog". This girl I went to elementary school with still can't walk up flight of stairs without getting winded

— ruthless bader ginsburg (@tyelerrdurden) June 6, 2022
"Bro covid brain fog is legit":
Bro covid brain fog is legit. Im forgetting many new things like, I just brushed my teeth and then I go back and brush again only to remember wait didn't I brush already?

— キングギドラ (king_ghidra) (@King_TLNA) June 3, 2022
Something more scholarly from the British Medical Journal, "'I can't cope with multiple inputs': a qualitative study of the lived experience of 'brain fog' after COVID-19"[4]:
Of the 50 participants, 42 were female and 32 white British. Most had never been hospitalised for COVID-19. Qualitative analysis revealed the following themes: mixed views on the appropriateness of the term 'brain fog'; rich descriptions of the experience of neurocognitive symptoms (especially executive function, attention, memory and language), accounts of how the illness fluctuated—and progressed over time; the profound psychosocial impact of the condition on relationships, personal and professional identity; self-perceptions of guilt, shame and stigma; strategies used for self-management; challenges accessing and navigating the healthcare system; and participants' search for physical mechanisms to explain their symptoms.
Perhaps another term would be more appropriate:
Let's rename other cute Covid symptoms:

Brain fog = brain damage

Loss of sense of smell/taste = brain damage

Loss of memory = brain damage

Reduced mental skills = brain damage

Brain shrinkage = brain damage

Who will fly planes & do surgery if we let this go on indefinitely?

— Sue Jennings (@SMpwrgr) May 28, 2022
After mentally substituting "brain damage" for "brain fog," we will turn to our conclusion.[5]
Speculative Conclusion
Let's have a little fun with arithmetic. Suppose we assume that "everyone will get Covid" (since, after all, the Biden administration and the public health establishment are doing their very best to give to everybody, and reinfect those who have gotten it already). Let's also assume that 20% of those who catch Covid get Long Covid (I'm picking the CDC's estimate not because it's the CDC's, but because it's in the middle of the range of estimates). Obviously, this would have enormous effects on the general population, but since our health care system exists to deny people care, it's hard to predict precisely what the effects would be. Let's look at a more tractable problem: What happens when 20% of the ruling class loses substantial cognitive function?
As we know from the Gridiron Club superspreader debacle and Ron Klain's interview with David Rubenstein, elites hate masks, ignore ventilation, and believe that vaccines and treatments will protect them (note that even a mild case of Covid can give you Long Covid). Let's take a similar case to the Gridiron Club, and imagine that it, too, was a (richly deseved) superspreader event: The Bilderbergers, who recently graced Washington, DC with their secretive presence. There were 119 attendees in all; 20% of 119 is 24. I randomly sorted the list of 119 (sort -R). Here are the top 24 from that list (resorted alphabetically). I've added some bold-faced names like Page Six of the New York Post:
Adeyemo, Adewale (USA), Deputy Secretary, Department of The Treasury
Baker, James H. (USA), Director, Office of Net Assessment, Office of the Secretary of Defense
Baudson, Valérie (FRA), CEO, Amundi
Campbell, Kurt (USA), White House Coordinator for Indo-Pacific, NSC
Donohoe, Paschal (IRL), Minister for Finance; President, Eurogroup
Döpfner, Mathias (DEU), Chairman and CEO, Axel Springer SE
Freeland, Chrystia (CAN), Cabinet Office
Henry, Mary Kay (USA), International President, Service Employees International Union
Karp, Alex (USA), CEO, Palantir Technologies Inc.
Kissinger, Henry A. (USA), Chairman, Kissinger Associates Inc.
Minton Beddoes, Zanny (GBR), Editor-in-Chief, The Economist
Rachman, Gideon (GBR), Chief Foreign Affairs Commentator, The Financial Times
Reynders, Didier (INT), European Commissioner for Justice
Rutte, Mark (NLD), Prime Minister
Salvi, Diogo (PRT), Co-Founder and CEO, TIMWE
Schinas, Margaritis (INT), Vice President, European Commission
Schmidt, Eric E. (USA), Former CEO and Chairman, Google LLC
Stelzenmüller, Constanze (DEU), Fritz Stern Chair, The Brookings Institution
Straeten, Tinne Van der (BEL), Minister for Energy
Tellis, Ashley J. (USA), Tata Chair for Strategic Affairs, Carnegie Endowment
Thiel, Peter (USA), President, Thiel Capital LLC
Wallander, Celeste (USA), Assistant Secretary of Defense for International Security Affairs
Wennink, Peter (NLD), President and CEO, ASML Holding NV
All of the Bilderbergers are movers and shakers, of course. And now 20% of the Bilderbergers, in our speculation, have brain damage. (What a shame about Chrystia Freeland. I hope she doesn't suffer too much.) But what would the effect on them be? I imagine they would remain in power, exactly like Diane Feinstein, but more dangerous: These are all executives, but with brain-damaged executive functions. But who would tell them? They're surrounded by sycophants. Their staffs would be unlikely to unpunch their meal tickets. The press would be more likely to conceal than reveal. But what if the same percentages were applied to all of our elites, not just the Bilderbergers?
The Twentieth Century's Great American Novelist, Philip K. Dick, wrote a book with an eerily similar premise: Our Friends From Frolix Eight (1970). [6]. Here is the publisher description:
"The world is run by an elite few, brains determining whether or not they are super-smart New Men, Unusuals with various psychic powers, or Undermen, performing menial jobs in an overpopulated world. Nick Appleton is an Underman, content to eke out an existence as a tire regroover. But after his son is classified an an Underman, Appleton begins to question the hierarchy. Strengthening his resolve, and energizing the resistance movement, is news that the great resistance leader Thors Provoni is returning from a trip to the farthest reaches of space. And he's brought help: a giant, indestructible alien."
Sound familiar? (All the New Men have giant heads, because they have giant brains.) Spoiler alert: The giant, indestructible alien, using its alien powers, damages the brains of all the New Men and the Unusuals world-wide with surgical precision, but none of the Underman. Here, the hero, Nick Appleton, encounters his first example of their work; a New Man, Mr. Marshall, along with his friend, Ed Woodman: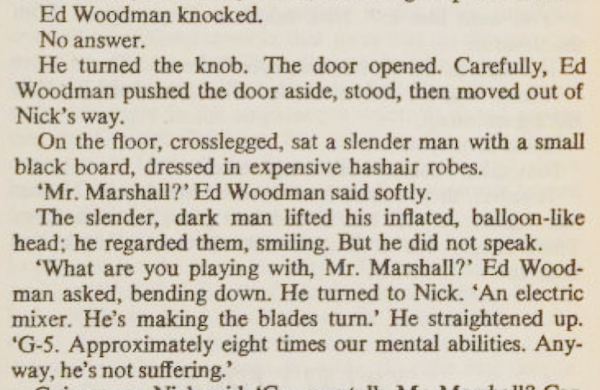 So for us Undermen, Long Covid would be the equivalent of Dick's giant, indestructible alien. All of which would be fine, I suppose, unless the elite equivalent of Mr. Marshall's "electric mixer" were the atomic button, or decisions on surveillance software by Alex Karp, or Ukraine policy by Chrystia Freedland, or money for Clinton 2024 from Eric Schmidt, or blood bags by Peter Thiel. A sociopathic elite is one thing, that we're used to; but a sociopathic elite with brain damage is quite another.
NOTES
[1] Here is a critique of the CDC study:
By request, I'm going to spend a few (many?) tweets explaining why I have such a problem with this CDC study, and in particular this graphic

This will be coming from someone (me) who believes long covid is real, can be debilitating, and requires solutionshttps://t.co/xSVdjwlSjJ pic.twitter.com/okjsXGLXN9

— Walid Gellad, MD MPH (@walidgellad) May 30, 2022
[2] Here are notes 1-4 from Visser et al.:
1. Choutka J, Jansari V, Hornig M, Iwasaki A. Unexplained post-acute infection syndromes. Nature Medicine. 2022;28(5):911–23.Google Scholar
2. Michelen M, Cheng V, Manoharan L, Elkheir N, Dagens D, Hastie C, et al. Characterising long term Covid-19: a living systematic review. BMJ Global Health. 2021;6.Google Scholar
3. Puntmann V, Carerj M, Wieters I. Outcomes of Cardiovascular Magnetic Resonance Imaging in Patients Recently Recovered From Coronavirus Disease 2019 (COVID-19)(vol 5, pg 1265, 2020). Jama Cardiology. 2020:1308-.Google Scholar
4. Carfí A, Bernabei R, Landi F. Persistent symptoms in patients after acute COVID-19. Jama. 2020;324(6):603–5. CrossRef PubMed Google Scholar
[3] I know that the Twitter is nothing like a scientific survey. However, anecdotes from Twitter gave a far more accurate picture of the current surge than the press, or most of the experts, let alone the sociopathic morons who proclaimed that "Covid is over."
[4] The BMJ Abstract concludes with this equivalent of CDC's horrid "consult your personal physician": "Services for such patients should include: an ongoing therapeutic relationship with a clinician who engages with their experience of neurocognitive symptoms in its personal, social and occupational context as well as specialist services that include provision for neurocognitive symptoms, are accessible, easily navigable, comprehensive and interdisciplinary." Of course, this is the BMJ, so with the NHS, you may be able to get such services, even today. In the US, this recommendation would be flat-out ridiculous.
[5] There is no definitive mechanism for long Covid. Two intriguing proposals are SARS-CoV-2 viruses living in the gut, and neuroinflammation.
[6] Incredibly, in a good way, the Internet Archive actually has an online library, where you can check out and return books electronically, for free. Much, much better than Google books, though I don't know how many books they have.