By Lambert Strether of Corrente
Readers, I'll be setting up an election day thread, which will fire at 7:30PM. Enjoy! –lambert
Bird Song of the Day
Mourning Dove, Finger Lakes NF–Horton Pasture and Interloken Trail, Seneca, New York, United States.
* * *
Politics
"But what is government itself, but the greatest of all reflections on human nature?" –James Madison, Federalist 51
"Here's food for thought, had Ahab time to think; but Ahab never thinks; he only feels, feels, feels" –Herman Melville, Moby Dick
"So many of the social reactions that strike us as psychological are in fact a rational management of symbolic capital." –Pierre Bourdieu, Classification Struggles
Biden Administration
"Senior White House Official Involved in Undisclosed Talks With Top Putin Aides" [Wall Street Journal]. "President Biden's top national-security adviser has engaged in recent months in confidential conversations with top aides to Russian President Vladimir Putin in an effort to reduce the risk of a broader conflict over Ukraine and warn Moscow against using nuclear or other weapons of mass destruction, U.S. and allied officials said…..

"Biden's National Security Strategy Uses Fear as a Cover for Reckless Ambition" [Time]. "The U.S. National Security Strategy (NSS) of 2022, recently issued by the Biden administration but in practice a product of the bipartisan establishment, is a strangely fearful document. Most of it is devoted to the dire threats to the U.S. and allied position in the world supposedly represented by Russia and China (with the occasional glance at Iran and North Korea). And yet the NSS misses what ought to be a blindingly obvious fact: that if the U.S. stands on the defensive on the basis of its existing alliance systems (as it did with great success in Europe during the Cold War), America's political and military position in the most important parts of the world is not just strong, it is virtually unassailable by any outside power. Grave dangers to the U.S.-led democratic West do exist, but they are mainly internal to our societies, or consequent on climate change, an issue which—although described as a 'potentially existential threat'—is shockingly and entirely downplayed by the NSS. The basis of the tremendous strength of the U.S. position lies in American military power in alliance with local states that are themselves economically and politically strong; while Russian and Chinese alliance systems are weak by comparison. As long as these U.S. alliances remain in place, America cannot be expelled from Europe or the Far East except by direct and totally successful military aggression against these countries—something that any rival cannot hope to achieve and would be suicidal to attempt."
2022
* * *

"Three Most Likely Scenarios for Tuesday" [Amy Walter, Cook Political Report]. "When it comes to possible outcomes on Tuesday night, I see three potential scenarios. 1. The Classic "Tsunami" Election…. [like 1994/2006/2010.] Two things need to happen for this scenario to play out: 1) Democratic voters are less motivated to vote while Republicans turnout at much higher levels and 2) independent voters break decisively toward Republicans by 12-15 points. In this scenario, Republicans would win at least 30 House seats and 3-4 Senate seats…. 1994/2006/2010 [like 2018]…. 2. A "Wavey" Election [like 2018] This scenario would produce a GOP gain in the House in the 20s and a likely one-seat gain in the Senate. In this scenario, turnout is roughly even to slightly better for Republicans. Independent voters, however, break decisively for Republicans (say by 10-12 points). The closest races break for Republicans, but there are fewer 'surprise' pick-ups… 3. A Red Ripple [no analog]. In this scenario, Democratic and Republican turnout is basically equal — with both sides able to juice their base. Instead of breaking decisively for Republicans, independent voters give Republicans a small advantage. Republicans pick up seats in pink/red districts and states, but fail to make gains into districts or states that Biden won handily in 2020. In this scenario, Democrats lose the House by a very small margin (maybe 8-12 seats) and Democrats keep the Senate." • Since this is the stupidest timeline, and "Red Ripple" is the stupidest outcome — because it would leave the Democrat leadership mostly in place — my entirely random, don't care, there's-no-data-anyhow-so-WTF dart gets thrown at "Red Ripple."

"Final Ratings for the 2022 Election" [Larry Sabato's Crystal Ball]. "Our final Senate pick is 51-49 Republican, or a net Republican gain of 1 seat. Our final House pick is 237-198 Republican, or a net Republican gain of 24 seats… Democrats control the presidency as well as, narrowly, both chambers of Congress. Republicans have polling advantages on some of the key issues of the campaign (such as the economy/inflation problem). President Biden is unpopular, with his approval stuck in the low 40s. These are good conditions for the opposition party in a midterm — the kind of conditions that make this, to us, more of an ordinary midterm (one where the president's party suffers losses, like the last 4 midterms) than an extraordinary one (when the president's party does well, like 1998 and 2002). The confounding factors, such as Republican candidate problems in certain Senate, gubernatorial, and House races; the unpopularity of the GOP-controlled Supreme Court's decision to overturn Roe vs. Wade; and the lingering presence of Biden's predecessor all combine to give Democrats an opportunity to limit their losses, and perhaps even save their Senate majority. To the extent these factors matter, our best guess is that they end up imposing some limitations on the size of GOP gains this year. That's reflected in our projections, which we think represent a good but not necessarily great night for Republicans." • Pretty close to "Red Ripple." Sabato could be right, too.

"What the final pre-election polls tell us about how the midterms will turn out" [Vox]. "[I]t's worth taking stock of the polling picture one last time. And in my view there are four important things to keep in mind. First, the final polls look pretty good for Republicans, suggesting they're the favorites to have a good night. Second, polling does not show a total collapse of Democrats in key races — many contests still look close, and GOP poll leads aren't big enough to suggest the overall outcome is a sure thing, particularly in the Senate. Third, since Democratic majorities in each chamber are so slim, Republicans actually don't need a red wave to gain a great deal of power — even a narrow GOP win could give Republicans control of the House and Senate. Fourth, the final polls could well be significantly off, as they have in the past — and, since they've tended to underestimate Republican performance in recent cycles, a bigger red wave remains quite plausible too. Comparatively, the best plausible outcome for Democrats appears to be something close to a draw (which would be quite good by historical midterm election standards)." • Pretty close to "Red Ripple." So I guess the conventional wisdom….

And lastly:

#FINAL @FiveThirtyEight Forecast:

Chance of winning the Senate:
Republicans 59%
Democrats 41%
.
Chance of winning the House:
Republicans 84%
Democrats 16%https://t.co/RFLVkkILzV pic.twitter.com/HoZOOUAwE7

— Political Polls (@Politics_Polls) November 8, 2022

* * *

"Midterms: Billionaires spent lavishly on the 2022 elections — and signaled even bigger plans for 2023" [Yahoo News]. "When it comes to mega-donor giving and the 2022 election, Republican billionaires hold a clear advantage. According to data compiled by Opensecrets.org, seven of the campaign's top 10 donors to federal elections are Republicans who have given somewhere around a quarter of a billion dollars to GOP causes. And the influence of the ultra-rich is even more widely felt. A recent report from a group called Americans for Tax Fairness finds that a total of 465 billionaires from both parties have dumped about $881 million into federal elections this campaign." • Handy chart:

Not sure "givers" is the word I'd use….

"Ticket-splitters could play key role in battleground states" [The Hill]. "Ticket-splitters are poised to play a pivotal role in a handful of key battleground states, like Pennsylvania and Georgia, where signs are growing that voters may be willing to cross party lines for certain candidates. In Georgia, where voters will choose their next governor and U.S. senator next week, polling has routinely shown Gov. Brian Kemp leading his Democratic rival Stacey Abrams by distinct margins, while Sen. Raphael Warnock (D-Ga.) has maintained a narrow edge over Herschel Walker, the Republican Senate nominee. A similar dynamic is playing out in Pennsylvania, where Democrat Josh Shapiro has opened up a sizable advantage over Republican Doug Mastriano in the race for governor. Meanwhile, in the state's Senate race, Democrat John Fetterman has seen his once-yawning lead over Republican nominee Mehmet Oz evaporate, leaving the two candidates virtually deadlocked."

"Republicans Are Planning an All-Out Assault on the Working Class If They Win Next Week" [Jacobin]. "Though both parties are hostile to a working-class agenda, the Republicans' plans to hobble worker organizing, stoke war, accelerate climate disaster, and tear apart what's left of the US social safety net will, without serious resistance, herald major suffering and setbacks for working Americans. And all of it will be made more likely by the sizable Democratic factions likely to collaborate with them on key issues. But with a possible expansion of progressive numbers in Congress creating an avenue for blocking at least some of this, now is the time to plan for resistance." • Yes, the progressives were strong on opposing the war. Oh, wait….

* * *

"A guide to the election deniers in midterm races" [CNN]. "Secretary of state: At least 12 of 27 Republican candidates have tried to overturn, rejected or questioned the 2020 results. Governor: At least 22 of 36 Republican candidates have tried to overturn, rejected, questioned or declined to affirm the 2020 results. US Senate: At least 19 of 35 Republican candidates have tried to overturn, rejected, questioned or declined to affirm the 2020 results." • I do think "or questioned" is doing a lot of work, there.

"Election officials look to harden tabulation centers against 2020-type chaos" [Politico]. "'What are you doing to respond to people that may show up at your office and , how are you handling that?' [Neal Kelley — the former registrar of voters in Orange County, Calif, who is now the chair of of the Committee for Safe and Secure Elections] said. 'I have been saying this as much as I can, if you're calling 911 on Election Day, it's too late.'" • Erm, count the ballots in public? (As long as the "people" aren't carrying, I suppose.)

"Maricopa County sees widespread problems with ballot tabulators on Election Day. But votes will still be counted." [Votebeat Arizona]. "The machines that tabulate ballots at Maricopa County vote centers are having widespread issues, with about 20% of locations affected. The affected vote-counting machines are rejecting about one ballot out of every five ballots inserted, Maricopa County Supervisors Chairman Bill Gates said at a news conference on Election Day, about three hours after polls opened." • "The cheapest, fastest, and most reliable components of a computer system are those that aren't there." –Jon Benteley, Programming Pearls. In this case, why is the computer system there at all?

"No, Texas voting machines aren't switching your votes" [Texas Tribune]. The deck: "Sensitive touch screens aren't always user friendly and make it easy for voters to accidentally select the wrong candidate. Voters should carefully review their ballots before submitting them." • Sounds ideal!

"1 big thing: The limitations of gerrymandering" [Axios]. "If Republicans only won the districts that Trump carried, they'd be in the minority. Even if they carried all the seats that Biden won by five points or less, they'd still only have a majority of 224 (R+11) — hardly a comfortable outcome for House Minority Leader Kevin McCarthy (R-Calif.)… Several of the states [Oregon, Illinois, Nevada] in which Democrats controlled the redistricting process could end up becoming "dummymanders" — a term describing an attempted gerrymander that backfires…. If Democrats lose control of their House majority, gerrymandering won't be the culprit. The political environment will often disrupt the best-laid plans (or maps!) of both parties."

* * *

MI: "Michigan Ballot Measure Seeks to Shield State Elections from Trumpian Conspiracies" [BOLTS]. "Of the nine key sections in Proposal 2, some would make new strides in expanding access. Most significantly, it would establish nine days of early in-person voting in the state. Right now, Michiganders who want to vote in-person before Election Day can do so in their local clerk's offices with an absentee ballot, instead of having broader access to polling stations and voting machines. The measure would also supply state-funded postage to vote by mail, and create new mandates for townships to set up ballot drop boxes. 'It's the role of our government to make sure people have the ability to vote and aren't bogged down by constructed barriers,' says Branden Snyder, co-executive director of the group Detroit Action, another member of the coalition that backs the measures. But much of Proposal 2 is driven by a separate goal: to protect Michigan's election systems from the shockwaves of the Big Lie. The measure contains provisions to protect the process of certifying results to lower the chances that an election is overturned, and to narrow who can audit election results to prevent an Arizona-style spectacle…. Proposal 2 would also establish that only election officials such as the secretary of state can conduct post-election audits, not private groups. And it would require that all audit funding be publicly disclosed. These reforms would remove the possibility of any 'forensic audit' funded of the sort that Trump supporters tried to push for in 2021." • Well… If they think increasing the attack surface with drop boxes and mail-in ballots is going help with fraud charges, I think they should reconsider.

OK: "Feud with tribes threatens Oklahoma governor's reelection" [Indian Country]. "Many of the 39 tribes based in Oklahoma have played roles in state politics for decades, often behind the scenes. They became bigger, more outspoken players when voters approved Las Vegas-style gambling in 2004. The budgets of several major tribes ballooned with casino revenue. This year, in their most forceful political move yet, they are wielding their considerable influence to oppose a second term for Republican Gov. Kevin Stitt, himself a Cherokee citizen, who is facing a tough reelection challenge after feuding with the tribes for nearly his entire first term. With the election just weeks away, five of the state's most powerful tribes jointly endorsed Stitt's Democratic opponent, Joy Hofmeister, the state's public schools superintendent who has promised a more cooperative relationship with the tribal nations. It's the first time in modern history that the tribes, which often have unique or competing interests, have weighed in on a governor's race in such a public way. 'I don't know that I've ever seen (the tribes) more active than they are today,' said Pat McFerron, a longtime Oklahoma GOP political consultant and pollster. 'I think they might have flown under the radar a little bit more before.'"

PA: "The Democrat Who Picks Fights With Bad Guys" [David Sirota, The Lever]. "Already being mentioned as a future Democratic presidential contender, [Josh] Shapiro, 49, is campaigning in Republican territory in the final days of the gubernatorial race for his so-called 'Big Fights Bus Tour' — and the battles he has waged as Pennsylvania's attorney general are top of mind among the cheering crowd. One old timer tells me Shapiro's barrage of lawsuits against health care and fracking companies shows 'he's the only one who seems like he's doing anything in Harrisburg.' Giving me a tour of the building's ancient duckpin bowling lanes, Cro Club owner Jim Brandemarte confides that he's a practicing Catholic but likes that Shapiro 'had the guts to go after the priests' — a reference to the biggest case Shapiro ever brought as the state's top law enforcement official. Watching the scene, I can't help but think Shapiro — my old Junior Jewish Basketball League buddy from the Philly suburbs — may have found the recipe I've spent a quarter century hunting for: the one that channels working-class rage away from culture wars and into populist economics, rather than insisting the rage is deplorable or pretending it doesn't exist." • Hmm.

PA: "Philly elections officials adopted a last-minute change that will slow down the counting of votes" [Philadelphia Inquirer]. "If Pennsylvania's high-stakes U.S. Senate race is as close as expected, a wait for results out of the state's largest city is sure to shine a national spotlight on Philadelphia, similar to after the 2020 presidential election. The city commissioners, the three-member elections board, voted 2-1 to reinstate what is known as poll book reconciliation — a means of flagging mail ballots submitted by voters who also voted in person — during an emergency 7 a.m. meeting. It was a sudden reversal of a decision they made less than a week ago and came a day after a city judge, responding to a Republican lawsuit, said they could move forward without the process. 'I want to be very clear that when there are conversations that occur later this evening about whether or not Philadelphia has counted all of their ballots that the reason that some ballots would not be counted is that Republicans targeted Philadelphia — and only Philadelphia — to force us to conduct a procedure that no other county does,' Seth Bluestein, the sole Republican commissioner, said before voting for reconciliation."

PA: "Pennsylvania voters scramble to cast new ballots after GOP lawsuit" [WaPo]. "Six days after the Pennsylvania Supreme Court invalidated thousands of mail-in ballots in response to a Republican lawsuit, citizens in Philadelphia and other parts of this battleground state scrambled to cast replacements so their votes will be counted on Election Day…. Multiple judges have ruled over the past two years that mail ballots returned on time by eligible Pennsylvania voters should be counted even if they lack a date on the outer envelope. Republicans sued in October to reverse that policy, arguing that it violated state law. Last Tuesday, they won a favorable ruling from the state Supreme Court, which directed counties not to count ballots with missing or inaccurate dates."

PA: "John Fetterman's Pa. Senate campaign is suing to have undated and misdated ballots counted" [Philadelphia Inquirer]. "Lt. Gov. John Fetterman's campaign for U.S. Senate has joined the legal fight over whether mail ballots with no date or the incorrect date should be counted in Tuesday's election. The Democratic campaign sued Pennsylvania elections officials Monday asking a federal judge to order that all mail ballots be counted regardless of what date, if any, voters wrote on the outside of the envelope. State law requires that voters handwrite a date on the outer envelope when returning their mail ballots, and the Pennsylvania Supreme Court ruled last week that undated and wrongly dated mail ballots be set aside and not counted. The court issued a follow-up order Saturday setting specific date ranges that the handwritten dates must fall within. There will likely be tens of thousands of undated and wrongly dated ballots rejected statewide under that ruling. Because mail ballots are so disproportionately used by Democrats over Republicans, that will likely mean thousands, if not tens of thousands, of net votes for Fetterman that are rejected." • Voters not doing their homework properly? A Democrat own-goal in an overly complex system, what a surprise.
2024
Trump still in form (1):

Trump mocks DeSantis as "Ron DeSanctimonious" at a rally tonight in Pennsylvania. pic.twitter.com/efTl2vNQRB

— The Bias (@thebias_news) November 6, 2022

Pretty good!

Trump still in form (2):

Trump delivers full 15-minute closing remarks at rally as Florida rain POURS down in biblical fashion:

"We are a nation that loves to be rained upon."

— Benny Johnson (@bennyjohnson) November 7, 2022

Hard to imagine another politician pulling this off…

Trump still in form (3):

30% is yuge, and this is asking before Trump has announced for '24 and after a year of the Jan 6 commission hammering away. DeSantis isn't stupid—if 30% favors Trump over party, there's no room for a challenge. Trump would be unstoppable just adding a third of the party-firsters. https://t.co/pJYXjfVnAo

— Daniel McCarthy (@ToryAnarchist) November 8, 2022

"Biden's and Trump's Performances on the 2022 Trail Sow Doubts About 2024" [Politico]. "What every Republican leader knows, but few dare say out loud, is that 2022 would mark the third consecutive year that Republicans not named or tainted by Trump had a good election. For all the affection Trump enjoys from his base, there's a reason why it's Democrats who are the most eager to make him the face of the GOP…. But, as it has been since Trump declared his candidacy in 2015, the question for Republicans remains whether they will take steps to confront him. The final pre-midterms NBC poll found just 30 percent of GOP voters calling themselves more supporters of Donald Trump than supporters of the Republican Party, a new low. Yet if the party doesn't rally around an alternative, that 30 percent may still be enough of a foundation for Trump to win the nomination against a divided field, his path to the nomination six years ago." • That "Yet if…." See above.

"Casey DeSantis, Florida's 'co-governor': Rivals, friends, and former colleagues say she's the secret behind husband Ron DeSantis' meteoric rise" [Business Insider]. "Ron has been described as 'Trump with a brain' — someone who has channeled the GOP's pugilistic grievance politics and polished them up. That polish is in large part thanks to Casey. In public appearances her sheath dresses and jumpsuits are perfectly tailored, her jewelry simple: pearl earrings or hoops, sometimes a silver cross necklace. Her Instagram page is filled with pictures of her hugging people in the aftermath of Hurricane Ian, of her and her family at sporting events with their hands over their hearts pledging allegiance. In one of the most humid states in the country, she never seems to sweat. Even her stories of raising three small children in the governor's mansion, anecdotes about their coloring on the walls of the state dining room and singing into the security guards' microphones before dawn, are told with a practiced bemused expression. Ron, 44, has by now been examined and reexamined by the press as a hypothetical presidential candidate. The New York Times Magazine suggested he might be the 'future of the Republican Party'; the Financial Times labeled him Trump 'without the drama'; and The New Yorker posited he could displace the 45th president as the 'combatant-in-chief.' Casey, on the other hand, is often mentioned in passing, framed as a political wife and mother. But Florida's first lady is more than a convenient helpmate to her husband's ambitions. Several people told Insider she's an equal partner, a masterful image maker, and a powerful confidant to a man at the forefront of GOP politics. If there were no Casey, there would be no Ron. 'It's clear she's the X factor,' said Scott Parkinson, one of Ron's former chiefs of staff in the US House of Representatives. 'They complete the political element that is Ron DeSantis. Without Casey, he would not be the same person.'"

"Can DeSantis Beat Trump among Non-College and Rural Voters?" [National Review]. "DeSantis carries the risk in a primary of having a similar problem to the one faced by Elizabeth Warren, who appealed to a lot of well-educated progressives as well as liberal journalists but didn't really connect beyond that. DeSantis is more skilled than Warren, of course, but Trump is also more formidable among Republicans than anybody Warren faced. There is certainly the possibility that DeSantis becomes a favorite of white-collar Republicans and professional conservatives looking to move on from Trump, but that rural voters say, 'not so fast!'" • I don't think Casey will let Ron campaign with a giant inflatable dog. So there's that.
Democrats en Déshabillé
Patient readers, it seems that people are actually reading the back-dated post! But I have not updated it, and there are many updates. So I will have to do that. –lambert

I have moved my standing remarks on the Democrat Party ("the Democrat Party is a rotting corpse that can't bury itself") to a separate, back-dated post, to which I will periodically add material, summarizing the addition here in a "live" Water Cooler. (Hopefully, some Bourdieu.) It turns out that defining the Democrat Party is, in fact, a hard problem. I do think the paragraph that follows is on point all the way back to 2016, if not before:

The Democrat Party is the political expression of the class power of PMC, their base (lucidly explained by Thomas Frank in Listen, Liberal!). ; if the Democrat Party did not exist, the PMC would have to invent it. . ("PMC" modulo "class expatriates," of course.) Second, all the working parts of the Party reinforce each other. Leave aside characterizing the relationships between elements of the Party (ka-ching, but not entirely) those elements comprise a network — a Flex Net? An iron octagon? — of funders, vendors, apparatchiks, electeds, NGOs, and miscellaneous mercenaries, with assets in the press and the intelligence community.

Note, of course, that the class power of the PMC both expresses and is limited by other classes; oligarchs and American gentry (see 'industrial model' of Ferguson, Jorgensen, and Jie) and the working class spring to mind. Suck up, kick down.

* * *

"The Democracy" [Dave Denison, The Baffler]. "The Democrats had eight years of a Clinton administration and eight years of Obama. It seemed never to occur to them that the wheels really could fall off the democratic jalopy, that a "win at all costs" Republican Party would manipulate the undemocratic features of our creaky constitutional machinery. The Democrats spent crucial years misunderstanding actually existing capitalism, underestimating their opponents' ruthless tactics and rancid populism, and neglecting to build new coalitions across race and class boundaries in the places where it mattered most. They became the party that asked not what it could do for you, but what you could do for it—by way of a donation. They never got close to a serious effort against inequality and the concentration of wealth; they failed to protect reproductive rights, labor rights, and voting rights. The era of big government was over, said Bill Clinton. It was time to think small." • Well worth a read.
Realignment and Legitimacy
"Can DSA Go the Distance?" [Sam Adler-Bell, Dissent]. "DSA National Director Maria Svart has called DSA "a socialist organization for people who want to win things." And that's not a bad pitch, especially for those of us who spent our formative years on the left losing, if virtuously, over and over again. DSA, in fits and starts, has been winning and building power across the country. Though New York remains its stronghold, DSA has elected more than 120 candidates to local office nationwide—including six socialists to the Chicago City Council, four to the Pennsylvania House of Representatives, and two to State Senate in Minnesota. Meanwhile, DSA members have mobilized to support striking teachers in West Virginia, Denver, Los Angeles, and Oakland, while encouraging activists to join unions in strategic sectors across the country. And although housing organizing remains a somewhat neglected part of its national program, DSA members have helped build tenant unions in Oakland, Houston, Boston, and Lexington, Kentucky. In a matter of years, DSA has turned from a musty debate club for retired social democrats into an electoral powerhouse of young, ecumenical radicals; it remains the most effective socialist organization the country has seen in a century. And yet it's impossible to ignore a certain malaise that has settled over the organization, along with the broader left: a sense that an era of ceaseless momentum has passed, and existing modes of organizing have begun to exhaust themselves. In the past year, membership dipped from a peak of 94,000 and plateaued around 91,000 activists—only a small fraction of whom are regularly involved in organizing work. Those who remain largely agree about the obstacles they face: a difficulty in winning elections beyond a base of downwardly mobile professionals, a failure to translate those victories into legislative change, and—at times—an insular culture of debate, primarily online, in which disagreement can take on toxic, personal dimensions. DSA cadre disagree, however, about how best to resolve these issues: whether to double down on the existing electoral strategy, how to incorporate labor and tenant organizing more fully into their vision, and how best to mediate and overcome internal strife. In a 2021 year-end reflection, Svart encouraged DSA members to think of themselves as "strategic, long distance runners for socialism." The question remains whether the organization can keep pace."

"When Politics Becomes Professional" [Corey Robin, Jacobin]. "I've just finished a lengthy piece on the memoirs of the Obama administration, and one of the most striking elements of those reminiscences is how fluidly and fluently the Obamanauts channel the activist traditions of the 1960s into the professional (neo)liberal politics of the Democratic Party since the 1980s. That translation had already begun in the 1970s, with the election of black mayors and other black officials. Back then, however, there was more awareness that the electoral turn was a diminution (perhaps necessary but nonetheless a diminution) of the mass movement in the streets. As one representative publication of black activists put it: "The marching has stopped." Professional politics was what replaced it. By the time of Obama's election, that awareness of diminution had been completely lost. His election was viewed as simply another step forward…. The tragedy of the stories Freeman tells and I've read in the Obamanaut memoirs is how easy it is to forget the radical origins and roots of those bureaucracies and leaderships, how once the work of repression (and other political factors) is done (often with the help of those leaders and bureaucracies, as we saw during the McCarthy era), all we're left with is a professionalized political class, who can't even mix memory and desire, who have not even the wish, much less capacity, to stir dull roots with spring rain." • The Eliot allusion seems a propos….

"#MeToo, Five Years Later: Why Time's Up Imploded" [Hollywood Reporter]. Concluding paragraphs: "When the Supreme Court overturned Roe v. Wade in June, several of the women who had been key leaders at Time's Up emerged in an ad hoc group holding weekly Zoom calls around the issue of abortion rights, including McGrath, Shaw and Rebecca Goldman, the former Time's Up COO, who is now a co-founder of the impact firm Acora Partners. When the women introduced themselves, they never mentioned Time's Up, according to two sources who were on the calls. Says one, 'It's like Time's Up never happened.'" • What the heck is an "impact firm"?
#COVID19
Lambert here: I can't call a winter surge, though we'll really have to wait for Thanksgiving travel. However, high transmission, the continued increase in positivity (Walgreens), and the steady takeover of BQ.1* are all a little unsettling (as is the apparent proliferation of variants).
* * *
• World Ventilation Day:
Think of an airborne pandemic as a global network of poorly ventilated rooms where humans rebreathe each other's air.

Then you realize this pandemic is a global indoor air crisis.

All countries have a responsibility to provide #SafeIndoorAir.
#WorldVentil8Day #COVIDisAirborne pic.twitter.com/9J5dcQu1fq

— Maarten De Cock (@mdc_martinus) November 8, 2022
"[A] global network of poorly ventilated rooms" mapping neatly to social networks mapping neatly to the accumulation of social capital — in some of those rooms, you've got to smile….
• She's b-a-a-c-k!
Thank you to my family and CDC staff for support while I recovered from COVID-19. I am fortunate to have only had mild symptoms, which I credit to being up to date on my #COVID19 vaccines.

— Rochelle Walensky, MD, MPH (@CDCDirector) November 8, 2022
Commentary suitably scathing:
Why did you take so many sick days off from work? Most Americans can barely get 5 days to recover before employers pressure them to come back to work while still sick and highly contagious.

— CaliforniaHeartBavariaHome🕯🕯🕯🕯🕯 (@lgoshen) November 8, 2022
Welcome back.
How many days were you MIA with 'mild symptoms '? 17? 18?
Please. Nobody – absolutely no one – considers acute illness lasting 2+ weeks to be 'mild'.

— Laura McCall #NoMassInfection (@equibotanica) November 8, 2022
And of course not a peep about ventilation or masking. Walensky's relentless commitment to the bit is her most impressive quality.
• How public health advocacy might function, if Walensky chose to do it:
I distinctly recall bar and restaurant owners bemoaning the imminent death of their industries if indoor smoking bans were enacted. It didn't happen. I remember smoking sections in airports. Those are mostly if not entirely gone now, too. Humans adapt.

— Elizabeth Jacobs, PhD 🏴‍☠️ (@TheAngryEpi) November 6, 2022
• "Walt Disney drops COVID-19 vaccination mandate from many TV shows as shutdown fears recede" [Los Angeles Times]. • Let's see what studios that actually rely on talent do.
* * *
•"What If COVID Reinfections Wear Down Our Immunity?" [The Tyee]. The deck: "Dr. Anthony Leonardi is a lightning rod for debate. If he's right, this pandemic poses a greater threat than widely assumed." More: "[W]hat if COVID wears down T cells in people who get it, and does so increasingly with each reinfection? [Leonardi argues that] T cells are becoming hyperactivated by SARS-CoV-2 and are prematurely aging, harming organs, and becoming exhausted trying to rid the body of an immune-evasive virus." And: "The record shows that Leonardi has been remarkably prescient, constant and often correct. Yes, his thesis about exhausted T cells and immune dysfunction still remain a working hypothesis. Still, there is much evidence that the virus is causing widespread immune dysregulation in both mild and severe cases. Herd immunity, as Leonardi predicted, remains a fiction. Reinfections have been associated with worrisome outcomes in a highly touted study. The Leonardi Effect may well explain a surge in bacterial, viral and fungal infections after waves of COVID. The risks to children remain grave in the absence of masks and good air filtration and ventilation." • Well worth a read; this is a good deep dive. Of course, I'm just a layperson; I'd be interested to know what our Brain Trust thinks.
* * *
• Something in the air?
Shocking. At the office my govt boss guy today pulled up in huge truck. Unloaded extra large UV air purifiers & put one in each office. If this is happening here in the South in a govt facility something is definitely up.

— Ella Kahl (@ellakahl) November 7, 2022
Tennessee location…. The UV is probably goldplating; the filter is enough. Still, at least they are protected by the filter.
* * *
• I'm so old I remember when Saturday Night Live was funny:
thanks, covid pic.twitter.com/UqzsPOqX1c

— Saturday Night Live – SNL (@nbcsnl) November 6, 2022
To be fair, parts of this video are funny, but also very, very dark.
* * *
Transmission
Here is CDC's interactive map by county set to community transmission. (This is the map CDC wants only hospitals to look at, not you.)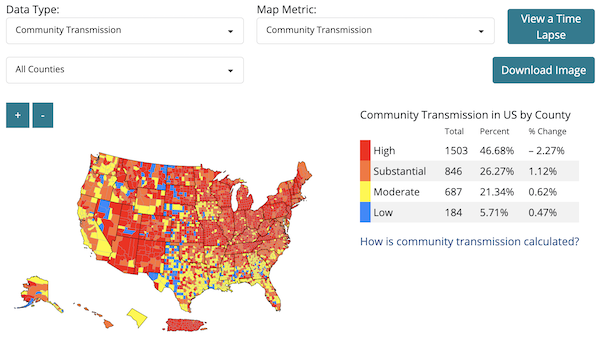 Positivity
From the Walgreen's test positivity tracker, November 7: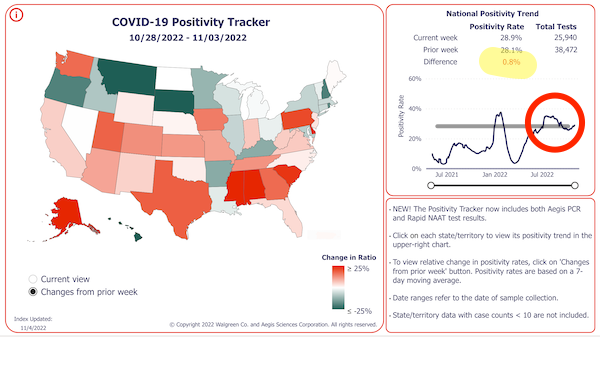 1.1%. Increase.
Wastewater
Wastewater data (CDC), November 4: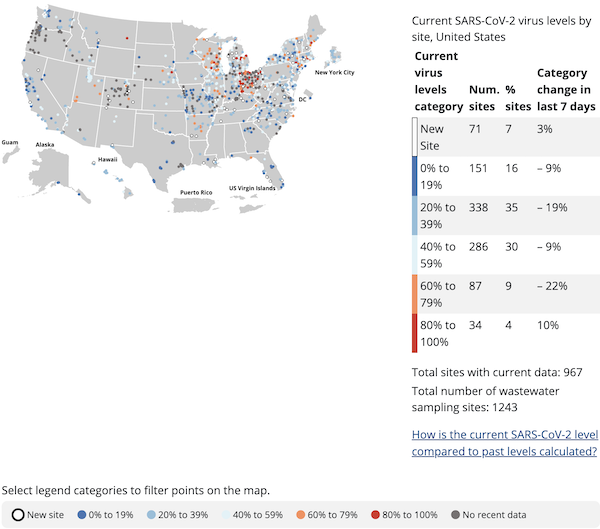 October 31: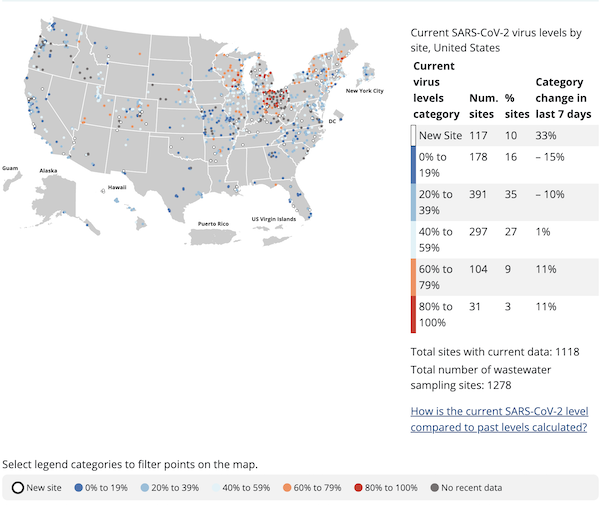 Variants
Lambert here: It's beyond frustrating how slow the variant data is. Does nobody in the public health establishment get a promotion for tracking variants? Are there no grants? Is there a single lab that does this work, and everybody gets the results from them? [grinds teeth, bangs head on desk]. UPDATE Yes. See NC here on Pango. Every Friday, a stately, academic pace utterly incompatible with protecting yourself against a variant exhibiting doubling behavior.
Variant data, national (Walgreens), October 24: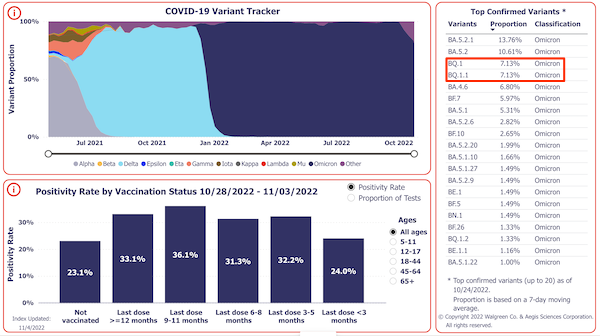 Lambert here: BQ.1* moving along quite briskly.
UPDATED Variant data, national (CDC), October 15 (Nowcast off):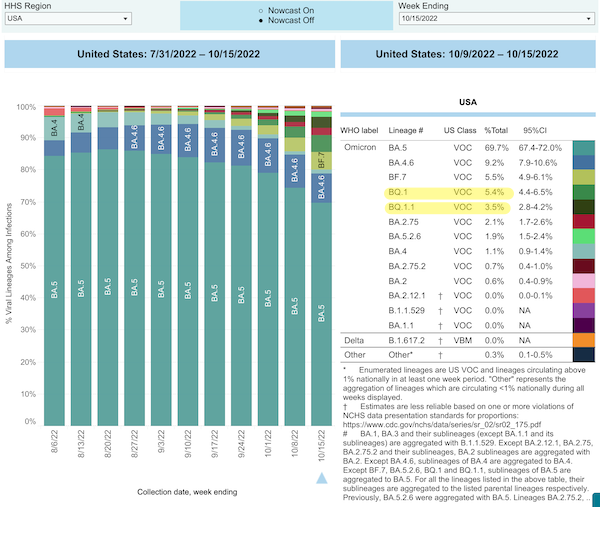 BQ.1* moving along quite briskly. New York/New Jersey numbers are higher: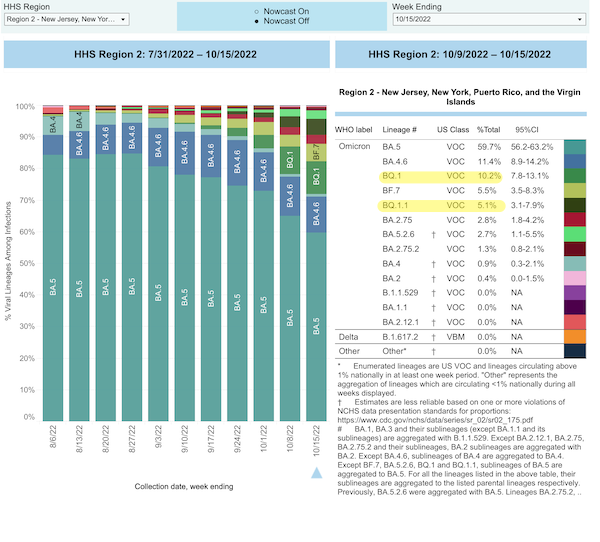 And as a check, New York hospitalization continues to increase: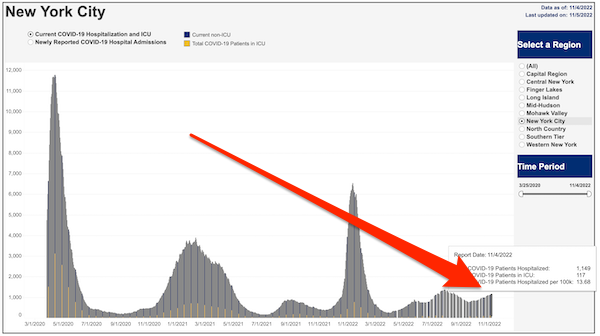 Deaths
Death rate (Our World in Data):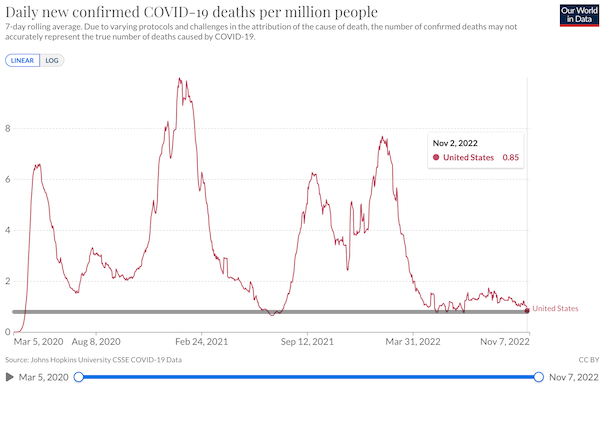 Total: 1,098,387 – 1,097,881 – 1,096,717 = 506 (506 * 365 = 184,690, which is today's LivingWith™ number (quite a bit higher than the minimizers would like, though they can talk themselves into anything. If the LivingWith™ metric keeps chugging along like this, I may just have to decide this is what the powers-that-be consider "mission accomplished" for this particular tranche of death and disease.
It's nice that for deaths I have a simple, daily chart that just keeps chugging along, unlike everything else CDC and the White House are screwing up or letting go dark, good job.
Stats Watch
Zeitgeist: "United States Nfib Business Optimism Index" [Trading Economics]. "The NFIB Small Business Optimism Index in the United States fell to a three-month low of 91.3 in October of 2022, compared to 92.1 in September. Thirty-three percent of owners reported that inflation was the most important issue in operating their business, up three points from September. At the same time, the number of owners who plan to increase employment in the next three months fell to 20% and 50% said they raised average selling prices."
* * *
Manufacturing: "The Car Safety Feature That Kills the Other Guy" [Slate]. "For decades, roadway safety efforts have focused on a single, dominant mission: Protect the people inside cars. At first, that meant correcting obviously dangerous vehicle designs and mandating essential features like seat belts. Such efforts were good and well; society is clearly better off when a car is less likely to flip over on a curve and eject its passengers. But vehicle safety issues are very different now. Car buyers who purchase an SUV or truck 'to protect themselves' are turning safety into a zero-sum game, with pedestrians and cyclists paying the price. As the Insurance Institute pointed out in its tweet, buying a bigger car can be a rational choice for an individual or family. But when you scale that decision across an entire nation, it's a recipe for carnage." •
* * *
Today's Fear & Greed Index: 60 Greed (previous close: 61 Neutral) [CNN]. One week ago: 58 (Greed). (0 is Extreme Fear; 100 is Extreme Greed). Last updated Nov 8 at 2:41 PM EST.
Rapture Index: Closes unchanged [Rapture Ready]. Record High, October 10, 2016: 189. Current: 187. (Remember that bringing on the Rapture is good.)
Photo Book
"Ways of living" [Aeon]. "Berger was a self-styled outsider: he had run away from boarding school as a teenager, and left England for France in his 30s. Art was best, he said, when it was born of struggle and inspired belief. At its worst, it was little more than a luxury good. The difference extended to the very mode of aesthetic response – appreciation or critique? This is the significance behind the act of vandalism that opens Ways of Seeing. Viewers soon learn that the painting Berger cut was a facsimile, but the metaphor of the scalpel is plain: to question is to dissect. It is to cut past the scrim of beauty, and reveal more fundamental anatomies: capitalism, colonialism, patriarchy, mimetic desire…. On a formal level, Berger was obsessed by the arts of sight: drawing, painting, photography, cinema. He often wrote about appearances directly, conjuring small physical presences as few others could: the way that a lizard shimmies as it moves, the warmth of grass in the sun, the 'red of young eyelids shut tight'. His best essays convey a miraculous gratitude that the world comes into view at all…. Achoice about a way to live presented itself to Berger shortly after he made Ways of Seeing. He was in his late 40s and had achieved an international level of fame. The invitations started coming in. He could have taken a position at a museum or university. He could have entered a world of sinecures and fellowships, residencies and agents, conferences and airports. He turned down almost all of this." • I see this is from 2019, but it's still good. I see that I must go find "Ways of Seeing" on YouTube (assuming it's there) now that I am done with LeCarré….
The Gallery
De planes! De planes!
Harlequin with violin, 1918 #pablopicasso #cubism https://t.co/O5WT66nKp2 pic.twitter.com/r7svMXmijg

— Pablo Picasso (@pablocubist) November 7, 2022
Class Warfare
This is not all of Twitter:
Judging by the hostility I've encountered in the real world to the whole idea of Twitter—creative class elites talking ironically amongst themselves—if Musk torches the whole thing, his fans will think that's $44 billion well spent. https://t.co/9wRSmY83NO

— Marshall Steinbaum 🔥 (@Econ_Marshall) November 6, 2022
But it's sure all the coverage of Twitter….
News of the Wired
"Science confirms: to light up the dance floor, turn up the bass" [Yahoo News]. "Researchers have taken a closer look at the relationship between bass frequencies and dancing, thanks to an experiment conducted during a real-life electronic music concert. The results, published Monday in the journal Current Biology, showed that participants danced almost 12 percent more when researchers introduced a very low frequency bass — one that dancers could not hear. 'They couldn't tell when those changes happened, but it was driving their movements,' neuroscientist David Cameron of McMaster University, who led the study, told AFP. The results confirm the special relationship between bass and dance, which has never been scientifically proven."
"This School Took Away Smartphones. The Kids Don't Mind." [Wall Street Journal]. "The school wanted to make sure parents and students could still reach each other, so it supplied the Light Phones. The devices have basic call and text functioning but no internet browser, camera or apps. , and many students say it's so slow that they don't bother texting more than a few words at a time. Light Chief Executive Kaiwei Tang says the majority of the phone's users are young adults trying to be more intentional about their phone use. But he says parents are getting interested in Light Phones for their kids. Buxton is the first school with which the company has partnered. Light is lending refurbished phones; the school pays for service." •
* * *
Contact information for plants: Readers, feel free to contact me at lambert [UNDERSCORE] strether [DOT] corrente [AT] yahoo [DOT] com, to (a) find out how to send me a check if you are allergic to PayPal and (b) to find out how to send me images of plants. Vegetables are fine! Fungi and coral are deemed to be honorary plants! If you want your handle to appear as a credit, please place it at the start of your mail in parentheses: (thus). Otherwise, I will anonymize by using your initials. See the previous Water Cooler (with plant) here. From Angie Neer: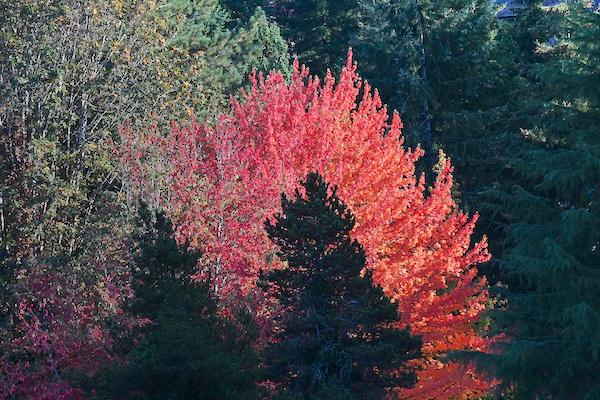 Angie Neer writes: "Due to a quirk of local topography, direct sun hits this tree at times when others fore and aft of it are in shadow." Wow!
* * *
Readers: Water Cooler is a standalone entity not covered by the annual NC fundraiser. So if you see a link you especially like, or an item you wouldn't see anywhere else, please do not hesitate to express your appreciation in tangible form. Remember, a tip jar is for tipping! Regular positive feedback both makes me feel good and lets me know I'm on the right track with coverage. When I get no donations for five or ten days I get worried. More tangibly, a constant trickle of donations helps me with expenses, and I factor in that trickle when setting fundraising goals:
Here is the screen that will appear, which I have helpfully annotated: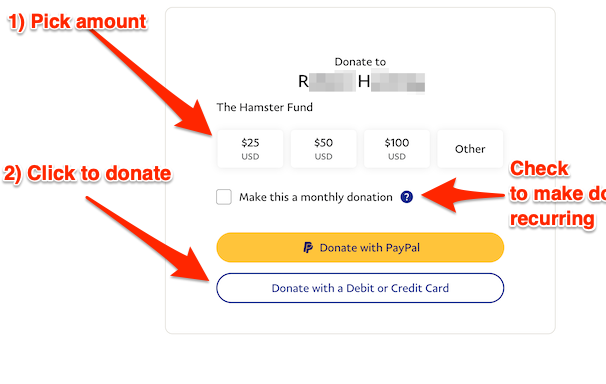 If you hate PayPal, you can email me at lambert [UNDERSCORE] strether [DOT] corrente [AT] yahoo [DOT] com, and I will give you directions on how to send a check. Thank you!