By Lambert Strether of Corrente.
Readers, I hope your MLK Day was good! –lambert
Bird Song of the Day
Eastern Phoebe, Licking, Ohio, United States.
* * *
Politics
"But what is government itself, but the greatest of all reflections on human nature?" –James Madison, Federalist 51
"Here's food for thought, had Ahab time to think; but Ahab never thinks; he only feels, feels, feels" –Herman Melville, Moby Dick
"So many of the social reactions that strike us as psychological are in fact a rational management of symbolic capital." –Pierre Bourdieu, Classification Struggles
Biden Administration
Scranton Joe does class analysis:

Republican officials and special interests are working to deny student debt relief to working and middle-class Americans.

I'll never apologize for getting relief to working Americans. And I'll never stop fighting for you in the courts.

— President Biden (@POTUS) January 14, 2023

Apparently, to Biden, "working class" and "middle class" are not at all the same. Otherwise, why mention both? But what, in his mind, is the difference?
2024
Trump's not lying, either:

Trump today on Desantis: "I got him elected, pure and simple. And there was no reason to go wild about endorsing him .. So, now I hear he might want to run against me. So, we'll handle that the way I handle things." pic.twitter.com/rBBYyUtnNW

— Ron Filipkowski 🇺🇦 (@RonFilipkowski) January 16, 2023

But somebody hijacked my brand….

"Report on the Biden Laptop" (ebook) [Marco Polo]. • Presented in one of those ebook formats, so not easy to read. Here's page one:

The footnotes are very entertaining. I present this for what it's worth; perhaps a kind reader will take a detailed look. If a good source, important!
Democrats en Déshabillé
Patient readers, it seems that people are actually reading the back-dated post! But I have not updated it, and there are many updates. So I will have to do that. –lambert

I have moved my standing remarks on the Democrat Party ("the Democrat Party is a rotting corpse that can't bury itself") to a separate, back-dated post, to which I will periodically add material, summarizing the addition here in a "live" Water Cooler. (Hopefully, some Bourdieu.) It turns out that defining the Democrat Party is, in fact, a hard problem. I do think the paragraph that follows is on point all the way back to 2016, if not before:

The Democrat Party is the political expression of the class power of PMC, their base (lucidly explained by Thomas Frank in Listen, Liberal!). ; if the Democrat Party did not exist, the PMC would have to invent it. . ("PMC" modulo "class expatriates," of course.) Second, all the working parts of the Party reinforce each other. Leave aside characterizing the relationships between elements of the Party (ka-ching, but not entirely) those elements comprise a network — a Flex Net? An iron octagon? — of funders, vendors, apparatchiks, electeds, NGOs, and miscellaneous mercenaries, with assets in the press and the intelligence community.

Note, of course, that the class power of the PMC both expresses and is limited by other classes; oligarchs and American gentry (see 'industrial model' of Ferguson, Jorgensen, and Jie) and the working class spring to mind. Suck up, kick down.

* * *

"'Disgracing Himself': Hakeem Jeffries Stumps for Anti-Abortion Judge" [Common Dreams]. "House Minority Leader Hakeem Jeffries joined New York Gov. Kathy Hochul and other state Democrats at a Bronx rally Saturday, just days ahead of what is sure to be a contentious confirmation hearing in which progressive lawmakers opposed to LaSalle's appointment to lead the state Court of Appeals could be decided. Progressives charge that Hector D. LaSalle is too conservative, anti-abortion, anti-labor and anti-due process and his appointment would push one of New York's highest courts even further to the right. Jeffries, however, voiced his support for the judge, saying LaSalle is 'highly qualified to serve as the chief judge.' 'Period, full stop,' Jeffries said. Jeffries urged an 'up-or-down' vote by the full state Senate. 'It's important for the entire New York state Senate to treat this nomination with the same dignity, decency and respect that every other nomination has received,' he said. In December, the Democratic governor announced that she'd chosen the conservative judge as the next chief judge of the state Court of Appeals. Judge LaSalle is currently the presiding justice of the Appellate Division in Brooklyn. The nomination was described as 'mystifying' and 'horrible news' by legal experts, including public defender Eliza Orlins, who pointed to LaSalle's record on abortion and labor rights as reasons that he was 'potentially the worst of the seven nominees' the governor chose between. The state Senate Judiciary Committee will hold a confirmation hearing on Wednesday. Progressive lawmakers are working to let the nomination die in committee without advancing it to a full Senate vote. At least 14 Democratic senators have indicated they oppose his selection. The confirmation fight pits the moderate Hochul against the party's progressives."

Mothership Strategies is at it again:

Why are these people smiling? Because they're at a superspreader event?
#COVID19
Lambert here: I am but a humble tapewatcher, but unlike Eric Topol, I'm not calling a surge, because the last peak was Biden's Omicron debacle, and after an Everest like that, what's left? Topol's view is the establishment view: Hospital-centric. Mine is infection-centric. I do not see the universal acceleration or doubling in cases that I would expect to see based on past surges.
I am calling a "Something Awful." It's gonna be bad, in some new way, and we don't know how, yet (but see here for immune system dysregulation, which is looking pretty awful). We are now two weeks away from holiday travel, so we should have a result. See below at case data.
Stay safe out there!
* * *
Davos tries testing:
Everyone at the World Economic Forum annual meeting — including journalists and participants — has to take a PCR test upon arrival. If you don't take a test, the chip in your ID badge is deactivated. If you test positive for Covid the badge is also deactivated. pic.twitter.com/2Mw8RYrtl1

— Andrew Lawton (@AndrewLawton) January 15, 2023
But not masking: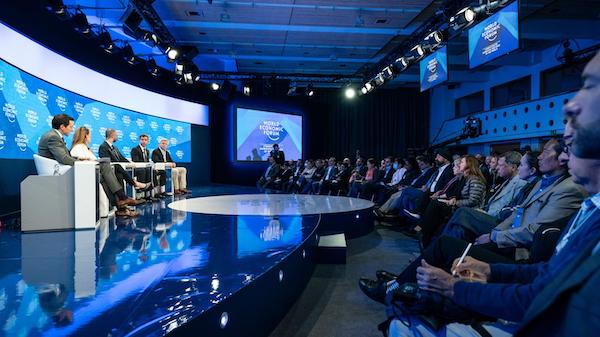 So let me know how that works out.
* * *
• Energy Recovery Ventilator:
Excellent move. An ERV can economically introduce fresh ventilation air into your home. It is important that you use good filters – MERV 13 preferred. This is a great opportunity to reduce PM 2.5. https://t.co/GWsJGinyQj

— Jim Rosenthal (@JimRosenthal4) January 14, 2023
Works in cold weather, apparently. Readers, any HVAC mavens have views?
* * *
• "A Pilot Study of 0.4% Povidone-Iodine Nasal Spray to Eradicate SARS-CoV-2 in the Nasopharynx" [Infection and Drug Resistance]. n = 14. Limitations: "◊This present study demonstrated that PVP-I nasal spray had poor in vivo efficacy in this study. This could be explained by several factors including insufficient concentration, improper formulation and/or amount of PVP-I, inadequate duration of exposure, inappropriate method of administration, and mucociliary clearance of PVP-I from the nasal cavity. As aforementioned, 0.45–10% PVP-I exposure showed the good in vitro virucidal activity against SARS-CoV-2,5 however, in previous human studies, the concentrations of PVP-I applications were ranged from 0.5% to 2% and the studies that used higher concentrations (1% or 2%) of PVP-I did not demonstrate the virucidal efficacy of SARS-CoV-2 in COVID-19 patients. The 0.4% PVP-I that used in this study was based on the recommendations from the clinical practice guidelines, and this concentration may not be adequate for SARS-CoV-2 eradication in nasal pathways of humans. Moreover, the PVP-I in this study was applied by nasal spray without clear penetration of the patient's nasopharynx and the NP swabs were collected for determining the viral titers by culture method, therefore, inadequate PVP-I exposure at the nasopharynx may be occurred." • Readers know I have priors. However, the Betadine throat spray I use is 0.45%.
* * *
• "Unwanted Indoor Air Quality Effects from Using Ultraviolet C Lamps for Disinfection" [Environmental Science and Technology Letters]. "Ultraviolet germicidal irradiation (UVGI) is known to inactivate various viruses and bacteria, including SARS-CoV-2, and is widely applied especially in medical facilities. This inactivation results from the high photon energies causing molecular bonds to break, but when nonpathogen molecules are affected, unwanted effects may occur. Here, we explored the effect of a commercial high-intensity (∼2 kW) UVC disinfection device on the composition and concentration of gases and particles in indoor air. We find that the UVC (254 nm) caused dramatic increases in particle number concentrations, and nearly all (∼1000) monitored gas phase species also increased. These responses were unsurprising when considering the typical impacts of UVC on atmospheric chemistry. High particle concentrations are associated with adverse health effects, suggesting that the impact of UVGI devices on indoor air quality (IAQ) should be studied in much more detail. The high-intensity device in this study was intended for short durations in unoccupied rooms, but lower-intensity devices for continuous use in occupied rooms are also widely applied. This makes further studies even more urgent, as the potential IAQ effects of these approaches remain largely unexplored." • I'm all for exploring UV, but I'm concerned the technology will cater to a dangerous American tendency to screw a lightbulb into a socket and call it good. (One of the disadvantages of thinking about airborne tranmission is that you have the think about it.)
• "With ultraviolet protection, one Boston cabaret may be safer from COVID-19 than almost anywhere" [WGBH]. From July, still germane: "Every week, Frankie Campofelice belts out showtunes with pianist Andy Lantz to kick off a lively open mic night at Club Café's Napoleon Room. The room in the South End gay club seats about 40 people for drinks, dinner and a cabaret performance. When the pandemic first hit in 2020, Campofelice says things really came to a halt…. On the ceiling of the Napoleon Room are seven devices shining ultraviolet light down on the room that clear the air of floating viruses. Ed Nardell, a professor at Harvard Medical School, arranged for the donation and installation of the devices. He's also an amateur cabaret singer and a regular at Club Café's open mic nights.Brenner has been researching a new approach called Far UVC, which is what is being used in the Napoleon Room. It uses a shorter wavelength of ultraviolet light and his research shows that it's safe for humans. 'It can't penetrate into the living cells and our skin, can't penetrate into the living part of our eye,' Brenner said. Brenner has found it's safe and effective at killing any viruses floating around [how?]. 'What these are doing is producing kind of a cone of energy that comes down and pretty much at table level covers much of the surface and a good portion of the air in the room,' Nardell explained. Even though the 'cones' don't cover the entire room, Nardell said the air circulates through, passes under them and becomes almost completely disinfected." • Interesting Nardell donated the technology; there's a lot of that going on at the grass roots.
* * *
• Only Biden could kill public health (1):
Precisely. The failed public health response to covid hasn't just killed millions- it's also unraveling the very notion of public health. The pseudo-libertarian argument that externalities generated by me are your problem is a recipe for societal collapse. https://t.co/XYqpFkgdik

— Arijit Chakravarty (@arijitchakrav) January 16, 2023
• Only Biden could kill public health (2):
What we need / What we got pic.twitter.com/6hk4VjncTk

— Lamont Cranston (@LamontCrans) January 15, 2023
* * *
• Dad.
I have a joke about air in schools. It's too dirty for kids.

— Brussels cyclo-pedestrian (@bXLpedestrian) January 16, 2023
* * *
• "Mild" car accidents (1):
I once got into a car accident and didn't get seriously injured or die.

Most people I've ever known in life or even treated in the ER after a car accident also didn't get seriously injured or die.

I guess car accidents must not be dangerous!

Amirite, people?!

🤯

— Jeremy Faust MD MS (ER physician) (@jeremyfaust) January 15, 2023
• "Mild" car accidents (2):
"The store was empty so I didn't wear my mask" is starting to sound a lot like "The roads were empty so I drove drunk"

— Meredith Hug, M.Ed. (@HugMeredith) January 16, 2023
Case Data
BioBot wastewater data from January 12: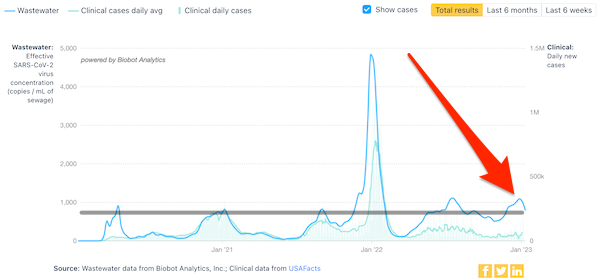 Lambert here: If we take wastewater data as the best proxy for case data (ignoring the clinical data portion of this chart, which in my view "goes bad" after March 2022), then we're on the downside of a less-than-Biden surge, much like 2021, which also unexpectedly dropped after holiday travel in January. It looks like such data as we have — positivity, New York hospitalization, and MWRA wastewater — confirms this. (I watch New York and Boston so closely because they are both the source of major previous outbreaks and both have international airports, and Boston has lots of students.) It's good that we didn't have a major outbreak, but a return to our previous plateau of mass infection is not good. (This national scenario does not rule out regional surges at all.) Frankly, this doesn't look like a permanent plateau to me, i.e., pandemic not endemic. I don't see any reason whatever that we can't keep having surge after surge, given the Biden administration's policy of mass infection without mitigation. Commentary:
1
Are lots of people still catching Covid?

— tern (@1goodtern) January 14, 2023
• "The Genetic Mutation That Makes 'Kraken' Covid So Contagious" [Rolling Stone]. "pay attention, because there's something new about XBB.1.5, also known as Kraken, the latest Omicron subvariant that's quickly becoming the dominant form of SARS-CoV-2 across much of the world. XBB.1.5 evolved after a couple of big genetic twists and turns. The virus still has the potential to surprise us. And that can mean only one thing: 'SARS-CoV-2 seems like it's going to be with us for a long time,' says Matthew Frieman, a University of Maryland School of Medicine immunologist and microbiologist." But that doesn't make it "endemic." More: "The appearance of the F486P mutation is a reminder that, even as many people get on with their lives, the pandemic isn't nearly over. The virus keeps finding ways to spread faster while also increasingly sneaking past all those antibodies we've built up from vaccines, boosters, and past infection. … For most of us, this genetic innovation is most worrying for the trend that it signals. There was some speculation as early 2021 — just six months or so into the pandemic — that SARS-CoV-2 would run out of genetic space, so to speak, and stop mutating in significant ways. That hasn't happened. "There seems to be still more mutational space in the genome," Frieman says. XBB.1.5 is proof that the virus can still change, still get more contagious and more evasive. That it can, after all this time, still surprise us." • Surprise ≠ endemicity. There is no reason — wishful thinking and teleology aside — why a more lethal variant cannot evolve too.
• "The COVID-19 immunology masterclass enters its third year" [Nature]. After the self-congratulation, the bottom line: " We remain firmly stuck in the phase that Mary Poppins might have described as "well begun is half done". In this regard, having enjoyed a period of détente and mutual respect between scientists and policy makers, we now again face segregation into rival tribes: the short attention spans, COVID-19 revisionism and 'move along, there's nothing to see here' attitude of our global leaders threatens the laser focus that the scientists will need if we are to avoid endemic bedding-in of massively elevated mortality along with a lasting worldwide burden of disability imposed by more than 150 million cases of long COVID. How did 'endemic' — the term used in infectious disease to describe our relentless struggle in the relationship with our greatest scourges of HIV, tuberculosis and malaria — come to be re-appropriated to mean some form of victory over COVID-19? If we now meet the COVID challenge poorly and throw in the towel, historians may puzzle over our ineptitude for centuries to come." "Puzzle"….
Transmission
Here is CDC's interactive map by county set to community transmission (the "red map," which is the map CDC wants only hospitals to look at, not you.) The map is said to update Monday-Friday by 8 pm: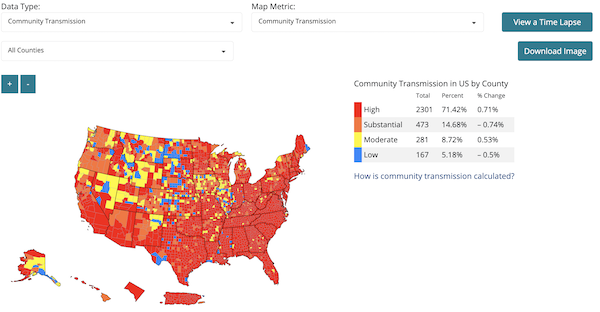 The previous map: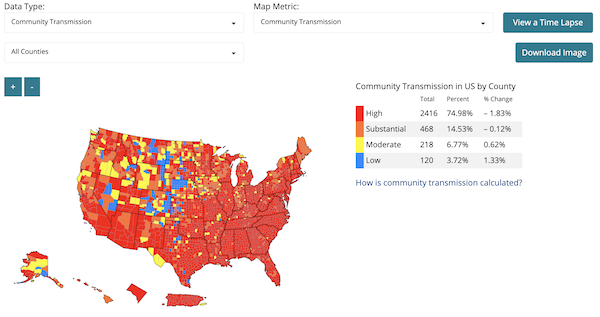 NOTE: I shall most certainly not be using the CDC's new "Community Level" metric. Because CDC has combined a leading indicator (cases) with a lagging one (hospitalization) their new metric is a poor warning sign of a surge, and a poor way to assess personal risk. In addition, Covid is a disease you don't want to get. Even if you are not hospitalized, you can suffer from Long Covid, vascular issues, and neurological issues. That the "green map" (which Topol calls a "capitulation" and a "deception") is still up and being taken seriously verges on the criminal.
Positivity
From the Walgreen's test positivity tracker, published January 17: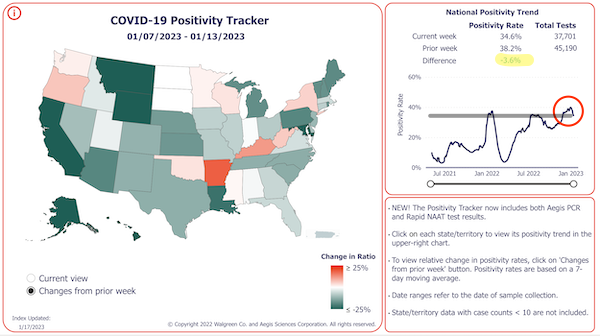 -3.86.%. Still heading down.
Wastewater
Wastewater data (CDC), January 10: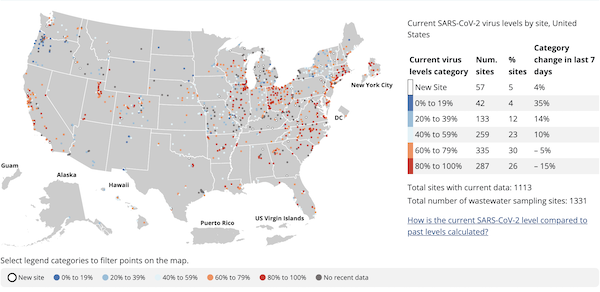 January 9: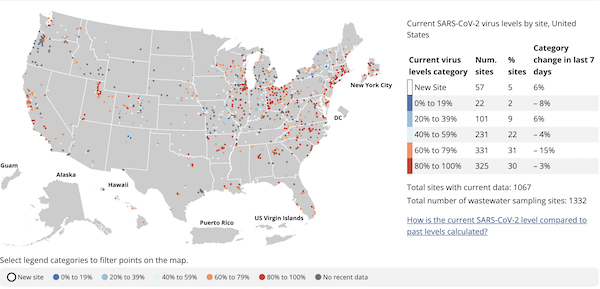 And MWRA data, January 10: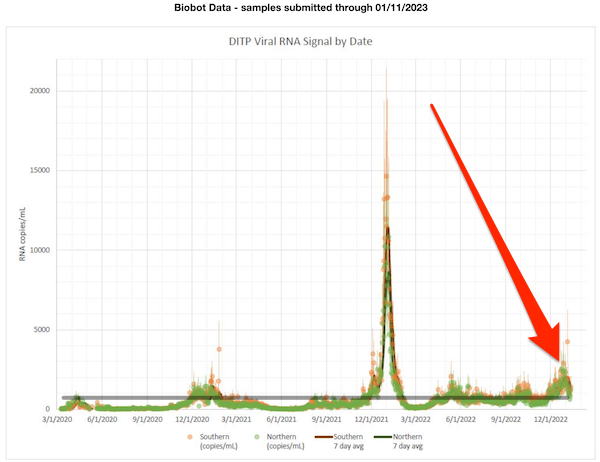 Lambert here: Unmistakably down, north and south. However, not all the students are back; BU classes begin January 19; Harvard's January 22.
Variants
Lambert here: It's beyond frustrating how slow the variant data is. Does nobody in the public health establishment get a promotion for tracking variants? Are there no grants? Is there a single lab that does this work, and everybody gets the results from them? [grinds teeth, bangs head on desk]. UPDATE Yes. See NC here on Pango. Every Friday, a stately, academic pace utterly incompatible with protecting yourself against a variant exhibiting doubling behavior.
NOT UPDATED Variant data, national (Walgreens), December 30: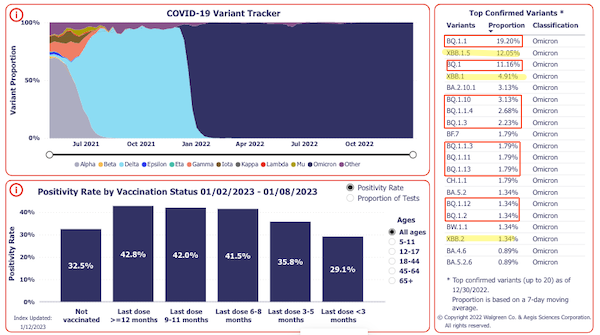 Lambert here: BQ.1* still dominates, XBB moving up fast. Note all the BQ subvariants; it's almost like something's encouraging them, like maybe a policy of mass infection. Sure hope none of 'em get lucky, like XBB.
NOT UPDATED Variant data, national (CDC), December 24 (Nowcast off):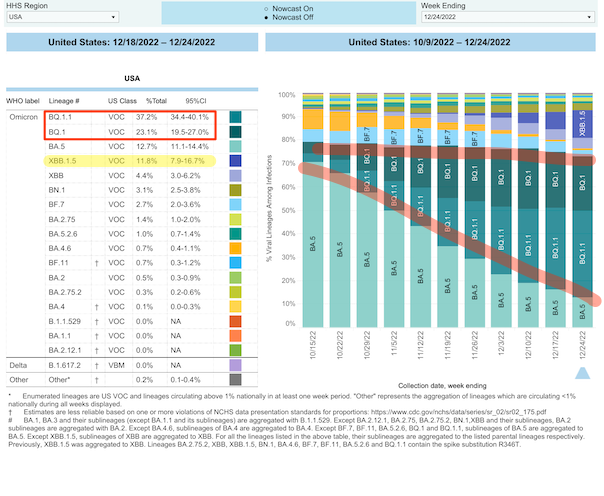 BQ.1* takes first place. XBB coming up fast. (For BQ.1/XBB and vaccine escape, see here.) Here is Region 2, the Northeast, where both BQ.1* and XBB are said to be higher, and are: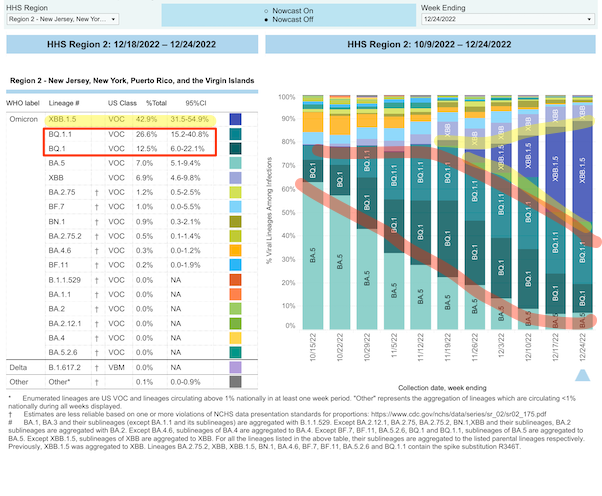 Holy moley, XBB.1.5! (Makes clear that Region 2 (New England) varies greatly from the national average. Wouldn't it be interesting if we ended up with different variants dominating different parts of the country.
• As a check, since New York is a BQ.1* hotbed, New York hospitalization, updated January 13: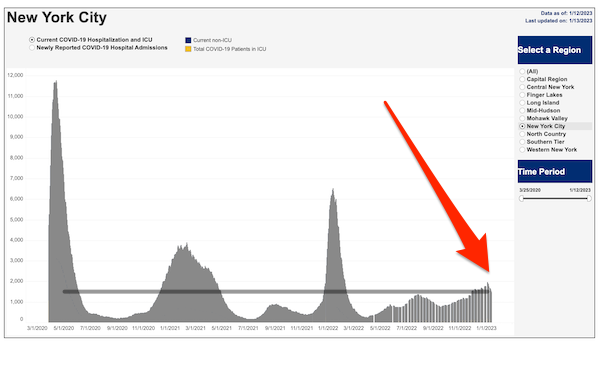 A retreat from the steady rise I have found so concerning.
• Hospitalization data for Queens, updated January 8:

Deaths
Death rate (Our World in Data):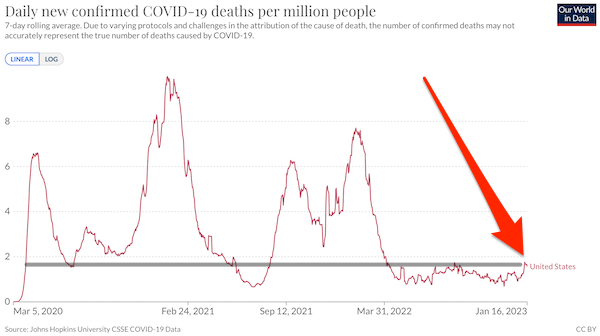 Total: 1,125,558 – 1,124,399 = 1159 (1159 * 365 = 423,035 deaths per year, today's YouGenicist™ number for "living with" Covid (quite a bit higher than the minimizers would like, though they can talk themselves into anything. If the YouGenicist™ metric keeps chugging along like this, I may just have to decide this is what the powers-that-be consider "mission accomplished" for this particular tranche of death and disease).
Lambert here: Deaths lag, so we have a nice little jump here as a consequence of whatever it is we've been going through.
It's nice that for deaths I have a simple, daily chart that just keeps chugging along, unlike everything else CDC and the White House are screwing up or letting go dark, good job.
Stats Watch
Manufacturing: "United States NY Empire State Manufacturing Index" [Trading Economics]. "The NY Empire State Manufacturing Index sank to -32.9 in January of 2023, the lowest reading since May of 2020, from -11.2 in December, and well below market forecasts of -9. The reading pointed to the fifth worst contraction ever in business activity in the NY state."
* * *
Finance: "The 'Buy Now, Pay Later' Bubble Is About to Burst" [The Atlantic]. "As familiar as Americans are with the concept of credit, many of us, upon encountering a sandwich that can be financed in four easy payments of $3.49, might think: Yikes, we're in trouble. Putting a banh mi on layaway—this is the world that "buy now, pay later" programs have wrought. In a few short years, financial-technology firms such as Affirm, Afterpay, and Klarna, which allow consumers to pay for purchases over several interest-free installments, have infiltrated nearly every corner of e-commerce. People are buying cardigans with this kind of financing. They're buying groceries and OLED TVs. During the summer of 2020, at the height of the coronavirus pandemic, they bought enough Peloton products to account for 30 percent of Affirm's revenue. And though Americans have used layaway programs since the Great Depression, today's pay-later plans flip the order of operations: Rather than claiming an item and taking it home only after you've paid in full, consumers using these modern payment plans can acquire an item for just a small deposit and a cursory credit check." • There's a metaphor here….
The Bezzle: "Fashion NFTs Total $245 Million In Sales. Can Brands Harness Success In 2023?" [Jing Daily] • No.
Entertainment: "The Disappearance of the Hit-Driven Business Model" [Dear Producer]. "Unfortunately, the hit-driven business model I built a career around is not the reality of the industry we are living in today, and I can finally admit that we are not going back to the way it was. I realized I hadn't acknowledged how much things had changed. Today, there is a very small speculative market compared to the 1990s and early 2000s, and large companies are no longer driven by the profit of each individual film. The current subscription-based business model removes the opportunity to create a hit. In the way the film economy works now, it is rare to generate a profit large enough to be shared by the parties responsible for making the film. The subscription model also closes the opportunity for additional ancillary profit in foreign markets or home video, which, in the past, could come from different outlets such as digital rental, cable, or broadcast television. In addition to economic issues, the subscription model has changed the way we watch movies on a cultural level. Audiences today don't have to decide on every story. They pay for a platform that has menus and choices within it, and they watch movies when and how they want. Streaming has won the battle over media consumers. That means subscription-based financing and profit are the norm. In this new model for storytelling, volume is more important than quality. If your goal is to gain and keep subscribers, the subscribers must feel they are important to the company. If the company spends time and energy on only certain audiences, the numbers fall, and that company becomes a niche; however, subscription services cannot only cater to niches, they must try to be everything to all people, which places more value on the content platform and its library than the quality of each individual piece of content. This complicates the industry's own metrics for telling the audience something is good, as box office numbers and awards seem to be losing meaning to consumers. Without the hit-driven business model, there has become no way for me to continue as an independent creative producer in the same way I was before. Development money + fees + bonuses + profit participation allowed for a speculative model of finding new properties, supporting new talent, and executing other people's stories. One hit could cover my overhead and the time between projects. But those days are gone. I am writing this because I am not alone and I hope telling my story can provide a framework for making hard decisions about how to build a new business model for creative producers. "
* * *
Today's Fear & Greed Index: 66 Greed (previous close: 63 Greed) [CNN]. One week ago: 51 (Neutral). (0 is Extreme Fear; 100 is Extreme Greed). Last updated Jan 17 at 12:38 PM EST.
Rapture Index: Closes down one on Drought. "Heavy rains bring drought relief to western states" [Rapture Ready]. Record High, October 10, 2016: 189. Current: 186. (Remember that bringing on the Rapture is good.) NOTE on #42 Plagues: "The coronavirus pandemic has maxed out this category." More honest than most!
Under the Influence
"Kanye West's legal team seeking to take out newspaper ads to inform him they're no longer representing him" [Daily Mail]. "A group of attorneys representing Kanye West are planning to take out large newspaper ads to inform the rapper they are no longer providing him legal services. Lawyers for the firm Greenberg Traurig, LLP said in docs reviewed by TMZ that West, 45, has shut off the phone number they had to contact him with, leading to 'a breakdown in communication' with the ex-husband of Kim Kardashian. The attorneys said that their firm has sought to notify West via 'alternative means' of telling West that they were no longer representing him, along with publishing a court order issued by a judge permitting the severance of the professional relationship." • Wowsers….
Gunz
Great thread:
Conversation #1:

Man: Hey God, I just want you to know I am committed to protecting my family at all costs.

God: Gosh, that's great to hear.

One of the main things I need you to do to protect your family is laundry. Tons of laundry. You know kids…

4/

— Gabrielle Blair (@designmom) February 5, 2020
The Gallery
Satellite photo (1):
Sakha Republic, Far Eastern Federal District, Russia (59.0°N 128.2°E), 25 Nov 2022 pic.twitter.com/nkjfDqqYap

— Sentinel 2 Bot (@Sentinel2Bot) January 17, 2023
Satellite photo (2):
Jackson Pollock, One: Number 31, 1950, 1950 #museumarchive #museumofmodernart https://t.co/qMWOYskocp pic.twitter.com/Ayym1b2DhA

— Jackson Pollock (@artistpollock) January 17, 2023
Zeitgeist Watch
Why the heck is it "smart" to have Alexa listening in to your time on the throne?
ICYMI: A $10,000 smart toilet with built-in Amazon Alexa, mood lighting and automatic seat-lifting and lowering made a splash at the CES 2023 tech trade show in Las Vegas pic.twitter.com/EU14q9n3qX

— Reuters (@Reuters) January 15, 2023
Groves of Academe
"Has Academia Ruined Literary Criticism?" [The New Yorker (AL)]. ""Cultural Capital" emerged when literature departments were in the throes of the "canon wars." These were curricular skirmishes fought between progressives, who wanted to "open the canon" to work by authors from marginalized groups, and conservatives, who feared that identity politics was being elevated over aesthetic value. Guillory's insight was that these differences of opinion were, at root, almost secondary, less structural than cosmetic. Progressives and conservatives alike were participating in a system whose main function was the production of what the French sociologist Pierre Bourdieu called "cultural capital": the distinctive styles of speaking, writing, and reading that marked degree holders as members of the educated class. To be the kind of person who could translate the Iliad in 1880, or do a close reading of a poem in 1950, or "queer" a work in 2010, was to be manifestly the product of a university, and to reap economic and social rewards because of it. Any claim about what should be taught had to be seen in light of the academy's institutional role. Whether one spoke of the Western canon (as Bloom did), the feminist canon (as Sandra Gilbert and Susan Gubar did), or the African American canon (as Henry Louis Gates did), the idea of a literary canon was a form of cultural capital…. At the same time, the shifting economic order has made the cultural capital of literature less valuable in market terms. The professoriat has struggled to demonstrate a connection between the skills cultivated in \literature classrooms and those required by the professional-managerial jobs that many students are destined for. (Writing the previous sentence, I was startled to recall, for the first time in years, the lyrics of the song "What Do You Do with a B.A. in English?," from the Broadway musical "Avenue Q": "Four years of college and plenty of knowledge / Have earned me this useless degree. / I can't pay the bills yet, / 'Cause I have no skills yet.") As a result, literary study has contracted. State legislatures have slashed funding for the arts and humanities; administrators have merged or shut down departments; and the number of tenure-track jobs for graduate students has dwindled. Since the nineteen-sixties, the proportion of students pursuing degrees in English has dropped by more than half. The result is a tale of two crises—the economically driven "crisis of the humanities" and what Guillory calls a "crisis of legitimation" among the professoriat." • As I keep saying, for a long time — until an out-of-state President dissed him — Stephen King was the largest donor to the University of Maine. From the English Department. I mean, surely we're not arguing that narrative should be the sole purview of spooks and public relations professionals?
"'Dismay and anxiety' on college campuses as DeSantis ramps up anti-CRT campaign" [Orlando Sentinel]. "Yovanna Pineda, hired more than a decade ago to teach Latin American history at the University of Central Florida, rebranded one of her signature courses last fall. Striking references to 'dictatorships' and 'human rights' from the title, she decided to simply call her class 'History of South America.' Pineda said many of her colleagues are making similar changes, either because they fear blowback from state leaders who say they are trying to eliminate 'indoctrination' from university campuses or because they don't want the hassle of additional scrutiny. 'Some of us are becoming a little more cautious about how we say things and much more aware of how we title our courses,' Pineda said." • "History of South America" is a bolder, and more accurate, claim IMNSHO.
Our Famously Free Press
"Our Migration to Rumble and Locals" [Glenn Greenwald]. "The only way this new live nightly show could work is if it were highly professionalized. That required building a new state-of-the-art studio, hiring a large team of in-studio technical professionals and a team to work with me on the editorial content, along with a significant advertising budget (which we have yet to use) to promote the show and attract an ever larger audience. An article this week from Rolling Stone, largely intended as a hit piece on Rumble, contained a reasonably fair section on our new show and noted that SYSTEM UPDATE 'has 15 employees working in [our] Rio de Janeiro studio, and seven more on the editorial side.' In other words, Rumble made a very significant investment to enable this program to succeed, and it is investing even more in promoting the show. As you might imagine, negotiations involving this level of resources and commitment on both their part and ours involved a great deal of horse-trading, concessions, and give-and-take. One of Rumble's conditions for investing so much in our program was that we move our written journalism to Locals, the community-based publishing platform which they purchased last year. This was not something we originally wanted to do. We have had nothing but the best of experiences with Substack, and I continue to believe Substack is an excellent and important platform for empowering independent journalists and providing them a way to exercise full editorial freedom, free of external pressures to censor. But for reasons I fully understand, Rumble was adamant that we move from Subtack to Locals as part of this deal, and that was a condition we ultimately accepted. Our one condition for this move was that Locals upgrade its software and platform so that our written articles there render as professionally as they do here on Substack. The engineers at Locals worked for months and improved everything to meet that standard. The last written article we published on Substack — on how the U.S. Security State is leveraging the threat to ban TikTok from the U.S. to commandeer the power to censor that site — was co-published on Locals, and you can see the quality of that publication on Locals here." • Hmm.
Class Warfare
"Dollar store workers organize in New Orleans" [Facing South]. "On Dec. 10, dollar store workers in New Orleans took part in a protest organized by Step Up Louisiana outside of a Family Dollar, where they discussed the challenges they face on the job and presented a list of demands. The rally attracted workers from other dollar stores in Louisiana, as well as Maximus call center workers in Hattiesburg, Mississippi, who handle customer service for Medicare and the Affordable Care Act marketplace and who have been organizing for better pay and working conditions. The dollar store workers' demands include having community safety managers at store locations. These would be in-house positions, with those hired trained in de-escalation and self-defense. Currently the stores typically provide security under contract with off-duty police officers or private security companies. Other demands include ensuring no worker is alone or otherwise left vulnerable during their shift, especially at night. In addition, workers want paid time off and compensation after exposure to violence, dangerous incidents, or harm in the workplace. Workers are also demanding a pay increase to $25 an hour. Currently, the typical hourly pay for a retail associate/cashier in Louisiana is as low as $9 to $13 an hour."
"An Office Is Wherever We Decide It Is" [New York Magazine]. "A strange and alluring book, The Office of Good Intentions: Human(s) Work, by the architects Florian Idenburg and LeeAnn Suen, chronicles many attempts to adapt the old analog scheme for the digital age, with results that have ranged from the whimsical to the utopian to the sinister. The collection of essays and case studies doesn't make an explicit case for or against the office, or offer platitudinous architectural solutions (more lounges, more outdoor space). Instead, the authors roll out a brutal analysis of an entire category of potential clients. With each technological shift, they suggest, companies have tended to treat employees like lab mice, doling out treats, monitoring their behavior, and creating ever more elaborate illusions of freedom. In this scheme, the employee doubles as a product, a font of data that can be packaged for other companies to exploit."
News of the Wired
"'The One' Review: Platonic Particles and Waves of History" [Wall Street Journal]. "Mr. Päs homes in on a particular kind of monism—the idea that God is not separate from nature but an immanent part of it—and uses it as scaffolding for a theory that sees every form of monism as having been condemned as heresy. This, he implies, is why it took so long for quantum entanglement to be discovered. He believes the insight existed long before, citing the 9th-century Irish philosopher John Eriugena, who 'drew on Platonism to develop a radical reinterpretation of the earthly and divine realities and the Christian notion of heaven, hell, and the Fall of Man.' Mr. Päs considers it 'a monistic philosophy bearing striking similarities to the workings of quantum mechanics.' The Irishman supposedly pre-empted Heisenberg by a thousand years, though even he was late to the game. 'Accepting 'love' as a metaphor for entanglement indeed makes it possible to read the biblical Genesis as an allegory for quantum decoherence.'" • What.
"The Emotional Benefits of Wandering" [Wall Street Journal]. "One of my greatest pleasures is to be what the French call a "flâneur"—someone who wanders randomly through a big city, stumbling on new scenes. The flâneur has a long and honored literary history. The surrealists used to choose a Paris streetcar at random, ride to the end of the line and then walk around. And think of Mrs. Dalloway in London, Leopold Bloom in Dublin or Holden Caulfield in New York. But is there any scientific evidence for the benefit of 'street-haunting,' as Virginia Woolf called it? Two new studies led by Catherine Hartley of New York University and colleagues suggest that being a flâneur is good for you. In both, they cleverly combined GPS data with happiness ratings. The first study appeared in the journal Nature Neuroscience in 2020. Over 100 people in New York and Miami agreed to share their phone's GPS data for three months, and they regularly rated their mood on an app. The researchers analyzed the GPS data with a measure called 'roaming entropy," which captures how new, varied and unexpected your locations are, and compared it with the mood ratings. More roaming entropy predicted more well-being. What's more, how much you wandered on a given day predicted how happy you were later on, but not vice versa. So it looks as if wandering makes you happy, not just that when you're happy you wander more. The researchers also analyzed census data and confirmed what the surrealists knew: that wandering led people into different kinds of neighborhoods, rich or poor, white or black or Hispanic—what the researchers dryly called 'sociodemographic experiential variability.' This experience is one of the glories of urban life, and further analyses showed that this social wandering was what really predicted happiness, beyond just physical wandering." • Neat! Can confirm.
* * *
Contact information for plants: Readers, feel free to contact me at lambert [UNDERSCORE] strether [DOT] corrente [AT] yahoo [DOT] com, to (a) find out how to send me a check if you are allergic to PayPal and (b) to find out how to send me images of plants. Vegetables are fine! Fungi and coral are deemed to be honorary plants! If you want your handle to appear as a credit, please place it at the start of your mail in parentheses: (thus). Otherwise, I will anonymize by using your initials. See the previous Water Cooler (with plant) here. From GF: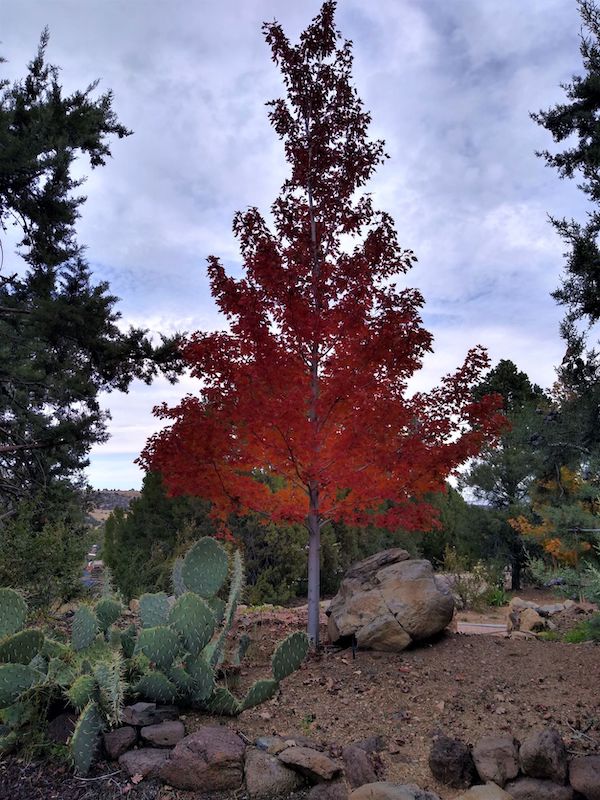 GF writes: "Taken on one of my morning walks." Morning walks are good, especially if the solstice just past has upset one's equilibrium.
* * *
Readers: Water Cooler is a standalone entity not covered by the annual NC fundraiser. So if you see a link you especially like, or an item you wouldn't see anywhere else, please do not hesitate to express your appreciation in tangible form. Remember, a tip jar is for tipping! Regular positive feedback both makes me feel good and lets me know I'm on the right track with coverage. When I get no donations for five or ten days I get worried. More tangibly, a constant trickle of donations helps me with expenses, and I factor in that trickle when setting fundraising goals:
Here is the screen that will appear, which I have helpfully annotated: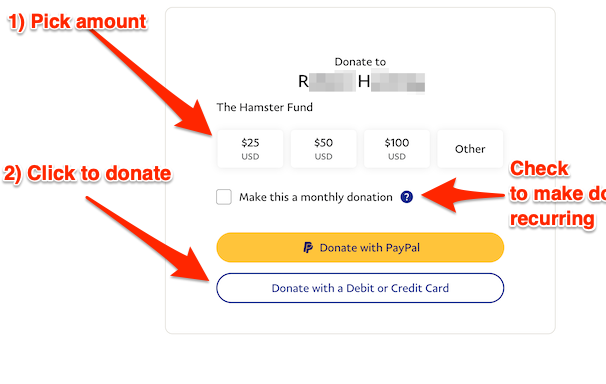 If you hate PayPal, you can email me at lambert [UNDERSCORE] strether [DOT] corrente [AT] yahoo [DOT] com, and I will give you directions on how to send a check. Thank you!