By Lambert Strether of Corrente.
Bird Song of the Day
Say's Phoebe, Cimarron, Oklahoma, United States. Another epic media note:
Habitat: grassland. "Pair interacting and mating. Male started with dawn song and changed to diurnal song. Birds were in the campground in a canyon that is vegetated with cedars and tall grasses. They were nesting on a building, or near it." Other Behaviors: Advertise, Court.
What the heck do birds do when they "advertise"? Do they have agencies? Do I want to know?
* * *
Politics
"But what is government itself, but the greatest of all reflections on human nature?" –James Madison, Federalist 51
"Here's food for thought, had Ahab time to think; but Ahab never thinks; he only feels, feels, feels" –Herman Melville, Moby Dick
"So many of the social reactions that strike us as psychological are in fact a rational management of symbolic capital." –Pierre Bourdieu, Classification Struggles
Abortion
Democrats, good job:

Democrats not codifying Roe: a timeline, 1973-2023 pic.twitter.com/8fx6fCFhyI

— @mk2k@mstdn.social (@41_times_32) January 19, 2023

A party whose very life is a lie — and to one of their most important consituencies, no less.
Biden Administration
"The McCarthy deal is guaranteed fiscal brinkmanship" [Brookings Institution]. "In both the formal rules adopted for the session and the additional commitments made by McCarthy to building a winning coalition are provisions that bear on fiscal politics. Some of these changes are the result of negotiations with holdouts in the Republican conference who initially opposed McCarthy while others reflect longer-held GOP positions. Several provisions related to fiscal policy are better understood as expressions of Republicans' core positions rather than binding constraints, especially in a period of divided government. Consider, for example, the restoration of the Cut-As-You-Go (CUTGO) rule. Last used by the Republican majority between 2011 and 2019, CUTGO prohibits the consideration of measures that would increase, on net, mandatory spending such as Medicare and Medicaid; it permits, however, the House to bring up bills that reduce revenue. Under divided government, the chances of major new entitlement spending or major new tax cuts are low, and CUTGO, like other House rules, can be waived by a simple majority of the chamber. Often, a majority that has come to agreement on a measure is also willing to set aside any rules that stand as obstacles to passage. But codifying in the House rules a budget enforcement tool that, at least on paper, treats spending increases one way and tax cuts another reflects the GOP's core position on the question. In many ways, the agreements between McCarthy and the holdouts aren't surprising. House Republicans have been telegraphing for some time that they would be willing to take the debt limit hostage as leverage for enacting large spending cuts, and if past is prologue, we need only to look to 2011, the last analogous arrangement of divided government (GOP House, Democratic majority in the Senate, and a Democratic president in the White House) to find the country's last major debt limit crisis." • Of course, Democrats didn't get rid of the debt ceiling when they controlled both houses, so this is a fight, if it is a fight, that they wanted, despite all the whinging.

"Manchin floats fiscal commissions for debt limit bill" [Roll Call]. "Specifically, Manchin said he has talked 'briefly' with Speaker Kevin McCarthy about a bill he co-sponsored with Sen. Mitt Romney, R-Utah, in the last Congress to create a "rescue committee" for every endangered government trust fund, like the Social Security, Medicare and highway trust funds…. The Concord Coalition, a nonpartisan research group, named Romney and Manchin as its 2022 Economic Patriot Awards honorees because of their work on the legislation." • A "Grand Bargain," but in a new costume. No doubt Democrats are salivating at the prospect of being forced by revolving villain Manchin into doing something they wanted to do all along.
2024
"Biden's inner circle thinks documents flap is mostly 'DC elite' making 'DC noise' as they prepare reelection run" [CNN]. "President Joe Biden was planning to launch a campaign sometime in the period after his February 7 State of the Union address before word leaked about the documents found in his home – and that remains the plan, even as White House aides and his personal lawyers answer questions about who knew what when. The plans haven't changed, people familiar with the discussions say. The timeframe is the same. The president and his close-knit inner circle of advisers – largely the same circle that was tight around him as he prepared to launch his 2020 campaign – are on public lockdown as they avoid saying anything to avoid tripping any legal issues. But, they still think that – barring some major and deeply damaging revelation – this will blow over in time…. Those around Biden with actual information aren't laying their plans out to nervous donors or members of Congress, whom they know will turn around and talk publicly, and barely care about their complaints over being left out. They mock the political forecasters and the talk of "optics." They keep private score of four years' worth of critics whom they feel have fallen flat over and over and dismiss the idea that they've gotten so convinced by their own survival mythology that they always underplay whatever arises." • So the press is aching to go into full pull-the-wings-off-flies mode. As one does. And of course Biden's inner circle is right. But the interesting question is which faction of the political class is making "noise"… and that doesn't seem like a question anybody is willing to pose. Here is a novel theory:

First, note Britain has since day one been applying "pressure" behind the scenes to the US to escalate, due to Biden's "caution". And London's proxy war is being led by Chris Donnelly, who believes this position "must be challenged, firmly and at once"… pic.twitter.com/EhhXsb79mb

— Kit Klarenberg (@KitKlarenberg) January 18, 2023

That would account for the curious silence surrounding the question of "which faction," if the UK's spooks were allied with our own. (Possibly Biden doesn't wish to go "Full Cleveland" on Ukraine, while our own spooks do?)

"Biden reelection plans on track despite documents controversy" [The Hill]. "Multiple sources with knowledge of the campaign groundwork say Biden intends to signal his intention to seek a second term after the State of the Union address on Feb. 7. A more formal declaration would come closer to the spring. The classified documents discovery, which triggered the appointment of a special counsel last week by Attorney General Merrick Garland, has done nothing to change those plans, these sources said…. Since the story broke last week, the White House has tried to relay to the public that they handled the matter in the appropriate way, working to send the papers back to the National Archives. They say it's a far cry from Trump's handling of classified papers, prompting an FBI raid on Trump's home." • If you assume the FBI is not politicized, yes. And another question that's never asked: Why were Biden's lawyers sniffing around in the first place? Were they tipped off?
Democrats en Déshabillé
Patient readers, it seems that people are actually reading the back-dated post! But I have not updated it, and there are many updates. So I will have to do that. –lambert

I have moved my standing remarks on the Democrat Party ("the Democrat Party is a rotting corpse that can't bury itself") to a separate, back-dated post, to which I will periodically add material, summarizing the addition here in a "live" Water Cooler. (Hopefully, some Bourdieu.) It turns out that defining the Democrat Party is, in fact, a hard problem. I do think the paragraph that follows is on point all the way back to 2016, if not before:

The Democrat Party is the political expression of the class power of PMC, their base (lucidly explained by Thomas Frank in Listen, Liberal!). ; if the Democrat Party did not exist, the PMC would have to invent it. . ("PMC" modulo "class expatriates," of course.) Second, all the working parts of the Party reinforce each other. Leave aside characterizing the relationships between elements of the Party (ka-ching, but not entirely) those elements comprise a network — a Flex Net? An iron octagon? — of funders, vendors, apparatchiks, electeds, NGOs, and miscellaneous mercenaries, with assets in the press and the intelligence community.

Note, of course, that the class power of the PMC both expresses and is limited by other classes; oligarchs and American gentry (see 'industrial model' of Ferguson, Jorgensen, and Jie) and the working class spring to mind. Suck up, kick down.

* * *
#COVID19
Lambert here: I am but a humble tapewatcher, but unlike Eric Topol, I'm not calling a surge, because the last peak was Biden's Omicron debacle, and after an Everest like that, what's left? Topol's view is the establishment view: Hospital-centric. Mine is infection-centric. I do not see the universal acceleration or doubling in cases that I would expect to see based on past surges.
I am calling a "Something Awful." It's gonna be bad, in some new way, and we don't know how, yet (but see here for immune system dysregulation, which is looking pretty awful).
Stay safe out there!
* * *
• "U.S. asks court to reverse order banning airplane mask mandate to combat COVID" [Reuters]. "Much of the arguments in the appeal focus on the CDC's decision to put in place the requirements immediately rather than give the public a chance to comment on the mandate. Justice Department lawyer Brian Springer said the CDC could impose mask requirements without giving the public time to comment given the pandemic emergency, arguing it was necessary 'to prevent the possible infections and deaths that could result if people didn't do the simple thing of just putting on a mask while they were traveling.' Lawyer Brant C. Hadaway representing the five people who had sued to challenge the mandate noted the CDC last year had not sought a stay of the district court's ruling. ;This is not about an urgent matter of public health,' Hadaway told the court. He argued that had the CDC believed the issue was a "matter of life and death" the agency would have sought a faster ruling.'" • Commentary:
👀 ⬇️ what the judges said so far about the arguments for reinstating CDC power to require masks on transit

It's not looking great for CDC's ability to mandate, even in a deadly/disabling airborne pandemic

"11th Circuit Court Hints CDC Mask Mandate Procedurally Flawed"

— Moriah (Galores Flying Circus) (@GaloresCircus) January 18, 2023
I cannot get access to this Law360 article, so here it is, as a thread of screendumps.
* * *
* * *
• "Swab the Throat as Well as the Nose? The Debate Over the Best Way to Test for SARS-CoV-2" [JAMA]. "Combining a nasal swab with a throat swab might improve the sensitivity of rapid antigen tests, but no one has found that throat swabs alone are superior to nasal swabs. 'We always say if you're going to swab one spot it should be the nose,' [Glenn Patriquin, codirector of bacteriology at Dalhousie University's QEII Diagnostic Microbiology Laboratory] noted. 'We would never recommend swabbing only the throat.'" Oh, and: "Manufacturers have little incentive to check whether adding throat swabs is safe and effective because their nasal swab tests are selling just fine, [Rustem Ismagilov, PhD, director of the Jacobs Institute for Molecular Engineering for Medicine] noted." •
* * *
Case Data
NOT UPDATED BioBot wastewater data from January 17: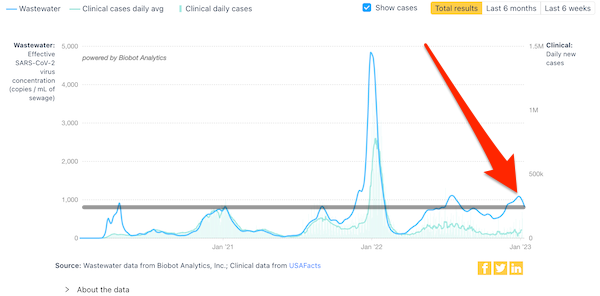 Lambert here: For now, I'm going to use this wastewater data as the best proxy for case data (ignoring the clinical data portion of this chart, which in my view "goes bad" after March 2022, for reasons as yet unexplained). At least we can spot trends, and compare current levels to equivalent past levels.
Transmission
Here is CDC's interactive map by county set to community transmission (the "red map," which is the map CDC wants only hospitals to look at, not you.) The map is said to update Monday-Friday by 8 pm: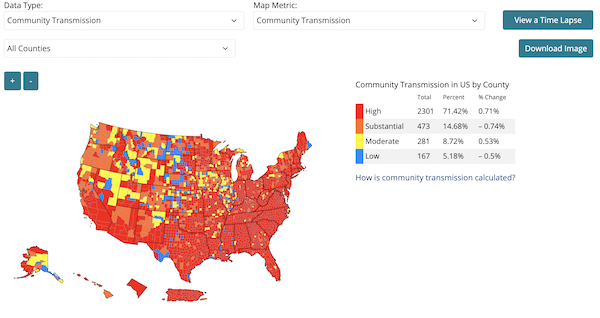 The previous map: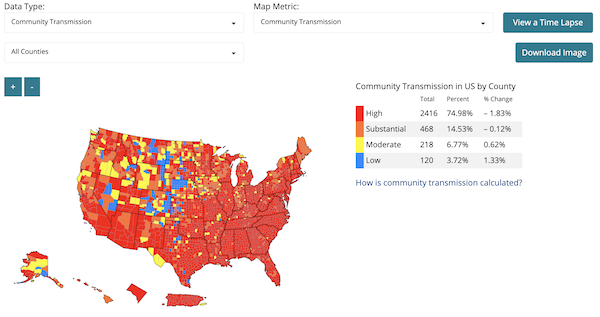 NOTE: I shall most certainly not be using the CDC's new "Community Level" metric. Because CDC has combined a leading indicator (cases) with a lagging one (hospitalization) their new metric is a poor warning sign of a surge, and a poor way to assess personal risk. In addition, Covid is a disease you don't want to get. Even if you are not hospitalized, you can suffer from Long Covid, vascular issues, and neurological issues. That the "green map" (which Topol calls a "capitulation" and a "deception") is still up and being taken seriously verges on the criminal.
Positivity
From the Walgreen's test positivity tracker, published January 18: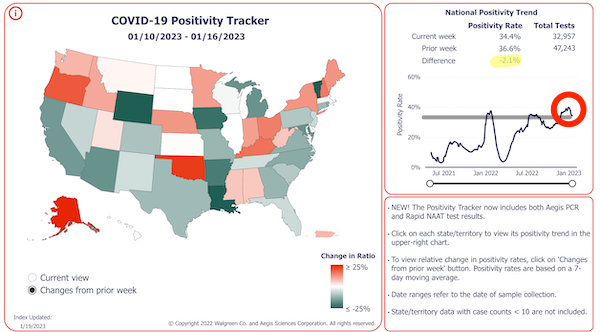 -2.1.%. Slightly below past peaks, still very high.
Wastewater
Wastewater data (CDC), January 15: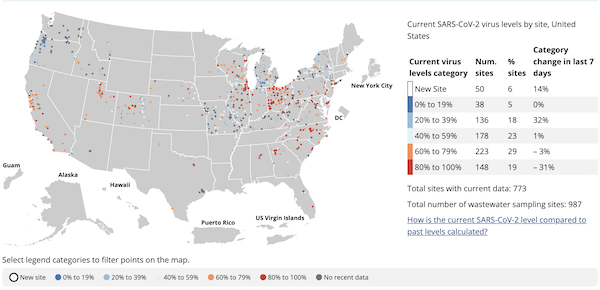 January 14: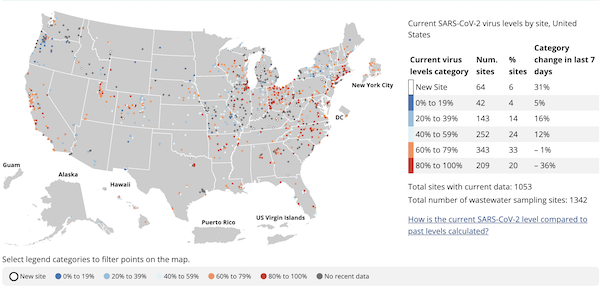 And MWRA data, January 10: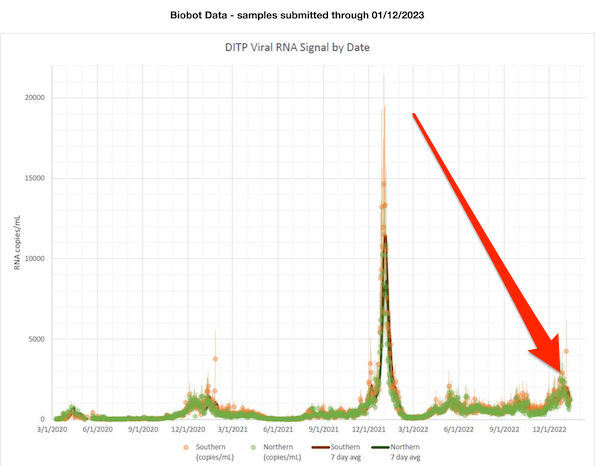 Lambert here: Unmistakably down, north and south. However, not all the students are back; BU classes begin January 19; Harvard's January 22.
Variants
Lambert here: It's beyond frustrating how slow the variant data is. Does nobody in the public health establishment get a promotion for tracking variants? Are there no grants? Is there a single lab that does this work, and everybody gets the results from them? [grinds teeth, bangs head on desk]. UPDATE Yes. See NC here on Pango. Every Friday, a stately, academic pace utterly incompatible with protecting yourself against a variant exhibiting doubling behavior.
Variant data, national (Walgreens), January 9: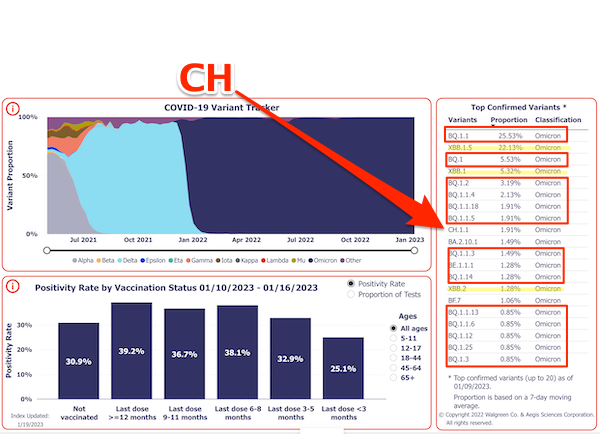 Lambert here: BQ.1* and XBB still dominate. However, CH.1.91 appears for the first time at 1.9%. That's a little unsettling, because a Tweet in Links, January 11 from GM drew attention to it ("displays such a high relative growth advantage") and in Water Cooler, January 18, from Nature: "CH.1.1 and CA.3.1 variants were highly resistant to both monovalent and bivalent mRNA vaccinations." Now here is CH.1.1 in the Walgreens variant data. Let's see what CDC does with it tomorrow. The Covid variant train always leaves on time, and there's always another train coming!
NOT UPDATED Variant data, national (CDC), December 24 (Nowcast off):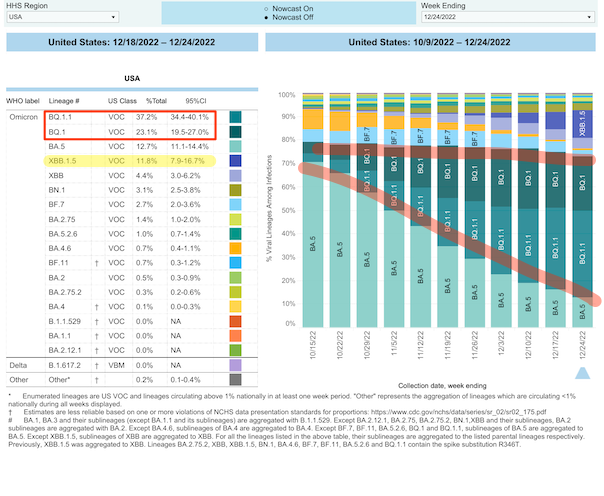 BQ.1* takes first place. XBB coming up fast. (For BQ.1/XBB and vaccine escape, see here.) Here is Region 2, the Northeast, where both BQ.1* and XBB are said to be higher, and are: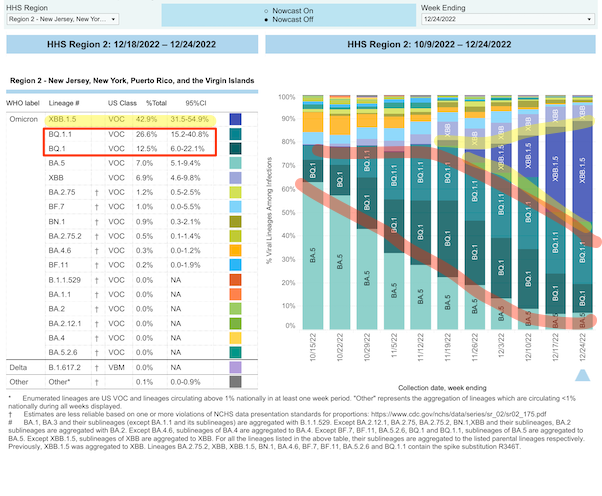 Holy moley, XBB.1.5! (Makes clear that Region 2 (New England) varies greatly from the national average. Wouldn't it be interesting if we ended up with different variants dominating different parts of the country.
• As a check, since New York is a BQ.1* hotbed, New York hospitalization, updated January 18: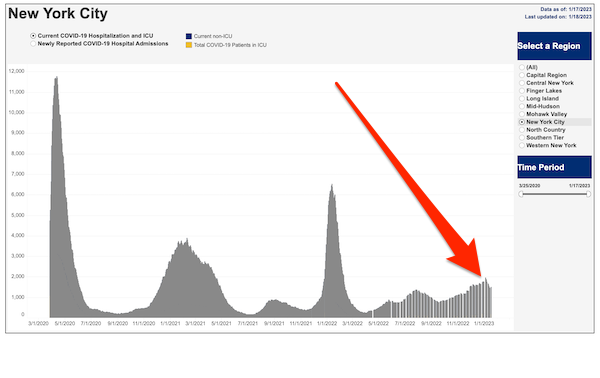 A retreat from the steady rise I have found so concerning.
• Hospitalization data for Queens, updated January 14:

Deaths
Death rate (Our World in Data):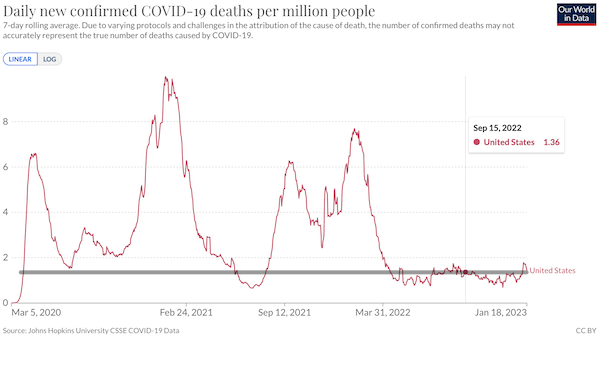 Total: 1,127,059 – 1,125,895 = 1164 (1164 * 365 = 424,860 deaths per year, today's YouGenicist™ number for "living with" Covid (quite a bit higher than the minimizers would like, though they can talk themselves into anything. If the YouGenicist™ metric keeps chugging along like this, I may just have to decide this is what the powers-that-be consider "mission accomplished" for this particular tranche of death and disease).
Lambert here: Deaths lag, and now we have some confirmation that whatever we just went through is decreasing.
It's nice that for deaths I have a simple, daily chart that just keeps chugging along, unlike everything else CDC and the White House are screwing up or letting go dark, good job.
Stats Watch
Employment Situation: "United States Initial Jobless Claims" [Trading Economics]. "The number of Americans filing new claims for unemployment benefits fell by 15,000 from the previous week to 190,000 on the week ending January 14th, the lowest in four months and well below market expectations of 214,000. The result further consolidated evidence of a tight labor market despite the Federal Reserve's aggressive tightening path last year, challenging market bets that the Fed will halt its tightening path before reaching the forecasted terminal rate of 5.25%."
Manufacturing: "United States Philadelphia Fed Manufacturing Index" [Trading Economics]. "The Philadelphia Fed Manufacturing Index in the US rose to -8.9 in January of 2023 from a revised reading of -13.7 in December, compared to market expectations of -11. It was still the fifth consecutive negative reading and the seventh negative reading in the past eight months. More than 33 percent of the firms reported declines in activity, exceeding the 24 percent that reported increases."
* * *
Retail: "Shopper Rebellion Against Higher Prices Helps Slow Inflation" [Wall Street Journal]. "The study, by economists at the Federal Reserve Bank of Kansas City, found that higher markups—the gap between what a firm charges and what it costs to produce an item—were a major driver of inflation in 2021." • Like the man said: Prices rise because firms (owners; managers) decide to charge more.
Tech: "Dozens of media companies set 2023 content deals with Twitter" [Axios]. "Twitter is planning to run content sponsorship deals with more than three dozen news outlets, media companies and sports leagues in the first half of this year, according to a schedule of events shared with ad partners and seen by Axios. Elon Musk's leadership style has caused many advertisers to flee, but ." In other words, Blue Check hysteria and backbiting is completely misplaced, and Twitter has a sound business model? Sure looks like it: "This year, almost all of the major sports leagues, including the NFL, NBA, NHL, MLB, NASCAR, PGA Tour and more, plan to run content deals on Twitter around regular season games and tentpole events, like March Madness, NBA Playoffs and the Super Bowl, according to the schedule seen by Axios." • Now fix the timeline cropping.
The Bezzle: "This 22-year-old is trying to save us from ChatGPT before it changes writing forever" [NPR]. "On January 2nd, [22-year-old Edward Tian] released his app. He named it GPTZero. It basically uses ChatGPT against itself, checking whether 'there's zero involvement or a lot of involvement' of the AI system in creating a given text. When Tian went to bed that night, he didn't expect much for his app. 'When I put this out there, I just thought maybe a few dozen people at best might try it,' Tian says. 'I was not expecting what happened.' When Tian woke up, his phone had blown up. He saw countless texts and DMs from journalists, principals, teachers, you name it, from places as far away as France and Switzerland. His app, which is hosted by a free platform, became so popular it crashed. Excited by the popularity and purpose of his app, the hosting platform has since granted Tian the resources needed to scale the app's services to a mass audience….. Which brings us to the other purpose that Tian envisions for his app: to identify and incentivize originality in human writing. 'We're losing that individuality if we stop teaching writing at schools,' Tian says. 'Human writing can be so beautiful, and there are aspects of it that computers should never co-opt. And it feels like that might be at risk if everybody is using ChatGPT to write.'" • One concept seems to be, at least for "journalism" that ChatGPT will write the first draft, and then humans will improve it. You know editors and publishers will cut humans out of the loop as soon as possible, quality or no.
The Bezzle: "A Crypto Magnate Saw the Risks and Still Was Hammered" [Wall Street Journal]. "A year ago, Barry Silbert's 40% stake in Digital Currency Group Inc., or DCG, was valued at more than $3 billion. A crypto conglomerate, with tentacles in nearly every corner of the industry from lending to bitcoin mining, DCG worked out of plush Connecticut offices featuring a marble-countertop kitchen with a coffee barista and a French chef. Mr. Silbert is a 46-year-old finance veteran who began his career working on restructurings and dealing with downturns. Unlike many crypto executives, he tweeted warnings about the risky behavior he saw in digital assets, suggesting he anticipated what could go wrong. Today, Mr. Silbert is trying to keep DCG's lending firm out of bankruptcy. Other DCG businesses, such as fund manager Grayscale Investments, bitcoin miner Foundry and media-and-events provider CoinDesk also face significant challenges." • Grayscale? Really?!
* * *
Today's Fear & Greed Index: 54 Neutral (previous close: 55 Neutral) [CNN]. One week ago: 54 (Neutral). (0 is Extreme Fear; 100 is Extreme Greed). Last updated Jan 19 at 1:40 PM EST. We were doing pretty good on the Greed for awhile. Now the needle slams back to Neutral.
The Gallery
Yes:
You deserve some flowers today, for the best reason of all: none. 💐

🖌️ Berthe Morisot, "Peonies," 1869, oil on canvas pic.twitter.com/IxndbCcbtk

— National Gallery of Art (@ngadc) December 17, 2022
"It's not even past"
Maybe I should file this under "Feral Hog Watch," idk:
Ever wondered where Hitler got his ideas? pic.twitter.com/kEeV0dJChv

— gathara (@gathara) January 18, 2023
See Hitler's American Model; Nazi legal theorists came to America to study Jim Crow; they considered it very modern, albeit sadly misdirected at the wrong racial target.
Health Care
"Loss of epigenetic information as a cause of mammalian aging" [Cell]. "Cellular responses to double-stranded DNA breaks erode the epigenetic landscape. This loss of epigenetic information accelerates the hallmarks of aging. These changes are reversible by epigenetic reprogramming. By manipulating the epigenome, aging can be driven forward and backward." • I'm all for life extension. As long as the medication is distributed via sortition.
Under the Influence
"'The ladies themselves bought into it': How 'Housewives' fans upended the franchise" [Los Angeles Times]. "'We're well past 10 years of this franchise being on the air, and it's still making national headlines,' Kelley said. 'I muted my work call to listen to Jen Shah's sentencing, and I know I'm not the only one doing that.' 'Real Housewives' isn't just a reality TV saga. The Bravo mainstay is also an addictively messy and scandal-plagued fantasy epic, one that has obsessed fans throughout its nearly 17 years on air. And as with 'Star Wars,' 'The Lord of the Rings' or 'Game of Thrones,' its admirers aren't passive viewers; they've become a vital part of the 'Housewives' ecosystem…. 'The Bravo accounts used to mostly just be memes and pictures,' said @BravoandCocktails_' B. 'But some accounts started posting more tea; people like that, so other accounts felt that they needed to get into that. And I think that the more accounts there were, the bigger we got, the more the network bought into it, the more that the PR people and the ladies themselves bought into it — it's marketing. It costs nothing for Dorinda [Medley] to send me a bottle of bourbon; she knows I'm going to post it, and now my 100,000 followers are going to be like, 'Did you like it?' And if I say yes, they buy it. It's changed the landscape completely.'" • Ecosystem.
Zeitgeist Watch
"How Harajuku became the blueprint for Instagram style" [Vice]. "Harajuku, a small neighbourhood between the busy shopping mecca of Shibuya and neon-hued nightlife of Shinjuku, became the epicentre of a series of truly fashion-led subcultures that were transmitted to the rest of the world through the street style bible FRUiTS…. With trends appearing in a flash and disappearing just as quickly, this thriving area became the most exciting place to be in Tokyo in the late 1990s and early 2000s. At the time, these style subcultures were a rebellion against the upright, corporate mentality of Japan. Little did these innovators know that their jaw-dropping approach to fashion would still be influencing and inspiring the global fashion industry over two decades on." • Well, I wish Harujuku would figure out how to make masks trendy.
No:
Apparently this is a real thing. pic.twitter.com/xbJkUu90ec

— Stilgherrian (@stilgherrian) January 19, 2023
Well, maybe in Manhattan.
Groves of Academe
Jesus H. Christ. https://t.co/ZcUVVzXn93

— Katherine Rye Jewell, Ph.D. 📻🎙🎧 (@katisjewell) January 19, 2023
News of the Wired
Reply All saga:
This all began on Tuesday, near 1800, when someone scheduled and then cancelled a Teams meeting

All well and good, until you realize there's like 350 ppl on this thing. And most of them weren't supposed to be there. As chaff to the wind, so human nature rushes to reply to all

— Angry Staff Officer (@pptsapper) January 17, 2023
It goes on…. And speaking of email–
"Bosses are forced to contact Generation Z employees on Instagram because increasing numbers of young staff ignore work email" [Daily Mail]. At Davos: "Bosses are taking to Instagram or Linkedin to speak to employees as an increasing number of young Generation Z workers do not check their emails. Chief executive of one of the world's biggest IT companies Wipro, Thierry Delaporte has spoken about how employers are having to rethink the way they communicate with their staff. … 'They don't even check emails sometimes. We have about 20,000 who we know don't check even one email per month. They're 25, they don't care. 'They don't go on their emails, they go on Snapchat, they go on all these things.' Mr Delaporte, of Wipro, which employs 4,500 people in the UK and 260,000 around the world, said around 10 per cent of his staff 'don't even check one email per month'. He spoke about a 'wake up call' for employers – and amid a culture of working from home he thinks about how to make sure he understands employees who are much younger than him. The chief executive of video platform Vimeo Anjali Sud backed Mr Delaporte's comments by comparing emails to outdated instruction manuals in modern society." • Of course, email isn't (necessarily) a walled garden owned by a ginormous monopoly, so it is natural Davos would try to destroy it. Why not make it a work requirement ffs?
* * *
Contact information for plants: Readers, feel free to contact me at lambert [UNDERSCORE] strether [DOT] corrente [AT] yahoo [DOT] com, to (a) find out how to send me a check if you are allergic to PayPal and (b) to find out how to send me images of plants. Vegetables are fine! Fungi and coral are deemed to be honorary plants! If you want your handle to appear as a credit, please place it at the start of your mail in parentheses: (thus). Otherwise, I will anonymize by using your initials. See the previous Water Cooler (with plant) here. From Copeland: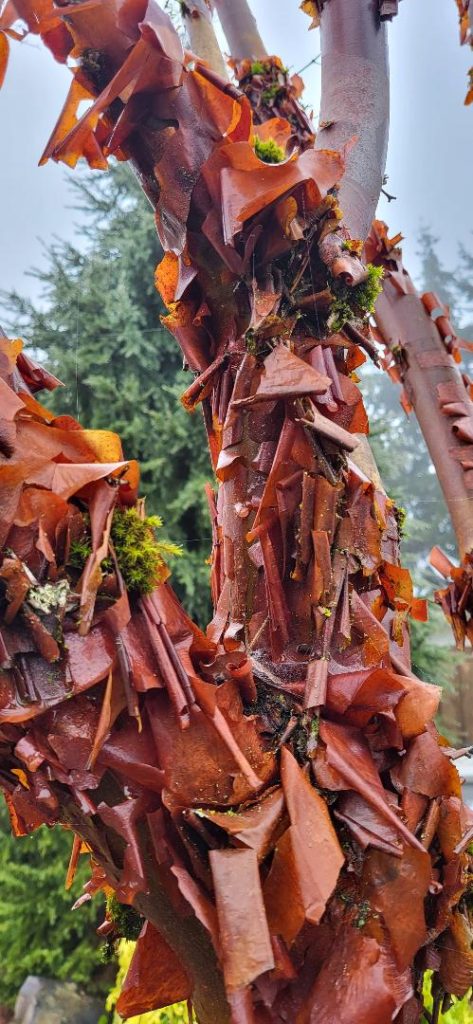 Copeland writes: "Exfoliating bark on Acer griseum."
* * *
Readers: Water Cooler is a standalone entity not covered by the annual NC fundraiser. So if you see a link you especially like, or an item you wouldn't see anywhere else, please do not hesitate to express your appreciation in tangible form. Remember, a tip jar is for tipping! Regular positive feedback both makes me feel good and lets me know I'm on the right track with coverage. When I get no donations for five or ten days I get worried. More tangibly, a constant trickle of donations helps me with expenses, and I factor in that trickle when setting fundraising goals:
Here is the screen that will appear, which I have helpfully annotated: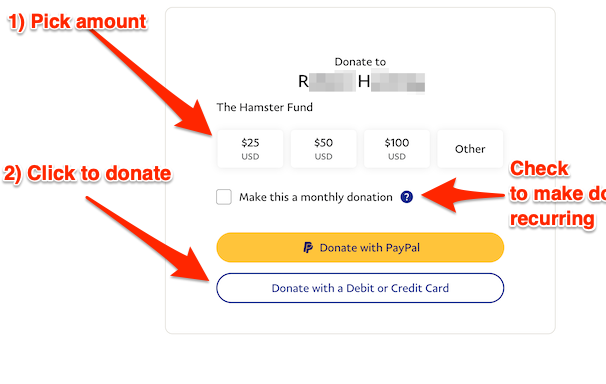 If you hate PayPal, you can email me at lambert [UNDERSCORE] strether [DOT] corrente [AT] yahoo [DOT] com, and I will give you directions on how to send a check. Thank you!