"Too many doses, billions in costs – the government [of Germany] wants to cancel the vaccine deal."
When Pfizer-BioNtech's experimental mRNA COVID-19 vaccine (a term that will be used rather loosely throughout this article) hit the market, in December 2020, it was met with a mixture of relief, excitement and pride in Germany, the country where it was developed. In some quarters it was treated as a literal godsend, including on the magazine cover of the December 23, 2020 edition of the German weekly Stern, whose main title read, "Vaccination: An Act of Charity":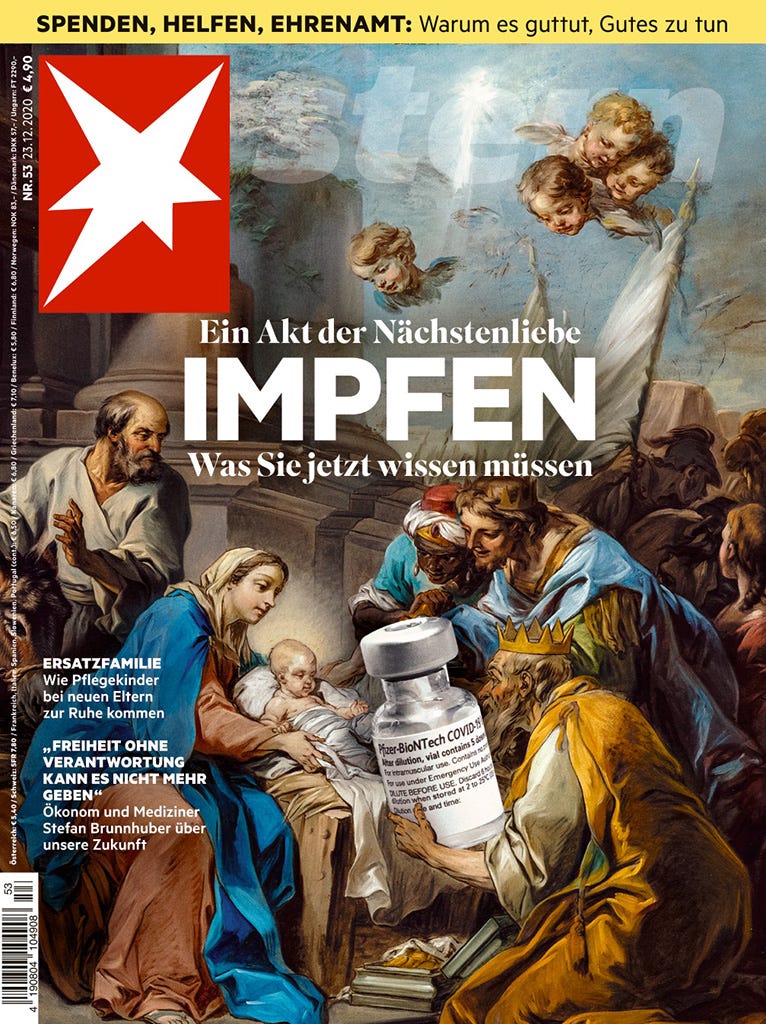 Much has changed since then. COVID-19 vaccine mandates and passports have come and, in most cases, gone (at least for now). But in the process tens of millions of unvaccinated people in so-called liberal democracies were demonized, systematically discriminated against and deprived of access to basic government services, public buildings and even the ability to travel or work.
As IM Doc noted in the comments section of KLG's fine essay, The Ethics of COVID-19 Vaccine Mandates: Where Do We Stand and Where Should We Go Regarding Social and Biomedical Responses to Pandemic, the mandates for these experimental drugs "went against the very essence of two of the most important statements of our ethical code as a civilization – The Nuremberg Code and the Helsinki Declarations. More importantly, they were a slap to the face of one of the guiding principles of medical ethics since Hippocrates – that of patient autonomy." All for the sake of vaccines that are not nearly as safe or as effective as originally claimed.
As I said, things have changed. Even in Germany, a country that came closer than most to enacting a universal COVID-19 vaccine mandate, Pfizer-BioNtech's scientific godsend has become a hugely expensive burden.
"Too many doses, billions in costs – the government wants to cancel the vaccine deal."
So reads the headline of an article published by Die Welt on Dec. 31, 2022. According to the article, there are currently more than 150 million surplus vials in the government's central warehouse — and no end in sight to the deliveries. The government now wants to cancel or reduce the additional orders made through the EU Commission for 2023 and 2024. Germany's Minister of Health Karl Lauterbach — who just a few months ago proposed taking Germany's vaccine passport restrictions to a whole new level — is taking flak as allegations mount that he reordered a huge new batch of the vaccines despite growing stockpiles amid slumping demand for the boosters.
More information seeped out earlier this week, in response to a freedom of information act request made by the right-wing populist political party Alternative for Germany (AfD). According to a later piece in Die Welt, Germany's government is actually sitting on a stockpile of over 30 million unused doses of the Pfizer BioNTech vaccine. But it is also on the hook for a total of 375 million doses of the Pfizer BioNtech COV-19 vaccine, of which 212 are yet to be delivered [machine translated]:
There is a surplus of around 32 million vaccine doses in the federal central warehouse. The federal government is also obliged to purchase around 375 million doses of the Corona vaccine from Biontech/Pfizer. But what happens to the surplus vaccine doses?

Germany has committed to buy around 375 million doses of the Corona vaccine from Biontech/Pfizer. This emerged from a response by the federal government to a request from the AfD parliamentary group, which the Bundestag published on Tuesday. Accordingly, as of November 30, 2022, the Federal Republic was contractually obliged to purchase around 283 million doses. In addition, there is a purchase obligation "for a further" 92.4 million. The government did not provide any information about the price per dose. This is subject to contractual confidentiality and may not be made public.
Both Pfizer BioNtech and the European Commission, which negotiated the EU's bulk purchase of COVID-19 vaccines, have agreed to keep schtum about the price of the vaccines, as well as a whole host of other details enclosed within the vaccine contracts. Those contracts are now the subject of an investigation by Europe's Public Prosecutor's Office (EPPO).
Both the EU Court of Auditors and the EU's ombudsman Emily O'Reilly have raised serious questions about the preliminary negotiations that took place between Pfizer's CEO Albert Bourla and Commission President Ursula von der Leyen in the lead up to the EU's biggest vaccine procurement deal. Both von der Leyen and the Commission she heads have refused to disclose the content of her communications with Bourla. Signed in May 2021, the resulting deal was for the acquisition of up to 1.8 billion doses of the Pfizer BioNtech vaccine.
Although the EU has not disclosed how much it paid for the vaccines, credible estimates have surfaced that place the price per shot at around €20. According to sections of the vaccine contracts seen by the Financial Times, the price for the vaccines in the EU's biggest vaccine contract was €19.50 a pop — a 26% markup on the initial price (€15.50) paid in late December 2020.
From that price, one can extrapolate that the EU paid up to €35 billion for the up to 1.8 billion vaccines. Meanwhile, Germany's federal government will have paid around €5 billion-6 billion for its 375 million vaccine doses, most of which were ordered after May 2021, at the higher prices. According to a response last January by the Bundestag to a previous FOI request from AfD, Angela Merkel's last government made its biggest order of Pfizer BioNtech vaccines, for 168 million doses, on September 22, 2021, just four days before Germany's general elections.
Now, back to the second Die Welt piece:
According to the Federal Ministry of Health's vaccination dashboard, a total of around 163 million doses of vaccine from Biontech/Pfizer were delivered by the end of last year, as well as around 60 million doses from other manufacturers such as Moderna. According to the data, more than 85% of the almost 223 million doses delivered have been administered so far. But there are still about 32 million doses left over. According to the vaccination dashboard, 7,000 people are currently being vaccinated per day.
But that's not the whole story. According to the Bundestag's response to the first FOI request from AfD, the German government ordered a total of 553.9 million COVID-19 vaccine doses from seven manufacturers (Astra Zeneca, Pfizer-BioNtech, Moderna, Johnson & Johnson, Sanofi/GSK, Valneva and Novavax) between August 2020 and December 2021. Almost all of them were ordered before September 2021. As NC reader Witzbold notes in a tweet, this suggests that the government already had plans for frequent boosters (and the accompanying vaccine mandates) well in advance of the first booster campaign of winter '21/'22.
Of those 553.9 million doses, 330.9 million are still yet to be delivered, according the Die Welt article. That doesn't include the additional 92.4 million Pfizer vaccines ordered by the Scholz government, which, once added, makes for a grand total of 646.3 million vaccine doses — equivalent to 7.8 doses per man, woman and child.
Of those, roughly 422 million doses are reportedly still yet to be delivered while some 32 million are sitting idly in the federal government's central warehouse. At the current rate of take up of 7,000 doses per day, it will take roughly 181 years to use up all 454 million of the surplus and yet-to-be-delivered vaccine doses. According to the US FDA the shelf-life of the Pfizer-BioNtech vaccines is 6-9 months, and only when stored at a temperature of -90 to -60 degrees Celsius. In other words, almost all of the vaccines will go to waste.
This may partly explain why Germany's government is so desperate to get China to approve Pfizer-BioNtech's mRNA COVID vaccines for its gargantuan population as it abandons its "zero" COVID lockdown policies. This was one of the issues German Chancellor Olaf Scholz raised with his Chinese counterparts during a visit to China in November. Among the coterie of German business leaders accompanying Scholz on the trip was BioNTech chief Uğur Şahin. From Politico:
Scholz agreed with Chinese President Xi Jinping and outgoing Prime Minister Li Keqiang that the countries will work more closely in the fight against the coronavirus, he said.

"This also includes an approval of the BioNTech vaccine for expats in China," he said during a press conference in Beijing.

The chancellor did not specify if he was referring to German expats only, or all expats in the country. But one influential financial news outlet, Caixin, reported that the BioNTech vaccine would only be available to "German expats" in China.

But down the line, Scholz made clear he hoped this would be a "first step" toward the wider use of the vaccine, through the general approval of the shot in China.

"Closer cooperation with the EU medicines agency [the European Medicines Agency] would pave the way here," he added, suggesting that BioNTech's marketing authorization application is still pending.
The vaccines will indeed only be available to German expats living in China, according to a Reuters article from yesterday (Jan 5). In what looks like a quid pro quo, the German health ministry in early December authorized the importation of China's Sinovac COVID-19 vaccine for administration to Chinese nationals living in Germany, despite the fact the European Union's drugs regulating agency is yet to give the shot the go-ahead.
Public Funds Come Full Circle
One bizarre aspect of the German federal government's complaints about the growing mountains of surplus Pfizer-BioNtech vaccines is that Germany's federal government was an important seed investor in BioNtech. Without public funds and support, the biotech firm may never have got off the ground, and probably would not have survived as long as it did without selling a single product.
Two successive German governments — both headed by Angela Merkel and in which European Commission President Ursula von der Leyen performed a variety of roles, including most notably (and most notoriously) as minister of defense — helped finance the founding of BioNTech. The Federal Ministry of Research's "Go-Bio" program involved not only funding but also government mentoring, as well as help in luring private investors. The company also benefited from another of the ministry's funding initiatives, the Leading-Edge Cluster Competition (Spitzencluster-Wettbewerb).
In 2019, the firm received a fresh round of capital from a number of venture capital funds and hedge funds as well as the Bill and Melinda Gates Foundation, which was already heavily invested in Pfizer. China's Fosun Pharma also invested $135 million in BioNtech in exchange for 1.58 million shares in the German biotech company and the future development and marketing rights to its mRNA vaccine BNT162b2 in China. So far, it has failed to make good on that investment: as previously mentioned, China has refused to approve any Western-produced mRNA COVID-19 vaccines.
Once the pandemic began, BioNTech rapidly shifted its focus from developing an mRNA-based cancer "vaccine" to developing an mRNA-based COVID-19 vaccine. To that end, it received €375 million in subsidies from Germany's Ministry of Health. In the first months of the pandemic the company also received €150 million in debt financing from the EU's European Investment Bank (EIB) – under the stewardship of its long-standing president, former German foreign office official Werner Hoyer.
The rest, as they say, is history. In 2020, BioNtech reported revenues of €482 million, a more than 400% increase on 2019. In 2021, the year of the vaccine's roll out, it brought in €18.97 billion, a mind-watering 39-fold year-on-year increase, of which a whopping €14.352 billion (75%) was gross profit.
Of that sum, roughly €3.2 billion flowed into central and local government tax coffers. As The Guardian reported in December 2021, such was the size of the windfall for the city of Mainz, where BioNtech is headquartered, that the city council announced plans to pay off a 30-year debt load of €1.3 billion as well as lure other biotech companies by lowering sharply its local corporate tax rate.
So, at least some of the German public funds invested in BioNtech and spent on its sole product line (for now), the COVID-19 vaccines, have come back full circle into public coffers. Presumably, local and federal governments will continue to benefit financially if BioNtech is able to bring to market some of the new treatment platforms it is currently testing (mostly with mRNA technologies), including for influenza, shingles, HIV, herpes simplex virus (HSV), tuberculosis and cancer.
That is more than can be said for all the other national EU governments, not to mention governments elsewhere (here's looking at you, Canada), that are sitting on ever-growing mountains of surplus vaccines they will never be able to shift, many of which will end up going to waste. In April 2022, the government of Poland, which had to buy an extra batch of 70 million vaccines under existing agreements despite already having 30 million surplus vials in stock, said "już wystarczy!" (apparently Polish for "enough already!").
Warsaw said it will not take delivery of any more COVID-19 vaccines. At the time, the Polish government acknowledged that its unilateral decision would result in a legal conflict with Pfizer. An EU official, speaking on condition of anonymity, told Reuters in May that EU countries would probably lose any legal case brought against suppliers since contracts could not be changed unilaterally. A couple of months later, after galvanising support from eastern member states to pressure Brussels into renegotiating COVID vaccine contracts, Poland's Health Minister Adam Niedzielski announced that EU negotiations would begin in July.
Warsaw's proposal was to spread the current two-year delivery scheme over 10 years and give responsibility for purchasing the vaccines to a newly formed institution – the European Commission's Health Preparedness and Response Authority, or HERA. But since July, as far as I can tell, little appears to have happened. The fact that the EU's largest economy, Germany, is now talking about the possibility of cancelling its own vaccine purchases would suggest that the problems are far from over.