Readers: Happy day after New Years Day, and many more of them, too! –lambert
* * *
Taylor Swift's Cat Is Worth $97 Million (and No, We're Not Kidding) Yahoo News. Good kitty!
Recession will hit a third of the world this year, IMF chief warns FT
Southwest Debacle
Southwest's historic meltdown was the result of 'benign neglect' years in the making, experts say KERA

Cancellation-plagued Southwest has raked in billions from US government for upkeep Washington Examiner

Southwest Airlines' Christmas Meltdown Shows How Corporations Deliberately Pit Consumers Against Low-Wage Workers The Column
Climate
Droughts and Dams Phenomenal World

UK climate group calls temporary halt to disruptive protests AP
Water
WOTUS Update, "EPA Revises Clean-Water Protections" Farm Policy News

How Old is the Water We Drink? Discover
#COVID19
Persistent post–COVID-19 smell loss is associated with immune cell infiltration and altered gene expression in olfactory epithelium Science. From the Abstract: "T cell–mediated inflammation persists in the olfactory epithelium long after SARS-CoV-2 has been eliminated from the tissue, suggesting a mechanism for long-term post–COVID-19 smell loss."

* * *

Fauci Leaves a Broken Agency for His Successor Newsweek. "Imagine if, in February 2020, Dr. Fauci had marshaled his $6 billion budget, vast laboratory facilities, and teams of experts to conduct a definitive lab experiment to establish that COVID was airborne. On this question and many others throughout the pandemic, our problem was not that the science changed—it's that it wasn't done." Yep.

Elon Musk teases release of bombshell Fauci Files in this week's Twitter document dump amid his war with America's top infectious disease expert: 'One thing is for sure, it won't be boring' Daily Mail

* * *

Lula launches stinging attack on Bolsonaro in inaugural address FT. Lulu: "The responsibilities for this [Covid] genocide must be investigated and must not go unpunished. It is up to us now to show solidarity with the relatives of almost 700,000 victims." Finally, somebody said it.

CDC Director Walensky Tweets 'We Can't Stop The Spread Of Covid-19,' Here's The Pushback Forbes

* * *

Safety and Effectiveness of SA58 Nasal Spray against COVID-19 Infection in Medical Personnel:An Open-label, Blank-controlled Study (preprint) medRxiv. From the Abstract: "The effectiveness of the SA58 Nasal Spray for preventing COVID-19 infection among medical personnel was evaluated as 77.7% (95% CI: 52.2% – 89.6%). In conclusion, the SA58 Nasal Spray is well-tolerant and highly effective against COVID-19 infection." SA58 is Sinovac. If China had had their own Operation Warp Speed, this would have been ready for use by the time they adopted "Let 'er rip." Oh well.

Does Using Corsi–Rosenthal Boxes to Mitigate COVID-19 Transmission Also Reduce Indoor Air Concentrations of PFAS and Phthalates? Environmental Science and Technology. From the Abstract: "CR Boxes reduced exposure to several lower-volatility phthalates and sulfonated PFAS previously reported to be found in office building materials and products, with potentially distracting increases in sound levels."
As COVID turns 3, experts worry where the next pandemic will come from – and if we'll be ready AP
China?
Chinese cities pass Covid-19 peak, but rural surge still to come, researchers say South China Morning Post. "According to a mathematical model."

1 year on, EU alternative to China's belt and road fails to deliver South China Morning Post but EU to launch Global Gateway projects, challenging China's Belt and Road Politico
Inside the world's biggest tech bazaars Rest of World
European Disunion
'There's not enough gas in the world': Can Europe keep the heating on this winter? Agence France Presse

Unusual winter warmth to cap toastiest year on record for parts of Europe WaPo

* * *

EU Commission head lauds Croatia on eurozone, Schengen entry Deutsche Welle
Update on the Catalonia UBI pilot Basic Income Earth Network
Dear Old Blighty
Idea: Break up the NHS for parts and sell them off to American consulting firms. That was the goal all along, right? I assume Sir Keith is on board, always has been?

Patient forced to wait FOUR DAYS for a bed and child sleeps on a chair in 'grossly overcrowded' A&E as hospitals run out of oxygen and mortuaries near capacity amid NHS winter crisis Daily Mail

Terrifying reality of the crisis in our NHS laid bare Liverpool Echo
New Not-So-Cold War
* * *
'OK, Mexico, Save Me': After China, This Is Where Globalization May Lead NYT
2024
Spare Us a Trump-Biden Rematch Peggy Noonan
2020 Post Mortem
Study suggests the 2020 election resulted in increased anxiety and depression across political spectrums PsyPost
The Bezzle
Attorney General Denise George Has Been Terminated The Virgin Island Consortium. "[J]ust days" after Ms. George had filed a lawsuit against JPMorgan Chase for facilitating convicted felon Jeffrey Epstein's abuse of women, without first informing Governor Bryan of such a major action.

Troubles at Sam Bankman-Fried's Alameda Began Well Before Crypto Crash WSJ
Tech
Machine Learning Could Create the Perfect Game Bosses Wired. The deck: "The next generation of video game characters could be powered by AI, making them more engaging and challenging." That's not the motivation.
Healthcare
The start-ups seeking a cure for old age FT. Distributed via sortition, no doubt.

When does life begin? NYT. The question-begging is right in the headline. "Life" began more than 3.4 billion years ago.
Police State Watch
LILLEY: Twitter Files on COVID show government attempts to silence dissent Toronto Sun. Since the platforms are global, the "psyopcracy"* is global as well. NOTE * Hat tip, Joe Lauria. Google really, really wants to give me results for "physiocracy."
Sports Desk
To Think Of Soccer Is To Think Of Pelé Defector

Pele will be buried overlooking the Santos pitch that made him famous – on the NINTH floor of 'vertical cemetery' in a nod to the Brazil legend's father who wore the number when he too was a player Daily Mail

Oh my goodness:

Just like it was drawn up!

Down 2 with 2 seconds left calls for a back to the basket behind the head heave to win it at the buzzer! #SCTop10 @SportsCenter pic.twitter.com/QX2Ttbt7jV

— CJ Lohmiller™ (@lohmillerconnor) December 31, 2022
New Year's Post-Game Analysis
End of Year Lists (1):

The Worst Covid Takes of 2022.

How did so many in the US end up desensitized to mass death and disability, angrily opposed to almost all means of mitigating an occasionally fatal airborne virus, and willing to accept so little from the powerful? This list helps explain.

🧵

— Peste Magazine (@PesteMagazine) December 30, 2022

End of Year Lists (2):

To put 2023 into perspective, here's a brief timeline of the entire future in 23 key moments:

— The Cultural Tutor (@culturaltutor) January 1, 2023

I think the dates are for illustrative purposes only….
Imperial Collapse Watch
De-dollarization: Slowly but surely Al Mayadeen
Class Warfare
Your Coworkers Are Less Ambitious; Bosses Adjust to the New Order WSJ

The Uncounted: People of Color Are Dying at Much Higher Rates than Covid Data Suggest Texas Observer

Part of the Punishment (review) LRB. Convicts: A Global History. "In virtually all overseas and overland imperial territories, 'convicts' of various sorts became vital frontier workers and sometimes active agents of expansion and consolidation."
Antidote du jour (via):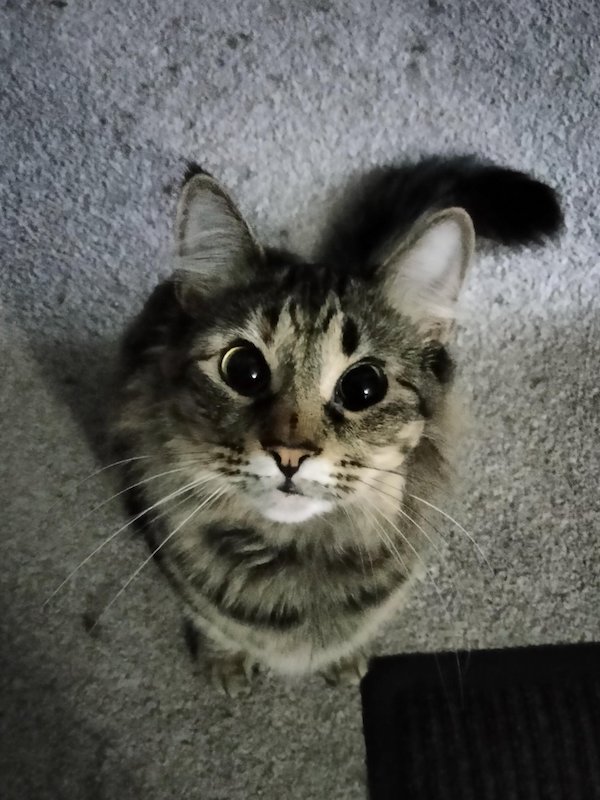 Bonus antidote:
It's a cats world, we're just living in it 😂 #cat #cats #catsoftwitter #catsontwitter #catsoftwittter #cute #funny #animal #animals #funnyanimals #caturday pic.twitter.com/uoveb0Wxu9

— Pier Pets (@PierPets) December 29, 2022
See yesterday's Links and Antidote du Jour here.