Cocaine in rivers harming endangered eels, study finds Guardian (Dr. Kevin)
DNA results are in: Animal previously believed to be wolf-dog hybrid identified ABC7
Delta tightens regulations, adds pit bulls to list of banned service and support animals Fox
Kate Spade's father dies night before designer's funeral BBC. His poor wife….
Stonehenge Builders Used Pythagoras' Theorem 2,000 Years Before He Was Born Tech Times
Bedrock in West Antarctica rising at surprisingly rapid rate Phys.org (Kevin W)
China?
American Military Aircraft Targeted By Lasers in Pacific Ocean, U.S. Officials Say Wall Street Journal

A CO2 shortage is causing a beer and meat crisis in Britain Quartz
North Korea
No sign of North Korea dismantling nuclear weapons programme, Mattis admits Guardian (furzy). All the US got was a T-shirt, um, an aspirational statement.
Laos stirs controversy with plan for fourth dam on Mekong Asia Times (Jim D)
Europe needs a fresh approach to climate strategy Bruegel. Illustrates how difficult it is to structure and sequence analysis and decision-making for complex matters…even assuming there's the political will to do what needs to be done.
Brexit
Airbus: 'Catastrophic' Brexit would threaten our future in the UK CNN

The Brexiteers are discovering that the UK already had the best model: EU membership New Statesman (Kevin W)

Ireland's Brexit dividend Politico
New Cold War
Pity The Russophobe Journos Whom No One Believes Moon of Alabama (Chuck L)

Russian Trolls Weigh In on Roseanne Barr and Donald Trump Jr. Wall Street Journal. UserFriendly: "Just shoot me."
Syraqistan
A Rare Look at Yemen's War, Where Children Starve and Hospitals Are on Life-Support Intercept
Big Brother is Watching You Watch
Tech Giants Under Fire For Facial Recognition SafeHaven

Revealed: Canada uses massive US anti-terrorist database at borders Guardian
Migration
Trump's Order to End Immigrant Family Separation Sows Confusion Wall Street Journal

Fate of 2,300 separated children still unclear despite Trump's executive order Guardian (furzy)

This, by @willwilkinson, is important. Outrageously overblown moral panic about human trafficking–a cause beloved by left and right, feminists and evangelicals–paved the way for family separation. https://t.co/X8QhGkCm66

— Kerry Howley (@KerryHowley) June 21, 2018

How US Policy in Honduras Set the Stage for Today's Mass Migration Consortium News

There's no immigration crisis, and these charts prove it Washington Post. Lambert:

I trust the material on wages as far as I can throw it. There's a very long history of bosses hiring scabs with distinct ascriptive identities or indeed entire workforces (H1B). These guys think the bosses don't know what they're doing. I disagree.

They also don't take into account the novel possibility that there's no wage drop from immigration ***these days*** because wages are already at rock bottom because the power of management is so great (curious absence of wage inflation; Walmart wages below what it takes for labor to reproduce itself; threats to move plants rather than give rase. or allow unions). In this scenario, immigration's role would be to keep wages as flat as they have been for 40 years, rather than to cause them to fall even further.

Melania wears 'I really don't care do u?' coat on migrant visit BBC. Ouch.

A fun detail about the Zara jacket scandal is that it's actually a knockoff a design sold at Barney's, with the original text reading "LOVE TRUMPS HATE"https://t.co/LRscLTPYfg

— DJ ACCIDENT REPORT (@eric_shorey) June 21, 2018

House GOP leaders push immigration vote to next week The Hill

White House aide Miller targeted in backlash over family separations Politico
Tariff Tantrum
U.S. Weighs Resuming China Talks with Split on Trump's Trade Team Bloomberg

"Die Amerikaner tun mir leid" Der Spiegel. Google Translate version. Subhead: The Beijing economist Mei Xinyu sees the blame on the Americans – and speaks of a possible "financial war" with unimaginable consequences." Help me. They are threatening to dump Treasuries. They Fed will hoover them up. China will wind up with even more Treasuries if it keeps running trade surpluses. This bluster, however, does seem to rule out the thesis by PlutoniumKun that China could use a trade war to accelerate the restructuring of its own economy, in a Chinese version of what the Japanese used to call "foreign pressure". But the flip side is enough people on Team Trump might not understand that the Chinese "dump Treasuries" threat is hollow, making that ultimatum effective.

EU tariffs on US goods come into force BBC

US trade with the EU, Germany in numbers DW

American whiskey makers face dreaded reality: Tariffs CBS (Kevin W)
Trump Transition
Trump Hotels (Randy K). Someone in the Trump organization is gonna be in trouble for not having bought that URL….

Grassley wants to subpoena Comey, Lynch after DOJ watchdog report Politico

Paul Manafort Ordered by Judge to Be Held Away From Other Prisoners Bloomberg
Alexandria Ocasio-Cortez Is Scaring The Democratic Establishment TYT (UserFriendly). Important and compelling.
I just got an incredibly humbling phone call.@AyannaPressley, Boston City Councilwoman & MA Candidate for Congress, is sending her lead field organizer down to the Bronx to support Ocasio2018 for GOTV.

She's a real one. ?

And she's running a very similar campaign in MA. https://t.co/Scg5wDkofW

— Alexandria Ocasio-Cortez (@Ocasio2018) June 21, 2018
Michelle Alexander Joins The New York Times Opinion Pages as Columnist New York Times. Author of The New Jim Crow: Mass Incarceration in the Age of Colorblindness.
Intel CEO Brian Krzanich resigns over relationship with employee The Verge
Here's The Wild Email Exchange Between Tesla's Alleged 'Saboteur' And Elon Musk Jalopnik (Kevin W)
From UserFriendly. Also important, read the entire tweetstorm:
Thread: I've been rereading (and reading more) material about the Civilian Conservation Corps in response to the breakout of green JG discussions this week. No one should ever speak on this topic again until they've read at least one book/dissertation on it. There's tons! 1/N

— Nathan Tankus (@NathanTankus) June 21, 2018
Guillotine Watch
Vandalized homes, spying, a knife and restraining orders: Inside a billionaire couple's nightmarish divorce Mike Hiltzik, Los Angeles Times
Class Warfare
Antidote du jour. Jen Esten, who continues the Pleasant Lake tradition in the memory of Kittie Wilson, via Lawrence R: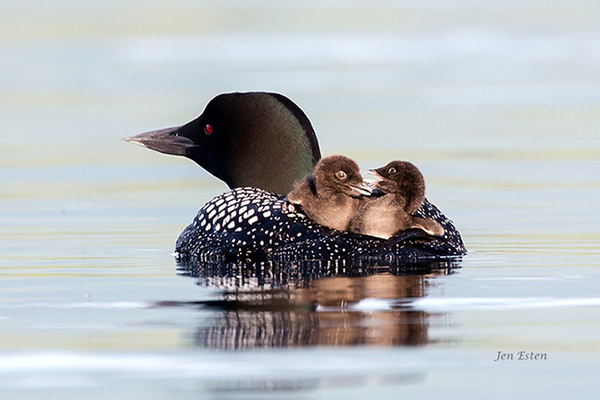 See yesterday's Links and Antidote du Jour here.