By Lambert Strether of Corrente.
Bird Song of the Day
Plain-tailed Warbling Finch, Huascarán–Laguna Llanganuco, Ancash, Peru. "From a bird in patchy elfin forest near treeline. While singing this bird was moving between the tallest bushes around and sitting near the top."
"New research turns what we know about bird window strikes inside-out" [William & Mary College]. "New research from William & Mary published in PeerJ Life & Environment reveals that decals intended to reduce incidents of bird window strikes—one of the largest human-made causes of bird mortality— are only effective if decals are placed on the outside of the window. Researchers found that the patterns on the films and decals placed on the internal surface of windows do not reduce collision because they may not be sufficiently visible to birds."
* * *
Politics
"But what is government itself, but the greatest of all reflections on human nature?" –James Madison, Federalist 51
"Here's food for thought, had Ahab time to think; but Ahab never thinks; he only feels, feels, feels." –Herman Melville, Moby Dick
"So many of the social reactions that strike us as psychological are in fact a rational management of symbolic capital." –Pierre Bourdieu, Classification Struggles
Biden Administration
Copy editors rule:

five too many words an extra period in this tweet https://t.co/UcwqAovGWB

— A. Marmot 🌱Underground🌱 (@_Anunnery) February 2, 2023
2024
"Buttigieg, two years into Biden's Cabinet, 'not planning on going anywhere'" [Politico]. • Well, he got right. He's not going anywhere.

"Hunter Biden Claims His Laptop" [Wall Street Journal]. "Hunter Biden did some reckless things, is unhappy people found out, and so is now doing something equally reckless. Oh, and by the way, that laptop really is his. That's the news out of a batch of letters sent this week by Hunter's attorneys. They are demanding federal and state prosecutors and the Internal Revenue Service launch investigations into those involved with distributing the contents of 'Mr. Biden's files' from his infamous laptop. The Washington Post amusingly framed this as a Hunter-gets-"aggressive"-with-his-critics story, relegating the real news to the 20th paragraph: 'In filing the complaint, however, Biden's lawyers seem to be conceding that some of the data that has been made public is his private information.' Oh? The complaints are in fact an extraordinary admission that Hunter—and his father, President Joe Biden—have misled the country for years."

"2024 House Race Ratings: Another Competitive Fight for Control" (paywalled) [Cook Political Report]. "House Republicans enter the 2024 cycle with an infamously thin 222-213 majority and lots of questions about why they didn't perform better in 2022. But they have history on their side: despite the House flipping partisan control five times since 1994, it hasn't flipped in a presidential cycle since 1952 and hasn't flipped to the party occupying the White House since 1948, when Harry Truman barnstormed against a Republican 'do nothing Congress.' Still, with 18 Republicans sitting in districts carried by President Biden in 2020 and just five Democrats sitting in districts carried by Donald Trump, there are more than enough vulnerable GOP seats on the table to keep the House in play for Democrats. The most recent precedents for this cycle might be 1996 and 2012, when Presidents Clinton and Obama faced voters two years after the GOP retook the House. Despite a government shutdown in 1995 and a debt ceiling showdown in 2011, voters opted to preserve a divided government — with slightly reduced GOP House majorities."

"Do Americans have a favorable or unfavorable opinion of Donald Trump?" [FiveThirtyEight]. -15.8%. But then, have you seen the other guys?
Democrats en Déshabillé
Patient readers, it seems that people are actually reading the back-dated post! But I have not updated it, and there are many updates. So I will have to do that. –lambert

I have moved my standing remarks on the Democrat Party ("the Democrat Party is a rotting corpse that can't bury itself") to a separate, back-dated post, to which I will periodically add material, summarizing the addition here in a "live" Water Cooler. (Hopefully, some Bourdieu.) It turns out that defining the Democrat Party is, in fact, a hard problem. I do think the paragraph that follows is on point all the way back to 2016, if not before:

The Democrat Party is the political expression of the class power of PMC, their base (lucidly explained by Thomas Frank in Listen, Liberal!). ; if the Democrat Party did not exist, the PMC would have to invent it. . ("PMC" modulo "class expatriates," of course.) Second, all the working parts of the Party reinforce each other. Leave aside characterizing the relationships between elements of the Party (ka-ching, but not entirely) those elements comprise a network — a Flex Net? An iron octagon? — of funders, vendors, apparatchiks, electeds, NGOs, and miscellaneous mercenaries, with assets in the press and the intelligence community.

Note, of course, that the class power of the PMC both expresses and is limited by other classes; oligarchs and American gentry (see 'industrial model' of Ferguson, Jorgensen, and Jie) and the working class spring to mind. Suck up, kick down.

* * *

Oh noes!

This time I thought I'd count the times the words "member" or "membership" is used. I got twelve. Did I miss any? Direct mail mavens: Isn't this a little excessive? Even a little desperate? Who exactly do they hope to persuade? Somebody quite elderly and vulnerable?

How did I miss this:

Bourdieusian capital can exist in three forms: in the embodied state, i.e., in the form of long-lasting dispositions of the mind and body to cite Bourdieu; in the objectified state, in the form of cultural goods (MCA diagrams, Bourdieu books, saying 'habitus', etc.),

— JP Pardo Guerra also on Mastodon (@pardoguerra) May 24, 2022
Realignment and Legitimacy
"Why they condemned socialism" [Carl Beijer]. "The reason our ruling class singles out socialism for condemnation is that they are specifically afraid of the socialist agenda. They aren't worried about 'progressives' because they know that's code for 'liberals and socialists who won't make socialism a priority.' They aren't worried about 'populists' because they know that's code for 'edgy centrists who want standard centrist reforms.' But socialism terrifies the ruling class, because try as they have to redefine it, they still haven't dissociated it from its core agenda. Socialists want nationalization, socialists want worker control of the means of production, socialists want the abolition of private property, socialists want the decommodification of necessities, and these are all things that the ruling class absolutely does not want. Make vague demands about 'structural change' or 'draining the swamp' and they can work with it; hell, most of our politicians run for office with slogans like this. But make the specific demands that socialists make and all they can say is 'hell no.'" • And of course:

New Dem Leadership will vote for the resolution denouncing socialism tomorrow.

We won't be distracted by the GOP's political games.

It is time to focus on what Americans sent us here to do: grow our economy and expand opportunities for all. https://t.co/iir5ntgcCl

— New Democrat Coalition (NDC) (@NewDemCoalition) February 1, 2023

More on the emergence and defenestration of "the public" (I believe I butchered this thread yesterday, so here it is again.)

Epidemics/plagues (Spanish Flu, and before it cholera too) at the turn of the 19th/20th century. Then two world wars in the 20th century. This all-out assault on societies from plagues and wars over a short time was strong enough to maintain this new public-focused politics. /10 pic.twitter.com/7mc2HT5N2r

— Henry Madison 🦠x0 (@RageSheen) January 31, 2023

And:

The anti-public, pro-market and pro-individual politics we all now live in. They invented a substitute for this new public-led society, which they called an 'economy'. All deliberately designed to reflect their interests, and not public interest. And cunningly, they came up…/12 pic.twitter.com/D5iKr3o04a

— Henry Madison 🦠x0 (@RageSheen) January 31, 2023

Mass infection without mitigation is bipartisan:

Who especially stepped out of the way and created a wide open lane for them?

Zients, Klain, Walensky, and their little influencer army.

A very big lie and no one countering it in the strongest of terms. pic.twitter.com/jQximO96ZK

— Dogs4Object Permanence🐶 (@BernieDogs4) February 3, 2023

Each to the other: "We couldn't have done it without you!"

"Rethinking COVID hegemony" [Croakey Health Media]. I'm going to quote this fine summary first:

Our governments and mainstream media have persuaded Australians [and the Anglosphere] to accept increasing morbidity, mortality, and the erosion of our public health systems using four key strategies. First, by adopting and promoting myths about the virus which downplay its severity – "it's mild", "it's just like the flu", "we're all going to get COVID" and, more recently, "the pandemic is over". As such, we perceive the pandemic as less risky and any protective measure as an overreaction. Second, by suppressing COVID-related statistics and other information, as for example with deliberate under-testing of suspected cases, the move from daily to weekly announcements of cases and deaths or, as the ABC's Casey Briggs recently identified, by suppressing government-commissioned COVID research, forecasts, and modelling. Third, by adapting pre-existing beliefs or public opinion, such as using the idea of "pandemic fatigue" to remove mandated protections. And lastly, by prioritising a hyper-individualistic discourse over a collective approach that champions shared responsibility, as for example with the mantra of "personal responsibility" and the neoliberal ideals of rugged individualism and small government on which this depends, shifting blame from the state to the citizen.

Lots of good ways to shift the framing… If they are ever adopted by the powers-that-be, who are doing very well, thank you.
#COVID19
Lambert here: I am but a humble tapewatcher, but unlike Eric Topol, I'm not calling a surge, because the last peak was Biden's Omicron debacle, and after an Everest like that, what's left? Topol's view is the establishment view: Hospital-centric. Mine is infection-centric. I do not see the universal acceleration or doubling in cases that I would expect to see based on past surges.
I am calling a "Something Awful." It's gonna be bad, in some new way, and we don't know how, yet (but see here for immune system dysregulation, which is looking pretty awful).
Lambert here: Looks like "leveling off to a high plateau" across the board. Stay safe out there!
* * *
• I'm lovin' it:
Loving this quiet pivot from "eh, we're all gonna get Covid" to "eh, we're all gonna get Covid every single year." Well done humans. 🦠 ❤️

— Covid19 (@friendlycovid19) February 2, 2023
* * *
• Covid goals:
WATCH: Dr. Michael Osterholm explains that protecting older populations from Covid should be the focus going forward.

"My goal is to see everyone get Covid twice a year in this country but have it be nothing more than a common cold-like illness. That would be really a victory." pic.twitter.com/62wIIxfbUG

— Meet the Press (@MeetThePress) January 27, 2023
If ifs and buts were candy and nuts, every day would be Christmas. If Osterholm's mother had wheels, she'd be a teacart. Covid doesn't care about Osterholm's goals ffs! (Oh, and protective custody for "protecting older populations" is a euphemism for doing nothing about shared air. Which schoolchildren breathe. And the immunocompromised, regardless of age. I've always thought of Osterholm as one of the better ones — at least he isn't recommending death at 75, like Emanuel — but here he seems to have completely lost his mind. On Meet the Press.
* * *
• Elites protect themselves. They don't want to protect you, and they don't want you to protect yourself either:
The White House tests everybody before large gatherings as per @AshishKJha46 , protecting themselves behind the scenes.

But they want children in school, including unmasked lunch together, without the same layer of protections.@PTF_org @AmerAcadPeds pic.twitter.com/RM3FEFAbL4

— Dr. Melissa Zegar, D.O. (@melissa_zegar) February 3, 2023
See also Davos and Newton, MA.
* * *
• From Florence Nightingale's Notes on Nursing:
Florence Nightingale hitting the CAPS LOCK button. https://t.co/77aZCqjuz7

— tern (@1goodtern) January 31, 2023
The IC/ID goons seem to have brain-wiped themselves on the importance of ventilation….
• "Enjoy Clean Air While You Drive with the Mini-Mini Box" [Jim Rosenthal, Tex-Air Filters]. "The air you breathe in your car or truck is potentially some of the worst you will encounter on a daily basis. The relatively small cabin volume and proximity of the driver and other passengers make for one of the highest risk environments for the transmission of an airborne disease. Opening windows is always a great option, but there are times when that is not possible. Plus you bring in lots of allergens and other airborne particles. There is a simple, low-cost solution – Mini-Mini Corsi-Rosenthal Box. For $40 to $50 and 15 minutes of your time you can dramatically lower those potentially dangerous indoor particles." • Rosenthal's tweet was just two days ago. And here are directions!
* * *
• Maskstravaganza: "I'm a doctor and I don't like wearing masks at work. Does that make me selfish?" [Guardian]. No. It makes you dangerous. "As a frontline healthcare worker, I am against the ongoing requirement for mask-wearing in all clinical areas, for the simple reason that there appears to be no concept of when it will end." • Replace "mask-wearing" with "hand-washing," and, well, a second opinion: It makes you stupid, too.
• Maskstravaganza: "EXCLUSIVE: Unattractive people are MORE likely to keep wearing face masks in post-Covid era, study suggests" [Mail Online]. "They concluded that young and middle-aged Americans who view themselves as attractive 'believe wearing a mask hinders the opportunities to deliver a favorable impression to others'." • On the other hand, people who do not view themselves as attractive buy into the 'mask attractiveness belief' — that face coverings actually enhance their looks." • Then again, perhaps the beautiful people — hear me out — are ugly on the inside. Also [hits Caps Lock] "MASKS ARE NOT FACE COVERINGS BECAUSE THEY DO NOT COVER THE EYES."
• Maskstravaganza: I don't know about this:
✨💨So excited about this. I've made an affordable, all-in-one home mask fit testing kit! The kit has *everything* you need to do mask fit tests at home. In stock and ships in 2-3 business days. https://t.co/8UmAWBgK00

— Philip Neustrom (@__philipn__) January 29, 2023
Of course, it's ridiculous this guy even has to put together a kit. (I did check the Apple app store, and there seem to be mask fit apps — but only for sleep apnea masks.)
* * *
• Professionals aren't supposed to give up. But on Covid, the (hegemonic) PMC have led the way:
My 13yo just tested positive for 2nd time in SIX WEEKS. Pediatrician said "that's impossible" & became hostile when I tried to explain different variants dominant in DC at those times without cross-immunity & was a documented 2nd exposure. Doctors flying blind & have given up.

— Meighan Stone (@meighanstone) February 2, 2023
* * *
* * *
Case Data
NOT UPDATED BioBot wastewater data from January 30: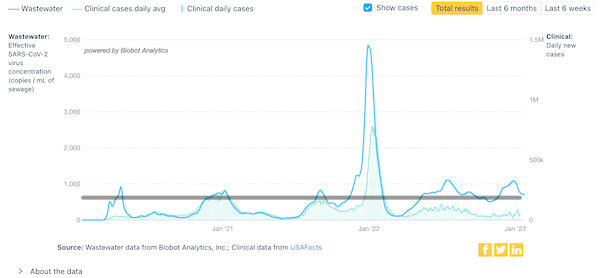 For now, I'm going to use this national wastewater data as the best proxy for case data (ignoring the clinical case data portion of this chart, which in my view "goes bad" after March 2022, for reasons as yet unexplained). At least we can spot trends, and compare current levels to equivalent past levels.
Transmission
Here is CDC's interactive map by county set to community transmission (the "red map," which is the map CDC wants only hospitals to look at, not you.) The map is said to update Monday-Friday by 8 pm: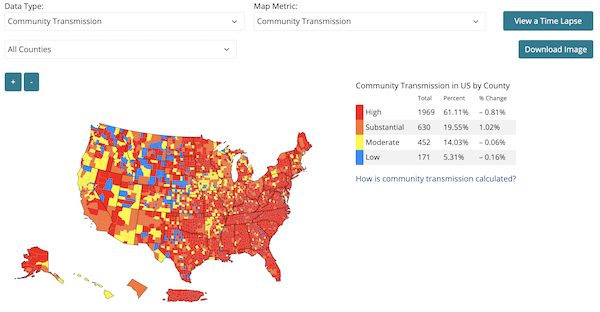 The previous map: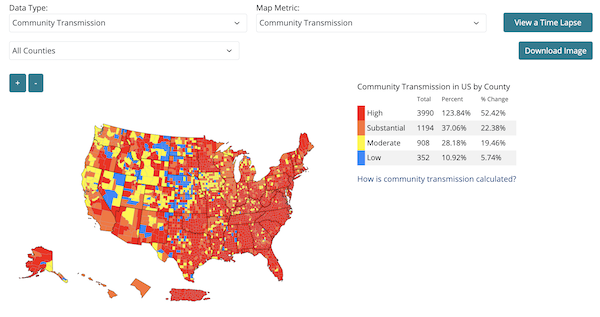 NOTE: I shall most certainly not be using the CDC's new "Community Level" metric. Because CDC has combined a leading indicator (cases) with a lagging one (hospitalization) their new metric is a poor warning sign of a surge, and a poor way to assess personal risk. In addition, Covid is a disease you don't want to get. Even if you are not hospitalized, you can suffer from Long Covid, vascular issues, and neurological issues. That the "green map" (which Topol calls a "capitulation" and a "deception") is still up and being taken seriously verges on the criminal.
Positivity
From the Walgreen's test positivity tracker, published February 3: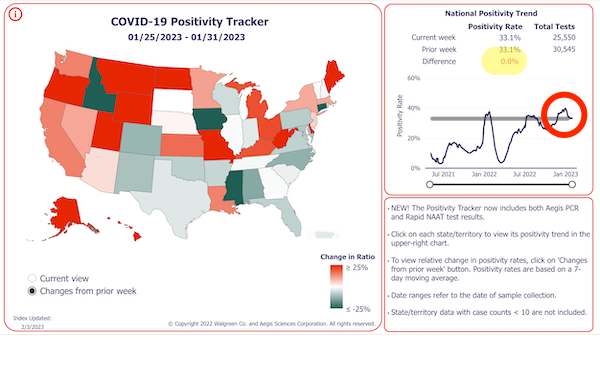 0.0%. Flat (still at a high plateau, equal to previous peaks).
Wastewater
Wastewater data (CDC), January 30:
Again, what the [family blog] is the [family blogging] use of a national wastewater map where nearly all the collection sites are [family blogging] greyed out?
January 29: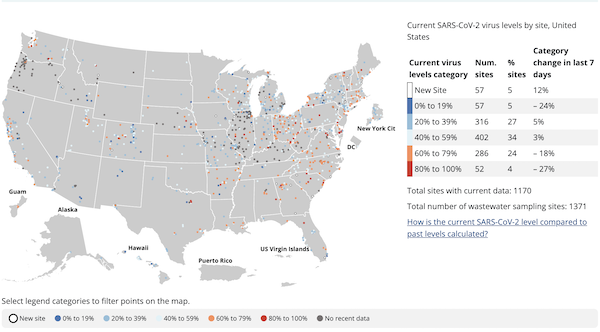 And MWRA data, January 31: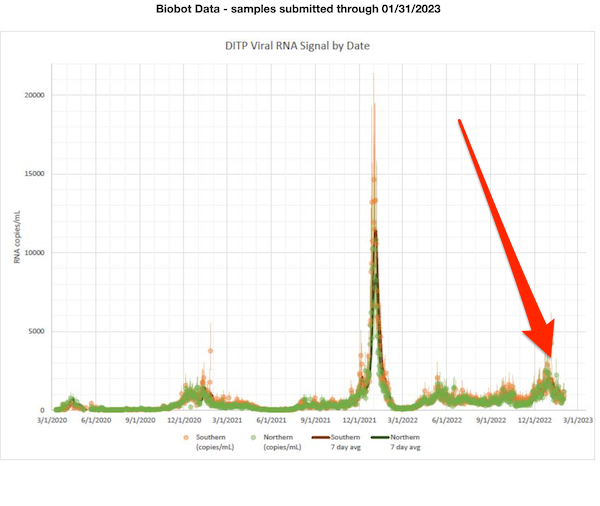 Looks to me like New England's regional surge is winding down. No bump from the students returning. Readers?
• "The Murky Ethics of Wastewater Surveillance" [Science History Institute]. "Testing wastewater is less expensive and invasive than swabbing thousands of students' noses and analyzing all those samples individually. It can also be done almost continuously. As of late 2020 at least five dozen colleges had set up sewage-testing programs…. Hundreds of local governments and sewer authorities also embraced testing, and the Centers for Disease Control created a National Wastewater Surveillance System to collect and publish data on COVID-19 levels across the country. The agency is now planning to expand the program to monitor influenza, respiratory syncytial virus, foodborne illnesses, monkeypox, and the infectious fungus Candida auris…. Sewage surveillance has seen unprecedented growth in a very short period. The field is undergoing a rapid transformation from a 'fringe science,' in the words of one researcher, to a mainstay of public health and a multibillion-dollar industry…. WBE is virtually unregulated, leaving it unclear what rights people have over their sewage and how others use it. Could landlords evict tenants whose sewer lines test positive for illicit drugs? Could companies coerce workers identified as drug users to rat out their colleagues? Wastewater analysis is a powerful tool for protecting public health. But a vocal group of scientists, legal analysts, and privacy experts warn against allowing it to quietly become ubiquitous without sufficient oversight, much as other surveillance technologies, such as facial recognition and Internet tracking, have done or threaten to do. They say it is critical that governments establish guidelines on avoiding unnecessary harms, ensuring appropriate use of data, and consulting with affected communities." • Fair enough. As long as we're not stupid about it.
Variants
Lambert here: It's beyond frustrating how slow the variant data is. Does nobody in the public health establishment get a promotion for tracking variants? Are there no grants? Is there a single lab that does this work, and everybody gets the results from them? [grinds teeth, bangs head on desk]. UPDATE Yes. See NC here on Pango. Every Friday, a stately, academic pace utterly incompatible with protecting yourself against a variant exhibiting doubling behavior.
Variant data, national (Walgreens), January 23: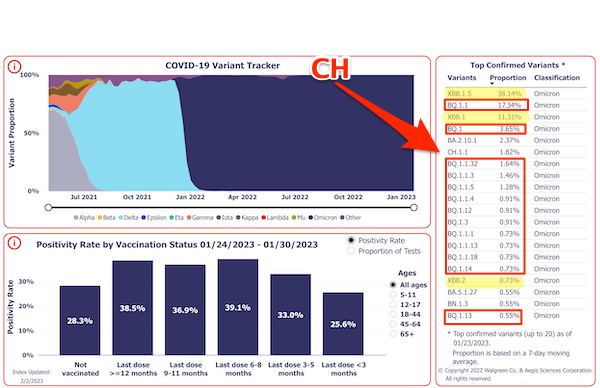 Lambert here: XBB overtakes BQ. CH not moving too fast, reassuring, because a Tweet in Links, January 11 from GM drew attention to it ("displays such a high relative growth advantage") and in Water Cooler, January 18, from Nature: "CH.1.1 and CA.3.1 variants were highly resistant to both monovalent and bivalent mRNA vaccinations."
Lambert here: Wierdly, the screen shot about has been replaced today by data from "10/7/2022." (It's clearly not current data; BQ.1* and XBB do not dominate.
Variant data, national (CDC), January 14 (Weighted Estimates Only*):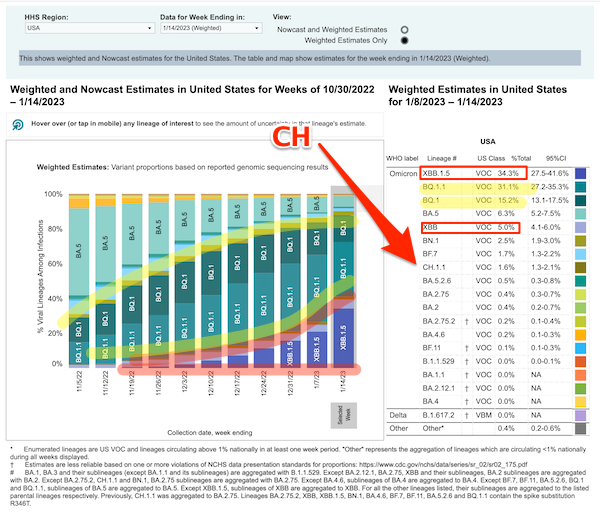 BQ.1* takes first place. XBB coming up fast. (For BQ.1/XBB and vaccine escape, see here.) CH.* now appears, a week after Walgreens. Here is Region 2, the Northeast: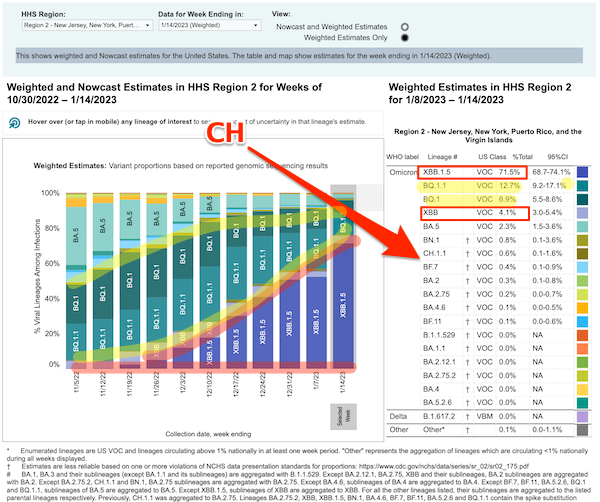 CH.1* appears, but slightly below the national average. XBB utterly dominates, making clear that Region 2 (New England) varies greatly from the national average.
Here are all the regions, in a series of uncaptioned, legend-free and confusing pie charts: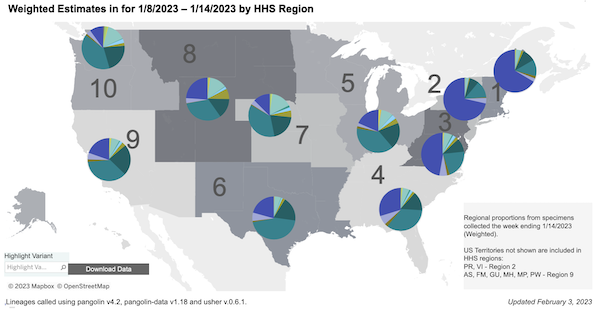 It almost looks like, with respect to variants at least, there several pandemics, not one. The Northeast, where XBB (blue) dominates, and the other regions, with different proportions of other variants, but XBB not dominating. Odd. (Yes, I know the colors are the same as on the bar chart above. However, there are two charts, one bar, one pie, and on a laptop one cannot see both at same time. Just another example of CDC blithering at the level of the smallest detail.)
NOTE * CDC used to have a "Nowcast Off" radio button, which I used because of my bad experience with CDC models like Nowcast. CDC explains (I think) the change in the following note:
Weighted estimates (provided for all weeks except the most recent three weeks) are variant proportions that are based on empirical (observed) genomic sequencing data. These estimates are not available for the most recent weeks because of the time it takes to generate the unweighted data, including sample collection, specimen treatment, shipping, analysis, and upload into public databases.

Sublineages with weighted estimates less than 1% of all circulating variants are combined with their parent lineage. When the weighted estimate of a sublineage crosses the 1% threshold and has substitutions in the spike protein that could affect vaccine efficacy, transmission, or severity, it may be separated from its parent lineage and displayed on its own in the variant proportions data.

Nowcast estimates (provided for the most recent three weeks when the "Nowcast on" option is selected below) are model-based projections of variant proportions for the most recent weeks to enable timely public health action. CDC uses the Nowcast to forecast variant proportions before the weighted estimates are available for a given week.
Someone who can interpret The Great Runes can look at this; but I don't have time today.
As a check, since New York is a BQ.1* hotbed, New York hospitalization, updated February 2: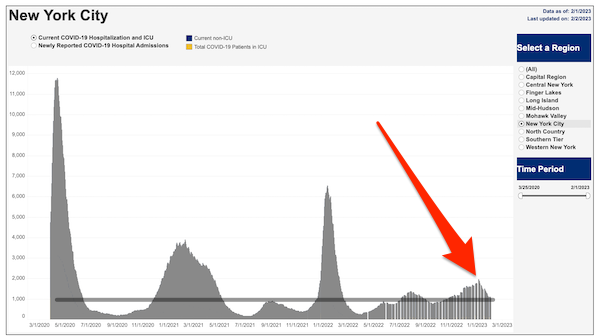 Not as high as Biden's ginormous jouissance, but still high.
Hospitalization data for Queens, updated January 29:

Deaths
Death rate (Our World in Data):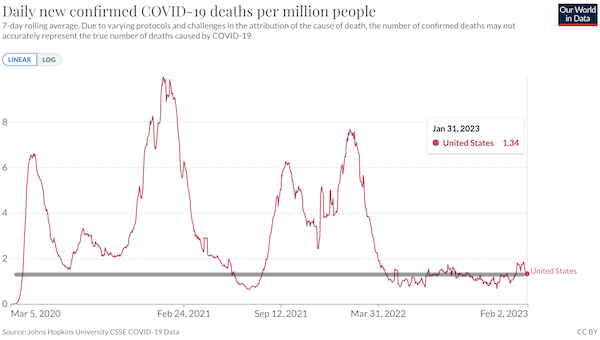 Total: 1,135,341 – 1,134,259 = 1082 (1082 * 365 = 394,930 deaths per year, today's YouGenicist™ number for "living with" Covid (quite a bit higher than the minimizers would like, though they can talk themselves into anything. If the YouGenicist™ metric keeps chugging along like this, I may just have to decide this is what the powers-that-be consider "mission accomplished" for this particular tranche of death and disease).
It's nice that for deaths I have a simple, daily chart that just keeps chugging along, unlike everything else CDC and the White House are screwing up or letting go dark, good job. (Though CDC may be jiggering the numbers soon. Lower, naturally.)
Stats Watch
Employment Situation: "United States Unemployment Rate" [Trading Economics]. "The unemployment rate in the US inched lower to 3.4 percent in January 2023, the lowest level since May 1969 and below market expectations of 3.6 percent." • I wondered what the labor force participation rate was: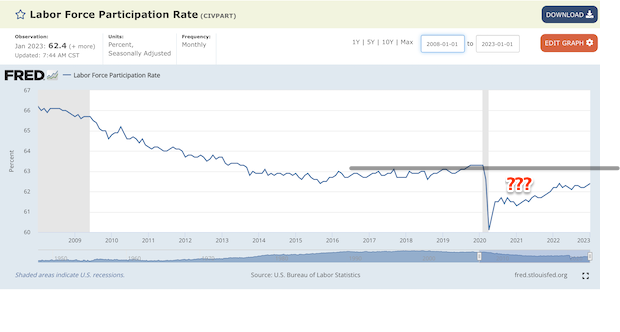 Services: "United States ISM Non Manufacturing PMI" [Trading Economics]. "The ISM Services PMI for the US unexpectedly jumped to 55.2 in January of 2023, rebounding sharply from over a 2-1/2 year low of 49.2 in December, and beating market forecasts of 50.4. Capacity and logistics performance continued to improve and the majority of companies indicated that business is trending in a positive direction."
* * *
The Bezzle: "Trends in AI from Red and Blue Team Perspectives: Synthetic Data in a Data-Driven Society vs Sentiment Analysis" [NATO Strategic Communications Centre of Excellence]. "[M]ore granular text analysis enables micro aggressive and aggressive text patterns to be searched, thus allowing the identification of hostile communications in various online and social media data." • "He used… sarcasm. He knew all the tricks, dramatic irony, metaphor, pathos, puns, parody, litotes and… satire. He was vicious."
The Bezzle: Who's training who?
striking how quickly stupid "AI prompting" became its own specialized thing with its own specialized language. Hope it dispels the myth that these systems are meaningfully about "learning from us" – they train and discipline us to work for them

— Michael DeForge (@michael_deforge) February 2, 2023
Tech: "Mangled Voice-to-Text Messages Are Embarrassing Users" [Wall Street Journal]. "Technology that transcribes speech in real time keeps growing in popularity—and so do our potential for gaffes. They've become so common that some people, such as Ms. Nieves, have made regular mistakes part of their vocabulary, while others have learned to decode the gibberish their family and friends send. In the U.S., around 82 million people used Alphabet Inc.'s Google Assistant and about 77 million used Apple Inc.'s Siri at least once a month last year to handle oral commands, including writing text messages, emails and social-media posts, according to Insider Intelligence. Both numbers were up 12% or more from 2020, and the firm didn't count manual triggering of speech transcription on phones or laptops. The technology allows people to avoid the scourge of typing on tiny smartphone screens. Others rely on it for crafting copy hands-free, such as while driving. The risk is it tends to turn words into mumbo jumbo, pick up nearby voices and introduce off-putting language. On social media, users warn against saying certain words, like 'caulk' and the shorthand 'P & S,' lest the talk-to-text app thinks it hears a reference to male anatomy. While dictating a text about golfing to his former boss last summer, Matt Shelton uttered, 'Great shot!' before hitting 'send.' As he waited for a reply, Mr. Shelton, an insurance agent in Winfield, Kan., looked back at the transcription in horror. 'Shot' was misspelled by one letter, turning it into an expletive." • So Google and Apple said "Ship it!" and here we are.
* * *
Today's Fear & Greed Index: 79 Extreme Greed (previous close: 72 Greed) [CNN]. One week ago: 69 (Greed). (0 is Extreme Fear; 100 is Extreme Greed). Last updated Feb 3 at 12:30 PM EST. Awesome. A breakthrough to extreme greed at last.
Class Warfare
"Nearly 36 Million Americans Who Tested Positive for COVID-19 Report Having Long COVID Symptoms — Including More Than 40% in Mississippi" [Value Penguin]. Handy chart: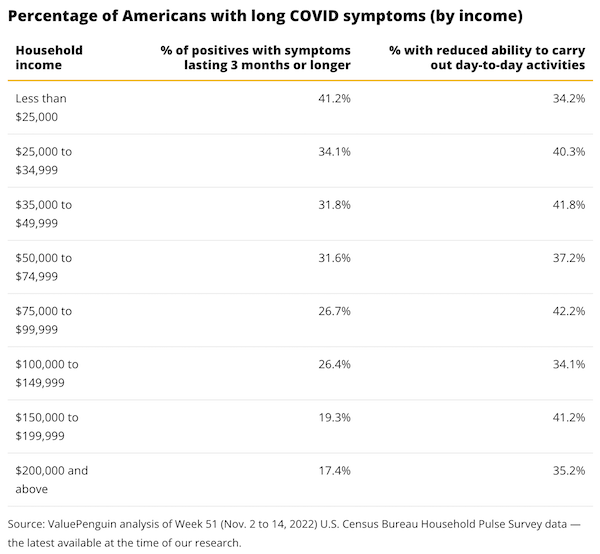 Income is a poor proxy for class, which is a social relation. Nevertheless.
"In first test before appeals court, important worker safety law is affirmed, with notable caveat" [Investigate Midwest]. "In the pandemic's early days, employees of a Pennsylvania food processing plant believed they faced an immediate threat. Their employer, they alleged, crowded them together and didn't provide enough masks when the federal government promoted social distancing and face coverings. They sued the Occupational Safety and Health Administration, hoping for relief. After first sending letters, an inspector visited the plant, named Maid-Rite, about two months later. While not standard procedure, the agency gave the plant advance notice because the worksite had "potential COVID-19 exposure," as the inspector testified. Ultimately, the agency determined an imminent danger did not exist. On Tuesday, the lawsuit reached its conclusion. A federal appeals court dismissed the lawsuit, but, in the process, it affirmed one of the 'most imporant tools' for workers, as one former OSHA official has put it. That tool is the right for workers, if faced with 'imminent danger,' to sue OSHA if the agency takes no action 'abritrarily or capriciously.' While affirming that right, the court also said workers can only sue while OSHA is in the midst of its enforcement proceedings, which can stretch on for years."
Hmm:
Love creates monopsony power.

The lover is free to exit and find better terms, but is spell-bound by their beloved.

Separation elasticity is low.

The other partner exploits this rigidity and extracts love rents.#EarlyValentines! 😍

— Alice Evans (@_alice_evans) February 3, 2023
Odi et amo….
News of the Wired
"Read all about it: how typography influences your understanding" [Physics World].
The realm of typography is a "magic forest", according to Bringhurst, endowing human language with "a durable, visible form, and thus with an independent existence". While some areas in that forest are well travelled, many are spectacular and wild. In the far-out font Beowulf, for instance, computers introduce tiny random perturbations into the letters, making each slightly dissimilar and reading them a surprisingly fresh experience.

Physicists might not realize, but typography has a huge impact on the reading experience. Bad design, Bringhurst says, makes "the letters mill and stand like starving horses in a field", while careless design makes them "sit like stale bread and mutton on the page". Good design involves an "energetic repose" whose paradoxical ambition is to draw our eyes in and then vanish. The late Beatrice Ward, Bringhurst's scholarly predecessor, compared typography to a crystal goblet, "because everything about it is calculated to reveal rather than hide the beautiful thing which it was meant to contain".

Moreover, Bringhurst writes, choosing a font is like framing a painting in that it has to suit the contents. Think, he says, of how silly "a cubist painting in an eighteenth-century gilded frame" would be. Or, closer to home, imagine if you had to read page after page of Physics World in Comic Sans – the supposedly playful font adopted in many cheesy PowerPoint presentations and even by future CERN boss Fabiola Gianotti when she announced the discovery of the Higgs boson in 2012.
Readers, how about next week is "Feel Good Cleveland Week"? I had a lot of fun with Fresno:
Sutton Hardware, located on 3848 Prospect Ave. Cleveland, it was a privilege to meet Bob Becka, a dedicated employee who has been with the industrial hardware shop for an impressive 40 years. Along with his wife, Bob plays an integral role in the success of this Cleveland staple. pic.twitter.com/musFey52tS

— John Skrtic (@SkrticX) February 2, 2023
* * *
Contact information for plants: Readers, feel free to contact me at lambert [UNDERSCORE] strether [DOT] corrente [AT] yahoo [DOT] com, to (a) find out how to send me a check if you are allergic to PayPal and (b) to find out how to send me images of plants. Vegetables are fine! Fungi and coral are deemed to be honorary plants! If you want your handle to appear as a credit, please place it at the start of your mail in parentheses: (thus). Otherwise, I will anonymize by using your initials. See the previous Water Cooler (with plant) here. From Katiebird: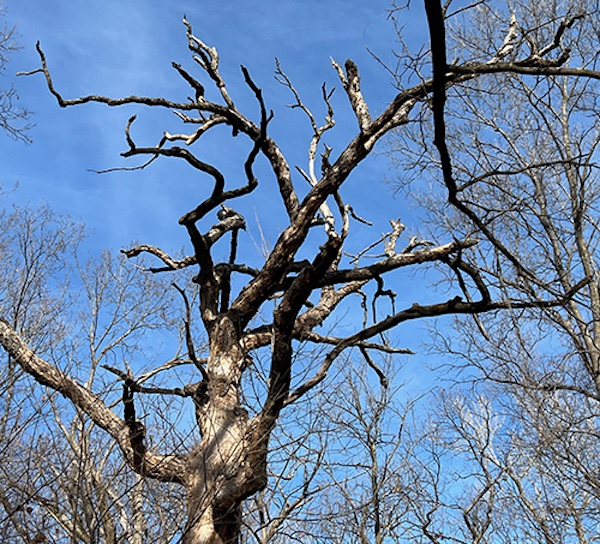 Katebird writes: "We've walked under this tree for many, many years on our walk. And the light at the 11 am hour makes it jump out of the woods. The past few months have been hard on the poor thing. But this morning it really glowed."
* * *
Readers: Water Cooler is a standalone entity not covered by the annual NC fundraiser. So if you see a link you especially like, or an item you wouldn't see anywhere else, please do not hesitate to express your appreciation in tangible form. Remember, a tip jar is for tipping! Regular positive feedback both makes me feel good and lets me know I'm on the right track with coverage. When I get no donations for five or ten days I get worried. More tangibly, a constant trickle of donations helps me with expenses, and I factor in that trickle when setting fundraising goals:
Here is the screen that will appear, which I have helpfully annotated: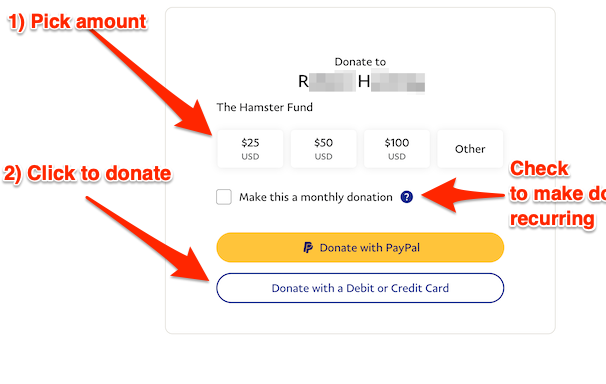 If you hate PayPal, you can email me at lambert [UNDERSCORE] strether [DOT] corrente [AT] yahoo [DOT] com, and I will give you directions on how to send a check. Thank you!