Readers, Yves sent Matt Taibbi email saying 100+ readers had commented on "Why Do Mainstream Democrats Hate Matt TaibbI?", and that it "must be terrible to be on the receiving end of sustained bullying." Taibbi responded, saying among other things "Thanks for this! It did cheer me up, thank you." Hat tip, NC Commentariat! –lambert
Patient readers, I apologize for excessive length and chattiness. I over-compensated for our weird Easter weekend newsflow by gathering too much, and there were some links I couldn't bear to prune. –lambert
* * *
See the flamboyant grandeur of the common betta fish National Geographic
Has T. rex lost its bite? Menacing snarl may be wrong AP
The Gambler Who Beat Roulette Bloomberg
Climate
Venice Is Saved! Woe Is Venice. NYT

Global warming, home runs, and the future of America's pastime American Meteorology Society. "We isolate human-caused warming with climate models, finding that >500 home runs since 2010 are attributable to historical warming."

Elusive Billionaire Bets Against Europe's Green Plans—And Mints a Fortune Bloomberg
Water
Drought-ravaged Colorado River gets relief from snow. But long-term water crisis remains Los Angeles Times

A Mississippi city reeling from a clean water crisis sees a sudden end to trash collection NBC
#COVID19
Face-mask rules relaxed as hospitals to take big step away from pandemic era Independent. Ireland. Commentary:

It's essentially actively making the decision to send elderly and vulnerable people to their death- because they cannot not access healthcare when they needed. If healthcare cannot be a safe place for the vulnerable, what's left?

— Dr. Deepti Gurdasani (@dgurdasani1) April 7, 2023

Some go to Happyville, some go to Pain City….

SARS-CoV-2 Omicron variant shedding during respiratory activities International Journal of Infectious Diseases. From the Abtract: "Compared with patients infected with pre-Omicron variants, comparable SARS-CoV-2 RNA copy numbers were detectable in aerosol samples of patients infected with Omicron despite being fully vaccinated. Patients infected with Omicron also showed a slight increase in viral aerosol shedding during breathing activities and were more likely to have persistent aerosol shedding beyond 7 days after disease onset." So much for vaccination preventing transmission. Also so much for Walensky's 5-days-then-back-to-work guidance; she killed a lot of people when she cut the number from 10 days to five.

Bivalent COVID Vaccines; Can the Original Antigenic Sin be Forgiven? (PDF) (viewpoint) The Journal of Infectious Diseases. "The good news is that if new variants escape to a point where there is little cross-recognition by pre-existing memory B and T cells, then it should be possible to prime an effective primary immune response against the emerging spike protein. This phenomenon is routinely seen in untreated HIV infection where there is a much higher degree of virologic escape. At this point, hopefully the original antigenic sin will be forgiven." To this layperson, seems like a lucid explanation of "original antigenic sin." Readers?
China?
China's consumer recovery still dubious as nearly 60 per cent of households prefer to save South China Morning Post

China health officials lash out at WHO, defend virus search AP
Blinken to visit Vietnam next week, US senator says Channel News Asia
Myanmar
Two Years of Turmoil: Myanmar's Spiraling Civil War The Diplomat

Rise in unlicenced garment factories fuels labour exploitation in post-coup Myanmar Frontier Myanmar
Syraqistan
CIA chief visits Saudi Arabia to express frustration about Iran rapprochement: Report Anadolu Agency. "Blind-sided." That's a damn shame.

Israeli Assault on Al Aqsa is State Terrorism Tikun Olam

Israeli spyware NSO still hides among the walls of the White House Al Mayadeen
Abortion
Reaction to Texas Abortion Pill Ruling: Outrage, and Muted Praise NYT
New Not-So-Cold War
Ukraine will 'disappear' as 'no one needs it,' says top Russian security official Anadolu Agency

Ukrainians afraid of Hungary's expansion in Transcarpathia Daily News Hungary. Silly Ukrainians. It's Poland they have to worry about, not Hungary!

US 'resists' giving Ukraine NATO accession 'road map' France24

Everybody in Washington wants the Ukrainian ambassador at their party WaPo

On the Threshold of a New International Order Tricontinental

* * *

Leaked military documents on Ukraine battlefield operations circulated as early as March Politico. 4/7, the first (Telegram) tranche, lead sourced to Bellingcat.

Leaked Pentagon docs show how deep US has compromised Russian intelligence New York Post (that's "deeply"). 4/8, the second (4chan) tranche. Yves shows here that the likely source for the first tranche is Ukraine itself, painting itself (correctly) as weak, to either prevent the long-awaited "counter-offensive" or create an alibi for failure (and moar weapons). It occurs to me that the first tranche punches West, and the second East. I'd speculate that Ukraine's goal in the second tranche would be to toss an apple of discord amongst the Russian intelligence services; perhaps the empowerment of a Russian James Jesus Angleton would be the happy outcome. Not that there's much likelihood of that in any reality we know; the KBG has been highly competent for some time, and that includes the capability to neutralize moles, double agents, and such-like. Perhaps someone advised Ukraine to use Karl Rove's strategy of "attack the strength"?

'Awfully Convenient': Leaked NATO Plans for Ukraine Should Be Taken 'With Grain of Salt' Sputnik. "It therefore had an impressive topicality, which at once, in Smiley's eyes, made it suspect." – John le Carré, Tinker, Tailor, Soldier, Spy. And where did I find this link? Drudge [sighs, shrugs].

* * *

Ukraine able to resume electricity exports after six-month gap – minister Reuters

Ukrainian army failed to regain Zaporizhzhia Nuclear Power Plant in October Ukrainska Pravda

Human wave tactics are demoralizing the Russian army in Ukraine The Atlantic Council
Biden Administration
Could Dementia in the National Security Workforce Create a Security Threat? RAND Corporation. Or, oddly unmentioned, brain fog?

'We need you all': Harris takes White House message on guns to Nashville Politico. Suddenly Harris is getting a lot of good press. Did Biden slip a cog?

The Problem With the IRS Pledge Not to Audit More Earners Under $400,000 WSJ
B-a-a-a-a-d Banks
Toronto-Dominion Becomes Biggest Bank Short With $3.7 Billion on the Line Bloomberg

What I learnt from three banking crises Gillian Tett, FT
The Supremes
Clarence Thomas's Billionaire Benefactor Collects Hitler Artifacts Washingtonian
2024
And So It Begins: On the First Charges to Drop Against Former President Donald Trump Lawfare. Appropriate source. Lovin' the bio: "Scott R. Anderson is a fellow in Governance Studies at the Brookings Institution and a Senior Fellow in the National Security Law Program at Columbia Law School. He previously served as an Attorney-Adviser in the Office of the Legal Adviser at the U.S. Department of State and as the legal advisor for the U.S. Embassy in Baghdad, Iraq." All recommendations, apparently.

How a Drawing of Donald Trump at His Arraignment Became the First Courtroom Sketch to Cover 'The New Yorker' Artnet. Counting coup.
Republican Funhouse
Tennessee's House expels 2 of 3 Democrats over guns protest AP

Justin Pearson and Justin Jones Have a History of Breaking the Status-Quo, Even With Clothing Vogue
Capitol Seizure
Appeals court ruling puts hundreds of Jan. 6 felony cases in limbo Politico. Obama nominee. Worth a read for the issues.
Our Famously Free Press
How Fox Chased Its Audience Down the Rabbit Hole NYT. The Deck: "Rupert Murdoch A. G. Sulzberger built an empire by giving viewers readers exactly what they wanted. But what they wanted — election lies and insurrection RussiaGate and Trump Derangement Syndrome — put that empire (and the country) in peril." Fixed it for ya. Not that the original was incorrect. Just… not as self-reflective as it might have been.

Dang. What's that high-pitched warbling sound:

Trump-Russia was real. The Twitter Files were fake.

— David Frum (@davidfrum) April 8, 2023

WMDs were real. The Afghan War Diaries were fake. Dude, come on. The schtick is getting old.
Herring Watch
Michigan Man Charged with Assaulting Grocery Clerk with Frozen 4-pound Herring Field and Stream
Digital Watch
EXCLUSIVE: First anti-aging pills to hit shelves in 2028, expert predicts – as Silicone Valley races to conquer death Daily Mail

Is Big Tech's R&D Spending Actually Hurting Innovation in the U.S.? WSJ. Hard to see how servicing rentiers would have that effect, surely?
Zeitgeist Watch
OnlyFans Actress Filmed Sex Act at Ancient Colombian Landmark, Sparking Outrage Gizmodo

Jealousy and Its Antidote: Pioneering Psychiatrist Leslie Farber on the Tangled Psychology of Our Most Destructive Emotion The Marginalian
Guillotine Watch
$4 Trillion In U.S. Wealth Is Stashed Overseas, Much Of It In Tax Havens Forbes
Class Warfare
How Zombifying Fungi Became Master Manipulators Scientific American
Antidote du jour (via):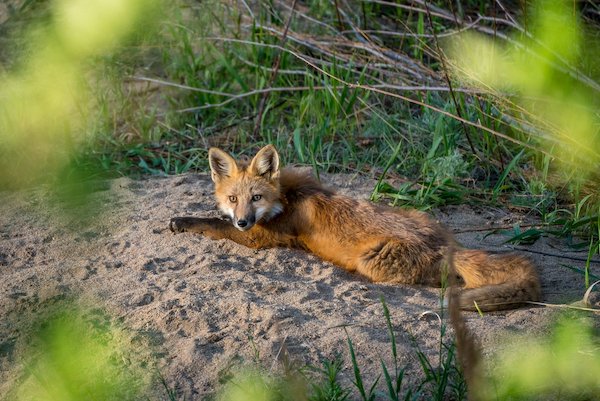 I couldn't find a proper bear to go with the blob (below); so, a cute fox.
Bonus antidote:
Earliest known animal was a half-billion-year-old underwater blob https://t.co/zGwbssHSYc pic.twitter.com/UpFXZwYoF3

— New Scientist (@newscientist) September 22, 2018
See yesterday's Links and Antidote du Jour here.