By Lambert Strether of Corrente.
Patient readers, I got a late start today. This should be enough to get you going; more soon. –lambert
Bird Song of the Day
Fiery-necked Nightjar, De Hoop Nature Reserve, Western Cape, South Africa. "Calling from bushes in the camp site by the vlei."
* * *
Politics
"So many of the social reactions that strike us as psychological are in fact a rational management of symbolic capital." –Pierre Bourdieu, Classification Struggles
Biden Administration
Hat tip to Stoller:

"To the American Economic Liberties Project, thank you." – Joe Biden pic.twitter.com/lVMatKccFy

— Matt Stoller (@matthewstoller) May 6, 2023

I only hope it's not the kiss of death.

* * *

"Biden to meet with McCarthy, Jeffries, Schumer and McConnell on debt limit" [CBS]. "Mr. Biden, House Speaker Kevin McCarthy, House Minority Leader Hakeem Jeffries, Senate Majority Leader Chuck Schumer and Senate Minority Leader Mitch McConnell are gathering in the Oval Office at 4 p.m."

"Deal or default? Biden, GOP must decide what's on the table" [Associated Press]. "With the government at risk of being unable to meet its obligations as soon as June 1, raising the specter of economic chaos, Republicans are coming to the White House hoping to negotiate sweeping cuts to federal spending in exchange for allowing new borrowing to avoid default. Biden, on the other hand, is set to reinforce his opposition to allowing the country's full faith and credit to be held "hostage" to negotiations — and to affirm his willingness to hold talks on the budget only after default is no longer a threat. The chasm between these opposite postures is fomenting uncertainty that is already roiling financial markets and threatens to turn into a tidal wave that swamps the country's economy if not resolved." • I just can't get excited about this. The trainwreck is always avoided at the last minute. That said, there's not much time:

If the House, Senate and White House want to resolve the ongoing impasse over the US debt ceiling, they have a tight window to do so https://t.co/PvDTthBCso pic.twitter.com/ryiUQDQDTY

— Bloomberg Markets (@markets) May 9, 2023

"Fed's Goolsbee Warns Debt-Limit Showdown Is Clouding Economic Outlook" [Bloomberg]. "Federal Reserve Bank of Chicago President Austan Goolsbee said a protracted showdown over the debt ceiling will make the Fed's job much more difficult as it tries to assess the impact of bank-sector turmoil, which he said is leading to tighter credit conditions." • Somehow I missed that Obama operative Goolsbee wormed his way into the Fed. What a freak show.
2024
I guess it's time for the Countdown Clock!

Christmas music in the stores on Halloween, but here we are…

* * *

"Biden Trails Trump as His Approval Rating Hits Low in ABC Poll" [Bloomberg]. "The percentage of those approving of Biden's performance fell to 36%, six points lower than in February and a point off his previous low in early 2022, according to the survey conducted for the news organizations by Langer Research Associates. Some 56% disapproved of his performance, while 68% regarded Biden, at 80, as too old for another term. On the question of whom voters prefer for 2024, only 44% viewed Trump, 76, as too advanced in years. Participants also rated Trump's physical health and mental acuity higher, and perceived the former president as having done a better job handling the economy when he was president than Biden has done in his term so far. When asked who they'd support in 2024, 44% said they would 'definitely' or 'probably' vote for Trump, more than the 38% who said they'd do the same for Biden."

"Kamala Harris Is Finding Her Stride as Team Biden's Voice to Black Voters" [Bloomberg]. "'The more she talked, the more passionate and fiery she got,' said civil-rights leader Reverend Al Sharpton, who called her speech an 'a-ha moment' for an administration that lacked a reliable bond with the Black community. 'All of us knew we were looking for something. She's become that something.' Harris is hitting some of her stride at a crucial moment as she and the president officially launch their reelection bid. Biden credits Black voters for his 2020 victory, with exit polls showing he carried 87% of the vote. But recent surveys reveal erosion in enthusiasm among the bloc, making it essential for Biden and Harris to bolster ties in the 18 months before the presidential election."

"Trump's weird weapon: Bad news" [Axios]. "Call it the Trump Law of Inverse Reactions: Everything that would seem to hurt the former president only makes him stronger…. This dynamic is similar to the stunning election of 2016… . For the first time in a long time, top Republicans and Democrats are telling us the same thing, in the same words — Trump looks impossible to beat for the Republican nomination…. Here's another echo of 2016. Beltway and establishment Republicans are fantasizing that something magical will make Trump go away — instead of deploying a coordinated effort to supplant him." • I'm looking at the seven bullet items of "things that would seem hurt" Trump — four court cases, one gaffe, and competition from other candidates — and ya know, it's almost like there's a lawfare campaign going on. Of course, this is domestic politics, so that would never happen. (Sharp-eyed readers will notice that there are seven items, but I list six. That's because the normally reliable Axios editorial team didn't catch that one of the bullet points was a dupe: "Faced rising competition from credible '24 challengers, including Florida Gov. Ron DeSantis, former U.N. ambassador Nikki Haley and Sen. Tim Scott of South Carolina." The Trump distortion field in action?

"Will Trump Prove to Be Another Romney?" [Wall Street Journal]. "So expect Team Biden to reuse the 2012 Democratic playbook. Like Mr. Biden, President Obama was vulnerable headed into his re-election campaign. His stimulus bill and Affordable Care Act had provoked the populist tea-party revolt. His campaign needed to change the contest from a referendum on Mr. Obama's performance to a choice between an imperfect incumbent and an unacceptable challenger. The Obama high command quickly swung into action, blasting Mitt Romney well before he had won the long, contentious and costly nomination battle on April 24. Team Obama recognized that extolling Mr. Obama's first-term record and outlining his vision for the future were insufficient. So on April 11, it opened up on Mr. Romney with an advertising blast depicting the former Massachusetts governor as a heartless plutocrat. Democrats kept this up for nearly seven months, pounding Mr. Romney as filthy rich, out-of-touch and indifferent to people's everyday struggles—even as mistreating his dog. It worked." • Trump doesn't have a dog, does he? Anyhow, Romney did mistreat his dog. Animal abuse remains one of the few reliable markers for distinguishing a Republican from a Democrat.

"Five takeaways from Florida's crucial 2023 legislative session" [The Hill]. "Wielding the power of newly minted supermajorities, state Republican lawmakers kicked off their annual session with a clear goal: deliver DeSantis a long list of policy wins that he can tout to GOP voters, both in Florida and nationally. For the most part, they accomplished that mission. Legislators approved multiple DeSantis-backed bills, including a measure allowing Floridians to carry concealed weapons without a permit, a ban on abortions after six weeks of pregnancy and a bill ending the unanimous jury requirement for death penalty recommendations."

"Most Americans support anti-trans policies favored by GOP, poll shows" [WaPo]. "Clear majorities of Americans support restrictions affecting transgender children, a Washington Post-KFF poll finds, offering political jet fuel for Republicans in statehouses and Congress who are pushing measures restricting curriculum, sports participation and medical care. Most Americans don't believe it's even possible to be a gender that differs from that assigned at birth. A 57 percent majority of adults said a person's gender is determined from the start, with 43 percent saying it can differ… And some Americans have become more conservative on these questions as Republicans have seized the issue and worked to promote new restrictions. The Pew Research Center found 60 percent last year saying one's gender is determined by the sex assigned at birth, up from 54 percent in 2017." • "Assigned"? As opposed to recognized? Discovered? Ascertained? I'm all for understanding power relations in medical care, as readers surely know, but at some point…. you're bumping up against the uglies.
Republican Funhouse
"Lasch's critique of "narcissism": middlebrow pseudoscience for godless conservatives" [Carl Beijer]. "Contemporary political punditry is totally overrun with journalists and social media personalities psychoanalyzing each other — and almost all of it is complete bullshit… Here, I just want to take a moment to address one of the most persistent and idiotic cases of polipsych punditry in our discourse today: right-wing folks calling people "narcissists", ostensibly in allusion to Christopher Lasch… matters here is that Lasch wrote a book called The Culture of Narcissism. CoN [ouch!] is probably best understood as an attempt to rehabilitate ordinary Protestant right ideas about the cultural consequences of godlessness for godless conservative elites. Critics who think this a simplification of Lasch have likely just simplified Protestant thought, which has a whole sophisticated theology on Luciferian pride and how the perversions of vanity and selfishness play out culturally and psychologically. Consciously or by osmosis, Lasch has plainly absorbed these ideas; his innovation is to try to rearticulate them through a quasi-Freudian, quasi-clinical lens of psychological narcissism. This angle is perfect for political pundits who want to play amateur psychologist — a good description of the author himself, who of course has no formal training or professional background in psychology. It's also a good fit for influencers who want to pander to the Protestant right, but who find religious claims about sin and godlessness a little too passé. It is, finally, a good fit for the extremely lazy, because in its popular form Lasch's theory has become a hammer that turns everything into a nail: everything my haters do is narcissism, the reigning psychopathology of our age. The basic problem here is that Lasch's claim is just empirically incorrect. Narcissistic Personality Disorder, the actual condition in question with all of its pathological psychodynamics and behavioral problems, is comically rare in the United States." • I read CoN when it came out; it struck me as sloppily argued and discursive.
Democrats en Déshabillé
Patient readers, it seems that people are actually reading the back-dated post! But I have not updated it, and there are many updates. So I will have to do that. –lambert

I have moved my standing remarks on the Democrat Party ("the Democrat Party is a rotting corpse that can't bury itself") to a separate, back-dated post, to which I will periodically add material, summarizing the addition here in a "live" Water Cooler. (Hopefully, some Bourdieu.) It turns out that defining the Democrat Party is, in fact, a hard problem. I do think the paragraph that follows is on point all the way back to 2016, if not before:

The Democrat Party is the political expression of the class power of PMC, their base (lucidly explained by Thomas Frank in Listen, Liberal!). ; if the Democrat Party did not exist, the PMC would have to invent it. . ("PMC" modulo "class expatriates," of course.) Second, all the working parts of the Party reinforce each other. Leave aside characterizing the relationships between elements of the Party (ka-ching, but not entirely) those elements comprise a network — a Flex Net? An iron octagon? — of funders, vendors, apparatchiks, electeds, NGOs, and miscellaneous mercenaries, with assets in the press and the intelligence community.

Note, of course, that the class power of the PMC both expresses and is limited by other classes; oligarchs and American gentry (see 'industrial model' of Ferguson, Jorgensen, and Jie) and the working class spring to mind. Suck up, kick down.

* * *

"Nonprofits Involved in SF Corruption Scandal Revealed in Unsealed Filings" [The San Francisco Standard] ("financed by Michael Moritz, a general partner at Sequoia Capital"). "Two nonprofits that San Francisco has awarded millions in funding have been directly linked to the corruption scandal surrounding former Public Works head Mohammed Nuru for the first time, in a newly unsealed plea agreement. In the agreement, signed in 2021, former Recology executive Paul Giusti admits that he sought to influence Nuru's official actions by directing payments from the waste company to both the Clean City Coalition and the Asian Pacific American Community Center. Federal prosecutors moved to unseal the agreement in February, and the filing was later referenced as part of the case against another Recology executive charged in the scandal, John Porter. The revelations of the involvement of the two nonprofits—which have active city contracts worth about $7.5 million combined—come after Porter pleaded guilty Tuesday to a fraud conspiracy charge. Porter, an ex-Recology vice president, admitted that he conspired to bribe Nuru, including with $55,000 in payments concealed as donations for needy children that were used to throw holiday parties for Nuru's friends, workers and political supporters, prosecutors said."

Wonderfully clarifying:

Michelle Obama recently announced her PLEZi Nutrition company, which has the stated aim of raising a healthy generation of kids.

So naturally, she has teamed up with Peter Thiel's favorite economics professor and COVID minimizer Emily Oster… pic.twitter.com/pEERGJUKEw

— Walker Bragman (@WalkerBragman) May 8, 2023

Emily Oster was the very first recipient of our Sociopath of the Day award!
Realignment and Legitimacy
"For Saner Politics, Try Stronger Parties" [Wall Street Journal]. "Today, the movement to weaken the national party structures that began in 1968 has reached its logical result: The power of the two national party organizations has declined so dramatically that they sometimes appear to be bystanders to a political system in which they were once." • Any Democrat who experienced either 2016 or 2020 knows that's just not so.

"Americans Need to Acknowledge Their Unwritten Constitution" [Foreign Policy]. "Politico Magazine recently published a guide to etiquette for life in the District of Columbia. One of the rules went well beyond simple etiquette, highlighting a provision of America's unwritten Constitution: 'If someone has ever been elected or appointed to anything, ever, they are to be addressed by that title going forward—a requirement that does not expire at death.'… Take the rule at hand. The title of nobility clause in Article 1, Section 9 of the written text states: "No Title of Nobility shall be granted by the United States.' But what are titles like ambassador, general, president, and senator—used for life and not just to indicate a temporary appointment—if not titles of nobility? It is not just Politico readers who use them: The federal government does, too. It is the U.S. equivalent of a life peerage, a British noble rank that is not hereditary. And it does not stop there…. This formalization of aristocratic cultural traits matters, of course. The creation of a permanent ruling class runs directly counter to the spirit of the example famously set by George Washington. It perpetuates hierarchy without accountability or responsibility. " • Interesting article, almost as if written by an anthropologist. But it's certainly odd to hear a conservative arguing aagainst the formalization of aristocratic traits." Maybe they're not unhappy with the idea of a Norms Fairy as such, just this particular Norms Fairy?

"Berkeley professor apologizes for false Indigenous identity" [Associated Press]. • False? The professor "identified as." Don't we have to take them at their word?
#COVID19
"I am in earnest — I will not equivocate — I will not excuse — I will not retreat a single inch — AND I WILL BE HEARD." –William Lloyd Garrison
Resources, United States (National): Transmission (CDC); Wastewater (CDC, Biobot; includes many counties); Variants (CDC; Walgreens); "Iowa COVID-19 Tracker" (in IA, but national data).
Lambert here: Readers, thanks for the collective effort. We are now up to 50/50 states (100%). This is really great! (It occurs to me that there are uses to which this data might be put, beyond helping people with "personal risk assessments" appropriate to their state. For example, thinking pessimistically, we might maintain the list and see which states go dark and when. We might also tabulate the properties of each site and look for differences and commonalities, for example the use of GIS (an exercise in Federalism). I do not that CA remains a little sketchy; it feels a little odd that there's no statewide site, but I've never been able to find one. Also, my working assumption was that each state would have one site. That's turned out not to be true; see e.g. ID. Trivially, it means I need to punctuate this list properly. Less trivially, there may be more local sites that should be added. NY city in NY state springs to mind, but I'm sure there are others. FL also springs to mind as a special case, because DeSantis will most probably be a Presidental candidate, and IIRC there was some foofra about their state dashboard. Thanks again!
Resources, United States (Local): AK (dashboard); AL (dashboard); AR (dashboard); AZ (dashboard); CA (dashboard; Marin); CO (dashboard; wastewater); CT (dashboard); DE (dashboard); FL (wastewater); GA (wastewater); HI (dashboard); IA (wastewater reports); ID (dashboard, Boise; dashboard, wastewater, Central Idaho; wastewater, Coeur d'Alene; dashboard, Spokane County); IL (wastewater); IN (dashboard); KS (dashboard; wastewater, Lawrence); KY (dashboard, Louisville); LA (dashboard); MA (wastewater); MD (dashboard); ME (dashboard); MI (wastewater; wastewater); MN (dashboard); MO (wastewater); MS (dashboard); MT (dashboard); NC (dashboard); ND (dashboard; wastewater); NE (dashboard); NH (wastewater); NJ (dashboard); NM (dashboard); NV (dashboard; wastewater, Southern NV); NY (dashboard); OH (dashboard); OK (dashboard); OR (dashboard); PA (dashboard); RI (dashboard); SC (dashboard); SD (dashboard); TN (dashboard); TX (dashboard); UT (wastewater); VA (dashboard); VT (dashboard); WA (dashboard; dashboard); WI (wastewater); WV (wastewater); WY (wastewater).
Resources, Canada (National): Wastewater (Government of Canada).
Resources, Canada (Provincial): ON (wastewater); QC (les eaux usées); BC, Vancouver (wastewater).
Hat tips to helpful readers: Art_DogCT, B24S, CanCyn, ChiGal, Chuck L, Festoonic, FM, FreeMarketApologist (4), Gumbo, hop2it, JB, JEHR, JF, JL Joe, John, JM (9), JW, KatieBird, LL, Michael King, KF, LaRuse, mrsyk, MT, otisyves, Petal (5), RK (2), RL, RM, Rod, square coats (11), tennesseewaltzer, Utah, Bob White (3).
* * *
Look for the Helpers
In reaction to MGH eliminating masking:

Available for download here. Marketing mavens, what do you think of this collateral?
Covid Is Airborne
"Book Review: Healthy Buildings" [Construction Physics (Carolinian)]. "The basic argument of Healthy Buildings is simple. Modern society has created a large number of rules to protect the environment, both because we think the environment is valuable in itself, but also because we realize that a dirty, polluted environment can negatively impact people's health. Clean air regulations such as the Clean Air Act, for instance, were created largely as public health measures…. But people spend nearly all their time indoors. Americans spend 90% or more of their time indoors… Allen and Macomber go through a variety of ways that indoor spaces can negatively impact health. The largest, most important one is ventilation and air quality. Current ventilation standards (such as ASHRAE 62.1 and 62.2), consider occupant health (along with comfort), and are designed to minimize pollutant concentrations, but they (according to Allen and Macomber) don't go far enough. They also don't include considerations for things like minimizing airborne pathogens. And standards such as 62.1 and 62.2 are design standards – they stipulate what ventilation performance should be achieved at the time of construction, but there's little in the way to ensure that this is achieved during actual operation. In practice, buildings often have ventilation rates and measures of air quality that are substantially below design requirements." • Good work, even if co-author Joseph Allen went completely round the twist, as an anti-masker.
Maskstravaganza
"Empathising with masked targets: limited side effects of face masks on empathy for dynamic, context-rich stimuli." [Cognition and Emotion (square coats)]. "Recent research suggests that face masks undermine observers' ability to correctly identify emotions in faces that are partially covered by a face mask. Nearly all these studies used still images of target faces. However, such images represent a rather decontextualised way of perceiving affective responses and preclude the investigation of emotional (as compared to cognitive) components of empathy. In our study, we examined whether face mask effects would hold once the presentation mode was changed to observing film clips of people talking about autobiographical events, and whether such effects would extend to emotional components of empathy (i.e. emotional congruence and sympathy). Our findings indicate that under these more ecologically valid conditions, face masks do not have an effect on empathic accuracy and emotional congruence. Face masks also did not shift empathic motives related to affiliation and cognitive effort. Covering the face by either a mask or by a black bar did, however, reduce feelings of sympathy for the target persons." • Hmm.
Sequelae
"Direct SARS-CoV-2 infection of the human inner ear may underlie COVID-19-associated audiovestibular dysfunction" [Nature]. "Coronavirus disease 2019 (COVID-19) is an infectious disease caused by the novel coronavirus SARS-CoV-2. A growing number of sensory symptoms have been linked to this illness. Here, we describe patients with COVID-19 and new-onset of hearing loss, tinnitus and/or dizziness. To examine the underlying molecular mechanisms of these symptoms, we studied human and mouse inner ear tissue. We also generated some of the first human cellular models of infectious inner ear disease. We show that human and mouse inner ear cells have the molecular machinery to allow SARS-CoV-2 entry. We further show that SARS-CoV-2 can infect specific human inner ear cell types. Our findings suggest that inner ear infection may underlie COVID-19-associated problems with hearing and balance." • And speaking of hearing:

I had this at Brighton Eye hospital from a receptionist wearing a mask as a chin strap.

She told me to take my mask off because 'she couldn't hear me' so I simply shouted my name instead. 🤷🏻‍♂️

— les paul junior 🍔🍺🎸🚍🐕 (@lespauljunior3) May 9, 2023

Readers will recall that communications difficulties for the hard of hearing were one of the excuses MGH's Erica Shenoy gave for dropping universal masking.

Brain damage anecdotes:

I've spent the last month & a half running unmoderated testing and watching the 40+ recordings. Consistent patterns: losing train of thought during task, stopping because they're coughing or someone else is at home, missing key words while reading prompts out loud. https://t.co/XlvKMMLlJ2

— no pos wow (@Firstofallputa) May 8, 2023
Elite Maleficence
"We Want Them Infected" [bioethics today]. "During a raging pandemic with a brand-new virus, influential doctors from prominent universities advocated for the mass infection of unvaccinated youth in the failed hopes of achieving herd immunity. In an effort to unpack this physician-led misinformation disaster, I recently published a book titled 'We Want Them Infected.' I catalog how vocal physicians from prominent universities embraced the anti-vaccine movement in the failed quest for herd immunity and blinded Americans to the threat of COVID. The book title's four words, we want them infected, come not from some random crackpot, but from Dr. Paul Alexander, an epidemiologist and official in the U.S. Department of Health and Human Services during the Trump administration. On July 4, 2020, before anyone had been vaccinated, he said: "Infants, kids, teens, young people, young adults, middle-aged with no conditions, etc. have zero to little risk….so we use them to develop herd [immunity]…we want them infected…." Dr. Alexander avoided euphemisms and spoke in plain language. His stated plan was to use unvaccinated young people as human shields to open everything up and 'protect the vulnerable' via 'natural immunity.'" • IIRC, Fauci was for "herd immunity" too — and kept moving the goalposts for the percent of the population that needed to be infected to achieve it.

On that noxious and offensive "living in fear" trope:

"Living in fear" really ought to be classified as "fighting words." I'm so sick of it (not literally, fortunately).
* * *
Lambert here: I'm getting the feeling that the "Something Awful" might be a sawtooth pattern — variant after variant — that averages out to a permanently high plateau. Lots of exceptionally nasty sequelae, most likely deriving from immune dysregulation (says this layperson).
Case Data
From BioBot wastewater data from May 8: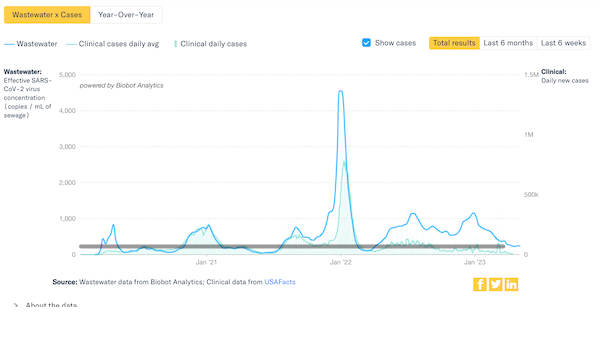 Lambert here: Unless the United States is completely, er, exceptional, we should be seeing an increase here soon. UPDATE Indeed, a slight uptick. Still on the high plateau.
For now, I'm going to use this national wastewater data as the best proxy for case data (ignoring the clinical case data portion of this chart, which in my view "goes bad" after March 2022, for reasons as yet unexplained). At least we can spot trends, and compare current levels to equivalent past levels.
Variants
NOT UPDATED From CDC, May 6, 2023. Here we go again: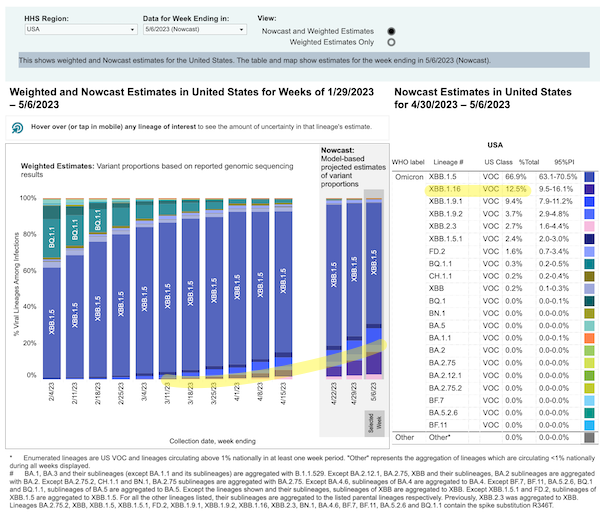 Lambert here: Looks like XBB.1.16 is rolling right along. Though XBB 1.9.1 is in the race as well.
Covid Emergency Room Visits
NOT UPDATED From CDC NCIRD Surveillance, from April 29: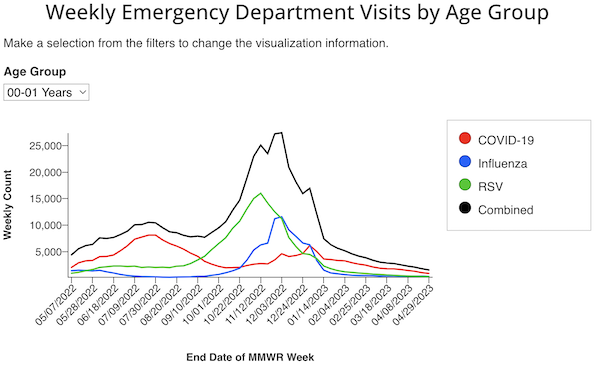 NOTE "Charts and data provided by CDC, updates Wednesday by 8am. For the past year, using a rolling 52-week period." So not the entire pandemic, FFS (the implicit message here being that Covid is "just like the flu," which is why the seasonal "rolling 52-week period" is appropriate for bothMR SUBLIMINAL I hate these people so much. Anyhow, I added a grey "Fauci line" just to show that Covid wasn't "over" when they started saying it was, and it's not over now. Notice also that this chart shows, at least for its time period, that Covid is not seasonal, even though CDC is trying to get us to believe that it is, presumably so they can piggyback on the existing institutional apparatus for injections.
Positivity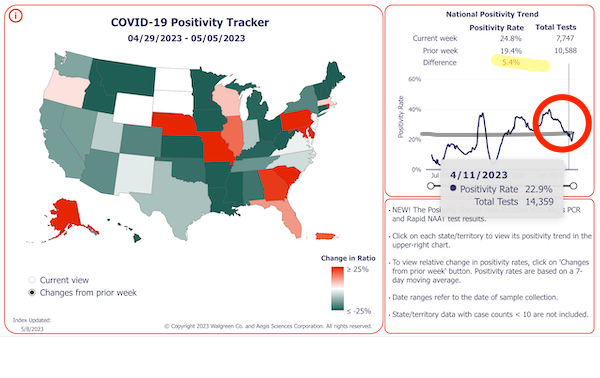 Lambert here: Walgreens is back up (hat tip, alert reader ChrisRUEcon). Hoorary! (I assume this also means you can still get test kits at Walgreens. It looks like you can order free test kits until May 11. What happens after that is not clear to me. Readers? (I would also be very happy if the site continued live after May 11.)
Lambert here: 4%. That's a lot. Though I don't know how whether they reported, or are interpolating, the data from April 11, the last day I recorded, until today.
Deaths
Death rate (Our World in Data):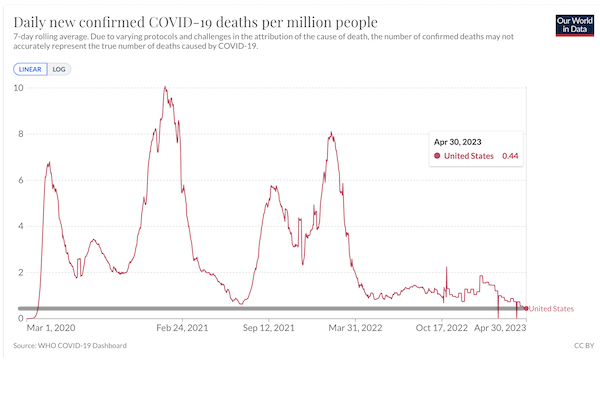 Lambert here: So this data feed, er, came alive again.
Total: 1,162,471 – 1,162,403 = 68 (68 * 365 = 24,820 deaths per year, today's YouGenicist™ number for "living with" Covid (quite a bit higher than the minimizers would like, though they can talk themselves into anything. If the YouGenicist™ metric keeps chugging along like this, I may just have to decide this is what the powers-that-be consider "mission accomplished" for this particular tranche of death and disease).
Excess Deaths
Excess deaths (The Economist), published May 9: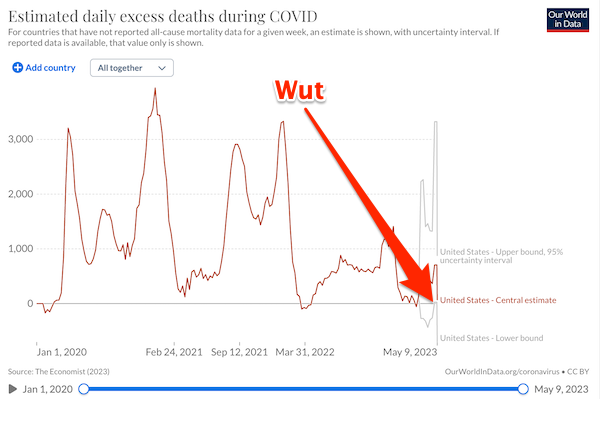 Lambert here: I don't like sudden drops to zero much. The same thing also happened with the death rate data after WHO took over the feed.
Lambert here: Based on a machine-learning model. (The CDC has an excess estimate too, but since it ran forever with a massive typo in the Legend, I figured nobody was really looking at it, so I got rid it. )
• These two mortality sites seem to be telling very different stories, both from each other and from the Economist's chart above. I'm not a mortality maven. Can readers clarify?
Mortality Watch (fjallstrom):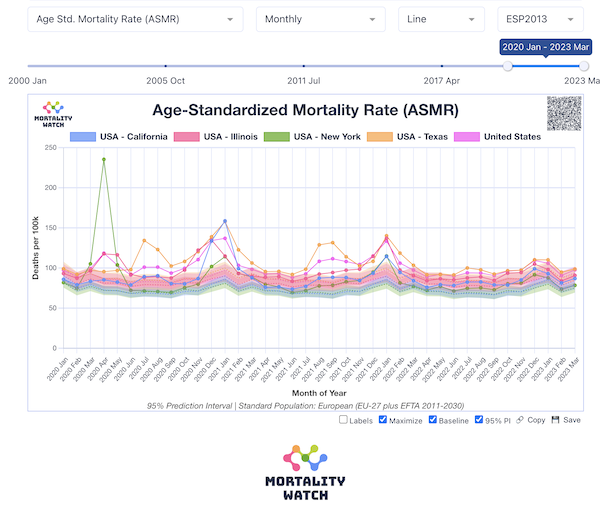 US Mortality (aleric):

Stats Watch
Business Optimism: "United States NFIB Business Optimism Index" [Trading Economics]. "The NFIB Small Business Optimism Index in the United States fell to 89 in April of 2023, the lowest since January of 2013, from 90.1 in March, and compared to forecasts of 89.6. Labor quality was the top business problem as more owners struggle with finding qualified workers for their open positions." • I wonder why? 'Tis a mystery!
Business Optimism: "United States IBD/TIPP Economic Optimism Index" [Trading Economics]. "The IBD/TIPP Economic Optimism Index dropped 5.8 points to 41.6 in May 2023, the lowest level since November and significantly below market expectations of 48.2. The latest reading was also lower than April's 16-month high of 47.4 and has been pessimistic for the past 21 months."
* * *
Tech: "Introducing Total Crap, The First Magazine Written Entirely by AI" [McSweeney's Internet Tendency]. "In many ways, fear of automated writing is similar to fear of automatic elevators without operators. At first, passengers were afraid to ride in automatic elevators because they were accustomed to the presence of human operators. In time, they realized that it was safer to use the automatic versions. Similarly, many people are now afraid that automated writing is prone to errors, incapable of originality, or destined to relegate millions of skilled workers to lives of uselessness and destitution. In fact, automated writing is safer than the manual version."
* * *
Today's Fear & Greed Index: 61 Greed (previous close: 60 Greed) [CNN]. One week ago: 52 (Neutral). (0 is Extreme Fear; 100 is Extreme Greed). Last updated May 9 at 1:12 PM ET.
Rapture Index: Closes down one on Oil Supply/Price. "Oil prices are back down" [Rapture Ready]. Record High, October 10, 2016: 189. Current: 184. (Remember that bringing on the Rapture is good.) NOTE on #42 Plagues: "The coronavirus pandemic has maxed out this category." More honest than most! I wonder where that's coming from?
Healthcare
Our Famously Free Press
Guillotine Watch
Class Warfare
"Biden calls for 'fair deal' for writers as strike continues" [CNN]. • A fair deal is what the workers want. How about that?
Everything's going according to plan:
I'm just screen capping this tweet by Bloomberg, as I don't want to help amplify this insanity. But THEY ARE SAYING THE QUIET PART OUT LOUD. It's good for big business if you start working as a child and die at the end of your 'productive' life, before you can retire. /contd/ pic.twitter.com/mHS4IhSeV1

— Caught in a Perfect Storm of Clusterfuckery (@Michael59503746) May 9, 2023
Class consciousness:
When my plumber came to the door and saw me in a mask, he ran to his truck to don his n95. When I wore my n95 to the eye doctor today, neither the assistant nor the doctor wore masks. Why wouldn't they have the same courtesy as my plumber, being as they are MEDICAL PROFESSIONALS?

— I Brake 4 Ants (@ibrake4ants) May 8, 2023
Deploying social capital:
Making a bad argument with confidence can be a show of strength.

It says: You don't acknowledge an interlocutor, you have the institutions behind you, you'll fight dirty if confronted, you can't and won't be reasoned with, you have power.

— Coddled affluent professional (@feelsdesperate) May 9, 2023
Accumulating social capital:
It's telling of this society's priorities that the only holdover from the COVID PHE is….outdoor dining – not new ventilation/air filtration standards for buildings, not better employee workplace protections, not a strengthened social safety net, just outdoor dining…

— Oni Blackstock (self-verífied) (@oni_blackstock) May 8, 2023
At least at some restaurants. I don't think the author means outdoor dining at Applebee's, if such a thing is even possible.
News of the Wired
"Dose-response relationships of LSD-induced subjective experiences in humans" [Nature]. "The considerable variability observed in most factors and scales points to the role of non-pharmacological factors in shaping subjective experiences." • No sh*t, Sherlock!
Seeing clearly for the first time:
Little boy seeing his mother clearly for the first time.. 🥲

🎥 TT: magenluster pic.twitter.com/Dd5cH2OGdA

— Buitengebieden (@buitengebieden) May 8, 2023
Of course, seeing clearly for the first time isn't always wonderful. But this is wonderful.
This is a real shame:
It is with the most profound sadness that I announce the passing away of my husband, @DavidMirandaRio. He would have turned 38 tomorrow.

His death, early this morning, came after a 9-month battle in ICU. He died in full peace, surrounded by our children and family and friends. pic.twitter.com/wtRvGyJyGl

— Glenn Greenwald (@ggreenwald) May 9, 2023
We can never know what a marriage is like from the outside. That said, apparently Miranda brought a lot of joy into Greenwald's life (whose life, I would speculate, was not markedly joyful before he met and married Miranda in Brazil). My sympathies to Greenwald and his family. What a terrible event, especially with Miranda so young, and with so many good years ahead of him. Readers on the Twitter may wish to go and say kind things.
* * *
Contact information for plants: Readers, feel free to contact me at lambert [UNDERSCORE] strether [DOT] corrente [AT] yahoo [DOT] com, to (a) find out how to send me a check if you are allergic to PayPal and (b) to find out how to send me images of plants. Vegetables are fine! Fungi and coral are deemed to be honorary plants! If you want your handle to appear as a credit, please place it at the start of your mail in parentheses: (thus). Otherwise, I will anonymize by using your initials. See the previous Water Cooler (with plant) here. From FM: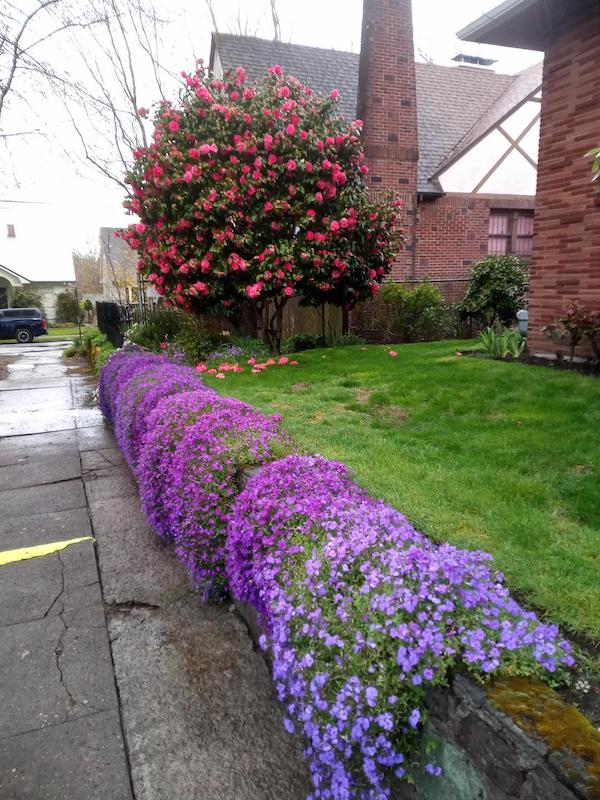 FM writes: "Pretty purple creepers in Portland, Oregon. I saw this scene on my way to the dentist."
* * *
Readers: Water Cooler is a standalone entity not covered by the annual NC fundraiser. So if you see a link you especially like, or an item you wouldn't see anywhere else, please do not hesitate to express your appreciation in tangible form. Remember, a tip jar is for tipping! Regular positive feedback both makes me feel good and lets me know I'm on the right track with coverage. When I get no donations for five or ten days I get worried. More tangibly, a constant trickle of donations helps me with expenses, and I factor in that trickle when setting fundraising goals:
Here is the screen that will appear, which I have helpfully annotated: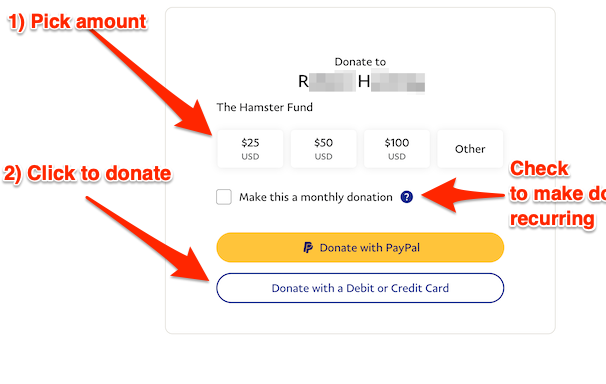 If you hate PayPal, you can email me at lambert [UNDERSCORE] strether [DOT] corrente [AT] yahoo [DOT] com, and I will give you directions on how to send a check. Thank you!