By Lambert Strether of Corrente.
Bird Song of the Day
American Goldfinch, Tompkins, New York, United States. A woodopecker joins the chorus.
* * *
Politics
"So many of the social reactions that strike us as psychological are in fact a rational management of symbolic capital." –Pierre Bourdieu, Classification Struggles
Biden Administration
"US to spend $42 billion to make internet access universal by 2030" [Reuters]. "The White House on Monday divvied up $42 billion among the nation's 50 states and U.S. territories to make access to high-speed broadband universal by 2030, as it launched a new publicity campaign for President Joe Biden's economic policies. The funding under the Broadband Equity Access and Deployment Program was authorized by the $1 trillion 2021 infrastructure law Biden championed. The spending will be based on a newly released Federal Communications Commission coverage map that details gaps in access. Texas and California – the two most populous U.S. states – top the funding list at $3.1 billion and $1.9 billion, respectively. But other, less populous states like Virginia, Alabama and Louisiana cracked the top 10 list for funding due to lack of broadband access. These states have large rural areas with less internet connectivity than their major cities…. States are expected to submit initial plans later this year that will unlock 20% of the funding. Once the plans are finalized, which could take to 2025, the government will release the remaining money." • 2025?
2024
I guess it's time for the Countdown Clock!

* * *

"Kevin McCarthy says he'll start impeachment of AG Merrick Garland by July 6 over bombshell IRS whistleblower testimony that he interfered in criminal investigation into Hunter Biden" [Daily Mail]. "The Republicans plan to take this action following new allegations by IRS whistleblower Gary Shapley, a 14-year veteran of the agency, claiming that Hunter Biden has been given preferential treatment by investigators looking into his tax affairs and lying on a gun permit application. Shapley pointed to a WhatsApp message sent on July 30, 2017, by Hunter to Chinese Communist Party official Henry Zhao, threatening him to follow his 'orders' and saying his dad was with him. Shapley alleges he raised concerns about the WhatsApp message to DOJ prosecutors, who rebuffed his concerns. McCarthy said on Fox & Friends Monday that U.S. Attorney David Weiss – who led the investigation into Hunter and charged the president's son last week for violating federal tax and gun laws after a 5-year probe – must appear before the House Judiciary Committee." • The Democrat line is that Weiss was appointed by Trump. That doesn't make him a Trump loyalist, obviously.

"Who is Lying? Merrick Garland or the Whistleblowers?" [Jonathan Turley]. "'I'm not the deciding official.' Those five words, allegedly from Delaware U.S. Attorney David Weiss, shocked IRS and FBI investigators in a meeting on October 22, 2022. This is because, in refusing to appoint a special counsel, Attorney Garland Merrick Garland had repeatedly assured the public and Congress that Weiss had total authority over his investigation. IRS supervisory agent Gary A. Shapley Jr. told Congress he was so dismayed by Weiss's statement and other admissions that he memorialized them in a communication to other team members…. The whistleblowers allege that the Justice Department consistently cut them off in seeking searches or answers related to President Biden. However, the line that stood out the most was this: 'U.S. Attorney Weiss stated that he subsequently asked for special counsel authority from Main DOJ at that time and was denied that authority.' If true, that means that Garland was not just hearing from experts and members of Congress calling for an appointment, but that Weiss himself also saw the need for such an appointment. Moreover, the report indicates that others in the investigation believed that there was a need to create such separation from the Justice Department in light of what they viewed as the special treatment given the president's son. These accounts could explain why the Justice Department took five years to secure a guilty plea to two misdemeanors that could have been established in the first month of the investigation."

* * *

"Trump's GOP lead grows after latest indictment, poll finds" [NBC]. Handy chart:

'It's just stupid': DeSantis stumbles in New Hampshire" [Politico]. "DeSantis' visit to the state Tuesday is being met with backlash from a major Republican women's group. The New Hampshire Federation of Republican Women released a statement Thursday slamming DeSantis for planning an event at the same time as their annual fundraising lunch — an event Trump is headlining. The group asked him to reschedule. 'It has always been a New Hampshire hallmark to be considerate when scheduling events,' the group's events director, Christine Peters, said in a statement. 'To have a candidate come in and distract from the most special event [the women's group] holds in the year is unprecedented.' DeSantis world was quick to dismiss the group's complaints, saying their event shouldn't be a distraction since it's in a different part of the state and at a different time than when Trump is speaking, and that the federation's soiree is already sold out. They noted that two of the group's members resigned over the statement targeting DeSantis, with the PAC blasting out their tweets. One of them, Kate Day, the now-former public relations chair, told POLITICO the federation erred when it 'broke its neutrality in criticizing' DeSantis. But DeSantis' opponents were already weaponizing the exchange. 'If there's one thing you don't do in New Hampshire, it's piss off the grassroots women,' said an adviser to a rival candidate granted anonymity to speak freely. 'Don't mess with them, they remember everything. Rookie move.'… 'It's the worst strategic move he has exhibited thus far,' New Hampshire-based Republican strategist Mike Dennehy said. 'It's just stupid, actually. .'" • Pass the popcorn.

"DeSantis voters: Angry at Fauci, anxious about 'Cinderfella,' tiring of Trump" [Seattle Times]. "'I feel like, you know, [Trump] is more seasoned,' Anne Marie Lamb, 69, said of Trump at a recent DeSantis event in New Hampshire. 'I feel like Trump, when he comes out and talks, I mean, where does that energy come from? You feel a little pumped after you listen to him….. DeSantis voters say they are impressed by battles DeSantis has waged and the enemies he's made – including the media, liberal governors and Disney. 'He's taken arrows and it doesn't stop him from doing what I think is right,' said Daphne Maingot, 63, who is backing DeSantis and went to see him in Greenville. Other voters still loyal to Trump were also drawn to DeSantis's combative style. ',' North Carolina physician Steve Hamstead said at his state's GOP convention this month, where both Trump and DeSantis spoke. He and his wife argued it just wasn't DeSantis's 'turn' to be president with Trump in the running. But Hamstead conceded the governor's fight with Disney 'almost puts him at the level of Trump, the way Trump is not afraid of taking people on.'"

"Trump and DeSantis are 'wrong' on Ukraine policy, 2024 GOP hopeful Will Hurd says" [ABC]. "The latest 2024 hopeful, former Texas Rep. Will Hurd, on Sunday stressed that he stood out in the crowded Republican primary field because of his belief that American needs stronger leadership on the world stage, particularly on Russia's invasion of Ukraine. 'We've seen over the last couple of days that we need people that have a real experience when it comes to national security,' Hurd told ABC… 'And look, Donald Trump has some good ideas, but he … lacked an ability to leverage the government in order to execute on those things. People like Ron DeSantis don't have that experience when it comes to foreign policy.' 'It's unfortunate the two leading Republican nominees for president, Donald Trump and Ron DeSantis, [their] policy on Ukraine is wrong,' Hurd said. 'I wish they would stop fighting with American companies like Disney and be more interested in supporting our allies against attacks against democracy.'"

"Trump sets sights on repeating his 2016 battleground success in Michigan" [PBS]. "Trump's popularity in Michigan has taken a hit since 2016. 'By Trump's calculations, he needs to win Michigan again to be the president. But he's been very disruptive here,' said Dave Trott, a former GOP congressman. 'Trump largely is the reason why the Michigan Republican Party is dead.' Last year, Trump's endorsed candidates in Michigan were among the loudest in repeating his unfounded claims that the 2020 election was rigged…. In November, the statewide candidates he backed were overwhelmingly defeated… Michigan Republicans controlled all levels of state government from 2011 to 2019. Now, they are powerless for the first time in 40 years. The shift has been particularly evident in Oakland County, home to the largest number of Republican voters in the state." And meanwhile: "Under a new plan widely expected to help Trump, Michigan will award just 16 of the state's 55 delegates based on the results of the Feb. 27 primary. The distribution of the remaining 39 delegates will come four days later in closed-door caucus meetings…."

"Trump claims US does not have 'real elections,' calls for paper ballots" [The Hill]. "Trump, who has repeatedly falsely claimed the 2020 election was stolen from him, also said he wants same-day voting on Election Day, paper ballots and instating requirements for voter ID." • Same day voting as long as Election Day is a national holiday; voter ID if at no cost to the voter. Trump, horrifyingly to some, is correct on this. (Too bad he went for election fraud as his method of delegitmizing 2020; he could very well have gone for Hunter Biden's laptop. Oh well.)

"The Indictment Can Only Hurt Trump" [Peggy Noonan]. Worth reading in full for her views on Trump's rise. More: "What were Mr. Trump's motives? Why would he refuse to give the documents back, move them around Mar-a-Lago, mislead his own lawyers about their status and content? Because everything's his. He is by nature covetous. 'My papers' he called them. Because of vanity: Look at this handwritten letter. Kim Jong Un loves Trump. See who I was? Look at this invasion plan. Because he wished to have, at hand, cherry-picked documentation he could deploy to undercut assertions by those who worked with him that he ordered them to do wild and reckless things. My fear is that Mar-a-Lago is a nest of spies. Membership in the private club isn't fully or deeply vetted; anyone can join who has the money (Mr. Trump reportedly charges a $200,000 initiation fee). A spy—not a good one, just your basic idiot spy—would know of the documents scattered throughout the property, and of many other things. All our international friends and foes would know. Strange things happen in Mar-a-Lago. In 2019 a Chinese woman carrying four cellphones, a hard drive and a thumb drive infected with malware breezed past security and entered without authorization. She was arrested and jailed for eight months. Another Chinese woman was arrested soon after; a jury acquitted her of trespassing but convicted her of resisting arrest. In 2021 a 'Ukrainian fake heiress and alleged charity scammer' gained access, according to the Guardian. Who else has? Mar-a-Lago isn't secure. Those documents didn't belong there. It is a danger to our country that they were. ." • Hmm.

"Virginia jury acquits school spokesman of perjury in probe that was a focus of governor's campaign" [Associated Press]. " A jury on Thursday acquitted the longtime spokesman for a northern Virginia school system of perjuring himself during a high-profile investigation of two school-based sexual assaults. The jury took only about two hours to deliberate before acquitting Loudoun County Public Schools Public Information Office Wayde Byard on the sole perjury count lodged against him by a special grand jury. The perjury case was the first prosecution to go to trial from the special grand jury's probe, commissioned by Republican Attorney General Jason Miyares at the request of Republican Gov. Glenn Youngkin. The grand jury examined the school system's handling of two sexual assaults at two different high schools in 2021. Youngkin made the assaults a major part of his successful gubernatorial bid that year, and he issued an executive order requesting the investigation on his first day in office. . The assaults garnered widespread attention not only because the boy who committed the assaults was allowed to transfer to another school after the first attack but also because he was wearing a skirt when he committed the first attack in a school bathroom. At the time the county was considering a policy change to allow transgender students to use the restroom of their choice."

* * *

"2 in 3 concerned about Biden's mental, physical health: survey" [The Hill]. "The NBC News poll found that 68 percent are concerned that Biden, 80, does not possess the "necessary" mental and physical health to serve as president, with 55 percent saying they have 'major' concerns. By comparison, 32 percent said that they have minor or no concerns with Biden's health. When asked about whether they are concerned about former President Trump's mental and physical health, 55 percent said they are concerned, including 44 percent who have 'major concerns. Forty-four percent said they have minor or no concerns that Trump, 77, has the mental and physical health needed to serve as president.'"

A contrast not only with the (visibly infirm, except when juiced up) Biden, but with the cheeseburger-scarfing Trump:

Getting in shape for my debates with President Biden! pic.twitter.com/ns8MdJVlmx

— Robert F. Kennedy Jr (@RobertKennedyJr) June 25, 2023

I'm not sure I like President Six-Pack and more than I like President Wakefield. Given me the wheelchair-bound FDR. Or the drunken and paunchy Churchill, for that matter. (That said, I'm sure I'm in a tiny and disgruntled minority. I'm sure Rogan's audience will eat this up with a spoon.)

"Here's a Conspiracy Theory: RFK Jr. Is a Tool of Pro-Trump Agitators" [Walter Shapiro, Tne New Republic]. "Kennedy is an environmental lawyer with the most famous name in Democratic politics. He is also a patsy. His candidacy is being promoted by right-wing forces with the single-minded objective of embarrassing Joe Biden in the New Hampshire primary and other early contests. Kennedy has been ballyhooed on Fox News with gushy interviews with Laura Ingraham and Sean Hannity. Republican megadonors like David Sacks and Omeed Malik are fundraising for him. He has also been endorsed by the founder of Twitter, Jack Dorsey, and implicitly supported by Elon Musk, who is driving Twitter into the ground. Both Roger Stone and Steve Bannon have been giddy with praise for Kennedy, even suggesting him as Donald Trump's 2024 running mate. And Rolling Stone revealed that a pro-Kennedy super PAC was organized by a Georgia-based Republican firm that has recently worked for Marjorie Taylor Greene, Herschel Walker, and George Santos. Kennedy has hit just about every right-wing hot spot with the exception of the dining room at Mar-a-Lago." • I don't see the logic. How does RFK fishing for votes in Republican venues — verboten, apparently — affect his standing in a Democrat primary? An awful lot of Republicans would have to reregister…

"J.B. Pritzker Downs Jell-O Shot Tossed by Onlooker at Chicago Pride Parade" [Daily Beast]. "Illinois Gov. J.B. Pritzker (D) showed up to Chicago's annual Pride Parade Sunday ready to party—even at one point catching a Jell-O shot tossed his way by an onlooker and downing the alcoholic gelatin dessert in one gulp. A photo provided by the governor's press team showed Pritzker hoisting the plastic container triumphantly following the interaction, while surrounded by impressed-looking revelers."

* * *

"Third-party candidate would drag Biden down in Trump rematch: poll" [The Hill]. "A third-party candidate would drag President Biden down in a rematch with former President Trump in 2024, according to an Emerson College national poll released Thursday. In a head-to-head matchup, polls show Biden and Trump in a dead-heat, at 44 percent to 43 percent among voters. Nine percent said they would vote for someone else, while 4 percent said they are undecided. However, if third-party candidate Cornel West appears on the ballot alongside Trump and Biden, he pulls in 6 percent of support, dropping Biden's support to 40 percent, 1 point below Trump's 41 percent. Seven percent say they would vote for someone else, and 6 percent say they are undecided. 'When West is added to the ballot test, he pulls 15 percent of support from Black voters, and 13 percent from voters under 35, two key voting blocs for President Biden," said Spencer Kimball, the director of Emerson College Polling.'" • Democrats had better give those voters what they want, then.

I just wish Williamson would read the room on Ukraine:

Young people hear me because they know it's true: the reason we don't have universal healthcare isn't because it's "complicated." It's because it's corrupt. #marianne2024 pic.twitter.com/LUyYIZC96i

— Marianne Williamson (@marwilliamson) June 18, 2023

Though if she's got enough "In This House…" second wave feminists in her camp, perhaps she is reading the room….
Democrats en Déshabillé
Patient readers, it seems that people are actually reading the back-dated post! But I have not updated it, and there are many updates. So I will have to do that. –lambert

I have moved my standing remarks on the Democrat Party ("the Democrat Party is a rotting corpse that can't bury itself") to a separate, back-dated post, to which I will periodically add material, summarizing the addition here in a "live" Water Cooler. (Hopefully, some Bourdieu.) It turns out that defining the Democrat Party is, in fact, a hard problem. I do think the paragraph that follows is on point all the way back to 2016, if not before:

The Democrat Party is the political expression of the class power of PMC, their base (lucidly explained by Thomas Frank in Listen, Liberal!). ; if the Democrat Party did not exist, the PMC would have to invent it. . ("PMC" modulo "class expatriates," of course.) Second, all the working parts of the Party reinforce each other. Leave aside characterizing the relationships between elements of the Party (ka-ching, but not entirely) those elements comprise a network — a Flex Net? An iron octagon? — of funders, vendors, apparatchiks, electeds, NGOs, and miscellaneous mercenaries, with assets in the press and the intelligence community.

Note, of course, that the class power of the PMC both expresses and is limited by other classes; oligarchs and American gentry (see 'industrial model' of Ferguson, Jorgensen, and Jie) and the working class spring to mind. Suck up, kick down.

* * *

They need a union:

Democrats paying $10.50/hr pic.twitter.com/NKLDgXaXF3

— just maureen (@ASewcialist) June 25, 2023

Couldn't they round up to $11.00?
Obama Legacy
"Five takeaways from Barack Obama's CNN interview on Biden, 2024, Trump, Ukraine, more" [USA Today]. "Obama also predicted that Biden, his former vice president, will have an easy path to the 2024 Democratic nomination. 'I do not think that there's going to be any kind of serious primary challenge to Joe Biden,' [Obama] said. 'I think the Democratic Party is unified.' Obama credited Biden for bringing Democrats closer together after a contentious 2020 presidential primary saw Biden earn the support of more centrist Democrats while Sen. Bernie Sanders, I-Vt., found strong support from the party's progressive wing. 'The truth is that partly because of how Joe has governed, those divisions have been bridged,' he said." • Obama carefully erases his own role in 2020.

"Is Barack Obama Ready To Reassert Himself?" [Politico] Aside from the Night of the Long Knives? More: "Former President Barack Obama has hosted a handful of informal, but lengthy private meetings with groups of next-generation House Democrats this spring, I'm told by multiple attendees. The initial session featured the chamber's new trio of leaders, but he then held subsequent conversations with a range of lawmakers. Included were progressive members, like Representatives Alexandria Ocasio-Cortez (D-N.Y.) and Maxwell Frost (D-Fla.), as well as more moderate lawmakers, such as Mikie Sherrill (D-N.J.) and Haley Stevens (D-Mich.) The gatherings were Obama's idea, I'm told, and were designed for the now-61-year-old former president to keep current with his party's rising stars, more than six years after he left office."

"Barack is back… to save the Democratic Party he stymied" [The Spectator]. "Emil Jones is famous in Springfield, Illinois. The former Chicago sanitation worker rose from poverty to become the president of the State Senate. He is best known outside Chicago as the anonymous "old ward heeler" that Obama belittled in his memoir, Dreams from my Father. It is fortunate for Obama that Jones wasn't much of a reader. When Democrats won control of the Illinois Senate, he plucked a little known failed congressional candidate from obscurity and declared to everyone around him, "I'm gonna make me a US senator." Obama's name was attached to every major bill that passed, even if it meant trampling the legislation's authors and activists. Obama then used those "achievements" to neuter attacks on his youth and inexperience back in 2008. Eight years in the Oval Office surrounded by sycophantic aides and an adoring press corps convinced Obama that he truly was a self-made man. Plenty of young Democrats say they have been inspired by Obama, but I can't recall anyone saying he played the role of mentor outside of the podcaster Obama Bros in his immediate orbit. Emil Jones, born 1935, was a student of machine Chicago politics and used it to build a progressive juggernaut that all but ensured perpetual Democratic supermajorities in the Illinois statehouse. After all these years, Obama may have finally realized that his status as an historic figure will depend on his ability to channel his inner 'old ward heeler.'" • Are we sure Obama has an "inner" anything?
#COVID19
"I am in earnest — I will not equivocate — I will not excuse — I will not retreat a single inch — AND I WILL BE HEARD." –William Lloyd Garrison
Resources, United States (National): Transmission (CDC); Wastewater (CDC, Biobot; includes many counties); Variants (CDC; Walgreens); "Iowa COVID-19 Tracker" (in IA, but national data).
Lambert here: Readers, thanks for the collective effort.
Resources, United States (Local): AK (dashboard); AL (dashboard); AR (dashboard); AZ (dashboard); CA (dashboard; Marin); CO (dashboard; wastewater); CT (dashboard); DE (dashboard); FL (wastewater); GA (wastewater); HI (dashboard); IA (wastewater reports); ID (dashboard, Boise; dashboard, wastewater, Central Idaho; wastewater, Coeur d'Alene; dashboard, Spokane County); IL (wastewater); IN (dashboard); KS (dashboard; wastewater, Lawrence); KY (dashboard, Louisville); LA (dashboard); MA (wastewater); MD (dashboard); ME (dashboard); MI (wastewater; wastewater); MN (dashboard); MO (wastewater); MS (dashboard); MT (dashboard); NC (dashboard); ND (dashboard; wastewater); NE (dashboard); NH (wastewater); NJ (dashboard); NM (dashboard); NV (dashboard; wastewater, Southern NV); NY (dashboard); OH (dashboard); OK (dashboard); OR (dashboard); PA (dashboard); RI (dashboard); SC (dashboard); SD (dashboard); TN (dashboard); TX (dashboard); UT (wastewater); VA (dashboard); VT (dashboard); WA (dashboard; dashboard); WI (wastewater); WV (wastewater); WY (wastewater).
Resources, Canada (National): Wastewater (Government of Canada).
Resources, Canada (Provincial): ON (wastewater); QC (les eaux usées); BC, Vancouver (wastewater).
Hat tips to helpful readers: Art_DogCT, B24S, CanCyn, ChiGal, Chuck L, Festoonic, FM, FreeMarketApologist (4), Gumbo, hop2it, JB, JEHR, JF, JL Joe, John, JM (9), JustAnotherVolunteer, JW, KatieBird, LL, Michael King, KF, LaRuse, mrsyk, MT, MT_Wild, otisyves, Petal (6), RK (2), RL, RM, Rod, square coats (11), tennesseewaltzer, Utah, Bob White (3).
Stay safe out there!
* * *
Maskstravaganza
"What it's really like to do gymnastics in a mask" [Fansided]. "The UC Berkeley gymnastics team is making a statement by continuing to compete at the highest level, and doing it while fully masked…. To a fan tuning in through Cal's free, techno-scored livestream, [Emily] Watterson's pre-routine jitters were anything but obvious: she mounted the bars with her face hidden behind a surgical mask. Since that routine was streamed, Watterson's face — masked-up and mid-salto, or uncovered, smiling, above a scoreboard flipper reading "1000" — has appeared in outlets from People to PopSugar. These writeups celebrate her for attaining 'perfection in a mask,' as PopSugar Fitness's Samantha Brodsky put it. Owen, a gymnastics fan who Tweets about the sport as @theegymmdiaryy, told me via Twitter direct message that the routine 'has become more of a political statement at this point, saying that it is entirely possible to excel in high-level athletics while wearing a mask the whole time.' Watterson has been happy enough to serve as a talking point for COVID watchers. A native of Brisbane, Australia, she's been baffled by the persistence and virulence of anti-mask sentiment in the States."
Vaccines
"A non-transmissible live attenuated SARS-CoV-2 vaccine" [Cell]. Hamster study, sigh. "Live attenuated vaccines (LAVs) administered via the mucosal route may offer better control of the COVID-19 pandemic than non-replicating vaccines injected intramuscularly. Conceptionally, LAVs have several advantages, including presentation of the entire antigenic repertoire of the virus, and the induction of strong mucosal immunity. Thus, immunity induced by LAV could offer superior protection against future surges of COVID-19 cases caused by emerging SARS-CoV-2 variants. However, LAVs carry the risk of unintentional transmission. To address this issue, we investigated whether transmission of a SARS-CoV-2 LAV candidate can be blocked by removing the furin cleavage site (FCS) from the spike protein. The level of protection and immunity induced by the attenuated virus with the intact FCS was virtually identical to the one induced by the attenuated virus lacking the FCS. Most importantly, removal of the FCS completely abolished horizontal transmission of vaccine virus between cohoused hamsters."
Transmission
But why are so many kids sick? 'Tis a mystery!

If parents don't want to look after kids when they're sick then they shouldn't demand others have duty of care to look after them either. Childcare centres are superspreaders of all illnesses, those illnesses then effect staff & their own families at home. Pick up your kids & go…

— ⭐️Daisy (@LnpTruthLibrary) June 26, 2023
Sequelae
"Rise in the incidence of severe pediatric blepharokeratoconjunctivitis during the COVID-19 pandemic" [Journal of the American Association for Pediatric Ophthalmology and Strabismus]. From the Abstract: "There was a statistically significant threefold increase in the diagnosis of severe BKC since the beginning of the COVID-19 pandemic in 2020 compared to the previous years." Wait for it…. "We speculate that the increased use of facial masks during the pandemic contributed to this significant increase." • Because people were wearing masks over their eyes?
"Something Awful"
Lambert here: I'm getting the feeling that the "Something Awful" might be a sawtooth pattern — variant after variant — that averages out to a permanently high plateau. Lots of exceptionally nasty sequelae, most likely deriving from immune dysregulation (says this layperson). To which we might add brain damage, including personality changes therefrom.

* * *
Elite Maleficence
"Covid-19 cluster being monitored at Beth Israel Deaconess Medical Center in Boston, officials say" [Boston25]. "A recent outbreak of Covid-19 among staff and patients at Beth Israel Deaconess Medical Center has officials monitoring those cases closely, the hospital announced Saturday. Universal masking has been implemented on the affected unit, hospital officials said in a statement." Too late for those infected, of course. "BIDMC recently detected a cluster of COVID-19 cases among staff and patients. We promptly isolated the patients and thereafter initiated universal masking on the affected unit in accordance with infection control protocols," the statement said. "We continue to closely monitor this situation and will adjust this plan going forward as needed, and have reported the cluster to the Department of Public Health and Boston Public Health Commission.' Major hospitals lifted their mask mandates in May after the end of the Covid-19 health emergency." • They never should have lifted the mandate in the first place. Where are the lawsuits?

Hospital Infection Control whacking more patients:

Visited a dear friend in hospital with a small bunch of garden picked sweet pea.
Approached by a nurse who politely said that no flowers were permitted on wards
it was hospital policy "to prevent infection"
So my immunocompromised friend is on a ward with no flowers & no masks pic.twitter.com/0voFVWtQRQ

— 🌺 Heather Bell (@GoberLass) June 24, 2023
* * *
Case Data
NOT UPDATED From BioBot wastewater data from June 22: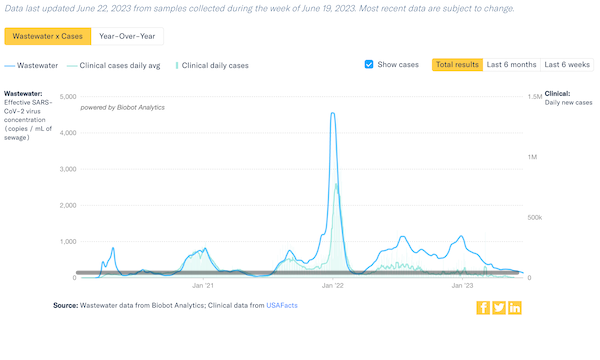 For now, I'm going to use this national wastewater data as the best proxy for case data (ignoring the clinical case data portion of this chart, which in my view "goes bad" after March 2022, for reasons as yet unexplained). At least we can spot trends, and compare current levels to equivalent past levels.
Variants
From CDC, June 24: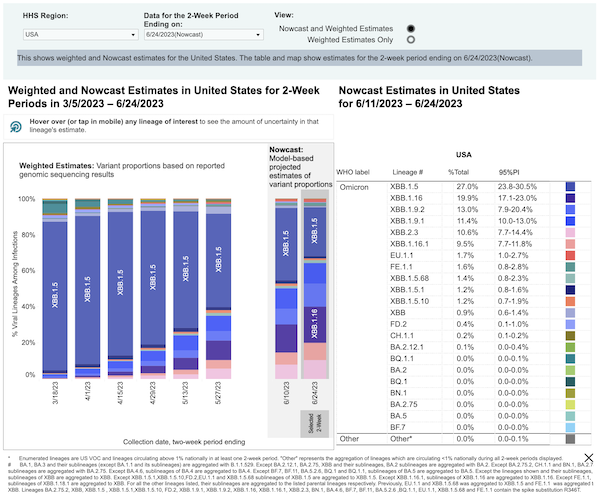 Lambert here: Not sure what to make of this. I'm used to seeing a new variant take down the previously dominant variant. Here it looks like we have a "tag team," all working together to cut XBB.1.5 down to size. I sure hope the volunteers doing Pangolin, on which this chart depends, don't all move on the green fields and pastures new (or have their access to facilities cut by administrators of ill intent).
CDC: "As of May 11, genomic surveillance data will be reported biweekly, based on the availability of positive test specimens." "Biweeekly: 1. occurring every two weeks. 2. occurring twice a week; semiweekly." Looks like CDC has chosen sense #1. In essence, they're telling us variants are nothing to worry about. Time will tell. Looks like the Walgreens variants page isn't updating.
Covid Emergency Room Visits
NOT UPDATED From CDC NCIRD Surveillance, from June 17: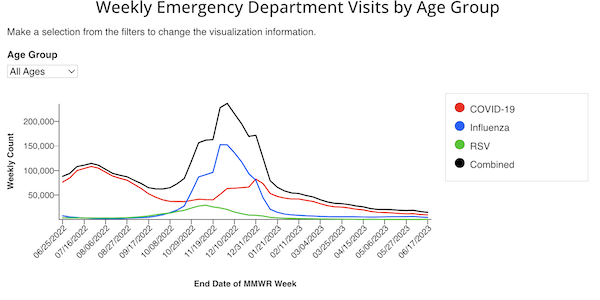 NOTE "Charts and data provided by CDC, updates Wednesday by 8am. For the past year, using a rolling 52-week period." So not the entire pandemic, FFS (the implicit message here being that Covid is "just like the flu," which is why the seasonal "rolling 52-week period" is appropriate for bothMR SUBLIMINAL I hate these people so much. Notice also that this chart shows, at least for its time period, that Covid is not seasonal, even though CDC is trying to get us to believe that it is, presumably so they can piggyback on the existing institutional apparatus for injections.
Positivity
From Walgreens, June 26: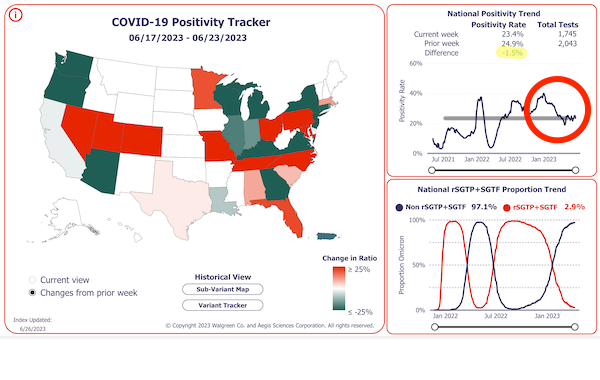 -1.5%. Still chugging along, though the absolute numbers are still very small relative to June 2022, say.
Deaths
NOT UPDATED Death rate (Our World in Data), from June 21: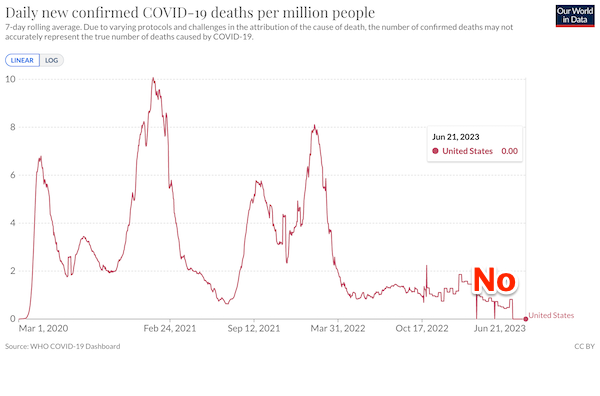 Lambert here: Theatre of the absurd. I can believe that deaths are low; I cannot believe they are zero, and I cannot even believe that all doctors signing death certificates have agreed to make it so. Looks to me like some administrative minimizer at WHO put the worst intern in charge of the project. And thanks, Johns Hopkins of the $9.32 billion endowment, for abandoning this data feed and passing responsibility on to the clown car at WHO.
Total: 1,167,763 – 1,167,614 = 149 (149 * 365 = 54,385 deaths per year, today's YouGenicist™ number for "living with" Covid (quite a bit higher than the minimizers would like, though they can talk themselves into anything. If the YouGenicist™ metric keeps chugging along like this, I may just have to decide this is what the powers-that-be consider "mission accomplished" for this particular tranche of death and disease).
Excess Deaths
Excess deaths (The Economist), published June 22: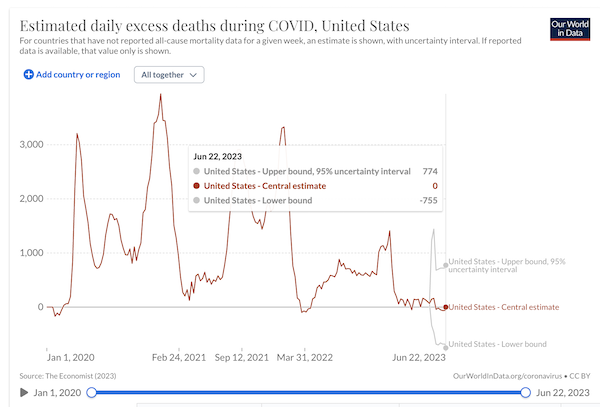 Lambert here: Still some encouragement! Not sure why this was updated so rapidly. The little blip upward?
Lambert here: Based on a machine-learning model. (The CDC has an excess estimate too, but since it ran forever with a massive typo in the Legend, I figured nobody was really looking at it, so I got rid it. )
Stats Watch
Manufacturing: "United States Dallas Fed Manufacturing Index" [Trading Economics]. "The Federal Reserve Bank of Dallas' general business activity index for manufacturing in Texas rose to -23.2 in June of 2023, the highest in three months, and better than forecasts of -26.5. However, the reading continued to point to worsening business conditions, with contractions seen for production, new orders, shipments and capacity utilization. At the same time, labor market measures suggest weaker employment growth."
* * *
Intellectual Property: So long, paywalls!
Huh, it looks like you can use ChatGPT to bypass some paywalls 😲 pic.twitter.com/9wnc8WsRkv

— Arvind Narayanan (@random_walker) June 25, 2023
Am I the only one who feels that AI entered into the hype cycle without being thoroughly tested? Or tested at all?
The Bezzle: "A messaging app startup that raised $200M from SoftBank and others is shutting down because 95% of its users were fake" [Fortune]. • Oops.
* * *
Today's Fear & Greed Index: 72 Greed (previous close: 74 Greed) [CNN]. One week ago: 79 (Extreme Greed). (0 is Extreme Fear; 100 is Extreme Greed). Last updated Jun 26 at 1:31 PM ET.
Rapture Index: Closes unchanged [Rapture Ready]. Record High, October 10, 2016: 189. Current: 183. (Remember that bringing on the Rapture is good.) NOTE on #42 Plagues: "The coronavirus pandemic has maxed out this category." More honest than most!
The Gallery
Onward to cubism:
Paul Cézanne – Village behind Trees pic.twitter.com/dwWfmrsNUB

— Impressionists (@impression_ists) June 23, 2023
Class Warfare
"For Workers, Unions and Public Pressure Get the Goods" [The American Prospect]. "In December last year, a looming freight rail strike was forbidden by the federal government. After months of negotiation, Congress passed and President Biden signed a measure imposing a contract drawn up by a government arbitration panel, which granted substantial raises but no paid sick leave (instead of forcing management to accept the key worker demands, which he could have done). That paid sick leave had been the central demand of the unions. As we at the Prospect have documented in detail, over the past 40 years the freight rail industry has consolidated and reformed itself along maximum short-term profit lines: drastically cutting back on track mileage, rolling stock, and maintenance; and laying off as many employees as possible while making those who remain work as many hours as possible. This was seen as a major defeat for labor, and it certainly was in the moment. But since that time, the unions have kept up the pressure, with some assistance from labor-friendly members of Congress, journalists, and the Biden administration, gradually forcing the rail companies to fold one by one. Now, the large majority of rail workers have at least some paid leave. It demonstrates that even in this notoriously worker-hostile country, unions can still win with determination and outside support." • "A large majority," "at least some." Come on. This doesn't translate into delivering the goods, and it doesn't get Biden off the hook.
News of the Wired
"The Paradoxes of Nostalgia" [The Raven]. "By now we are all acquainted with the pandemic's pathology of feeling. We know about the loneliness, the hopelessness, and the grief. But there are other reactions, less prominent but not rare. In my case, the past two years have been accompanied by a curiously persistent case of nostalgia. I go on little quests of memory, in search of images tediously generic and blazingly specific. Fall leaves brushing against school bus windows, the otherworldly glow of high-school football games at night, the slow crawl of school closures across the TV screen on snowy mornings. … If I am right about this, then the relief we seek in nostalgia is not so different from another kind of respite, memorably described by Schopenhauer. For most of our lives, Schopenhauer says, we suffer under the lash of the will. We need things, want things, and hunger for things. When we get them, we have only a moment's rest before being tossed off in pursuit of other things. But, Schopenhauer says, aesthetic experience offers an exception to this pattern. When I attend to something of beauty, my will is suspended, and my attention becomes freer and more disinterested. I do not think about what it might do for me. I experience it for its own sake." • Hmm. "The burden of agency."
* * *
Contact information for plants: Readers, feel free to contact me at lambert [UNDERSCORE] strether [DOT] corrente [AT] yahoo [DOT] com, to (a) find out how to send me a check if you are allergic to PayPal and (b) to find out how to send me images of plants. Vegetables are fine! Fungi and coral are deemed to be honorary plants! If you want your handle to appear as a credit, please place it at the start of your mail in parentheses: (thus). Otherwise, I will anonymize by using your initials. See the previous Water Cooler (with plant) here. From AM: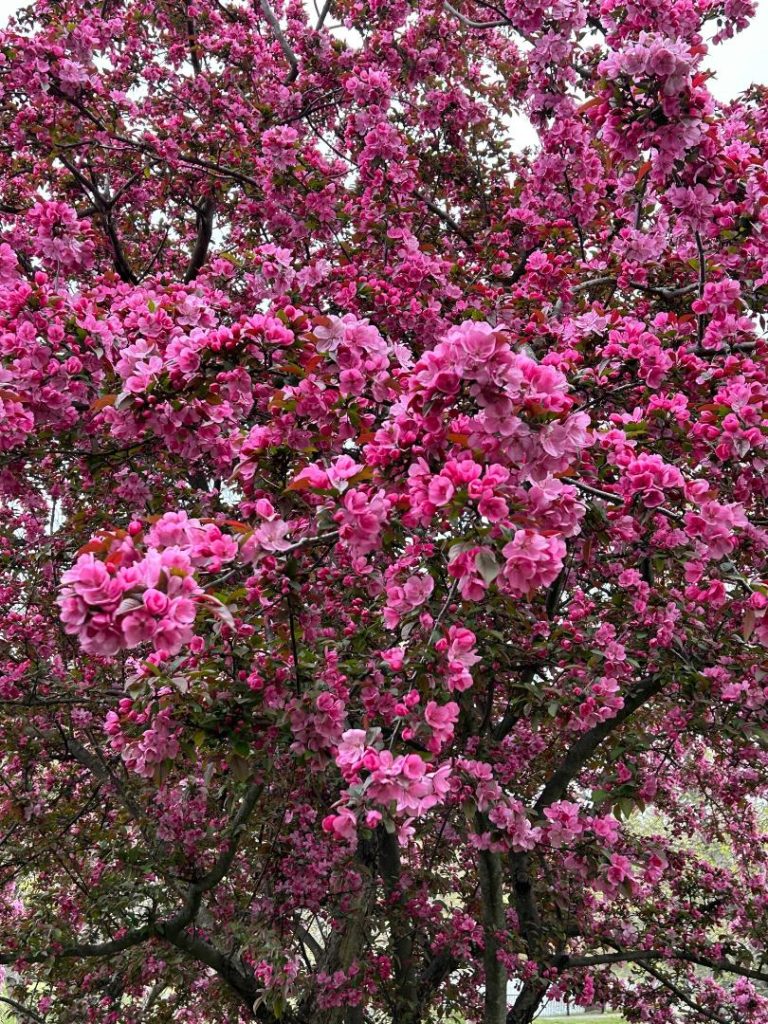 AM writes: "A profusion of pink! Roger Williams Park, Providence RI." Wow!
* * *
Readers: Water Cooler is a standalone entity not covered by the annual NC fundraiser. So if you see a link you especially like, or an item you wouldn't see anywhere else, please do not hesitate to express your appreciation in tangible form. Remember, a tip jar is for tipping! Regular positive feedback both makes me feel good and lets me know I'm on the right track with coverage. When I get no donations for five or ten days I get worried. More tangibly, a constant trickle of donations helps me with expenses, and I factor in that trickle when setting fundraising goals:
Here is the screen that will appear, which I have helpfully annotated: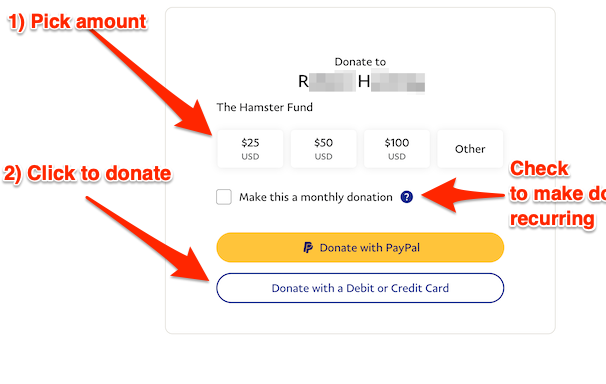 If you hate PayPal, you can email me at lambert [UNDERSCORE] strether [DOT] corrente [AT] yahoo [DOT] com, and I will give you directions on how to send a check. Thank you!