By Lambert Strether of Corrente.
Patient readers, this is a bit light because I'm on the road and fighting connectivity issues. –lambert
Bird Song of the Day
American Goldfinch, Maidstone Park, Suffolk, New York, United States. "Song.
* * *
Politics
"So many of the social reactions that strike us as psychological are in fact a rational management of symbolic capital." –Pierre Bourdieu, Classification Struggles
Abortion
"A year since Dobbs, these are the many ways states are protecting abortion" [National Public Radio]. "In the year since the U.S. Supreme Court reversed Roe v. Wade, 14 states have banned most abortions, but even more have moved to protect abortion rights in various ways. Eleven states have passed so-called 'shield laws,' which can safeguard providers and patients against prosecution from other states. And at least 15 municipalities and six state governments allocated nearly $208 million to pay for contraception, abortion and support services according to data provided to NPR by the National Institute for Reproductive Health. Some states have opened new clinics and have become destinations for people seeking an abortion as new research shows just how difficult it has become to get in-person care."
Biden Administration
2024
I guess it's time for the Countdown Clock!

* * *

"CNN obtains audio of Trump's 2021 meeting about military documents" [Axios]. As for the clip, I don't think it's new; it's already in the indictment. This, however, is new: "The President is speaking rhetorically and also quite humorously about a very perverted individual, Anthony Weiner, who was deep inside the corrupt Clinton campaign," [the Trump spokesperson] said." • Huh? Weiner? Did I not get the memo on this? Commentary:

Trump: "See as president I could have declassified it."

Staffer: "Yeah." [Laughter]

Trump: "Now I can't, you know, but this is still a secret."

Staffer: "Yeah. [Laughter] Now we have a problem."

Would you trust Donald Trump with our secrets? pic.twitter.com/nRBP0NCybH

— The Lincoln Project (@ProjectLincoln) June 27, 2023

If I had a nickel for every secret that got cited to anonymous officials in the lead paragraphs of stories in the Jeff Bezos Daily Shopper and Sulzberger's fishwrap, I'd need a bigger backyard to bury them all. Hypocrisy only equalled by hysteria.

Trump's never gonna get the lawyers he needs if he doesn't learn to keep his big yap shut:

F*cker is scared sh*tless. Trump goes ballistic in all-caps rant on Truth Social. pic.twitter.com/WtjgSR1e2p

— Mike Sington (@MikeSington) June 27, 2023

But maybe going to jail is his strategy? (I confess I like "BIDDEN," because "bidden" by whom?)

"Judge Cannon rejects DOJ request to shield identity of dozens of government witnesses in Trump docs case" [Alternet]. "Judge Cannon denied the 'request to file 84 potential witnesses in the Trump classified docs case under seal — says the government does not explain why it is necessary and notes media coalition has moved to have it public.'" • Quoting the order:

BREAKING: This is why they want to get rid of Judge Aileen Cannon in classified docs case. Her first smackdown of Special Counsel Jack Smith:

"PAPERLESS ORDER denying without prejudice Government's Motion to Implement Special Condition of Release. The Government seeks an order…

— Julie Kelly 🇺🇸 (@julie_kelly2) June 26, 2023

"Republicans fear growing 2024 field clears path for Trump" [The Hill]. "Republicans are anxious that the ever-growing 2024 primary field will only help former President Trump win the nomination next year…. But while a cohort of the Republican Party is open to non-Trump alternatives in 2024, members of the GOP fear the burgeoning field could siphon off votes from his more competitive opponents, especially Florida Gov. Ron DeSantis. 'The more candidates who enter the GOP presidential fray, the better positioned Donald Trump is to win the nomination because it dilutes the non-Trump vote,' said Republican strategist Ford O'Connell."

* * *

"Ron DeSantis says he'll end birthright citizenship as president" [Miami Herald]. "DeSantis pledged to end 'catch and release/ — the policy that allows migrants to be released into the U.S. while they await their asylum hearing — reimpose the so-called 'Remain in Mexico' policy and finish Trump's long-promised, though still incomplete, border wall. DeSantis also said that Border Patrol agents should be able to 'respond with force' if they catch drug smugglers attempting to sneak into the U.S. 'If the cartels are cutting through the border wall, trying to run product into this country, they're going to end up stone-cold dead as a result of that bad decision,' DeSantis said during a press conference after his rollout speech. 'And if you do that one time, you are not going to see them mess with our wall ever again.' DeSantis' proposals went even further, calling for the end of birthright citizenship, in which the United States automatically grants citizenship to anyone born within its borders. That right is granted under the Fourteenth Amendment of the U.S. Constitution, which states: 'All persons born or naturalized in the United States … are citizens of the United States and of the state wherein they reside.' The Constitution also says that 'no state shall make or enforce any law which shall abridge the privileges or immunities of citizens of the United States.' Additionally, DeSantis said he would cut hundreds of millions of dollars in funding to so-called 'sanctuary jurisdictions' that refuse to cooperate with federal immigration law, and deputize state and local governments to enforce immigration law."

"DeSantis risks place on debate stage as he avoids pledging support for 2024 GOP nominee" [The Gazette]. "Gov. Ron DeSantis (R-FL) dodged pledging his support for whoever the eventual 2024 nominee is, a move that puts his position on the Republican 2024 debate stage in peril…. The governor then appeared to vaguely address whether or not he would support the eventual 2024 GOP nominee, without giving a straight answer. "But it's an important process. And you know, you respect the process, and you respect the people's decisions, how this goes, but I'm, I'm very confident that those decisions are going to be positive for us back there," he said." • Bafflegab indeed!

Whoops:

Donald Trump became a household name by FIRING countless people *on television*

But when it came to Fauci… pic.twitter.com/7Lxwf75NQm

— DeSantis War Room 🐊 (@DeSantisWarRoom) June 5, 2023

And whoops again–

"Five million dollar DeSantis veto triggers cancellation of $346 million in federal funding" [The Capitolist]. "Line item 1463A, a $24 million grant, would have been channeled to Florida under the title "Grants And Aids To Local Governments And Non-state Entities." The money relied solely on funding from the federal Infrastructure Investment And Jobs Act Funding and would have cost Florida nothing. The intended use for the funds was to upgrade rural wastewater motors and improve the efficiency pumping infrastructure in smaller counties across the state. An even bigger impact, though, rests in DeSantis' veto of line item 1463B, a seemingly innocuous $5 million grant through the Federal Inflation Reduction Act, intended to set up required planning and accountability infrastructure for a larger tranche of federal cash aimed at improving energy efficiency across all 50 states. To qualify for the larger block of funds, states were expected to set up the accountability programs first. But the veto set off a chain reaction, killing off Florida's efforts to meet the federal requirements, which in turn effectively disqualified Florida from receiving two larger federal block grants, each worth $173 million, or $346 million in all." Or not whoops: "Politically, the move sets DeSantis up to declare that he's refusing to accept any more federal money from the Biden Administration. The governor's office did not respond to a request for more information about DeSantis's reasoning for the vetoes, so it's not clear if the governor was aware of the cascading impact of his decision. But political insiders view it as a calculated strategy meant to bolster his presidential campaign and take away a Biden Administration talking point highlighting DeSantis's previous acceptance of federal dollars for other programs." • Sounds like DeSantis has his presidential ambitions confused with his gubernatorial responsiblities. Hazards of the trade, I know, but $346 million lft on the table?

* * *

"Robert Kennedy Jr reveals how he'll reform America's global reputation – and why he is the only presidential hopeful who can beat Donald Trump" [Sky News]. "It's being called the "Camelot Comeback" – and its main character is a controversial prince of American political royalty who's quickly building momentum to take on Joe Biden for the Democratic presidential candidacy. Robert Francis Kennedy Junior says internal polling shows he would be the strongest candidate of any party to take on Donald Trump in next year's election. In an exclusive interview with Sky News Australia, the Democrat hopeful said he believed the Kennedy24 campaign will win over those Trump voters who once supported Barack Obama." Not an irrational strategy. More: "[KENNEDY:] 'You know these aren't people who are sort of committed to right wing ideologies. These are Americans who mainly feel absolute sense of desperation and they feel that nobody in the government is listening to them and the truth is that the government isn't listening to them.'" • He's not wrong, is he?

Ouch:

Strong enough to boast about doing 115 on inclines but too weak to lift both volumes of Fields Virology onto a desk, open the covers, and do some light reading pic.twitter.com/HFrKbN02BG

— Jason Kindrachuk, PhD (@KindrachukJason) June 26, 2023

* * *

* * *
Democrats en Déshabillé
Patient readers, it seems that people are actually reading the back-dated post! But I have not updated it, and there are many updates. So I will have to do that. –lambert

I have moved my standing remarks on the Democrat Party ("the Democrat Party is a rotting corpse that can't bury itself") to a separate, back-dated post, to which I will periodically add material, summarizing the addition here in a "live" Water Cooler. (Hopefully, some Bourdieu.) It turns out that defining the Democrat Party is, in fact, a hard problem. I do think the paragraph that follows is on point all the way back to 2016, if not before:

The Democrat Party is the political expression of the class power of PMC, their base (lucidly explained by Thomas Frank in Listen, Liberal!). ; if the Democrat Party did not exist, the PMC would have to invent it. . ("PMC" modulo "class expatriates," of course.) Second, all the working parts of the Party reinforce each other. Leave aside characterizing the relationships between elements of the Party (ka-ching, but not entirely) those elements comprise a network — a Flex Net? An iron octagon? — of funders, vendors, apparatchiks, electeds, NGOs, and miscellaneous mercenaries, with assets in the press and the intelligence community.

Note, of course, that the class power of the PMC both expresses and is limited by other classes; oligarchs and American gentry (see 'industrial model' of Ferguson, Jorgensen, and Jie) and the working class spring to mind. Suck up, kick down.

* * *

"Nancy Pelosi exercises options for $1 million of Apple stock one day before expiration" [Apple Insider]. • How nice for her.

"'Squad' Democrat strategizes with radical left-wing group whose members are under FBI investigation" [FOX]. "Progressive Rep. Rashida Tlaib, D-Mich., participated in a strategy call with a climate alarmist group currently under FBI investigation. Tlaib, a far-left member of the "Squad," joined a Zoom meeting last Sunday organized by three radical environmental groups — Declare Emergency, Climate Defiance and the Climate Emergency Fund — about their future plans to disrupt climate change. 'We are reaching climate tipping points faster than predicted,' the call description read. 'Fires, smoke, tornadoes, and unprecedented weather events are becoming commonplace as we experience climate breakdown. We cannot afford to wait a minute longer. Complacency is a luxury we choose to enjoy at our own peril.' The main focus of the call was to 'galvanize the activist community,' [whatever that means] according to a spokesperson for the Climate Emergency Fund." • Liberal Democrat meets with NGOs, film at 11.

"Progressives launch their own campaign to flip school board seats nationwide" [ABC]. "The Progressive Change Campaign Committee (PCCC) on Friday launched the "Save Our School Boards" campaign to boost more than 200 aligned school board candidates in the upcoming cycle. The group hopes to raise $450,000 to assist with collecting signatures to get on ballots, budgeting, sustaining grassroots support and so on." • About \forty years too late and miserably inadequate.
Realignment and Legitimacy
"Prosecution vs. the presidency: Trump cases present looming legal crisis for nation" [Los Angeles Times]. "Trump's reelection could spur court battles over his ability to pardon himself or to direct the Justice Department to dismiss charges against him in any ongoing federal cases, and over his continued vulnerability in ongoing state prosecutions. Those include cases in New York, where he has been indicted, and Georgia, where he is under investigation. If any of the cases are decided before the election, a Trump victory could spark legal battles over the terms of any convictions and whether he would still be subject to them as president. The circumstances are so unprecedented, and the law around presidential privileges so unsettled, that it is impossible to know how all of Trump's legal and political woes will play out, experts say. But it won't be pretty." • Because, hitherto, things were pretty?

"The Supreme Court May Preemptively Ban a Federal Wealth Tax" [The New Republic]. I hate to run stories about things that might happen, but this would be bad: "In Moore v. United States, the justices will consider whether a provision of former President Donald Trump's tax-reform law in 2017 violated the Sixteenth Amendment, which allows Congress to collect federal income taxes. As part of a complex restructuring of federal corporate tax laws, the 2017 law imposed a one-time 'mandatory repatriation tax' on American taxpayers who owned more than 10 percent of a foreign corporation. Charles and Kathleen Moore, the titular plaintiffs, owned 11 percent of an Indian farm-equipment company when the 2017 law went into effect. Thanks to the provision in question, they paid roughly $15,000 in additional taxes the following year. The Moores filed a lawsuit against the federal government and argued that the tax was unconstitutional because their partial ownership of the company did not count as 'income' under the Sixteenth Amendment. The lower courts rejected that argument, however, and ruled that the tax had essentially targeted years of deferred foreign income. That prompted the couple to ask the Supreme Court to intervene. While the case hinges on a tax passed by Trump and a Republican-led Congress, the petition invited the justices to use it to prevent Democrats from imposing a federal wealth tax in the future. 'This is no idle threat,' the Moores said in their petition for review, referring to a federal wealth tax. They cited proposals by the Biden administration and Oregon Senator Ron Wyden to tax billionaires based on their assets, none of which have passed Congress. 'There is every reason for the Court to resolve the pivotal constitutional question of realization now, when its judgment can inform lawmakers and stands to head off a major constitutional clash down the line,' the couple told the justices. In a Wall Street Journal op-ed published in 2021, two of the Moores' lawyers also declared unambiguously that the lawsuit 'stands to slam shut the door on a federal wealth tax like the one Sen. Elizabeth Warren wants to enact.' They made a direct pitch to 'the courts' to hear the Moores' case 'now' to make it easier to block a wealth tax in the future."

"More than 100 U.S. political elites have family links to slavery" [Reuters]. "In researching the genealogies of America's political elite, a Reuters examination found that a fifth of the nation's congressmen, living presidents, Supreme Court justices and governors are direct descendants of ancestors who enslaved Black people. Among 536 members of the last sitting Congress, Reuters determined at least 100 descend from slaveholders. Of that group, more than a quarter of the Senate – 28 members – can trace their families to at least one slaveholder. Those lawmakers from the 117th session of Congress are Democrats and Republicans alike. They include some of the most influential politicians in America: Republican senators Mitch McConnell, Lindsey Graham, Tom Cotton and James Lankford, and Democrats Elizabeth Warren, Tammy Duckworth, Jeanne Shaheen and Maggie Hassan. In addition, President Joe Biden and every living former U.S. president – except Donald Trump – are direct descendants of slaveholders: Jimmy Carter, George W. Bush, Bill Clinton and – through his white mother's side – Barack Obama. Trump's ancestors came to America after slavery was abolished. Two of the nine sitting U.S. Supreme Court justices – Amy Coney Barrett and Neil Gorsuch – also have direct ancestors who enslaved people."

"Ranked-choice voting could come to Oregon, if voters say yes in 2024" [Bend Bulletin]. "In November 2024, voters will decide whether to use ranked choice voting in races after January 1, 2028 for president, seats in Congress, governor, Oregon secretary of state and some others. The bill would also require the secretary of state's office and county clerks to educate voters about the new system and allow local governments to opt in. Ranked choice voting is already used for city council elections in Corvallis and for county commissioners in Benton County. A variation of the method will also be used to elect Portland's mayor and 12 city council members starting in 2024. In the system proposed for statewide Oregon elections, voters would mark their ballots for candidates in their order of preference. If necessary, candidates are eliminated to select one that captured more than 50% of votes cast. Advocates say the system will boost participation in elections and cut down on negative campaigning."
#COVID19
"I am in earnest — I will not equivocate — I will not excuse — I will not retreat a single inch — AND I WILL BE HEARD." –William Lloyd Garrison
Resources, United States (National): Transmission (CDC); Wastewater (CDC, Biobot; includes many counties); Variants (CDC; Walgreens); "Iowa COVID-19 Tracker" (in IA, but national data).
Lambert here: Readers, thanks for the collective effort.
Resources, United States (Local): AK (dashboard); AL (dashboard); AR (dashboard); AZ (dashboard); CA (dashboard; Marin); CO (dashboard; wastewater); CT (dashboard); DE (dashboard); FL (wastewater); GA (wastewater); HI (dashboard); IA (wastewater reports); ID (dashboard, Boise; dashboard, wastewater, Central Idaho; wastewater, Coeur d'Alene; dashboard, Spokane County); IL (wastewater); IN (dashboard); KS (dashboard; wastewater, Lawrence); KY (dashboard, Louisville); LA (dashboard); MA (wastewater); MD (dashboard); ME (dashboard); MI (wastewater; wastewater); MN (dashboard); MO (wastewater); MS (dashboard); MT (dashboard); NC (dashboard); ND (dashboard; wastewater); NE (dashboard); NH (wastewater); NJ (dashboard); NM (dashboard); NV (dashboard; wastewater, Southern NV); NY (dashboard); OH (dashboard); OK (dashboard); OR (dashboard); PA (dashboard); RI (dashboard); SC (dashboard); SD (dashboard); TN (dashboard); TX (dashboard); UT (wastewater); VA (dashboard); VT (dashboard); WA (dashboard; dashboard); WI (wastewater); WV (wastewater); WY (wastewater).
Resources, Canada (National): Wastewater (Government of Canada).
Resources, Canada (Provincial): ON (wastewater); QC (les eaux usées); BC, Vancouver (wastewater).
Hat tips to helpful readers: Art_DogCT, B24S, CanCyn, ChiGal, Chuck L, Festoonic, FM, FreeMarketApologist (4), Gumbo, hop2it, JB, JEHR, JF, JL Joe, John, JM (9), JustAnotherVolunteer, JW, KatieBird, LL, Michael King, KF, LaRuse, mrsyk, MT, MT_Wild, otisyves, Petal (6), RK (2), RL, RM, Rod, square coats (11), tennesseewaltzer, Utah, Bob White (3).
Stay safe out there!
* * *
Look for the Helpers
"If You Suffer from Urgent Normal Syndrome, Ask for Help" [Jessica Wildfire]:

Despite a wealth of information on these topics, many people have been engaging in what psychologists and medical researchers would consider reckless behavior that puts their health at risk and endangers their loved ones. They seem to romanticize the lives they led before the pandemic, almost relishing long commutes and countless hours spent in office buildings they once abhorred. They demonstrate an obsession with returning to "normal."

For lack of a better term, some of us have started referring to these behaviors as urgent normal syndrome (UNS).

Urgent normal syndrome is defined by:

Unhealthy attraction to crowded indoor spaces.
Anxiety at the sight of masks or air purifiers.
An urge to downplay threats.
Avoidance of "bad news."

[Researchers] have identified a number of unhealthy dynamics in group psychology that can make someone more vulnerable to urgent normal syndrome. First, groups can demonstrate normalcy bias that inhibits their normal fight or flight response. As Amanda Ripley has argued in Unthinkable, "large groups of people facing death act in surprising ways. Most of us become incredibly docile… Usually, we form groups and move slowly, as if sleepwalking in a nightmare."

Researchers have shown how normalcy bias has hampered our response to the pandemic. As one article in the Journal of Community & Public Health notes, "social shaming reinforces our normalcy bias. It's not cool to overreact."

Collective amnesia also plays a role in urgent normal syndrome. As sociologist Alessandra Tanesini writes, "Communities often respond to traumatic events in their histories by destroying objects that would cue memories of a past they wish to forget."

I find this helpful!
Maskstravaganza
When Cochrane does a study on whether umbrellas protect you from the rain, this will be something to look for:

Of course surgical masks worn incorrectly don't reduce covid transmission much, in the same way that paper umbrellas held sideways don't help much when it's raining.
Respirators, worn correctly.
That's what works, and that's what you need.

— tern (@1goodtern) June 25, 2023

"Umbrellas don't work."

I should really file this under eliite maleficence:

Keep going till you find the missing frames on this one https://t.co/nSwLUsOm8r

— Gregory Travis. Make schools #DavosSafe (@greg_travis) June 27, 2023

An infectious disease doctor doesn't know that Covid transmits aysymptomatically? Also, I'm not all-idpol-all-the-time, as readers know, but I do think the beefy blond-haired white dude (dis-)enlightening the smaller cowering Asians* is just a little bit much. NOTE * The location is the National University of Singapore.
"Something Awful"
Lambert here: I'm getting the feeling that the "Something Awful" might be a sawtooth pattern — variant after variant — that averages out to a permanently high plateau. Lots of exceptionally nasty sequelae, most likely deriving from immune dysregulation (says this layperson). To which we might add brain damage, including personality changes therefrom.

* * *
Elite Maleficence
"Thrilled":

Honored to receive this award for the work we did on White House COVID Response Team

Improving indoor air quality is a critical public health intervention

Thrilled to see @ashraenews take the lead by setting out new standards and driving adoption https://t.co/otLbzYurP8

— Ashish K. Jha, MD, MPH (@ashishkjha) June 26, 2023

Heaped up corpses aside. Jha is "thrilled" to see ASHRAIE do what government should already have done, on his watch;
* * *
Case Data
From BioBot wastewater data from June 26: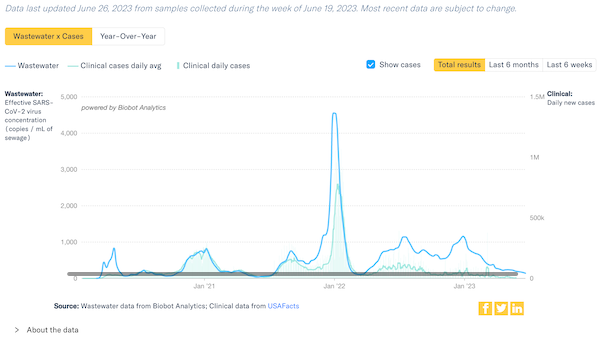 For now, I'm going to use this national wastewater data as the best proxy for case data (ignoring the clinical case data portion of this chart, which in my view "goes bad" after March 2022, for reasons as yet unexplained). At least we can spot trends, and compare current levels to equivalent past levels.
Variants
NOT UPDATED From CDC, June 24: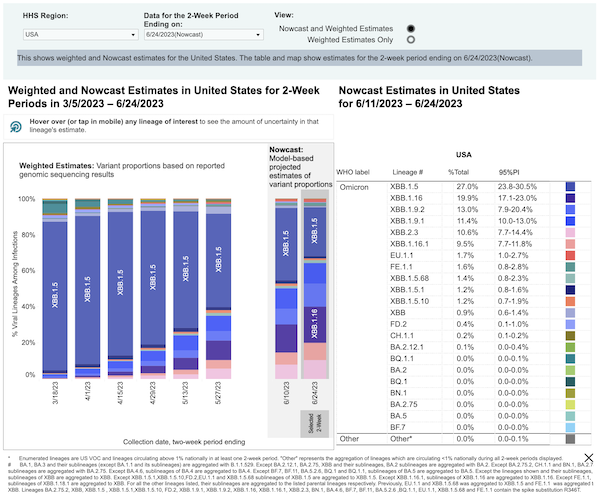 Lambert here: Not sure what to make of this. I'm used to seeing a new variant take down the previously dominant variant. Here it looks like we have a "tag team," all working together to cut XBB.1.5 down to size. I sure hope the volunteers doing Pangolin, on which this chart depends, don't all move on the green fields and pastures new (or have their access to facilities cut by administrators of ill intent).
CDC: "As of May 11, genomic surveillance data will be reported biweekly, based on the availability of positive test specimens." "Biweeekly: 1. occurring every two weeks. 2. occurring twice a week; semiweekly." Looks like CDC has chosen sense #1. In essence, they're telling us variants are nothing to worry about. Time will tell.
Covid Emergency Room Visits
NOT UPDATED From CDC NCIRD Surveillance, from June 17: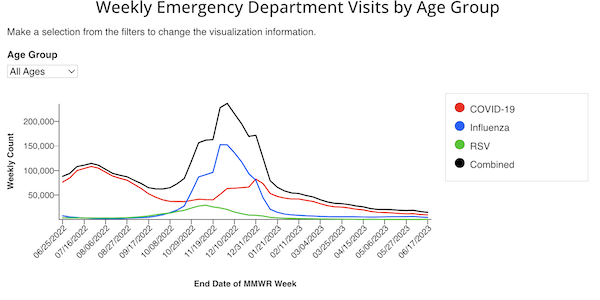 NOTE "Charts and data provided by CDC, updates Wednesday by 8am. For the past year, using a rolling 52-week period." So not the entire pandemic, FFS (the implicit message here being that Covid is "just like the flu," which is why the seasonal "rolling 52-week period" is appropriate for bothMR SUBLIMINAL I hate these people so much. Notice also that this chart shows, at least for its time period, that Covid is not seasonal, even though CDC is trying to get us to believe that it is, presumably so they can piggyback on the existing institutional apparatus for injections.
Positivity
NOT UPDATED From Walgreens, June 26: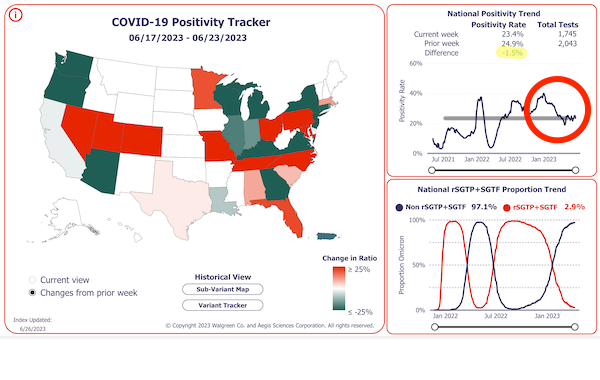 -1.5%. Still chugging along, though the absolute numbers are still very small relative to June 2022, say.
Deaths
NOT UPDATED Death rate (Our World in Data), from June 21: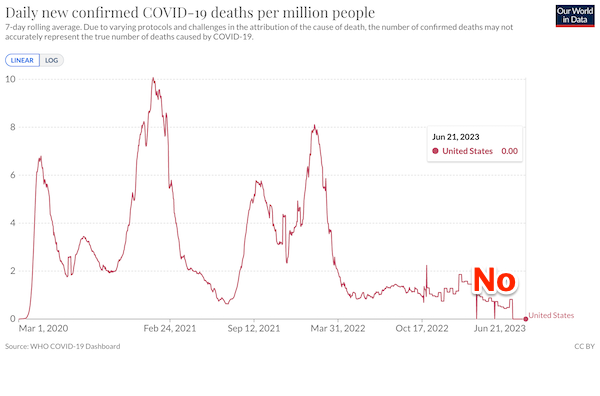 Lambert here: Theatre of the absurd. I can believe that deaths are low; I cannot believe they are zero, and I cannot even believe that all doctors signing death certificates have agreed to make it so. Looks to me like some administrative minimizer at WHO put the worst intern in charge of the project. And thanks, Johns Hopkins of the $9.32 billion endowment, for abandoning this data feed and passing responsibility on to the clown car at WHO.
Total: 1,167,832 – 1,167,763 = 69 (69 * 365 = 25,185 deaths per year, today's YouGenicist™ number for "living with" Covid (quite a bit higher than the minimizers would like, though they can talk themselves into anything. If the YouGenicist™ metric keeps chugging along like this, I may just have to decide this is what the powers-that-be consider "mission accomplished" for this particular tranche of death and disease).
Excess Deaths
Excess deaths (The Economist), published June 27: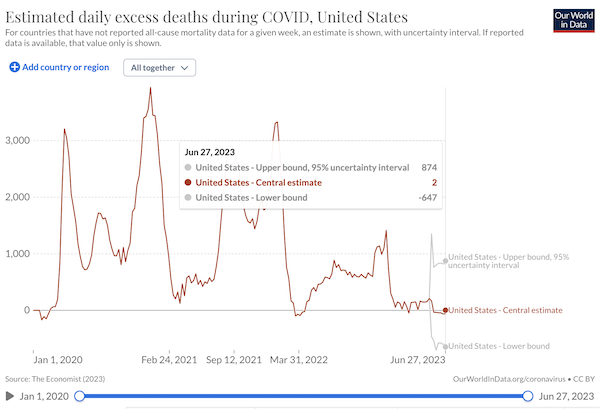 Lambert here: Still some encouragement! Not sure why this was updated so rapidly. The little blip upward?
Lambert here: Based on a machine-learning model. (The CDC has an excess estimate too, but since it ran forever with a massive typo in the Legend, I figured nobody was really looking at it, so I got rid it. )
• "Monthly excess mortality across counties in the United States during the COVID-19 pandemic, March 2020 to February 2022" [Science]. "Excess mortality is the difference between expected and observed mortality in a given period and has emerged as a leading measure of the COVID-19 pandemic's mortality impact…. We estimated all-cause excess mortality for the United States from March 2020 through February 2022 by county and month using a Bayesian hierarchical model trained on data from 2015 to 2019. An estimated 1,179,024 excess deaths occurred during the first 2 years of the pandemic (first: 634,830; second: 544,194). Overall, excess mortality decreased in large metropolitan counties but increased in nonmetropolitan counties. Despite the initial concentration of mortality in large metropolitan Northeastern counties, nonmetropolitan Southern counties had the highest cumulative relative excess mortality by July 2021. These results highlight the need for investments in rural health as the pandemic's rural impact grows."
Stats Watch
Manufacturing: "United States Durable Goods Orders" [Trading Economics]. "New orders for US manufactured durable goods jumped 1.7% month-over-month in May 2023, following an upwardly revised 1.2% rise in April and easily beating market expectations of a 1% decline. It marks a third straight month of rising durable goods orders."
Manufacturing: "United States Richmond Fed Manufacturing Index" [Trading Economics]. "Richmond Fed Manufacturing Index in the United States increased to -7 points in June from -15 points in May of 2023."
* * *
Today's Fear & Greed Index: 76 Extreme Greed (previous close: 71 Greed) [CNN]. One week ago: 78 (Extreme Greed). (0 is Extreme Fear; 100 is Extreme Greed). Last updated Jun 27 at 1:36 PM ET.
Zeitgeist Watch
"The Elite War on Free Thought" [Matt Taibbi, Racket News]. "I entered that story lugging old-fashioned, legalistic, American views about rights, hoping to answer maybe one or two questions. Had the FBI, for instance, ever told the company what to do in a key speech episode? If so, that would be a First Amendment violation. Big stuff! But after looking at thousands of emails and Slack chats, I first started to get a headache, then became confused. I realized the old-school Enlightenment-era protections I grew up revering were designed to counter authoritarianism as people understood the concept hundreds of years ago, back in the days of tri-cornered hats and streets lined with horse manure. What Michael and I were looking at was something new, an Internet-age approach to political control that uses brute digital force to alter reality itself. We certainly saw plenty of examples of censorship and de-platforming and government collaboration in those efforts. However, it's clear that the idea behind the sweeping system of digital surveillance combined with thousands or even millions of subtle rewards and punishments built into the online experience, is to condition people to censor themselves. In fact, after enough time online, users will lose both the knowledge and the vocabulary they would need to even have politically dangerous thoughts. What Michael [Shellenberger] calls the Censorship-Industrial Complex is really just the institutionalization of orthodoxy, a vast, organized effort to narrow our intellectual horizons." • Much easier to do digitally than with print.
News of the Wired
"Page Through a 19th-Century Embossed U.S. Atlas Designed with Touchable Cartography for Blind Students' [Colossal]. "Paired with descriptions written in standard Latin script—this proved much more difficult to read than braille and never gained the popularity of its counterpart—the maps contain typical information like longitude and latitude, along with the area's population, climate, and commerce. Solid lines denote rivers, a singular raised shoreline buttressed by parallel lines represents oceans, and clustered triangles are mountains. Printed in 1837 in an edition of 50, this version of the atlas contains just 24 states. Only four copies are known to remain."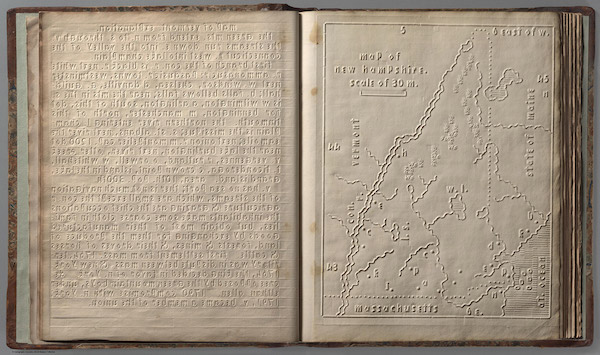 This is a beautiful, beautiful custom.
There was a little coffee shop where two people arrived and approached the counter.

"Five coffees ☕️ please. Two for us and three pending."

They paid, they took their two coffees and left.

I asked the waiter. "What's this about pending coffees?"

"Wait and you'll see."

Some… pic.twitter.com/sdwmEPBCLN

— CALL TO ACTIVISM (@CalltoActivism) June 27, 2023
I just hope it's not an urban legend. Perhaps our Italian readers can comment.
* * *
Contact information for plants: Readers, feel free to contact me at lambert [UNDERSCORE] strether [DOT] corrente [AT] yahoo [DOT] com, to (a) find out how to send me a check if you are allergic to PayPal and (b) to find out how to send me images of plants. Vegetables are fine! Fungi and coral are deemed to be honorary plants! If you want your handle to appear as a credit, please place it at the start of your mail in parentheses: (thus). Otherwise, I will anonymize by using your initials. See the previous Water Cooler (with plant) here. From Stephen V: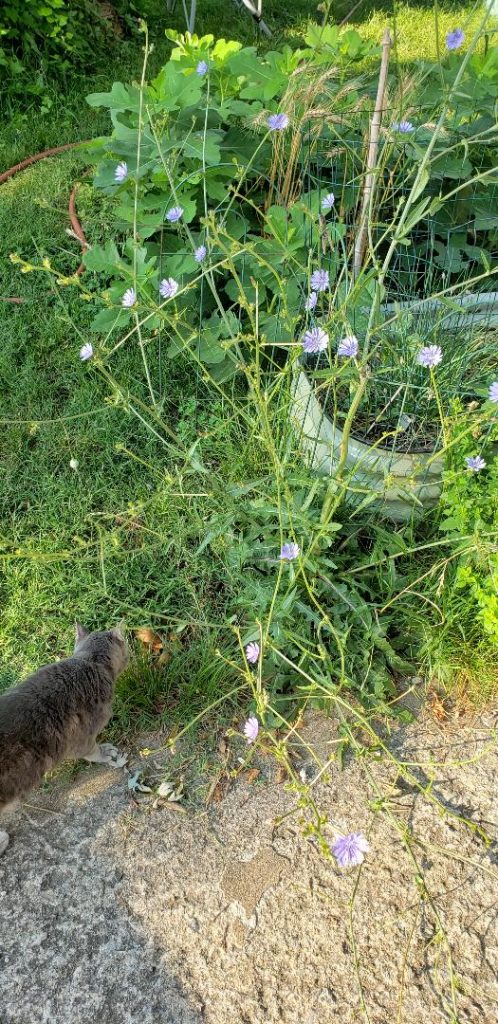 Stephen V writes: "Ambrit mentioned chicory recently. I've allowed it to volunteer in our yard but this one is almost 6 ft. high. The blue flowers are only open in the morning. I tincture the root for my old man bitters." My favorite kind of bitter!
* * *
Readers: Water Cooler is a standalone entity not covered by the annual NC fundraiser. So if you see a link you especially like, or an item you wouldn't see anywhere else, please do not hesitate to express your appreciation in tangible form. Remember, a tip jar is for tipping! Regular positive feedback both makes me feel good and lets me know I'm on the right track with coverage. When I get no donations for five or ten days I get worried. More tangibly, a constant trickle of donations helps me with expenses, and I factor in that trickle when setting fundraising goals:
Here is the screen that will appear, which I have helpfully annotated: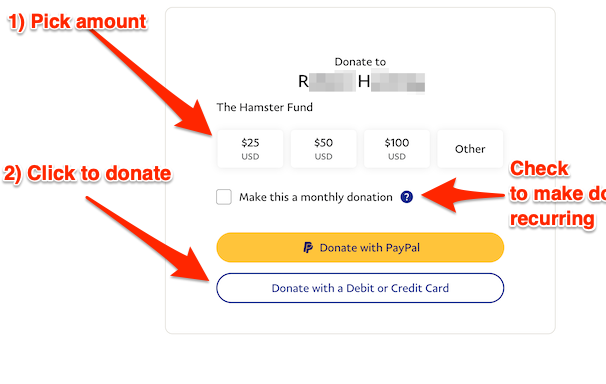 If you hate PayPal, you can email me at lambert [UNDERSCORE] strether [DOT] corrente [AT] yahoo [DOT] com, and I will give you directions on how to send a check. Thank you!