By Lambert Strether of Corrente.
Patient readers, I conf[yay!]ess that I am once again more than a little plotzed, in a not entirely linear consequence of the last episode of plotzedness. So please bear with me. There's too damn much going on! –lambert. P.S. I should add more orts and scraps, because the Covid firehose is out of control, but I'm going to go lie down the sofa with a cool washcloth on my forehead.
Bird Song of the Day
Bonaparte's Nightjar, Way Kambas, Labuhan Ratu, Lampung, Sumatera, Indonesia. "Recording with Bonaparte's nightjar and Reddish Scops owl in the background." Nightjar's seem to attract unusually eclectic accompaniments.
* * *
Politics
"So many of the social reactions that strike us as psychological are in fact a rational management of symbolic capital." –Pierre Bourdieu, Classification Struggles
2024
Time for the Countdown Clock!

* * *

"How Trump maneuvered his GOP rivals into a tortured position on his legal battles" [CNN]. "Even if former President Donald Trump is indicted for a third time, his dominance of the Republican White House race is unlikely to be shaken because of his years of shattering its voters' trust in institutions that challenge his power. The Republican frontrunner has maneuvered his major rivals into an impossible position: a tortured balancing act of trying to take advantage of Trump's liabilities without alienating his devoted supporters in the primary. If they fail to criticize his multiple misadventures, they ignore a factor that could undermine their party's possible general election candidate. But so far there's no sign that two and possibly more trials looming over Trump will convince most GOP primary voters he's too much of a risk to nominate. The ex-president's skill in turning the GOP primary battle into a political Catch-22 helps explain why no one in the party's bloated field of presidential hopefuls has yet reached critical momentum in a bid to deprive him of a third successive Republican nomination. Trump has denied wrongdoing in all cases. But the failure of rivals like Florida Gov. Ron DeSantis, former South Carolina Gov. Nikki Haley and former Vice President Mike Pence to exploit the possibility of potential Trump convictions also raises a perilous question for their party. Does the GOP risk nominating a candidate beloved by millions of its partisans but who could again scare moderate, swing states voters and hand victory to Democrats? The dilemma of GOP candidates over how to treat Trump will be highlighted Friday evening when most of the field is expected at a Republican Party dinner in Iowa, the first state to vote in the nominating race early next year. " • Extra bouncy rubber chicken!

"Biden's Relentless Lawfare Against Trump Could Backfire" [Tipp Insights]. "What we have seen over the years is that every time the Deep State [sic] tries to hurt President Trump, his poll numbers rise, and he is able to fund-raise even more than before. It is an inexplicable reaction that frustrates Democrats, who fail to understand that most Americans are honest, ethical, and busy individuals, committed to caring for their families, attending church, and being active in the community. Most voters do not understand the complexities of national security laws. Nor do they believe that Trump committed felony violations by participating in a conspiracy to obstruct justice. Voters may not remember their civics classes, but they know that Trump has always cared about America's standing in the world. From the moment he descended the escalator at Trump Tower in 2015, Trump's brand is that he wants America to win. Even in television interviews in the late 1980s and 1990s, Trump's single-most consistent grievance against American officials was that they let foreigners take advantage of America and get ahead at the nation's cost. For Trump watchers, the Make America Great Again campaign started more than 30 years ago. So how could such an individual wilfully bring harm to America? It is a question that baffles the average voter, and Jack Smith's attempts to prove that Trump obstructed justice ring hollow. On the contrary, voters examine recent history and conclude that the Deep State obstructed justice against Trump in every instance since 2015. Russia-Russia-Russia proved to be a hoax. The first impeachment based on the Trump-Zelenskiy call was another hoax now that stories are being uncovered that Burisma executives allegedly paid the Biden family nearly $10 million in bribes. Trump's request to Zelenskyy was to investigate those corruption charges – and the average voter would retort: Trump was right, after all."

* * *

"DeSantis Team Rolls Out Third Reboot of 2-Month-Old Campaign" [Slate]. "Now, before the summer calendar has even flipped its lazy pages to August, DeSantis campaign staffers are once again asking the nation's political reporters to generate synonyms for aggressive. The New York Times reports that DeSantis' team has told VIP supporters that it will be cutting costs in order to run an operation that is 'leaner' and 'meaner'—they're sharpening it, you might say—and that his campaign manager has issued another memo arguing that he can earn media attention with bold, provocative messaging. 'All DeSantis needs to drive news and win this primary is a mic and a crowd,' she writes. (One of Politico's sources calls it a 'Let Ron be Ron' strategy.) The campaign is selling this as an 'insurgent outsider' approach, Semafor says, which is likely a response to the various reports that some of DeSantis' well-connected insider donors are abandoning him for South Carolina Sen. Tim Scott. (In a development so obviously ironic as to be insulting, the news that DeSantis will now be campaigning as a low-budget DIY underdog was delivered to high-dollar donors during a weekend retreat at the Stein Eriksen Lodge, a luxury venue in Deer Valley, Utah, where the cheapest available room currently costs $662 a night.) Long story short, the new strategy for this particular race is [leafing through pile of strategy memos] to have the candidate use a microphone to speak to audiences while embodying his own identity. Never say these campaign consultants aren't worth every penny!" • Little Madison needs their violin lessons!" • Stein Eriksen Lodge… Ouch!

* * *

"Is the GOP Signaling for Youngkin to Warm Up in the 2024 Bullpen?" [The Messenger]. "Almost every Republican with whom I speak was initially excited to have DeSantis in the race, especially following his resounding 2022 reelection in Florida. My Republican associates felt that, precisely because of his record of success and that massive victory, DeSantis was the person who could take on — and defeat — Trump in the primary. Since then, another reality has taken hold. As former heavyweight boxing champ Mike Tyson once said: 'Everyone has a plan until they get punched in the mouth.' Republicans have told me they fear the DeSantis 'plan' is falling apart. They think overconfidence and inexperience led him to overstaff. There are other criticisms of DeSantis: that he's wasting precious donor money; that he reportedly treats major donors condescendingly; that he doesn't seem to like retail campaigning and isn't connecting with voters. In short, some now fear, he has no viable strategy to take on Trump. Again, the Republicans who tell me this are among those who truly wanted DeSantis to succeed. They did — and do — feel he could have a real chance to win the general election. That said, many are now concluding that he'll never get that chance because he won't make it out of the primaries against Trump. These Republicans also worry that there's no one besides DeSantis in the primary field — not even former South Carolina Gov. Nikki Haley, South Carolina Sen. Tim Scott, or entrepreneur Vivek Ramaswamy — who could rise to the occasion in the general election. That brings us to Virginia Gov. Glenn Youngkin." • Let's watch those schoolboards….

* * *

"Media beg Republicans to 'move on' from Hunter Biden – because they know scandal is serious" [New York Post]. "What was most striking about the last hearing involving two respected IRS whistleblowers was how Democratic members avoided virtually any specific questions…. The only member who was unwise enough to venture into the allegations was Rep. Dan Goldman (D-NY) and the result was disastrous for the Democrats. Goldman bizarrely raised one of the most damaging new pieces of evidence in the investigation. He asked about a 'lunch where Joe Biden came to say hello at the Four Seasons hotel to a lunch that he was having with CEFC executives.' He then read how Biden associate Rob Walker described the origins of the meeting with the Chinese officials to get his dad to stop by: 'Hunter told his Dad that 'I may be trying to start a company or try to do something with these guys." Goldman asked slyly, 'Now let me ask you something, that doesn't sound much like Joe Biden was involved in whatever Hunter was doing with the CEFC, if Hunter Biden is telling him that he is trying to do business with them, does it?' That is when whistleblower Gary Shapley stated the obvious: 'No, but it does show that he told his father that he was trying to do business and…' Goldman finally saw that problem and cut him off with 'OK, well, that is true that Hunter Biden does try to do business, that is correct.' The problem is that Goldman just elicited sworn testimony on how Joe Biden did in fact know about these business dealings despite years of categorical denials of having any knowledge or interaction with Hunter or his business associates. Goldman demolished the Biden defense in less than five minutes." • Just a father who loves his son. And in fact, I'm sure that's true (cf. Jer 17:9).

* * *

* * *
Obama Legacy
"Obamas' personal chef drowns near family's home on Martha's Vineyard" [Associated Press]. "Former President Barack Obama's personal chef has drowned near the family's home on Martha's Vineyard. Massachusetts State Police confirmed that the paddleboarder whose body was recovered from Edgartown Great Pond on Monday was Tafari Campbell, 45, of Dumfries, Virginia. Campbell was employed by the Obamas and was visiting Martha's Vineyard. The Obamas were not present at the home at the time of the accident…. In a statement, the former president and his wife, Michelle Obama, called Campbell a 'beloved part of our family.' 'When we first met him, he was a talented sous chef at the White House – creative and passionate about food, and its ability to bring people together,' the couple said. 'In the years that followed, we got to know him as a warm, fun, extraordinarily kind person who made all of our lives a little brighter.' 'That's why, when we were getting ready to leave the White House, we asked Tafari to stay with us, and he generously agreed. He's been part of our lives ever since, and our hearts are broken that he's gone.' The search for the missing paddleboarder started Sunday after reports from a fellow paddleboarder that he had struggled on the surface, went under and didn't resurface. The search was paused late Sunday but on Monday state police said sonar from a boat located the body about 100 feet (30 meters) from shore at a depth of about 8 feet (2.4 meters). Campbell was not wearing a life jacket, police said." • It would be irresponsible not to speculate: This only happened after the spooks opened Campbell's safe deposit box.
Democrats en Déshabillé
Patient readers, it seems that people are actually reading the back-dated post! But I have not updated it, and there are many updates. So I will have to do that. –lambert

I have moved my standing remarks on the Democrat Party ("the Democrat Party is a rotting corpse that can't bury itself") to a separate, back-dated post, to which I will periodically add material, summarizing the addition here in a "live" Water Cooler. (Hopefully, some Bourdieu.) It turns out that defining the Democrat Party is, in fact, a hard problem. I do think the paragraph that follows is on point all the way back to 2016, if not before:

The Democrat Party is the political expression of the class power of PMC, their base (lucidly explained by Thomas Frank in Listen, Liberal!). ; if the Democrat Party did not exist, the PMC would have to invent it. . ("PMC" modulo "class expatriates," of course.) Second, all the working parts of the Party reinforce each other. Leave aside characterizing the relationships between elements of the Party (ka-ching, but not entirely) those elements comprise a network — a Flex Net? An iron octagon? — of funders, vendors, apparatchiks, electeds, NGOs, and miscellaneous mercenaries, with assets in the press and the intelligence community.

Note, of course, that the class power of the PMC both expresses and is limited by other classes; oligarchs and American gentry (see 'industrial model' of Ferguson, Jorgensen, and Jie) and the working class spring to mind. Suck up, kick down.

* * *

"Pew Research: Democrats Value Free Speech Far Less Than Republicans" [RealClearPolitics]. Pew Research: "Democrats and Democratic-leaning independents are much more likely than Republicans and Republican leaners to support the U.S. government taking steps to restrict false information online [70% vs. 39%]. There was virtually no difference between the parties in 2018, but the share of Democrats who support government intervention has grown from 40% in 2018 to 70% in 2023. A large majority of Democrats and Democratic leaners [81%] support technology companies taking such steps, while about half of Republicans [48%] say the same."
#COVID19
"I am in earnest — I will not equivocate — I will not excuse — I will not retreat a single inch — AND I WILL BE HEARD." –William Lloyd Garrison
Resources, United States (National): Transmission (CDC); Wastewater (CDC, Biobot; includes many counties; Wastewater Scan, includes drilldown by zip); Variants (CDC; Walgreens); "Iowa COVID-19 Tracker" (in IA, but national data). "Infection Control, Emergency Management, Safety, and General Thoughts" (especially on hospitalization by city).
Lambert here: Readers, thanks for the collective effort. To update any entry, do feel free to contact me at the address given with the plants. Please put "COVID" in the subject line. Thank you!
Resources, United States (Local): AK (dashboard); AL (dashboard); AR (dashboard); AZ (dashboard); CA (dashboard; Marin, dashboard; Stanford, wastewater; Oakland, wastewater); CO (dashboard; wastewater); CT (dashboard); DE (dashboard); FL (wastewater); GA (wastewater); HI (dashboard); IA (wastewater reports); ID (dashboard, Boise; dashboard, wastewater, Central Idaho; wastewater, Coeur d'Alene; dashboard, Spokane County); IL (wastewater); IN (dashboard); KS (dashboard; wastewater, Lawrence); KY (dashboard, Louisville); LA (dashboard); MA (wastewater); MD (dashboard); ME (dashboard); MI (wastewater; wastewater); MN (dashboard); MO (wastewater); MS (dashboard); MT (dashboard); NC (dashboard); ND (dashboard; wastewater); NE (dashboard); NH (wastewater); NJ (dashboard); NM (dashboard); NV (dashboard; wastewater, Southern NV); NY (dashboard); OH (dashboard); OK (dashboard); OR (dashboard); PA (dashboard); RI (dashboard); SC (dashboard); SD (dashboard); TN (dashboard); TX (dashboard); UT (wastewater); VA (dashboard); VT (dashboard); WA (dashboard; dashboard); WI (wastewater); WV (wastewater); WY (wastewater).
Resources, Canada (National): Wastewater (Government of Canada).
Resources, Canada (Provincial): ON (wastewater); QC (les eaux usées); BC, Vancouver (wastewater).
Hat tips to helpful readers: anon (2), Art_DogCT, B24S, CanCyn, ChiGal, Chuck L, Festoonic, FM, FreeMarketApologist (4), Gumbo, hop2it, JB, JEHR, JF, JL Joe, John, JM (10), JustAnotherVolunteer, JW, KatieBird, LL, Michael King, KF, LaRuse, mrsyk, MT, MT_Wild, otisyves, Petal (6), RK (2), RL, RM, Rod, square coats (11), tennesseewaltzer, Utah, Bob White (3).
Stay safe out there!
* * *
Look for the Helpers
Thanks very much to this doctor who did the right thing:
Covid is Airborne
I'm not sure the methodology for this study on a superspreading from outside air in a Chinese market is good, so I haven't linked to it, but these tips on what to look for with outside air seem eminently sensible to me:

And about the market:

(5/6) Why were so many people infected?

👉 Very little breeze
👉 Narrow aisles with umbrellas overhead
👉 2 cases did not wear masks
👉 Cases had to speak loudly due to the noisy environment

— Dr Zoë Hyde (@DrZoeHyde) July 23, 2023

Once again, anybody who's quarrelling with this because there's no RCT just volunteered to be the control in a parachute study. Being aware of your environment costs you nothing except, well, denial. Granted, for some, a pearl of great price.
Censorship and Propaganda
About that stupid "You've got to get sick to protect against sickness" meme:

The immune system is not like a muscle, and infecting kids with pathogenic viruses weakens rather than strengthens them for the future. pic.twitter.com/1VjoYCbcgJ

— T. Ryan Gregory (@TRyanGregory) July 23, 2023
Transmission
"Behavioral factors and SARS-CoV-2 transmission heterogeneity within a household cohort in Costa Rica" [Nature]. "A highlight of our study is that it provides real-world evidence that preventive measures within the household, such as sleeping arrangements and reducing contacts outside the bedroom, as well as household members and infected individuals wearing masks, was significantly associated with reducing the risk of SARS-CoV-2 transmission within the household. Interestingly, our finding suggested that masks wearing by the index case is effective as "source control". A recent household study conducted during the Omicron wave in four jurisdictions in the United States similarly found that attack rates were significantly lower among index cases who isolated or wore a mask. , especially when vaccines are not widely available or ineffective in preventing transmission." • Ya know, it's almost like Covid is airborne. Also, vaccines in Third World countries like the United States are only available for a price, and in any case, no longer effective at preventing transmission.
Sequelae
"Special Considerations in Children" [NIH]. Last Updated: July 21, 2023: "The persistent symptoms after COVID-19 that have been described in children are similar to those seen in adults. The terminology for these collective symptoms is evolving and includes long COVID, post-COVID-19 condition, and post-acute sequelae of SARS-CoV-2 infection (PASC). The data on the incidence of post-COVID conditions in children are limited and somewhat conflicting, but the overall incidence appears to be lower in children than in adults (see Clinical Spectrum of SARS-CoV-2 Infection).69-73 However, given the high overall rate of SARS-CoV-2 infection in children, the burden of post-COVID conditions in children may be quite large." • Oh.
"Something Awful"
Lambert here: I'm getting the feeling that the "Something Awful" might be a sawtooth pattern — variant after variant — that averages out to a permanently high plateau. Lots of exceptionally nasty sequelae, most likely deriving from immune dysregulation (says this layperson). To which we might add brain damage, including personality changes therefrom.

* * *

"Kashyap Patel, MD, Sees Link Between COVID-19 and Cancer Progression, Calls for More Biomarker Testing" [American Journal of Managed Care]. "Since March 2020, the longtime community oncologist has seen multiple patients in his Rock Hill, South Carolina, based-clinic with cholangiocarcinoma, and these patients are developing the rare cancer 20 to 30 years earlier than the typical age at presentation, which is usually 65 years or older.1 In the past year alone, physicians in Patel's practice saw 7 patients with this cancer, and 3 have died. It is not just a single cancer type, either. Patel and his colleagues, both in the United States and those he knows overseas, have seen patients with rapidly progressing cancers of several types, such as breast cancer and renal cell carcinoma. During an interview with Evidence-Based Oncology™(EBO), Patel said several did not even have time to receive treatment and died within weeks of diagnosis…. With COVID-19 added to the mix, Patel now fears a 'perfect storm' of factors will trigger inflammatory responses in some patients, causing cancer to arrive years earlier than normal and making it deadlier once it is diagnosed. 'If you go back and look at the post–COVID[-19] recovery phase—we are coming out of almost like a hibernation—a lot of people don't know how to deal with the stress,' Patel said." Denial helps. More: "'Combined with the obesity pandemic, people didn't exercise a lot with the fear of going out in the pandemic, and the alcohol intake has increased. All of this descends down on inflammation, and I think it's creating a perfect storm between [these] risk factors, and we need to learn how to deal with that.'" • 'Tis a mystery!

"Anxiety And Depression Are Associated With Limbic Atrophy And Severe Disruption Of Brain Functional Connectivity After Mild COVID-19 Infection (S21.007)" [Neurology]. N = 254. From the Conclusion: "These findings indicate structural and functional alterations may occur even after mild infection. The combination of anxiety and depression is associated with atrophy of the limbic system and a severe pattern of abnormal cerebral functional connectivity. The magnitude of these changes suggests an association with cognitive dysfunction. Further analyses are necessary to yield specific treatment targets to prevent persistent deficits and improve quality of life." • Farewell, executive function! Who needs it?
Elite Maleficence
"I keep trying to tell y'all that there are many hidden layers to creating the ILLUSION that our leaders "moved on" from Covid, in order to convince people it's over" [Stephanie Tait, Thread Reader]. "I keep trying to tell y'all that there are many hidden layers to creating the ILLUSION that our leaders "moved on" from Covid, in order to convince people it's over. They still protect themselves, they just hide it so YOU won't know you need to as well…. So in the end, the Biden admin didn't LOOK like they were pulling the same 'scamdemic' playbook as Trump, but in reality they had the SAME goals but were just FAR smarter about how to implement them. Remember 'no more tests, no more cases?' Look around. 👀 They told you Covid was over, and systematically pushed folks to take more risks & drop all precautions, all while showing you Biden's unmasked face doing all the things to sell just how safe it is now. If y'all actually understood the reality of what Biden's admin has done, you'd be rioting in the damn streets. And he CERTAINLY wouldn't be the candidate for '24. He'd be too untenable for them to even THINK about running (let alone without a primary.) It literally keeps me up at night. And people just clearly have NO clue, walking around like everything's fine. Dystopian as hell. Phew. " • Worth reading in full.
* * *
Case Data
From BioBot wastewater data, July 24: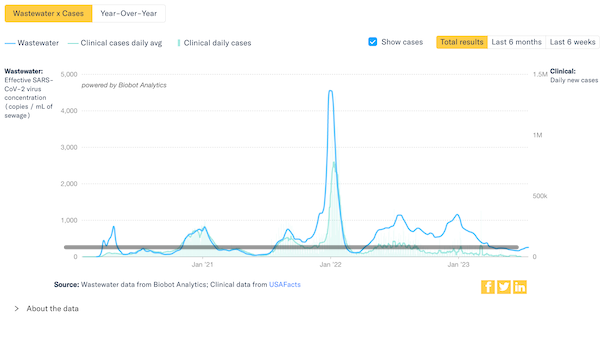 Lambert here: As before, a distinct upward trend. Not seeing the upward slope of doubling behavior, but we are now — just scan the chart backward — at a level above every previous valley.
Regional data: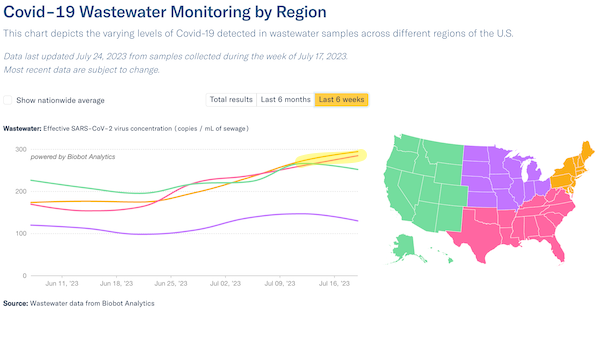 Interestingly, the upswing begins before July 4, which neither accelerates nor retards it.
Regional variant data: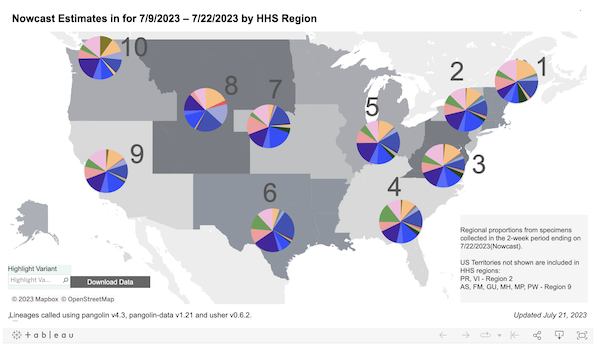 Whatever the cause of the uptick in the Northeast, it's not EG.5 (the orange pie slice), which seems evenly distributed.
Variants
NOT UPDATED From CDC, July 22: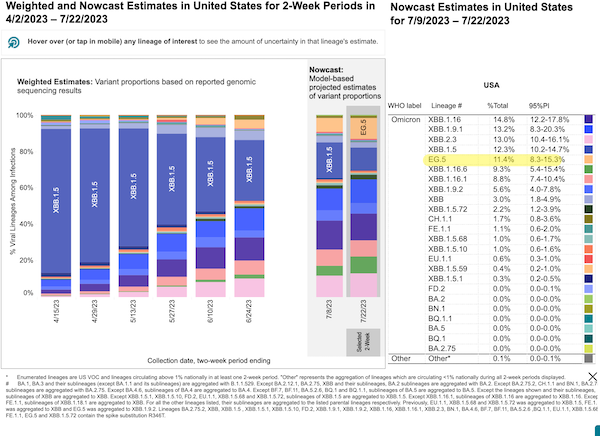 Lambert here: EG.5 still on the leaderboard, but getting crowded out (?) by all those XBB's.
From CDC, July 8: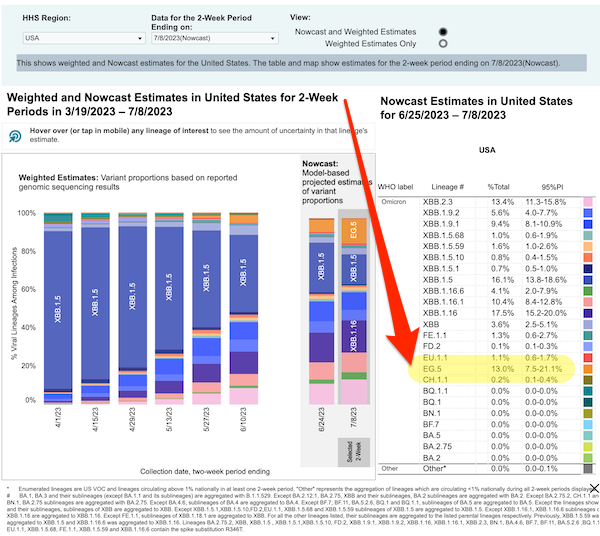 Lambert here: Not sure what to make of this. I'm used to seeing a new variant take down the previously dominant variant. Here it looks like we have a "tag team," all working together to cut XBB.1.5 down to size. I sure hope the volunteers doing Pangolin, on which this chart depends, don't all move on the green fields and pastures new (or have their access to facilities cut by administrators of ill intent).
CDC: "As of May 11, genomic surveillance data will be reported biweekly, based on the availability of positive test specimens." "Biweeekly: 1. occurring every two weeks. 2. occurring twice a week; semiweekly." Looks like CDC has chosen sense #1. In essence, they're telling us variants are nothing to worry about. Time will tell.
Covid Emergency Room Visits
NOT UPDATED From CDC NCIRD Surveillance, July 15: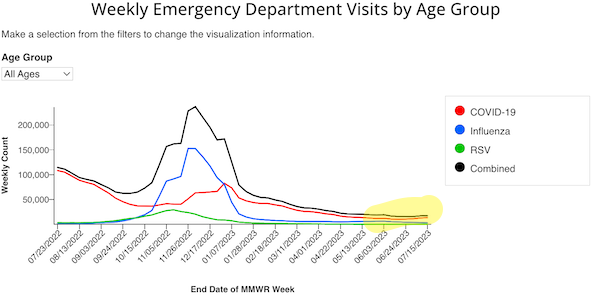 Lambert here: Notice the slight increase.
NOTE "Charts and data provided by CDC, updates Wednesday by 8am. For the past year, using a rolling 52-week period." So not the entire pandemic, FFS (the implicit message here being that Covid is "just like the flu," which is why the seasonal "rolling 52-week period" is appropriate for bothMR SUBLIMINAL I hate these people so much. Notice also that this chart shows, at least for its time period, that Covid is not seasonal, even though CDC is trying to get us to believe that it is, presumably so they can piggyback on the existing institutional apparatus for injections.
Positivity
From Walgreens, July 24: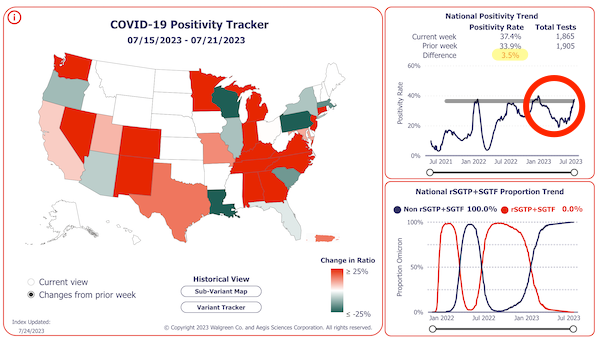 1.5%. Vertical, though the absolute numbers are still very small relative to June 2022, say. Interestingly, these do not correlate with the regional figures for wastewater. (It would be interesting to survey this population generally; these are people who, despite a tsunami of official propaganda and enormous peer pressure, went and got tested anyhow.)
NOT UPDATED From CDC, June 26: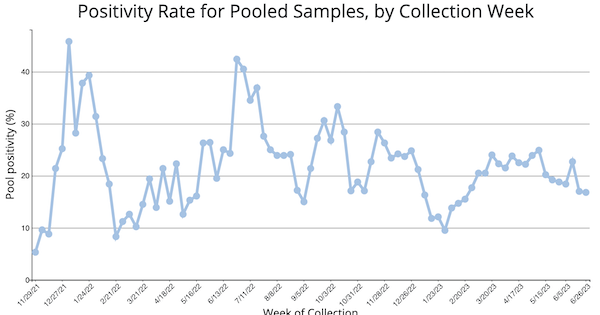 Lambert here: This is the CDC's "Traveler-Based Genomic Surveillance" data. They say "maps," but I don't see one….
Deaths
NOT UPDATED Iowa COVID-19 Tracker, July 19: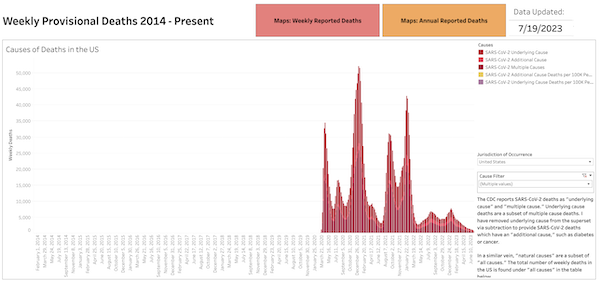 Lambert here: The WHO data is worthless, so I replaced it with the Iowa Covid Data Tracker. Their method: "These data have been sourced, via the API from the CDC: https://data.cdc.gov/NCHS/Conditions-Contributing-to-COVID-19-Deaths-by-Stat/hk9y-quqm. This visualization updates on Wednesday evenings. Data are provisional and are adjusted weekly by the CDC." I can't seem to get a pop-up that shows a total of the three causes (top right). Readers?,,
Total: 1,169,629 – 1,169,351 = 278 (278 * 365 = 101,470 deaths per year, today's YouGenicist™ number for "living with" Covid (quite a bit higher than the minimizers would like, though they can talk themselves into anything. If the YouGenicist™ metric keeps chugging along like this, I may just have to decide this is what the powers-that-be consider "mission accomplished" for this particular tranche of death and disease).
Excess Deaths
The Economist, July 25: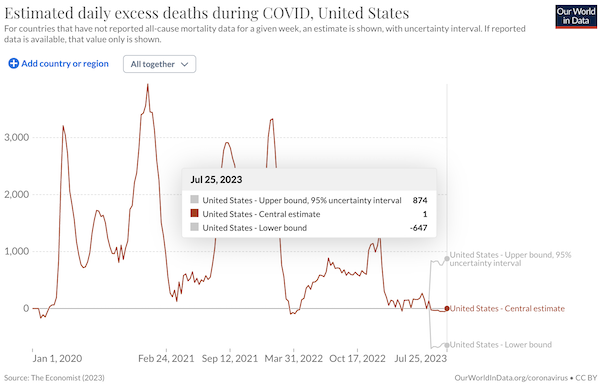 Lambert here: This is now being updated daily. Odd. Based on a machine-learning model. (The CDC has an excess estimate too, but since it ran forever with a massive typo in the Legend, I figured nobody was really looking at it, so I got rid it. )
Stats Watch
Manufacturing: "United States Richmond Fed Manufacturing Index" [Trading Economics]. The Manufacturing Activity Index in the Richmond area edged down… recording the seventh consecutive result in the negative territory. The downturn accelerated for shipments… and new orders… while employment levels rebounded. Also, capital expenditures increased… and price trends continued to moderate for costs paid and prices charged." • Increased capital expenditures are what you want to see in a capitalist economy…
* * *
The Bezzle: "VanMoof's failure epitomizes the problem with the e-bike market" [Axios]. "The failure of VanMoof — an e-bike manufacturer that raised more than $225 million in venture funding before going bust this week — is a stark reminder that buying an e-bike remains a very risky proposition. Any such purchase boils down to a simple question: Do you want to buy something that risks becoming a bomb, or do you want to buy something that risks becoming a brick? Anybody spending thousands of dollars on a new bike wants to know that they can get it fixed easily if it stops working for any reason. The natural way to do that is to take your bike to your local e-bike repair shop — but doing so with a brand-name bike can void the warranty at best and be entirely impossible at worst. Many big brands use proprietary parts and software that small repair shops simply don't have access to. Since Faraday Bikes failed in 2019, for instance, owners have complained that they now have no way to replace worn-out batteries.
Between the lines: There are good reasons for big brands to mistrust local e-bike repair shops, like the one that exploded in New York City last month, killing four. If and when those brands disappear, however, their customers can be left with very expensive bricks. Electric vehicles, whether they have two wheels or four, nearly always come with sophisticated software that needs to be maintained by the manufacturer." • And I'm sure that the same goes for all so-called green technology. Sadly.
Tech: "'Voice biomarker' tech analyzes your voice for signs of depression" [Axios]. "Software that analyzes snippets of your speech to identify mental health problems is rapidly making its way into call centers, medical clinics and telehealth platforms." Call centers?!?!? More: "Hospitals and insurance companies are installing voice biomarker software for inbound and outbound calls, so that — with patients' explicit permission [oh, yeah, right] — they can identify in real time if someone they're chatting with may be anxious or depressed, and refer them for help." • Eesh. If I wasn't depressed or enraged by having to interact with a call center already, I'd certainly be depressed or enraged after I was "referred" for "help." Bonus: At some point, somebody clever figures out how to hook this up to child protective services.
Tech: "Twitter: Sign change paused as police arrive at San Francisco HQ" [BBC]. "Workers taking down the Twitter sign at its San Francisco headquarters paused their work after police arrived at the scene. The sign change came after Twitter owner Elon Musk rebranded the social media company to X. Police in San Francisco told the news site Insider that officers at the HQ were responding to 'a possible unpermitted street closure.' The owners of the building were allegedly not told about the sign removal, local media also reported. Workers managed to take down most of the lettering before their efforts were paused, leaving the letters e and r in place." • Oops….
* * *
Today's Fear & Greed Index: 82 Extreme Greed (previous close: 82 Extreme Greed) [CNN]. One week ago: 83 (Extreme Greed). (0 is Extreme Fear; 100 is Extreme Greed). Last updated Jul 25 at 1:30 PM ET.
The Screening Room
"'Barbie,' 'Oppenheimer,' Even 'Sound of Freedom' — Audiences Don't Crave IP. They Want Originality" [Indiewire]. "Two non-franchise films began their massive releases Thursday with partial-day shows, bolstered by stellar reviews and top-tier directors, in a summer that lagged more than five percent behind last year. The result: A combined gross of $32.8 million…. Results like these beg for hyperboles, and deserve them. However, focusing on the eye-popping numbers risks missing an even bigger point: Audiences are stating, in no uncertain terms, that IP and connected universes and sequels are not going to save theaters. The secret lies in investing in risky projects based on compelling ideas that challenge filmmakers and their audiences." Barbie? Risky? Really? Maybe More: "The excitement for the [Barbie] film comes from a distinct, unique, even weird interpretation of the classic doll and those will be the high heels that future iterations have to fill." I keep thinking Klaus Barbie. But that's just me. More: "Fans of "Sound of Freedom," the independently released child-trafficking story that's now grossed over $100 million in just over two weeks, might beg to differ. (Metascore: 43.) It too is original and while it has little in common with 'Barbie' or 'Oppenheimer,' it shares a key to success: Don't rehash past hits. 'Sound' might even achieve the unthinkable: It could beat 'Mission: Impossible' for #3 this weekend." • Barbenheimer. I dunno….
News of the Wired
"Warning of a forthcoming collapse of the Atlantic meridional overturning circulation" [Nature]. "The Atlantic meridional overturning circulation (AMOC) is a major tipping element in the climate system and a future collapse would have severe impacts on the climate in the North Atlantic region. In recent years weakening in circulation has been reported, but assessments by the Intergovernmental Panel on Climate Change (IPCC), based on the Climate Model Intercomparison Project (CMIP) model simulations suggest that a full collapse is unlikely within the 21st century. Tipping to an undesired state in the climate is, however, a growing concern with increasing greenhouse gas concentrations. Predictions based on observations rely on detecting early-warning signals, primarily an increase in variance (loss of resilience) and increased autocorrelation (critical slowing down), which have recently been reported for the AMOC. Here we provide statistical significance and data-driven estimators for the time of tipping. We estimate a collapse of the AMOC to occur around mid-century under the current scenario of future emissions." • Yeah, but what about my quarterly results?
* * *
Contact information for plants: Readers, feel free to contact me at lambert [UNDERSCORE] strether [DOT] corrente [AT] yahoo [DOT] com, to (a) find out how to send me a check if you are allergic to PayPal and (b) to find out how to send me images of plants. Vegetables are fine! Fungi and coral are deemed to be honorary plants! If you want your handle to appear as a credit, please place it at the start of your mail in parentheses: (thus). Otherwise, I will anonymize by using your initials. See the previous Water Cooler (with plant) here. From doug: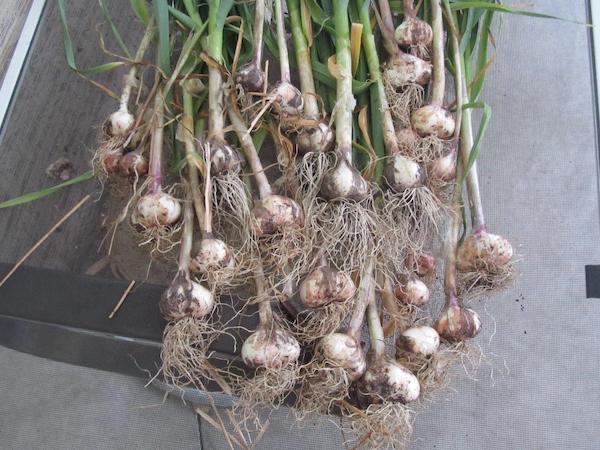 doug writes: "I harvested garlic today ahead of the rainy weekend. Music is the variety. I truly appreciate all the hard work done by everyone to have NC available." Anybody else got harvest photos? Shoot them off to me!
* * *
Readers: Water Cooler is a standalone entity not covered by the annual NC fundraiser. So if you see a link you especially like, or an item you wouldn't see anywhere else, please do not hesitate to express your appreciation in tangible form. Remember, a tip jar is for tipping! Regular positive feedback both makes me feel good and lets me know I'm on the right track with coverage. When I get no donations for five or ten days I get worried. More tangibly, a constant trickle of donations helps me with expenses, and I factor in that trickle when setting fundraising goals:
Here is the screen that will appear, which I have helpfully annotated: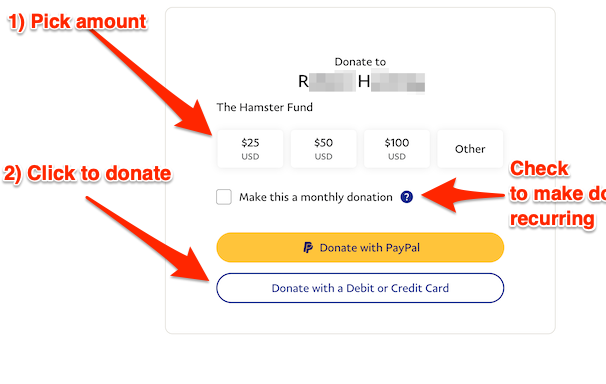 If you hate PayPal, you can email me at lambert [UNDERSCORE] strether [DOT] corrente [AT] yahoo [DOT] com, and I will give you directions on how to send a check. Thank you!