By Lambert Strether of Corrente.
Bird Song of the Day
Swamp Nightjar, Minziro Forest Reserve, Kagera, Tanzania. If this lasted an hour, it would be great to fall asleep to…
* * *
Politics
"So many of the social reactions that strike us as psychological are in fact a rational management of symbolic capital." –Pierre Bourdieu, Classification Struggles
Biden Administration
"Where is DOT's Freight Office?" [Freight Waves]. " The U.S. Department of Transportation has yet to stand up a government office crucial to freight transportation, a worrying sign that new infrastructure projects worth billions in federal dollars may not be receiving the attention and oversight they need. DOT's Office of Multimodal Freight Infrastructure and Policy (Freight Office), authorized by the Bipartisan Infrastructure Law (BIL) enacted on Nov. 15, 2021, was given wide-ranging responsibilities related to funding and coordinating the development of transportation projects. In addition to overseeing many of DOT's competitive grant programs, the Freight Office — for which congressional appropriators recently allotted $7.3 million in the 2024 fiscal year budget — is tasked with carrying out the country's national multimodal freight policy, as well as helping the private and public sectors share information on freight issues and working with cities and states to develop freight-movement expertise. DOT in June provided an update on the status of the office to key Congressional committees, according to committee staffers contacted by FreightWaves. However, President Biden has yet to appoint an Assistant Secretary for Multimodal Freight, a Senate-confirmed position charged with heading up the office."
2024
Time for the Countdown Clock!

* * *

"EXCLUSIVE: Revealed: Delaware prosecutor accused of 'obstructing' FBI probe into President's ties to Hunter Biden's shady business dealings is FRIEND of Joe's White House counsel – who emailed 'Love you brother' to First Son" [Daily Mail]. Missed this one: "DailyMail.com can now reveal Wolf, one of the lead prosecutors in the Hunter probe, worked closely with Alexander Mackler, who served as then-Vice President Joe's White House Deputy Counsel from 2014 to 2016. Mackler was also campaign manager for Joe's late son Beau in his successful 2010 run for Delaware Attorney General, and was close with Hunter himself… While serving as a Delaware federal prosecutor, Mackler continually checked in on Hunter with warm, loving emails – as Hunter pursued a series of self-confessed crack cocaine and prostitute binges. 'I just finished a hellacious couple months in court. Now that I have a chance to breathe, was wondering how life is on your end. Last you told me you were out in LA. Gimme a call sometime we can catch up. ,' Mackler wrote in October 2018. On July 18, 2020 Mackler also wrote: '. Call sometime.' In another telling email sent four days earlier, Mackler wrote to a select group of 27 friends and family members inviting them to an informal wake for a family member. The email, forwarded to Hunter by Biden deputy campaign manager Anthony Bernal, included Joe's sister Valerie Owens, secretary of state Anthony Blinken, and former US ambassador to Romania Mark Gitenstein." • Delaware is a very small state… More on the hearing, which supports Yves' post here:

She asks if she can reject the plea on grounds it contains an agmt to not charge she doesn't fully understand, after basically getting Wise to admit they don't want her to have latitude on whether to accept the plea or not "in the interest of justice." They want her hands tied,… pic.twitter.com/tO3uR9xQtR

— Jennifer Van Laar (@jenvanlaar) July 27, 2023

* * *

"Trump attorneys meet with special counsel, make case for why Trump shouldn't be indicted: Sources" [ABC]. "Trump attorneys John Lauro and Todd Blanche met with Smith's team following the receipt of a target letter alerting Trump he is a target of the special counsel's investigation into efforts to overturn the 2020 election. Trump's lawyers were there to make the case for why they believed Trump shouldn't be indicted. Smith was present for the meeting, sources said. The meeting ended after an hour, sources told ABC News. The target letter, which Trump said he received on July 16, mentions three federal statutes: conspiracy to commit offense or to defraud the United States, deprivation of rights under a civil rights statute, and tampering with a witness, victim or an informant, sources familiar with the matter told ABC News."

* * *

"How 'a hack' landed North Dakota Gov. Doug Burgum on the GOP debate stage" (interview) [USA Today]. "The North Dakota governor officially met the Republican National Committee's rules to participate in the August debate as of this week, he told USA TODAY on Tuesday. To reach the required minimum number of donors, Burgum relied on an unusual – and controversial – tactic: a $20 Visa or Mastercard gift card to anyone who donates at least a dollar to his campaign…. The governor's approach isn't a clear violation of election rules, but some have criticized it. Burgum on Tuesday compared the move to a business decision that introduces voters to his 'brand.' 'We just said, 'Oh, that's the rule? Well, let's figure out a way," Burgum said. 'We'll do a hack, we'll get around it. And we'll do it in a way that's completely legal and completely smart.' He said it was also a response to the donor hurdle he said favored his more well-known opponents. 'The rule was set up to benefit people who've held national office, people who've been pundits on national television … or they've been career politicians in D.C.,' Burgum said. 'It would oppose somebody from a small town, small state who's trying to bring fresh ideas.'" • I dunno about the "fresh ideas," but legal? Smart? Indeed. This episode speaks well of Burgum's staff, too.

"The rise of Vivek Ramaswamy: A long-shot candidate ascends in the GOP campaign" [NBC]. "But that's changing. Ramaswamy has blanketed the early-state trail as well as both conservative and mainstream media, embracing a strategy that has him omnipresent in the Republican presidential primary. That strategy seems to be working. On Monday, Ramaswamy stood at third place nationally in the primary field… 'Maybe it happened a tad earlier than we expected,' he told NBC News in an interview. 'But at the time we started this race, I believed I was running to be the next president of the United States and lead a national revival.'" • Ah, "national revival." A NH reader throws this over the transom:

Yard signs! I wonder if it's still there….

"Vivek Ramaswamy: Democrats Not Letting RFK Jr. Debate Makes The Republican Party Better" [RealClearPolitics]. Ramaswamy on RFK: "We both respect the virtues of free speech, of individual self-determination and self-governance, of a constitution with three branches of government, not four*. And what disappoints me is that the Democratic Party isn't even letting them debate. That's I want the Democratic Party to be the best version of itself that makes our country stronger. It makes the Republican Party better." • Not Dick "Fourth Branch" Cheney, but the regulatory state.

* * *

"GOP donors fuel RFK Jr's presidential campaign" [Popular Information]. "Through June 30, Kennedy's campaign has collected the maximum, $6,600, from 96 individuals. Of that group, 37 individuals have previously only donated to Republican candidates for federal office. Only 19 have a history of consistently supporting Democratic candidates. The remainder either have no giving history (30), have donated to members of both parties (8), or supported Libertarian or alternative candidates (2)." • Handy chart:

The "Pied Piper" strategy? This time from Republicans?

* * *

"Nine ways the 2024 campaign could go haywire" [Walter Shapiro, Roll Call]. "In a desperate effort to inject some humility into political prognostication, I have created a list of plausible events that could upend the glib calculus [Biden v. Trump] about 2024." None of the items on Shapiro's list seem out-of-band to me; I'm with Thomas Ferguson, who characterized the electorate and election 2024 as "incredibly volatile." Hence I agree with the first item: "Since the 2000 election, we have endured 9/11, the worst financial crisis since the Great Depression, a pandemic, an insurrection and a major land war in Europe. Are we certain we know what the voters will be obsessing about in the fall of next year?" • No.

* * *
Obama Legacy
"How did Obamas' private chef Tafari Williams drown in Martha's Vineyard paddle boarding accident? Unanswered questions surrounding the death of 'fiercely loyal' cook" [Daily Mail]. Note that "Edgartown Great Pond", where Williams met his death, is not small, as "pond" could imply; it's "an 890 acre (at high water) brackish coastal pond." The Mail actually did some reporting, and interviewed a local. "Dr Edward Dow, who has lived in the area for more than 40 years, told DailyMail.com that the water in Edgartown Great Pond could be 'deceptive'. The keen rower, who regularly goes out on the water, said: 'There are three things which could have happened. The police report states that he went down once and came up before getting into trouble… 'Either he's not a strong swimmer, he might have had a medical event like a heart attack of a pulmonary embolism or he might have been impaired in some way,' he said." But: "He wasn't wearing a life jacket or a flotation device, and he was wearing dark clothing at night." Neither of those two details make sense. Who the heck paddleboards at night? Wellie… It's a thing. Some people do. And they're advised that the location matters, and to bring a light, and a friend (and a personal flotation device, though the pictures of paddleboarders tend not to include those).
Democrats en Déshabillé
Patient readers, it seems that people are actually reading the back-dated post! But I have not updated it, and there are many updates. So I will have to do that. –lambert

I have moved my standing remarks on the Democrat Party ("the Democrat Party is a rotting corpse that can't bury itself") to a separate, back-dated post, to which I will periodically add material, summarizing the addition here in a "live" Water Cooler. (Hopefully, some Bourdieu.) It turns out that defining the Democrat Party is, in fact, a hard problem. I do think the paragraph that follows is on point all the way back to 2016, if not before:

The Democrat Party is the political expression of the class power of PMC, their base (lucidly explained by Thomas Frank in Listen, Liberal!). ; if the Democrat Party did not exist, the PMC would have to invent it. . ("PMC" modulo "class expatriates," of course.) Second, all the working parts of the Party reinforce each other. Leave aside characterizing the relationships between elements of the Party (ka-ching, but not entirely) those elements comprise a network — a Flex Net? An iron octagon? — of funders, vendors, apparatchiks, electeds, NGOs, and miscellaneous mercenaries, with assets in the press and the intelligence community.

Note, of course, that the class power of the PMC both expresses and is limited by other classes; oligarchs and American gentry (see 'industrial model' of Ferguson, Jorgensen, and Jie) and the working class spring to mind. Suck up, kick down.

* * *

"The impending pro-war Democratic Party takeover of Pacifica Radio" [The Grayzone]. "Although Pacifica Radio established its pro-peace bona fides largely by countering efforts to promote imperialist wars and regime change operations, when it came to Syria, different considerations seemed to be at play. Instead, [Sonali] Kolhatkar represents a new generation of Pacifica hosts who enthusiastically embrace establishment media narratives. A faction within the Pacifica audience and its elected governance structure put forth Kolhatkar and another Pacifica host, Ian Masters, as prominent endorsers on their website, New Day Pacifica. If New Day wins the internal elections, listeners are likely to hear a lot more of them at the five major metropolitan stations (KPFA-Northern California, KPFK-Los Angeles, KPFT-Houston, WBAI-New York City, WPFW-Washington, D.C) in the run-up to the 2024 US presidential election." Kolhatkar enthusiastically quotes spook cutout Eliot Higgins of Bellingcat, for example. More: "According to a Pacifica manager who preferred to remain anonymous, New Day Pacifica 'are aiming at having Pacifica be an adjunct of the Biden re-election campaign by as early in 2024 as possible.'" • Lots of lurid detail.
Realignment and Legitimacy
"McConnell has fallen multiple times this year, sources say" [CNN]. "Senate GOP Leader Mitch McConnell, who froze during a news conference Wednesday and earlier this year suffered a concussion after falling down, has also endured two other falls this year, according to multiple people familiar with the matter. The first known time, in February, occurred in Finland when McConnell and a US delegation met with the Finnish president in Helsinki, according to three sources familiar with the matter. As he got out of his car on a snowy day and walked towards his meeting with Finnish President Sauli Niinistö, the GOP leader tripped and fell, the sources said of the incident which hasn't been previously reported. He dusted himself off and continued on with the meeting. That incident in Finland occurred just days before McConnell fell in March at the Waldorf Astoria hotel in Washington, where he slammed his head and suffered a concussion and broken ribs, which sidelined him for nearly six weeks before he returned to the Senate. And just this month at Reagan National Airport in Washington, McConnell was getting off the plane when he tripped and fell, a source familiar with this incident said. He returned to the Capitol later that day. NBC reported on the fall at the airport earlier on Wednesday. … It was the second time in as many months McConnell has had an unusual incident at his weekly news conference. The other incident occurred in June when he has having trouble hearing questions from reporters who could be clearly heard by the senators next to him." • Commentary:

The top leadership of the US Government is extremely old — they stay around forever, clinging to power as tightly as they can, petrified to give it up — and so we have more and more upsetting scenes like this.

Best wishes to Sen. McConnell's health, but this is gerontocracy. https://t.co/2lcGyif4Rt

— Glenn Greenwald (@ggreenwald) July 26, 2023

Meanwhile, George W. Bush is 77:

Freudian confession of the century pic.twitter.com/5o6ovk0Iq8

— sarah (@sahouraxo) July 21, 2023

And of course Feinstein. I confess I bristle a little at the word "gerontocacy," first because I'm no spring chicken myself, but also because the idea seems to be that younger people could run the empire more effectively when the issue is the empire as such. I also think that a functional political system (heck, society) would be able to take advantage of (to impose a positive spin, here) elders. Sure, the hobbits were young. But Gandalf was old. Bilbo, too, for that matter. It's not just age at work:

That whole McConnell video is exactly how they treat COVID: an obvious issue that needs immediate attention that they brush off and push off to the side causing more damage to occur.

— Joaquín Beltrán (@joaquinlife) July 26, 2023

* * *

"Conservatives Have a New Master Theory of American Politics" [Jonathan Chait, New York Magazine]. "Earlier this year, I was introduced to a Republican at a small gathering. I asked him what he made of the new theory sweeping the right, which held that radical leftists had conducted a 'long march through the institutions,' seizing control of American culture, education, and business, and thus forcing Republicans to use government to dislodge their power. This theory has largely been associated with the new, Trumpier factions of the right that have risen up as alternatives to traditional conservatism. Since the man I met was exactly the sort of Republican the Trumpists are plotting to displace from power — (Jewish coastal elitist, donor, mortified by Donald Trump, vocally pro–gay marriage yet intrigued by Ron DeSantis, etc.) — I assumed he would express either ignorance of the long-march theory or else outright opposition. Instead, to my surprise, the only portion of my account he questioned was the word 'theory.' To his mind, the long march and its grim implications for the party's strategy were simply an obvious truism." • Since this is Chait, I assume the Republican is correct (or at least more correct). And speaking of NGOs:

In my personal experience, a lot of rich women are also in charge of these nonprofits. Their lifestyles are financed by their husbands or their previous life doing something evil, and then they think this is how they "give back." It's a rich tapestry.

— Hope Rehak supports all striking labor (@HopeRehak) July 26, 2023

A chorus of approval:

I am a sociologist studying nonprofits & this is perfectly said! I found that emotional labor they provide is a vital resource in those spaces but cannot be quantified for grant leverage, and thus, necessary but ignored. Very on brand for how we treat female labor unfortunately.

— Bridget Cowan Longoria (@bridgetcowan) July 27, 2023

And:

Totally. I'm a contractor who works with non-profits all over my state and they're almost all staffed by women who are paid pennies to act as some combination of manager/social worker/engineer/bureaucrat. It's completely unfair and unsustainable.

— Steven Johnson (@puupypants) July 27, 2023

Can readers confirm?

* * *

"How Jeffrey Epstein Captivated Harvard" [Michael Massing, The Nation]. "According to a recent report in The Wall Street Journal, Summers—a former president of Harvard and the current Charles W. Eliot University Professor and director of the Mossavar-Rahmani Center for Business and Government at the Harvard Kennedy School—had more than a dozen meetings scheduled with Epstein from 2013 to 2016. In April 2014, Summers sent Epstein an e-mail seeking 'small scale philanthropy advice' regarding his wife, Elisa New, a professor of English at Harvard. 'My life will be better if i raise $1m for Lisa,' he wrote. 'Mostly it will go to make a pbs series and for teacher training. Ideas?' Summers invited Epstein to dinner, and they made plans to meet at a restaurant in the Boston suburb of Brookline. In 2016, a foundation linked to Epstein donated $110,000 to New's nonprofit, which produced video content about poetry. After Epstein's second arrest, in 2019, New—deeply regretting the grant—made a contribution in excess of that amount to an organization working against sex trafficking. Top universities, in turn, entice the tycoon class with a mix of academic prestige, intellectual stimulation, and social legitimation. And no university has more to offer in this regard than Harvard. The school has come to have a mesmerizing effect on the American public, especially its most mercantile tier, for which it is a honeypot. Though Epstein's ties to Harvard have received considerable attention, a full narrative account shows how this singularly [oh?] depraved individual without a college degree was able, by using a mix of philanthropy, charm, and personal favors, to captivate the nation's top institution of higher learning, thus helping to burnish his image and conceal his long history of predatory behavior." • Perhaps because, in the milieu of the superrich Epstein is the rule, and not the exception.
#COVID19
"I am in earnest — I will not equivocate — I will not excuse — I will not retreat a single inch — AND I WILL BE HEARD." –William Lloyd Garrison
Resources, United States (National): Transmission (CDC); Wastewater (CDC, Biobot; includes many counties; Wastewater Scan, includes drilldown by zip); Variants (CDC; Walgreens); "Iowa COVID-19 Tracker" (in IA, but national data). "Infection Control, Emergency Management, Safety, and General Thoughts" (especially on hospitalization by city).
Lambert here: Readers, thanks for the collective effort. To update any entry, do feel free to contact me at the address given with the plants. Please put "COVID" in the subject line. Thank you!
Resources, United States (Local): AK (dashboard); AL (dashboard); AR (dashboard); AZ (dashboard); CA (dashboard; Marin, dashboard; Stanford, wastewater; Oakland, wastewater); CO (dashboard; wastewater); CT (dashboard); DE (dashboard); FL (wastewater); GA (wastewater); HI (dashboard); IA (wastewater reports); ID (dashboard, Boise; dashboard, wastewater, Central Idaho; wastewater, Coeur d'Alene; dashboard, Spokane County); IL (wastewater); IN (dashboard); KS (dashboard; wastewater, Lawrence); KY (dashboard, Louisville); LA (dashboard); MA (wastewater); MD (dashboard); ME (dashboard); MI (wastewater; wastewater); MN (dashboard); MO (wastewater); MS (dashboard); MT (dashboard); NC (dashboard); ND (dashboard; wastewater); NE (dashboard); NH (wastewater); NJ (dashboard); NM (dashboard); NV (dashboard; wastewater, Southern NV); NY (dashboard); OH (dashboard); OK (dashboard); OR (dashboard); PA (dashboard); RI (dashboard); SC (dashboard); SD (dashboard); TN (dashboard); TX (dashboard); UT (wastewater); VA (dashboard); VT (dashboard); WA (dashboard; dashboard); WI (wastewater); WV (wastewater); WY (wastewater).
Resources, Canada (National): Wastewater (Government of Canada).
Resources, Canada (Provincial): ON (wastewater); QC (les eaux usées); BC, Vancouver (wastewater).
Hat tips to helpful readers: anon (2), Art_DogCT, B24S, CanCyn, ChiGal, Chuck L, Festoonic, FM, FreeMarketApologist (4), Gumbo, hop2it, JB, JEHR, JF, JL Joe, John, JM (10), JustAnotherVolunteer, JW, KatieBird, LL, Michael King, KF, LaRuse, mrsyk, MT, MT_Wild, otisyves, Petal (6), RK (2), RL, RM, Rod, square coats (11), tennesseewaltzer, Utah, Bob White (3).
Stay safe out there!
* * *
Look for the Helpers
Proper swabbing technique:

Here's a slide showing how to do a cheek and throat swab in addition to a nasal swab with a rapid test. Heard from an NBer this morning where testing throat only gives +ve and nose only gives -ve which we've heard about from scientists around the world. https://t.co/3mLvHNRbmZ

— NB citizen Covid Updates #COVIDisAirborne (@nb_covid_info) July 15, 2022
Maskstravaganza
The elite know. They just don't want you to know:

The @WhiteHouse' Help Wanted Ad for paid internships clearly shows #CovidIsNotOver. If @POTUS, @VP, everyone at the @WhiteHouse require vaccination, testing, masking & social distancing, don't you think businesses and healthcare facilities should do the same? #HealthEquity NOW!🧵 pic.twitter.com/XZCgQg0oqI

— MaskTogetherAmerica (@TogetherWeMask) July 25, 2023
Covid is Airborne
""Enhanced Ventilation and Cleaner Air in Buildings" (webcast) [National Academies of Sciences, Engineering, and Medicine]. • Commentary:

Outdoor air dampers only working properly on half of the Federal buildings tested. Meaning that they may not be letting in enough outdoor air for ventilation.

That's probably HIGH (better condition) than in average non-Federal buildings out there. @joeyfox85 @JennaElfman pic.twitter.com/Y6serCM7Nv

— Prof. Jose-Luis Jimenez (@jljcolorado) July 27, 2023

I should really file everything by Jimenez under "Look for the Helpers," because the aerosol community really gave me the idea…
Celebrity Watch
"Singer Tori Kelly Hospitalized for Blood Clots, Fans Asked to Pray" [The Roys Report]. "She is reportedly now undergoing treatment for blood clots around her vital organs." • Of course, enormous online speculation about the pointing finger (vax) not the moon (Covid). Similarly:

this link reports that Covid infections, not the Covid vaccine, "could trigger or accelerate coronary artery disease." https://t.co/YZxNZNS8Pj

— Sam Stein (@samstein) July 25, 2023
Censorship and Propaganda
"The Logic of Risk Taking" [Nassim Nicholas Taleb]. From 2017, still germane. "The difference between 100 people going to a casino and one person going to a casino 100 times, i.e. between (path dependent) and conventionally understood probability. The mistake has persisted in economics and psychology since age immemorial….. Smoking a single cigarette is extremely benign, so a cost-benefit analysis would deem one irrational to give up so much pleasure for so little risk! But it is the act of smoking that kills, with a certain number of pack per year, tens of thousand of cigarettes –in other words, repeated serial exposure." • This applies to repeated Covid infection, too (I file it here as an antidote to official propaganda).
Sequelae
"Fatigue Can Shatter a Person" [Ed Yong, The Atlantic]. "No grand unified theory explains everything about long COVID and ME/CFS, but neither are these diseases total mysteries. In fact, plenty of evidence exists for at least two pathways that explain why people with these conditions could be so limited in energy. First, most people with energy-limiting chronic illnesses have problems with their autonomic nervous system, which governs heartbeat, breathing, sleep, hormone release, and other bodily functions that we don't consciously control. When this system is disrupted—a condition called "dysautonomia"—hormones such as adrenaline might be released at inappropriate moments, leading to the wired-but-tired feeling….. Second, many people with long COVID and ME/CFS have problems with generating energy. When viruses invade the body, the immune system counterattacks, triggering a state of inflammation. Both infection and inflammation can damage the mitochondria—the bean-shaped batteries that power our cells. Malfunctioning mitochondria produce violent chemicals called "reactive oxygen species" (ROS) that inflict even more cellular damage. Inflammation also triggers a metabolic switch toward fast but inefficient ways of making energy, depleting cells of fuel and riddling them with lactic acid. These changes collectively explain the pervasive, dead-battery flavor of fatigue, as "the body struggles to generate energy," Bindu Paul, a pharmacologist and neuroscientist at Johns Hopkins, told me." And: "Long-haulers might not know the biochemical specifics of their symptoms, but they are uncannily good at capturing those underpinnings through metaphor. People experiencing autonomic blood-flow problems might complain about feeling "drained," and that's literally happening: In POTS, a form of dysautonomia, blood pools in the lower body when people stand. People experiencing metabolic problems often use dead-battery analogies, and indeed their cellular batteries—the mitochondria—are being damaged: 'It really feels like something is going wrong at the cellular level,' Oller told me." • Worth reading in full.
"Something Awful"
Lambert here: I'm getting the feeling that the "Something Awful" might be a sawtooth pattern — variant after variant — that averages out to a permanently high plateau. Lots of exceptionally nasty sequelae, most likely deriving from immune dysregulation (says this layperson). To which we might add brain damage, including personality changes therefrom.

* * *

And speaking of T-Cells:

This is how the govt uses its policies to obfuscate the immune system damage done by the 🦠. Dont pay, dont test, dont tell!

Medicare is NOT covering T cell counts! Total bill for this VERY basic panel is $469.07! @dbdugger @LauraMiers @MeetJess @Michael59503746 pic.twitter.com/tPHYchKq36

— Kristina Revay (@KristinaRevay) July 26, 2023

And speaking of brain damage:

I want to be clear that long-established evidence of brain degeneration following SARS-CoV-2 infection is NOT a reason to cease enthusiastically infecting every child, as often as possible, with SARS-CoV-2 https://t.co/q8g3HIUtsR

— Gregory Travis. Make schools #DavosSafe (@greg_travis) July 27, 2023

Good perspective, thinking outside the box!

And speaking of airborne AIDS: "Lymphocytopenia" [MSD Manuals]. It would be irresponsible not to speculate:

And:
Elite Maleficence
"The CDC is preparing for a winter with '3 bugs out there': Covid, flu and RSV" [NBC]. The deck: "Vaccine fatigue is already here, although many Americans will be urged to get three different shots this fall." I hate the way that supposedly explanatory noun phrases just appear, and then grow all over everything like kudzu. "Immunity debt." "Summer sickness." "Vaccine fatigue." All bullshit, too. More: "'We're going to have three bugs out there, three viruses: Covid, of course, flu and RSV,' Cohen said in an interview. 'We need to make sure the American people understand all three and what they can do to protect themselves.'" • FWIW, I think CDC is bound and determined to treat SARS-CoV-2 as a seasonal virus because they have the administrative apparatus set up to deliver the jabs. No other reason. The picture accompanying the article really lets the virus out of the bag:

Leaving aside the brain-melting image of Cohen's unmasked, smiling face — a tell of predatory, lethal intent from any high official, so far as I'm concerned — " to manipulate" is really good; but even better is "Class III biological safety cabinet." Has a Biological Safety Level 3 biohazard been in the news recently? Why yes. Yes, it has. It's SARS-CoV-2, which the article carefully classifies, as does CDC, as "like the flu," or like RSV. Also, another clear sign of institutional dysfunction: the PR person who arranged for the photo op and caption should find another line of work.

"Who Is Mandy Cohen? (07/27/23)" (podcast) [Death Panel]. "Bea, Artie, and Phil discuss the career and opinions of Biden's new CDC Director Mandy Cohen and how her self-described mission to rebuild 'trust' in the agency is only half the story."
* * *
Lambert here: It's a little gruesome to see that none of my data feeds has been updated, even though:

Case Data
NOT UPDATED From BioBot wastewater data, July 24: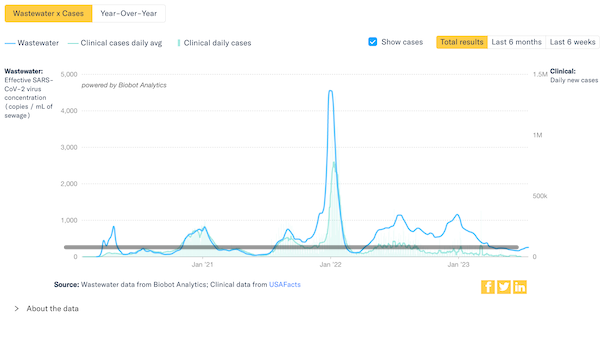 Lambert here: As before, a distinct upward trend. Not seeing the upward slope of doubling behavior, but we are now — just scan the chart backward — at a level above every previous valley.
Regional data: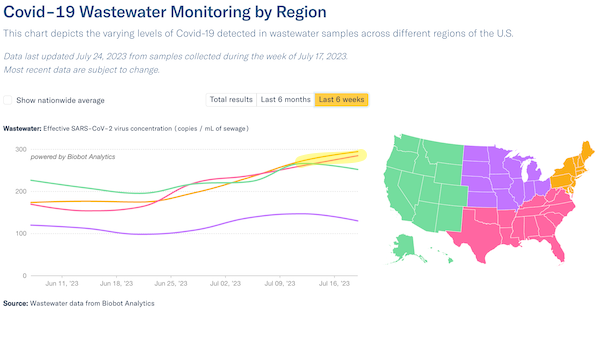 Interestingly, the upswing begins before July 4, which neither accelerates nor retards it.
Regional variant data: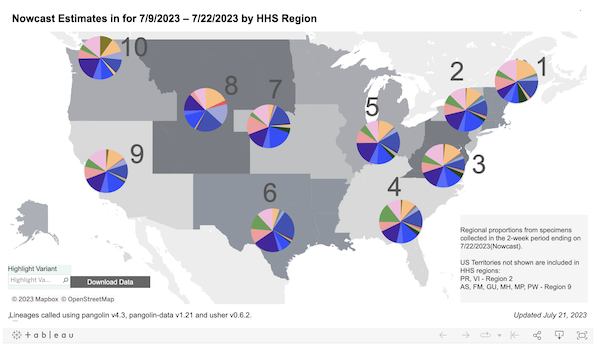 Whatever the cause of the uptick in the Northeast, it's not EG.5 (the orange pie slice), which seems evenly distributed.
Variants
NOT UPDATED From CDC, July 22: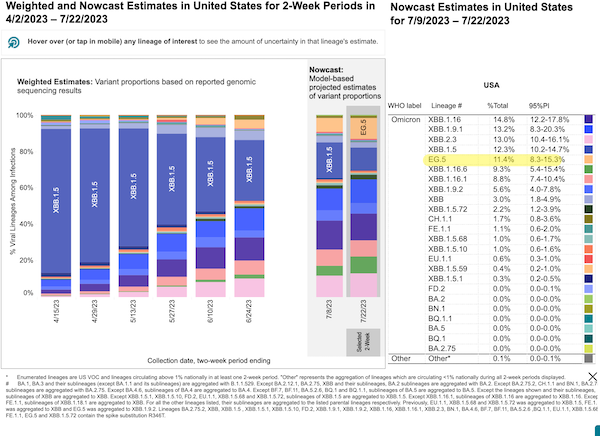 Lambert here: EG.5 still on the leaderboard, but getting crowded out (?) by all those XBB's.
From CDC, July 8: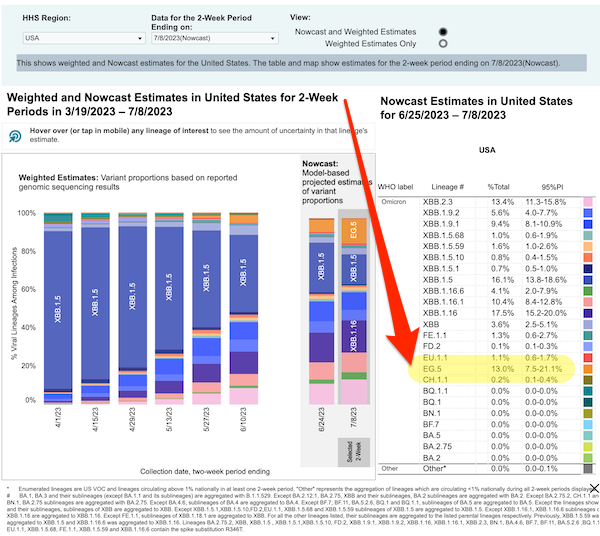 Lambert here: Not sure what to make of this. I'm used to seeing a new variant take down the previously dominant variant. Here it looks like we have a "tag team," all working together to cut XBB.1.5 down to size. I sure hope the volunteers doing Pangolin, on which this chart depends, don't all move on the green fields and pastures new (or have their access to facilities cut by administrators of ill intent).
CDC: "As of May 11, genomic surveillance data will be reported biweekly, based on the availability of positive test specimens." "Biweeekly: 1. occurring every two weeks. 2. occurring twice a week; semiweekly." Looks like CDC has chosen sense #1. In essence, they're telling us variants are nothing to worry about. Time will tell.
Covid Emergency Room Visits
NOT UPDATED From CDC NCIRD Surveillance, July 22: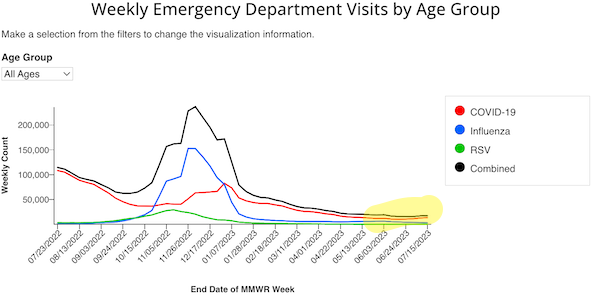 Lambert here: Increase is now quite distinct.
NOTE "Charts and data provided by CDC, updates Wednesday by 8am. For the past year, using a rolling 52-week period." So not the entire pandemic, FFS (the implicit message here being that Covid is "just like the flu," which is why the seasonal "rolling 52-week period" is appropriate for bothMR SUBLIMINAL I hate these people so much. Notice also that this chart shows, at least for its time period, that Covid is not seasonal, even though CDC is trying to get us to believe that it is, presumably so they can piggyback on the existing institutional apparatus for injections.
Positivity
NOT UPDATED From Walgreens, July 24: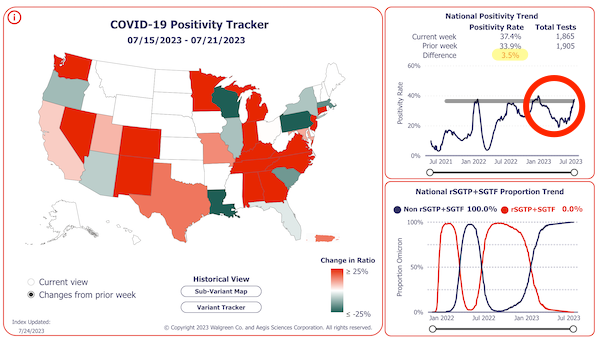 3.5%. Vertical, though the absolute numbers are still very small relative to June 2022, say. Interestingly, these do not correlate with the regional figures for wastewater. (It would be interesting to survey this population generally; these are people who, despite a tsunami of official propaganda and enormous peer pressure, went and got tested anyhow.)
NOT UPDATED From CDC, June 26: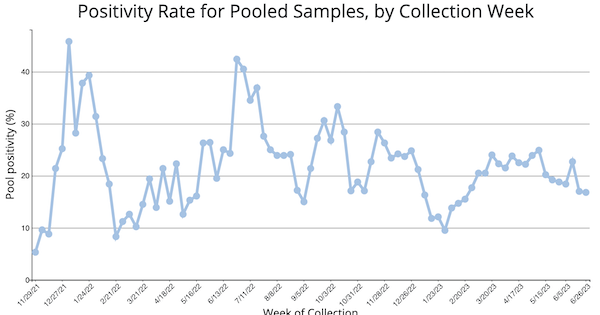 Lambert here: This is the CDC's "Traveler-Based Genomic Surveillance" data. They say "maps," but I don't see one….
Deaths
NOT UPDATED Iowa COVID-19 Tracker, July 19: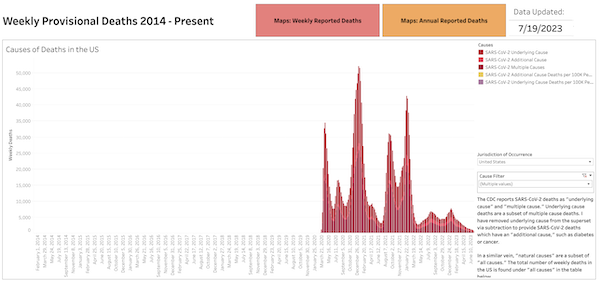 Lambert here: The WHO data is worthless, so I replaced it with the Iowa Covid Data Tracker. Their method: "These data have been sourced, via the API from the CDC: https://data.cdc.gov/NCHS/Conditions-Contributing-to-COVID-19-Deaths-by-Stat/hk9y-quqm. This visualization updates on Wednesday evenings. Data are provisional and are adjusted weekly by the CDC." I can't seem to get a pop-up that shows a total of the three causes (top right). Readers?,,
Total: 1,169,747 – 1,169,682 = 65 (65 * 365 = 23,725 deaths per year, today's YouGenicist™ number for "living with" Covid (quite a bit higher than the minimizers would like, though they can talk themselves into anything. If the YouGenicist™ metric keeps chugging along like this, I may just have to decide this is what the powers-that-be consider "mission accomplished" for this particular tranche of death and disease).
Excess Deaths
The Economist, July 27: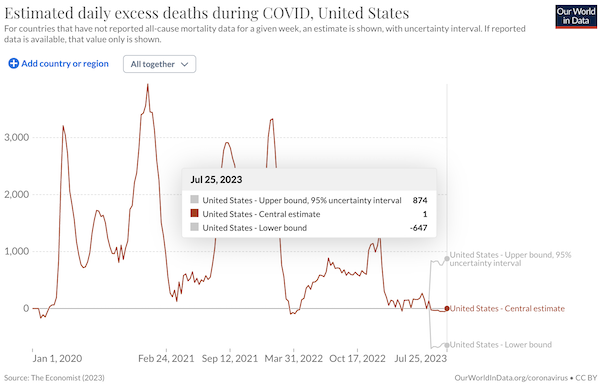 Lambert here: This is now being updated daily. Odd. Based on a machine-learning model. (The CDC has an excess estimate too, but since it ran forever with a massive typo in the Legend, I figured nobody was really looking at it, so I got rid it. )
Stats Watch
Employment Situation: "United States Initial Jobless Claims" [Trading Economics]. "The number of Americans filing for unemployment benefits fell by 7,000 from the prior week to 221,000 on the week ending July 22nd, the lowest in five months, and sharply below market expectations of 235,000. Additionally, continuing claims plunged by 59,000 to 1,690,000 in the earlier week, the least since January, suggesting that jobseekers are quickly able to find new jobs. The result further underscored the stubborn tightness in the US labor market."
Manufacturing: "United States Durable Goods Orders" [Trading Economics]. "New orders for US manufactured durable goods jumped 4.7% month-over-month in June 2023, the most since July 2020, following an upwardly revised 2% rise in May and easily beating market expectations of a 1% increase. It was the fourth straight month the durable goods orders rose."
Manufacturing: "United States Kansas Fed Manufacturing Index" [Trading Economics]. "The Kansas City Fed's Manufacturing Production index fell to -20 in July 2023 from -10 in the previous month, marking the fourth consecutive month in the negative territory. The pace of decline eased slightly for durable goods, while it stayed steady for nondurable goods."
Consumer Spending: "United States Real Consumer Spending QoQ" [Trading Economics]. "Personal consumption expenditure in the United States grew by an annualized 1.6 percent in the first six months of 2023, easing from a 4.2 percent rise in the previous period, advance estimates showed."
* * *
The Bezzle: "House Judiciary panel plans contempt proceedings for Mark Zuckerberg" [NBC]. "A copy of the contempt report asserts that Zuckerberg and Meta, the parent company of Facebook and Instagram, have 'willfully refused' to comply in full with a congressional subpoena stemming from the panel's investigation into any efforts by the executive branch to encourage social media companies to moderate content on digital platforms. The report further alleges that Meta has 'played a central role in this censorship scheme, frequently acquiescing and catering to the government's censorship requests and demands.'"
The Economy: "U.S. economic growth defies forecasts, in boost for 'Bidenomics'" [Politico]. "U.S. economic growth accelerated in the second quarter of the year, surpassing analysts' forecasts and bolstering the Biden administration's argument that the expansion is gaining strength. The government said Thursday that GDP grew 2.4 percent at an annualized pace from April through June, the latest good news for the White House this week after both Federal Reserve economists and the Congressional Budget Office predicted the U.S. would avert a recession this year…. 'If one was looking for the definition of resilience, it would be the American economy,' [said Joe Brusuelas, chief economist at the accounting firm RSM], adding that it 'continues to defy expectations.'" • "Resilience" is one of those words. I've been noticing it a lot, lately.
* * *
Today's Fear & Greed Index: 80 Extreme Greed (previous close: 80 Extreme Greed) [CNN]. One week ago: 81 (Extreme Greed). (0 is Extreme Fear; 100 is Extreme Greed). Last updated Jul 27 at 1:45 PM ET.
The 420
"Mastercard demands US cannabis shops stop accepting debit cards" [BBC]. "Mastercard has said financial payment companies must stop allowing US customers to buy legal marijuana in shops with its debit cards. Because marijuana remains illegal at a federal level in the US, customers in the 38 states where it is allowed are usually forced to pay in cash. Mastercard said the move comes after it found some shops accepted debit payments despite the federal ban…. The crackdown aims to stop marijuana businesses, known as dispensaries, from offering the option to customers of paying with a debit card after entering their account's PIN number."
Class Warfare
"Low-wage earners are 14 times more likely to lose jobs to AI, report finds" [Axios]. "The workers most likely to be replaced by advances in artificial intelligence are those in lower-wage occupations, concludes a new report from the McKinsey Global Institute. This isn't necessarily a story of mass job loss — these workers are likely to find higher-paying jobs in different industries, part of a broader trend already underway." • They always say that. I still ask: Why is nobody thinking about replacing CEOs and administrators with AI? Given the herd behavior, corruption, and general cray cray we see daily in exective functionaries?
"Netflix offers up to $900,000 for AI product manager while actors strike for protection" [The Register]. The deck: "That could pay for 35 humans and their families' health insurance, says human." And: "In another move widely slated by the square-eyed crowd, Secret Invasion, a new Marvel property showing on Disney+, boasts an intro sequence generated by AI. Artists fumed that it was ripping off others' work and depriving professionals of income, but the shape-shifting animation style typical to wonky AI effects was said to fit the identity of the show, which is about aliens that can take other forms to hide among Earth's populace. How very convenient." • "[S]hape-shifting animation style typical to wonky AI effects" means college dorm room-style ugly and derivative, like all AI "art."
* * *
"Small claims court victory sends clear message: Sex work is real work" [Rabble.ca]. "Earlier this year in Halifax, a former sex worker won a precedent-setting case. Brogan, the plaintiff, took a client to small claims court for not paying her and she won! It's the first time a court has ruled on the enforceability of contracts between sex workers and their clients. It affirms what we've been saying all along: sex work is work! In January of last year, Bradley Samuelson contacted Brogan on LeoList, an online advertising platform for sex workers. She told him her rate of $300 per hour plus transportation, he agreed and paid for her Uber to his apartment. She spent seven hours with her client, but after much wrangling, only got paid for an hour's worth of work. What's really interesting about this decision is that the adjudicator gives not one, but two reasons why Brogan won her claim – the first being that a contract was established, the second being unjust enrichment. There is also a third reason that she deserved to win, but it wasn't mentioned anywhere in the ruling: the interconnectedness of payment and consent."
"The new sex economy" [Jacques Attali] "Could you name a 100% private company, which has never raised money from anyone, which is valued in 2023 18 billion dollars, or 8 times more than in 2020? Would you have any more ideas if I specify that this is a website, a kind of marketplace, where about 2 million sellers offer services to about 200 million buyers, for a turnover in 2022 of 2.5 billion? Still no idea? It is Onlyfan[s], a British website, which allows anyone to suggest a conversation, a photo, a video or a tailored erotic show, to people willing to pay for it. The variety of sexual services offered here seems unlimited….. It is said that sex and money are inextricably linked. Sex has always been an object of trade, more or less legal, more or less forced. Girls have always been the main victims, forced to sell their bodies to men and by men. On these websites, the constraint is less explicit. It is no longer physical. It is only economic. It is no less relentless. Many might say that the economy of pleasure in all its forms, which has always existed (including, some would say, in "bourgeois" marriages), will take on an increasingly important dimension, becoming, in the virtual, an economy of simulacrum and no longer being, in any way, related to reproduction; that the internet trade in simulacra of sex will be infinitely healthier, more moral, than prostitution; that no one finds fault with it; that these businesses are legal; that they do not harm anyone, not to the benefit of the environment; and that those who do so do so in a totally free manner. That would be a mistake…. Finally, because a sham economy is, in the field of sexuality, a form of suicide of the human species, which is moreover may already be in motion."
News of the Wired
"Venetian Glass Beads May Be Oldest European Artifacts Found in North America" [Smithsonian]. "More than five centuries ago, a handful of blueberry-sized blue beads made an astonishing journey. Crafted by glassmakers in Venice, the small spheres were carried east along Silk Road trade networks before being ferried north, into the hinterlands of Eurasia and across the Bering Strait, where they were deposited in the icy ground of northern Alaska. Archaeologists dug the beads up in the late 20th and early 21st centuries. Now, a new study published in the journal American Antiquity asserts that the glass objects are among the oldest European-made items ever discovered in North America. Per the paper, Michael Kunz of the University of Alaska Museum of the North and Robin Mills of the Bureau of Land Management studied ten glass beads found at three sites along Alaska's Brooks Range. The researchers used mass spectrometry carbon-dating to analyze trace amounts of twine discovered alongside three of the beads and date the artifacts' creation to between roughly 1397 and 1488. Unlike glass, twine is made from organic material—in this case, plant fibers—and can therefore be carbon dated, notes Jack Guy for CNN. The twine used to date the beads was found on copper bangles buried nearby, leading the researchers to posit that the beads and copper jewelry were once used as earrings or bracelets." • Baubles, bangles, bright shiny beads….
* * *
Contact information for plants: Readers, feel free to contact me at lambert [UNDERSCORE] strether [DOT] corrente [AT] yahoo [DOT] com, to (a) find out how to send me a check if you are allergic to PayPal and (b) to find out how to send me images of plants. Vegetables are fine! Fungi and coral are deemed to be honorary plants! If you want your handle to appear as a credit, please place it at the start of your mail in parentheses: (thus). Otherwise, I will anonymize by using your initials. See the previous Water Cooler (with plant) here. From RM: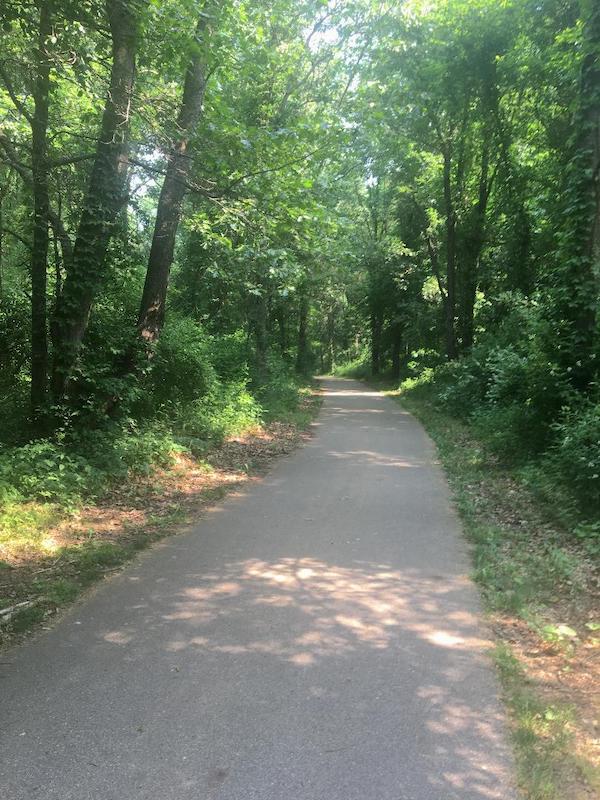 RM writes: "I live in the prairie and can see for miles in every direction. I am visiting back in Michigan and am having to deal with these green tunnels on morning walks. It gets rather confining not being able to see more than twenty feet off the trail or most roads with trees in full leaf and the bushes dense."
* * *
Readers: Water Cooler is a standalone entity not covered by the annual NC fundraiser. So if you see a link you especially like, or an item you wouldn't see anywhere else, please do not hesitate to express your appreciation in tangible form. Remember, a tip jar is for tipping! Regular positive feedback both makes me feel good and lets me know I'm on the right track with coverage. When I get no donations for five or ten days I get worried. More tangibly, a constant trickle of donations helps me with expenses, and I factor in that trickle when setting fundraising goals:
Here is the screen that will appear, which I have helpfully annotated: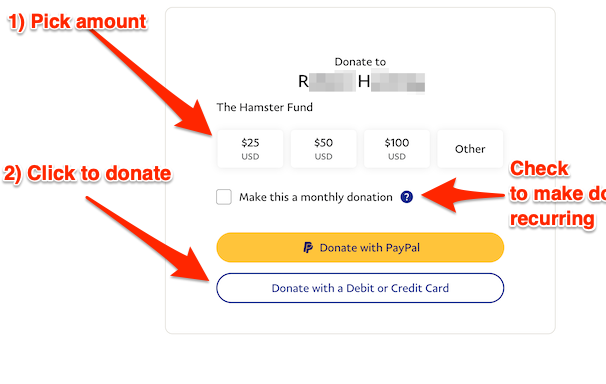 If you hate PayPal, you can email me at lambert [UNDERSCORE] strether [DOT] corrente [AT] yahoo [DOT] com, and I will give you directions on how to send a check. Thank you!