By Lambert Strether of Corrente.
I hope readers had a splendid holiday weekend. –lambert UPDATE This is a bit light, but I had household matters to take care of, and also had to understand the "State Of Missouri, Et Al. Versus Joseph R Biden Jr., Et Al.
Bird Song of the Day
Silvery-throated Jay, Copey de Dota–Providencia Road, San José, Costa Rica.
* * *
Politics
"So many of the social reactions that strike us as psychological are in fact a rational management of symbolic capital." –Pierre Bourdieu, Classification Struggles
Biden Administration
2024
Time for the Countdown Clock!

* * *

* * *

"LGBTQ conservatives say they feel misled by DeSantis" [The Hill]. "The video bashed former President Donald Trump's (R) support for the LGBTQ community and leaned into conservative state policies passed under DeSantis this year that were criticized as anti-LGBTQ…. LGBTQ conservatives, reacting to the video, said DeSantis had shown his true colors as an 'anti-LGBT champion,' undermining his arguments that his support for the policies were about protecting children and parents' rights…. 'It's like he's going mask off,' said Brad Polumbo, a Michigan-based libertarian journalist. 'The cat's out of the bag.' Rep. George Santos (R-N.Y.), who has endorsed Trump for president but vocally supported Florida's 'Don't Say Gay' bill on the campaign trail last year, said that in light of Friday's video, he now feels that he was "used" and misled by DeSantis. 'I used to think he was a great governor,' Santos, the first non-incumbent gay Republican elected to Congress, said of DeSantis. 'Now, I'm starting to think differently.' The video shared Friday — the last day of LGBTQ Pride Month — by the 'DeSantis War Room' Twitter account features footage of Trump at the Republican National Convention in 2016 saying he would 'do everything in my power to protect our LGBTQ citizens.' Trump's remarks were made in response to a mass shooting that had occurred just weeks earlier at Pulse, a gay nightclub in Orlando, Florida, that was at the time the deadliest mass shooting in U.S. history." • One of the several ironies in this post is that the Pulse shooting was not homophobic, thought that was the instant initial narrative, which apparently stuck.

* * *

"The US Middle Class's Economic Anxiety Will Decide the 2024 Election" [Bloomberg]. Note that yesterday's Stats presented the Economic Optimism Index, where "51% of the respondents think the economy is in a recession." That's a lot. More: "The core premise of Bidenomics is that the middle shall come first. 'Bidenomics is about building an economy from the middle out and the bottom up, not the top down,' Biden said in a Chicago speech last week, laying out his vision of a boom fueled by a surge in government investment. Yet as he gears up his 2024 reelection campaign for a vote that's now less than 18 months away, the president has a middle-class problem. Among the 100 million Americans with annual incomes between $45,000 and $180,000 and wealth between $100,000 and $1 million, polling commissioned by Bloomberg News shows persistent angst about the future. The post-pandemic surge in inflation and the Federal Reserve's reaction — the fastest increase in interest rates since the 1980s — have combined to put the middle class in a financial vice grip. They pay more for everything — food, homes, cars, energy — while the end of the easy-money era means loans, too, are more costly. The bottom line: More than $2 trillion in wealth held by the middle class has been eliminated since the Fed started hiking, according to data compiled by economists at the University of California, Berkeley." • A proposition: If your wealth depends on the Fed, it isn't wealth. Even colorably true? Or not even wrong?
Democrats en Déshabillé
Patient readers, it seems that people are actually reading the back-dated post! But I have not updated it, and there are many updates. So I will have to do that. –lambert

I have moved my standing remarks on the Democrat Party ("the Democrat Party is a rotting corpse that can't bury itself") to a separate, back-dated post, to which I will periodically add material, summarizing the addition here in a "live" Water Cooler. (Hopefully, some Bourdieu.) It turns out that defining the Democrat Party is, in fact, a hard problem. I do think the paragraph that follows is on point all the way back to 2016, if not before:

The Democrat Party is the political expression of the class power of PMC, their base (lucidly explained by Thomas Frank in Listen, Liberal!). ; if the Democrat Party did not exist, the PMC would have to invent it. . ("PMC" modulo "class expatriates," of course.) Second, all the working parts of the Party reinforce each other. Leave aside characterizing the relationships between elements of the Party (ka-ching, but not entirely) those elements comprise a network — a Flex Net? An iron octagon? — of funders, vendors, apparatchiks, electeds, NGOs, and miscellaneous mercenaries, with assets in the press and the intelligence community.

Note, of course, that the class power of the PMC both expresses and is limited by other classes; oligarchs and American gentry (see 'industrial model' of Ferguson, Jorgensen, and Jie) and the working class spring to mind. Suck up, kick down.

* * *

"The Democratic Party promised to overhaul its primaries. Doing that has been anything but simple." [Associated Press]. "The new order had them being followed by Georgia's primary on Feb. 13 and Michigan's two weeks after that. Those states would precede most of the rest of the country, which would vote on Super Tuesday in early March — giving them enormous influence on deciding which primary candidates can make it that far. But New Hampshire responded by pointing to its state law mandating that it hold the nation's first presidential primary — which Iowa only circumvented for five decades because it held a caucus — and threatening to jump ahead. Georgia, meanwhile, likely won't take its place in the new top 5 because the state's Republicans rejected calls to move their party's primary to comply with Democrats' new date. While South Carolina Democrats are set to go first, the state's Republicans delayed their party's primary until three weeks later, on Feb. 24. In Nevada, Republicans have sued to maintain their party-run presidential caucus, even as the state shifts to a primary system. Michigan has also approved its new date, but its Legislature may adjourn early to make that work. And Iowa has proposed holding a caucus before anyone else, yet may not release the results of its presidential contest until later in deference to new party rules. This year's shakeup followed the 2020 Iowa caucus meltdown. Iowa responded by proposing new rules allowing Democrats to submit their presidential choices by mail, breaking with past caucus rules requiring in-person participation." • Poor Iowa. They screwed Sanders and got nothing. Nobody likes a JudasMR "Holding a Grudge" SUBLIMINAL Talkin' 'bout you, Liz Warren
Realignment and Legitimacy
"Judge limits Biden administration contact with social media firms" [Politico]. "A federal judge in Louisiana ruled Tuesday that the Biden administration likely violated the First Amendment by censoring unfavorable views on social media over the course of the coronavirus pandemic, calling the efforts 'Orwellian.'" He's right. More: "U.S. District Court Judge Terry Doughty also issued a sweeping preliminary injunction barring numerous federal officials and agencies — including Surgeon General Vivek Murthy, Health and Human Services Secretary Xavier Becerra, White House press secretary Karine Jean-Pierre and all employees of the Justice Department and FBI — from having any contact with social media firms for the purpose of discouraging or removing First Amendment-protected speech.The ruling and order from Doughty, an appointee of former President Donald Trump, are the latest developments in a long-running lawsuit spearheaded by Republican-led states alleging that the administration pressured social media companies to remove posts containing purported misinformation about the coronavirus, election security and other issues." • Some thoughts: First, I doubt very much that this case would have been possible without the good efforts of Taibbi, et al., on the Twitter Files (released to them by Elon Musk, and good for him). Second, the plaintiffs include those eugenicist scum from some of the authors of the Great Barrington Declaration, Bhattacharya and Kulldorff, and doing anything to help them makes my skin crawl. Third, the First Amendment is more important ("Defend to the death," etc., which Doughty uses as the epigraph for his opinion) then whether my skin crawls. After all, those evil clowns in the Censorship Industrial Complex would come for NC sooner or later (and indeed, with PropOrNot, they already tried). Fourth, "Trump-appointed judge," constantly repeated in tones of aghastitude, is giving me a reason to vote for the dude.

"State Of Missouri, Et Al. Versus Joseph R Biden Jr., Et Al." (Case No. 3:22-Cv-01213) (PDF) [Judge Terry A. Doughty, United States District Court, Western District of Louisiana, Monroe Division]. Some choice bits:

Poor Lina Khan. She might have believed that the Biden Administration was actually serious about anti-trust, instead of just wanting a club to control their assets in Silicon Valley (and I'm too lazy to run a search, but I've muttered about this periodically). I mean, Psaki comes about as close to openly stating a quid pro quo as one can. And then, of course, there's "how much content is being demoted?" I'm picturing a heavy-jowled Colonel in full-dress uniform, wearing sunglasses indoors, holding up the opposition newspaper in one hand, and clipping away the bits he doesn't like with the scissors he holds in the other, so he can send the mutilated page back to the editor for revision. (Of course, this is completely unfair; the censor is probably a coke-addled yuppie who watched far too much West Wing when he was thirteen.)

Another choice bit:

Biden is, himself, a purveyor of [m|d]isinformation: The vaccines are not sterilizing, and hence do not prevent transmission, and hence the pandemic is not restricted only to the unvaccinated, no matter how much the "vaxed and relaxed crowd" might wish to believe it. It is true that one of the features of the pandemic was been wildly inaccurate and yet somehow broadly disseminated talking points; here is an excellent list: "Ten people who got it wrong." But I would urge that the most damaging [m|d]isinformation of all has come from official sources: Masks don't work, aerosol tranmission is false, "you are protected" (of vax), and any talking points, and there were many, that supported the Biden administration's policy of mass infection without mitigation.

* * *

"Run DSA Candidates for School Boards!" [Socialist Forum]. "Outside of the state legislation being passed, a focus on school boards and other hyperlocal elections is one of the main ways the right is building strength. Through a combination of resentments about race, gender, Covid policies and vile conspiracies about teachers, the right is organizing to not only make the lives of trans youths miserable, but to gut our public school systems altogether." • Speaking of "vile," one issue is that the schools are ill-ventilated death traps for children, teachers, and administrators alike (except in #DavosSafe wealthy communities, naturally). And continuing to speak of "vile," this is DSA's current pandemic policy on ventilation for its convention, now a little under a month away: "The Convention will follow a robust protocol in line with other in-person DSA events (e.g. NPC meetings, committee conferences). This policy will be put together by the Convention Committee and voted on by the NPC. Once it is finalized, it will be linked here." Why would there even be an issue that universal masking is required, and ventilation must be safe, and ideally CO2 metered?
#COVID19
"I am in earnest — I will not equivocate — I will not excuse — I will not retreat a single inch — AND I WILL BE HEARD." –William Lloyd Garrison
Resources, United States (National): Transmission (CDC); Wastewater (CDC, Biobot; includes many counties; Wastewater Scan, includes drilldown by zip); Variants (CDC; Walgreens); "Iowa COVID-19 Tracker" (in IA, but national data). "Infection Control, Emergency Management, Safety, and General Thoughts" (especially on hospitalization by city).
Lambert here: Readers, thanks for the collective effort. To update any entry, do feel free to contact me at the address given with the plants. Please put "COVID" in the subject line. Thank you!
Resources, United States (Local): AK (dashboard); AL (dashboard); AR (dashboard); AZ (dashboard); CA (dashboard; Marin, dashboard; Stanford, wastewater; Oakland, wastewater); CO (dashboard; wastewater); CT (dashboard); DE (dashboard); FL (wastewater); GA (wastewater); HI (dashboard); IA (wastewater reports); ID (dashboard, Boise; dashboard, wastewater, Central Idaho; wastewater, Coeur d'Alene; dashboard, Spokane County); IL (wastewater); IN (dashboard); KS (dashboard; wastewater, Lawrence); KY (dashboard, Louisville); LA (dashboard); MA (wastewater); MD (dashboard); ME (dashboard); MI (wastewater; wastewater); MN (dashboard); MO (wastewater); MS (dashboard); MT (dashboard); NC (dashboard); ND (dashboard; wastewater); NE (dashboard); NH (wastewater); NJ (dashboard); NM (dashboard); NV (dashboard; wastewater, Southern NV); NY (dashboard); OH (dashboard); OK (dashboard); OR (dashboard); PA (dashboard); RI (dashboard); SC (dashboard); SD (dashboard); TN (dashboard); TX (dashboard); UT (wastewater); VA (dashboard); VT (dashboard); WA (dashboard; dashboard); WI (wastewater); WV (wastewater); WY (wastewater).
Resources, Canada (National): Wastewater (Government of Canada).
Resources, Canada (Provincial): ON (wastewater); QC (les eaux usées); BC, Vancouver (wastewater).
Hat tips to helpful readers: anon (2), Art_DogCT, B24S, CanCyn, ChiGal, Chuck L, Festoonic, FM, FreeMarketApologist (4), Gumbo, hop2it, JB, JEHR, JF, JL Joe, John, JM (10), JustAnotherVolunteer, JW, KatieBird, LL, Michael King, KF, LaRuse, mrsyk, MT, MT_Wild, otisyves, Petal (6), RK (2), RL, RM, Rod, square coats (11), tennesseewaltzer, Utah, Bob White (3).
Stay safe out there!
* * *
Maskstravaganza
"Facial Viewing Deprivation Syndrome":

Facial viewing deprivation syndrome is a condition that affects adults who believe they are victimized by other people trying to protect their health during a pandemic. They believe their desire to see your face is more important than yr desire to protect yr health. How bizarre.

— AllyⓋ (@AllyKeyLime) July 3, 2023

Hard to believe there aren't any journal articles on FVDS. Maybe we just have to wait.
Covid is Airborne
A good question, and a good answer:

For the same reasons our society doesn't deal well with problems whose solution is costly to business.

It is a scandal in front of us for decades that is widely ignored.

For example US Congress has forbidden EPA from setting indoor quality standards!

— Prof. Jose-Luis Jimenez (@jljcolorado) July 4, 2023
Infection
"Trends in Laboratory-Confirmed SARS-CoV-2 Reinfections and Associated Hospitalizations and Deaths Among Adults Aged ≥18 Years — 18 U.S. Jurisdictions, September 2021–December 2022" [Morbidity and Mortality Weekly Report, CDC]. From the Abstract: "During September 2021–December 2022, the percentages of reinfections among all COVID-19 cases, hospitalizations, and deaths reported by 18 U.S. jurisdictions increased substantially as new Omicron lineages became predominant. Increases were more pronounced among adults aged 18–49 years compared with those among older persons." And of course: "CDC recommends staying up to date with COVID-19 vaccinations and receiving early antiviral treatment, if eligible." Heaven forfend that non-pharmaceutical interventions
"Something Awful"
Lambert here: I'm getting the feeling that the "Something Awful" might be a sawtooth pattern — variant after variant — that averages out to a permanently high plateau. Lots of exceptionally nasty sequelae, most likely deriving from immune dysregulation (says this layperson). To which we might add brain damage, including personality changes therefrom.

* * *
* * *
Case Data
NOT UPDATED From BioBot wastewater data, June 29: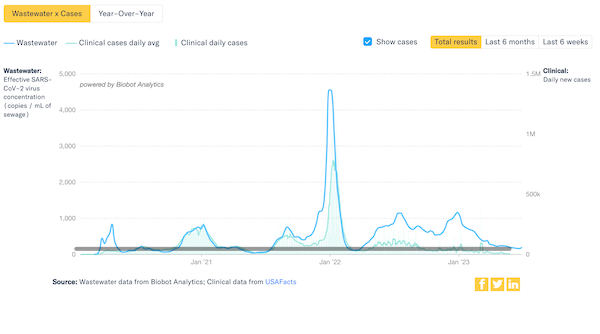 Lambert here: Slight uptrend, confirmed by airport wastewater (and local wastewater samples in California). Absent a new variant to race though the dry tinder, I don't see an oncoming debacle even with July 4 travel. But plenty of people will still get sick (again).=
Variants
NOT UPDATED From CDC, June 24: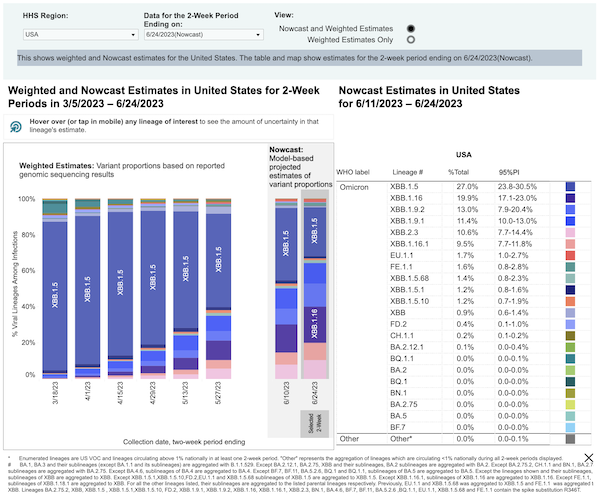 Lambert here: Not sure what to make of this. I'm used to seeing a new variant take down the previously dominant variant. Here it looks like we have a "tag team," all working together to cut XBB.1.5 down to size. I sure hope the volunteers doing Pangolin, on which this chart depends, don't all move on the green fields and pastures new (or have their access to facilities cut by administrators of ill intent).
CDC: "As of May 11, genomic surveillance data will be reported biweekly, based on the availability of positive test specimens." "Biweeekly: 1. occurring every two weeks. 2. occurring twice a week; semiweekly." Looks like CDC has chosen sense #1. In essence, they're telling us variants are nothing to worry about. Time will tell.
Covid Emergency Room Visits
NOT UPDATED From CDC NCIRD Surveillance, June 24: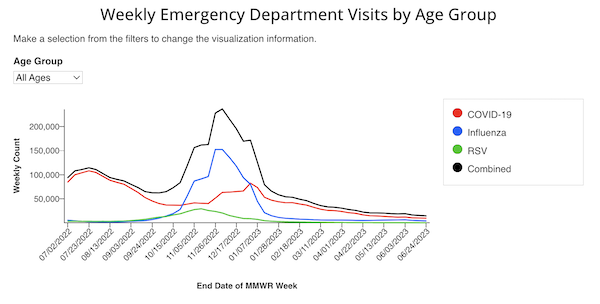 NOTE "Charts and data provided by CDC, updates Wednesday by 8am. For the past year, using a rolling 52-week period." So not the entire pandemic, FFS (the implicit message here being that Covid is "just like the flu," which is why the seasonal "rolling 52-week period" is appropriate for bothMR SUBLIMINAL I hate these people so much. Notice also that this chart shows, at least for its time period, that Covid is not seasonal, even though CDC is trying to get us to believe that it is, presumably so they can piggyback on the existing institutional apparatus for injections.
Positivity
NOT UPDATED From Walgreens, June 26: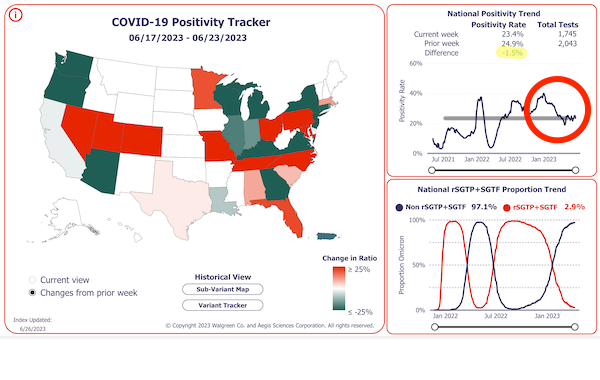 -1.5%. Still chugging along, though the absolute numbers are still very small relative to June 2022, say.
NOT UPDATED From CDC, June 12: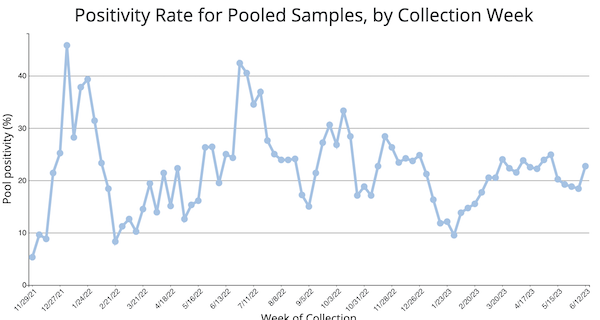 Lambert here: This is the CDC's "Traveler-Based Genomic Surveillance" data. They say "maps," but I don't see one….
Deaths
NOT UPDATED Iowa COVID-19 Tracker, June 28: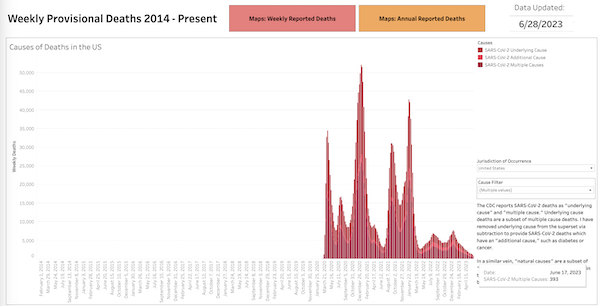 Lambert here: The WHO data is worthless, so I replaced it with the Iowa Covid Data Tracker. Their method: "These data have been sourced, via the API from the CDC: https://data.cdc.gov/NCHS/Conditions-Contributing-to-COVID-19-Deaths-by-Stat/hk9y-quqm. This visualization updates on Wednesday evenings. Data are provisional and are adjusted weekly by the CDC." I can't seem to get a pop-up that shows a total of the three causes (top right). Readers?
Total: 1,168,113 – 1,168,100 = 13 (13 * 365 = 4,745 deaths per year, today's YouGenicist™ number for "living with" Covid (quite a bit higher than the minimizers would like, though they can talk themselves into anything. If the YouGenicist™ metric keeps chugging along like this, I may just have to decide this is what the powers-that-be consider "mission accomplished" for this particular tranche of death and disease).
Excess Deaths
Excess deaths (The Economist), July 5: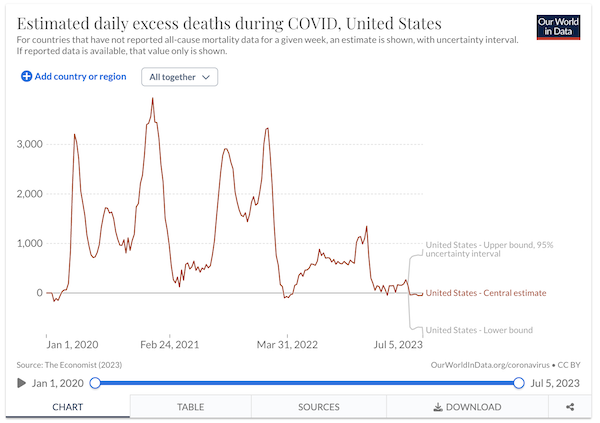 Lambert here: This is now being updated daily. Odd. Based on a machine-learning model. (The CDC has an excess estimate too, but since it ran forever with a massive typo in the Legend, I figured nobody was really looking at it, so I got rid it. )
Stats Watch
Manufacturing: "United States Factory Orders" [Trading Economics]. "New orders for manufactured goods in the US increased by 0.3 percent compared to the previous month in May 2023, the same pace as in the previous period but falling short of market expectations for a 0.8 percent advance. Notably, demand for transportation remained the primary driver of growth."
Supply Chain: "United States LMI Logistics Managers Index Current" [Trading Economics]. "The Logistics Manager's Index fell for a fifth straight month to hit a fresh record low of 45.6 in June of 2023, pointing to another contraction in the logistics sector, mainly dragged down by inventories."
* * *
Finance: "WSJ: Goldman Is Looking For a Way out of Its Partnership with Apple" [Daring Fireball]. "It's unclear how much of Goldman's losses in their consumer banking foray are attributable to the Apple Card specifically, but Sridhar Natarajan reported for Bloomberg* back in January that it's the source of most of their losses…. How you lose money issuing credit cards that charge usurious interest rates is beyond me. Not quite in the territory of Donald Trump somehow losing money while running casinos, but it's up there. Are they issuing Apple Cards to deadbeats? (Apparently, yes: they've been issuing a lot of cards to people with bad credit.)"
* * *
Today's Fear & Greed Index: 79 Extreme Greed (previous close: 78 Greed) [CNN]. One week ago: 76 (Extreme Greed). (0 is Extreme Fear; 100 is Extreme Greed). Last updated Jul 3 at 8:59 PM ET.
The 420
"As psychedelics near approval, there's no consensus on how they work" [STAT]. "The founder of Field Trip, a chain of shuttered ketamine clinics currently facing insolvency, put forward an unexpected theory of how psychedelics work to treat depression last month. 'The truth is, almost all of the effect of psychedelic-assisted therapy could be placebo,' said Ronan Levy, speaking at [the] five-day [Psychedelic Science 2023] conference on the emerging field of psychedelic medicine. 'Personally I don't have a problem with that. The outcomes are the outcomes, and that's really what matters in my view.'… The confusion and combination of evidence presented at the conference reflects a field still in the early stages of trying to disentangle a potential medical treatment. Many types of psychedelics — both traditional drugs, such as MDMA and psilocybin (the psychoactive compound in magic mushrooms), and newer, modified versions — are under investigation as treatment for a range of mental health conditions, including depression and post-traumatic stress disorder. Though there are plans to submit trials on MDMA for PTSD to the Food and Drug Administration for approval later this year, none of the medications has yet been definitively proven to work. And the question of how they work is very much up for debate."
The Gallery
I can't bring the source to mind, but this Van Gogh reminds me of one style of illustration for children's books, at least when I was growing up:
Public Garden with Fence, 1888 https://t.co/kzTxiTBfoC pic.twitter.com/h96euNKvpC

— Vincent van Gogh (@vangoghartist) July 2, 2023
Class Warfare
"Can AI do the work of research analysts?" [American Bankers]. "'Looking for information, analyzing data, interpreting data, looking for trends — all those things are completely possible with generative AI,' said Darrell West, senior fellow in governance studies at the Brookings Institution's Center for Technology Innovation. 'That will free human analysts to focus on more creative aspects.'" • No, it won't. Analysis will go to the lowest common denominator — autocoprophagic bullshit — except for extremely expensive boutique firms. The same will happen in healthcare, and everywhere AI is deployed.
News of the Wired
Mastodon doesn't have embed, that I can find, so herewith a screenshot: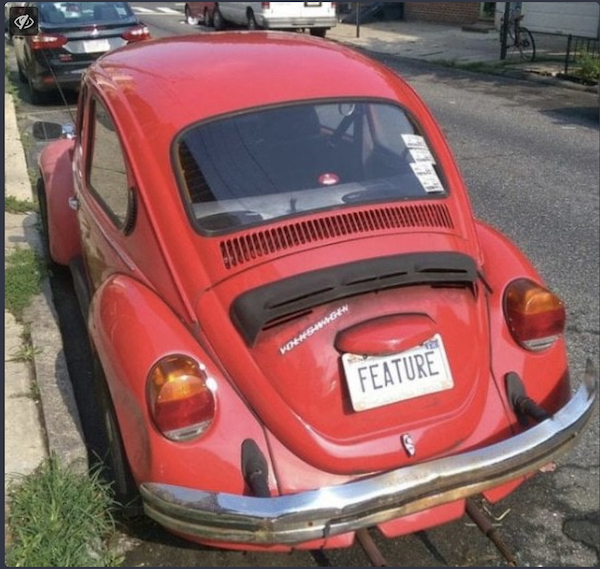 * * *
Contact information for plants: Readers, feel free to contact me at lambert [UNDERSCORE] strether [DOT] corrente [AT] yahoo [DOT] com, to (a) find out how to send me a check if you are allergic to PayPal and (b) to find out how to send me images of plants. Vegetables are fine! Fungi and coral are deemed to be honorary plants! If you want your handle to appear as a credit, please place it at the start of your mail in parentheses: (thus). Otherwise, I will anonymize by using your initials. See the previous Water Cooler (with plant) here. From upstater: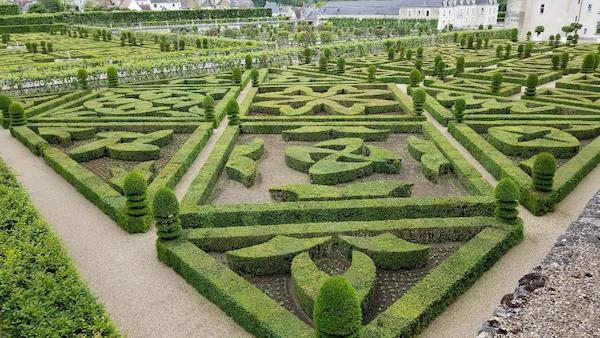 upstater writes: "From a cycling trip to Loire; my daughter lives in France and Loire is nicer than Paris." Holy moley, the symmetry! My personal preferences, as readers know, tend toward the more informal "grandmother's garden," but there's no denying this is an impressive approach! I wonder how it appears from within, as opposed to from above, and how the formality manifests itself "on the ground." Have any readers experienced this style of garden?
* * *
Readers: Water Cooler is a standalone entity not covered by the annual NC fundraiser. So if you see a link you especially like, or an item you wouldn't see anywhere else, please do not hesitate to express your appreciation in tangible form. Remember, a tip jar is for tipping! Regular positive feedback both makes me feel good and lets me know I'm on the right track with coverage. When I get no donations for five or ten days I get worried. More tangibly, a constant trickle of donations helps me with expenses, and I factor in that trickle when setting fundraising goals:
Here is the screen that will appear, which I have helpfully annotated: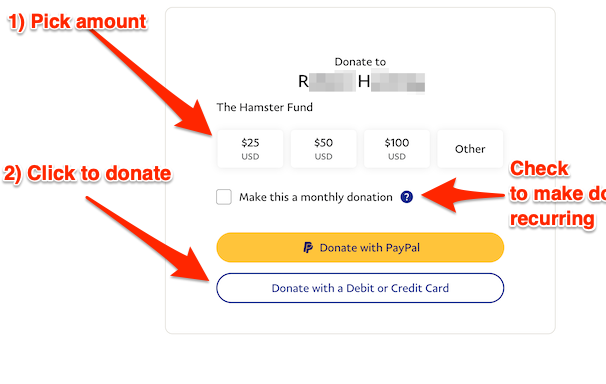 If you hate PayPal, you can email me at lambert [UNDERSCORE] strether [DOT] corrente [AT] yahoo [DOT] com, and I will give you directions on how to send a check. Thank you!