By Lambert Strether of Corrente.
Bird Song of the Day
Cayenne Jay, Reserva Forestal Imataca–Sector Rio Grande – La Tigra, Delta Amacuro, Venezuela.
* * *
Politics
"So many of the social reactions that strike us as psychological are in fact a rational management of symbolic capital." –Pierre Bourdieu, Classification Struggles
Biden Administration
"Former U.S. officials have held secret Ukraine talks with prominent Russians" [NBC]. "A group of former senior U.S. national security officials have held secret talks with prominent Russians believed to be close to the Kremlin — and, in at least one case, with the country's top diplomat — with the aim of laying the groundwork for potential negotiations to end the war in Ukraine, half a dozen people briefed on the discussions told NBC News. In a high-level example of the back-channel diplomacy taking place behind the scenes, Russian Foreign Minister Sergey Lavrov met with members of the group for several hours in April in New York, four former officials and two current officials told NBC News…. Sitting down with Lavrov were Richard Haass, a former diplomat and the outgoing president of the Council on Foreign Relations, current and former officials said. The group was joined by Europe expert Charles Kupchan and Russia expert Thomas Graham, both former White House and State Department officials who are Council on Foreign Relations fellows." Maybe a belated recognition by Blob CFR factions that those irrendentist Ukro-Nazi freaks at State and in the White House are going to upset the applecart for everybody? More: "The discussions are known in diplomatic parlance as 'Track Two diplomacy,' a form of unofficial engagement involving private citizens not currently in government — or in the case of the Lavrov meeting, 'Track 1.5,' meaning current officials are involved on one end of the conversation.'… The Lavrov meeting in April took place during a rare and brief visit by the Russian diplomat to the U.S. to chair the U.N. Security Council, which has a rotating presidency. Around the same time Haass and Kupchan wrote a lengthy article in Foreign Affairs, which is published by the Council on Foreign Relations, laying out what they described as 'a plan for getting from the battlefield to the negotiating table.'" • I don't see any overlap. Big Z can't compromise on territory, or the Azovs will string him up by his heels. After Minsk, the Russians would be idiots to trust the West to keep an agreement. And if Russia wants (a) to incorporate the maximum number of Russo-Ukrainians into its territory and (b) really make Ukraine a powerless rump state, they need to take Odessa and deny Ukraine access to the Black Sea (crippling that lunatic Intermarium scheme, as a bonus). I grant that we need to move along to China, so we can lose another war there, but is Russia likely to accomodate us? Why would they?

"What we know about the situation at Ukraine's Zaporizhzhia Nuclear Power Plant" [ABC]. Quoting the actual reporting: "Ukrainian President Volodymyr Zelenskyy said in his nightly address on Telegram Tuesday that Ukrainian intelligence has information that Russian troops 'have placed objects resembling explosives on the roof of several power units of the Zaporizhzhia Nuclear Power Plant'… Satellite imagery of the Zaporizhzhia Nuclear Power Plant from June 30 obtained by ABC News does not appear to show any objects on the roof of the plant…. The American Nuclear Society has cautioned that even if bombed, the effects would be limited. 'Our experts have carefully considered 'worst case scenarios,' including bombardment and deliberate sabotage of the reactors and spent fuel storage canisters,' the American Nuclear Society said in a statement. "They cannot foresee a situation that would result in radiation-related health consequences to the public.'" • But nothing has happened in time for Vilnius*, so — touch wood — no nuclear stunts will happen in the forseeable future. I know it's too much to hope for, and heaven knows I don't want to glorify the CFR types, but maybe they managed to stuff some sunflower-seed cookies down Nuland's throat and jam her back into her coffin, hence recent lack of lunacy. NOTE * It has occurred to me that the Zaporizhzhia propaganda could be a feint, designed to make us take our eyes of an operation (offensive, stunt, whatever) taking place elsewhere. But that doesn't seem to be happening. Perhaps because Ukraine doesn't have the capacity?

* * *

"White House cocaine culprit unlikely to be found: Law enforcement official" [Politico]. • What? Really?
2024
Time for the Countdown Clock!

* * *

"Trump's basement campaign" [Axios]. "Former President Trump is not campaigning at the pace of previous cycles, preferring to spend most of his days at Mar-a-Lago and Bedminster rather than grip-and-grinning in Iowa and other early primary states…. Top Trump campaign officials have said part of the reason he is not holding many rallies is because they are expensive…. Trump is also being taken off the trail by his legal issues and his younger rivals can likely keep up a tougher schedule than the 77-year-old former president…. Trump may not need to campaign nearly as hard as his rivals to win the nomination." • Trump is lazy, but a happy warrior when he bestirs himself. Right now, he doesn't have to. Why should he? Handy map:

Note especially Vivek Ramaswamy in Iowa.

"Trump Judge's Controversial Injunction Against Biden Hands Disney 'Open and Shut' Case Against DeSantis: Legal Expert" [New Civil Rights Movement]. "[C]ivil rights attorney Sherrilyn Ifill, the former President and Director-Counsel of NAACP Legal Defense Fund (LDF), a Senior Fellow at the Ford Foundation, and a professor of law at Howard University, sees one bright spot in [Judge Doughty's ruling in Missouri v. Biden]. The injunction could be a boon for The Walt Disney Company. Disney is suing DeSantis, alleging the company's First Amendment free speech rights were violated as the Florida governor repeatedly attacked and retaliated against the entertainment giant, ultimately rescinding its 50-year old 'indepenent special district' tax and governing status after the company quietly opposed and then spoke out against his extreme 'Don't Say Gay" law. 'The evidence cited by the judge doesn't add up to govt [government] censorship,' Ifill writes on Twitter, about the social media injunction." Yes it does. More: "'I hope that Disney is reading the decision carefully,' she adds. 'Cause by this analysis they have a solid First Amend[ment] claim against Ron DeSantis. Open & shut.'" • I think the Democrat hive mind has decided on 2016's Pied Piper strategy all over again. Trump is the opponent they want.

* * *

* * *

* * *

"Q&A: Dr. Cornel West" [Sacramento Observer (mrsyk)]. West is from Sacramento. "Now, we had the Black Panther Party that was right down the street in Oak Park, and the Black Panther Party had a tremendous influence on me because I learned from the West Family and Shiloh Baptist Church that greatness is better than success…. Greatness is defined biblically: "He or she who is the greatest among you will be your servant." You can't be great if you're a coward. You can be successful and still be a coward. You can't be great without courage. You can be highly successful and have very little courage. So from the very beginning, I had that shaping and molding, and I've tried to be true to that, tried to be true to mom and dad, and tried to be true to the Shiloh Baptist Church. The rich Black Baptist tradition goes all the way back to the slave days. Mom and dad took all of us to see Martin Luther King speak at the Memorial Auditorium [in Sacramento]. I was 10 years old in 1963 and [King] only had [about] four years left to live. Never forget that. I didn't understand anything, but I knew he was real. I knew he was the real thing in terms of spiritual and moral greatness. Then, of course, he gets shot down like a dog in Memphis."
Democrats en Déshabillé
Patient readers, it seems that people are actually reading the back-dated post! But I have not updated it, and there are many updates. So I will have to do that. –lambert

I have moved my standing remarks on the Democrat Party ("the Democrat Party is a rotting corpse that can't bury itself") to a separate, back-dated post, to which I will periodically add material, summarizing the addition here in a "live" Water Cooler. (Hopefully, some Bourdieu.) It turns out that defining the Democrat Party is, in fact, a hard problem. I do think the paragraph that follows is on point all the way back to 2016, if not before:

The Democrat Party is the political expression of the class power of PMC, their base (lucidly explained by Thomas Frank in Listen, Liberal!). ; if the Democrat Party did not exist, the PMC would have to invent it. . ("PMC" modulo "class expatriates," of course.) Second, all the working parts of the Party reinforce each other. Leave aside characterizing the relationships between elements of the Party (ka-ching, but not entirely) those elements comprise a network — a Flex Net? An iron octagon? — of funders, vendors, apparatchiks, electeds, NGOs, and miscellaneous mercenaries, with assets in the press and the intelligence community.

Note, of course, that the class power of the PMC both expresses and is limited by other classes; oligarchs and American gentry (see 'industrial model' of Ferguson, Jorgensen, and Jie) and the working class spring to mind. Suck up, kick down.

* * *

"The Mayor Had a Photo of a Fallen Officer. Was His Story About It True?" [New York Times]. "A week later, Mr. Adams posed for a portrait in his office, holding a wallet-size photo of Officer Venable after The New York Times had requested to see it. Mr. Adams has since repeated the moving anecdote in media interviews and at a Police Academy ceremony last June, where he again displayed Officer Venable's picture. But the weathered photo of Officer Venable had not actually spent decades in the mayor's wallet. It had been created by employees in the mayor's office in the days after Mr. Adams claimed to have been carrying it in his wallet. The employees were instructed to create a photo of Officer Venable, according to a person familiar with the request. A picture of the officer was found on Google; it was printed in black-and-white and made to look worn as if the mayor had been carrying it for some time, including by splashing some coffee on it, said the person, who spoke on the condition of anonymity for fear of retribution." • I won't moralize about the lying. But this story comes from Adams's staff, which means he's obviously not ready for the national stage (and might not ever be. What a waste of a million-dollar, cop-loving smile…).
Realignment and Legitimacy
"Slaying the Censorship Leviathan" [The Tablet]. All correct: "My co-plaintiffs, Dr. Jay Bhattacharya and Dr. Martin Kulldorff, and I were censored for content related to COVID and public health policy that the government disfavored. Documents we have reviewed on discovery demonstrate that government censorship was far more wide-ranging than previously known, from election integrity and the Hunter Biden laptop story to gender ideology, abortion, monetary policy, the U.S. banking system, the war in Ukraine, the U.S. withdrawal from Afghanistan, and more. There is hardly a topic of recent public discussion and debate that the U.S. government has not targeted for censorship.

Jacob Seigel, Matt Taibbi, and other investigative reporters have begun to document the anatomy of the censorship leviathan, a tightly interconnected network of federal agencies and private entities receiving public funding—where much of the censorship grunt work is outsourced. The "industrial" in censorship-industrial complex should be understood literally: censorship is now a highly developed industry, complete with career-training institutions in higher education (like Stanford's Internet Observatory or the University of Washington's Center for an Informed Public), full-time job opportunities in industry and government (from the Virality Project and the Election Integrity Partnership to any number of federal agencies engaged in censorship), and insider jargon and euphemisms (like disinformation, misinformation, and "malinformation" which must be debunked and "prebunked") to render the distasteful work of censorship more palatable to industry insiders." • Bhattacharya et al.'s eugenicist project should be allowed to fail on its own. (There is, I might add, a good deal of sentiment on the Covid-conscious portions of the Twittersphere that anything with the word "Covid" is being metered down, and so there are various ways to spell it: "C0vid" with a zero, and more sophisticated, er, variants. I've never seen any news stories or posts on this, but they would, wouldn't they?)

"With End of Affirmative Action, a Push for a New Tool: Adversity Scores" [New York Times]. "In the Davis scale, first used in 2012, eight categories establish an adversity score for each candidate. Factors include family income, whether applicants come from an underserved area, whether they help support their nuclear families and whether their parents went to college. The higher an applicant rates on the disadvantage scale, the bigger the boost. There is no set formula on how to balance the scale with the academic record, Dr. Henderson said, but a simulation of the system revealed that students from underrepresented groups grew to 15.3 percent from 10.7 percent. And the share of economically disadvantaged students tripled, to 14.5 percent of the class from 4.6 percent…. The Pacific Legal Foundation, a libertarian activist group, has already sued a selective school, Thomas Jefferson High School for Science and Technology in Alexandria, Va., for using economic factors as stand-ins for race in admissions." • On this article:

Right now you are Stunning and Brave if you identify as a different gender, and the subject of mockery and scorn if you identify as a different race.

But the term "identify as Black" is increasingly in circulation in mainstream media outlets and corporate messaging.

It… pic.twitter.com/SKWWwwvLnc

— Wesley Yang (@wesyang) July 2, 2023

I "identify as" a media professional, or a university administrator, or an oligarch…. Those examples of "identify as" would be laughed out of court. Why? They are all "sociallly constructed," as we say. Could it be that — work with me, here — the tropes permitted by identity politics don't threaten the established order in any way?

"Conservatives go to red states and liberals go to blue as the country grows more polarized" [Associated Press]. "One party controls the entire legislature in all but two states. In 28 states, the party in control has a supermajority in at least one legislative chamber — which means the majority party has so many lawmakers that they can override a governor's veto. Not that that would be necessary in most cases, as only 10 states have governors of different parties than the one that controls the legislature. The split has sent states careening to the political left or right, adopting diametrically opposed laws on some of the hottest issues of the day…. The states' swings aren't simply due to transplants, of course. The increasing clustering of Americans into like-minded enclaves — dubbed "The Big Sort" — has many causes. Harvard professor Ryan Enos estimates that, at least before the pandemic, only 15% of the homogeneity was due to people moving. Other causes include political parties polarizing on hot-button issues that split neatly on demographic lines, such as guns and abortion, and voters adopting their neighbors' partisanship…. The switch might have been flipped during the coronavirus pandemic in 2020, which created a class of mobile workers no longer bound to the states where their companies were based. Those who are now mobile are predominantly white-collar workers and retirees, the two most politically engaged parts of the national population." • Hmm.
#COVID19
"I am in earnest — I will not equivocate — I will not excuse — I will not retreat a single inch — AND I WILL BE HEARD." –William Lloyd Garrison
Resources, United States (National): Transmission (CDC); Wastewater (CDC, Biobot; includes many counties; Wastewater Scan, includes drilldown by zip); Variants (CDC; Walgreens); "Iowa COVID-19 Tracker" (in IA, but national data). "Infection Control, Emergency Management, Safety, and General Thoughts" (especially on hospitalization by city).
Lambert here: Readers, thanks for the collective effort. To update any entry, do feel free to contact me at the address given with the plants. Please put "COVID" in the subject line. Thank you!
Resources, United States (Local): AK (dashboard); AL (dashboard); AR (dashboard); AZ (dashboard); CA (dashboard; Marin, dashboard; Stanford, wastewater; Oakland, wastewater); CO (dashboard; wastewater); CT (dashboard); DE (dashboard); FL (wastewater); GA (wastewater); HI (dashboard); IA (wastewater reports); ID (dashboard, Boise; dashboard, wastewater, Central Idaho; wastewater, Coeur d'Alene; dashboard, Spokane County); IL (wastewater); IN (dashboard); KS (dashboard; wastewater, Lawrence); KY (dashboard, Louisville); LA (dashboard); MA (wastewater); MD (dashboard); ME (dashboard); MI (wastewater; wastewater); MN (dashboard); MO (wastewater); MS (dashboard); MT (dashboard); NC (dashboard); ND (dashboard; wastewater); NE (dashboard); NH (wastewater); NJ (dashboard); NM (dashboard); NV (dashboard; wastewater, Southern NV); NY (dashboard); OH (dashboard); OK (dashboard); OR (dashboard); PA (dashboard); RI (dashboard); SC (dashboard); SD (dashboard); TN (dashboard); TX (dashboard); UT (wastewater); VA (dashboard); VT (dashboard); WA (dashboard; dashboard); WI (wastewater); WV (wastewater); WY (wastewater).
Resources, Canada (National): Wastewater (Government of Canada).
Resources, Canada (Provincial): ON (wastewater); QC (les eaux usées); BC, Vancouver (wastewater).
Hat tips to helpful readers: anon (2), Art_DogCT, B24S, CanCyn, ChiGal, Chuck L, Festoonic, FM, FreeMarketApologist (4), Gumbo, hop2it, JB, JEHR, JF, JL Joe, John, JM (10), JustAnotherVolunteer, JW, KatieBird, LL, Michael King, KF, LaRuse, mrsyk, MT, MT_Wild, otisyves, Petal (6), RK (2), RL, RM, Rod, square coats (11), tennesseewaltzer, Utah, Bob White (3).
Stay safe out there!
* * *
Look for the Helpers
Constructing Corsi-Rosenthal boxes seems to call forth the impulse to help:

STEP-BY-STEP open-source instructions to build SAFE boxes (2/6) https://t.co/l3JAOoDJ1q pic.twitter.com/NE1PkjFt74

— Devabhaktuni "Sri" Srikrishna (@sri_srikrishna) July 1, 2023

More like this, please.
Maskstravaganza
Can we please get some consistency here:

Embedded in the NYT story on drone shows (vs fireworks) today.

Somehow not controversial re: wildfire particulates, but controversial when applied to exhaled viral pathogens: pic.twitter.com/HohbtHwUUr

— J. Offir, Ph.D. (@dontwantadothis) July 5, 2023

"Stability of Aerosolized SARS-CoV-2 on Masks and Transfer to Skin" [Environmental Science and Technology]. From the Abstract: "The potential for masks to act as fomites in the transmission of SARS-CoV-2 has been suggested but not demonstrated experimentally or observationally. In this study, we aerosolized a suspension of SARS-CoV-2 in saliva and used a vacuum pump to pull the aerosol through six different types of masks. After 1 h at 28 °C and 80% RH, SARS-CoV-2 infectivity was not detectable on an N95 and surgical mask, was reduced by 0.7 log10 on a nylon/spandex mask, and was unchanged on a polyester mask and two different cotton masks when recovered by elution in a buffer. SARS-CoV-2 RNA remained stable for 1 h on all masks. We pressed artificial skin against the contaminated masks and detected the transfer of viral RNA but no infectious virus to the skin."
Covid is Airborne
"First major survey of doctors with Long Covid reveals debilitating impact on health, life and work" [British Medical Association]. "Infection control guidelines are fundamentally flawed: SARS-CoV-2 is airborne. It is outrageous that three-and-a-half years into this pandemic, staff and patients are still, knowingly and repeatedly, being exposed to a level-3 biohazard – a virus known to cause brain damage and significantly increased risk of life-threatening blood complications even in those recovered. Healthcare workers must be provided with respiratory protection and the air quality in hospitals be monitored and improved through the installation of ventilation systems and air filter units."

"Analysis of a super-transmission of SARS-CoV-2 omicron variant BA.5.2 in the outdoor night market" [Frontiers in Public Health]. "Methods: In this observational study, we collected data from market customers and stallholders who had been exposed to the virus in the Qingkou night market on July 31 and were subsequently infected. We analyzed the possible infection zones of secondary cases and aerosol suspension time in ambient air. We described and analyzed the characteristics of the secondary cases and the transmission routes for customers. Results: The point source outbreak of COVID-19 in Qingkou night market contained a cluster of 131 secondary cases. In a less-enclosed place like the Qingkou night market, aerosols with BA.5.2 strain released by patients could suspend in ambient air up to 1 h 39 min and still be contagious. Conclusion: Aerosols with viruses can spread over a relatively long distance and stay in ambient air for a long time in a less enclosed space, but shorter than that under experimental conditions. Therefore, the aerosol suspension time must be considered when identifying and tracing close contact in outbreak investigations." • Handy diagram:
Immune System Dysregulation?
"Some patients in fungal meningitis outbreak have surprising complications" [NBC]. "'It looks like a stroke where they suddenly can go unconscious,' said [said Dr. James Castillo, the health authority for the Cameron County], who was surprised by how many patients are having this problem. 'For some reason, the aneurysms and the spasms are all happening around the brainstem but nobody knows why it's happening.'" • 'Tis a mystery!
"Something Awful"
Lambert here: I'm getting the feeling that the "Something Awful" might be a sawtooth pattern — variant after variant — that averages out to a permanently high plateau. Lots of exceptionally nasty sequelae, most likely deriving from immune dysregulation (says this layperson). To which we might add brain damage, including personality changes therefrom.

* * *

"Rapid Progression of Dementia Following COVID-19" (press release) [NIH]. N = 14. "In a small study supported by the National Institute of Neurological Disorders and Stroke (NINDS), researchers examined the cognitive impact of COVID-19 on people with dementia. The researchers found that having COVID-19 rapidly accelerated the structural and functional brain deterioration of patients with dementia, regardless of the type of dementia being experienced…. The researchers tested various cognitive functions and conducted brain imaging, comparing results from assessments within three months before their cases of COVID-19 and then one year after infection. A year after contracting COVID-19, all of the patients with dementia had experienced a significant increase in fatigue and depression, as well as worsening attention, memory, speech, visuospatial capabilities, and executive functions. All the patients also had cerebral atrophy, which is the loss of neurons and connections between neurons, and lesions deep in the white matter of their brains." • You say "culling the herd" like that's a bad thing….
Elite Maleficence
Doctors are supposed to know this stuff:

So of course I sent him several journal articles and by the end of the conversation he said "you've got me wondering if this is why I'm forgetting words lately"🙄
He legitimately didn't know the dangers of COVID which is a sad statement on the part of the AMA.

— ✨🌎☮️AngelLeigh☮️🌎✨ (@angel_leigh) July 3, 2023

We do. They (excepting some exceptional doctors, some of whom are here) don't.

Actuaries sharpening their pencils:

For those who are like, "bUt ThE jab!" – vaccination history isn't seen as a mortality class risk. HOWEVER, A lack of vaccination IS being treated like smoking. It IS being seen as a mortality class risk.

— Rio Slade (@RioSlade) July 3, 2023
* * *
Case Data
NOT UPDATED From BioBot wastewater data, June 29: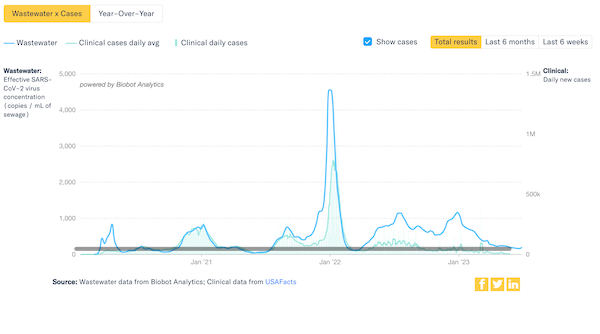 Lambert here: Slight uptrend, confirmed by airport wastewater (and local wastewater samples in California). Absent a new variant to race though the dry tinder, I don't see an oncoming debacle even with July 4 travel. But plenty of people will still get sick (again).=
Variants
NOT UPDATED From CDC, June 24: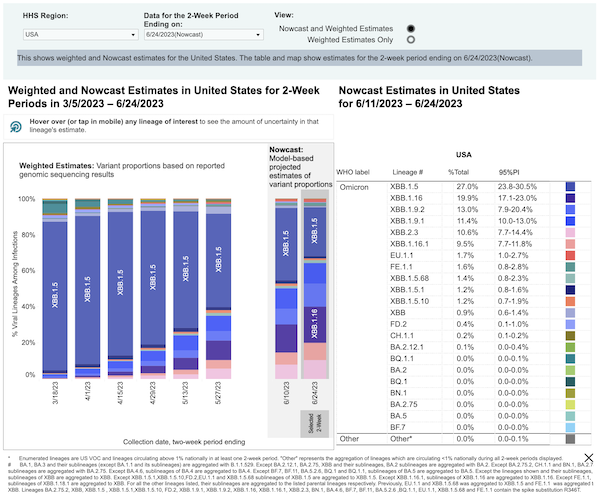 Lambert here: Not sure what to make of this. I'm used to seeing a new variant take down the previously dominant variant. Here it looks like we have a "tag team," all working together to cut XBB.1.5 down to size. I sure hope the volunteers doing Pangolin, on which this chart depends, don't all move on the green fields and pastures new (or have their access to facilities cut by administrators of ill intent).
CDC: "As of May 11, genomic surveillance data will be reported biweekly, based on the availability of positive test specimens." "Biweeekly: 1. occurring every two weeks. 2. occurring twice a week; semiweekly." Looks like CDC has chosen sense #1. In essence, they're telling us variants are nothing to worry about. Time will tell.
Covid Emergency Room Visits
From CDC NCIRD Surveillance, July 1: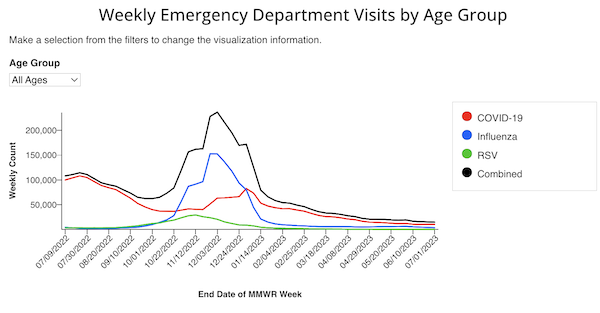 NOTE "Charts and data provided by CDC, updates Wednesday by 8am. For the past year, using a rolling 52-week period." So not the entire pandemic, FFS (the implicit message here being that Covid is "just like the flu," which is why the seasonal "rolling 52-week period" is appropriate for bothMR SUBLIMINAL I hate these people so much. Notice also that this chart shows, at least for its time period, that Covid is not seasonal, even though CDC is trying to get us to believe that it is, presumably so they can piggyback on the existing institutional apparatus for injections.
Positivity
From Walgreens, July 5: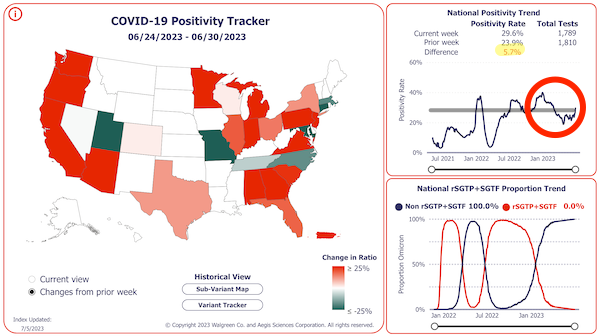 5.7%. Big jump, though the absolute numbers are still very small relative to June 2022, say.
NOT UPDATED From CDC, June 12: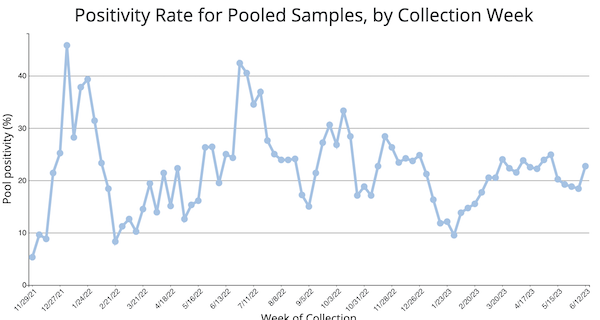 Lambert here: This is the CDC's "Traveler-Based Genomic Surveillance" data. They say "maps," but I don't see one….
Deaths
NOT UPDATED Iowa COVID-19 Tracker, June 28: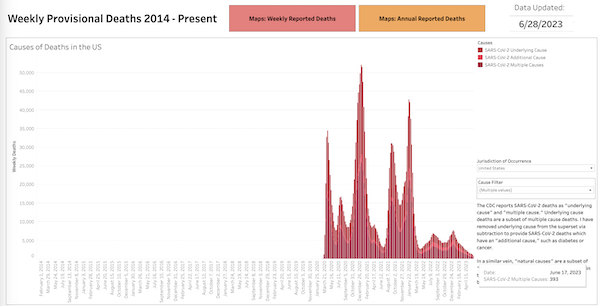 Lambert here: The WHO data is worthless, so I replaced it with the Iowa Covid Data Tracker. Their method: "These data have been sourced, via the API from the CDC: https://data.cdc.gov/NCHS/Conditions-Contributing-to-COVID-19-Deaths-by-Stat/hk9y-quqm. This visualization updates on Wednesday evenings. Data are provisional and are adjusted weekly by the CDC." I can't seem to get a pop-up that shows a total of the three causes (top right). Readers?
Total: 1,168,414 – 1,168,113 = 301 (301 * 365 = 109,865 deaths per year, today's YouGenicist™ number for "living with" Covid (quite a bit higher than the minimizers would like, though they can talk themselves into anything. If the YouGenicist™ metric keeps chugging along like this, I may just have to decide this is what the powers-that-be consider "mission accomplished" for this particular tranche of death and disease).
Excess Deaths
Excess deaths (The Economist), July 6: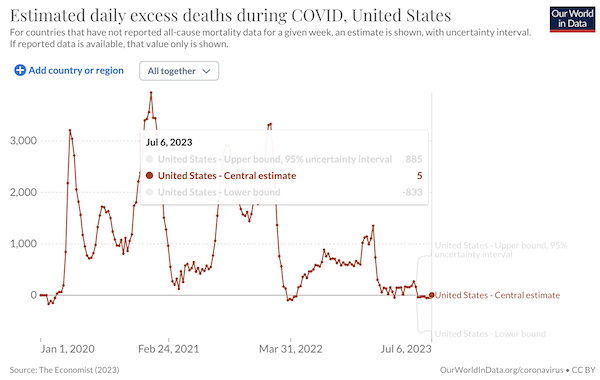 Lambert here: This is now being updated daily. Odd. Based on a machine-learning model. (The CDC has an excess estimate too, but since it ran forever with a massive typo in the Legend, I figured nobody was really looking at it, so I got rid it. )
Stats Watch
Employment Situation: "United States ADP Employment Change" [Trading Economics]. "Private businesses in the US unexpectedly created 497K jobs in June 2023, the most since February 2022, and well above forecasts of 228K."
Employment Situation:
* * *
Tech: "Threads passes 30M sign-ups in less than 24 hours" [TechCrunch]. "Zuckerberg also tweeted for the first time in more than a decade on Wednesday to celebrate the Twitter knockoff, which is likely to attract a ton of engagement as Twitter flails and other potential successor apps fail to consolidate its users in one place." • This advocacy journamalist doesn't seem to have used the platform, which is horrid.
Tech: "Meta launches Instagram Threads, its Twitter rival" [TechCrunch]. "Meta has achieved massive success buying up and borrowing ideas from elsewhere. Messenger, WhatsApp and Instagram are its most notable successes. Now the playbook is being used to claim a potentially lucrative market from Musk, who's severely annoyed both users and advertisers since taking ownership of the platform in late 2022. Meta's move is both an admission of defeat — it's not a metaverse play, after all — and a product with a high chance of business success. Twitter was for a few years the global town square. But those days are over. Whatever business success Threads achieves, it's unlikely to capture that old Twitter zeitgeist." • Hmm.
Tech: "RIP Twitter. Meet Threads" [The Spectator (KLG)]. • Zuck rhymes with "suck." There's a reason for that.
Tech: So far, Threads is everything we would expect an app from The Zuckerberg™ to be. Zuck wants to monetize all your data: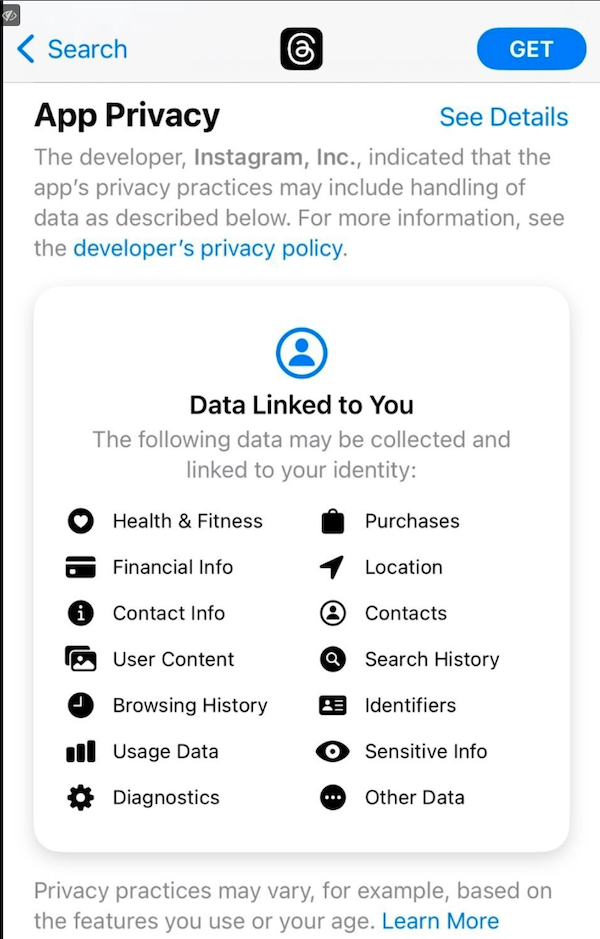 Zuck built a roach motel (into which all the "smart"people immediately rushed. Naturally):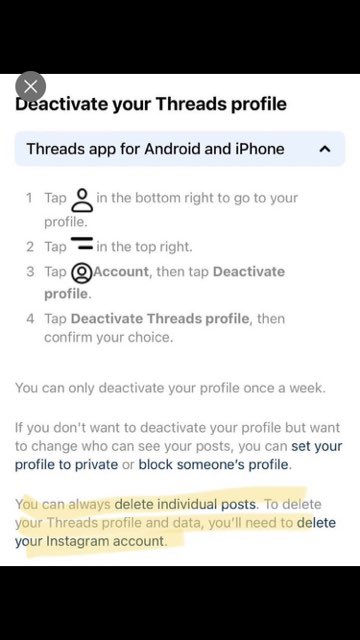 In addition, the timeline is solely algorithmic, so it doesn't matter how you curate your accounts, and although threads is available on iOS, Zuck didn't bother to make a version for the iPad, so a tiny little phone-sized rectangle floats in the middle of the iPad screen. Somehow, I'm getting the feeling the project was rushed. Commentary:
From the company that fucked up its own photo sharing platform to the point of cruel mockery and just sunk 11 zillion dollars into the metaverse: a twitter

— The Plot To Blow Up The Sun (@bombsfall) July 6, 2023
Tech: "Lessons From the Catastrophic Failure of the Metaverse" [The Nation]. The deck: "Did the 'creative class' learn anything from buying into a product that was obviously destined to flop?" That's a no. "The whole thing was bullshit. Far from being worth trillions of dollars, the Metaverse turned out to be worth absolutely bupkus. It's not even that the platform lagged behind expectations or was slow to become popular. There wasn't anyone visiting the Metaverse at all. The sheer scale of the hype inflation came to light in May. In the same article, Insider revealed that Decentraland, arguably the largest and most relevant Metaverse platform, had only 38 active daily users. The Guardian reported that one of the features designed to reward users in Meta's flagship product Horizon Worlds produced no more than $470 in revenue globally. Thirty-eight active users. Four hundred and seventy dollars. You're not reading those numbers wrong. To say that the Metaverse is dead is an understatement. It was never alive." • These are brain geniuses are the people we put in charge of the important social function of capital accumulation.
* * *
Today's Fear & Greed Index: 78 Extreme Greed (previous close: 79 Extreme Greed) [CNN]. One week ago: 75 (Extreme Greed). (0 is Extreme Fear; 100 is Extreme Greed). Last updated Jul 6 at 2:01 PM ET.
Class Warfare
"The $500 billion 'Office real estate apocalypse': Researchers find remote work's effect even worse than expected" [Fortune]. "In a paper published last year, researchers from New York University and Columbia University estimated a 28% decline in New York City office values by 2029, totaling to a $49 billion loss. And in their model, that equates to a $500 billion "value destruction," nationwide. The researchers—Arpit Gupta, Vrinda Mittal, and Stijn Van Nieuwerburgh—revised their estimate this month in the latest version of their paper, titled: "Work From Home and the Office Real Estate Apocalypse." They now see a 44% decline in New York City office values by 2029, and a nationwide value destruction, as they put it, of $506 billion in just a three-year period from 2019 to 2022. The reason behind their revised, yet bleaker assessment? In their paper, the authors argue that remote work has led to significant drops in lease revenue, occupancy, lease renewal rates, and market rents in the office sector within commercial real estate. All of which has affected cash flow, at a time when the Federal Reserve has aggressively raised interest rates. Although, interestingly enough, they found that lower quality office properties were more susceptible to the shocks listed above, and were at a greater risk of becoming a "stranded asset," they wrote. Still there is an underlying uncertainty in their model, which they note, the future of remote work." • Hence all the stories one sees about how bad — and bad for you! — remote work is.
News of the Wired
The subject matter does not accord with my normally sunny temperament, but this is a brilliant, brilliant example of what close reading can be:
In fact, McKellen's analysis better than I like his delivery (but he gives the soliloquoy in a movie; I bet it's much better on the stage).
* * *
Contact information for plants: Readers, feel free to contact me at lambert [UNDERSCORE] strether [DOT] corrente [AT] yahoo [DOT] com, to (a) find out how to send me a check if you are allergic to PayPal and (b) to find out how to send me images of plants. Vegetables are fine! Fungi and coral are deemed to be honorary plants! If you want your handle to appear as a credit, please place it at the start of your mail in parentheses: (thus). Otherwise, I will anonymize by using your initials. See the previous Water Cooler (with plant) here. From TH: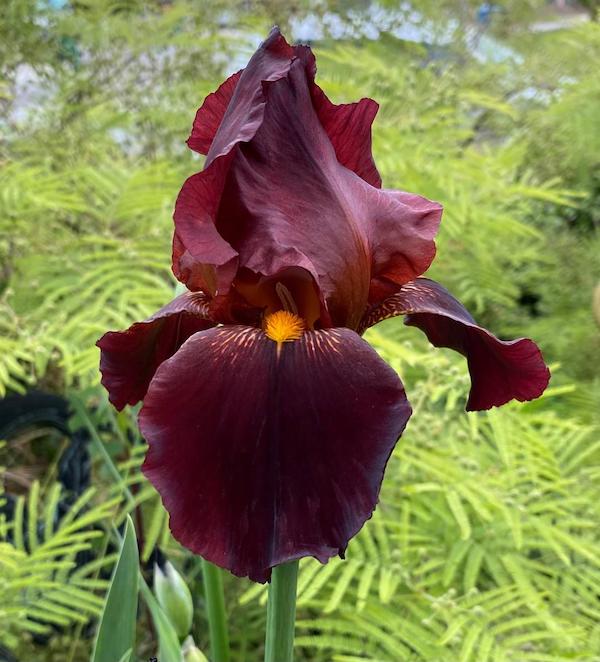 TH writes: "This bearded iris was a gift from my friend, Susan. She and I met back in 1996 when she transferred to the Children's department and I got hired to take her previous position in the Technical Services department of the Huntington Beach Public Library. These many years later, we now both work at West Los Angeles Community College's library where she is the Chair, and I do part-time Reference Desk work. She bestowed the plant in March of 2021, and while it didn't bloom until this June, it's been busy single-handedly pro-creating. There are now about 5, maybe 6 stalks. They are so crowded together that it's hard to be certain. They all budded at once, but this, the original, was the first to blossom."
* * *
Readers: Water Cooler is a standalone entity not covered by the annual NC fundraiser. So if you see a link you especially like, or an item you wouldn't see anywhere else, please do not hesitate to express your appreciation in tangible form. Remember, a tip jar is for tipping! Regular positive feedback both makes me feel good and lets me know I'm on the right track with coverage. When I get no donations for five or ten days I get worried. More tangibly, a constant trickle of donations helps me with expenses, and I factor in that trickle when setting fundraising goals:
Here is the screen that will appear, which I have helpfully annotated: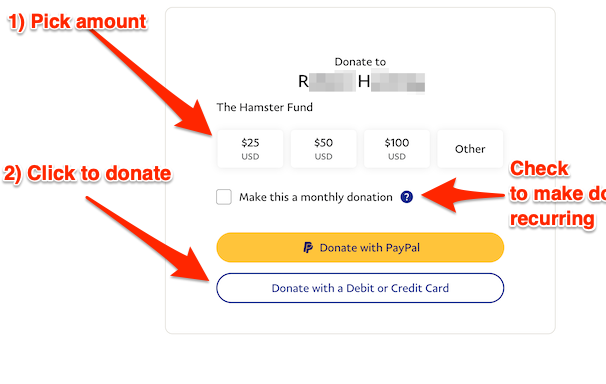 If you hate PayPal, you can email me at lambert [UNDERSCORE] strether [DOT] corrente [AT] yahoo [DOT] com, and I will give you directions on how to send a check. Thank you!