By Lambert Strether of Corrente.
Dear patient readers,
We've noticed a drop-off in comments during our unheard-of-ly weird spell of moderation issues. Please comment as normal. Be assured that we have thrown extra capacity at the problem (i.e., Yves and myself) in addition to our moderation team, and that although your comment may not immediately appear, it will not languish. –lambert
Bird Song of the Day
Woodhouse's Scrub-Jay, Cherokee Creek at the Little Snake River, Moffat, Colorado, United States. "Two cuts of calls from a pair of birds in sparse juniper forest, the single calls mostly given while perched, and the series of calls mostly given in flight." I chose this variant to honor P.G. Wodehouse, who I have begun to reread, as a palate cleanser. (Jeeves and Bertie are great, but I think the Blandings Castle series is peak Wodehouse.)
* * *
Politics
"So many of the social reactions that strike us as psychological are in fact a rational management of symbolic capital." –Pierre Bourdieu, Classification Struggles
Biden Administration
"White House cocaine was found near the Situation Room and NOT in the West Wing visitor entrance: Drug story changes for the SECOND time as Secret Service now says dime bag was found in a more 'secure' location" [Daily Mail]. Well, I should hope so! "Originally, dispatchers sent to the White House on Sunday to investigate the substance said it was found in the library. Then it was reported to be in the West Wing lobby. Now it's reported to be a floor below the lobby, in an area used by staff, officials, visitors and VIPs." • Hmm.

"Experts baffled by White House invoking Hatch Act to dodge Hunter cocaine question: 'ridiculous'" [FOX]. "The culprit behind the White House's July snowstorm has yet to be found." lol. More: "[White House deputy press secretary Andrew Bates] invoked the Hatch Act — legislation that prohibits federal employees from talking about or using federal resources for campaign purposes — to dodge the question on former President Trump's claim that the Colombian bam-bam belonged to the president or his son…. Former Bush administration ethics chief Richard Painter, who ran for Congress as a Democrat last cycle, told Fox News Digital that he has 'given lectures at the White House' and published articles on the Hatch Act, but the bill 'does not cover snorting cocaine.'"
2024
Time for the Countdown Clock!

* * *

"May Trump Soon Reach His Waterloo" [Peggy Noonan, Wall Street Journal]. "If you frequently have a screen on, your impression this summer is that all the hungry things are coming closer in. The sharks are coming closer to shore, the beaches suddenly closed. Bears have been coming in closer for years, deer too. Alligators are advancing onto the golf course and creeping out of the pond." That's the lead, which I could really file under Zeitgeist Watch. Leads like that are why I am a Nooners fan. More.: "This weekend at a party, one of Mr. Trump's New York supporters, a former officeholder, quickly made his way to me to speak of his hero. He referred to the Abraham Accords and the economy and said: 'Surely you can admit he was a good president.' He was all wound up, so I spoke slowly. 'I will tell you what he is: He is a bad man. I know it, and if I were a less courteous person I would say that you know it, too.' He was startled, didn't reply, and literally took a step back. Because, I think, he does know it. But doesn't ever expect it to be said. A journalist in our cluster said, musingly, 'That was an excellent example of apophasis,' the rhetorical device of saying something by saying you're not going to say it. We all moved on, but that was the authentic sound of a certain political dialogue. 'Surely you can admit he made France great again.' 'He is a bad man.' Its antecedents stretch back in history. Political cults are never good, often rise, always pass. May it this time come sooner rather than later." • Hmm. Must a President be "a good man"? If Men were angels….

"Trump nearly doubles fundraising in second quarter amid mounting legal challenges" [ABC]. "Former President Donald Trump's joint fundraising team raked in more than $35 million between March and June of this year, a campaign spokesperson told ABC News. The second quarter haul is nearly double Team Trump's first quarter total of $18.8 million from earlier this year, a sign that the former president's fundraising operation is ramping up amid his mounting legal challenges… The Bedminster fundraiser brought him more than $2 million in donations, and in less than a week, the Trump campaign raised $7 million from the federal indictment. Similarly, Trump's team raised $7 million within three days of the news of his Manhattan indictment dropping."

"DeSantis raises $20M in second quarter" [The Hill]. "Florida Gov. Ron DeSantis's (R) presidential campaign raised $20 million during the second quarter of 2023. The campaign said in a release that the total, brought in during the first six weeks that DeSantis has been in the race, is the largest first-quarter filing from a non-incumbent Republican candidate in more than a decade."

* * *

"Chris Christie knows how to work with Democrats. It might be a liability." [Politico]. "In both of his presidential campaign launches — this year and in 2016 — Christie has emphasized his bipartisan bona fides as an asset compared to Donald Trump and a field of candidates crowded with governors accustomed to dealing with compliant GOP legislatures. There's just one problem: there's little evidence GOP primary voters care that the former New Jersey governor can work across the aisle with Democrats." And: "In his eight years as the Republican governor of New Jersey, Christie often worked closely with the Democratic-led Legislature to pass some of the most consequential policies of recent memory. He capped property tax increases; eliminated the estate tax; ; realigned the higher education system; overhauled the troubled police department in one of the most dangerous cities in America; and renewed New Jersey's Transportation Trust Fund to support long-term infrastructure projects." • Hey, maybe Christie's the guy to bring the Grand Bargain over the finish line!

"Most of $60M in Youngkin's learning recovery grants went to to higher income households" [Richmond Times-Dispatch]. "Originally announced as a $30 million initiative, the fund was doubled to $60 million to meet demand, Youngkin announced Thursday. Less than a quarter of the families who received a grant were eligible for the larger grant that was given to students whose family income does not exceed 300% of the federal poverty level. For a family of three, that threshold is $74,580. Of those, 8,247 students qualified for the $3,000 grant that was available to families whose income does not exceed 300% of the federal poverty limit. But more than three quarters of the students — 26,403 — received the $1,500 grant, which was available to families whose income exceeds the threshold."

* * *

"Biden's bargain-basement campaign strategy" [Politico]. "Joe Biden is running his reelection bid on the cheap. The president has hired fewer than 20 campaign aides. His team hasn't yet announced a 2024 headquarters. His first political rally this year was paid for by other organizations. … 'Right now, we have a fine-tuned race car here. At some point, we will build out a big, substantial, competitive organization and enterprise,' [Biden campaign co-chair Jeffrey Katzenberg said' said. 'We don't need to do that today. It literally would be a waste of money.' Biden's approach, while designed to save money, carries the risk of keeping his approval ratings at the low level where they are today. It also could limit his ability to better define the contours of the campaign at a time when the Republican field is bludgeoning each other in their own primary…. Biden's campaign and pro-Biden super PACs have spent $7.5 million on broadcast, cable and digital ads since he launched his reelection bid, according to an analysis by the ad-tracking firm AdImpact. GOP frontrunner and former President Donald Trump's campaign and an outside group backing him have spent $16.4 million in the same time period, with the vast majority of that outlay coming from his super PAC. There are lots of potential reasons for Biden's thriftiness. As the incumbent president, he doesn't need to chase headlines. Because he doesn't have a serious primary opponent, he's not under pressure to hit the gas yet in early-voting states, either. And like previous presidents who have run for reelection, he can travel to critical battlegrounds on the taxpayer dime."

"Why Americans aren't giving Biden credit on improving economy, according to experts" [ABC]. "'There's been this unprecedented gap between what the data shows us is going on in the economy and what people think is going on in the economy,' Heidi Shierholz, president of the nonpartisan Economic Policy Institute, told ABC News…. One major reason why voters may not be giving Biden credit, economists said, is that inflation is still uncomfortably high and wages have only just started to keep up with price hikes. Powell said last week the target inflation rate of 2% is not expected to be reached until 2025, and more interest rate hikes could be in store to bring that data point down."

* * *

"Electoral College Ratings: Expect Another Highly Competitive Election" [Sabato's Crystal Ball]. "For the purposes of these ratings, we are considering a rematch of the 2020 election — Joe Biden versus Donald Trump — as the likeliest matchup, but not one that is set in stone. Despite a multitude of weaknesses, such as an approval rating in just the low 40s and widespread concern about his age and ability to do the job, Biden does not have credible opposition within his own party, drawing only fringe challengers Robert F. Kennedy Jr. and Marianne Williamson [and Cornel West (!)]. It may be that Biden could or should have drawn a stronger challenger, and maybe something happens that entices that kind of challenger into the race. But as of now, Biden appears to be on course to renomination. Trump faces legitimate legal problems, specifically following his recent indictment over serious allegations that he improperly retained highly sensitive government documents. However, we would never presume an actual guilty verdict in this or another case until it actually happens — nor are we even sure a guilty verdict would prevent Trump's renomination. It may be that the weight of Trump's problems gradually reduces his level of support over the course of this calendar year leading into next year's primaries, allowing a rival to consolidate the non-Trump portion of the party and really push him in the primaries. Or maybe Trump is compelled to take some sort of plea deal that involves him leaving the race. Those caveats aside, we see a party that is still broadly comfortable with Trump as its nominee. Until that changes, he's the favorite." • Let the maps begin!
Republican Funhouse
"The new power couple taking on Wall Street: J.D. Vance and Elizabeth Warren" [Politico]. "Sen. J.D. Vance — the Trump-backing former venture capitalist — is trying to lead Republicans in a new cause: cracking down on big banks. Following a Senate campaign in which he pledged to prioritize rural America over titans of industry, the Ohio lawmaker is using a seat on the Banking Committee to flex his populist bona fides, teaming up with Democrats including Sens. Elizabeth Warren of Massachusetts and Dick Durbin of Illinois on bills that the industry's biggest players despise — while championing legislation that protects smaller banks. He's taking a lead role in advancing bipartisan proposals that would penalize bank executives when their companies fail, make it harder for giant lenders to get bigger by acquiring other banks and rein in credit card fees. Along the way, he's had some success in recruiting fellow Republicans to the cause — creating fresh headaches for big bank lobbyists, who are gearing up to fight the Vance-backed policies. Warren, who enlisted Vance to build GOP support for a bill to claw back compensation from executives of failed banks, said he's been "terrific to work with."

"Freedom Caucus members voted to oust Rep. Marjorie Taylor Greene. It's unclear if it worked." [NBC]. "Nearly two weeks ago, members of the House Freedom Caucus took a vote to oust Rep. Marjorie Taylor Greene, R-Ga., from the ultraconservative group. It's still unclear whether that vote was successful. Since the June 23 Freedom Caucus meeting, Chairman Scott Perry, R-Pa., and Greene have had multiple conversations. But a Republican source familiar with the conversations said Perry has not directly notified Greene that she has been kicked out of the caucus…. The caucus voted on Greene, who goes by the nickname MTG, after some of her conservative colleagues had grown furious over her support for the successful bid by Kevin McCarthy, R-Calif., for speaker and his debt ceiling deal with President Joe Biden. But the final straw may have been her clash last month with Rep. Lauren Boebert, R-Colo., whom she called a 'little b—-' on the House floor."
Democrats en Déshabillé
Patient readers, it seems that people are actually reading the back-dated post! But I have not updated it, and there are many updates. So I will have to do that. –lambert

I have moved my standing remarks on the Democrat Party ("the Democrat Party is a rotting corpse that can't bury itself") to a separate, back-dated post, to which I will periodically add material, summarizing the addition here in a "live" Water Cooler. (Hopefully, some Bourdieu.) It turns out that defining the Democrat Party is, in fact, a hard problem. I do think the paragraph that follows is on point all the way back to 2016, if not before:

The Democrat Party is the political expression of the class power of PMC, their base (lucidly explained by Thomas Frank in Listen, Liberal!). ; if the Democrat Party did not exist, the PMC would have to invent it. . ("PMC" modulo "class expatriates," of course.) Second, all the working parts of the Party reinforce each other. Leave aside characterizing the relationships between elements of the Party (ka-ching, but not entirely) those elements comprise a network — a Flex Net? An iron octagon? — of funders, vendors, apparatchiks, electeds, NGOs, and miscellaneous mercenaries, with assets in the press and the intelligence community.

Note, of course, that the class power of the PMC both expresses and is limited by other classes; oligarchs and American gentry (see 'industrial model' of Ferguson, Jorgensen, and Jie) and the working class spring to mind. Suck up, kick down.

* * *

DiFi blazing the trail for the younger generation:

In April 2018, Mark Zuckerberg testified before the Senate's Judiciary Committee, which Feinstein sat on.

But in Jan 2018, months before she bought $250,000 in FB stock.

Only in May 2018 did she disclose $META purchase.

Feinstein praised $META in the hearing and is up +70%

— unusual_whales (@unusual_whales) July 4, 2023

"How Mayor Adams Took a U-Turn on McGuinness Boulevard Redesign" [The City]. Leaving aside the details, here is the key paragraph: "Most of the staffers were told to leave the call, while the mayor and a handful of top officials remained. After that meeting was over, staffers were told the city had to work to come up with a 'compromise proposal.'" • As we saw yesterday, Adams' staff really doesn't like him.
Realignment and Legitimacy
"Nonreligious Americans Are The New Abortion Voters" [FiveThirtyEight]. • Handy chart:
#COVID19
"I am in earnest — I will not equivocate — I will not excuse — I will not retreat a single inch — AND I WILL BE HEARD." –William Lloyd Garrison
Resources, United States (National): Transmission (CDC); Wastewater (CDC, Biobot; includes many counties; Wastewater Scan, includes drilldown by zip); Variants (CDC; Walgreens); "Iowa COVID-19 Tracker" (in IA, but national data). "Infection Control, Emergency Management, Safety, and General Thoughts" (especially on hospitalization by city).
Lambert here: Readers, thanks for the collective effort. To update any entry, do feel free to contact me at the address given with the plants. Please put "COVID" in the subject line. Thank you!
Resources, United States (Local): AK (dashboard); AL (dashboard); AR (dashboard); AZ (dashboard); CA (dashboard; Marin, dashboard; Stanford, wastewater; Oakland, wastewater); CO (dashboard; wastewater); CT (dashboard); DE (dashboard); FL (wastewater); GA (wastewater); HI (dashboard); IA (wastewater reports); ID (dashboard, Boise; dashboard, wastewater, Central Idaho; wastewater, Coeur d'Alene; dashboard, Spokane County); IL (wastewater); IN (dashboard); KS (dashboard; wastewater, Lawrence); KY (dashboard, Louisville); LA (dashboard); MA (wastewater); MD (dashboard); ME (dashboard); MI (wastewater; wastewater); MN (dashboard); MO (wastewater); MS (dashboard); MT (dashboard); NC (dashboard); ND (dashboard; wastewater); NE (dashboard); NH (wastewater); NJ (dashboard); NM (dashboard); NV (dashboard; wastewater, Southern NV); NY (dashboard); OH (dashboard); OK (dashboard); OR (dashboard); PA (dashboard); RI (dashboard); SC (dashboard); SD (dashboard); TN (dashboard); TX (dashboard); UT (wastewater); VA (dashboard); VT (dashboard); WA (dashboard; dashboard); WI (wastewater); WV (wastewater); WY (wastewater).
Resources, Canada (National): Wastewater (Government of Canada).
Resources, Canada (Provincial): ON (wastewater); QC (les eaux usées); BC, Vancouver (wastewater).
Hat tips to helpful readers: anon (2), Art_DogCT, B24S, CanCyn, ChiGal, Chuck L, Festoonic, FM, FreeMarketApologist (4), Gumbo, hop2it, JB, JEHR, JF, JL Joe, John, JM (10), JustAnotherVolunteer, JW, KatieBird, LL, Michael King, KF, LaRuse, mrsyk, MT, MT_Wild, otisyves, Petal (6), RK (2), RL, RM, Rod, square coats (11), tennesseewaltzer, Utah, Bob White (3).
Stay safe out there!
* * *
Maskstravaganza
Honestly, I'm starting to think that our only solution will be some sort of enormous spiritual awakening:

bonus: our patients are often 70+ years old

— margaret (she/her) (@margaretforreal) July 4, 2023

No teachings of any major religion or any moral philosophy I know of would approve of that nurse's question, or the logic that led them to ask it. It's shocking.

At last, we can see people's hands again:

I think if surgeons just wipe their hands on their shirts we should be good to go.

Let's live life.

— Jonathan Mesiano-Crookston 🌬️🔅#COV1DisAirborne (@jmcrookston) July 5, 2023
Covid is Airborne
"Effects of Corsi-Rosenthal boxes on indoor air contaminants: non-targeted analysis using high resolution mass spectrometry" [Nature]. From the Abstract: "Using a natural experiment, we sampled indoor air before and during installation of CR boxes in 17 rooms inside an occupied office building. We measured VOCs and SVOCs using gas chromatography (GC) high resolution mass spectrometry (HRMS) with electron ionization (EI) and liquid chromatography (LC) HRMS in negative and positive electrospray ionization (ESI). We examined area count changes during vs. before operation of the CR boxes using linear mixed models… We used [non-targeted and suspect screening analysis (NTA and SSA] to demonstrate that ."
Testing and Tracking
"Evolution of the Pulse Ox" (PDF) [Chest]. "We are also excited to announce that the National Heart, Lung, and Blood Institute has recently released a Small Business Innovation Research proposal (PHS2023-1 NIH/NHLBI Topic 114). The Small Business Innovation Research offers two phases of funding to develop a novel pulse oximeter for patients at risk of desaturation, including those recovered from COVID19. It must be wireless and motion insensitive, and must interface with mobile devices to make userfriendly data available during exercise, activities of daily living, or sleep. This will help decrease barriers of access to pulse oximeter information by allowing continuous, at-home, and unsupervised monitoring. The proposal also stresses the importance of subject diversity in measurements to avoid systematic error in individuals with darker skin tones." • This is great. I could also file this under "Look for the Helpers!"
Transmission
Just to hammer on airline travel once more, requoting Taleb from Links last week:

Systemic Risk of Pandemic via Novel Pathogens – Coronavirus: A Note (PDF) Joseph Norman, Yaneer Bar-Yam, Nassim Nicholas Taleb. From 2020, explicated here at NC, still highly germane. "It will cost something to reduce mobility in the short term, but to fail do so will eventually cost everything—if not from this event, then one in the future."

Truer words–

"Dispersal patterns and influence of air travel during the global expansion of SARS-CoV-2 variants of concern" [Cell]. The Highlights:

Global phylogenetic analysis reveals dispersal of VOCs along worldwide flight network

Omicron spread to five times more countries within 100 days of emergence than other VOCs

Delta and Omicron dispersed from secondary hubs during times of accelerating air travel

Highly connected countries were major global and regional exporters of VOCs

Handy maps:

See also "COVID-19 and Class in the United States" [Naked Capitalism] and "How the Virus Won" [New York Times]. The following is not about Covid per se, but is relevant to airline handling of biohazards generally–

"Airline passenger finds plane floor soaked in blood" [CNN]. "But what [Habib Battah] did notice beneath the cat carriers was a wet stain on the floor – about 20 inches long and wide, he says. He flagged down a passing flight attendant. 'I said it smells like merde – s**t. She handed me wet wipes. I started wiping and it was red – blood red. And it kept coming up red. I was like, 'What the hell is this?' I just wanted to see what it was. After a while, one of the flight attendants said, 'You'd better go wash your hands, and here are some gloves." As Battah was cleaning, the flight attendant had passed the message on to her coworkers, and the captain was radioing Paris, asking what on earth was the blood red stain under seats 30A and 30B. The news came back from Air France HQ: it was human blood. The day before, on a Paris -Boston flight, a male passenger had suffered what Battah says the crew called a 'hemorrhage.' [Why? 'Tis a mystery!] The passenger had survived, and the captain of that flight had requested that the area be cleaned for the aircraft's next flight back to Paris – but seemingly the cleaners had forgotten about the floor." Oh. Also: "In fact, the diarrhea may have been more hazardous than the blood. [Dr Richard Dawood, specialist in travel medicine at London's Fleet Street Clinic] says that cleaning diarrhea without disinfecting it – as Battah ended up doing in the galley, near the food preparation area – can 'aerosolize' its particles." • Oh, swell. (There's a homily on hand-washing in the piece, but nothing on aerosols.) Good thing it wasn't ebola….
Infection
Superspreading events at outdoor concerts:

I can't find a proper citation yet, but I'll highlight this anyway:

Marzán-Rodríguez et al. "A COVID-19 Super Spreader Event Associated with an Outdoor Music Concert—Puerto Rico, December 2021." Puerto Rico Department of Health.

≥3,118 Omicron cases in two Bad Bunny concerts. https://t.co/MG2vW5N4hH pic.twitter.com/P42pdLhGBG

— midnucas #FueraLUMA 🇵🇷 (@midnucas) April 23, 2023

For example:

This is why we can't have nice things, and why we are still where we are after over 3 years pic.twitter.com/5QU5BPmrNf

— Jess (@MeetJess) July 6, 2023
"Something Awful"
Lambert here: I'm getting the feeling that the "Something Awful" might be a sawtooth pattern — variant after variant — that averages out to a permanently high plateau. Lots of exceptionally nasty sequelae, most likely deriving from immune dysregulation (says this layperson). To which we might add brain damage, including personality changes therefrom.

* * *

Anecdotal data, but lots of it:

Minimizers always point to something you can see, that's immediate, like school closing. They never point to anything you cannot see, and is long-term; like brain damage in children.
Elite Maleficence
"Got COVID from a loved one who was at work? Their employer owes you nothing, California court rules" [CalMatters (cinta)]. "A Bay Area woodworking employee caught COVID on the job and brought it home during the height of the pandemic. His wife contracted the illness and her symptoms were severe – at one point, she needed a respirator to breathe. But she cannot claim workers' compensation injuries from the infection, the California Supreme Court ruled today in answer to questions from a federal appellate court, because while doing so would be a moral good, that good is outweighed by the potential flood of litigation that would force businesses to close, tie up courts and send commercial insurance rates skyrocketing. ',' associate justice Carol Corrigan wrote in the ruling. 'These and other policy considerations lead us to conclude that employers do not owe a tort-based duty to nonemployees to prevent the spread of COVID-19.' It was the second major loss for California employees seeking compensation for COVID infections passed to family members. Last year, a longtime employee of See's Candies lost a workers' comp claim after she contracted COVID and passed it to her husband, who died. Workers' comp is inherently a bargain, Corrigan wrote in a unanimous opinion: Employees get some guarantee that they'll be paid in the event of an injury suffered on the job, no matter whether they were at fault, and employers get to limit the amount and extent of that compensation." • tl;dr: Bad for business.
* * *
Case Data
NOT UPDATED From BioBot wastewater data, June 29: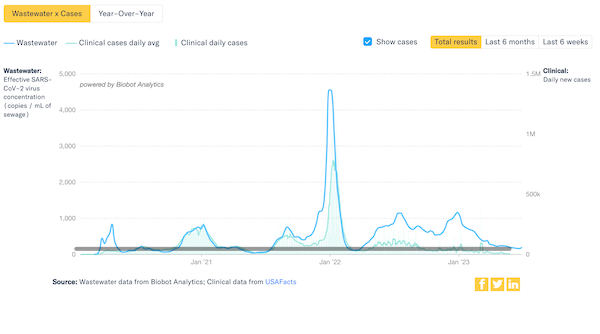 Lambert here: Slight uptrend, confirmed by airport wastewater (and local wastewater samples in California). Absent a new variant to race though the dry tinder, I don't see an oncoming debacle even with July 4 travel. But plenty of people will still get sick (again).=
Variants
From CDC, July 8: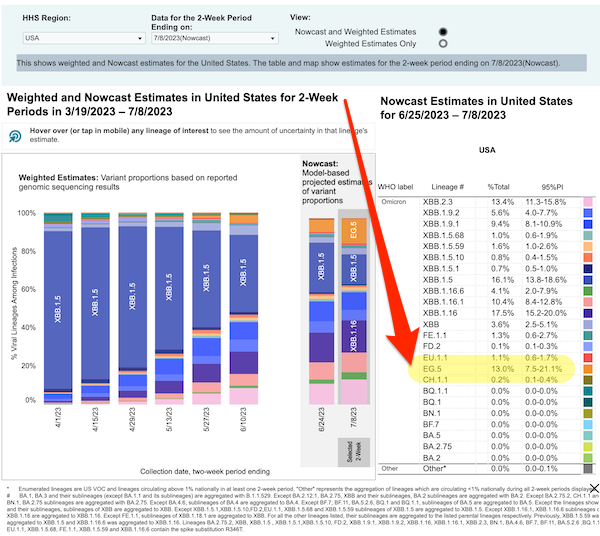 Lambert here: EG.5 moving like a bat out of hell, showing unactionable nature (uselessness) of these CDC two-week-lag charts (here, and in positivity, too). They're not even performative!
From CDC, June 24: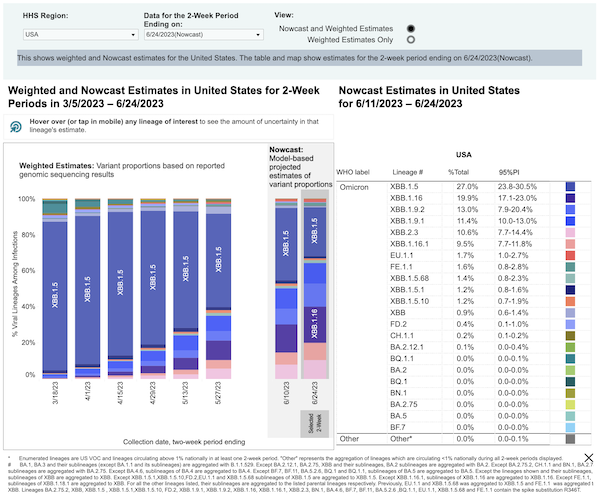 Lambert here: Not sure what to make of this. I'm used to seeing a new variant take down the previously dominant variant. Here it looks like we have a "tag team," all working together to cut XBB.1.5 down to size. I sure hope the volunteers doing Pangolin, on which this chart depends, don't all move on the green fields and pastures new (or have their access to facilities cut by administrators of ill intent).
CDC: "As of May 11, genomic surveillance data will be reported biweekly, based on the availability of positive test specimens." "Biweeekly: 1. occurring every two weeks. 2. occurring twice a week; semiweekly." Looks like CDC has chosen sense #1. In essence, they're telling us variants are nothing to worry about. Time will tell.
Covid Emergency Room Visits
NOT UPDATED From CDC NCIRD Surveillance, July 1: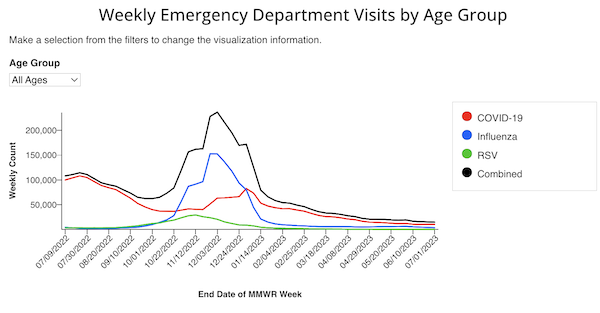 NOTE "Charts and data provided by CDC, updates Wednesday by 8am. For the past year, using a rolling 52-week period." So not the entire pandemic, FFS (the implicit message here being that Covid is "just like the flu," which is why the seasonal "rolling 52-week period" is appropriate for bothMR SUBLIMINAL I hate these people so much. Notice also that this chart shows, at least for its time period, that Covid is not seasonal, even though CDC is trying to get us to believe that it is, presumably so they can piggyback on the existing institutional apparatus for injections.
Positivity
NOT UPDATED From Walgreens, July 5: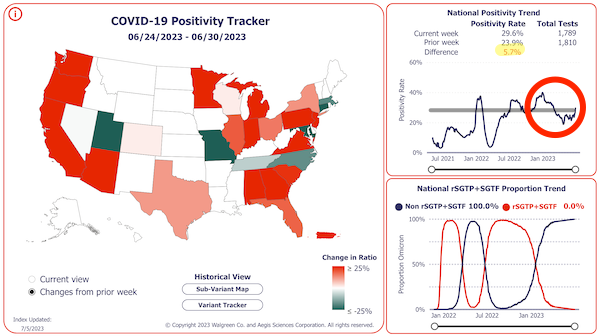 5.7%. Big jump, though the absolute numbers are still very small relative to June 2022, say.
From CDC, June 19: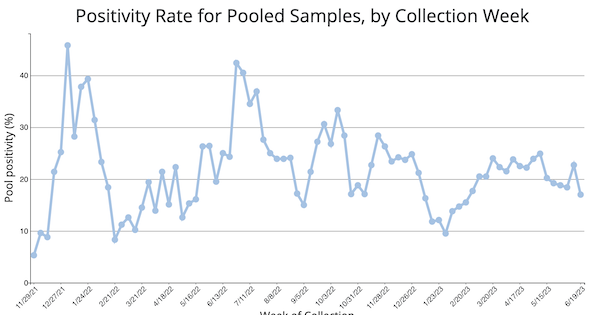 Lambert here: This is the CDC's "Traveler-Based Genomic Surveillance" data. They say "maps," but I don't see one….
Deaths
NOT UPDATED Iowa COVID-19 Tracker, June 28: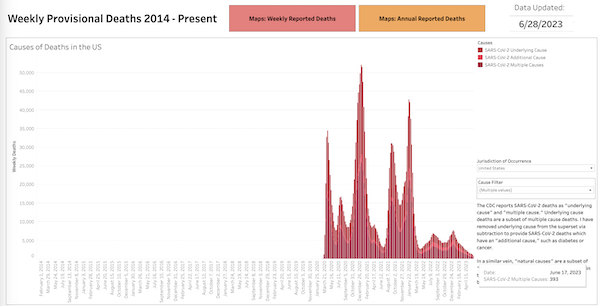 Lambert here: The WHO data is worthless, so I replaced it with the Iowa Covid Data Tracker. Their method: "These data have been sourced, via the API from the CDC: https://data.cdc.gov/NCHS/Conditions-Contributing-to-COVID-19-Deaths-by-Stat/hk9y-quqm. This visualization updates on Wednesday evenings. Data are provisional and are adjusted weekly by the CDC." I can't seem to get a pop-up that shows a total of the three causes (top right). Readers?
Total: 1,168,485 – 1,168,414 = 71 (71 * 365 = 25,915 deaths per year, today's YouGenicist™ number for "living with" Covid (quite a bit higher than the minimizers would like, though they can talk themselves into anything. If the YouGenicist™ metric keeps chugging along like this, I may just have to decide this is what the powers-that-be consider "mission accomplished" for this particular tranche of death and disease).
• "The pandemic's true death toll" [The Economist]. "These data make clear that covid-19 has led to the deaths of far more people than official statistics suggest (see our briefing). Measured by excess deaths as a share of population, many of the world's hardest-hit countries are in Latin America. Although Russia's official death tally suggests that it has protected its citizens tolerably well, its numbers on total mortality imply that it has in fact been hit quite hard by covid-19. Similarly, we estimate that India's death toll is actually in the millions, rather than the hundreds of thousands. At the other end of the table, a handful of countries have actually had fewer people die during the pandemic than in previous years. Although excess-deaths statistics are the most comprehensive measure of the human cost of covid-19, they are only loosely tied to the number of people who have been infected with SARS-CoV-2. Because the virus is so much deadlier for older people than it is among the young, death tolls are heavily influenced by the age structure of a country's population. " • Yikes:

Excess Deaths
Excess deaths (The Economist), July 7: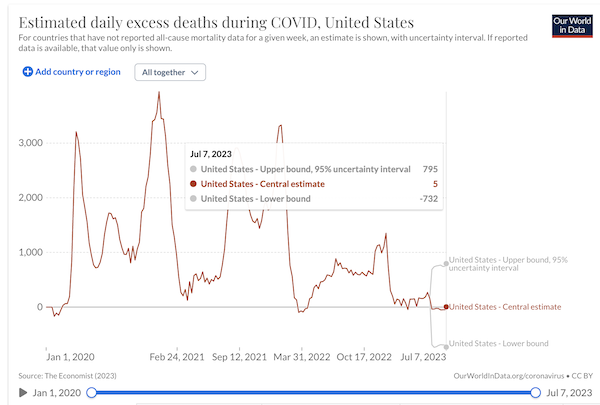 Lambert here: This is now being updated daily. Odd. Based on a machine-learning model. (The CDC has an excess estimate too, but since it ran forever with a massive typo in the Legend, I figured nobody was really looking at it, so I got rid it. )
Stats Watch
Employment Situation: "United States Unemployment Rate" [Trading Economics]. "The unemployment rate in the US decreased slightly to 3.6 percent in June 2023, which is lower than May's seven-month high of 3.7 percent and in line with market expectations. The jobless rate has fluctuated between 3.4 percent and 3.7 percent since March 2022, indicating a consistently tight labor market and allowing the Federal Reserve the flexibility to continue raising interest rates as a means to combat inflation."
* * *
Tech: "Twitter Star Journos 'Cautiously' Move Over to Threads" [Daily Beast]. "It's an aspect of social media that other journalists have to adopt and expand upon in order to survive in a competitive field, said Taylor Lorenz, a tech columnist for The Washington Post. In her coverage of the content creation space, Lorenz (roughly 349,000 Twitter followers, 46,300 Threads followers) has been an early adopter of various Twitter alternatives since Musk's acquisition of the platform last November. She said the death of Vine (ironically, a Twitter-owned app) in 2017 forced her subjects, including YouTube superstars MrBeast and Logan Paul, to learn to diversify their audiences—a lesson reporters could benefit from. 'Journalists have been so overly dependent on Twitter,' Lorenz said. 'That's been a nuke liability for them for a long time. The death of Twitter is teaching journalists that you have to diversify your audience. You have to have a way to reach your readers directly, just being a little more out there on social platforms and not putting your eggs in one basket.' Lorenz, as have other journalists who spoke to The Daily Beast, said she does not regret the amount of time and energy she's devoted to Twitter. The platform allowed her to engage directly with her audience, helping shape story angles and identify new sources she otherwise wouldn't have found. But even before and during Musk's ownership, Twitter's standing as an online watering hole has since been diminished, she said. 'I really do feel like Twitter has sort of abdicated its role as the town square of the internet,' Lorenz said. 'It's just not that anymore, and I think we're sort of figuring out where the next place is.'" • Wholesale censorship by the organs of state security isn't the first thing I think of when I hear the word "town square."
Tech: "You can't post a**, Threads is doomed" [TechCrunch]. "In the 24 hours since it launched, Threads has doomed itself to being a vanilla platform where brands can thrive, but shitposting flounders. It'll never be a true Twitter rival with such uptight moderation and no guarantee of anonymity. Threads, like Facebook, is for users who probably wouldn't have used Twitter anyway."
* * *
Today's Fear & Greed Index: 81 Extreme Greed (previous close: 78 Extreme Greed) [CNN]. One week ago: 83 (Extreme Greed). (0 is Extreme Fear; 100 is Extreme Greed). Last updated Jul 7 at 1:35 PM ET.
Book Nook
"Where be your jibes now?" [London Review of Books]. "As I read, I thought Wallace must have been taken by something very simple, the smallest sensual fact: that as an IRS worker you are issued a new social security number, in essence a new identity, a chance to start over. The old number, the old life, 'simply disappeared, from an identification standpoint'. A whole novel could take flesh from that fact, one about the idea of bureaucratic identity as opposed to individual identity: memories, mothers, sideburn phases, the way we see ourselves. That we are, at our core, a person; in the bed of our family, a name; and out in the world, a number. Of course, as so often with Wallace, on actual investigation this turns out not to be true. The fact withdraws itself, and only the epiphany remains. Why did he turn to it? Because it was impossible, probably – just as Infinite Jest had been to him fifteen years earlier. And when he took on the impossible book, something sometimes happened to him: a run, a state of flow, a pure streak. As those who are prone to them know, these simulate real living, which we are somehow barred from otherwise. 'I'm deep into something long,' he wrote to Pietsch in 2006, 'and it's hard for me to get back into it when I'm pulled away.' He developed a habit of not leaving the house, in case he might write that day. 'Once when I pressed him,' Pietsch said, 'he described working on the new novel as like wrestling sheets of balsa wood in a high wind.' As he writes in one of his most typically tall-tale essays, 'Derivative Sport in Tornado Alley', he was, as a 'near-great' junior tennis player, at his very best in bad conditions. In fiction, he creates them; he serves himself sleet, hail, sun in the eye, all for the chance to play through them." • I did read Infinite Jest; terriffic portrait of Boston AA. But….
Zeitgeist Watch
"The Strange, Contagious History of Bulimia" [New York Magazine]. From 2017, still germane. "Riding the train home later that afternoon, I mull over the mechanisms that allow unique people to share universal expressions and similar empathetic responses to one another. Automatic attunement guides us to unintentional mirroring of thoughts, behaviors, and feelings, phenomana that share a language perceptible on a level of the invisible, unknowable unconscious. I consider the findings of Brenner-Liss, who like others, trusts that awareness is a vessel for treatment and cure. Yet, as Russell and Baker discovered, awareness will exacerbate a social contagion event, the same way that spreading knowledge about bulimia helped to triple the frequency of new cases in 10-to-39-year-old women between the late eighties and early nineties. The rate dipped a bit as treatment caught up with the illness, but the number rose steeply again in 1992, shortly after Princess Diana publicly disclosed her battle with bulimia. Her revelation brought tremendous awareness to the condition. It corresponded both with an uptick in people seeking treatment for the first time, as well as an explosion of new cases as the strange contagion spread farther than ever. There's no easy answer here, unfortunately. Stopping a social contagion sometimes means using tools of remission and transmission, exploiting a cure that also spreads the disease. Ultimately, it's a numbers game: save some, lose others, and hope against hope that in the end we come out ahead." • "Social contagion" is real. Worth reading in full.
Class Warfare
"The MTV generation's unemployment problem" [Politico]. "Workers born between 1964 and 1980 — those currently aged 44 to 59 — represent 'effectively all of the increase' in America's unemployed population over the last half year, according to research by Glassdoor's Chief Economist Aaron Terrazas. As of May, those workers represented roughly a quarter of those unemployed, compared to less than 20 percent in late 2022. And it's taking those workers much longer to find new jobs. 'I worry about Gen Xers who were laid off and have either voluntarily or involuntarily taken a long time to find new jobs,' Terrazas, a former Treasury official, said in an interview. 'Maybe that's because they have cushions where they can afford the luxury of finding a good match. Maybe it's because they're just not finding good matches.'"
News of the Wired
"Protesters are disabling robotaxis with traffic cones" [Metro UK]. "A group of activists in San Francisco have been disabling driverless taxis by placing traffic cones on their hoods. The group, which calls itself the 'Week of Cone', is protesting the spread of robotaxi services in the city. What started with a now-viral prank on Twitter and TikTok has gained support among residents who are sick of the vehicles malfunctioning and blocking traffic. The group's method of turning off the robotaxis is simple. They place a traffic cone on the vehicle's hood, which triggers the car's sensors to think there is an obstacle. The car then stops and refuses to move until the cone is removed."
* * *
Contact information for plants: Readers, feel free to contact me at lambert [UNDERSCORE] strether [DOT] corrente [AT] yahoo [DOT] com, to (a) find out how to send me a check if you are allergic to PayPal and (b) to find out how to send me images of plants. Vegetables are fine! Fungi and coral are deemed to be honorary plants! If you want your handle to appear as a credit, please place it at the start of your mail in parentheses: (thus). Otherwise, I will anonymize by using your initials. See the previous Water Cooler (with plant) here. From MG: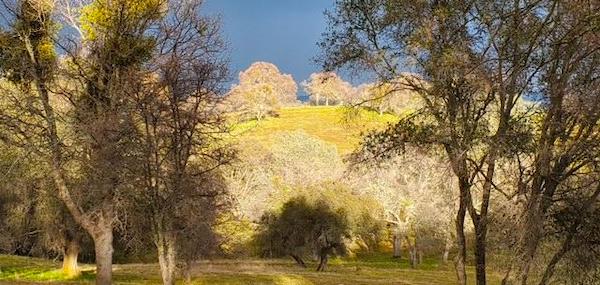 MG writes: "Staying at my sister's place in the foothills of the Sierras outside Sacramento. Rainy and sunny by turns."
* * *
Readers: Water Cooler is a standalone entity not covered by the annual NC fundraiser. So if you see a link you especially like, or an item you wouldn't see anywhere else, please do not hesitate to express your appreciation in tangible form. Remember, a tip jar is for tipping! Regular positive feedback both makes me feel good and lets me know I'm on the right track with coverage. When I get no donations for five or ten days I get worried. More tangibly, a constant trickle of donations helps me with expenses, and I factor in that trickle when setting fundraising goals:
Here is the screen that will appear, which I have helpfully annotated: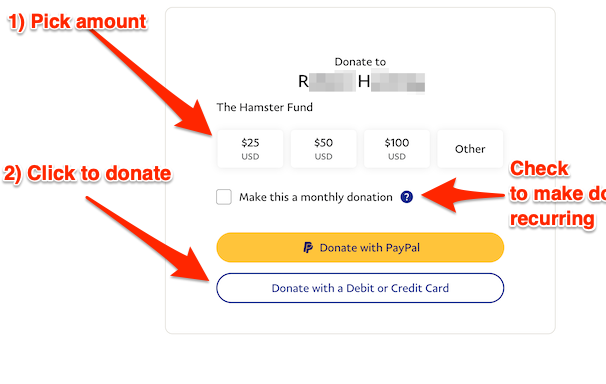 If you hate PayPal, you can email me at lambert [UNDERSCORE] strether [DOT] corrente [AT] yahoo [DOT] com, and I will give you directions on how to send a check. Thank you!