Dear patient readers,
Your humble blogger has landed but is still very much underwater due to various tasks that would have been better sorted before I left…but oh well. And my supposedly international T-Mobile #, which I need for 2 factor verification, is NOT working here (no signal! and yes the phone gets signal with other SIMs). 10 calls to T-Mobile have resulted in lots of customer service rep shows of empathy and no solution. So the really weird short version is I'm really not able to start integrating here yet….I don't yet have the bandwidth to look at apartments or go to expat meetings. :-( The T-Mobile time sink alone is eating ~ an hour a day.
One way readers might help on another front: It would be useful to get my other US # back in action via Vonage, but I need to convert WiFi to ethernet to do that. I had thought I could do that with a WiFi extender (many have ethernet ports) but they all seem to presuppose home router login (as in a single password) but hotels like mine serve up a panel in a browser window where you enter info in two fields, a user ID of some sort and then a password. And I expect to be in this hotel for a while, so I would like to solve this problem if at all possible. If anyone has dealt successfully with this issue and can recommend a device, please pipe up in comments!
* * *
The songs of the wolves aeon (Dr. Kevin)
In case you missed it (guurst recommends full screen):
Huge crater collapse at the Volcano in Iceland – July 19 https://t.co/bHv5zNBElv pic.twitter.com/XLzJyuZ5eB

— Levandov (@Levandov_1) July 19, 2023
Don't be a robot! Think for yourself! Critic Magazine (Anthony L)
#COVID-19
Several large studies show vaccines prevent long COVID-19 Skeptical Raptor (furzy)

Long COVID Is Still Affecting Some People's Brains Two Years After Infection Science

COVID-19 can cause inflammation that results in bone loss, higher fracture risk MedicalXpress

Use and misuse of research: Canada's response to covid-19 and its health inequalities BMJ

BREAKING: In a sweeping set of papers just published in @bmj_latest, more than a dozen medical experts are calling for a national inquiry into Canada's #COVID response — and the country's "major pandemic failures."

New from me:https://t.co/0msbJadEOg

— Lauren Pelley (@LaurenPelley) July 24, 2023
Climate/Environment
China?
How China's military is slowly squeezing Taiwan Financial Times

China's socialist government has overseen almost 3/4ths of global extreme poverty reduction.

Decolonization struggles in the 1950s, '60s, and '70s (which were led overwhelmingly by socialists) were responsible for much of the initial poverty reduction — after centuries of… https://t.co/mrxfCRT51T pic.twitter.com/uIk4FgZiQu

— Ben Norton (@BenjaminNorton) July 24, 2023

"To address the risks in local government debt, policymakers should create and implement 'a package of debt-resolving plans,' the Politburo meeting readout said, without elaboration."

It seems they're still trying to figure out what to do about the debt.https://t.co/zk7jdgYAbi

— Michael Pettis (@michaelxpettis) July 25, 2023

We made this point early on (as did others), but it apparently bears repeating:

Exactly ⬇️. The CHIPS act – aimed at boosting supply – makes absolutely zero sense when at the same time the US is killing demand, which mainly comes from China. Downright insane to make plans to sell more but forbid your principal customer to buy… https://t.co/UN0abSKb7m

— Arnaud Bertrand (@RnaudBertrand) July 24, 2023

Meloni May Signal Plan to Exit China Pact During US Visit Bloomberg
Can Washington discourage South Korea from wanting its own nukes? Responsible Statecraft
Why Is America Undercutting Japan? Project Syndicate
Old Blighty
Reports of modern slavery double in UK care sector BBC

'No more cover-up': Nazi concentration camps on Channel Island finally to be officially investigated Guardian (Kevin W)
New Not-So-Cold War
Ukrainian Forces Take Major Losses in Donetsk, Kupyansk and Krasny Liman: Western Contractors Killed in Lvov Military Watch

Russia Raises Stakes With Bold Strike On Danube Port Simplicius the Thinker

THE NATO GENERALS KNOW THE WAR AGAINST RUSSIA IS LOST – THE PENTAGON FIRES SMOKE TO SCREEN THE RETREAT John Helmer. Stresses at the top that Putin has put the Poles on notice:

Then on the topic of Poland and Galicia, Putin makes the most important statement by a Russian leader in more than a hundred years. Putin warns the Polish government, together with the Lithuanians, not to make a troop move on Galicia's capital Lvov, as the Germans had done in 1941. He also warns Berlin not to imagine they can recover the old Prussian or the more recent Third Reich sway in those territories.

Between the lines also, Putin issued an invitation to two of the ruling factions in Kiev – the military command and the Lvov Banderites – that they should remove Zelensky quickly, before they lose what will be left of their territory, after the Russian Army goes on the offensive. If they want to keep Galicia, "this, I repeat", Putin said, "is in the end their business. If they want to relinquish or sell off something in order to pay their bosses, as traitors usually do, that's their business. We will not interfere in this."

Note this is a reversal of the Medvedev map, which contemplated Poland, Hungary and Romania eating up most of western Ukraine, leaving "Ukraine" as Greater Kiev. Do Putin's remarks mean Russia has worked out an end game for Western Ukraine?

"Ukraine is DISINTEGRATING the hospitals are FULL" Col. MacGregor Redacted with Clayton Morris

This is exactly the kind of problem we were talking about with the word "sustainment." https://t.co/LxQwdG5YIv

— Big Serge ☦️🇺🇸🇷🇺 (@witte_sergei) July 24, 2023

Ukraine's Stalled Offensive Puts Biden in Uneasy Political Position Wall Street Journal. Gee, ya think?

The Empire Knows It's Pouring Ukrainian Blood Into An Unwinnable Proxy War Caitlin Johnstone (Kevin W)

China secretly sends enough gear to Russia to equip an army Politico

Ukraine's Illiberalism, and Ours American Conservative

Demining Ukraine will take 757 years – WaPo RT (Kevin W)
Syraqistan
Big Brother is Watching You Watch
Google Reportedly Disconnecting Employees from the Internet Bruce Schneier
Imperial Collapse Watch
THE EXCEPTIONAL & INDISPENSABLE NATION: PRIDE GOETH BEFORE THE FALL Between Two Worlds (Anthony L)
Trump
GOP, McCarthy on collision course over expunging Trump's impeachments The Hill
Biden
Exclusive: Hunter Biden's gallery sold his art to a Democratic donor 'friend' who Joe Biden named to a prestigious commission Business Insider (Kevin W)
GOP Clown Car
Pathetic: DeSantis Campaign Planted That Bizarre Anti-LGBTQ Ad in Fan Account New Republic (furzy)
Supremes
Alabama defies Supreme Court order for additional majority-Black district The Week (UserFriendly)
Justice Department sues Texas over floating barrier in Rio Grande River The Hill
Former Anti-Abortion Leader Arrested on Child Sex Abuse Charges Rolling Stone (furzy)
Police State Watch
Just skip down to the slide from the DHS:

The Department of Homeland security is officially out of their fucking mind.

Check out the "reasons" they're labeling Americans as right wing extremists now:

• Combat veterans who are quote unquote "disgruntled about the takeover of their country." (Well, at least they're… pic.twitter.com/G2DhofYWZG

— Mindy Robinson 🇺🇸 (@iheartmindy) July 23, 2023
Sugar Shortage Threatens Candy Production Ahead of Halloween, Holiday Seasons Wall Street Journal (Dr. Kevin). The cost of buying American.
AI
Cigna Sued Over Algorithm Allegedly Used To Deny Coverage To Hundreds Of Thousands Of Patients Forbes (Kevin W)

The risks of AI are real but manageable Bill Gates (Dr. Kevin)
UBS agrees to pay $388 million over Credit Suisse's Archegos failings Reuters (Kevin W)
Noose Tightens on Consumer Credit, Auto Loan Rejections Hit Record High Michael Shedlock
The Bezzle
Musk says Twitter will change logo to X, 'bid adieu' to bird Yahoo! Finance (Kevin W)

X Marks The End Reliable Sources (furzy)
Class Warfare
Antidote du jour. Ann M:
The graylag goose family in Roger Williams Park. Two parents, 3 grown siblings from a couple years ago- can't tell them apart- and 6 new members of the family. According to ebird, they are exotic escapees.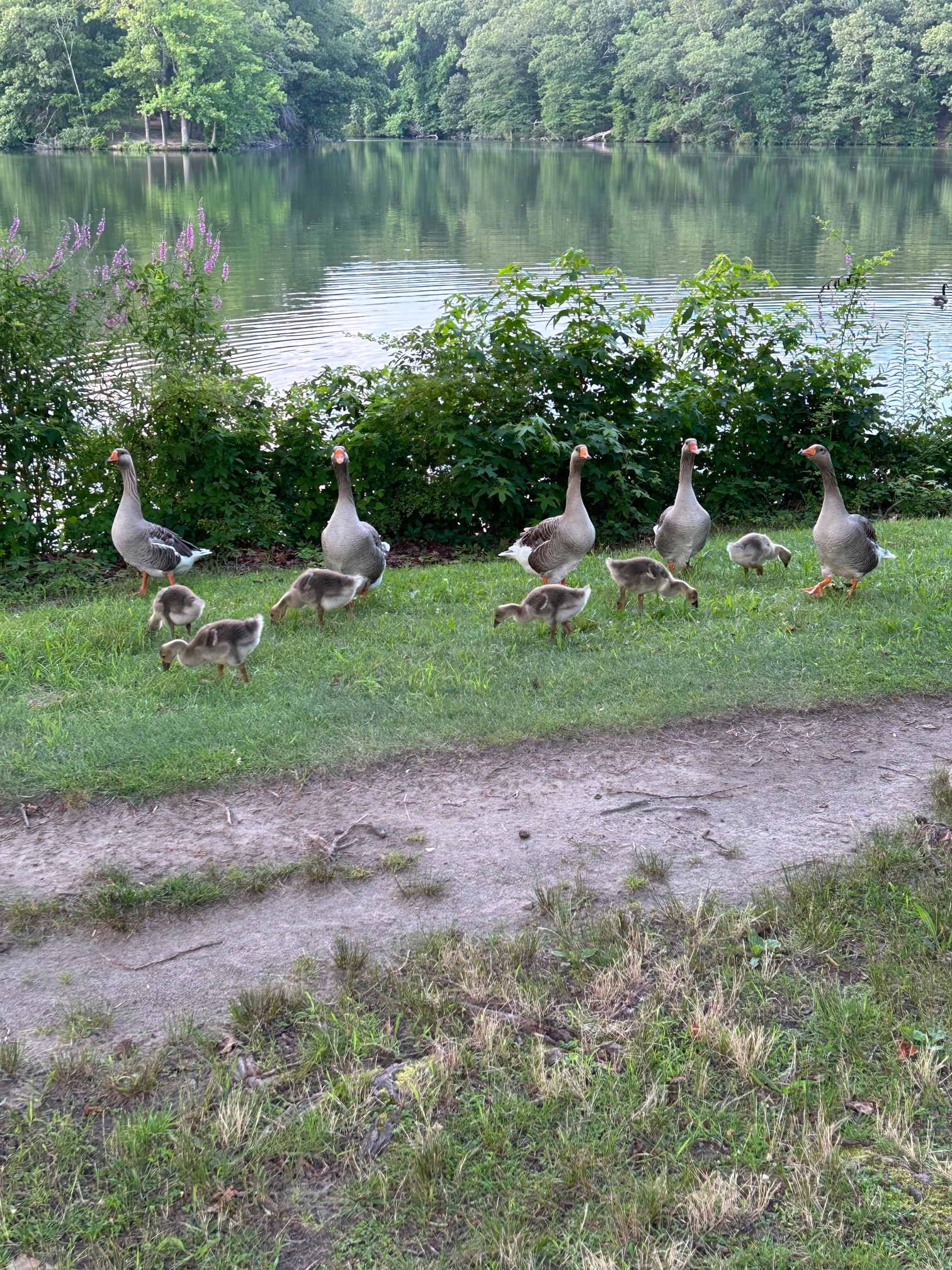 And a bonus. guurst recommends sound off:
Momma Bear and her Cub pic.twitter.com/sYJdqkcGTy

— Levandov (@Levandov_1) July 12, 2023
See yesterday's Links and Antidote du Jour here.