By Lambert Strether of Corrente.
Patient readers, I'm sorry to be a bit later than usual, but now not only the "f" key, but the "r" and the "w" keys on my MacBook Pro have given out. Hard to type URLs! That's what I get for eating snacks while typing, I suppose. So I needed to port my entire workflow to my backup MacBook Air, encountering numerous small obstacles as I did do (including disabling the stupid touch bar completely, and installing a new text editor. Goodbye, Jedit, hello TextMate. Yes, I tried Emacs). More or less complete! –lambert
Bird Song of the Day
Geoffrey A. Keller, Extreme NE corner of the county, Modoc, California, United States. "Bird was vocalizing from top of juniper tree…."
* * *
Politics
"So many of the social reactions that strike us as psychological are in fact a rational management of symbolic capital." –Pierre Bourdieu, Classification Struggles
2024
Time for the Countdown Clock!

* * *

"Trump Still Has the Best Words" [The American Conservative]. "Trump's clear goals, not plans, stand in stark contrast to focus-group tested soundbites that dominate the rest of the political conversation. On substance and rhetoric, Trump consistently challenges the failed vision for America upheld by the bipartisan ruling class. And that is what people want to hear. 'China is ripping us off.' 'Total and complete shutdown of Muslims entering the U.S.' 'Greatest jobs president that God ever created.' 'Very fine people on both sides.' The 'China virus' and 'Kung flu.' 'Impeachment Hoax 1' and 'Impeachment Hoax 2.'"

"Donald Trump's Campaign Finances Are Strained As Legal Peril Mounts" [Associated Press]. "Donald Trump's political operation entered the second half of the year in a strained financial position with its bank account drained by tens of millions of dollars that were directed toward defending the former president from mounting legal challenges as he seeks the White House again. Trump took in over $53 million since the start of 2023, records show, a period in which his two criminal indictments in Florida and New York were turned into a rallying cry that made his fundraising soar. Yet the Republican presidential front-runner burned through at least $42.8 million this year, much of it used to cover costs related to the mounting legal peril faced by Trump, his aides and other allies, leaving him with $31.8 million cash on hand. And that was after receiving a lifeline from a pro-Trump super PAC that agreed to refund millions of dollars in contributions that Trump's operation had previously donated to it. New campaign finance disclosures made public ahead of Monday night's filing deadline showed Trump's network of political committees spent roughly $25 million on legal fees. But according to a person familiar with the situation who insisted on anonymity to discuss the matter, the number is considerably higher: $40 million this year alone." • So that's how lawfare works. Hence the number of suits, including frivolous ones like Bragg's, which we haven't heard anything about for months. Perhaps closer to the election.

IA: Ouch!

In one of the great all time burns, Trump walked on stage in Iowa to a song with the lyrics "One could end up going to prison." Thank you to whoever did this. It will be played over and over.
pic.twitter.com/DYpLJxtQMI

— Tom Joseph (@TomJChicago) July 29, 2023

* * *

"DeSantis' Donors Want More Than a Reboot. They Want Him to 'Clean House'" [Rolling Stone]. "Last year, longtime Republican strategist Ed Rollins was leading the Ready for Ron PAC, and announcing his plans to help DeSantis — then an undeclared 2024 candidate —  take on Trump in the primary. A longtime Trump supporter, Rollins wanted to turn the page on the twice-impeached former president, and he thought DeSantis was the candidate to do it. But in just a few months, that hope vanished. Today, Rollins says he is 'not involved' anymore in the pro-DeSantis efforts. 'I don't think it's the campaign's fault at all; it's his,' Rollins tells Rolling Stone. 'I think he's been a very flawed candidate. I know some of the people around him, and some of them are good, talented people. But every time he opens his mouth, he has a tendency to — shall we say — think out-loud, and he clearly doesn't understand the game. … When you get into these culture wars the way that he has, the vast majority of people don't understand what they are.'" And: "'At this point in time, I would be shocked if Trump were not the nominee.'" And: "Rollins is also predicting that, 'unless something serious happens,' President Biden is on track toward reelection." 

"Ron DeSantis Flubs Grocery Store Visit By Attempting To Buy Cashier" [The Onion]. • I think the Onion is slipping; that's not his weakness.

* * *

 

"Devon Archer Throws a Curve" [Wall Street Journal]. "The real danger for Mr. Biden in the 2024 debates is if the Republican candidate asks him the obvious: "Mr. President, we have learned since 2020 that almost everything you claimed about your son's business overseas the last time you were on this debate stage was untrue. Why should the American people believe anything you say now?" • Not untrue. But the reporting on the Archer hearings is uniformly horrid. Here is the House statement—

"Comer Statement on Devon Archer's Testimony" [House Committee on Oversight and Accountability]. 

Devon Archer testified that Hunter Biden put then-Vice President Joe Biden on the speakerphone during business meetings over 20 times. Archer testified that Joe Biden was put on the phone to sell "the brand." These phone calls include a dinner in Paris with a French energy company and in China with Jonathan Li, the CEO of BHR.
Archer acknowledged that then-Vice President Biden had coffee with Jonathan Li, the CEO of BHR, in Beijing. Then-Vice President Biden even wrote a letter of recommendation for college for Li's daughter. Archer confirmed Joe Biden was referred to as "my guy" by Hunter Biden.
In spring of 2014, then-Vice President Biden attended a business dinner with his son, Hunter, and his associates at Café Milano in Washington, D.C. Elena Baturina, a Russian oligarch who is the widow of the former mayor of Moscow, attended the dinner. Notably, the Biden Administration's public sanctions list for Russian oligarchs does not contain Baturina.

IMNSHO, the Democrats are making the same sort of defense of Biden they did of Clinton: No quid pro quo, no corruption. The most charitable view of that thesis is that it's naive. I think many of us have been in meetings where a complicated deal is sealed, and the CEO walks in, says "Hiya," waves to everybody, and departs, having put nothing on the record, let alone on paper. Their mere presence was enough to legitimize whatever was going on. Biden on the speakerphone was doing exactly the same thing. I don't know how one sells that view in a political campaign, though.'

"The Biden 'Brand': Devon Archer Reveals the 'Niceties' of Influence-Peddling" [Jonathan Turley, The Messenger]. "[Rep. Dan Goldman (D-N.Y.)] said that 'Joe Biden came to say hello at the Four Seasons hotel to a lunch that he [Hunter Biden] was having' with Chinese energy company executives. He then read from the record how another Hunter associate, Rob Walker, described the origins of that meeting with the Chinese to get his father to stop by: 'Hunter told his dad that 'I may be trying to start a company or try to do something with these guys.'' As with the twenty-some phone calls, Goldman dismissed Joe Biden's sudden appearance as a fatherly drive-by…. What is truly preposterous is Goldman's suggestion that these figures would have discussed corrupt deliverables on a speakerphone in restaurants. That was not the point of the calls. The point would have been that Hunter and his team were selling access, and the calls with his vice president/father confirmed that he was deliverable." • Worth noting that Goldman is a candidate in NY-10, NY being (see below) a must-win state for Democrats.

* * *

West totally asking for my vote:

Cornel West explains why young voters, the largest voting bloc, prefer Socialism over Capitalism ❤️

This is so dead on 🎯
He really gets it. pic.twitter.com/IKrmFe8CwM

— LeftwardSwing ♿🕊️ 💉 🏳️‍⚧️🏳️‍🌈 (@LeftwardSwing) July 31, 2023

"Cornel West's Candidacy Divides Democratic Socialists" [Newsweek]. "While DSA has not yet made an endorsement in the race, the tension between lofty idealism and pragmatic politicking could once again be laid bare ahead of the 2024 cycle between supporters of West and those willing to accept the imperfect vessel of a Biden second term. West, one member wrote for Reform and Revolution, would likely command a large swath of the hundreds of thousands of left-leaning voters who'd previously voted for third-party candidates under tickets like the Green Party, handing the election to a conservative candidate who opposes issues central to the DSA platform, like abortion access. Particularly as some data previously provided to Newsweek show a third-party run would very likely hand Republicans the election. 'We should focus on the real prize: the vast majorities of people who, despite any political alignment or lack thereof, believe in abortion rights, trans rights, and other progressive reforms for bodily autonomy,' Ruy Martinez, the founder of the Harvard chapter of the Young Democratic Socialists of America and a campaign organizer, wrote for the caucus magazine. 'These issues have majoritarian support and are the bulwark of right-wing attacks on working people.'" • As if selling your labor power to survive wasn't a violation of "bodily autonomy." These people…. Commentary:

"These parties don't care about you and aren't serving you. We need to move forward outside the two-party system and now is the time".

— Prof Zenkus (@anthonyzenkus) July 26, 2023

"RFK Jr. super PAC got more than half its funds from GOP mega donor" [Politico]. "A super PAC supporting the presidential ambitions of longshot Democratic presidential candidate Robert F. Kennedy Jr. reported receiving more than half its nearly $10 million in funds from a single GOP donor…. The group, American Values 2024, launched the same month Kennedy set out on his own longshot bid against President Joe Biden in the Democratic primary….. Of the $9.8 million reported, $5 million came from Timothy Mellon, a longtime GOP donor who gave $1.5 million to a Trump-aligned group last fall… Most of the rest of the super PAC's fundraising through the end of June came from Gavin De Becker, an author and consultant who reported giving the group $4.5 million. De Becker has a political donation history that includes both Democrats and Republicans. He has served as a close adviser to Amazon founder Jeff Bezos." • Everybody's a Pied Piper now?

"Illinois Gov. JB Pritzker is launching a hotline to help high-risk patients get abortions at hospitals" [WGLT]. "The initiative is dubbed the Complex Abortion Regional Line for Access, or CARLA for short. Launching in a few weeks, the program is designed to get patients who show up at clinics but need a higher level of care to hospitals faster. Obstetricians and gynecologists could also refer their high-risk patients to hospitals through the program. Providers will call a hotline, where nurses will coordinate the logistics. Currently the Chicago Abortion Fund and providers at hospitals text and email each other until they find an opening. It can be painstaking, around-the-clock work." • Good, but also checking a box, as with library censorship.

* * *

"RFK Jr. and Ramaswamy coming up fast in the outside lanes" [Douglas MacKinnon, The Hill]. "The latest Harvard-Harris poll places Kennedy in first place when it comes to favorability: at 47 percent he is ahead of Biden, Trump, DeSantis and every other candidate. His un-favorability is the lowest among all candidates, at just 26 percent. That poll was taken after the recent 'Covid-antisemitic' narrative pushed by many in the media and the Democratic Party the previous 10 days. Clearly, when voters hear Kennedy, he is connecting. His challenge is to find ways to amplify his voice…. A number of national surveys have recently shown Ramaswamy surging. Suddenly, he has gone from a complete unknown to third in the polling, trailing only Trump and Gov. Ron DeSantis (R-Fla.). Why is he moving up so quickly? While there are multiple reasons, three stand out. First, he has condensed his campaign for the White House into a simple message that resonates with voters: 'Excellence over Victimhood. Democracy over Aristocracy. America over China. Diversity of Thought over Appearance. Truth over Relativism. Equal Opportunity over Equal Results.' The second is that as a Republican candidate of color, his life story is also touching those who hear and identify with it. Born to Indian immigrant parents, Ramaswamy graduated from Harvard with a degree in biology before going on to Yale Law School to get his J.D. Third, unlike the unethical blackballing of RFK Jr. by many in the mainstream media, Ramaswamy has been welcomed with mostly open arms and has jumped at virtually every chance to be on TV."

* * *

"Opinion: The changing Republican electorate could upend this basic rule of politics" [CNN]. "Recent elections suggest a new trend is emerging, and we need to pay attention to it. The great realignment of American politics, which began with the House of Representatives' Republican freshman class in 2010 — and was boosted by the candidacy of Donald Trump in 2016 — has given us critical new data points about American voters. The tectonic polarization of the electorate along education, income and geographic lines isn't just reshaping the parties, it is also reshaping voter turnout models. The new, or perhaps still emerging Republican coalition has more blue-collar, non-college educated and rural voters — similar to the expansive coalition that former President Ronald Regan built in the 1980s. It has more voters who didn't take part in many previous elections because they didn't believe anyone cared about them or that their vote made a difference. In fact, we now have enough election data to confidently say many of them are more likely to stay home in a midterm election and more likely to participate in a presidential election — upending decades of political science orthodoxy. Further exacerbating this phenomenon is the Democratic Party's move toward a much higher-income, White coastal voter base, and with it, a more left-wing progressivism that is alienating significant segments of Hispanic and Black voters." Notice also: "In 2020, Republicans gained 15 seats in the House, losing zero incumbents, even while losing the presidential election. Yes, a large part of this is due to the stellar job House Speaker Kevin McCarthy and then-National Republican Congressional Committee (NRCC) Chairman Tom Emmer did in recruiting. Every single pickup we had in 2020 was a woman, a veteran or a minority candidate. (Current NRCC Chairman Richard Hudson is executing the same game plan, trying to recruit an even more diverse class in 2024.)" • Lol, two can play the idpol game!

"Democrats worry their most loyal voters won't turn out for Biden in 2024" [WaPo]. "Democrats are worried about a potential drop next year in turnout among Black voters, the party's most loyal constituency, who played a consequential role in delivering the White House to President Biden in 2020 and will be crucial in his bid for reelection. Their concern stems from a 10 percentage-point decline in Black voter turnout in last year's midterms compared with 2018, a bigger drop than among any other racial or ethnic group, according to a Washington Post analysis of the Census Bureau's turnout survey…. Black voter advocates say the challenge is particularly acute among Black men, many of whom say they feel alienated from the political process and were hurt by policies pushed by both parties that led to increased incarceration and a decline in manufacturing jobs decades ago…. Many Democrats interviewed said they were less worried about Black women, whose voting enthusiasm has historically been more robust than that of Black men. "

* * *

NY: "New York is critical for Republicans to keep US House control" [Bloomberg]. "The path to control of the U.S. House flows from the New York suburbs to the Hudson River Valley and west to the Catskill Mountains and Syracuse, where Republicans are trying to hang on to six seats in places President Joe Biden won in 2020. Democrats, who need to pick up five seats to retake the House majority, are betting New Yorkers' unease with the GOP's focus on social issues like abortion, transgender rights and book bans give them an edge. The Republicans in these districts — once the territory of moderate-to-liberal "Rockefeller Republicans"— in turn are de-emphasizing culture-war fights to lean into pocketbook issues and concrete local concerns. Their priorities run the gamut from farm subsidies to electrical vehicle requirements for school buses to the cap on the state and local tax deduction, which hits downstate voters particularly hard." • Brandon Williams, Mike Lawler, Marc Molinaro, Anthony D'Esposito, George Santos… I'm seeing five names. Anyhow, that George Santos got elected at all is one more sign all is not well with New York Democrats. But perhaps they've improved!
Republican Funhouse
"The GOP's Ukraine evolution" [Axios]. "Many of the GOP's leading Senate recruits are speaking out against U.S. support for Ukraine in its fight against Russia — sounding a downright isolationist note and breaking from the views of party leaders…. Such skepticism of U.S. engagement is still a minority opinion among Republican elected leaders, but it is now embraced by the GOP's top two candidates for president (former President Trump and Florida Gov. Ron DeSantis)…. A June Pew Research poll found 44% of Republican or GOP-leaning voters believe the U.S. is providing too much aid to Ukraine, while just 34% believe it's "about right" or "not enough." That's the highest level of GOP skepticism for Ukraine aid since the war began…. Republican leadership is still solidly behind supporting Ukraine, but the grassroots of the party are moving in the opposite direction."

"The Church Of Leonard Leo" [The Lever]. "As fog rolled in on a mild Saturday evening, and Mass convened at St. Ignatius of Loyola Catholic Church in the serene seaside town of Northeast Harbor, Maine, there was one recognizable face present along with his family and his bodyguard: the head of the charity that recently took control of the church, Leonard Leo. Leo, a devout Roman Catholic, is the architect of the Supreme Court's conservative supermajority and oversees a billion-dollar political influence mac'hine. In March, he quietly purchased the local church through a charitable nonprofit he formed last year." • One can actually buy a Catholic church? That seems odd.
Democrats en Déshabillé
Patient readers, it seems that people are actually reading the back-dated post! But I have not updated it, and there are many updates. So I will have to do that. –lambert

I have moved my standing remarks on the Democrat Party ("the Democrat Party is a rotting corpse that can't bury itself") to a separate, back-dated post, to which I will periodically add material, summarizing the addition here in a "live" Water Cooler. (Hopefully, some Bourdieu.) It turns out that defining the Democrat Party is, in fact, a hard problem. I do think the paragraph that follows is on point all the way back to 2016, if not before:

The Democrat Party is the political expression of the class power of PMC, their base (lucidly explained by Thomas Frank in Listen, Liberal!). ; if the Democrat Party did not exist, the PMC would have to invent it. . ("PMC" modulo "class expatriates," of course.) Second, all the working parts of the Party reinforce each other. Leave aside characterizing the relationships between elements of the Party (ka-ching, but not entirely) those elements comprise a network — a Flex Net? An iron octagon? — of funders, vendors, apparatchiks, electeds, NGOs, and miscellaneous mercenaries, with assets in the press and the intelligence community.

Note, of course, that the class power of the PMC both expresses and is limited by other classes; oligarchs and American gentry (see 'industrial model' of Ferguson, Jorgensen, and Jie) and the working class spring to mind. Suck up, kick down.

* * *
#COVID19
"I am in earnest — I will not equivocate — I will not excuse — I will not retreat a single inch — AND I WILL BE HEARD." –William Lloyd Garrison
Resources, United States (National): Transmission (CDC); Wastewater (CDC, Biobot; includes many counties; Wastewater Scan, includes drilldown by zip); Variants (CDC; Walgreens); "Iowa COVID-19 Tracker" (in IA, but national data). "Infection Control, Emergency Management, Safety, and General Thoughts" (especially on hospitalization by city).
Lambert here: Readers, thanks for the collective effort. To update any entry, do feel free to contact me at the address given with the plants. Please put "COVID" in the subject line. Thank you!
Resources, United States (Local): AK (dashboard); AL (dashboard); AR (dashboard); AZ (dashboard); CA (dashboard; Marin, dashboard; Stanford, wastewater; Oakland, wastewater); CO (dashboard; wastewater); CT (dashboard); DE (dashboard); FL (wastewater); GA (wastewater); HI (dashboard); IA (wastewater reports); ID (dashboard, Boise; dashboard, wastewater, Central Idaho; wastewater, Coeur d'Alene; dashboard, Spokane County); IL (wastewater); IN (dashboard); KS (dashboard; wastewater, Lawrence); KY (dashboard, Louisville); LA (dashboard); MA (wastewater); MD (dashboard); ME (dashboard); MI (wastewater; wastewater); MN (dashboard); MO (wastewater); MS (dashboard); MT (dashboard); NC (dashboard); ND (dashboard; wastewater); NE (dashboard); NH (wastewater); NJ (dashboard); NM (dashboard); NV (dashboard; wastewater, Southern NV); NY (dashboard); OH (dashboard); OK (dashboard); OR (dashboard); PA (dashboard); RI (dashboard); SC (dashboard); SD (dashboard); TN (dashboard); TX (dashboard); UT (wastewater); VA (dashboard); VT (dashboard); WA (dashboard; dashboard); WI (wastewater); WV (wastewater); WY (wastewater).
Resources, Canada (National): Wastewater (Government of Canada).
Resources, Canada (Provincial): ON (wastewater); QC (les eaux usées); BC, Vancouver (wastewater).
Hat tips to helpful readers: anon (2), Art_DogCT, B24S, CanCyn, ChiGal, Chuck L, Festoonic, FM, FreeMarketApologist (4), Gumbo, hop2it, JB, JEHR, JF, JL Joe, John, JM (10), JustAnotherVolunteer, JW, KatieBird, LL, Michael King, KF, LaRuse, mrsyk, MT, MT_Wild, otisyves, Petal (6), RK (2), RL, RM, Rod, square coats (11), tennesseewaltzer, Utah, Bob White (3). 
Stay safe out there!
* * *
Maskstravaganza
Fun with "Why are you wearing a mask?" (1):

When seven year old kids ask me why I'm wearing a mask I don't give them the smart alec replies that I give to adults.
I just tell them that I'm wearing it to protect my health and the health of the people around me.

— tern (@1goodtern) July 30, 2023

Fun with "Why are you wearing a mask?" (2):

I am the skunk at the garden party.
I'll ask a group, "How many people here have asymptomatic COVID?" When everyone looks at me like I'm crazy I say, "That's my point." Then it gets really quiet.

— Michelle RN, CHPN, Retired for Now (@MichelleRNCHPN) August 1, 2023

Fun with "Why are you wearing a mask?" (3):

Stranger in grocery store: You freaks sure love masks
Me: I'm with Channel 6 News & we're doing a hidden camera exposé on the harassment of people who mask in public. (Pressing imaginary earpiece) Need camera for an on-the-fly, & can I get a crew member to bring a release form?

— 🐀 (@Guiness_Pig) July 30, 2023

Fun with "Why are you wearing a mask?" (4):

Stranger: Why you wearing that mask
Me: It's court-ordered, I have anger mgmt issues & got in trouble for biting some people
Stranger: Why did you bite people
Me: They were all up in my business & making fun of my hepatitis. Pray for me, I don't want to go back to jail.

— 🐀 (@Guiness_Pig) July 29, 2023

* * *

Intelligence test:

Find the smartest person in below 👇 pic.twitter.com/2trhAUlqHG

— Yueting Zhang (@zhang_yueting) July 30, 2023
Covid is Airborne
Airborne in both senses. Aerosol expert before boarding:

Hand sanitizer in foreground at airport…over 20 people have come over and used it in a 10 minute period. How many are wearing masks? Yep. ZERO. Congrats public health folks @CDCgov @who for making sure that the public knows how this virus spread IN THE AIR. pic.twitter.com/8CFZvt1O33

— Kimberly Prather, Ph.D. (@kprather88) July 30, 2023

Aerosol expert after boarding:

Keeps climbing as we sit and wait for gate…wish we could collect names and contact info so we can find out how many got sick in this airborne petri dish with zero filtration. Come on @united pic.twitter.com/ywihizGUeO

— Kimberly Prather, Ph.D. (@kprather88) July 29, 2023
Immune System Dysregulation?
"Multimodal Molecular Imaging Reveals Tissue-Based T Cell Activation and Viral RNA Persistence for Up to Two Years Following COVID-19" (preprint) [medRxiv]. From the Introduction: "We performed whole-body positron emission tomography (PET) imaging in a cohort of 24 participants at time points ranging from 27 to 910 days following acute SARS-CoV-2 infection using a novel radiopharmaceutical agent, [18 49 F]F-AraG, a highly selective tracer that allows for anatomical quantitation of activated T lymphocytes. Tracer uptake in the post-acute COVID group, which included those with and without Long COVID symptoms, was significantly cord, bone marrow, nasopharyngeal and hilar lymphoid tissue, cardiopulmonary tissues, and gut wall. Although T cell activation tended to be higher in participants imaged closer to the time of the acute illness, tracer uptake was increased in participants imaged up to 2.5 years following SARS-CoV-2 infection. We observed that T cell activation in spinal cord and gut wall was associated with the presence of Long COVID symptoms. In addition, tracer uptake in lung tissue was higher in those with persistent pulmonary symptoms. Notably, increased T cell activation in these tissues was also observed in many individuals without Long COVID." • Commentary:

Wow, this new paper is a huge deal! T cell activation & viral RNA persistence were found up to 2 years post acute infection in #LongCovid patients.

Patients with T cell activation in the spinal cord and gut wall were more likely to have Long Covid. 1/https://t.co/byQgZJGVNG

— Hannah Davis (@ahandvanish) August 1, 2023
Censorship and Propaganda
When was the last time you had to sign a liability waiver for the flu?

COVID-19 waiver of liability just dropped. One more thing you have to waive their liability for if you sign up your child for an activity. pic.twitter.com/UhEDXGbvgH

— Ubaka Ogbogu (@UbakaOgbogu) July 31, 2023

Granted, this is Alberta, a citadel of reaction. Nevertheless.

On "living in fear":

Being an avid backcountry/outdoors person has deeply shaped my COVID risk mitigation practices.

Just like I take basic, simple steps to get home alive from a backcountry camping trip, I also take steps to protect my brain and health when I'm surrounded by viruses.

— Eric Kennedy (@ericbkennedy) July 31, 2023

I wish I knew who invented the "living in fear" trope. They earned every penny, it's incredibly virulent.
Testing and Tracking
"Scientists develop breath test that rapidly detects COVID-19 virus" (press release) [Washington University School of Medicine in St Louis]. Same team that prototyped this monitor. "If and when new strains of COVID-19 or other airborne pathogenic diseases arise, such devices also could be used to screen people at public events. The researchers said the breath test also has potential to help prevent outbreaks in situations where many people live or interact in close quarters — for example aboard ships, in nursing homes, in residence halls at colleges and universities or on military bases. 'With this test, there are no nasal swabs and no waiting 15 minutes for results, as with home tests,' said co-corresponding author Rajan K. Chakrabarty, PhD, the Harold D. Jolley Career Development Associate Professor of Energy, Environment & Chemical Engineering at the McKelvey School of Engineering. 'A person simply blows into a tube in the device, and an electrochemical biosensor detects whether the virus is there. Results are available in about a minute.'" • If Project NextGen were anything but a giveaway to Big Pharma, it would be funding this.

"DOD Investing in Wearable Technology That Could Rapidly Predict Disease" [U.S. Department of Defense]. "The Defense Innovation Unit, also known as DIU, in partnership with the private sector, has developed a wearable device that was highly successful during the COVID-19 pandemic in identifying infections…. DOD is extending the [Rapid Assessment of Threat Exposure (RATE)] project, initially started with the Defense Threat Reduction Agency in 2020, to new user groups after leading a successful prototype during COVID-19, [Jeff Schneider, the program manager] said…. The algorithm leverages biometric data from commercial grade off-the-shelf wearables. The RATE algorithm enabled early detection of infectious diseases up to 48 hours before symptoms appeared. The algorithm, which, in some cases, predicted infections up to six days prior to onset, and included asymptomatic cases, was featured in a 2022 study published by the journal "Nature's Scientific Reports," highlighting the efficacy of the algorithm-powered wearables to aid military readiness, Schneider said. "
"Something Awful"
Lambert here: I'm getting the feeling that the "Something Awful" might be a sawtooth pattern — variant after variant — that averages out to a permanently high plateau. Lots of exceptionally nasty sequelae, most likely deriving from immune dysregulation (says this layperson). To which we might add brain damage, including personality changes therefrom.

* * *
Elite Maleficence
Hospital Infection Control whacks another child:

that we have a kid who can't mask to protect herself and will be unmasked for intubation… that this same kid picked up a bug earlier in the month in day surgery (where mask use was lacklustre)… the clinic person replied "it' only the hallways you need to worry about."

— Martha Walls (@melizwalls) July 31, 2023

"It'[s] only the hallways you need to worry about." HIC genuinely seems unable to get their minds around the idea that SARS-CoV-2 moves like smoke, through the entire facility.
* * *
Case Data
From BioBot wastewater data, July 31: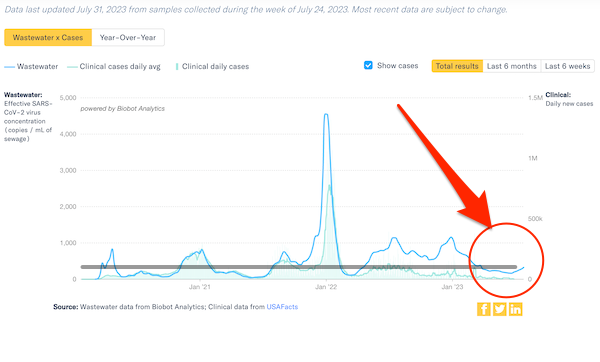 Lambert here: Still rising. People have now noticed this chart, I assume because CDC gave them permission to do so. Doubling in about a week. One thing is sure: If it doubles again (blue line), the levels of cope and denial will be off the charts.
Regional data: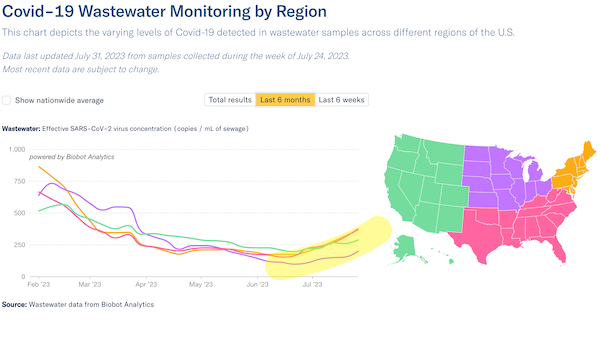 Lambert here: Again, backward revision. Now all regions are reporting increases but at different rates.
Interestingly, the upswing begins before July 4, which neither accelerates nor retards it.
Regional variant data: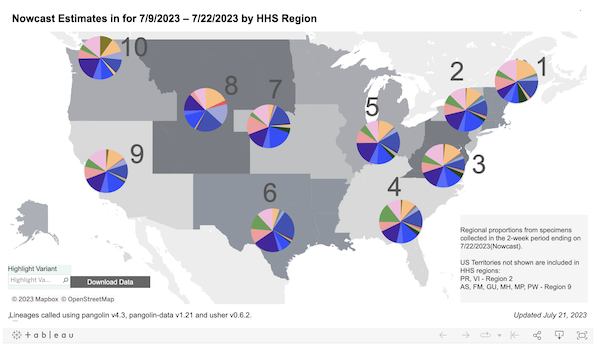 Whatever the cause of the uptick in the Northeast, it's not EG.5 (the orange pie slice), which seems evenly distributed.
Variants
NOT UPDATED From CDC, July 22: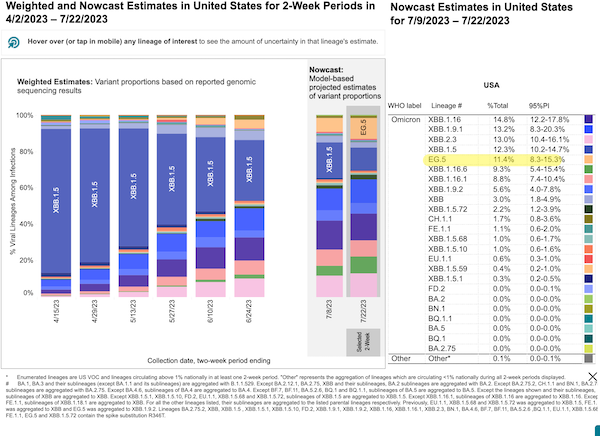 Lambert here:  EG.5 still on the leaderboard, but getting crowded out (?) by all those XBB's.
From CDC, July 8: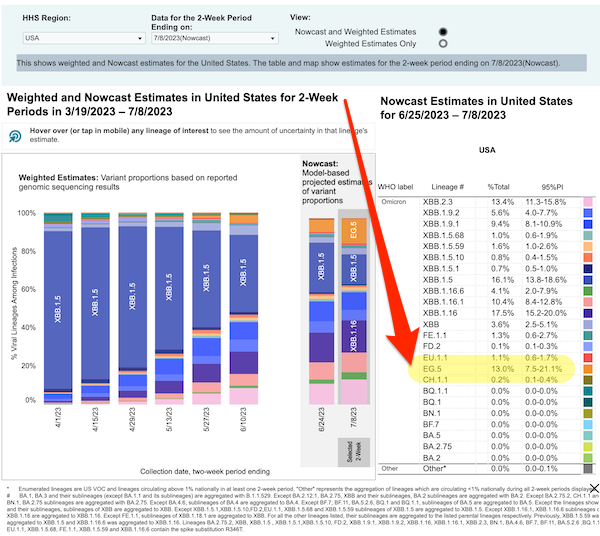 Lambert here: Not sure what to make of this. I'm used to seeing a new variant take down the previously dominant variant. Here it looks like we have a "tag team," all working together to cut XBB.1.5 down to size. I sure hope the volunteers doing Pangolin, on which this chart depends, don't all move on the green fields and pastures new (or have their access to facilities cut by administrators of ill intent).
CDC: "As of May 11, genomic surveillance data will be reported biweekly, based on the availability of positive test specimens." "Biweeekly: 1. occurring every two weeks. 2. occurring twice a week; semiweekly." Looks like CDC has chosen sense #1. In essence, they're telling us variants are nothing to worry about. Time will tell.
Covid Emergency Room Visits
NOT UPDATED From CDC NCIRD Surveillance, July 22: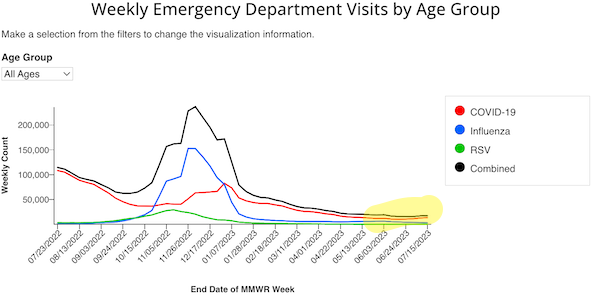 Lambert here: Increase is now quite distinct.
NOTE "Charts and data provided by CDC, updates Wednesday by 8am. For the past year, using a rolling 52-week period." So not the entire pandemic, FFS (the implicit message here being that Covid is "just like the flu," which is why the seasonal "rolling 52-week period" is appropriate for bothMR SUBLIMINAL I hate these people so much. Notice also that this chart shows, at least for its time period, that Covid is not seasonal, even though CDC is trying to get us to believe that it is, presumably so they can piggyback on the existing institutional apparatus for injections.
Positivity
From Walgreens, July 31: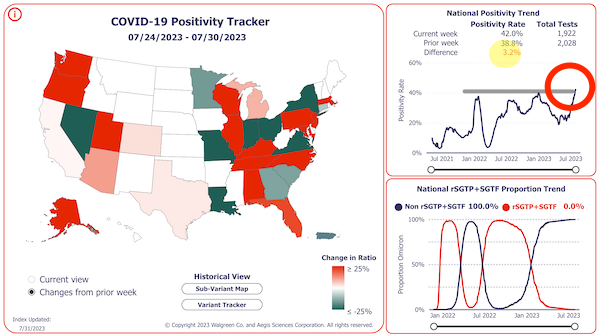 3.2%. Interestingly, people are citing to this, too, as well as Biobot. Vertical, though the absolute numbers are still very small relative to June 2022, say. Interestingly, these do not correlate with the regional figures for wastewater. (It would be interesting to survey this population generally; these are people who, despite a tsunami of official propaganda and enormous peer pressure, went and got tested anyhow.)
NOT UPDATED From CDC, July 10: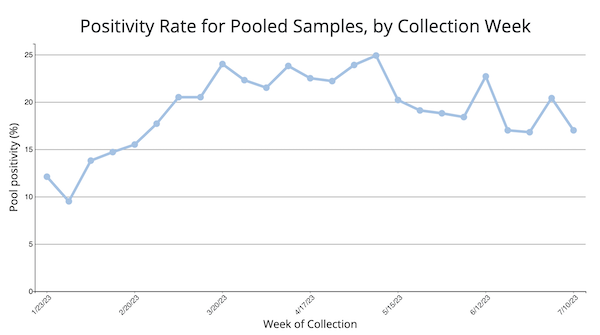 Lambert here: This is the CDC's "Traveler-Based Genomic Surveillance" data. They say "maps," but I don't see one…. 
Deaths
NOT UPDATED Iowa COVID-19 Tracker, July 26: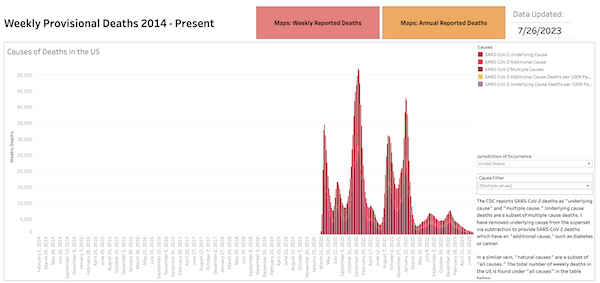 Lambert here: The WHO data is worthless, so I replaced it with the Iowa Covid Data Tracker. Their method: "These data have been sourced, via the API from the CDC: https://data.cdc.gov/NCHS/Conditions-Contributing-to-COVID-19-Deaths-by-Stat/hk9y-quqm. This visualization updates on Wednesday evenings. Data are provisional and are adjusted weekly by the CDC." I can't seem to get a pop-up that shows a total of the three causes (top right). Readers?,,
Total: 1,169,813 – 1,169,777 – 1,169,747 = 36 (36 * 365 = 13,140 deaths per year, today's YouGenicist™ number for "living with" Covid (quite a bit higher than the minimizers would like, though they can talk themselves into anything. If the YouGenicist™ metric keeps chugging along like this, I may just have to decide this is what the powers-that-be consider "mission accomplished" for this particular tranche of death and disease). 
Excess Deaths
NOT UPDATED The Economist, July 28: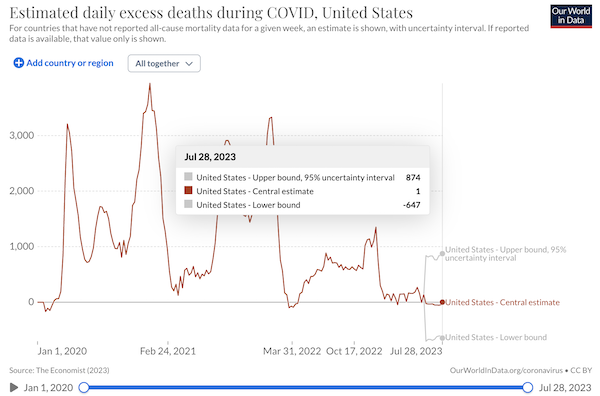 Lambert here: This is now being updated daily. Odd. Based on a machine-learning model. (The CDC has an excess estimate too, but since it ran forever with a massive typo in the Legend, I figured nobody was really looking at it, so I got rid it. )
Stats Watch
Supply Chain: "United States LMI Logistics Managers Index Current" [Trading Economics]. "The Logistics Manager's Index in the US fell to 45.4 in July 2023, marking not only a third consecutive month of contraction for the overall index, but also the fifth consecutive month it has reached a new all-time low."
Manufacturing: "United States ISM Purchasing Managers Index (PMI)" [Trading Economics]. "The ISM Manufacturing PMI in the United States edged higher to 46.4 in July 2023 from a nearly three-year low of 46 in June, but below market expectations of 46.8. The reading pointed to a ninth straight month of contraction in factory activity, as demand remains weak, production slowed due to lack of work, and suppliers continue to have capacity."
* * *
* * *
Today's Fear & Greed Index: 77 Extreme Greed (previous close: 77 Extreme Greed) [CNN]. One week ago: 80 (Extreme Greed). (0 is Extreme Fear; 100 is Extreme Greed). Last updated Aug 1 at 1:46 PM ET.
Rapture Index: Closes unchanged [Rapture Ready]. Record High, October 10, 2016: 189. Current: 183. (Remember that bringing on the Rapture is good.) NOTE on #42 Plagues: "The coronavirus pandemic has maxed out this category." More honest than most! 
The Gallery
"New Woodblock Prints of Hokusai's Previously Unpublished 'Book of Everything'" [Kottke.org]. "That is shockingly modern — like a 60s superhero comic or a still from 60s anime." • This one: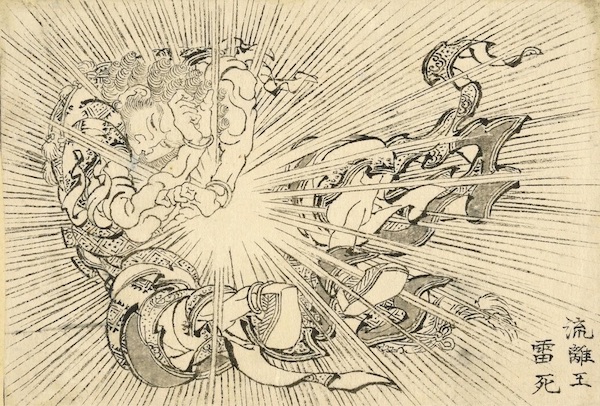 Class Warfare
Yes, the teacher's unions were utterly toothless:
Congressional Republicans have been trying and failing to prove that the teachers unions unduly influenced the CDC's Covid-19 school guidelines https://t.co/Mo5eByrSqX pic.twitter.com/gAjEdLJdMR

— Rachel Cohen (@rmc031) July 31, 2023
And the nurses not much better. Or the flight attendants, IIRC. Oh well…. 
"Personality Traits and Financial Outcomes" [Federal Reserve Bank of Atlanta]. "The Big Five personality traits—openness to experience, conscientiousness, extroversion, agreeableness, and neuroticism—are widely used in understanding human behavior. Using data collected from a survey and diary of consumer payment choice, we investigate how the Big Five traits affect three financial outcomes: being unbanked, holding a credit card, and carrying credit card debt. Although each personality trait is correlated with each of the financial outcomes we examine, they mostly become statistically insignificant when we control for demographics and income in regressions. Carrying credit card debt (revolving), however, is significantly affected by conscientiousness, openness, and agreeableness: credit card adopters who are less conscientious, more open to experiences, or more agreeable are significantly more likely to revolve credit card debt. A machine learning algorithm confirms that conscientiousness is the major factor separating revolvers from other credit cardholders."
News of the Wired
"Pay dirt for ice core scientists in East Greenland as they reach bedrock" (press release) [University of Copenhagen]. "With a sudden reward of mud at their feet, researchers at the EGRIP research station had successfully made it through the 2670-meter ice sheet last week after seven years of drilling. In doing so, the research group met their ultimate goal of drilling all the way through the ice and to the bedrock below. 'This is the first time that a deep ice core has been drilled through an ice stream, so it will be extremely exciting to analyse the material, which has much to tell us about how our planet's climate has changed over the past 120,000 years. But we need to wrap up our work here first,' says Professor Dorthe Dahl-Jensen of the University of Copenhagen's Niels Bohr Institute, who leads research at EGRIP. The mud, which had not seen the light of day for roughly a million years, was only briefly exposed to sunlight, as white light can damage ice core material. Instead, the core was retrieved in red light and immediately packed away, like a Christmas present that will need to remain unopened until some special day down the road."