By Lambert Strether of Corrente.
Patient readers, I got a late start due to a household emergency, so this is a little thin. More shortly. –lambert
Bird Song of the Day
Western Meadowlark, Fred Hervey WTP (FWTX 4), El Paso, Texas, United States.
* * *
Politics
"So many of the social reactions that strike us as psychological are in fact a rational management of symbolic capital." –Pierre Bourdieu, Classification Struggles
2024
Time for the Countdown Clock!

* * *

"Atlanta Sheriff Rules Out Special Treatment if Trump Is Indicted There" [New York Times]. "The sheriff of Fulton County, Ga., said on Tuesday that if former President Donald J. Trump were to be indicted in connection with efforts to overturn the 2020 election in the state, he would not receive special treatment, and would be booked and photographed like any other defendant. The Fulton County district attorney, Fani T. Willis, has signaled that she will bring indictments in the matter by the middle of the month…. Sheriff Labat spoke at an afternoon news conference across the street from the Fulton County Courthouse, where orange security barricades were erected last week. He said that for months, he and other law enforcement agencies have been preparing for possible trouble in Atlanta surrounding the sprawling state investigation of election interference by Mr. Trump and his allies. Mr. Labat said that ""dozens"" of threats had emerged in recent months, directed at him, the district attorney and local judges. He said that one person was arrested several months ago based on a threat investigation, and that the authorities were looking into other threats."

* * *

"How the Trump fake electors scheme became a 'corrupt plan,' according to the indictment" [Associated Press]. As I said in my "hot take" this morning, I think the electors scheme makes this a serious narrative. "The third criminal case into Trump details, among other charges, what prosecutors say was a massive and monthslong effort to 'impair, obstruct, and defeat' the federal process for certifying the results of a presidential election, culminating in the attack on the Capitol on Jan. 6, 2021. The 45-page indictment states that when Trump could not persuade state officials to illegally swing the election in his favor, he and his allies began recruiting a slate of fake electors in seven battleground states — Arizona, Georgia, Michigan, New Mexico, Nevada, Pennsylvania and Wisconsin — to sign certificates falsely stating that he, not Democrat Joe Biden, had won their states. While those certificates were ultimately ignored by lawmakers, federal prosecutors say it was all part of 'a corrupt plan to subvert the federal government function by stopping Biden electors' votes from being counted and certified.'" • Two thoughts: Once again, the verbiage doesn't have outcomes (presumably that's why we aren't simply charging Trump with insurrection, pure and simple). Second, on mens rea: From my hasty reading of the indictment, Smith is inferring Trump's state of mind from what he was told (a fine example of the PMC's attitude that what they emit is knowledge, rather than, say, assertion, conventional wisdom, regurgitated paradigms, etc.). But anybody knows that a billionaire, certainly, and most probably a President, is hampered by "Big Man* Syndrome," which means that the "Big Man" simply can't get reliable information from subordinates; his power is so great that everybody games him for their own advantage.   Further, Smith is inferring Trump's state of mind from what he says, but Trump is such a bullshit artist I don't see how that's possible. No doubt this latter is one reason Trump had such a long career in the real estate business. So, again, the narrative and the theory of the case are not the same thing, and IMNSHO the former is much stronger than the latter.

"Key revelations, groundbreaking strategies and notable omissions in the new Trump indictment" [Politico]. "The indictment does not identify any of the six alleged co-conspirators who prosecutors say unlawfully agreed to aid Trump's bid to subvert the election. But five of them were readily identifiable based on the widely known details in the indictment." Rudy Giuliani, John Eastman, Sidney Powell, Jeffrey Clark, and Ken Chesebro. "The identity of the sixth alleged co-conspirator, a political consultant, was not immediately verifiable, but the indictment says that person played a role in the effort to assemble false slates of pro-Trump presidential electors in states that Biden won." • Hmm.

"Trump attorney vows strong defense against latest indictment: 'We are in a constitutional abyss'" [CBS]. "'This is the first time that political speech has been criminalized in the history of the United States,' [Former President Donald Trump's attorney John Lauro] told 'CBS Mornings' a day after a federal grand jury indicted Trump on felony counts related to his efforts to remain in power after losing the 2020 U.S. presidential election.' 'It's the first time where a current president is using the criminal process* to attack a former president on policy issues,' Lauro said. 'We are in a constitutional abyss right now. We've never seen this … the president wants his day in court. Most importantly, he wants to get to the truth, which we will do in this case.'" • NOTE * As opposed to the impeachment process (which was about making sure we went to war with Russia over Ukraine).

"Trump attorney John Lauro says he wants January 6 case moved to WEST VIRGINIA so ex-president can get a fair trial and expects Pence to take the stand as he is grilled about campaign comparing the US to Nazi Germany" [Daily Mail]. I love Daily Mail headlines, but that's two stories, not one. "Lauro suggested moving a trial to West Virginia when questioned in a TV interview bout how trying the case in Washington, D.C. would put him in a jurisdiction that voted overwhelmingly against Trump. 'Well, there's others options. West Virginia is close by. There's other areas of the country,' Lauro told CBS 'This Morning.' Pressed about the idea, Lauro responded: 'Absolutely. It's very in close proximity to D.C.' He said it was 'much more diverse,' and pointed to the election results. Joe Biden defeated Trump 92-5 in heavily Democratic D.C. in 2020. Trump trounced Biden in West Virginia, 67 to 30 per cent." • Love the appropriation of "diverse."

"Trump quietly adds new attorney to January 6 legal team" [CNN]. "Attorney John Lauro, who has also represented Trump attorneys Christina Bobb and Alina Habba, is joining the team and will be working alongside Todd Blanche, several sources told CNN. Lauro will be solely focused on special counsel Jack Smith's investigation into the aftermath of the 2020 election…. Lauro is a former federal prosecutor in Brooklyn turned white-collar lawyer who practices out of Florida and New York." • So Larry Tribe he's not. OTOH, Larry Tribe he's not. 

"Mike Pence's secret notes revealed in Jack Smith's Trump indictment" [FOX]. "Then-Vice President Mike Pence took 'contemporaneous notes' of his conversations with Donald Trump in the days before the Capitol riot on Jan. 6, 2021, Special Counsel Jack Smith's indictment of the former president revealed Tuesday. Pence's previously unreported notes are presented as evidence against Trump…. The indictment next recounts a New Year's Day meeting between Trump and his vice president, which Pence wrote about in his memoir. Pence said Trump discussed a lawsuit filed by Republicans that asked a judge to declare the vice president had 'exclusive authority and sole discretion to decide which electoral votes should count.' Pence said he reiterated to Trump 'that I didn't believe I possessed that power under the Constitution.'… 'You're too honest,' Trump replied, according to both Pence's book and the indictment. 'Hundreds of thousands are gonna hate your guts… People are gonna think you're stupid.'  This argument allegedly continued for several days." • And Pence never got in the car…. 

* * *

"U.S. v. Trump Will Be the Most Important Case in Our Nation's History" [Slate]. The narrative: "In straightforward language with mountains of evidence, the 45-page document explains how Trump, acting with six (so far unnamed, but easily recognizable) co-conspirators, engaged in a scheme to repeatedly make false claims that the 2020 election was stolen or rigged, and to use those false claims as a predicate to try to steal the election. The means of election theft were national, not just confined to one state, as in the expected Georgia prosecution. And they were technical—submitting alternative slates of presidential electors to Congress, and arguing that state legislatures had powers under the Constitution and an old federal law, the Electoral Count Act, to ignore the will of the state's voters. But Trump's corrupt intent was clear: He was repeatedly told that the election was not stolen, and he knew that no evidence supported his outrageous claims of ballot tampering. He nonetheless allegedly tried to pressure state legislators, state election officials, Department of Justice officials, and his own vice president to manipulate these arcane, complex election rules to turn himself from an election loser into an election winner. That's the definition of election subversion." I think "predicate" is doing a lot of work, there. And: "It is hard to overstate the stakes riding on this indictment and prosecution. New polling …." • Oh, so those are the stakes….

"The Trial America Needs" [David French, New York Times]. "In the months and years since the violent insurrection on Jan. 6, 2021, the legal system has switched from defense to offense. With all deliberate speed, prosecutors first brought charges against Trump's foot soldiers, the men and women who breached the Capitol. Next, prosecutors pursued the organizers of Trumpist right-wing militias, the Proud Boys and Oath Keepers, who had engaged in a seditious conspiracy to keep Trump in the White House. And now, Smith is pursuing Trump himself — along with six yet unnamed co-conspirators — alleging criminal schemes that reached the highest level of American government. This is the case that, if successful, can once and for all strip Trump of any pretense of good faith or good will*. But make no mistake, the outcome of this case is uncertain for exactly the reason it's so important: So very much of the case depends on Trump's state of mind. If you were to urge** a government official to overturn election results based on a good faith belief that serious fraud had altered the results, you would not be violating the law. Instead, you'd be exercising your First Amendment rights….. Millions of Americans believe today that Joe Biden stole the presidency. They believe a series of demonstrable, provable lies, and their belief in those lies is shaking their faith in our republic and, by extension, risking the very existence of ." • Millions of Americans also believe RussiaGate. Millions of Americans believe that "Covid is over." Millions of Americans also believe (of vaccines) that "you are protected" (except not from tranmission). And so forth. "Our democracy" is indeed in a sad way. A two-tier system of justice is only one of the many problems. NOTES * Thin on the ground, these days. ** "Urge." So if I wrote a letter to the editor in bad faith, I could be criminally charged? Really? That's exceptionally nasty. Frankly, that level of hysteria would induce the deeply cynical to infer that in fact election theft was both routine, and not known. And if you were a Sanders supporter, you're quite clear on the "routine" part.

In another part of the forest:

But hey keep focusing on the Trump indictment https://t.co/4gt3RXdYpo pic.twitter.com/UVYVv4Mr26

— Suzooooo (@Suzoo305) August 2, 2023

* * *

"Harris fires back at DeSantis offer to talk Florida's Black history curriculum" [The Hill]. Harris: "Well, I'm here in Florida and I will tell you, there is no roundtable, no lecture, no invitation we will accept to debate an undeniable fact: There were no redeeming qualities of slavery." • Harris is so utterly useless. Accept the invitation, and then take DeSantis apart! That she doesn't means either that she knows she can't, her staff won't let her, or Biden won't let her, or perhaps all three.

* * *

"Gavin Newsom running for president? His fundraising strategy signals White House aspirations" [Sacramento Bee]. "Gov. Gavin Newsom is taking fundraising steps often used by potential presidential candidates, setting up multiple committees that in their first three months have raised and spent millions of dollars. The three Newsom-affiliated committees are a political action committee, which limits contributions to $5,000 a year and can donate to individual candidates; a SuperPAC, which can raise unlimited amounts of cash but is restricted from promoting a specific candidate, and a joint fundraising committee, which functions like a bank, mostly collecting and distributing funds to the other groups. Forming the trio of fundraising committees allows prospective candidates like Newsom to begin building a base of support and explore a run for federal office without saying it outright, according to Brendan Glavin, senior data analyst at Open Secrets."

* * *

"Campaign 2024, Officially Chaos" (unlocked) [Matt Taibbi, Racket News]. As I've said, I'm with Thomas Ferguson, who calls 2024 "incredibly volatile." Taibbi is too, apparently. "This race is turning into a parodic repeat of 2016, the difference being the shock waves that rippled across Washington on Election Day that year are already here, with all conceivable counter-measures already deployed. Instead of starting up a Russia investigation leaders hope will end in indictment, this time the guy is already indicted many times over, and voters have already signaled they'll be unfazed by conviction. Democrats meanwhile are repeating the process of cooling turnout by blasting their own protest candidate, and instead of an alert-if-off-putting Hillary Clinton on the ticket, the standard-bearer is a half-sentient, influence-peddling version of Donovan's Brain, with no one behind him but Kamala Harris — who just got asked by a trying-to-be-friendly reporter at ABC if 'race and gender' were a cause of her own historically low approval rating. Absent a big switch, our future is either Donald Trump, who by next year will be in more restraints than Hannibal Lecter on the tarmac, or this DNC dog's breakfast. Other countries are surely already laughing. It's getting harder to resist joining them." • Fitch isn't happy either, not that it matters much.
Republican Funhouse
Democrats en Déshabillé
Patient readers, it seems that people are actually reading the back-dated post! But I have not updated it, and there are many updates. So I will have to do that. –lambert

I have moved my standing remarks on the Democrat Party ("the Democrat Party is a rotting corpse that can't bury itself") to a separate, back-dated post, to which I will periodically add material, summarizing the addition here in a "live" Water Cooler. (Hopefully, some Bourdieu.) It turns out that defining the Democrat Party is, in fact, a hard problem. I do think the paragraph that follows is on point all the way back to 2016, if not before:

The Democrat Party is the political expression of the class power of PMC, their base (lucidly explained by Thomas Frank in Listen, Liberal!). ; if the Democrat Party did not exist, the PMC would have to invent it. . ("PMC" modulo "class expatriates," of course.) Second, all the working parts of the Party reinforce each other. Leave aside characterizing the relationships between elements of the Party (ka-ching, but not entirely) those elements comprise a network — a Flex Net? An iron octagon? — of funders, vendors, apparatchiks, electeds, NGOs, and miscellaneous mercenaries, with assets in the press and the intelligence community.

Note, of course, that the class power of the PMC both expresses and is limited by other classes; oligarchs and American gentry (see 'industrial model' of Ferguson, Jorgensen, and Jie) and the working class spring to mind. Suck up, kick down.

* * *

"Wisconsin Supreme Court flips to liberal control" [Chicago Tribune]. "Wisconsin Democrats celebrated the beginning of a new era for the state Supreme Court on Tuesday as it flipped from conservative to liberal control for the first time in 15 years. Janet Protasiewicz, who made abortion rights a focus of her winning election campaign and called Republican-drawn redistricting maps ""rigged,"" marked the start of her 10-year term with a swearing-in ceremony in the state Capitol Rotunda attended by an overflow crowd of hundreds, including many Democratic officeholders…. The conservative-controlled court came within one vote of overturning President Joe Biden's narrow win in the state in 2020, though Biden still would have had enough electoral votes to claim the presidency…. Protasiewicz, who was previously a Milwaukee County judge, ran with backing and deep financial support from Democrats, abortion rights groups and other liberals in the officially nonpartisan race. She handily defeated her conservative opponent in April, raising expectations among liberals that the new court will soon do away with the state's abortion ban, order new electoral maps to be drawn and ensure a long line of Democratic success after 15 years of rulings that largely favored Republicans."
Realignment and Legitimacy
* * *

* * *
#COVID19
"I am in earnest — I will not equivocate — I will not excuse — I will not retreat a single inch — AND I WILL BE HEARD." –William Lloyd Garrison
Resources, United States (National): Transmission (CDC); Wastewater (CDC, Biobot; includes many counties; Wastewater Scan, includes drilldown by zip); Variants (CDC; Walgreens); "Iowa COVID-19 Tracker" (in IA, but national data). "Infection Control, Emergency Management, Safety, and General Thoughts" (especially on hospitalization by city).
Lambert here: Readers, thanks for the collective effort. To update any entry, do feel free to contact me at the address given with the plants. Please put "COVID" in the subject line. Thank you!
Resources, United States (Local): AK (dashboard); AL (dashboard); AR (dashboard); AZ (dashboard); CA (dashboard; Marin, dashboard; Stanford, wastewater; Oakland, wastewater); CO (dashboard; wastewater); CT (dashboard); DE (dashboard); FL (wastewater); GA (wastewater); HI (dashboard); IA (wastewater reports); ID (dashboard, Boise; dashboard, wastewater, Central Idaho; wastewater, Coeur d'Alene; dashboard, Spokane County); IL (wastewater); IN (dashboard); KS (dashboard; wastewater, Lawrence); KY (dashboard, Louisville); LA (dashboard); MA (wastewater); MD (dashboard); ME (dashboard); MI (wastewater; wastewater); MN (dashboard); MO (wastewater); MS (dashboard); MT (dashboard); NC (dashboard); ND (dashboard; wastewater); NE (dashboard); NH (wastewater); NJ (dashboard); NM (dashboard); NV (dashboard; wastewater, Southern NV); NY (dashboard); OH (dashboard); OK (dashboard); OR (dashboard); PA (dashboard); RI (dashboard); SC (dashboard); SD (dashboard); TN (dashboard); TX (dashboard); UT (wastewater); VA (dashboard); VT (dashboard); WA (dashboard; dashboard); WI (wastewater); WV (wastewater); WY (wastewater).
Resources, Canada (National): Wastewater (Government of Canada).
Resources, Canada (Provincial): ON (wastewater); QC (les eaux usées); BC, Vancouver (wastewater).
Hat tips to helpful readers: anon (2), Art_DogCT, B24S, CanCyn, ChiGal, Chuck L, Festoonic, FM, FreeMarketApologist (4), Gumbo, hop2it, JB, JEHR, JF, JL Joe, John, JM (10), JustAnotherVolunteer, JW, KatieBird, LL, Michael King, KF, LaRuse, mrsyk, MT, MT_Wild, otisyves, Petal (6), RK (2), RL, RM, Rod, square coats (11), tennesseewaltzer, Utah, Bob White (3). 
Stay safe out there!
* * *
Look for the Helpers
"Huge, FREE covid safety resource list" [Violet Blue]. "Your ultimate guide to staying covid-safe." • Yes, Blue is, well, very much of San Francisco, but she's an excellent aggregator and this looks good to me.
Maskstravaganza
Intelligence test:

Only one person in this pic actually following science 😷 https://t.co/DzSKS0rKKb

— Jess (@MeetJess) August 1, 2023

And Darwin exam.
Celebrity Watch
"California lieutenant governor joins call for Taylor Swift to postpone Los Angeles shows" [Politico]. "Some of California's top politicians are calling on Taylor Swift to postpone her Los Angeles concerts, standing in solidarity with striking hotel workers — and risking scorn from Swifties. California Lt. Gov. Eleni Kounalakis, a Democrat, and dozens of elected officials from across the state on Tuesday signed their names to a campaign organized by Unite Here Local 11 to put pressure on the music icon. Swift is scheduled to perform six sold-out shows at Inglewood's SoFi Stadium, beginning Thursday and continuing through Aug. 9." • Not because of superspreaders, of course! And while I applaud even performative support for labor, workers also need protection on the job, in the form of non-pharmaceutical interventions, like ventilation and masks.
Immune System Dysregulation
"The plasma metabolome of long COVID patients two years after infection" [Nature]. "Mitochondrial dysfunction, redox state imbalance, impaired energy metabolism, and chronic immune dysregulation are likely to be the main hallmarks of long COVID even two years after acute COVID-19 infection." • Two years. So far.
Scientific Communication
"From Belief to Behavior: An IP's Step-by-step Approach to Changing Belief Systems" [Infection Control Today]. "Pioneers of medical science have successfully changed the beliefs of an entire society throughout history—pioneers such as physician and epidemiologist John Snow, who broke the handle off London's Broad Street water pump to demonstrate his belief that the water was the cause of the cholera epidemic, not the noxious air that was believed to spread the disease. As infection preventionists today, we are the pioneers of preventing and controlling infections. We are revolutionizing the approach to infection prevention and control, including recognizing that behavior change cannot occur until we have first begun to tackle the underlying beliefs and opinions that drive the health care behaviors we're seeking to change." Very well. And the concrete example given? That's right: "I remember speaking with an anesthesiologist about hand hygiene rates for the operating room. It struck me when he explained, 'Honestly, I think we wash our hands too much in health care. It's often unnecessary and much less important than we make it out to be.' It occurred to me that before adherence could be increased, I would need to persuade staff to believe hand hygiene is important." • Yes, Semmelweis. But no mention of masking, ventilation, or #CovidIsAirborne?
Transmission
"Why do I need another COVID shot this fall?" [Globe and Mail]. "To get an idea of what the next flu season will bring, infectious disease experts have traditionally looked to the southern hemisphere where the seasons are reversed. 'The southern hemisphere serves as a crystal ball to what we can reasonably expect in our future,' said Dawn Bowdish, a professor of medicine and a Canada Research Chair in Aging and Immunity at McMaster University in Hamilton. And, unfortunately for us, the south has had 'a particularly grim flu season and they have also had a lot of COVID,' noted Dr. Bowdish."
Sequelae
"NIH launches trials for long-COVID treatments: what scientists think" [Nature]. "The US National Institutes of Health (NIH) announced yesterday that it will launch its first trials to test the safety and efficacy of treatments against long COVID. These trials will focus on therapies aimed at some of the most debilitating symptoms of the disease, including brain fog and disturbed sleep. The announcement comes after two years of criticism from researchers and people with long COVID about the direction and productivity of the NIH's nearly-US$1.2-billion RECOVER initiative. They say that the agency has moved too slowly to enrol people in studies and start testing potential treatments for the condition, which affects an estimated 65 million people around the world. Responding to this criticism, Kanecia Zimmerman, a clinician at Duke University School of Medicine in Durham, North Carolina, who is helping to coordinate the RECOVER studies, said at a press briefing yesterday that there are many steps to launching a clinical trial, including drafting study protocols, consulting with specialists and people with the disease and getting approval from authorities. Researchers who spoke to Nature say that launching treatment trials is a crucial step, but that it will take tangible progress in these trials to assure those affected that US health officials are taking their concerns seriously. 'The fact there were no trials until this point has been highly discouraging,' says Eric Topol, executive vice-president at Scripps Research in La Jolla, California. 'The community of people suffering are desperate and want to see the investment by NIH bear fruit.'" • Over a billion bucks spent for a checklist and no biological markers. But little Madison is getting their violin lessons!

"Why So Many Long COVID Patients Are Reporting Suicidal Thoughts" [Time]. "Last year, Diana Berrent—the founder of Survivor Corps, a Long COVID support group—asked the group's members if they'd ever had thoughts of suicide since developing Long COVID. About 18% of people who responded said they had, a number much higher than the 4% of the general U.S. adult population that has experienced recent suicidal thoughts. A few weeks ago, Berrent posed the same question to current members of her group. This time, of the nearly 200 people who responded, 45% said they'd contemplated suicide. While her poll was small and informal, the results point to a serious problem. 'People are suffering in a way that I don't think the general public understands,' Berrent says. 'Not only are people mourning the life that they thought they were going to have, they are in excruciating pain with no answers.'…. The virus that causes COVID-19 has well-documented effects on the brain, which can potentially result in psychiatric and neurologic symptoms, says Dr. Wes Ely, who treats Long COVID patients at Vanderbilt University Medical Center. 'We've been collecting brains of some patients who didn't survive Long COVID,' he says. 'We're seeing inflammation and ongoing cellular abnormalities in these brains.' Those changes to the brain can have profound effects, possibly including suicidal thinking and behavior. 'There is a high probability that symptoms of psychiatric, neurological and physical illnesses, as well as inflammatory damage to the brain in individuals with post-COVID syndrome, increase suicidal ideation and behavior in this patient population,' reads a January 2021 article in QJM: An International Journal of Medicine. Research published as a preprint last year (meaning it had not been peer-reviewed) also found differences between 'post-COVID depression' and typical depression, including higher rates of suicidal behavior—suggesting 'a different disease process at least in a subset of individuals.'" • Normally I don't run studies on this topic, because I don't want to give people ideas. But material on neurological issues created by Covid is coming from so many directions at once, I thought this was important.
"Something Awful"
Lambert here: I'm getting the feeling that the "Something Awful" might be a sawtooth pattern — variant after variant — that averages out to a permanently high plateau. Lots of exceptionally nasty sequelae, most likely deriving from immune dysregulation (says this layperson). To which we might add brain damage, including personality changes therefrom.

* * *
Elite Maleficence
For public consumption:

2) … and is replaced by "infectious diseases"https://t.co/kLZoqStlrz pic.twitter.com/UGeitQUGNx

— Emmanuel (@ejustin46) August 2, 2023

In reality, capital knows perfectly well that Covid is real and takes measures to protect itself; that's why #DavosSafe. They just don't want you to know.

Maybe the best way for CDC to regain trust — I mean, besides blowing itself up and disappearing from the face of the earth, as recompense — would be to produce a timeline, in public, of all its private decision-marking:

This FOIR request has CDC emails & official statements from early Jan 2020 showing they knew right away there was a GREAT need to protect people from Covid using airborne PPE & rooms with proper ventilation @AbraarKaran @dgurdasani1 @TaylorLorenz @DFisman. https://t.co/1ix89OpoP4 https://t.co/1KgHbXkRx7 pic.twitter.com/aP9iX2grQL

— Nicolas Smit (@PPEtoheros) July 31, 2023

Warts, scarlet letters, and all.

"With a few basic steps, most of us can finally ignore COVID" [Boston Globe]. • More commentary:

Agree 100%. It also wasn't fact-checked.

I also believe that this article's existence means the US is completely unprepared for this surge. From a crisis comms perspective, this is US public health leadership trying to "get ahead of the story." https://t.co/eEiDv5eY0B

— Violet Blue® (@violetblue) August 1, 2023

Hard agree on "crisis comms perspective"; Jha is deploying the blame cannons, pre-surge.
The Jackpot
Our reaction to Covid as a society does not bode well:

Totally agree. https://t.co/mE12raG4t1

— Shay Stewart Bouley (@blackgirlinmain) August 2, 2023
* * *
Case Data
NOT UPDATED From BioBot wastewater data, July 31: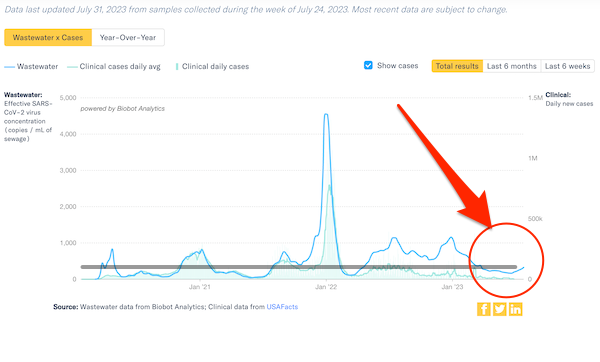 Lambert here: Still rising. People have now noticed this chart, I assume because CDC gave them permission to do so. Doubling in about a week. One thing is sure: If it doubles again (blue line), the levels of cope and denial will be off the charts.
Regional data: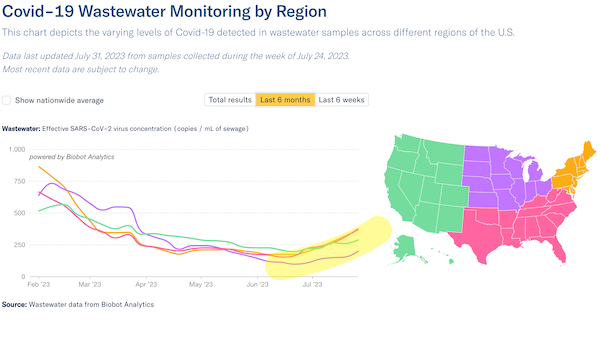 Lambert here: Again, backward revision. Now all regions are reporting increases but at different rates.
Interestingly, the upswing begins before July 4, which neither accelerates nor retards it.
Regional variant data: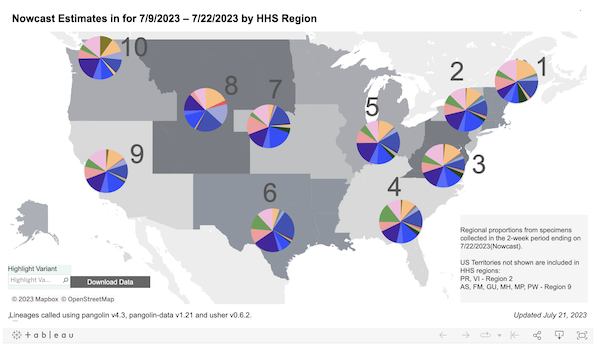 Whatever the cause of the uptick in the Northeast, it's not EG.5 (the orange pie slice), which seems evenly distributed.
Variants
NOT UPDATED From CDC, July 22: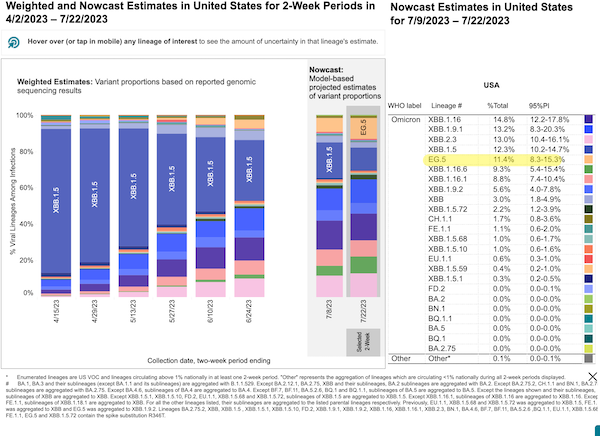 Lambert here:  EG.5 still on the leaderboard, but getting crowded out (?) by all those XBB's.
From CDC, July 8: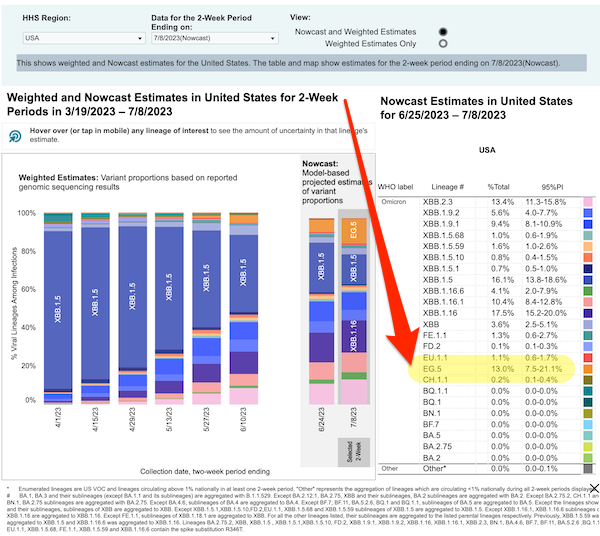 Lambert here: Not sure what to make of this. I'm used to seeing a new variant take down the previously dominant variant. Here it looks like we have a "tag team," all working together to cut XBB.1.5 down to size. I sure hope the volunteers doing Pangolin, on which this chart depends, don't all move on the green fields and pastures new (or have their access to facilities cut by administrators of ill intent).
CDC: "As of May 11, genomic surveillance data will be reported biweekly, based on the availability of positive test specimens." "Biweeekly: 1. occurring every two weeks. 2. occurring twice a week; semiweekly." Looks like CDC has chosen sense #1. In essence, they're telling us variants are nothing to worry about. Time will tell.
Covid Emergency Room Visits
From CDC NCIRD Surveillance, July 29: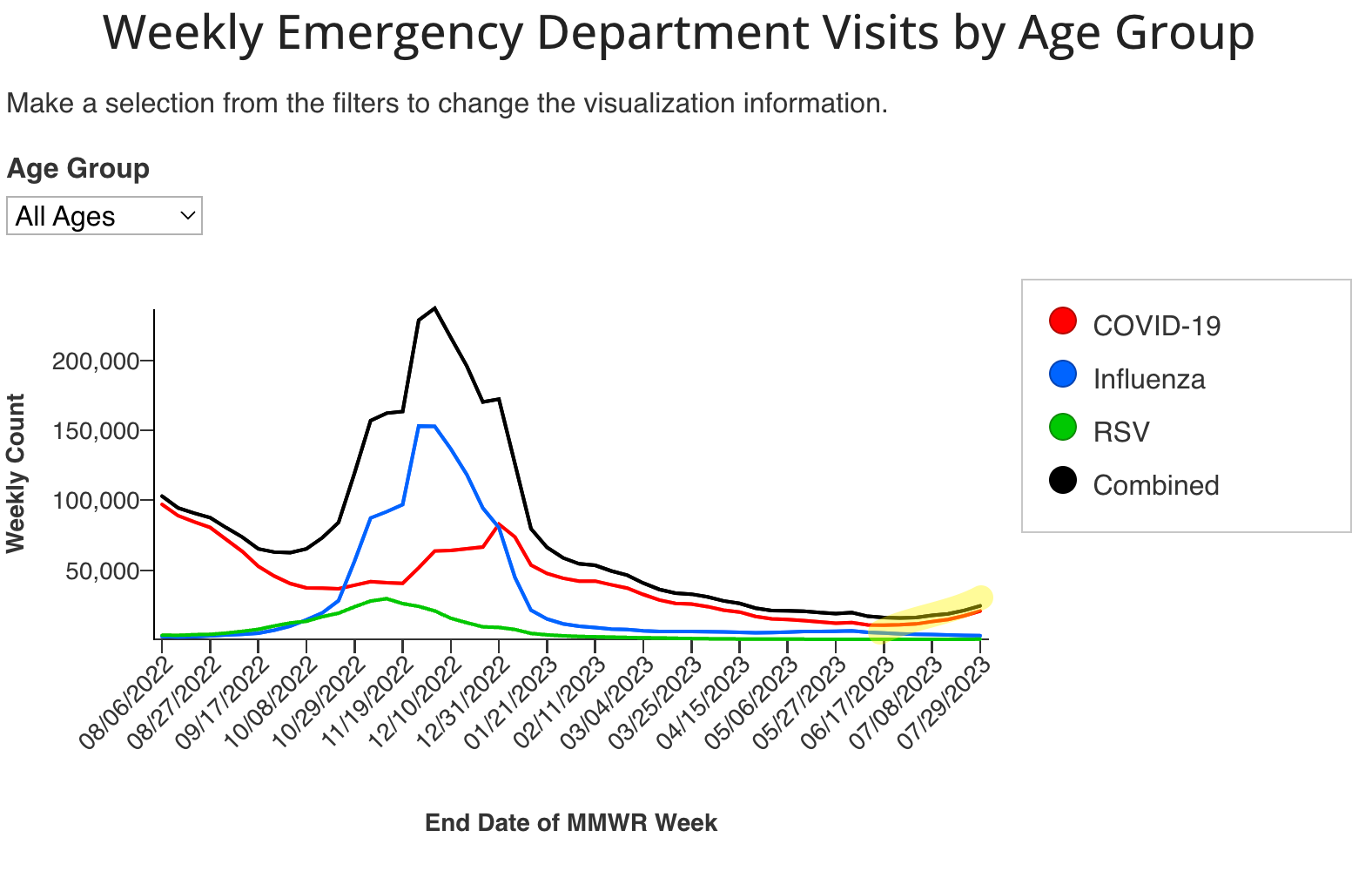 Lambert here: Increase is even more distinct. (The black line is "combined", but it is easy to see that Covid, the red line, is driving everything.)
NOTE "Charts and data provided by CDC, updates Wednesday by 8am. For the past year, using a rolling 52-week period." So not the entire pandemic, FFS (the implicit message here being that Covid is "just like the flu," which is why the seasonal "rolling 52-week period" is appropriate for bothMR SUBLIMINAL I hate these people so much. Notice also that this chart shows, at least for its time period, that Covid is not seasonal, even though CDC is trying to get us to believe that it is, presumably so they can piggyback on the existing institutional apparatus for injections.
Positivity
NOT UPDATED From Walgreens, July 31: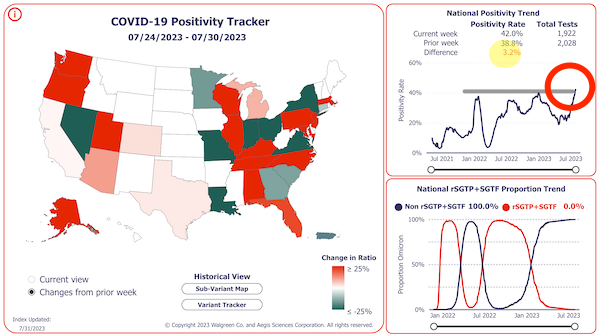 3.2%. Interestingly, people are citing to this, too, as well as Biobot. Vertical, though the absolute numbers are still very small relative to June 2022, say. Interestingly, these do not correlate with the regional figures for wastewater. (It would be interesting to survey this population generally; these are people who, despite a tsunami of official propaganda and enormous peer pressure, went and got tested anyhow.)
NOT UPDATED From CDC, July 10: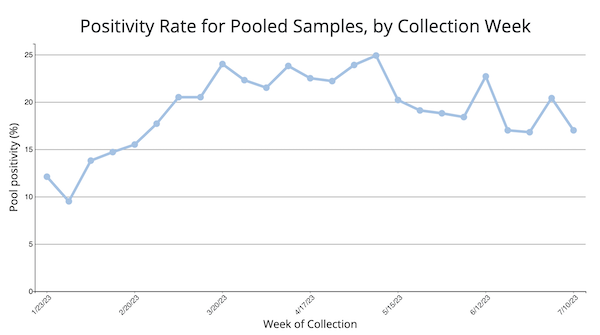 Lambert here: This is the CDC's "Traveler-Based Genomic Surveillance" data. They say "maps," but I don't see one…. 
Deaths
NOT UPDATED Iowa COVID-19 Tracker, July 26: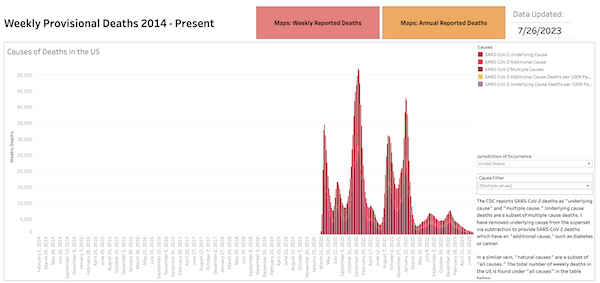 Lambert here: The WHO data is worthless, so I replaced it with the Iowa Covid Data Tracker. Their method: "These data have been sourced, via the API from the CDC: https://data.cdc.gov/NCHS/Conditions-Contributing-to-COVID-19-Deaths-by-Stat/hk9y-quqm. This visualization updates on Wednesday evenings. Data are provisional and are adjusted weekly by the CDC." I can't seem to get a pop-up that shows a total of the three causes (top right). Readers?,,
Total: 1,169,841 – 1,169,813 = 28 (28 * 365 = 10,220 deaths per year, today's YouGenicist™ number for "living with" Covid (quite a bit higher than the minimizers would like, though they can talk themselves into anything. If the YouGenicist™ metric keeps chugging along like this, I may just have to decide this is what the powers-that-be consider "mission accomplished" for this particular tranche of death and disease). 
Excess Deaths
The Economist, August 2: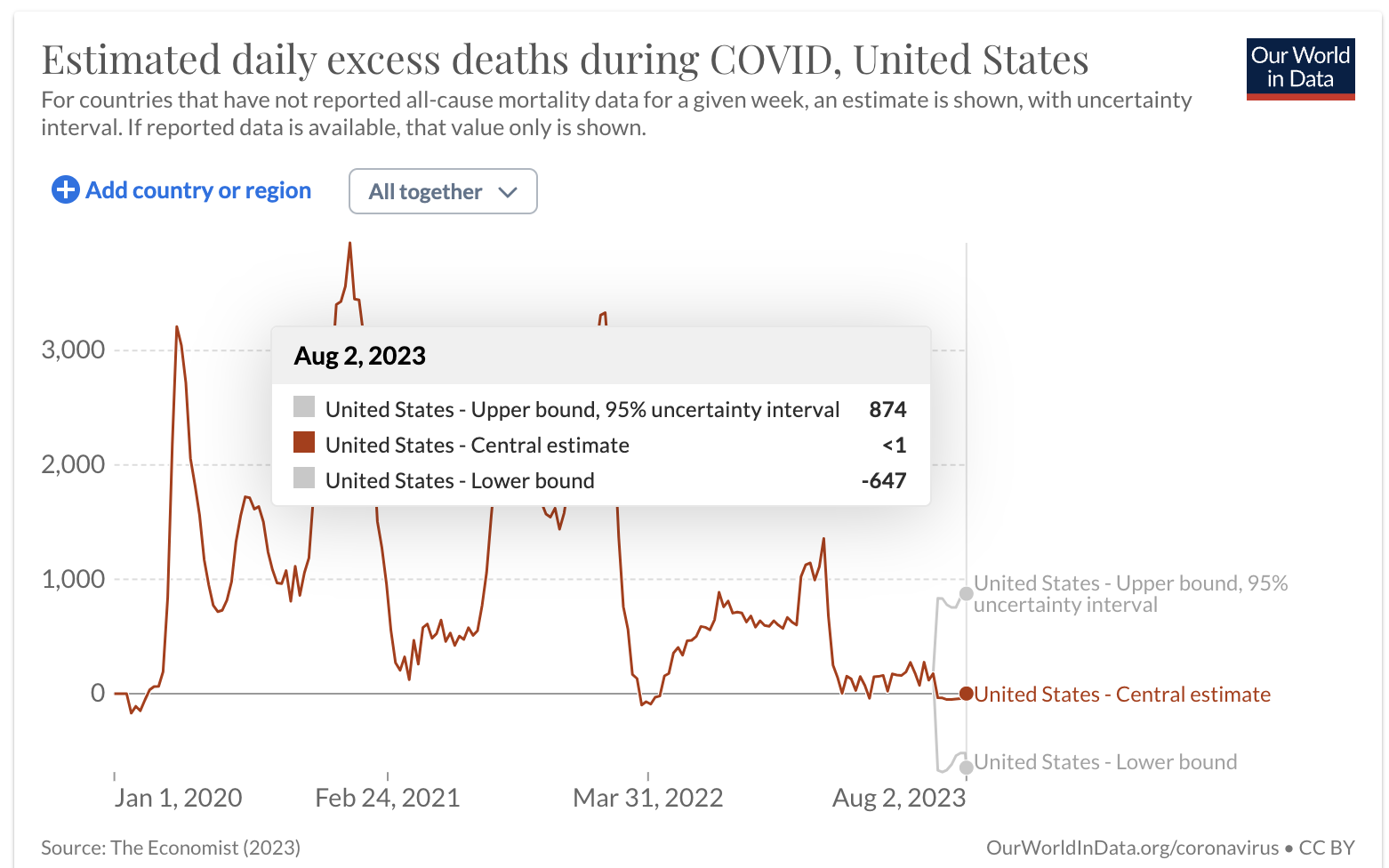 Lambert here: This is now being updated daily. Odd. Based on a machine-learning model. (The CDC has an excess estimate too, but since it ran forever with a massive typo in the Legend, I figured nobody was really looking at it, so I got rid it. )
Stats Watch
Employment Situation: "United States ADP Employment Change" [Trading Economics]. "Private businesses in the US hired 324 thousand workers in July 2023, following a downwardly revised 455 thousand increase and surpassing market expectations of a 189 thousand rise."
* * *
Tech: "Sharing photos of your kids? Maybe not after you watch this deepfake ad" [Good Morning]. "The campaign documents the various potential dangers of oversharing your children's data, from online bullying to identity theft to the creation of child sexual abuse material, or CSAM."
Tech: "Amazon employees leak secret info that marketplace sellers can buy on Telegram" [CNBC]. "For the millions of sellers who make up the booming Amazon marketplace, few things are as perpetually concerning as the threat of getting suspended for alleged wrongdoing and watching business evaporate overnight. Helping third-party sellers recover their accounts has turned into a large and lucrative enterprise, because the only way the merchants can get back up and running is to admit guilt and correct the issue or show sufficient evidence that they did nothing wrong. The process is often costly, lengthy and fraught with challenges. Enter the illicit broker. For a fee of $200 to $400, sellers can pay for services such as 'Amazon Magic,' as one broker on encrypted messaging service Telegram calls it. The offerings also include access to company insiders who can remove negative reviews on a product and provide information on competitors. Users are told to send a private message to learn the price of certain services." • Wowsers, Amazon corrupt to the bone. Who knew?
* * *
Today's Fear & Greed Index: 67 Greed (previous close: 76 Extreme Greed) [CNN]. One week ago: 79 (Extreme Greed). (0 is Extreme Fear; 100 is Extreme Greed). Last updated Aug 2 at 1:47 PM ET. Big swing to mere greed. Fitch? The latest Trump indictment?
Games
"August Is An Epic Month For Game Releases" [Kotaku]. "If you thought August was gonna be a snoozefest for gaming, I'm here to wake you the hell up because this month looks like it'll have something for everyone—and that's not just BS boilerplate. Between spooky horror games, shooters, strategy games, that big-ass RPG arriving in a couple of days, the return of Armored Core, and a game about dinosaur kids that's gonna friggin wreck me (seriously, don't make me watch the trailer again), August is packed, and at least a few of these games ought to catch your attention." • Enjoy!
The Conservatory
"Lawsuit by former dancers accuses Lizzo of sexual harassment and creating a hostile work environment" [Associated Press]. "The court filing claims that after performing a concert in Amsterdam, Lizzo and her crew attended a sexually themed show at a club in the city's notorious Red Light District where 'Lizzo began inviting cast members to take turns touching the nude performers.' During the show, Lizzo led a chant pressuring Davis to touch the breasts of one of the nude women performing at the club, the filing states. 'Finally, the chorus became overwhelming, and a mortified Ms. Davis acquiesced in an attempt to bring an end to the chants,' the complaint states. 'Plaintiffs were aghast with how little regard Lizzo showed for the bodily autonomy of her employees and those around her, especially in the presence of many people whom she employed.' Lizzo, who routinely champions body positivity, is also accused of calling out Davis for her weight gain after accusing the dancer of not being committed to her role. Davis was fired in May for recording a meeting during which Lizzo had given out notes to dancers about their performances, according to the complaint."
Zeitgeist Watch
I wish this were a parody, but I don't think it is:
Ain't no way they putting kids on house arrest lmao pic.twitter.com/k85GvJ9TZg

— Lance🇱🇨 (@Bornakang) August 1, 2023
Class Warfare
"Inside the online world of people who think they can change their race" [NBC News]. "Practitioners of what they call 'race change to another,' or RCTA, purport to be able to manifest physical changes in their appearance and even their genetics to become a different race. They tune in to subliminal videos that claim can give them an 'East Asian appearance' or 'Korean DNA.' But experts underscore that it is simply impossible to change your race. 'It's just belief,' said Jamie Cohen, an assistant professor of cultural and media studies at Queens College, City University of New York. 'It doesn't ever really work, because it's not doing anything, but they have convinced themselves that it works because there's other people who have convinced themselves, as well.' Though they do not constitute a full-blown trend, a number of racial subliminal creators have popped up on YouTube in recent years, with videos racking up on average over a half-million views apiece. On TikTok, dozens of accounts have emerged in recent weeks sharing similar goals and aesthetics and documenting what people describe as their race-change journeys." • The great Adolph Reed covered this years ago. Now, here come the influencers! Funny how nobody ever says "I identify as a capitalist" and then expects to get treated like one….
News of the Wired
"Many people feel their jobs are pointless" (press release) [University of Zurich]. "A sociological study by the University of Zurich confirms that a considerable proportion of employees perceive their work as socially useless. Employees in financial, sales and management occupations are more likely to conclude that their jobs are of little use to society." • Who knew?
* * *
Contact information for plants: Readers, feel free to contact me at lambert [UNDERSCORE] strether [DOT] corrente [AT] yahoo [DOT] com, to (a) find out how to send me a check if you are allergic to PayPal and (b) to find out how to send me images of plants. Vegetables are fine! Fungi and coral are deemed to be honorary plants! If you want your handle to appear as a credit, please place it at the start of your mail in parentheses: (thus). Otherwise, I will anonymize by using your initials. See the previous Water Cooler (with plant) here. From MF: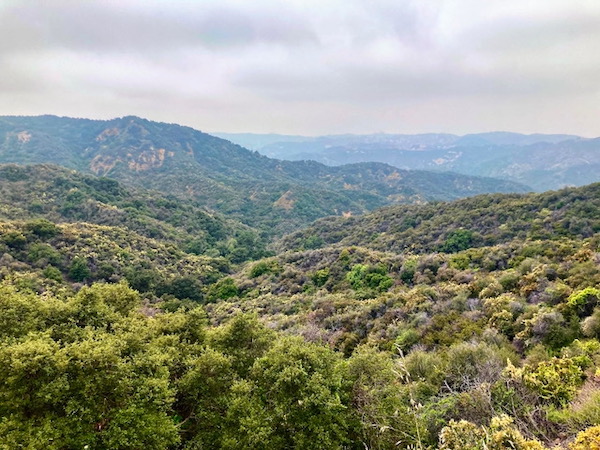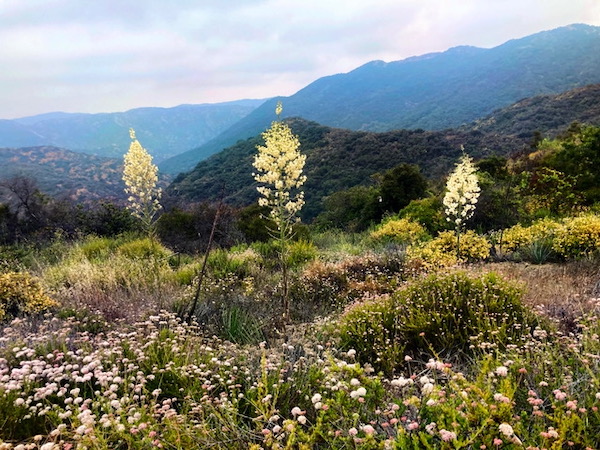 MF: "Took a few pictures during a long hike Sunday in the Santa Monica Mountains (my first in two and half years) — a lush, verdant landscape replete with a variety of wildflowers. Hard to believe this green space exists in the middle of L.A. county with less than a month till summer arrives."
* * *
Readers: Water Cooler is a standalone entity not covered by the annual NC fundraiser. So if you see a link you especially like, or an item you wouldn't see anywhere else, please do not hesitate to express your appreciation in tangible form. Remember, a tip jar is for tipping! Regular positive feedback both makes me feel good and lets me know I'm on the right track with coverage. When I get no donations for five or ten days I get worried. More tangibly, a constant trickle of donations helps me with expenses, and I factor in that trickle when setting fundraising goals:
Here is the screen that will appear, which I have helpfully annotated: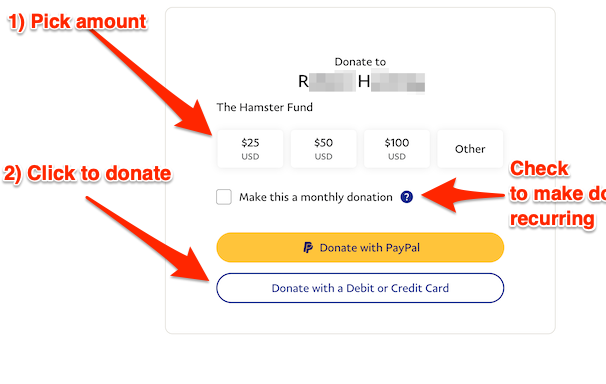 If you hate PayPal, you can email me at lambert [UNDERSCORE] strether [DOT] corrente [AT] yahoo [DOT] com, and I will give you directions on how to send a check. Thank you!