By Lambert Strether of Corrente.
Bird Song of the Day
Bornean Wren-Babbler, Danum Valley Research Station, Sabah, Malaysia.
* * *
Look for the Helpers
"'That Lady From New England Who Shamed Us All'" [Ralph Nader, The New Yorker (LL)]. "The mass media is reluctant to recognize civic heroes unless they display physical bravery such as rushing into a burning building to save a child. The media also lavishes vast coverage on sports heroes and entertainers. Unnoticed by the mass media was how it came about that the Illinois legislature, overcome by corporate lobbyists, passed legislation allowing punitive damages for wrongful death disasters, and sent the bill to Illinois Governor J.B. Pritzker who signed it last Friday. In the words of one state lawmaker, this effort started with 'that lady from New England who drove down here (to Springfield, Illinois) and shamed us all.' That lady was my niece Nadia Milleron, who lost her daughter Samya Rose Stumo – an emerging leader in global health – to the defective Boeing 737 Max that crashed in Ethiopia on March 10, 2019, killing all 156 people on board. (Earlier on October 29, 2018, a similar also new Boeing 737 Max crashed off Indonesia's coast, killing all 189 passengers and crew.)…. She spent months away from her Massachusetts home in 2022 getting appointments with every Illinois Assemblyperson – 177 of them – to plead her case in person. None of the naysayers she encountered in the lobbying circles around the legislature deterred her, not even some plaintiff trial lawyers. By the sheer force of her legal and factual arguments, her moral authority and a few senior political advisors in Chicago, she laid the groundwork for action earlier last year. The Illinois Wrongful Death Act was championed by a young African-American state lawmaker, Rep. La Shawn K. Ford. Once it started moving through the Assembly (with little media attention) it gained momentum among the new Assembly leadership that carried through to the new leadership of the State Senate. Both legislative Houses are controlled by Democrats. Nadia came to this challenge in Illinois, where the Stumo family civil tort litigation against Boeing is pending, with experience in battling the giant Boeing corporation's power to get its way in Washington, DC." • Milleron is indeed a "civic hero" (and we need more). I'm also glad to see that the pencil-necked MBAs and greedhead CEOs who destroyed a great American engineering company are going to get theirs. And yet I could not help but wonder why Hendrik Hertzberg, Democrat loyalist par excellence, allowed Ralph Nader, the traitorous Green Party Presidential candidate who, in Democrat minds, cost Al Gore election 2000, to grace the New Yorker's pages. Perhaps the explanation comes with Nader's plug for Democrats, and the smooth, indeed unnoticed, operations of Pritzker's PR team?
Politics
"So many of the social reactions that strike us as psychological are in fact a rational management of symbolic capital." –Pierre Bourdieu, Classification Struggles
The Constitutional Order
Two households, both alike in dignity,
In fair Verona, where we lay our scene,
From ancient grudge break to new mutiny,
Where civil blood makes civil hands unclean. –William Shakespeare, Romeo and Juliet

Shakespeare says the two households are "alike" in dignity, but he doesn't say how much dignity they actually have. If Verona's households are like our parties, the answer is "not much."

* * *

"The Sweep and Force of Section Three" [William Baude and Michael Stokes Paulsen, University of Pennsylvania Law Review]. I highly recommend this piece (and the ensuing discussion at NC, starting here). As a former English major and a fan of close reading, I'm not averse to "originalism," of which Baude and Paulsen provide a magisterial example, in the sense that understanding the law as a text must begin with understanding the plain, public meaning of the words used when the text was written. That's how I read Shakespeare, or Joyce, so why not the Constitution? Just as long as understanding doesn't end there! In any case, I'm working through it. One thing I notice is that there do seem to have been rather a lot of rebellions and insurrections, not just the Civil War. To me, this is parallel to one lesson I drew from Mike Duncan's Revolutions podcast (episode 1): There are rather a lot of revolutions, too. Alert reader Pensions Guy summarizes Baude and Paulsen as follows:]

The authors go through an exhaustive textual and originalism analysis of Section Three, and their Federalist Society leanings do not deter them from reaching their conclusion that officials in every State who are charged with determining candidate qualifications should conclude that Donald Trump is disqualified from being on ballots because of the oath he took on Inauguration Day 2017 and subsequently violated through his role in the insurrection that took place on January 6, 2021.

Taking "insurrection" as read (I need to do more reading), more on my continuing coverage of Section Three.

* * *

"Appeasing Donald Trump Won't Work" [David French, New York Times]. Only a matter of time before the Munich analogy entered domestic politics, I suppose. "As powerful as Baude and Paulsen's substantive argument is, the late date means that by the time any challenge to Trump's eligibility might reach the Supreme Court, voters may have already started voting in the Republican primaries. Millions of votes could have been cast. The Supreme Court is already reluctant to change election procedures on the eve of an election. How eager would it be to remove a candidate from the ballot after he's perhaps even clinched a primary?"

"Donald Trump Might Have Finally Stepped on the Ultimate Legal Landmine" [1945]. "It's been clear from the outset that while there might be some legal basis to the argument by Maude and Paulsen, it's probably not realistic for such an argument to be enforced in a way that prevents Trump from being a candidate." • Making Baude and Paulsen's article more a matter of prophylatic delegitimation than a serious intervention? After all, Democrats instantly framed the January 6 riot as an insurrection, and the article's strength comes not from its many footnotes, laudable though their number may be, but from its sourcing from "inside the house': The Federalist Society. That strength could have been exercised at any point in the last 2023 – 2020 = 3 years.  Making the delay a little… odd.
Biden Administration
"Joe Biden Comparing Maui Fires to Almost Losing His Corvette Sparks Fury" [Newsweek]. "President Joe Biden sparked outrage during his visit to Maui after making a joke that appeared to compare the deadly wildfires on the Hawaii island with almost losing his '67 Corvette… 'I don't want to compare difficulties but we have a little sense, Jill and I, of what it's like to lose a home,' [Biden] said. 'Years ago now, 15 years ago, I was in Washington doing Meet the Press. It was a sunny Sunday,' he continued. 'Lightning struck at home, on a little lake that's outside of our home—not a lake, a big pond,—and hit a wire that came up underneath our home into the heating ducts and air conditioning ducts,' he added. 'To make a long story short, I almost lost my wife, my '67 Corvette, and my cat.' Some—especially those on the right—failed to appreciate the comparison, accusing the president of being insensitive to the tragedy in Maui." • The Corvette remark really does speak to character, showing as it does Biden's relentless triviality of mind and endless self-regard. Yes, I know Biden qualified his remark with "I don't want to compare difficulties," but why not flog the dead son, Beau, yet again? At least that wouldn't undermine the Biden "brand" of being empathetic, as this toad hopping out of his mouth did. There are only so many things an advance team can do. 

"Biden is accused of 'nodding off' during Maui wild fire memorial service in middle of his disastrous five-hour tour of island" [Daily Mail]. That well-known liberal house organ and avatar of all that "mainstream media" gives the timeline:

His appearance at the memorial gave further ammunition to critics.

Biden sat listening while the speaker told of generosity among islanders.

'Like many others who were left with nothing, those two were given clothes, food and shelter by someone they may have never met before,' the speaker said.

Biden then coughed, hand over his mouth, and looked down.

'We are a community that relies on family, on 'ohana', whether by blood or by friendship,' the speaker continued.

Biden then nodded, and looked up.

'And like many others, my son's home burnt down,' the speaker said, as Biden's eyes reverted to the front.

'My daughter's home burnt down. My home burnt down.'

Critics said that Biden was asleep for the nine seconds he looked down.

Holy Lord. Haven't you ever bowed your head for nine seconds at a memorial service? Mourners are supposed to do that! Here's a C-SPAN clip:

I wouldn't say Biden looks good, but he's as awake during a service on a warm day as any of us old codgers can be. I know the licit pleasures of dogpiling — dopamine loops — as well as anyone, and that's what's going on here. (Personally, I think the Corvette gaffe is a lot worse, since it speaks to character, so when the RNC circulated this clip, they stepped on their own ****s.)
Our Famously Free Press
"Tucker Carlson's Trump Interview Showcases Potential of Tie-Up With Elon Musk's X" [Wall Street Journal]. "Tucker Carlson's interview with Donald Trump is shaping up as a well-timed branding exercise for the new company the former Fox News host is launching. Carlson taped an interview with Trump several days ago and plans to stream it on X, formerly known as Twitter, without ads, people familiar with the situation said. Its release is expected to coincide with Wednesday's first Republican presidential debate on Fox News…. Carlson and former White House adviser Neil Patel are working on starting a new, subscription-driven media company, in partnership with Carlson's former executive producer at Fox, Justin Wells, The Wall Street Journal reported last month. They are in the process of raising money and have talked to X about using the platform as its backbone.  The Trump interview gives Carlson a high-profile opportunity to show Elon Musk's team the potential for a deeper partnership."
2024
Time for the Countdown Clock!

* * *

Good work from the Trump campaign staff:

Trump team, with DeSantis taunt in hand, already working perimeter of debate venue in Milwaukee. pic.twitter.com/AEvUV99dOW

— Alex Leary (@learyreports) August 22, 2023

They printed those signs. None of that supposedly authentic hand-made stuff!

"Trump Says He Has Immunity. Will the Supreme Court Beg to Differ?" [Politico]. "On August 4, 2023, one day after pleading not guilty to four federal criminal charges arising from special counsel Jack Smith's investigation into efforts to thwart the 2020 presidential election, former President Donald J. Trump announced on his Truth Social platform that 'the Supreme Court must intercede.' What he presumably means is that the Supreme Court, on appeal from motions that his trial team will undoubtedly file in all four criminal cases, should rule that his conduct is untouchable because it involved actions taken while he was still president of the United States. 'Everything that President Trump did was while he was in office as president,' one of Trump's attorneys, John Lauro, argued on NBC's Meet the Press. 'He is now immune from prosecution for acts that he takes in connection with those policy decisions.' Trump has raised broad claims of presidential immunity in litigation before, with mostly poor results. Still, the argument is not entirely frivolous, in part because the Supreme Court has only weighed in on presidential immunity in a handful of cases, and none of those involved indictments of a former president. Even if Trump loses his motions to toss out the indictments on immunity grounds at the trial court level, which is likely, the Supreme Court would almost certainly vote to hear the issue on appeal given the unprecedented nature of these cases and the stakes for the presidency and the country." • Hmm.

"John Eastman, attorney with Colorado ties, surrenders to authorities on charges in Georgia 2020 election subversion case" [Colorado Sun]. "Eastman said in a statement provided by his lawyers that he was surrendering Tuesday ""to an indictment that should never have been brought."" He lambasted the indictment for targeting 'attorneys for their zealous advocacy on behalf of their clients' and said each of the 19 defendants was entitled to rely on the advice of lawyers and past legal precedent to challenge the results of the election. A former dean of Chapman University law school in Southern California, Eastman was a close adviser to Trump in the run-up to the Jan. 6, 2021 attack on the U.S. Capitol by the Republican president's supporters intent on halting the certification of Biden's electoral victory. He wrote a memo laying out steps Vice President Mike Pence could take to interfere in the counting of electoral votes while presiding over Congress' joint session on Jan. 6 in order to keep Trump in office."

"Prosecutors: Trump Mar-a-Lago security aide flipped after changing lawyers" [Politico]. "A Trump employee who monitored security cameras at Donald Trump's Mar-a-Lago estate abruptly retracted his earlier grand jury testimony and implicated Trump and others in obstruction of justice just after switching from an attorney paid for by a Trump political action committee to a lawyer from the federal defender's office in Washington, prosecutors said in a court filing Tuesday. The aide — described as 'Trump Employee 4' in public court filings but identified elsewhere as Yuscil Taveras — held the title of director of information technology at Mar-a-Lago. He initially testified to a grand jury in Washington, D.C., that he was unaware of any effort to erase the videos, but after getting the new attorney 'immediately … retracted his prior false testimony' and detailed the alleged effort to tamper with evidence related to the investigation of the handling of classified information stored at Trump's Florida home, the new submission said."

"One MAGA juror can ruin it all" [Salon]. "More relevant is the finding by Sarah Longwell, a Republican strategist who holds frequent focus groups, that GOP primary voters in the main just don't care about Trump's indictments. Almost no Republicans have said the indictments have made them less likely to support him. He is their leader and they believe he's telling the truth when he says he did none of it. I'm afraid that if any of these trials end up with one or more of these fun-loving Trump followers on the jury, it's going to be very hard to shake them out of their belief that he can literally do no wrong…. As he said before, he could shoot someone on 5th Avenue and not lose any votes. For once he wasn't lying." • Obviously, we need to reform the jury system. Who's taking point on that?

* * *

"Ron DeSantis Calls Trump Supporters 'Listless Vessels' Ahead of First Republican Debate" [People]. "On Friday, the Florida governor and 2024 presidential hopeful, 44, told The Florida Standard that Trump supporters were 'listless vessels.' Making a reference to claims that he is a RINO (Republican in Name Only), DeSantis added that there's 'a strand in our party that views supporting Trump as whether you are a RINO or not.' 'You can be the most conservative person since sliced bread,' he said, but 'unless you're kissing his rear end, they will somehow call you a RINO. So unless you're totally detached from principle and what you actually believe — and results — it's more about, you know, what faction you happen to do." • BItterness is never an attractive quality in a candidate, and blaming voters is never a good strategy. Trump supporters are gleefully comparing DeSantis's "listless vessels" gaffe to Clinton's "deplorables," but there's more than one reason for that.

* * *

"How Vivek Ramaswamy Became A Billionaire" [Forbes]. "Ramawamy's fortune stems from a drug-development company named Roivant Sciences, which went public in 2021. Its stock is up nearly 40% this year, boosting the value of Ramaswamy's 10% stake to roughly $600 million. Since founding the company nine years ago, he has sucked over $260 million out of Roivant in the form of salary, bonuses and capital gains. He diversified those proceeds into a pretty standard investment portfolio, roughly 60% stocks and 40% bonds. But he also added some flavor, with a dash of Bitcoin and Ethereum, some shares of YouTube competitor Rumble and a stake in crypto payments firm MoonPay."

"Where Is All This Vivek-omentum Leading?" [Slate]. "A clean-cut 38-year-old Indian American from the Midwest, a family man with oodles of interpersonal charm, a religious son of high-caste Hindu immigrants, a biotech entrepreneur and anti–social justice warrior with no prior experience in Washington—what could be more refreshing for the GOP than all this? … Whether they're a result of circumstantial luck or actual political savvy, Ramaswamy's heightened profile and appeal are now undeniable, and political observers are catching on. Monday alone saw some hefty new journalistic profiles of Ramaswamy: from the Atlantic, a campaign-trail saga; from ABC News, a collection of anonymous anecdotes from erstwhile associates that accuse Ramaswamy of mere clout-chasing… With DeSantis in decline and Trump skipping the debate altogether, the other GOP candidates are homing in on Ramaswamy, likely parsing all these biographical details for debate attack fodder. As the Washington Post reported, ""Advisers to several candidates … said the [debate] stage is likely to serve as a venue to litigate the inconsistencies in Ramaswamy's policy statements.'" • I thought "Vivek the Fake" showed the weakness of the DeSantis team. However, I make a gift of "Slick Vivek" to any campaign that wants it!

"Ramaswamy's loans, DeSantis' spending: GOP debate candidates by the money" [Tampa Bay Times]. The deck: "A quick rundown of the campaign finance landscape for each candidate expected to be at the debate in Milwaukee." And: "Ramaswamy personally loaned his campaign more than $15 million, providing by far the largest chunk of his campaign's cash. His small-dollar donor percentage is high in part because the total sum of donations from individuals is only about $3 million. Still, the roughly $1.6 million his campaign has received from those small-dollar donors is comparable or higher than some other, more established political veterans."

"'I Could Use a Little More Self-Flagellation'" [Politico]. "Christie's current presidential bid is the most interesting candidacy in the Republican primary, and the most important. Not because he's polling near the top of the lot. He's not. If the contest, though, at this point is Trump and everybody else, and the nominee somehow ultimately comes from that batch of others, there's nobody else in that everybody else remotely like Christopher James Christie. The about-to-turn-61-year-old former governor of New Jersey was Trump before Trump — charismatic, combative, politically incorrect — and he was, for that matter, Ron DeSantis before Ron DeSantis — winning reelection in a landslide not just in an erstwhile swing state but in an outright blue state. And now he's an ex-prosecutor prosecuting a case, and it's a case that makes so much sense it sometimes can beggar belief that he's the only one in the field who's qualified for the first two debates who's so vociferously making it. The case? Maybe it's not a great idea to once again back a man who had four years already as president and failed at least as much as he didn't and lost in 2020 and contributed to GOP losses in 2018 and 2022 and has been indicted four times in the last four months and therefore might spend as much time next year in a courtroom as on the campaign trail. 'We can do better,' Christie has said, calling Trump 'a liar,' 'a coward,' 'a con artist,' 'a spoiled baby' and 'a lonely, self-consumed, self-serving mirror hog.'" • So Trump like Duke and the Dauphin in Mark Twain's Huck Finn? A consummate American? Still, "self-serving mirror hog" is good. I wonder if Christie writes his own gags? I bet he does; he seems to enjoy this. It's nice to see a happy warrior on the trail!

* * *

"Joe Biden's Ukraine defense falls apart" [Jonathan ]. "In a 2018 interview at the Council on Foreign Relations, Biden bragged that he unilaterally withheld a billion dollars in US aid from the Ukrainians to force them to fire Prosecutor-General Viktor Shokin. The Ukrainians balked, but Biden gave them an ultimatum: 'I looked at them and said, 'I'm leaving in six hours. If the prosecutor is not fired, you're not getting the money.' Well, son of a bitch. He got fired."…. The response from the Washington elite was rapturous, though the story was not only impolitic but embarrassing for an ally. The Ukrainians were Joe's new Corn Pop, and he recounted how he stared them down in a 'High Noon' diplomatic moment. A State Department memo is shedding disturbing light on that account and shredding aspects of Biden's justification for the action.Indeed, the ultimatum may have been the quid in a quid pro quo agreement as part of the Biden influence-peddling scandal. The premise of the story is that Biden took this extraordinary stand because there was little hope for the anti-corruption efforts in Ukraine if Shokin remained prosecutor. That is now questionable. The Oct. 1, 2015, memo summarizes the recommendation of the Interagency Policy Committee that was handling the anti-corruption efforts in Ukraine: 'Ukraine has made sufficient progress on its reform agenda to justify a third guarantee.' One senior official even complimented Shokin on his progress in fighting corruption. So Biden was told to deliver on the federal aid but elected to unilaterally demand that Shokin be fired. When the firing occurred, Shokin's office was investigating Burisma Holdings, an energy firm that paid Hunter Biden a huge amount of money….. Leading diplomat George Kent wrote then-Ambassador Marie Yovanovitch, 'The real issue to my mind was that someone in Washington needed to engage VP Biden quietly and say that his son Hunter's presence on the Burisma board undercut the anti-corruption message the VP and we were advancing in Ukraine [because] Ukrainians heard one message from us and then saw another set of behavior with the family association with a known corrupt figure whose company was known for not playing by the rules.'" • Oh.
Republican Funhouse
"McCarthy says House may launch Biden impeachment inquiry when Congress reconvenes" [Just the News]. "'The thing that holds up whether we do impeachment inquiry, provide us the documents we're asking… If they provide us the documents, there wouldn't be a need for impeachment inquiry,' [House Speaker Kevin] McCarthy told Larry Kudlow on Fox Business. 'But if they withhold the documents and fight like they have now to not provide to the American public what they deserve to know, we will move forward with impeachment inquiry when we come back into session….  'The only stories that have not changed are the whistleblowers from the IRS. Their story has held up time and again,' he went on. 'If the Biden administration continues to fight to withhold information that could really clear all this up… we would have to move to an impeachment inquiry.' McCarthy went on to liken the Biden administration and its use of federal office for allegedly illicit means to the administration of Richard Nixon." • Ouch!
Democrats en Déshabillé
Patient readers, it seems that people are actually reading the back-dated post! But I have not updated it, and there are many updates. So I will have to do that. –lambert

I have moved my standing remarks on the Democrat Party ("the Democrat Party is a rotting corpse that can't bury itself") to a separate, back-dated post, to which I will periodically add material, summarizing the addition here in a "live" Water Cooler. (Hopefully, some Bourdieu.) It turns out that defining the Democrat Party is, in fact, a hard problem. I do think the paragraph that follows is on point all the way back to 2016, if not before:

The Democrat Party is the political expression of the class power of PMC, their base (lucidly explained by Thomas Frank in Listen, Liberal!). ; if the Democrat Party did not exist, the PMC would have to invent it. . ("PMC" modulo "class expatriates," of course.) Second, all the working parts of the Party reinforce each other. Leave aside characterizing the relationships between elements of the Party (ka-ching, but not entirely) those elements comprise a network — a Flex Net? An iron octagon? — of funders, vendors, apparatchiks, electeds, NGOs, and miscellaneous mercenaries, with assets in the press and the intelligence community.

Note, of course, that the class power of the PMC both expresses and is limited by other classes; oligarchs and American gentry (see 'industrial model' of Ferguson, Jorgensen, and Jie) and the working class spring to mind. Suck up, kick down.

* * *
Realignment and Legitimacy
"Resentment makes the world go round" [Janan Ganesh, Financial Times]. "With due respect to the physicists working on nuclear fusion, the most powerful source of energy in the universe, if it could ever be harnessed, is human resentment. Nietzsche thought it made the world go round. (And he didn't even live to see what it would drive his fellow Germans to do after their defeat in the Great War.) There is no understanding modern Russia without a sense of its ressentiment as a shrunken empire. If we narrow the lens from the geopolitical to the personal, we see resentment at work even more. Notice how many populist leaders are what might be called relative outsiders. Privileged by almost all standards, these people feel shut out of what they regard as the true in-crowd. Nigel Farage: a former stockbroker, but also a non-graduate and much-mocked seven-time loser of elections to parliament. Boris Johnson: Etonian and Oxonian but neither posh nor rich. Marine Le Pen: a dynast, but not one who passed through France's top school for technocrats. And then the ultimate case in point: Donald Trump, an outer-borough arriviste, ridiculed by the smart set for his ghastly taste and paprika tan. This pattern goes at least as far back as Richard Nixon, another butt of hurtful jokes in a country with more class sensitivities than it pretends. As a student, he so resented the social elite among his peers that he founded his own fraternity for outsiders and also-rans. (A sort of Brics on campus.) What animates the populist right is not so much an ideological programme. It is what the British would call chippiness, directed at a real or imagined beau monde." And: "On the face of it, no two entities are less alike than Trump and China." • Oh noes! He went there!
#COVID19
"I am in earnest — I will not equivocate — I will not excuse — I will not retreat a single inch — AND I WILL BE HEARD." –William Lloyd Garrison
Resources, United States (National): Transmission (CDC); Wastewater (CDC, Biobot; includes many counties; Wastewater Scan, includes drilldown by zip); Variants (CDC; Walgreens); "Iowa COVID-19 Tracker" (in IA, but national data). "Infection Control, Emergency Management, Safety, and General Thoughts" (especially on hospitalization by city).
Lambert here: Readers, thanks for the collective effort. To update any entry, do feel free to contact me at the address given with the plants. Please put "COVID" in the subject line. Thank you!
Resources, United States (Local): AK (dashboard); AL (dashboard); AR (dashboard); AZ (dashboard); CA (dashboard; Marin, dashboard; Stanford, wastewater; Oakland, wastewater); CO (dashboard; wastewater); CT (dashboard); DE (dashboard); FL (wastewater); GA (wastewater); HI (dashboard); IA (wastewater reports); ID (dashboard, Boise; dashboard, wastewater, Central Idaho; wastewater, Coeur d'Alene; dashboard, Spokane County); IL (wastewater); IN (dashboard); KS (dashboard; wastewater, Lawrence); KY (dashboard, Louisville); LA (dashboard); MA (wastewater); MD (dashboard); ME (dashboard); MI (wastewater; wastewater); MN (dashboard); MO (wastewater); MS (dashboard); MT (dashboard); NC (dashboard); ND (dashboard; wastewater); NE (dashboard); NH (wastewater); NJ (dashboard); NM (dashboard); NV (dashboard; wastewater, Southern NV); NY (dashboard); OH (dashboard); OK (dashboard); OR (dashboard); PA (dashboard); RI (dashboard); SC (dashboard); SD (dashboard); TN (dashboard); TX (dashboard); UT (wastewater); VA (dashboard); VT (dashboard); WA (dashboard; dashboard); WI (wastewater); WV (wastewater); WY (wastewater).
Resources, Canada (National): Wastewater (Government of Canada).
Resources, Canada (Provincial): ON (wastewater); QC (les eaux usées); BC, Vancouver (wastewater).
Hat tips to helpful readers: anon (2), Art_DogCT, B24S, CanCyn, ChiGal, Chuck L, Festoonic, FM, FreeMarketApologist (4), Gumbo, hop2it, JB, JEHR, JF, JL Joe, John, JM (10), JustAnotherVolunteer, JW, KatieBird, LL, Michael King, KF, LaRuse, mrsyk, MT, MT_Wild, otisyves, Petal (6), RK (2), RL, RM, Rod, square coats (11), tennesseewaltzer, Utah, Bob White (3). 
Stay safe out there!
* * *
Maskstravaganza
The mask that accepts straws:

I've been using @SIPmask for a few days now and I've found it super convenient in Vietnam where a couple of iced coffees are a daily necessity for me!

The first image shows the exposed valve (it comes with a cap that can be used to block it when not in use).

The second image… pic.twitter.com/7gQVMiToWa

— Breathe Safe Air (@safe_breathe) August 22, 2023

"Madness: American Satirist C.J. Hopkins Sentenced in German Speech Case" [Matt Taibbi, Racket News]. The German case against Hopkins is absurd and Taibbi is right to take up the cudgels on Hopkins behalf. Nevertheless: "It's about the tweet… It's the cover art from the book and it's me going after the mask thing, like the one tweet I think, not exactly verbatim but pretty close, says the ." • Hopkins is dead wrong — and when I say "dead," I mean it — on the science and engineering of mask wearing. Taibbi might have mentioned that, just so that people don't take Hopkins seriously as a thinker.
Elite Maleficence
HICPAC meeting report:

Yeah, well they just made your testimony private.

— Lazarus Long (@LazarusLong13) August 22, 2023

Here is what is said to be the full clip. 46 minutes?!

I am pressed temporally and cannot listen (and in any case I don't want to stroke out). Readers? See NC on HICPAC here, here, here, and here.

"Project NextGen Awards Over $1.4 Billion to Develop the Future of COVID-19 Vaccines and Therapeutics" [US Department of Health and Human Services]. "Today, the U.S. Department of Health and Human Services (HHS), through the Administration for Strategic Preparedness and Response (ASPR), awarded a pitifully small more than $1.4 billion for Project NextGen to support the development of a new generation of tools and technologies to protect against COVID-19 for years to come." Here's the vaccines part: "$1 billion to four BARDA Clinical Trial partners to support vaccine Phase IIb clinical trial studies: ICON Government and Public Health Solutions, Inc of Hinckley, Ohio; Pharm-Olam, LLC, of Houston, Texas; Technical Resources Intl (TRI), Inc, of Bethesda, Maryland; and Rho Federal Systems, Inc., Durham, North Carolina." • A fair comment:

Here's an updated list of the sterilizing vaccines, effective monoclonal antibodies, long Covid treatments, updated ventilation lists in businesses and schools and the action plan to fight this virus after almost 4 years. pic.twitter.com/AGPxsOOKmU

— Jess (@MeetJess) August 23, 2023
Res ipsa loquitur….
"HHS awards $1.4 billion to drive development of new Covid-19 vaccines and therapies" [CNN]. "Another $1 billion in funding will go to four companies that will lead clinical trials of Covid-19 vaccines. HHS says the funding will support phase 2b clinical trials of new types of vaccines. HHS will select the vaccines that will be tested this fall, and the studies will begin over the winter." • So they've picked the contractors, but not that vaccines! A stately pace, and greatly in contrast to the former guy. With only four vaccines to be tested, how many do you think will be nasal vaccines (i.e., vaccines with at least the potential to be sterilizing)? My guess would be one. Now ask yourself whether the (hypothetical) nasal vaccine selected will be the one with the greatest likelihood of success, or the least? Of course, I could be too paranoid–
"Biden admin pumps money into developing new COVID vaccines" [Axios]. "Some of the remaining funds will go towards better vaccine manufacturing technology, such as a nasal spray that in theory could guard better again infection." • No money amount is listed. In any case, my impression is that the issue with nasal vaccines is not manufacturing — Bharat does fine, yes? — but delivery. And it's not clear to me whether nasal spray bottles need to be optimized for the chemical composition of the spray, or not; my guess is yes. Readers?
* * *
If you're woke, superspreading events are jake with the angels:
I was thrilled to attend the Office of Readiness and Response Summer Festival today! 🌞 🎉 Enjoyed seeing our @CDCgov teammates' vibrant showcase of their cultures – what a great way to celebrate joy at work! pic.twitter.com/cR0ZYRybSO

— Mandy K. Cohen, MD, MPH (@CDCDirector) August 21, 2023
Masks not at all pervasive. but present. Amazingly, a baggy blue. These are supposed to be public health scientists! (Mandy's actually worse than Rochelle, who could colorably plead ignorance. But Mandy must know the science. And yet she plows ahead, leaving infection in her wake.)
* * *
Case Data
NOT UPDATED From BioBot wastewater data, August 22: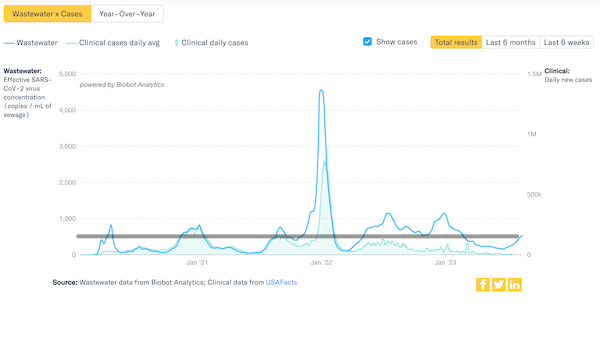 Lambert here: Happy memories of tape-watching days! Closing in on a Trump-era surge level; Biden's, of course, are higher. It will be interesting to see what happens when schools open up. I would like to congratulate the Biden administration and the public health establishment, the CDC especially, for this enormous and unprecedented achievement. And a tip of the ol' Water Cooler hat to the Great Barrington goons, whose policies have been followed so assiduously! A curious fact: All of Biden's peaks are higher than Trump's peaks. Shows you what public health can do when it's firing on all eight cylinders! Musical interlude. NOTE I'm not happy that Biobot can't update this data more frequently. 
Regional data: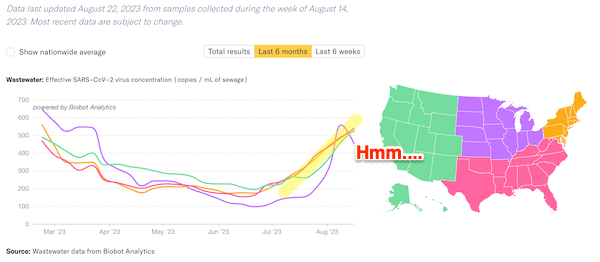 Backward revisions. The national flattening is due to the Midwest downward swoop. I'd wait for the backward revisions on that. Interestingly, the upswing begins before July 4, which neither accelerates nor retards it.
Regional variant data, August 19: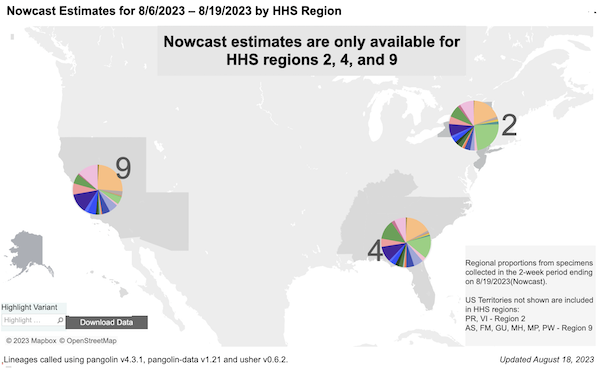 EG.5 (the orange pie slice) still seems evenly distributed. Sadly, the Midwest data is not available, so we can't infer anything about the Midwest surge and any variant(s), one way or the other. 
Variants
NOT UPDATED From CDC, August 19: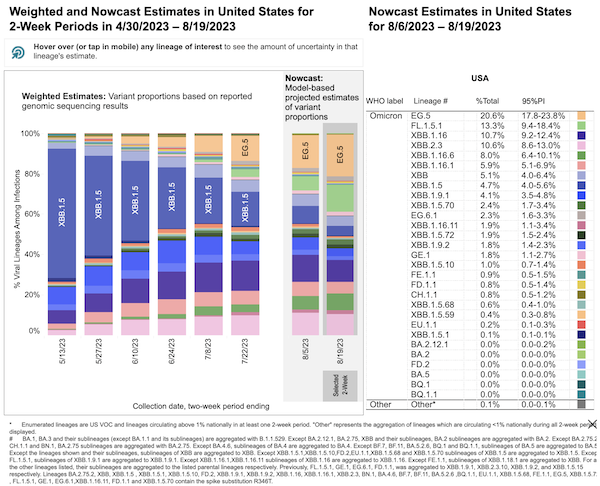 Lambert here: Top of the leaderboard: EG.5 ("Eris"). I'm not highlighting the BA.2's because the interactive version shows that these BA.2's been hanging around at a low level for months.
From CDC, August 5: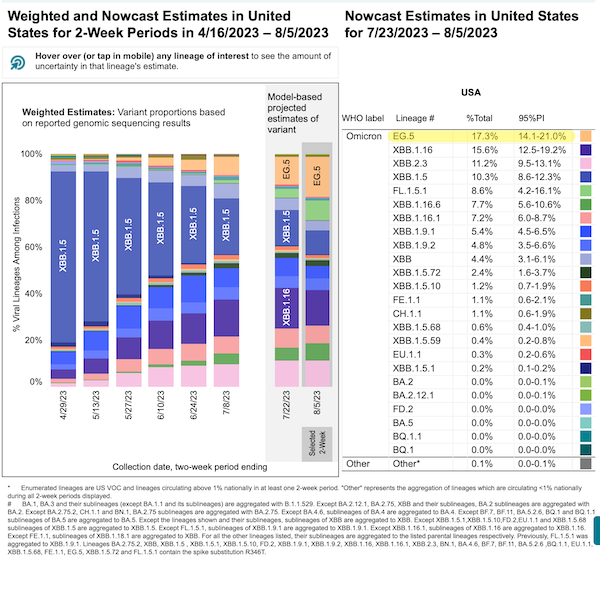 Lambert here: Not sure what to make of this. I'm used to seeing a new variant take down the previously dominant variant. Here it looks like we have a "tag team," all working together to cut XBB.1.5 down to size. I sure hope the volunteers doing Pangolin, on which this chart depends, don't all move on the green fields and pastures new (or have their access to facilities cut by administrators of ill intent).
CDC: "As of May 11, genomic surveillance data will be reported biweekly, based on the availability of positive test specimens." "Biweeekly: 1. occurring every two weeks. 2. occurring twice a week; semiweekly." Looks like CDC has chosen sense #1. In essence, they're telling us variants are nothing to worry about. Time will tell.
Covid Emergency Room Visits
From CDC NCIRD Surveillance, August 19: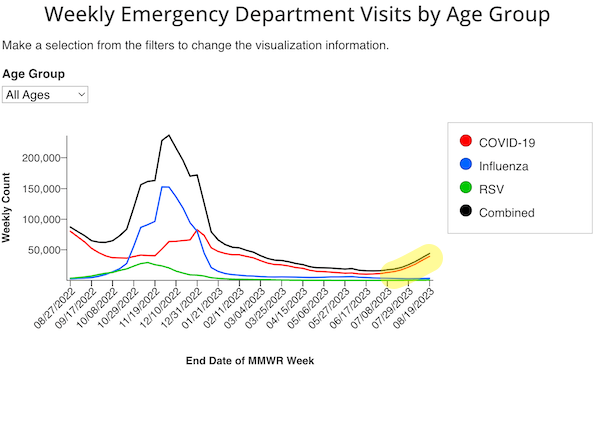 Lambert here: Steady increase. (The black line is "combined", but it is easy to see that Covid, the red line, is driving everything.)
NOTE "Charts and data provided by CDC, updates Wednesday by 8am. For the past year, using a rolling 52-week period." So not the entire pandemic, FFS (the implicit message here being that Covid is "just like the flu," which is why the seasonal "rolling 52-week period" is appropriate for bothMR SUBLIMINAL I hate these people so much. Notice also that this chart shows, at least for its time period, that Covid is not seasonal, even though CDC is trying to get us to believe that it is, presumably so they can piggyback on the existing institutional apparatus for injections.
Hospitalization
I hate this metric because the lag makes it deceptive. Nevertheless, here's bellwether New York City, data as of August 22: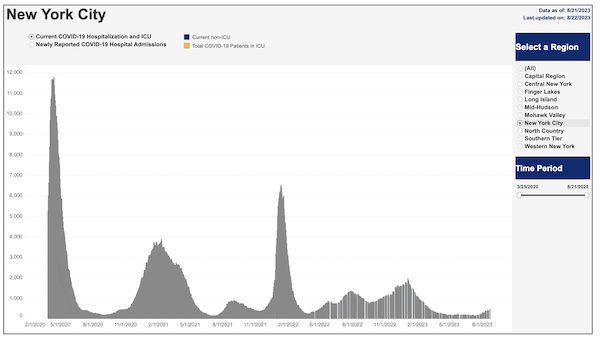 Still getting worse. But how much worse?
Positivity
NOT UPDATED Walgreens, August 21: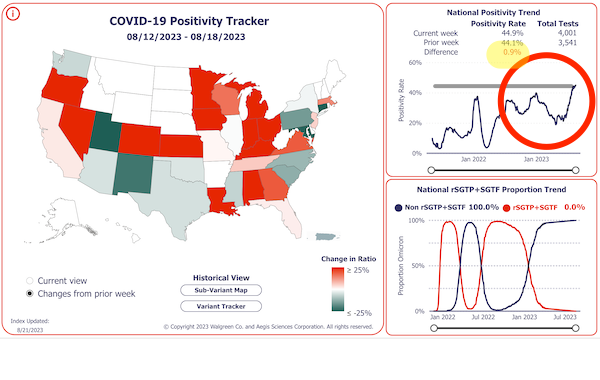 So, Walgreens is back in the game (and how the heck did that debacle happen? We breathlessly await the news coverage). The percentage of positives is the highest ever, though absolute numbers are still small relative to past surges.
NOT UPDATED From CDC, July 31: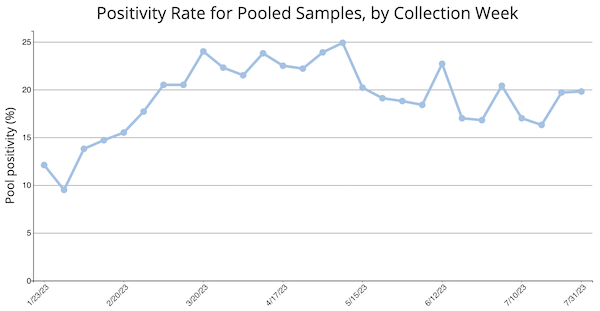 Lambert here: This is the CDC's "Traveler-Based Genomic Surveillance" data.
Deaths
NOT UPDATED Iowa COVID-19 Tracker, August 9: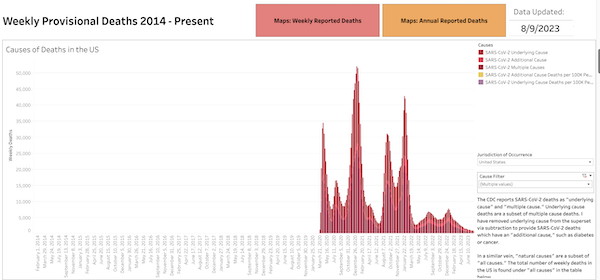 Lambert here: The WHO data is worthless, so I replaced it with the Iowa Covid Data Tracker. Their method: "These data have been sourced, via the API from the CDC: https://data.cdc.gov/NCHS/Conditions-Contributing-to-COVID-19-Deaths-by-Stat/hk9y-quqm. This visualization updates on Wednesday evenings. Data are provisional and are adjusted weekly by the CDC." I can't seem to get a pop-up that shows a total of the three causes (top right). Readers?
Total: 1,172,960 – 1,172,801 = 159 (159 * 365 = 58,035 deaths per year, today's YouGenicist™ number for "living with" Covid (quite a bit higher than the minimizers would like, though they can talk themselves into anything. If the YouGenicist™ metric keeps chugging along like this, I may just have to decide this is what the powers-that-be consider "mission accomplished" for this particular tranche of death and disease). 
Excess Deaths
The Economist, August 23: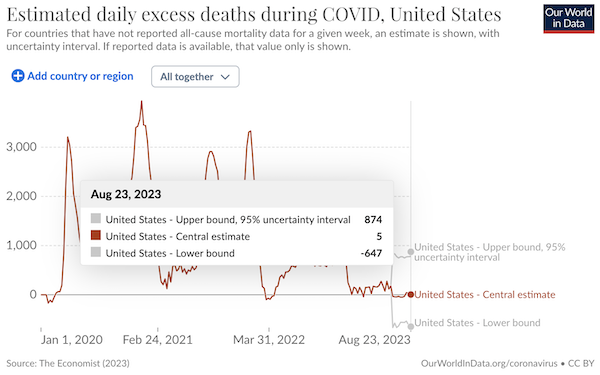 Lambert here:  Back to almost dailiy. Odd when it is, odd when it stops. Based on a machine-learning model. (The CDC has an excess estimate too, but since it ran forever with a massive typo in the Legend, I figured nobody was really looking at it, so I got rid it. )
Stats Watch
There are no official statistics of interest today.
* * *
Tech: "Apple's treatment of small games developer makes a textbook antitrust case" [9to5Mac]. "Apple has voraciously denied accusations that the App Store has monopolistic control over iPhone apps, yet the company's ability to unilaterally close developer accounts without explanation forms a textbook antitrust case. One small games developer had its Apple Developer Program (ADP) account terminated without explanation, was unable to appeal as it hadn't been told what accusations it needed to address, took Apple to court – and then had its account reinstated after five months of lost sales, still without explanation or apology…. Some five months after Digital Will had its apps pulled from the App Store, and two months after it sent a lawyer's letter to Apple, the Cupertino company reinstated the account. No explanation was offered. The company estimates that its total losses and costs exceed $765k, and is seeking damages from Apple." • One for Stoller. Pocket change for Apple; life-changing for a small developer.
* * *
Today's Fear & Greed Index: 47 Neutral (previous close: 46 Neutral) [CNN]. One week ago: 50 (Neutral). (0 is Extreme Fear; 100 is Extreme Greed). Last updated Aug 22 at 8:00 PM ET. C'mon, Mr. Market! One way or the other!
The Gallery
"An Abandoned Cabinet Unearths a Trove of Unseen Kodachrome Slides Documenting 1960s San Francisco" [This is Colossal]. "There's a Vivian Maier-esque story out of San Francisco that's drawing attention to a newly discovered body of work from a largely unknown photographer." Vivian Maier is terrific. More: "Back in 2020, David Gallagher, who runs the historical archive known as SF Memory, received a hefty cabinet that was found abandoned in San Francisco's Mission District. Inside were 920 Kodachrome slides capturing life in the California city throughout the 1960s, with no identifying details about the photographer…. There are children at play, an officer showing off a chunky, white rabbit, and families swimming in Fleishhacker Pool before the public saltwater complex closed in 1971. Together, the collection creates a distinct photographic tapestry of life in the city during a time of massive change and growth." • I believe that today, of the rabbit, we would say "chonky boi":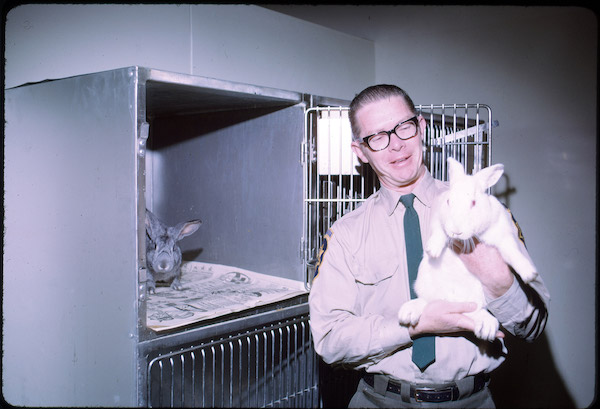 "When logic and proportion…."
"Millions of old printed photos are sitting in storage. Digitizing them can unlock countless memories" [Associated Press]. "After retiring in 2021 from a long career as a U.S. diplomat who worked all over the world, Lyne Paquette returned to her home in Chapel Hill, North Carolina, and retrieved from storage 12,000 images that she had taken from her film camera during her wide-ranging travels. After spending months sorting through them all, Paquette sent about 3,500 to be digitized.. 'It brings back so much happiness, but sometimes sadness,' Paquette, 67, says. 'I can see now: I have had a very, very rich life.'" • Be careful of rights, and of storage, too. You don't want your memories to be part of some AI's training set.
Class Warfare
"Rubbing Shoulders: Class Segregation in Daily Activities"  (PDF) [Maxim Massenkoff, Nathan Wilmers]. The Abstract: "We use location data to study activity and encounters across class lines. Low-income and especially high-income individuals are socially isolated: more likely than other income groups to encounter people from their own social class. Using simple counterfactual exercises, we study the causes. While some industries cater mainly to low or high-income groups (for example, golf courses and wineries), industry alone explains only a small share of isolation. People are most isolated when they are close to home, and the tendency to go to nearby locations explains about one-third of isolation. Brands, combined with distance, explain about half the isolation of the rich. Casual restaurant chains, like Olive Garden and Applebee's, have the largest positive impact on cross-class encounters through both scale and their diversity of visitors. Dollar stores and local pharmacies like CVS deepen isolation. Among publicly-funded spaces, libraries and parks are more redistributive than museums and historical sites. And, despite prominent restrictions on chain stores in some large US cities, chains are more diverse than independent stores. The mix of establishments in a neighborhood is strongly associated with cross-class Facebook friendships (Chetty et al., 2022). The results uncover how policies that support certain public and private spaces might impact the connections that form across class divides."
"How Do the Rich Become and Stay Wealthy?" [Federal Reserve Bank of St. Louis]. "Ozkan noted that, on average, the wealthiest individuals began their careers significantly richer than other households in the same cohort. For example, the richest 0.1% of households at ages 50 to 54 owned about 120 times the economywide average wealth, which was $437,000 in 2015. When these same households were in their late 20s, they already possessed, on average, 20 times the economywide average wealth, Ozkan pointed out. Ozkan also noted that the wealthiest households at ages 50 to 54 were heavily invested in equity, particularly private businesses, starting at a young age. For instance, he pointed out, the wealthiest individuals held 85% to 90% of their wealth in equity, whereas below-median households held 90% of their total assets in housing. Consequently, the wealthiest earned markedly higher returns. 'It follows, then, that equity income, including capital gains, provided the main source—83%—of total lifetime income for the wealthiest 0.1%. In contrast, households in the bottom 90% of the wealth distribution earned 80% to 90% of their lifetime income from labor services,' Ozkan wrote. 'Interestingly, inheritances (accrued between 1994 and 2014) constituted a negligible fraction of resources for all wealth groups, including the top wealth owners.' The richest households were also significant savers. Ozkan noted that the wealthiest 0.1% of households had saved 70% of their gross income over the study period." • Hmm. If the rich began their careers "significantly richer," and yet "inheritances constituted a negligible fraction of resources for the top wealth owners," then how was the "primitive accumulation" done? A "great crime"?
News of the Wired
"Visualizing the mysterious dance: Quantum entanglement of photons captured in real-time" [Phys.org]. "Researchers at the University of Ottawa, in collaboration with Danilo Zia and Fabio Sciarrino from the Sapienza University of Rome, recently demonstrated a novel technique that allows the visualization of the wave function of two entangled photons, the elementary particles that constitute light, in real-time…. This experiment was made possible by an advanced camera that records events with nanosecond resolution on each pixel…. The impact of this research goes beyond just the academic community. It has the potential to accelerate quantum technology advancements, such as improving quantum state characterization, quantum communication, and developing new quantum imaging techniques." • Now do cats.
* * *
Contact information for plants: Readers, feel free to contact me at lambert [UNDERSCORE] strether [DOT] corrente [AT] yahoo [DOT] com, to (a) find out how to send me a check if you are allergic to PayPal and (b) to find out how to send me images of plants. Vegetables are fine! Fungi and coral are deemed to be honorary plants! If you want your handle to appear as a credit, please place it at the start of your mail in parentheses: (thus). Otherwise, I will anonymize by using your initials. See the previous Water Cooler (with plant) here. From Upstater: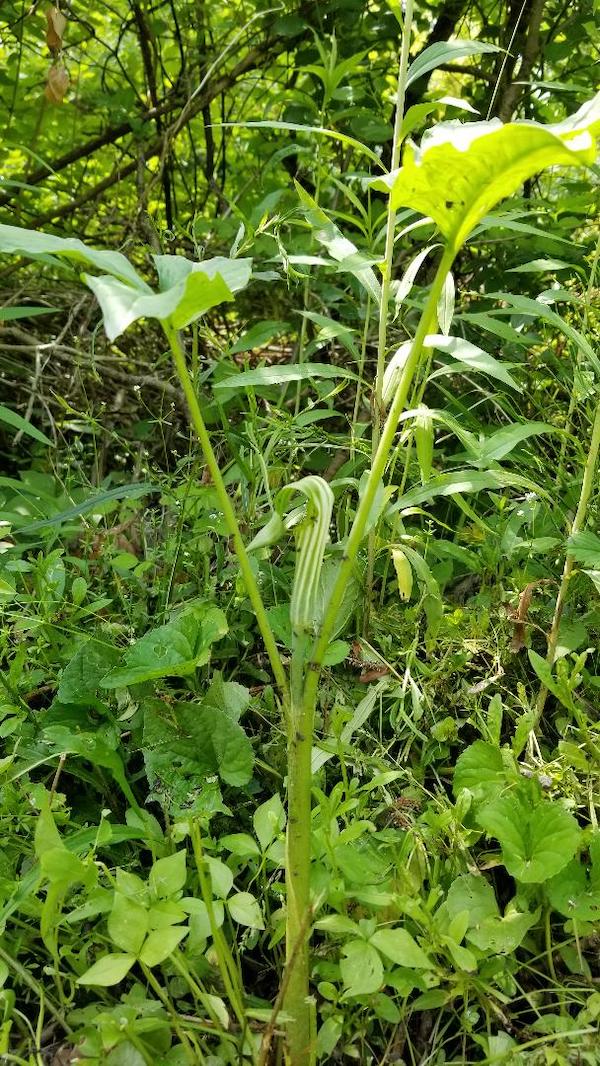 Upstater writes: "On our trail by the creek, a Jack in the Pulpit. I marked it and will see if it produces seeds and attempt propagation."
* * *
Readers: Water Cooler is a standalone entity not covered by the annual NC fundraiser. So if you see a link you especially like, or an item you wouldn't see anywhere else, please do not hesitate to express your appreciation in tangible form. Remember, a tip jar is for tipping! Regular positive feedback both makes me feel good and lets me know I'm on the right track with coverage. When I get no donations for five or ten days I get worried. More tangibly, a constant trickle of donations helps me with expenses, and I factor in that trickle when setting fundraising goals:
Here is the screen that will appear, which I have helpfully annotated: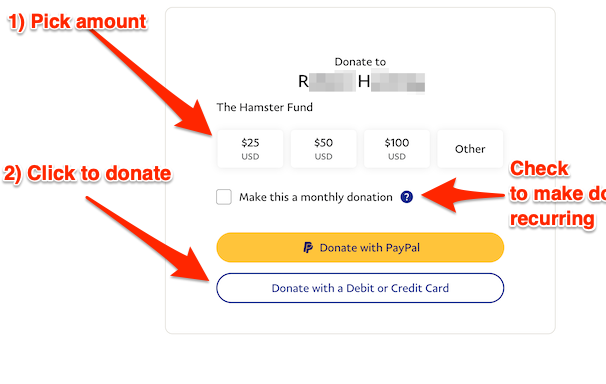 If you hate PayPal, you can email me at lambert [UNDERSCORE] strether [DOT] corrente [AT] yahoo [DOT] com, and I will give you directions on how to send a check. Thank you!