This is Naked Capitalism fundraising week. 726 donors have already invested in our efforts to combat corruption and predatory conduct, particularly in the financial realm. Please join us and participate via our donation page, which shows how to give via check, credit card, debit card or PayPal or our new payment processor, Clover. Read about why we're doing this fundraiser, what we've accomplished in the last year,, and our current goal, continuing our expanded news coverage.
* * *
By Lambert Strether of Corrente.
Bird Song of the Day
American Robin, Tetlin National Wildlife Refuge; Deadman Lake, Alaska, United States.
* * *
Politics
"So many of the social reactions that strike us as psychological are in fact a rational management of symbolic capital." –Pierre Bourdieu, Classification Struggles
The Constitutional Order
"Can the 14th Amendment block a Trump return to the White House? A Colorado case may hold answers" [Mike Littwin, Colorado Sun]. September 10. "A New Mexico district court judge disqualified a county commissioner last year from holding public office for engaging in the January 6 insurrection. That was the first time the 14th Amendment had been used that way in a hundred years. The commissioner had breached the Capitol, though he didn't engage in any violence. Trump didn't engage in physical violence either. But did he illegally incite it? That's for a judge to judge. And maybe many judges." • The Democrats can't seem to get out of their own way on messaging. First, by Baude and Paulsen, an election official "disqualifies" Trump. Then, presumably, the Republicans sue, and the matter enters the courts. But the election officials don't need to wait for a court decision, in Baude and Paulsen's reading; the Fourteenth Amendment is "self-executing." Now I know the Democrats are working election officials. But wouldn't it make sense to bring their theory of the case and their aghastitude into alighnment? Better messaging from MSNBC and the NGO CREW–

"These concerned Colorado citizens want to stop Trump using the 14th Amendment" [Noah Bookbinder and Donald K. Sherman, MSNBC]. September 10. The authors are both from CREW. "The suit, filed on Sept. 6 in Colorado District Court by Republican and unaffiliated voters, , under Section 3 of the 14th Amendment, which disqualifies from office anyone who took an oath to the Constitution and then engaged in insurrection. Our organization, Citizens for Responsibility and Ethics in Washington, or CREW, along with top election lawyers and litigators from Colorado, is representing those plaintiffs." The plaintiffs are bipartisan. "This is not an academic exercise. It can succeed. In fact, it already has. CREW represented residents of New Mexico who successfully sued to remove from office Couy Griffin — a county commissioner who had helped to incite, recruit for and normalize* violence during the Jan. 6 attack. Griffin was the first official disqualified under the 14th Amendment in more than 150 years. The judge in that case determined that Jan. 6 was an insurrection for purposes of the Constitution, and that someone who helped to incite it — even if they had not personally engaged in violence — had engaged in insurrection and was disqualified." And: "The fact that the lawsuit is being brought in Colorado is not an accident. The state's laws maximize the chance our plaintiffs will quickly get a fair hearing on this crucial constitutional provision. The state has a statutory provision requiring the secretary of state to exclude constitutionally ineligible candidates from the ballot and law providing for eligible voters to challenge in court improper presidential candidates." • Note that Griffen could be said to be "officer of the United States." Trump, many urge, and I agree, is not, and therefore the Fourteenth Amendment does not apply to him. NOTE * What the heck does "normalize" mean?

"Trump lawyers move "insurrection" clause lawsuit aiming to bar him from Colorado ballot to federal court" [Associated Press]. September 8. "'Plaintiffs' challenge to Colorado's ability to place Donald Trump on the presidential ballot depends solely on the Fourteenth Amendment,' they wrote. 'Trump's basis for removal of the state court action is federal question jurisdiction under Section 3 of Fourteenth Amendment.' CREW's case is the first of what's expected to be many challenges filed in various states by the group and Free Speech for People, another liberal nonprofit. Activists in other states have filed lawsuits in which they represent themselves, but legal observers contend the more robust complaints by the nonprofits are more likely to end up at the nation's highest court, which has never ruled on the clause. CREW can move to return the case to state court. It has requested a speedy ruling on the issues before Colorado's Republican primary ballot is finalized on Jan. 5." • Hmm. Trump, interestingly, seems not to have fired any lawyers recently. So I guess he's happy with this team's performance.

"Disqualifying Trump's Candidacy Will Take a Key Conviction, Not Wishful Legal Thinking" [The Messenger]. "Lawyers around the country are filing lawsuits in state and federal courts to prevent Trump from being placed on state ballots. The decision whether to put Trump on the ballot will be made by an official in each of the 50 states. That decision will be made after the August 2024 party conventions…. So, between August and the election in November, the state and federal courts may be faced with adjudicating thousands of lawsuits. Assuming that some of those cases get from federal district courts through to federal circuit courts, and then to the Supreme Court, before the November 2024 election, and that some cases arising out of state courts do so as well, it is very possible that the Supreme Court could rule that it is up to the individual states to determine under state law whether Trump should be placed on the ballot. What is the practical impact of such a ruling? Chaos. There will be battles in each state as supporters of Trump and supporters of President Biden fight to have their interpretation of state law enforced. In some states, Trump will be placed on the ballot, in others he won't, and still other states will be mired in litigation that will extend beyond the election. Neither Professor Tribe nor Judge Luttig, nor the authors of the law review article, even consider the likely consequences of their thesis. But it is irresponsible not to." Not sure about thousands if it takes an NGO to make a serious case. More: "This issue could have been avoided had the Justice Department's special prosecutor, Jack Smith, charged Trump with insurrection or rebellion or aiding our enemies, which Congress did make a crime under 18 U.S.C. § 2383. Despite a recommendation by the House of Representatives' Jan. 6 Select Committee, Smith chose not to. Had he, there would be no need for the constitutional crisis that would arise from the authors' interpretation of the law." • No, Smith didn't. Doesn't that make the prima facie case clear?

* * *

"The Sweep and Force of Section Three" [William Baude and Michael Stokes Paulsen, University of Pennsylvania Law Review]. I highly recommend this piece (and the ensuing discussion at NC, starting here). As a former English major and a fan of close reading, I'm not averse to "originalism," of which Baude and Paulsen provide a magisterial example, in the sense that understanding the law as a text must begin with understanding the plain, public meaning of the words used when the text was written. That's how I read Shakespeare, or Joyce, so why not the Constitution? Just as long as understanding doesn't end there! In any case, I'm working through it. One thing I notice is that there do seem to have been rather a lot of rebellions and insurrections, not just the Civil War. To me, this is parallel to one lesson I drew from Mike Duncan's Revolutions podcast (episode 1): There are rather a lot of revolutions, too. Alert reader Pensions Guy summarizes Baude and Paulsen as follows:

The authors go through an exhaustive textual and originalism analysis of Section Three, and their Federalist Society leanings do not deter them from reaching their conclusion that officials in every State who are charged with determining candidate qualifications should conclude that Donald Trump is disqualified from being on ballots because of the oath he took on Inauguration Day 2017 and subsequently violated through his role in the insurrection that took place on January 6, 2021.

Taking "insurrection" as read (I need to do more reading), this has been more of my continuing coverage of Section Three.
2024
Time for the Countdown Clock!

* * *

"The 'Why Not?' grand jury: The Georgia final report should worry us all" [Jonathan Turley, The Hill]. "I have long criticized the misrepresentation of the two Georgia calls by the Washington Post, which later issued a correction in its reporting. Although it recently made a startling contradictory statement on the truth of its original claims, the transcript of the calls shows that Trump did not tell officials to simply add more than 11,000 votes. I still disagree with his claims, but I have maintained that Trump was making a predictable argument in a settlement negotiation that he only needed that number of votes and that a new recount or continued investigation would find them. My questioning of the use of the calls as evidence of a crime has given many people the vapors. They insist that it was preposterous to think that Trump was actually asking for continued recounts or investigations instead of demanding that Raffensperger commit fraud. Yet Raffensperger himself recently took the stand and confirmed that the call was a 'settlement negotiation' over whether to conduct further recounts or investigations. The question is when advocacy or inquiries or negotiations become criminal acts. Willis's first grand jury clearly believed that senators who called for recounts or Raffensperger's resignation should go to prison. The comparison between their recommendations and the eventual indictment does not clearly answer how such acts are distinguishable as crimes." • A "lack of limiting principles."

* * *

"Democrats Start to Panic About Biden" [Wall Street Journal]. "The party freakout is on display. James Carville and Jim Messina, veterans of winning Democratic campaigns, are chiding the party's "bedwetters." But some in the media are saying Mr. Biden should announce he won't run for a second term. He could leave office as a Democratic hero who saved the country from a second Trump term, say he accomplished a lot by progressive lights, and let the party nominate someone from the next generation. Yet no Democrat of stature has been willing to say this publicly, much less challenge Mr. Biden in the primaries. For months we've asked Democrats who visit us why no one is challenging Mr. Biden given his unpopularity. Their answer boils down to confidence that Mr. Trump will be the Republican nominee, that he's the easiest Republican to beat, that Mr. Biden has done it once, and that a primary challenge would be more divisive than it's worth. Perhaps that will prove to be right, but what a gamble it is." • It would be interesting to see Youngkin v. Pritzker, fighting it out on the public schools. Will nobody think of the children?

"Joe Biden bucks tradition, bets big on early swing-state advertising" [WaPo]. "About 3 in 4 U.S. adults recently told CNN pollsters that Biden failed to inspire confidence and raised "serious concerns" about his physical and mental competence. But this is a different leader shown in the new ads: Here he is before Congress saying no one should bet against America. There he is at the rope line giving a Black teenager a 'go-get-'em-tiger' tap on the chest. Wages are rising. Manufacturing is back. The contrast helps explain why the Biden campaign has decided to buck precedent by launching a major advertising buy sooner than Barack Obama or Donald Trump, the last two presidents to run for reelection. It's a major investment for a still-growing campaign. Through the end of June, Biden's campaign organization had raised less than $23 million, all in checks no larger than $3,300. The same account is now shouldering the costs of the first weeks of a $25 million, 16-week television and digital campaign, overwhelmingly aimed at the swing-state voters that will decide the election…. The full ad campaign has separate spots to target Hispanics — with a Puerto Rican accent in Pennsylvania and a Mexican one in Arizona — with a separate tag line, 'Somos Nosotros,' or 'It's Us.' African American spots praise Biden's work to cut 'Black child poverty' and grow 'Black businesses.' An abortion rights message is covered with a female narrator, while a young mom cement mason in the Wisconsin testimonial says Biden is 'helping real people.' Unlike Obama, who relied heavily on direct-to-camera speaking for his positive spots, these narrated ads typically unfold as montages of the American people and Biden in action." And: "John Del Cecato, a Democratic ad-maker who worked for Obama and the 2020 campaign of Transportation Secretary Pete Buttigieg, calls the strategy a "gamble worth making" to raise Biden's approval rating from the low 40s, which is on par with where both Obama and Trump were at this point in their reelection cycles, acocrding to Gallup." And: ", as they have essentially abandoned the traditional approach of early stockpiling of campaign funds to be used in the final weeks before Election Day, when candidates are given lower rates on television than outside groups. Democrats widely believe that Biden's Republican opponent, who most now expect to be Trump, will provide more than ample incentive to open a 2024 spigot of small-dollar donations."

"Joe Biden Fires 2024 Election Salvo with Ukraine 'War Zone' Ad" [Kyiv Post]. "With its war zone imagery and macho voiceover it could be a movie trailer — but the sunglasses-clad star of a new campaign ad is none other than 80-year-old US President Joe Biden…. The 60-second spot — which debuted on social media on Thursday and will air on TV in US battleground states during prime time on Saturday — draws a stark contrast with his Republican rivals over the Ukraine war. The message is simple: the Democrat's support against Russia's brutal 2022 invasion shows global leadership, while Republicans including Donald Trump have wobbled all over the place on the issue."

"What if Biden bows out?" [Salon]. "What will Biden face? In a word: 'Huntergate.' Every day, especially when the Republicans in the House begin to hold hearings aimed at Hunter Biden, the Republican assault machine will drag the president's son through the mud and try to link Biden to possible corrupt practices. The lie, oft repeated, becomes for many, the truth. All this will raise questions about Biden and is designed to drive up his negatives." Yes, the letter from fifty spooks won't work twice. What now? More: "Would Biden be prepared to daily defend his family and himself from the pounding that will certainly come? Would it even matter? This all leaves the very real possibility that Biden might conclude that it is not worth seeing his family dragged through the mud every day of the campaign." And now the alternatives: "Perhaps the most attractive alternative for the Democrats is Pete Buttigieg… A Democratic dream ticket in the mold of Joe Biden would be Gov. Andy Beshear of Kentucky for president (age: 45), and Gina Riamondo, former governor of Rhode Island and current commerce secretary (age: 52) as vice president. Both are pragmatic, centrist Democrats who have demonstrated the ability to mobilize moderates and independents." • Please make it stop.

"Inside the Building of President Biden's Impeachment Defense Team (Exclusive)" [The Messenger]. "In interviews with The Messenger, nearly a dozen top House Democrats, their aides and West Wing sources described a strategy plan taking shape that will allow House Democrats to deflect Republican attacks against the president without relying on directives from the White House. 'This is a battle-tested and tight-knit group of intelligent fighting Democrats, members who are part of a very different Democratic Caucus than the one that existed prior to the dangerous lawlessness and corruption of Donald Trump,' Rep. Jamie Raskin of Maryland, the top Democrat on the House Oversight Committee, told The Messenger. … The White House has built its own team to confront the moment, crafting a stable of two dozen lawyers and legislative and communications staff to prepare for investigations and lead a push back against a potential impeachment. Biden's oversight investigations team is based in White House counsel Stuart Delery's office, where aides plan to aggressively call out what they say are partisan GOP assaults on the president."

"Ohio's working class felt deserted by Democrats. Can Biden win them back?" [Guardian]. Betteridge's Law. Who actually showed up in East Palestine? Trump, that's who. He looked good, too. Of course, there is abortion, the perennial bright spot: "Ohio Democrats have been energised by the size of the victory and turnout in last month's referendum on a Republican attempt to make it more difficult to amend the state constitution. The move was aimed at making it harder for voters to enshrine access to abortion in the constitution in another ballot in November. But it was defeated by 57% to 43% on an exceptionally high turnout for a ballot vote in August, reflecting what Democrats see as a major electoral issue in their favor after the US supreme court struck down constitutional protections last year." But will abortion be on the ballot in 2024? More: "Kim McCarthy, the Democratic chair in Greene county, which includes part of eastern Dayton, said her party struggles to shake the perception that, at a national level, it is not interested in working people. 'It's not a secret that our country is run by corporate USA Inc. I feel that limitation stops Democrats from fighting for things that would bring people over to their side, like universal healthcare,' she said. McCarthy said that remained a good part of the reason for Trump's continuing support in her county. 'The appeal of Trump ultimately is that people recognise that our federal government is failing us as a society, as a nation. I'm from Australia and I think one of the most profound things that I've realised over my 25-odd years of living here is that the US government doesn't care about me and my life,' she said." • The Democratic chair!

* * *

"Youngkin on Education: Progressive Left Emphasizing "Equal Outcomes Over Excellence" While Pushing Parents Out Of Kids' Life" [RealClearPolitics]. Youngkin: "[T]he learning loss [from school closures during the pandemic] was not only deep, but it's persistent and therefore, we've got to put politics down and go to work. And that's why this high-intensity tutoring program is so important. It is three to five hours a week of tutoring for reading and math in the classroom, either before or during the day or after school systems get to decide. It's not going to cost families a penny. It's being funded by the state and we have this moment where we see almost two-thirds of our third through eighth graders at risk or failing their math standards and more than half at risk to fail or failing their reading standards." • Putting aside the school closure aghastitude, the tutoring program sounds great, and would be great if the schools were adequately ventilated (which confers learning advantages as well). Which neither party can say, obviously.

* * *

"Twilight Of The Democrats" [Public]. "And yet Biden has shown no sign of throwing in the towel. Rumors periodically fly that he is about to announce he won't run for a second term. Many thought it would happen in August. The problem for Democrats is that they might have no one who can replace him. Kamala Harris is even less popular than Biden, and San Francisco is Gavin Newsom's albatross." • Good point on San Francisco — I'm waiting for a robot taxi to kill a homeless person — but Newsom is Newsom's albatross. The French Laundry scandal didn't get Newsom recalled, but it's there to introduce the country to him: French. Laundry.

"Editorial: Newsom throws South L.A. under the broadband bus" [Editorial Board, Los Angeles Times]. "More than two years ago, Gov. Gavin Newsom approved what was then the nation's largest-ever investment in public broadband. The $6-billion spending plan was supposed to finally bridge the digital divide that has left too many households and businesses in low-income and rural communities without fast, reliable internet access. But last month the Newsom administration cut projects in some of the neediest, most disconnected communities in the state, including South and Southeast Los Angeles and East Oakland, while adding projects in some of the most affluent, tech-connected communities, including Beverly Hills and Culver City." • The whole piece is worth reading. Apparently, "bad maps" are at the root of the misallocation. And if you the think the maps are bad by accident, I have a bridge to sell you. Then again, Newsom's only servicing his real constituency, and what's wrong with that?

"'We would've done everything differently': Newsom reflects on Covid approach" [Politico]. Weak. "Gov. Gavin Newsom said criticism of California's tough Covid-19 restrictions was valid and he would have taken an entirely different approach, given what he knows now about the pandemic. 'I think we would've done everything differently,' Newsom said in a taped interview set to air on NBC's 'Meet the Press' Sunday." • Why is it that Democrats always think that the path to victory is adopting Republican talking points? (I mean, you can bet Newsome isn't talking about, for example, ventilating all schools. Or putting CO2 monitors in public spaces, as civlized countries like Japan do. He'll end up doing GBD-Lite, and then voters will vote for the real thing, as they tend to do.

* * *

Good:

I am so very blessed to have my dear brother @peterdaou as my campaign manager. I welcome him to our campaign and movement! We will work together for truth and justice. https://t.co/A0N7puqpRu#CornelWest2024 pic.twitter.com/11Jah5s1WU

— Cornel West (@CornelWest) September 11, 2023

Daou is knowledgeable and technically competent, something the West campaign sorely needs (as does the Green Party).

* * *

PA: "A Pa. Supreme Court race this fall could have big implications for the 2024 presidential election" [Philadelphia Inquirer]. Pennsylvania is again expected to be a crucial battleground state in the 2024 presidential election. In 2020, the state Supreme Court was at the center of election issues amid battles over mail ballots and former President Donald Trump's false claims of voter fraud. Voting rights advocates expect similar challenges in next year's election, especially if there is a rematch between Trump and President Joe Biden. 'If we see similar trends to what we saw in 2020, the state Supreme Court is going to be vital,' said Kyle Miller, a policy advocate in Pennsylvania for Protect Democracy. Pennsylvania voters will choose in November between Carolyn Carluccio, a Republican and the first woman to serve as president judge of Montgomery County Court; and Dan McCaffery, a Democrat and Superior Court judge."
Democrats en Déshabillé
Patient readers, it seems that people are actually reading the back-dated post! But I have not updated it, and there are many updates. So I will have to do that. –lambert

I have moved my standing remarks on the Democrat Party ("the Democrat Party is a rotting corpse that can't bury itself") to a separate, back-dated post, to which I will periodically add material, summarizing the addition here in a "live" Water Cooler. (Hopefully, some Bourdieu.) It turns out that defining the Democrat Party is, in fact, a hard problem. I do think the paragraph that follows is on point all the way back to 2016, if not before:

The Democrat Party is the political expression of the class power of PMC, their base (lucidly explained by Thomas Frank in Listen, Liberal!). ; if the Democrat Party did not exist, the PMC would have to invent it. . ("PMC" modulo "class expatriates," of course.) Second, all the working parts of the Party reinforce each other. Leave aside characterizing the relationships between elements of the Party (ka-ching, but not entirely) those elements comprise a network — a Flex Net? An iron octagon? — of funders, vendors, apparatchiks, electeds, NGOs, and miscellaneous mercenaries, with assets in the press and the intelligence community.

Note, of course, that the class power of the PMC both expresses and is limited by other classes; oligarchs and American gentry (see 'industrial model' of Ferguson, Jorgensen, and Jie) and the working class spring to mind. Suck up, kick down.

* * *

"Infamous Neo-Nazi blog praises Mayor Adams' claim that NYC is being 'destroyed' by migrant crisis" [New York Daily News]. "The Daily Stormer, a neo-Nazi blog operated by notorious far right conspiracy theorist Andrew Anglin, published a post Friday that said Adams' comments made him 'based,' a phrase used in online chat forums to describe a proudly unfiltered person. The post went on to claim that Adams' remarks were also 'insightful.' Asked whether the mayor's office wanted to distance itself from the Daily Stormer post, Adams spokeswoman Kayla Mamelak accused the Daily News of 'legitimizing Nazi websites.' • Oops.
Realignment and Legitimacy
"Do Geezers Run the World? Should They?" [Counterpunch]. • Do Walmart greeters run the world? From a putatively left publication!
#COVID19
"I am in earnest — I will not equivocate — I will not excuse — I will not retreat a single inch — AND I WILL BE HEARD." –William Lloyd Garrison
Resources, United States (National): Transmission (CDC); Wastewater (CDC, Biobot; includes many counties; Wastewater Scan, includes drilldown by zip); Variants (CDC; Walgreens); "Iowa COVID-19 Tracker" (in IA, but national data). "Infection Control, Emergency Management, Safety, and General Thoughts" (especially on hospitalization by city).
Lambert here: Readers, thanks for the collective effort. To update any entry, do feel free to contact me at the address given with the plants. Please put "COVID" in the subject line. Thank you!
Resources, United States (Local): AK (dashboard); AL (dashboard); AR (dashboard); AZ (dashboard); CA (dashboard; Marin, dashboard; Stanford, wastewater; Oakland, wastewater); CO (dashboard; wastewater); CT (dashboard); DE (dashboard); FL (wastewater); GA (wastewater); HI (dashboard); IA (wastewater reports); ID (dashboard, Boise; dashboard, wastewater, Central Idaho; wastewater, Coeur d'Alene; dashboard, Spokane County); IL (wastewater); IN (dashboard); KS (dashboard; wastewater, Lawrence); KY (dashboard, Louisville); LA (dashboard); MA (wastewater); MD (dashboard); ME (dashboard); MI (wastewater; wastewater); MN (dashboard); MO (wastewater); MS (dashboard); MT (dashboard); NC (dashboard); ND (dashboard; wastewater); NE (dashboard); NH (wastewater); NJ (dashboard); NM (dashboard); NV (dashboard; wastewater, Southern NV); NY (dashboard); OH (dashboard); OK (dashboard); OR (dashboard); PA (dashboard); RI (dashboard); SC (dashboard); SD (dashboard); TN (dashboard); TX (dashboard); UT (wastewater); VA (dashboard); VT (dashboard); WA (dashboard; dashboard); WI (wastewater); WV (wastewater); WY (wastewater).
Resources, Canada (National): Wastewater (Government of Canada).
Resources, Canada (Provincial): ON (wastewater); QC (les eaux usées); BC, Vancouver (wastewater).
Hat tips to helpful readers: anon (2), Art_DogCT, B24S, CanCyn, ChiGal, Chuck L, Festoonic, FM, FreeMarketApologist (4), Gumbo, hop2it, JB, JEHR, JF, JL Joe, John, JM (10), JustAnotherVolunteer, JW, KatieBird, LL, Michael King, KF, LaRuse, mrsyk, MT, MT_Wild, otisyves, Petal (6), RK (2), RL, RM, Rod, square coats (11), tennesseewaltzer, Utah, Bob White (3).
Stay safe out there!
* * *
Maskstravaganza
"Filters 90% of Harmful Airborne Particles at PM10 and 65% at PM2.5" [O2 Nose Filters]. "3M's patented AEM™ (Advanced Electret Media) filter technology relies on the principles of electrostatic attraction. The high capture ratios and extended breathability attributed to 3M's AEM™ material allow airborne particles to be captured within the filter. Rather than using a 'screen' approach to block the passage of particles, the charged fibers act as 'magnets' to retain particles while still allowing air to pass through – making O2 Nose Filters both breathable and effective." And: ""A 'naked' virus can't go anywhere unless it's hitching a ride with a droplet of mucus or saliva . . . these mucus and saliva droplets are ejected from the mouth or nose as we cough, sneeze, laugh, sing, breathe, and talk." The 3M electrostatic filter material in our filtered nasal dilators captures 65% of particles PM2.5 or larger, 90% of particles PM10 or larger, and the effectiveness rapidly approaches 100% above PM10. This means that when you breathe through your nose, O2 can block the vast majority of those virus-carrying sneeze and cough droplets that are careening through the air." • Worth a look? When I visited the site, I got a pop-up offering me a free trial pack. (Clear your cookies if you want to see it again.) Readers, any thoughts?
Covid is Airborne
"HEPA filtration reduces transmission of SARS-CoV-2 and prevents nosocomial infection: A call to action" [BC Medical Journal]. "Let's clear the air about HEPA filtration. When adequate air exchange rates are not achievable, the addition of HEPA filtration reduces respiratory particles and has the potential to reduce nosocomial COVID, as well as other pathogens. I hope someone with the power to implement HEPA filtration will read the state of the evidence and find it a call to action. I hope that my friend will never have to go through another week when three of her patients die from a pathogen they breathed in the hospital air…. A systematic review conducted in 2021 identified 11 studies on the effectiveness of portable HEPA filters for eliminating airborne SARS-CoV-2.[2] A HEPA filter filters 99.97% of aerosols with a size of 0.15 μm, with even greater efficiency for other particle sizes (larger and smaller). SARS-CoV-2 is thought to be around 0.1 μm. All 11 studies showed that portable HEPA purifiers were able to significantly reduce airborne SARS-CoV-2 surrogate particles and augmented other decontamination strategies such as ventilation. Seven of the studies were performed in settings with minimal or no additional ventilation. Placement of the portable air cleaner in front of the subject removed more particles, although placement both in front and behind the subject were effective. Portable air cleaners with HEPA filtration should be placed in open space near the source of the pollutant, near the breathing zone of residents, and not behind furniture." • Somebody tell HICPAC before they slaughter more patients.

We're progressing, but backwards:

Massachusetts, Act of 1888:

'Every public building and every schoolhouse shall be ventilated in such a proper manner that the air shall not become so exhausted as to be injurious to the health of the persons present therein.'

The inspectors went from school to school with… 🧵 https://t.co/OawXbHLCiK pic.twitter.com/MZMSJA5T3z

— Maarten De Cock (@mdc_martinus) September 7, 2023
"Something Awful"
Lambert here: I'm getting the feeling that the "Something Awful" might be a sawtooth pattern — variant after variant — that averages out to a permanently high plateau. Lots of exceptionally nasty sequelae, most likely deriving from immune dysregulation (says this layperson). To which we might add brain damage, including personality changes therefrom.

* * *
Elite Maleficence
Don't get your hopes up:

White House Situation Room gets $50 million facelift.

Nice ceiling.https://t.co/9U8WYejY35 pic.twitter.com/sHfvEyAhhk

— Brebis dans le brouillard (@Sheep_in_fog) September 9, 2023

That's not Far-UV in the ceiling. It's just a light show.

"Mild symptoms":

COVID hits the U.S. Senate… @SenDuckworth says she tested positive today and is experiencing mild symptoms.

Additional positive tests among lawmakers over the next few weeks could complicate efforts to avoid a government shutdown at the end of the month. https://t.co/d1b2upHEXC

— Julie Tsirkin (@JulieNBCNews) September 10, 2023
* * *
Case Data
NOT UPDATED From BioBot wastewater data, September 8: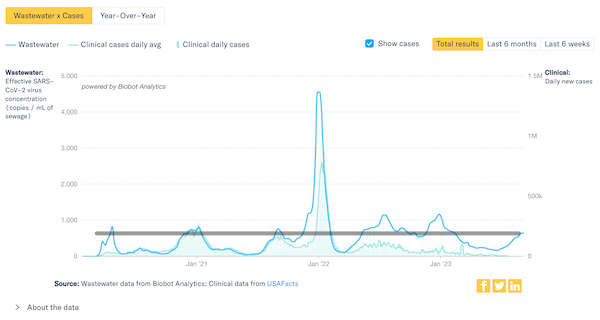 Leveling out? I would attribute this to Labor Day data issues (a note above the chart no longer visible says the data was delayed) but I would expect this to be consistent across regions, which it isn't.
Regional data: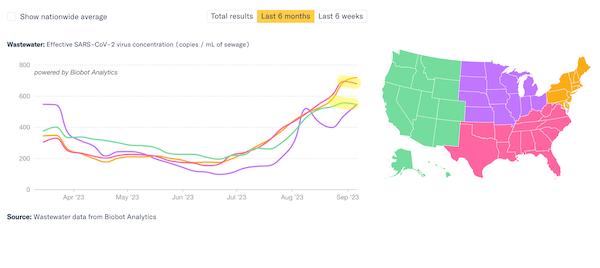 Interestingly, the upswing begins before July 4, which neither accelerates nor retards it.
Variants
NOT UPDATED From CDC, September 2: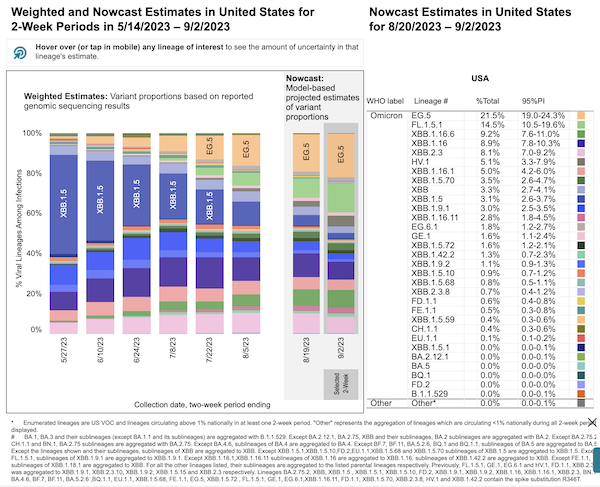 Lambert here: Top of the leaderboard: EG.5 ("Eris"). No BA.2.86 here, not even in the note, but see below at Positivity.
CDC: "As of May 11, genomic surveillance data will be reported biweekly, based on the availability of positive test specimens." "Biweeekly: 1. occurring every two weeks. 2. occurring twice a week; semiweekly." Looks like CDC has chosen sense #1. In essence, they're telling us variants are nothing to worry about. Time will tell.
Covid Emergency Room Visits
NOT UPDATED From CDC NCIRD Surveillance, September 2: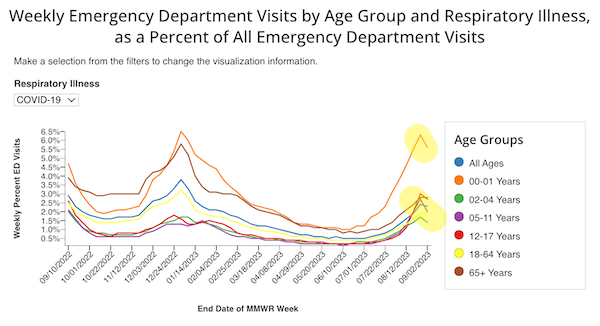 Lambert here: Another Labor Day weekend drop, like Walgreens? Typically, three-day weekends don't coincide with peak infection!
Lambert here: I changed this ER chart to a Covid-only chart broken down by age. Note the highlighting.
NOTE "Charts and data provided by CDC, updates Wednesday by 8am. For the past year, using a rolling 52-week period." So not the entire pandemic, FFS (the implicit message here being that Covid is "just like the flu," which is why the seasonal "rolling 52-week period" is appropriate for bothMR SUBLIMINAL I hate these people so much. Notice also that this chart shows, at least for its time period, that Covid is not seasonal, even though CDC is trying to get us to believe that it is, presumably so they can piggyback on the existing institutional apparatus for injections.
Hospitalization
Bellwether New York City, data as of September 9: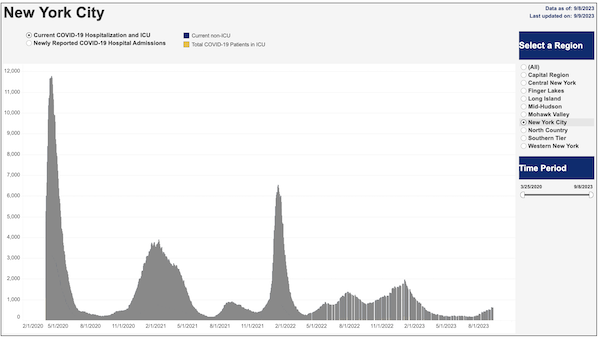 Still climbing. I hate this metric because the lag makes it deceptive.
NOT UPDATED Here's a different CDC visualization on hospitalization, nationwide, not by state, but with a date, at least. September 2: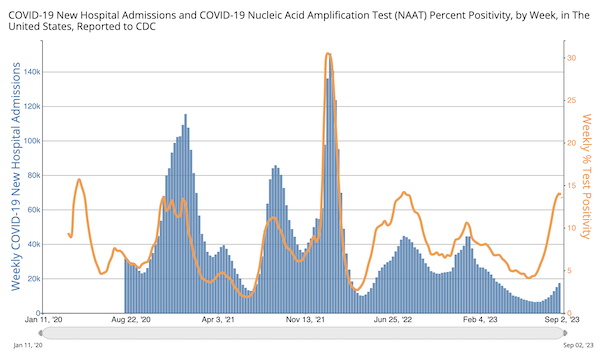 At least now we now that hospitalization tracks positivity, which is nice. Even if we don't know how many cases there are. And positivity as high as it's been at any time, except for Omicron.
Positivity
From Walgreens, September 11: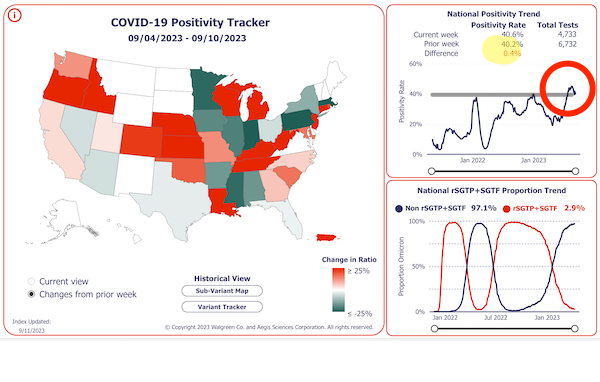 0.4% Still thinking the dip is Labor Day data. Or perhaps people were actually testing for Labor Day, and stopped. The absolute numbers are still very small relative to June 2022, say. Interestingly, these do not correlate with the regional figures for wastewater. (It would be interesting to survey this population generally; these are people who, despite a tsunami of official propaganda and enormous peer pressure, went and got tested anyhow.)
NOT UPDATED From CDC, traveler's data, August 21: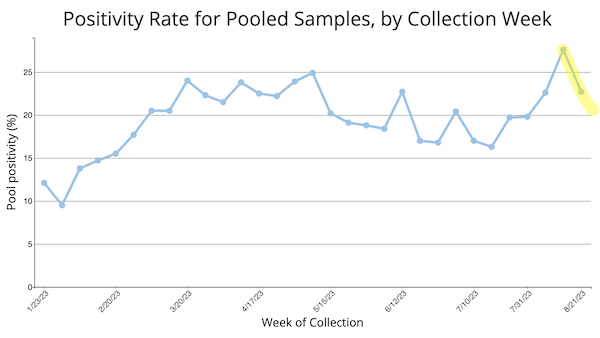 A drop!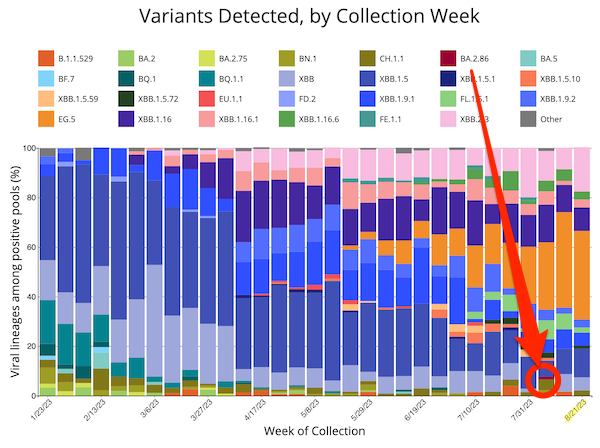 No BA.2.86 for two of the long-delayed collection weeks.
Deaths
NOT UPDATED Iowa COVID-19 Tracker, September 6: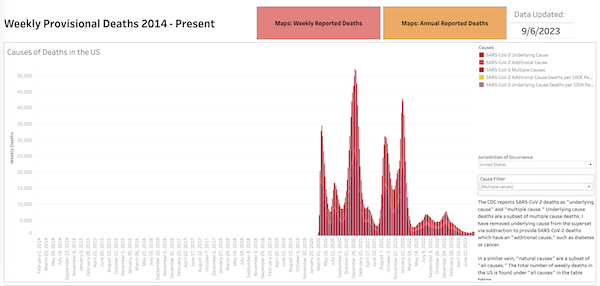 Lambert here: The WHO data is worthless, so I replaced it with the Iowa Covid Data Tracker. Their method: "These data have been sourced, via the API from the CDC: https://data.cdc.gov/NCHS/Conditions-Contributing-to-COVID-19-Deaths-by-Stat/hk9y-quqm. This visualization updates on Wednesday evenings. Data are provisional and are adjusted weekly by the CDC." I can't seem to get a pop-up that shows a total of the three causes (top right). Readers?
Total: 1,174,580 – 1,174,558 = 22 (22 * 365 = 8030 deaths per year, today's YouGenicist™ number for "living with" Covid (quite a bit higher than the minimizers would like, though they can talk themselves into anything. If the YouGenicist™ metric keeps chugging along like this, I may just have to decide this is what the powers-that-be consider "mission accomplished" for this particular tranche of death and disease).
Excess Deaths
The Economist, September 10: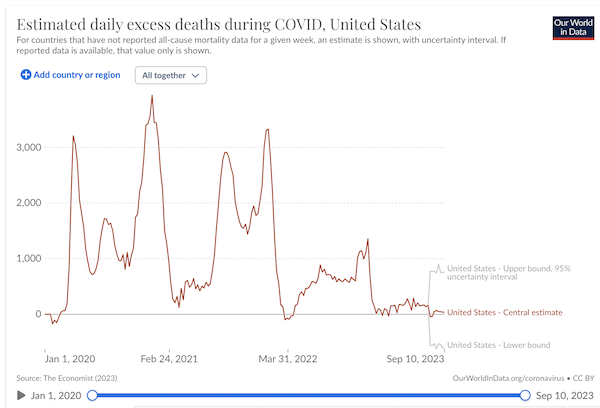 Lambert here: This is now being updated daily. Odd. Based on a machine-learning model. (The CDC has an excess estimate too, but since it ran forever with a massive typo in the Legend, I figured nobody was really looking at it, so I got rid it. )
Stats Watch
There are no official statistics of interest today.
* * *
Finance: "Finance hits back against US regulator's rulemaking spree" [Financial Times]. "Securities and Exchange Commission chair Gary Gensler's ambitious regulatory agenda is igniting fierce opposition from the financial industry, which is challenging what it views as egregious overextension of the securities watchdog's legal authority. In recent months, the SEC has been targeted in lawsuits from the US Chamber of Commerce, a business lobby, over a rule expanding stock buyback disclosures, and a coalition of private equity, venture capital and hedge fund groups last week sued to block sweeping new rules for private fund managers adopted by the SEC last month. Its crackdown on the crypto industry has also encountered resistance, as the company backing the Ripple digital token challenges an SEC civil lawsuit on the basis that it goes beyond the agency's power to regulate securities." • Stuck pigs squeal.
* * *
Today's Fear & Greed Index: 52 Neutral (previous close: 51 Neutral) [CNN]. One week ago: 57 (Greed). (0 is Extreme Fear; 100 is Extreme Greed). Last updated Sep 6 at 1:26 PM ET.
Rapture Index: Closes up one on Earthquakes. "A massive quake kills over 1,000 in Morocco" [Rapture Ready]. Record High, October 10, 2016: 189. Current: 186 (Remember that bringing on the Rapture is good.) NOTE on #42 Plagues: "The coronavirus pandemic has maxed out this category." More honest than most!
News of the Wired
"Networking for introverts: a how-to guide" [The Economist]. "Networking pays off if you can identify people who can bring you new information but are close enough to your world that this information is useful. In the offline world, a tool like Chatgpt should make it easier to find useful prospects in a list of event attendees. But you still need to overcome all your instincts and approach them." • Hmm.
* * *
Contact information for plants: Readers, feel free to contact me at lambert [UNDERSCORE] strether [DOT] corrente [AT] yahoo [DOT] com, to (a) find out how to send me a check if you are allergic to PayPal and (b) to find out how to send me images of plants. Vegetables are fine! Fungi and coral are deemed to be honorary plants! If you want your handle to appear as a credit, please place it at the start of your mail in parentheses: (thus). Otherwise, I will anonymize by using your initials. See the previous Water Cooler (with plant) here. From EMM: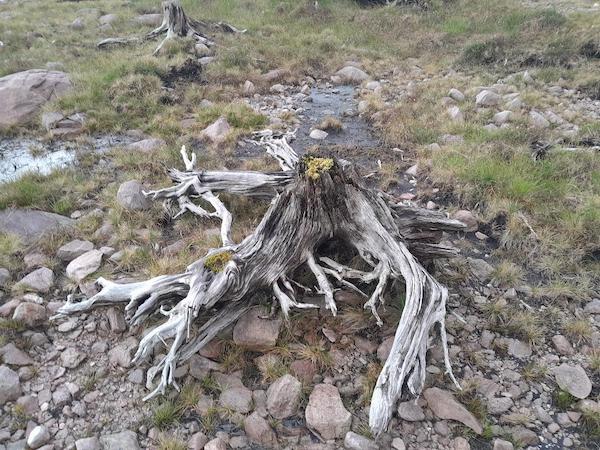 EMM writes: "These things are cool. A tree stump preserved in the bog. I'd say it's pretty old."