This is Naked Capitalism fundraising week. 677 donors have already invested in our efforts to combat corruption and predatory conduct, particularly in the financial realm. Please join us and participate via our donation page, which shows how to give via check, credit card, debit card or PayPal or our new payment processor, Clover. Read about why we're doing this fundraiser, what we've accomplished in the last year,, and our current goal, continuing our expanded news coverage.
Alert reader diptherio was the first to report a typo in the Naked Capitalism Songbook: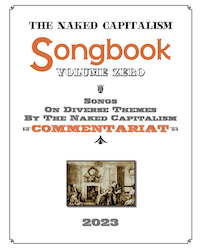 That means will we have to issue a new, corrected edition, which will turn to current edition into a collector's item. So download your copy today!
* * *
Can We Talk to Whales? Elizabeth Kolbert, The New Yorker. Interesting, but also a classic in a distinctively New Yorker genre: The writer, accompanied by a "native guide," seeks an elusive animal in an untamed environment — but fails in the quest.
The oracle problem and the future of DeFi (PDF) Bank of International Settlements. "There is little clarity on legal recourse if a smart contract were triggered by false information (BIS (2022)), especially in jurisdictions where crypto activities are not regulated or forbidden." Well, it's not as if we have technology that generates false information at scale. Oh, wait….
Climate
The Race to Drill America's Longest Oil and Gas Wells WSJ

Time to target fossil fuel demand, not supply Reuters

British Columbia's fire crisis arrived decades earlier than forecast Wildfire Today
How Scientists Discovered the Staggering Complexity of Human Evolution Scientific American
Scientists say they have pinpointed the moment humanity almost went extinct CNN. "1,280 reproducing individuals" 900,000 years ago.
#COVID19
Quantity of SARS-CoV-2 RNA copies exhaled per minute during natural breathing over the course of COVID-19 infection (preprint). Important[1]. From the Abstract: "Here, we collected exhaled breath specimens from COVID-19 patients and used RTq-PCR to show that numbers[2] of exhaled SARS-CoV-2 RNA copies during COVID-19 infection do not decrease significantly until day 8[3] from symptom-onset. COVID-19-positive participants exhaled an average of 80[4] SARS-CoV-2 viral RNA copies per minute during the first 8 days of infection, with significant variability both between and within individuals, including spikes over 800[5] copies a minute in some patients." And from the Discussion: "Levels of exhaled viral RNA did not differ across age, sex, time of day, vaccination status or viral variant[6]."

NOTES: [1] It's telling that this study is from Northwestern, a fine school, but not Harvard, Yale, MIT, Stanford, etc. [2] These numbers, bad as they are, seem conservative. [3] So the CDC's 5-day isolation guidance promotes infection. [4] Do the math with X number of people in a 3-Cs space. I am not sure if an "RNA copy" is a virion (the complete, infective form of the virus). One estimate of the minimum quantity of virions needed for an infectious dose of SARS-CoV-2 is 300-2000. So again, do the math. [5] 800 sounds like a superspreader. [6] Therefore, non-pharmaceutical interventions work consistently over time, unlike vax and treatments, which must be tinkered with constantly (albeit profitably).

Performance of Rapid Antigen Tests to Detect Symptomatic and Asymptomatic SARS-CoV-2 Infection : A Prospective Cohort Study Annals of Internal Medicine. From the Abstract: "The performance of Ag-RDTs [Rapid Antigen Tests, RATs] was optimized when asymptomatic participants tested 3 times at 48-hour intervals and when symptomatic participants tested 2 times separated by 48 hours."

Cognitive ability, health policy, and the dynamics of COVID-19 vaccination Journal of Health Economics. From the Abstract: "We examine the relationship between cognitive ability and prompt COVID-19 vaccination using individual-level data on more than 700,000 individuals in Sweden. We find a strong positive association between cognitive ability and swift vaccination, which remains even after controlling for confounding variables with a twin-design. The results suggest that the complexity of the vaccination decision may make it difficult for individuals with lower cognitive abilities to understand the benefits of vaccination. Consistent with this, we show that simplifying the vaccination decision through pre-booked vaccination appointments alleviates almost all of the inequality in vaccination behavior." PMCs do love their homework. On pre-booking:

Uppsala was the only health care region in Sweden to send out letters with pre-booked vaccination appointments to its residents aged 50 and above. Recipients could still choose not to take the vaccine by canceling the appointment or simply not showing up (both free of charge). The letter could thus be seen as a nudge turning the vaccination program from an opt-in into an opt-out program. Pre-booked appointments simplify the vaccination decision, as it signals that it is "good" to take the vaccine while also removing any barriers associated with booking an appointment.

So, not a mandate, a nudge.

More COVID-19 studies suggest BA.2.86 may be less immune-evasive than feared Center for Infectious Disease Research and Policy

Column: COVID lockdowns saved millions of lives — so of course Ron DeSantis is angry about them Michael Hiltzik, Los Angeles Times. Good for Hiltzik, standing up to GBD nonsense.

Amid another rise in cases, Covid's new normal has set in Helen Branswell, STAT. Note lack of agency.

'Gross negligence': Judge gives go-ahead to COVID-deaths lawsuit against Ontario National Post
China?
Myanmar
Myanmar militia repatriates 1,200 China nationals allegedly involved in online scams Channel News Asia
G20
Africa
Moroccans sleep in the streets for 3rd night following an earthquake that took more than 2,100 lives AP
European Disunion
Writing Like a Partisan The New Enquiry
Dear Old Blighty
'Nothing works anymore': Tories accused of having 'broken Britain' with public services 'in crisis' Sky News. That's only the TUC. What does the PLP think?
New Not-So-Cold War
Senior US general believes weather leaves Ukraine 30-45 days for active offensive Ukrainska Pravda

Ukraine's counter-offensive is stalling. The West must prepare for humiliation The Telegraph (!). We can't say we weren't warned:

The first one is George Kennan, arguably America's greatest ever foreign policy strategist, the architect of the U.S. cold war strategy. As soon as 1998 he warned that NATO expansion was a "tragic mistake" that ought to ultimately provoke a "bad reaction from Russia". pic.twitter.com/ft0gdSZR2N

— Arnaud Bertrand (@RnaudBertrand) September 10, 2023

This is a very long thread.

Ukraine's Defence Forces liberate 1.5 more square kilometres near Robotyne, Zaporizhzhia Oblast Ukrainska Pravda, Or 1.5e+10 centimeters. That's a lot! Commentary:

The Russian withdrawals from Kharkov and right-bank Kherson last year – and make no mistake, they were deliberate and considered withdrawals – were clearly conducted to consolidate the Russian position and ensure that Zaporozhe could be defended as strongly as possible for the inevitable battle to come. Their chaotic aftermath (and the operational sideshow in Bakhmut) also provided a priceless opportunity to entrench in relative calm over a period of months. This was the ruthless implementation of basic military principle well-known from Clausewitz – be as strong as possible on the decisive point, because winning the battle is everything.

The Zaporozhe Corridor was that decisive point. Holding Kherson City and Izyum – or even Nikolaev and Kramatorsk – would have rapidly become profoundly irrelevant had the Ukrainians been allowed to break the Russian center and seize the Azov shore. Absent enough troops to overrun eastern Ukraine in 2022 and foreclose a Ukrainian counteroffensive, retrenchment was ultimately the correct decision – and has largely been proven as such – regardless of any short term damage to Russian prestige.

This battle has been a fiasco for Western arms. When it is over the Russians will be well-positioned to do that which they lacked the resources to do last year, and get back in the business of drawing big arrows on big maps.

I believe Clausewitz's word for "the decisive point" is Schwerpunkt (a discussion).

Blinken: 'Putin has already lost' in attempting to 'erase' Ukraine The Hill. A neutral Ukrainian rump state would not be "erased."

* * *

Biden edges closer to decision on supplying Ukraine with long-range missiles FT. The ATACMS (cute) carries a 500-pound warhead.

Why Belgium is not sending F-16s to Ukraine Gilbert Doctorow

Lessons From Ukraine for Security Force Assistance Lawfare

* * *

Blinken Says Musk's Starlink Should Keep Giving Ukraine Full Use Bloomberg. Musk comments:

Much appreciated, Walter.

The onus is meaningfully different if I refused to act upon a request from Ukraine vs. made a deliberate change to Starlink to thwart Ukraine.

At no point did I or anyone at SpaceX promise coverage over Crimea.

Moreover, our terms of service clearly… https://t.co/jmNtScM5LY

— Elon Musk (@elonmusk) September 9, 2023

Elon Musk: Ukraine hero or villain? The Spectator

* * *

In Ukraine, a U.S. Arms Dealer Is Making a Fortune and Testing Limits NYT

Emotional support OnlyFans model claims Ukraine tried to have her smuggle weapons Dexerto
The Supremes
'Shady and Corrupt': Add Barrett Real Estate De​al to List of Supreme Court Ethics Scandals Common Dreams
Healthcare
Arkansas hospital sued thousands of patients over medical bills during the pandemic, including hundreds of its own employees CNN
Digital Watch
* * *
Spook Country
In Missouri v. Biden Internet Censorship Case, a Win and a Loss Matt Taibbi, Racket News

Meta deletes Al Jazeera presenter's profile after show criticising Israel Al Jazeera
Supply Chain
Lithium discovery in US volcano could be biggest deposit ever found Chemistry World (KS). Excellent. Now we don't have to invade other controls for our supply.
The Final Frontier
How mapping Mars could help us live there CNN

First cat in space: how a Parisian stray called Félicette was blasted far from Earth Guardian
Zeitgeist Watch
San Francisco hires tourism boss to battle 'ongoing narrative' about surging crime, rampant druge use NY Post. But no copy editors on the East Coast, apparently. So I'd call the rivalry a draw.
Imperial Collapse Watch
'Woke' military policies' effect on recruitment overblown, other factor fueling crisis: expert FOX
Class Warfare
Why Are Archaeologists Unable to Find Evidence for a Ruling Class of the Indus Civilization? Grassroots Economic Organizing. "The Indus Valley was egalitarian not because it lacked complexity, but rather because a ruling class is not a prerequisite for social complexity."

American workers are demanding almost $80,000 a year to take a new job CNN
Antidote du jour (via):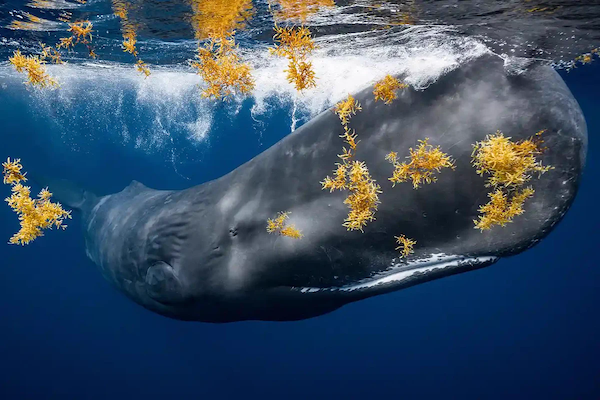 See yesterday's Links and Antidote du Jour here.