This is Naked Capitalism fundraising week. 467 donors have already invested in our efforts to combat corruption and predatory conduct, particularly in the financial realm. Please join us and participate via our donation page, which shows how to give via check, credit card, debit card, or PayPal. Read about why we're doing this fundraiser, what we've accomplished in the last year,, and our current goal, continuing our expanded news coverage.
Yves here. Wolf Richter is sometimes criticized for having a bearish bias, so his seeing a recession as not imminent is a meaningful sign. Note other sites that do a fair bit of date-watching like Angry Bear also see the latest initial unemployment claims report as significant.
By Wolf Richter, editor of Wolf Street. Originally published at Wolf Street
We've been on a recession watch here ever since the Fed started hiking rates. Sharp increases in weekly claims for unemployment insurance benefits – especially "continued claims" – are highly correlated with recessions. So we keep an eye on it from time to time. The data did show some weakening from September 2022 into early 2023, but remained in the range of the Good Times lows, and in recent months, the signals backtracked, as unemployment claims fell. The expectations of a recession this year have been cancelled months ago, and by now, there's no recession in sight. Maybe next year, maybe whenever.
Initial Claims Backtracked into the Good Times.
Initial claims for state unemployment insurance benefits by people who've lost their jobs fell to 216,000 in the latest reporting week, according to the Labor Department today. This was the lowest since February. The number has been wobbling lower since the end of June: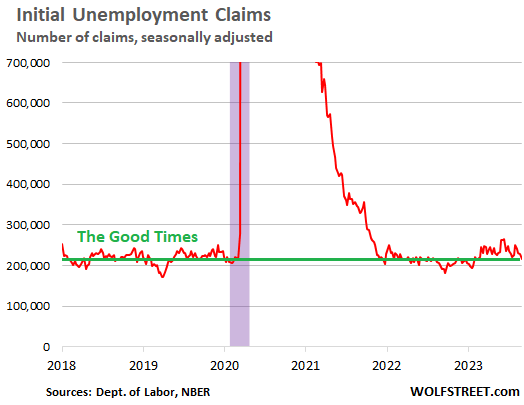 The four-week moving average, which irons out the week-to-week ups and downs, declined to 229,000, a historically low number that has been seen over the past 50 years only in the two years just before the pandemic and in the hot labor market coming out of the pandemic.
This is the view of the four-week moving average going back 50 years, with recessions indicated in purple. Note how unemployment claims begin to surge shortly before recessions begin:
By December 2007, the official beginning of the recession, initial claims were piercing 340,000.
By March 2021, the official beginning of the recession, initial claims were piercing 380,000.
In the three recessions in the 1980s and 1990s, initial claims were spiking through 400,000.
So the labor market today, as seen by claims for unemployment insurance benefits, lost just a little steam late last year and earlier this year as the layoffs started to show up in the numbers, but it has regained some of the lost steam and remains solidly in the range of the Good Times.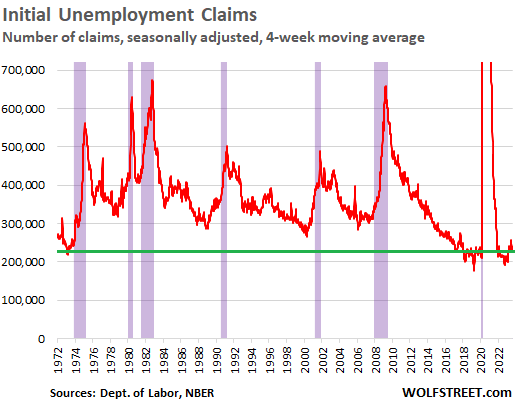 "Continued Claims" Backtrack into the Good Times.
The number of people who are still claiming unemployment insurance at least one week after the initial application – people who haven't found a job yet – has meandered lower since April, and in the latest reporting week dropped to 1.69 million, back where it had been in February.
It means that fewer people are losing their jobs, and those that do lose their jobs, find new jobs more quickly than late last year and earlier this year and come off the unemployment-benefit rolls faster.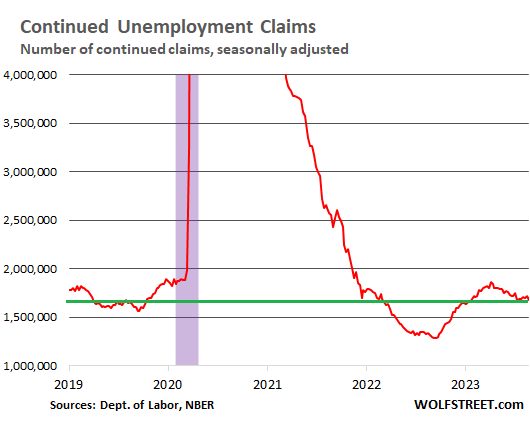 The Recession Indicator
Recessions from the Great Recession back through the early 1980s began when continued claims for unemployment insurance spiked through about the 2.6-million mark.
So this 2.6 million line (black) for continued-claims is one of our recession indicators – and my favorite. But continued claims have been backtracking since April, and today's level of 1.69 million is far below recessionary levels, and has been pulling further away from the recession line: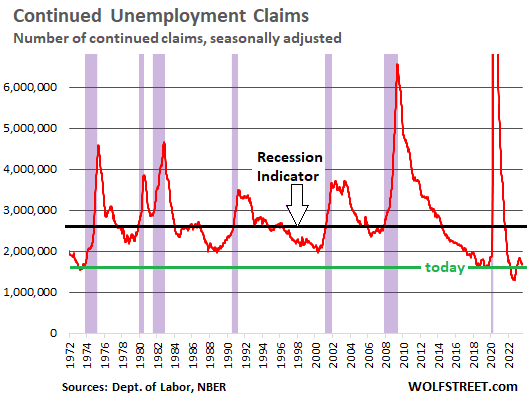 The long-term view shows that the labor market, as depicted by people continuing to claim unemployment benefits, has strengthened since April, after having weakened a little in late 2022 and early 2023. But throughout this period, it has remained historically tight, and even at the worst point earlier this year, it was in the range of the Good Times just before the pandemic, and much tighter than in the prior 50 years.
What the labor market is telling the recession watchers here is that there is no recession in sight. There will be a recession someday – there always eventually is a recession – but it is not in sight, and we'll just have to keep watching for it.
We're seeing similar labor market indicators from other directions, such as the spectacle of a surging labor force in August, and the sharply dropping layoffs and discharges, after the acceleration earlier this year.