The SEC announced that JP Morgan has agreed to pay $153.6 million to settle charges related to a $1.1 billion heavily synthetic CDO called Squared which JP Morgan placed in early 2007 and was managed by GSC Partners, a now defunct CDO manager. The SEC has a cute but not all that helpful visual on the site, save it reflects the role of Magnetar as the moving force behind the deal.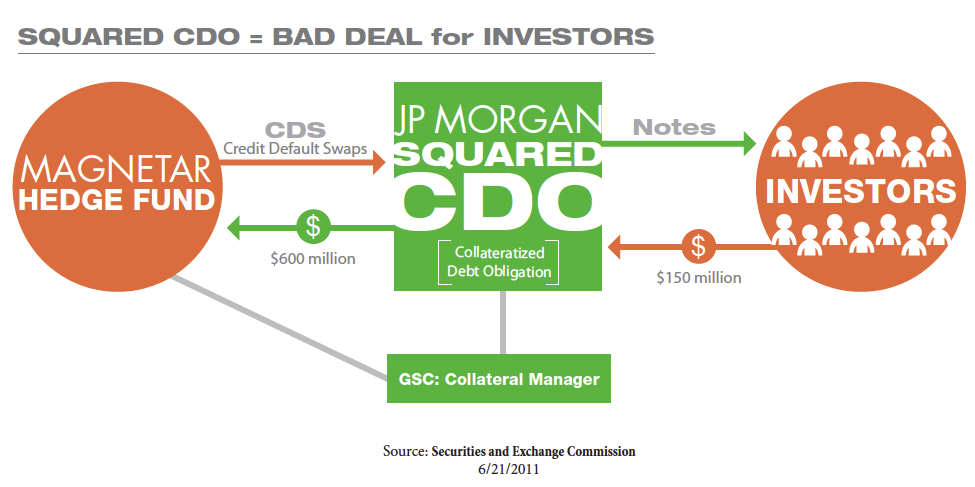 Per the SEC's complaint against JP Morgan, Magnetar provided $8.9 million in equity and shorted $600 million notional, or more than half the face amount of the CDO (this is consistent with our analysis, which had suggested that Magnetar, unlike Paulson, did not take down the full short side of its deals, since it like staying cash flow positive on its investments. The size of its short position was limited by the cash to be thrown off by the equity tranche). And needless to say, this was a CDO squared, meaning a CDO made heavily of junior tranches of other CDOs, so it was a colossally bad deal.
The complaints (one against JP Morgan and the other against GSC employee Edward Steffelin) make clear that the SEC had gotten its hands on some pretty damning e-mails. The core of the allegation against JPM was that all the marketing materials represented that the assets in the CDO were selected by GSC when they were in fact to a significant degree chosen by Magnetar.
Magnetar made clear that it regarded its equity position as "basically nothing" and really wanted to "buy some protection", meaning get short and that Magnetar was actively involved in choosing the exposures for the deal.
Read more...