Despite the groundswell of sympathetic coverage of Dominique Strauss-Kahn in France, following revelations of what look to be terminal problems with prosecution's case against him on sexual assault charges, it appears that the Socialist Party is unwilling to adjust its election timetable to facilitate a bid for the presidency. But that does not mean his candidacy is impossible if he is cleared of charges in the next couple of months.
The short version is that the Socialist party had already set the deadline of July 13 for candidates to declare themselves, with the primary vote scheduled for October. But the next hearing in DSK's case is not scheduled until July 18. Front-runner François Hollande had graciously suggested to push back the declaration day, but current party boss Harlem Désir nixed that. But if I am reading this Guardian report correctly, DSK may not be out, since he made a deal with Martine Aubry, who entered a bid last week, and she might withdraw in his favor.
DSK was ahead in polls before this coup de foudre. It looks quite possible, if he is indeed cleared of charges in time to enter the race, that his popularity would be enhanced. Remarkably, the French public was apparently not aware of his aggressive sexual tendencies (I find that hard to believe, given I had heard of them, and I don't follow either French politics or the sordid side of the lives of the elite unless they become major media stories. Anthony Weiner does not make the grade). So that would taint him in the eyes of some voters. But his rough treatment by the US prosecutors elicited sympathy back at home even when it looked like the charges might stick.
Some comments via the Guardian:
[S]ome French supporters presented him as an innocent victim, hero and martyr. Left-wing philosopher Bernard-Henry Lévy spoke of a noble man who had been the victim of a "spiral of horror and calumny". He told Le Parisien that Strauss-Kahn had been "lynched" by the "friends of minorities" in the US. He said that because the victim was "poor and immigrant" she had been presumed innocent, and because Strauss-Kahn was "powerful" he had been presumed guilty.

Sylvie Pierre-Brossolette, political editor of the weekly Le Point, felt "anything is possible". A returning Strauss-Kahn might be seen by the French as "hero" mistreated or "humiliated" by the American justice system. Much would depend on whether French left voters still saw him as a "saviour" against Sarkozy, she wrote….

Socialist MP Marisol Touraine, a key DSK ally, said she hoped for Strauss-Kahn's "rehabilitation" but warned that he would not be able to return to a "status quo" in France as if nothing had happened. Gérard Collomb, the mayor of Lyon and Strauss-Kahn supporter, warned that Strauss-Kahn should first "rebuild himself" before a possible return to the presidential race, warning that no one emerged from such a case "unscathed".

Pollsters cautioned that Strauss-Kahn's return would be shaped by whether the American justice system cleared him or whether charges were dropped, leaving doubts. Pascal Perrineau, of Paris's Institute of Political Science, said that if Strauss-Kahn was cleared of all suspicion, his return to France could still be complicated.

"If a strong doubt persists over his behaviour, and even if that behaviour isn't as criminal as was once suggested, a return [to politics] seems really very difficult," he told Reuters.
It's interesting that some French would see charges being dropped as less favorable than a case going forward, since the reality is that all the discussion of what did or didn't happen in his hotel room is certain to diminish DSK. I'm astonished the DA has not abandoned the case given that successful prosecution depended on the the maid's testimony, and her credibility is now nada. The letter that the prosecutors sent to the defense reveals that she lied about a past gang rape (pretty credibly, it appears) and committed perjury in grand jury testimony: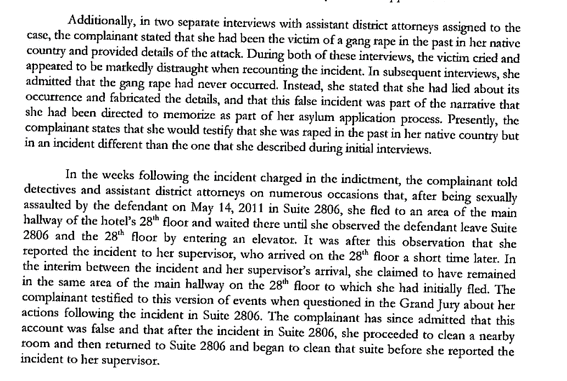 After reciting other misrepresentations, the DA's office suggests she has told so many lies they no longer know what to believe:

The New York Times reported this ugly bit from a conversation with her boyfriend that was recorded:
When the conversation was translated — a job completed only this Wednesday — investigators were alarmed: "She says words to the effect of, 'Don't worry, this guy has a lot of money. I know what I'm doing,' " the official said.
And the New York Post (yes, it's the Post, but remember, the Post broke this story) suggests the accuser was doing tricks on the side:
"There is information . . . of her getting extraordinary tips, if you know what I mean. And it's not for bringing extra f–king towels," a source close to the defense investigation said yesterday.

The woman was allegedly purposely assigned to the Midtown hotel by her union because it knew she would bring in big bucks.

"When you're a chambermaid at Local 6, when you first get to the US, you start at the motels at JFK [Airport]. You don't start at the Sofitel," the source said. "There's a whole squad of people who saw her as an earner."

The woman also had "a lot of her expenses — hair braiding, salon expenses — paid for by men not related to her," the source said.
Attacking the reputation of the woman in a rape trial is standard fare. And even prostitutes (assuming she was one on the side) are entitled not to be abused. But in a rare moment of lucidity (and apparently unaware of the Post's speculation), Maureen Dowd pointed out:
Law enforcement officials say privately that they still think DSK sexually assaulted the maid. But the case relied on her credibility, and that's gone.

They say it is roughly analogous — not in terms of the maid's sexual history but her record of veracity — to a case in which a prostitute is raped. It's hard to prosecute, and the perp can often get away with it.
While I don't know how the prosecution can drop the case gracefully, pressing forward looks likely to dig them an even deeper hole. In keeping with the press' tendency to mimic momentum traders, the New York Times has a front page story, "Strauss-Kahn Case Adds to Doubts on Prosecutor," which raises doubts about Manhattan DA Cyrus Vance's leadership.
We could spend more time speculating on whether DSK might indeed have a political future in France. However, the short answer is that this drama is still unfolding and DSK's fortunes depend on how the next few scenes play out.