By Charles Davis
Striking South African miners 'were shot in the back' The Telegraph
US troops escape criminal charges for incidents that outraged Afghanistan Guardian. You're more likely to go to prison for stealing a Snickers bar than for killing some foreigners and urinating on their corpses.
EU and NATO Look on at Greece's Pampered Armed Forces Carnegie Europe.
"After the United States, Greece is the second biggest defense spender among the 27 NATO countries in relation to its GDP. That is astonishing for a country in a deep economic crisis."
Microlenders a lifeline to online business. Seattle Times. "On Deck's rates run 18 to 36 percent," according to the article. Microlenders or loan sharks?
After the Pussy Riot: What This Unjust Sentence Can Teach Americans ACLU. Two years behind bars is an outrage for an act of harmless civil disobedience, but when it comes to harsh sentences, Russia has nothing on America's prison state.
Anarchist scaremongering at the Republican Convention libcom.org
Occupy Hong Kong Holdouts Defy Order to Leave Despite Effort by HSBC New York Times.
"[T]he Hong Kong government has been largely silent on Occupy Hong Kong and has given little public support to HSBC to act against the protesters."
Alleged LAPD Beating Victim: The Gruesome Photo TMZ. This happens every day and is usually met with a collective yawn — because they deserved it, right? We only know of this case because it happened to a rich white banker.
These Are the Samsung Products Apple Wants Banned in the U.S. Mashable
Parents deported, what happens to US-born kids? AP. Fun game: Try and get a Democrat who is outraged by the GOP's callous indifference to the plight of the under-privileged to unequivocally condemn, or even just acknowledge, Barack Obama's cruel war on immigrant families.
Drought to cost insurers billions in losses Financial Times. If enough rich people lose money, maybe that means politicians will finally do something about climate change? Or maybe we should quit waiting for them to act.
New state laws make undercover probes of farm operations risky McClatchy. The state acts to protect the interests of corporations at the expense of the rest of us. That's what states do.
Pro-marijuana group endorses Obama The Hill. This purported group, which claims 10,000 members, appears to be just one guy with a PO Box and a press list. But don't count on your average reporter digging deeper than the news release.
Wells Fargo fires Des Moines worker for laundromat incident 49 years ago Des Moines Register. Standards ostensibly designed to "weed out executives and mid-level bank employees" guilty of financial crimes are — and this is weird! — being used to justify firing those on the bottom.
Beware of Strange Men on Airplanes BroadSnark. "Gender essentialism is our enemy."
A decade on, some justice for Rachel Corrie's family? Al Jazeera.
"[E]vidence in the case . . . suggest[s] that the Israeli army has killed civilians — Palestinians and internationals — as a result of official policy."
Adolescent Pot Use Leaves Lasting Mental Deficits ScienceDaily. Despite what the headline suggests, the study only found a long-term negative impact among those who engaged in "persistent, dependent use of marijuana before age 18," a group of about 50 people. And the impact was measured only by the highly imperfect metric of an IQ test. Is this an example of correlation being inappropriately equated with causation? Or am I just an English major?
Do drones increase the likelihood of war by lowering its cost? Homeland Security News Wire
Venezuela refinery could restart Friday Reuters. Fires are still raging, and the bodies of 48 people aren't yet cold, but let's not let tragedy damper our optimism.
* * *
lambert here:
D – 13 and counting*
"If voting changed anything, they'd make it illegal." –Emma Goldman
RNCon. Isaac: "We brought in several truckloads of low-income residents and welfare recipients from the Tampa area, and we have dozens of volunteers laying them down flat and packing them real close together to create a watertight barrier." … Isaac: "Senior officials involved in planning the RNCon said on Monday that they were considering a number of worst-case scenarios, including a quick nominating vote and a truncated Romney address in a smaller, more formal venue than the Tampa Bay Times Forum." (Although not now, apparently, a single day.) A management problem for Romney, eh? … Isaac: Picture (here) of how many anchors and producers are packing their bags: to cover Tampa and Isaac…. Media critique: "This year, the storm threatens to distract TV coverage from an already abbreviated schedule of convention coverage. Some TV anchors, including Anderson Cooper of CNN and Shepard Smith of Fox News, were dispatched to the storm site." … Ron Paul: "Delegates across the city have returned to their rooms or arisen in the morning to find missives from Ron Paul 2012 [slipped under the door]. "We want to tell you that you are NOT bound!" the letter exhorts. Which has produced a predictable round of "oh, yes they are too bound" from Romney folks. More evidence that the Paul forces far prefer operating as insurgents here than as part of a process they feel is fundamentally flawed as a stage-managed 'coronation' for Romney." … Floor fight? A proposed change to party rules would allow the R candidate to veto and replace state delegates. "Opposition to the rules began with Ron Paul supporters, it has spread to the entire TX delegation and SC, CO, VA and LA."… No floor fight! "Under a compromise reached late Monday, Romney supporters and R leaders agreed to back down from a proposed rule change that effectively would have allowed presidential nominees to choose what delegates represent them at national conventions." … Mystery speaker: "'To Be Announced' has a prime speaking slot late in the Thursday program." … Oligarchs: "The billionaire investor Paul Singer, who has given at least $1 million to the pro-Mitt Romney super PAC Restore Our Future, has booked Karl Rove and Condoleezza Rice for invitation-only briefings, Gov. Scott Walker of Wisconsin for a private dinner, and himself for a breakfast seminar titled 'A Pro-Growth Agenda for a Romney Administration.' " … Police state: Photos; other photos, quite a contrast. Police state: "One protester with a bandanna over his face was arrested after he refused to remove it." What next? False moustaches? Face-painting? … Platform: "'Have you ever met anybody who's read the party platform?' Boehner asked. 'I haven't meet anybody.'" … Snark watch: "Republican National Convention Sand Castle Display." Make up your own jokes!
RNCon protests. Crowd size: "Police outnumbered demonstrators Monday as hundreds took to Tampa's streets to protest the Republican convention. After the FBI and Department of Homeland Security issued a joint bulletin warning Tampa's convention could be targeted by anarchists, police in tan uniforms were positioned all along the protest route. " … Crowd size, March on the RNC: "[O]nly around 200 gathered for the event. Ignoring the poor turnout, and the fact that the start of the convention had been postponed until Tuesday, the march set off at 12 noon, accompanied by almost as many police officers." … March on the RNC: I saw the climax of the march on TimCast, where the march got as far as the fences round the conventon. A few thoughts: Yes, the crowd was in the hundreds. The police presence was farcically intense. The marchers were a great deal more diverse than mainstream photography shows — the mainstream tend to focus on cut young tattooed men with their shirts off in the rain or the black clad and fleet of foot. The march itself was a good deal more diverse in age, gender, and fashion statements. The TimCast voice-overs were excellent, though the description of police compliance technology verged on weapons pr0n; indeed, it seemed to me that there was a good deal of intelligence gathering going on with both sides (and that this might be a reason to hold the march). Finally, it generally goes unremarked that it takes a lot of courage to approach Darth Vader-like police lines wearing T-shirts and light shoes. So I'll remark on it. As far as raison d'etre, see below at in the Convention section, since most the reasons for having or not having a convention apply to the protesters and occupiers as well as the party apparat.
DNCon. Charlie Crist: "The former [FL] R governor confirmed Monday that he will be speaking at the DNCon next week in Charlotte, NC."
Conventions. Political scientist: "With tens of thousands of politically interested and politically active individuals concentrated in a small space, political careers are inevitably fostered (or not) and policy proposals inevitably furthered (or not) in a manner largely independent of what central convention strategists are doing." Good wrap-up, complement to Stoller. … Political scientist: "The convention is a chance to witness factionalism within a party. Although party leaders will go through great efforts to downplay dissent, sometimes rival factions will use convention events to make their viewpoints heard or champion certain candidates. Supporters of Hillary Clinton did this in Denver in 2008." …. Pundit: "Keep the two big TV speeches. But do we really need four days?" But see above! …. Reporter: "What a convention offers, more than anything, is a cross-section of a political party. Not just the delegates and alternates, but also the fund-raisers, the political operatives, the ambitious local officials, and the volunteers. The 2020 GOP presidential nominee might well be wandering around Tampa without an entourage. My point is to encourage anyone covering their first convention to be creative when it comes to defining what is news and what is worth their time to pursue." … Reporter: "Spoiler: Mitt Romney wins the nomination. Oh no, I've given away the ending. Sue me."
Montreal. Voting: ""There was a time when students were talking about swallowing their pride and voting strategically," said Jess Corneau, an executive member of CEGEP de St. Laurent's student union. "But that conversation is over now. We're hearing more and more people say they'll vote Québec solidaire or Option Nationale because they don't feel represented by the PQ." … Voting: "What's astonishing about this election campaign is that, while a few weeks ago Quebec was vibrating with colorful demands from students, artists and intellectuals from all over, education and culture seem to have been left by the wayside. We have moved from a state of effervescence and constant creation that everyone wanted to be part of, if only by playing their casserole, to total radio silence." That's not a bug. It's a feature.
FL. Alan Grayson: "Todd Long may have to hit the political equivalent of the lottery to beat Democrat Alan Grayson. Long won the GOP primary in part because Grayson spent more than $110,000 on [advertising] targeting Long's biggest rival, Osceola County Commission Chairman John Quiñones." Same play as McCaskill and Akin.
GA. Militias: "Four Army soldiers based in southeast GA killed a former comrade and his girlfriend to protect an anarchist militia group they formed that stockpiled assault weapons and plotted a range of anti-government attacks, prosecutors told a judge Monday." Anybody who pays attention knows that "anarchist militia" is a contradiction of terms; the Atlantic, which should know better, repeats this. Gawker (!) is better, writing that their tattoos are "the extent of the reporting thus far on their political motives."** Which is a tell that the ZOMG!!! Teh anarchists!!! talking point is, gosh, whocouldaknowed, being propagated from somewhere. If you know any anarchists who joined the military to get the tools to overthrow the Zionist Occupation Government, leave a comment. And the timing does seem more than a little odd, doesn't it? Too bad it's too late to put that "diversity of tactics" toothpaste back in the tube, though. [** On the other hand, putting on my tinfoil hat for a moment, Gawker also has evidence that one of the soldiers was a page at the 2008 Minneapolis RNCon. And we know what went down there. An anarchist double agent? A DHS triple agent?]
IA. "Burdensome regulation: "If the DNR considers a new rule regarding runoff from agricultural facilities, I would define water utilities and citizens who rely on public drinking water as stakeholders, along with the potentially regulated farm owners. It is 'burdensome' for hundreds of thousands of Des Moines Water Works customers to cover the cost of the world's largest nitrate removal system."
LA. Isaac: "'We got some lessons. One lesson is, people should have learned how to swim, to get out of your attic, out of your window.' 'I've got the food. I've got the experience. I've secured all the stuff. I have a few weapons this time.'"
ME. Pipeline: "Allowing these tar sands oils to course through aging lines that run through our state is a mistake. Perhaps the legislature should send a small delegation of legislators and citizens out to the area of the rupture along the Kalamazoo River [here] to learn firsthand the dangers "
MI. Referendum: "The Michigan Court of Appeals rejected this afternoon a challenge to a ballot proposal aimed at enshrining collective bargaining rights in the state constitution." Certain to be appealed. …. GM: "GM desperately wants to avoid becoming the centerpiece of campaign rhetoric. So it has banned candidates from its plants at least until after Election Day, Nov. 6, despite the fact that the U.S. Treasury remains its largest shareholder."
NY. Fracking: "About 1,000 anti-fracking protestors — including, it seems, a good-sized contingent from the Southern Tier — marched up State Street toward the Capitol on Monday afternoon." The Southern Tier is Cuomo's proposed sacrifice zone. …. More guns, please: "The state Commission on Judicial Conduct has recommended the censure of Tioga County Judge Vincent Sgueglia for approving his own pistol permit and accidentally firing one of his guns within the county courthouse.'
OH. Water: "Horse-rescue operations in OH say they have been inundated with requests from people who can no longer care for their animals and need to give them up." … The empire: "This, too, is true: America's worldwide military overreach is what's bankrupting us — not Social Security and Medicare." (Thomas Suddes of the Plain Dealer, not a hippie.)
PA. Tinpot tyrants: "An Occupy Easton protester faces an attempted bank robbery charge following an arrest [here] at an organized event at a bank — during[he held up] a sign that reportedly read 'You're being robbed.' [According to Occupy Eaton, he] faces two felony charges including Attempted Bank Robbery and Terroristic Threatening" Was the sign the felony? Or the truth? … Fracking: "Under a new PA law, natural gas companies must tell physicians the substances patients might have come into contact with. But doctors must sign confidentiality agreements promising they will use the information only for those patients' treatment. The conflict has led to a legal challenge by Pennsylvania nephrologist Alfonso Rodriguez, MD, against the Pennsylvania Dept. of Environmental Protection. He claims that the law's doctor-contract provision is vague and violates physicians' First Amendment rights." Good survey of several states. … Voting: "On August 23, the Pennsylvania Supreme Court expedited Applewhite v Pennsylvania, the case over new government photo-ID law. All briefs will be in by September 7."
TN. Disemployment: "Beginning on Sept. 1, anyone claiming unemployment benefits will have to show that they are actively looking for work, including keeping a work search log."
TX. Swing states: "[If TX were a swing state,] some of the money getting slurped up here for export to television stations and political consultants in other states might actually be spent in TX."
VA. Enthusiasm: "Though hundreds lined up on Sunday before campaign officials began issuing passes for President Barack Obama's Charlottesville appearance, tickets remain, according to campaign officials."
WI. Police state: "Wisconsin Capitol Police Chief David Erwin said Monday he will soon begin clamping down on protesters, strictly enforcing the Capitol's rules in an effort to restore normalcy and safety to a building that has become home to regular demonstrations."
Outside baseball. Business ethics: "[Paul Leiman of Johns Hopkins] often starts his [business ethics] course asking students if they would be willing to go to prison for three years in exchange for $3 billion. More than half usually say the would, noting that's more than they could ever earn — and that a job is sort of like being in prison anyway." And only small fish go to prison anyhow. … Go topless protest at the White House: NSFW!
The trail. Identity politics, Ron Brownstein: "For Obama, the winning formula can be reduced to 80/40. In 2008, Obama won a combined 80 percent of the votes of all minority voters, including not only African-Americans but also Hispanics, Asians, and others. If Obama matches that performance this year, he can squeak out a national majority with support from about 40 percent of whites–so long as minorities at least match the 26 percent of the vote they cast last time." … Hispanic vote: "Most likely, the Romney team believes the nationwide Hispanic vote is irrelevant, since most Latinos live in states such as New York and California that will vote Democrat anyway. … Swing states: "If you're a voter in TX — or CA — it doesn't really matter what you think." So vote for an emergent party!
Romney. Mr. Warmth: "His language, his approach, his mannerisms convey: I am not asking you to trust me to see into your soul, or to feel your pain, or bring you hope and fuzzy change. I will bring you concrete, measurable, profitable change — the kind you can authentically take stock of, and even measure in your family's bank account." Meta-hagiography!
Obama. Secretariat***: "Mr. Obama is a scheduler's dream, a walking, talking, handshaking, baby-hugging prototype of campaign efficiency. He takes less than a second to shake a hand and in 10 seconds can polish off seven greetings." [***Joke]
* 13 days until the Democratic National Convention ends with an airdrop of bottled water and C-rations for everyone on the floor of the Bank of America Panther Stadium, Charlotte, NC. The flag of the United States has 13 stripes in honor of the 13 original colonies.
* * *
Antidote du jour: OMG, pandas!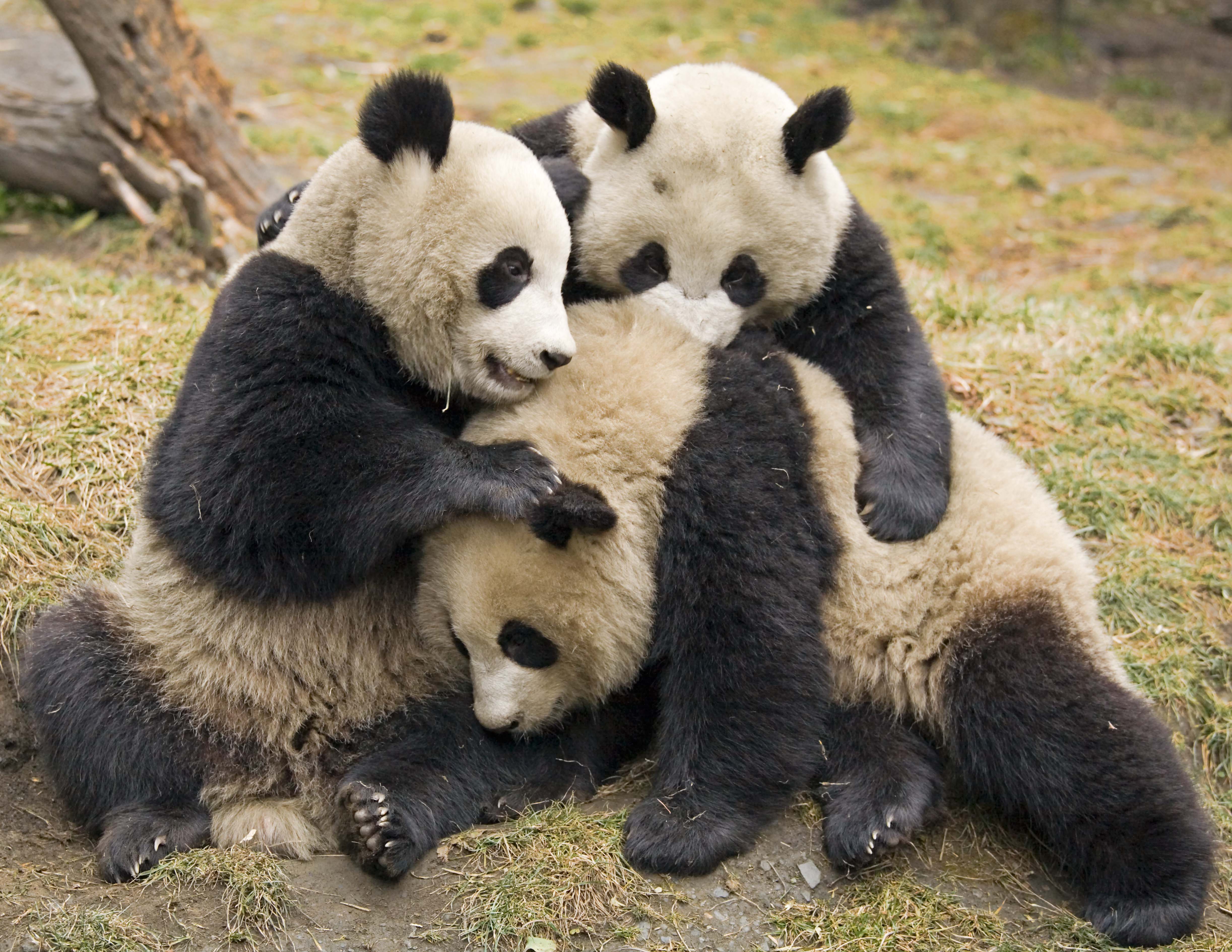 Photo Credit: Chi King