The lies told to sell the chump public on the necessity of enduring cuts to the social safety net are already at a breathtaking level. Where would you like to begin? The idea that big reductions in spending (going over the edge of the world off the fiscal cliff would be horrific, while only somewhat big cuts would be salutary? That Social Security "reforms" are necessary to fix the budget? Even former budget chief Peter Orszag 'fessed up that one was not true. Or the favorite refuge of the Republicans, that raising taxes on the wealthy will hurt job creation. Ahem, we've pushed the low taxes model further than any other advanced economy, and the result is crumbling infrastructure, an overpriced and mediocre health care system, and record corporate profits combined with extreme measures to pay less to workers and a lack of new investment (the corporate sector has been a net saver since the early 2000s).
The propagandizing nevertheless has gotten so shameless it appeared to be time to point out particularly egregious examples. I thought it would be good to establish what the benchmark is and encourage NC readers to identify similarly outlandish examples (you can e-mail me with sightings at yves_at_nakedcapitlism.com, with "Fiscal Cliff Propaganda Watch" in the headline).
This illustration comes from Bloomberg and the headline, "I Laid Off My Own Son": A Real Fiscal Cliff Story" is a howler. The fiscal cliff hasn't even happened; the idea that businesses are engaging in extreme measures in anticipation of it strains credulity. And we'll see, just as banks like blaming their current underwhelming profits on big bad government action, when blowing up their customers is the proximate cause, so too is this a case of long-standing business problems being repackaged to serve a favored political message.
Before we get further, the Bloomberg video got bonus propaganda points by virtue of being featured on the front page of the website. Casual readers would encounter the "See that fiscal cliff is already potent and terrible! Just imagine what January 2, 2013 will look like if we don't Do Something!" without clicking through to see if the attention-grabbing claim had any foundation in reality.
The video presents a company, UHP Projects, that is under already under considerable stress by virtue of being a low skill defense subcontractor. It isn't clear what else the company does, but it main business seems to have been spreading its non-stick tar on the decks of aircraft carriers. This is like being a polar bear: specialization of diet increases risk of extinction.
In general, being a subcontactor or supplier to major vendors is a vulnerable position to be in. The pattern in Corporate America has been to squeeze subcontractors on every axis of performance: profits, delivery times, quality levels. UHP Projects might have been relatively late to feel the pinch, since defense contractors tend to have rich margins (once you get a major contract approved, it's a great sinecure), but it has come by virtue of reduced defense orders for his services.
At its peak, UHP had $15 million in revenue and 150 employees. They now have 50 to 75 employees and 30% of the business they once had, which he also characterizes as "very inconsistent". It isn't clear whether the 30% refers to his total revenues of just his defense work, since if it was 30% across the entire business, his employment levels haven't fallen to the same degree as his revenues. The focus of the CEO's complaints is that government decision-making hurts his business via its effect on defense orders:
We aren't General Dynamics. We aren't Lockheed Martin. So they have enough critical mass to be able to withstand decision making. We get hit with the same taxes and the same expenses that come with affordable healthcare, that come with capital gains tax increases [aside: what do capital gains taxes have to do with running an operating business?]. We have to pay those fees but we don't have the money to withstand and maintain a presence the way we used to do.
So he doesn't like that the government has become a less reliable customer? I'm highly confident private sector ones are even less reliable; that's no doubt why his business was skewed towards defense in the past. And he attributes the reduction in demand for his services somehow the fault of the fiscal cliff, or Washington flakiness, as opposed to the fact that the navy is downsizing and aircraft carriers in particular are coming under some scrutiny? No, the fact that he faces more business costs means the government should be good to him and give him more orders. It's subtler than the version you see from the financial services industry, but you can see an sense of entitlement here: the fact that he once had a good business means it should continue like that, changes in the wider world be damned.
The CEO claims he's diversified and implies he has more civilian projects than before, but the it would be hard his revenue mix used to be 60% defense, 40% civilian, but now is the reverse: 60% civilian, 40% defense. But if you simply assumed his level of civilian business remained at the same level as of the peak, and reduced his defense revenues by 70%, his civilian business would be 76% of the total. In other words, his civilian business has fallen too, just not as severely
Consider this in this video:
From the narrator: "UHP employs a little under 75 people, making it one of 500,000 small businesses of that size, all of whom are waiting for Washington to make a decision on the fiscal cliff."
"All of whom are waiting"? Really? That means each and every one. Please.
And the firing of the son? It's at the end, the very closing statement, and not clear at all when it happened. In context was more an illustration that his business has become more fragile and contra the headline, does not appear related to the fiscal cliff.
Look how much unpacking a three minute video took. No wonder they think they can get away with this sort of nonsense. In the end, the Bloomberg headline is as credible, and much less funny, that the famous "the devil made me do it":
The fact is that small businesses are very vulnerable to changing economic fortunes. If you read surveys of small business sentiment, they've become pessimistic. From a Gallup survey published November 30: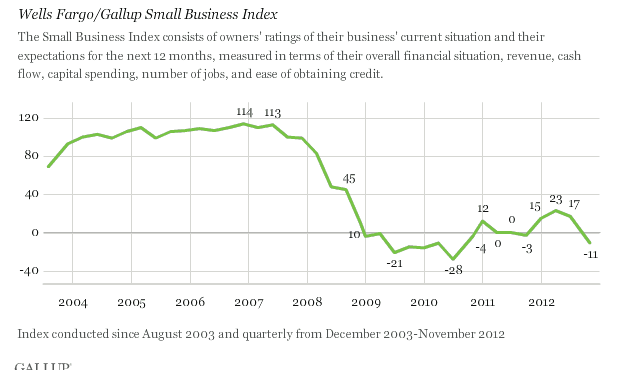 Small business owners were negative about the current operating environment (that index went from -1 to -10) and particularly negative about the future:
The decline in small-business owners' future expectations is disproportionately responsible for the plunge in the overall index. Owners' expectations for their financial situation, cash flow, capital spending, and hiring over the next 12 months all worsened significantly in November.

One in five small-business owners (21%) expect the number of jobs at their company to decrease over the next 12 months, the highest percentage Gallup has measured to date.
One in three owners (34%) expect their company's capital spending to decrease over the next 12 months — the highest recorded since July 2010.
Thirty percent of owners expect "poor" cash flow over the next 12 months — the highest Gallup has measured to date.
Twenty-eight percent of owners expect to be in a "poor" financial position 12 months from now — the highest Gallup has measured to date.
So while Bloomberg is correct to suggest that small business owners are nervous, it's due to a weakening of the economy that is already underway, as the deterioration in current conditions attests. Gallup underscores this by flagging budgetary action (or inaction) as having the potential to make matters worse:
One of the more stunning aspects of the November survey results is the decline in small-business owners' optimism for the future. As entrepreneurs, small-business owners tend to be optimistic by nature, and relatively more optimistic about the future than the present. Given this context, owners' increasing pessimism toward their future not only reflects uncertainty, but also may imply a weakening economy going forward…

Overall, the Wells Fargo/Gallup Small Business Index survey results suggest the U.S. economy is extremely fragile — and possibly susceptible to another recession. Policymakers need to keep this acute fragility in mind as Washington struggles to avert the "fiscal cliff."
So back to the Bloomberg blame-shifting piece. I hope readers will keep their eyes out and flag shameless cases of fearmongering and distortions, either in comments or by sending particularly brazen examples to me as being vilification-wothy. This is a target-rich environment, so I expect you to find lots of material!