When two worlds collide
So who will survive?
– Iron Maiden
Let us stock up on some more Happy Green Talk, by way of a trip Up North, where England's least successful big football club lurks, resiliently. Back in May 2012, spokesmen for Newcastle United and Carbon Neutral Investments (CNI) had this to say:
Newcastle United has declared itself to be the world's first "carbon positive" football club after cracking down on its emissions.

The Premier League team, who have been working to reduce their environmental impact, have said they now offset more carbon than they omit.

Eddie Rutherford, facilities manager at Newcastle United, said: "It's all about savings, savings, savings. The less energy we use, the less carbon we emit and the less impact we have on the environment, both locally and globally.

"It is a balance between achieving this and maintaining the very high operational standards required of a Premier League club.

"With the help of we have more than achieved this, and now with the support of CNI in off-setting the residual carbon footprint, it is a proud day for us to announce that NUFC is the world's first carbon positive football club."

On the club's website they also ask fans to make environmental pledges to help reduce the club's emissions.

Edward Carlton, CNI head of UK operations, added: "Partnering with as prestigious a club as Newcastle United is an excellent place to deliver our first venture in football – a new sector for CNI.

"We are proud to be a part of Newcastle United's new environmental message and delighted to have announced the partnership at last night's fantastic match at St James' Park."
At least there's no sign, in this new PR, of the embarrassing Tom Knifton with his trail of busted scam companies (long post, scroll down to find him). But that's an overdose of nice: Newcastle United and happy endings still don't go together. For the last time in this series, I promise, here's that warning about Newcastle United's partner, Carbon Neutral Investments, aka CNI: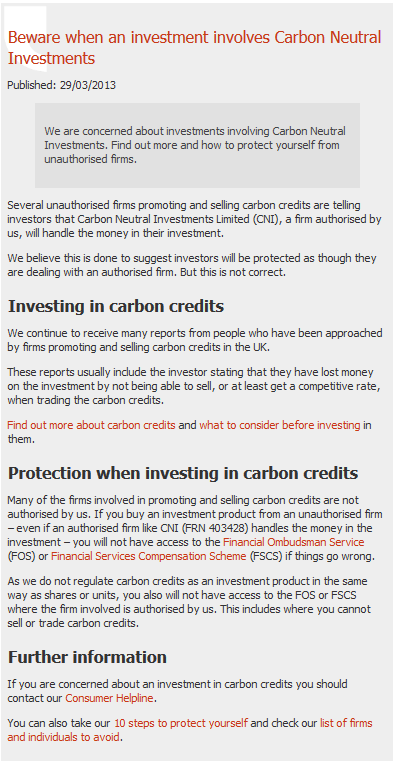 Let's have some more nasty: from the Financial Mail on Sunday, commenting on this FCA warning. The Mail think that the Financial services watchdog is helpless over carbon credits scandal:
For the FSA to issue a public warning of any sort that names a firm the regulator itself has authorised is extraordinary. It simply emphasises how powerless the FSA is to oversee carbon credits.The regulator cannot change the law. That is up to the politicians at the Treasury. How soon can we expect some action on what is a growing danger to investors?

Does the Treasury even understand the issue, or if it does, is it simply hoping that victims will shut up and go away?
In the Wayback Machine, where it can't quietly vanish, is the full list of Carbon Neutral Investments' corporate partners: plenty of household names, in the UK and Europe at any rate; all the glam, glitz, and PR one could possibly want, with every affinity exploited to the hilt. Click to get the full picture of the corporate scalps they have claimed. Here are a few last highlights.
There's Bloodhound, the Land Speed Record team:
London, 23 October 2012 – Following the successful first test of BLOODHOUND SSC's full rocket system, Carbon Neutral Investments (CNI) is announced as sole environmental sponsor of the pioneering British team, to offset all emissions for the programme.

The BLOODHOUND Project is a global education initiative focussed on a 1000mph land speed record attempt. It aims to inspire young people to pursue careers in science, technology, engineering and mathematics and its centrepiece is Bloodhound SSC (Super Sonic Car), a 33,000thp rocket and jet powered racing car.

The organisation behind BLOODHOUND has held the land speed record continuously for the past 29 years. Lead by former land speed record holder Richard Noble OBE (Thrust 2, 633mph, 1983), and driven by Wing Commander Andy Green OBE, the current record holder (Thrust SSC, 763mph, 1997), the BLOODHOUND team also comprises world class aerodynamicists, aerospace and automotive engineers, electronic experts and rocket scientists, as well as hundreds of volunteer ambassadors working within the 5,300 UK schools already engaged with the project.

Richard Noble says: "It has been a long held ambition of the BLOODHOUND team to deliver this amazing engineering adventure and new world land speed record without leaving any lasting mark on the environment. With CNI, we go above and beyond that ambition by partnering with a world leader in carbon off-setting with very specialist experience in high-octane ventures, providing the perfect fit for making the project carbon neutral."

CNI's Head of UK Operations, Edward Carlton, added: "CNI is very proud to partner with this ground breaking historic event. The venture is already environmentally conscious and offsetting the project builds upon the beneficial work BLOODHOUND has achieved undertaking actions such as preserving global test sites. A great focus is placed on innovation and education, creating a new generation of scientists and engineers who will lead the way in achieving future technological efficiencies. We are delighted to have been selected to be a part of the journey."
The list also includes the world's first carbon-neutral boxer, if you can believe it, Paulie Malignaggi. There is snazzy London restaurant, Pomp, and Amber Lounge, which looks like a name dropper's nirvana:
Amber Lounge – THE Ultimate Grand Prix After Party with Celebrity guests, fine dining and free flowing champagne.

Amber Lounge have a well deserved reputation for entertaining the stars of F1, Music and Film in a whirlwind extravaganza spread over the three race days.

Over the years the Amber Lounge has been attended by A-list celebrities, F1 Drivers, Royalty, Film Stars, Musicians, Television personalities, Sporting legends, Fashion Models, Team Sponsors and Principals.

Previous attendees include Lewis Hamilton, Gary Barlow, Elizabeth Hurley, HRH Princess Beatrice of York, Bernie Ecclestone, Richard Branson, David Coulthard, David Furnish, David Walliams, Gerard Butler, and Kim Kardashian.
Huh, that's just a warmup. Here are all the names. Oh, the glamour!
Let's conclude with a last glimpse of The Dark Side, courtesy of the Mail again, who got an inside look at a raid, by the City of London Police, on Hudson Forbes, who were another member of CNI's "clearing system":
"According to a police statement, the arrests are the latest development in a City of London Police investigation into a growing number of suspected carbon credit frauds, where U.K. investors buy the products in the belief that they can be traded to companies in a legitimate market, when the credits actually either do not exist or can only be traded voluntarily, where they have no natural market or set price and are open to abuse."

The U.K.'s Financial Mail, which had also been investigating the fraud network, joined detectives as they surprised staff at the City of London headquarters of Hudson Forbes, a sham investment company linked to two others in the ring—Burlington Energy Markets and CT Carbon.

Sales scripts discovered by reporters on paperwork-strewn desks show how easy it is to dazzle private investors with made-up job titles—such as 'Head of Emissions'—and opportunities that are only ever available 'tomorrow'.
Joining in on a bust easily beats a day pounding the keyboard in a windowless room, I suppose…more from the Mail:
Salesmen's desks were strewn with paperwork, including sales scripts. One read: 'The project we were last trading is fully sold! Clients who were fortunate enough to get holdings are going to see 20-25 per cent on a 9-15 month hold! But look, listen, don't worry yourself that you missed that one. I have it on good authority from my Senior Trader that something is being released tomorrow .  .  . the one which is going to set this market alight.'

The salesman then tells the victim he has arranged for him to speak to the 'Head of Emissions', adding: 'This is somebody you want fighting in your corner. He's made a lot of wealthy clients a lot of money. He's just got back from Geneva yesterday, so we're actually in luck that he's in the office today.'

A follow-up script headed 'Objection Handling' tells salesmen how to treat reluctant investors. Anyone with doubts about the financial markets in general is given the 'Boomerang' response: 'That's exactly why I am calling you today, because of the poor performance of the stock market and financial advisers that quite frankly couldn't deliver a pizza, we find ourselves in financial embarrassment.'

If this fails, the salesman is told to plead: 'Look, it's my first week in the job, my boss won't take his eyes off me, I just need you to hear me out and let me send this brochure off to you.' Staff are 'psyched up' by reminders of what they can earn. Two desks were decorated with pictures of Rolex watches. One had a photograph of a sports car. A young salesman who said his partner was expecting a baby had a note on his desk, 'I am a self-made millionaire', repeated over and over. The sales pitch clearly works. Whiteboards covering most of one wall of the office show how Hudson Forbes' salesmen have performed. One deal raked in £16,850, another £20,000.
So there we are: on the one hand, schmoozing the rich and famous on the Formula 1 circuit, and on the other, providing custody, clearing and payment services (whatever those might be), to nasty little boiler rooms, while the FCA looks on and wrings its hands. Such is Carbon Neutral Investments.