Yves here. While readers may contend that Michael Olenick's case is an outlier and anecdotes are not the same as data, the extreme secretiveness of the Obama Administration combined with deliberately misleading statistics leads one to give some weight to anecdote in the absence of better facts.
And despite the Administration's persistent efforts to message otherwise, it's becoming clear that significant groups of people are being made worse under Obamacare, although we don't know how large they are in aggregate or how seriously they are hurt. We have people losing access to their primary doctor (and worse, sometimes to key specialists or facilities) due to narrow networks. We have people facing significant cost increases due to policy cancellations. And I've heard enough stories from people I know personally that these aren't, as the Obamabots would like you to believe, stupid people who now have cheap plans that cover little. I'm seeing a lot of self-employed and small-employer types winding up with considerably more costly insurance and worse coverage (and they can give me chapter, book and verse as to why and how).
And Olenick's issue of the marriage penalty is real, but the media has barely commented on it and even then not fully recognized its extent. We linked to this MSN article yesterday, The hidden marriage penalty in Obamacare:
Any married couple that earns more than 400 percent of the federal poverty level—that is $62,040—for a family of two earns too much for subsidies under Obamacare. "If you're over 400 percent of poverty, you're never eligible for premium" support, explains Gary Claxton, director of the Health Care Marketplace Project at the Kaiser Family Foundation.

But if that same couple lived together unmarried, they could earn up to $45,960 each—$91,920 total—and still be eligible for subsidies through the exchanges in New York state, where insurance is comparatively expensive and the state exchange was set up in such a way as to not provide lower rates for younger people….

Married people who are uninsured make up just a small fraction of the uninsured, for obvious reasons: It is easier to be insured if you have two potential pathways of getting there.Only 15.4 percent of married people were uninsured 2012, according to research from the Kaiser Family Foundation; the uninsurance rate for "single adults living together" was more than twice as high—33.4 percent.

That may be one reason the Obamacare subsides are more generous to single people and one- or two-parent families with children in the house than to couples who lack children. They were designed to help single moms and struggling middle-class families with children, not married creative-class millennials in pricey cities who have not yet settled into well-paid work, or barring that, work for a single employer.
As you'll see in the post, the attitude implicit in this extract ("oh, those childless couples in high cost cities, who cares about them, they could just go and like in Tulsa or Atlanta or have kids and they'd be fine," is a serious understatement of the problem. Clearly we don't have good stats, but Olenick is in none of those categories. He has a child and he lives in Florida (and not in Miami or one of the glitzy resort communities like Naples), so he's not the in-the-process-of-being-negatively-stereotyped creative class type.
I'd very much like any reader examples along these lines, either positive or negative, about the cost and benefits of Obamacare versus your current plan (assuming you've been able to find information!)
By Michael Olenick, a regular contributor on Naked Capitalism. You can follow him on Twitter at @michael_olenick
I have to confess to NC readers that my wife and I have been discussing divorce. It's not that we're unhappy – I'm blessed with a wonderful relationship to an amazing woman – but marriage is becoming cost prohibitive thanks to the Obamacare marriage penalty. Children do make it more likely to get a larger exemption but one doesn't do much: people should either ditch their families or make like the religious types that have a dozen.
If I accepted the federal government's not-so-subtle nudge to abandon my family I'd have to pay child support but an online calculator tells me the monthly cost is less than the real-life cost of healthcare with an Obamacare policy. Given the choice of supporting a child or a health insurance executive I'd prefer the kid. Of course there are noneconomic intangibles that prevent us from ditching our families; even if the federal government has abandoned the US middle class my experience is we haven't abandoned one another.
Obama didn't quite outright tell us to fuck ourselves but between mandatory policies that cost $800/month, that include deductibles and co-payments which can cost another $1,000/month, these policies are only affordable only for the 1%, and that crowd tends to already have good health insurance.
At the suggestion of a nakedcapitalism commenter I checked out ehealthinsurance.com, which shows the Obamacare plans that the federal system will not or cannot. Somebody at ehealthinsurance.com got the attention of CMS and received permission to display the policies for comparison shopping. I suppose they were concerned the federal exchange would make their website obsolete though, at this point, it'd probably be cheaper for the federal government to just buy the website rather than continue building their own.
Once able to compare plans I found that for my family – not some theoretical family but my very real one – there are several 2013-era plans that seem to work well. The lowest costs $276/month; doctors visits cost $40 and the maximum annual out-of-pocket cost is $12,500 per person or $25,000 per family, which is steep but fair for cheap insurance. Generic drugs cost $20 and they're the only drugs covered. Maternity is not covered except for complications, a strange clause in that complications are by far the most expensive component of birthing a baby (click to enlarge).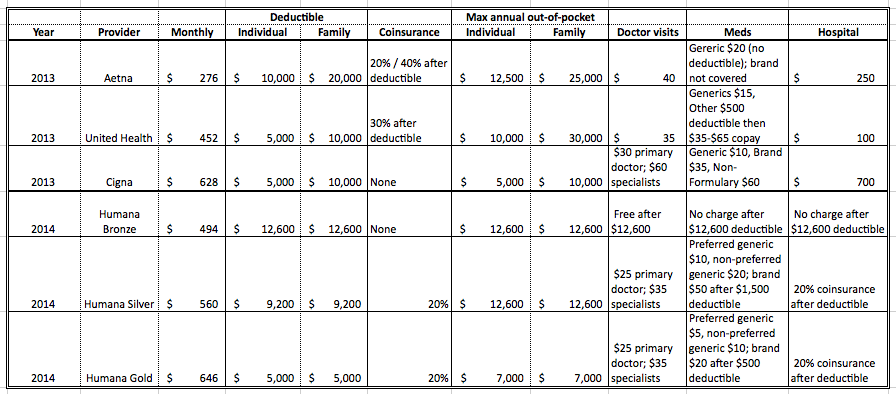 For the same $276/month in the 2014 Obamacare plans there is nothing. The cheapest plan is $493.68/month and has a maximum out-of-pocket cost of $12,600 per family. Assuming more than one person in a family doesn't suffer an extreme illness in a year the [fill in every pejorative imaginable] old policies are actually cheaper than the Obamacare policies.
If you don't get really sick the existing plans are much better because where the cheap plan pays for lots of routine care – a half dozen doctor visits and generic meds – the more expensive Obamacare plan pays for literally nothing until the $12,600 deductible is met. Routine doctor visits, generic prescriptions, urgent care, hospitalization .. the plan seems designed to never pay a cent unless a person develops a debilitating disease. Of course the Obamacare covers more things, like mental health professionals and residential drug rehab for "free" once you hit that $12,600 level, in case the financial stress this causes drives a person to start needing sedatives.
So one plan costs $3,312/year, helps pay for basic doctor visits and generic meds, and can leave a person owing $12,500 if they get injured or sick (yes, you've got the joint probability of two people getting sick and incurring costs of $25,000, but if you know anything about statistics, joint probabilities of already low-odds events are super low. So while you can in theory hit the $25,000 cost level, statistically the likelihood is awfully low). In contrast the ACA plan costs $5,924.16, can result in $12,600 of medical bills, and covers nothing unless a person becomes injured or really sick. On second thought it's really not much of a contrast, or at least not one that reflects well on the ACA.
My wife is European and my employer is based in Europe. Rather than abandoning the family – an idea that just doesn't sit well with any of us, even if federal bureaucrats dig the idea – it might make more sense to hop the pond and abandon the bureaucrats instead. That sounds sarcastic but it's an idea we're actually considering: there's better healthcare, schools, cheaper housing in most places, and depending upon where one ends up even the food is an improvement. But how many people have this as an option for dealing with Obamacare sticker shock?
Years ago I proposed setting up medial tourism on Indian reservations. Next to the casinos and resorts would be state-of-the-art hospitals, unencumbered by US laws that allow American medical businesses to conspire and rig prices. Theoretically the drug makers and equipment manufacturers could refuse to sell to the tribes at regular world pricing, rather than American price levels, but since the tribes can import their products from anywhere else, the refusal would be pointless (as in rather than reimporting US made drugs, they could buy from Europe, for instance). It's only a matter of time until once ridiculous proposals like this are adopted then only a little more time until the US is forced to go in the direction of single-payer and address the cost of medical care.
American healthcare is a competitive disadvantage, producing steep costs and sick workers. Healthcare once consumed a far smaller share of our GDP. If we were sane, anybody outside the healthcare marketplace would demand that the costs decrease to historical norms. Just like using the best standards and tools to build healthcare.gov would have resulted in a healthy website, using the same system that works everywhere else in the world, single payer, would produce a healthier country.
I supported the ACA as a stopgap measure towards universal healthcare: Medicare for all rather than only the absolutely most expensive to treat. About twenty years ago I realized something was profoundly wrong. My already sick grandfather underwent an entirely paid for quadruple bypass, spending a long time hospitalized. At about the same time my sister had a baby, a routine birth with no anesthesia and left as soon as they could legally release her. Grandpa's operation and stay was entirely paid for; the hospital ended up suing my sister because she could not pay the stunningly high bill. Since then things have only gotten worse.
I understand that people were going bankrupt due to healthcare costs when they became seriously ill but, with these policies, that will still happen. Now healthcare costs will not only drive both the sick and the healthy into bankruptcy as they do now, but rent extraction via overpriced insurance will lead some people like me to get divorced or abandon the US. This is progress?