Yves here. With Argentina one of the emerging markets economies whose currency has taken a huge tumble, its aggressive pro-labor, redistribution-oriented policies have come under attack (as an aside, one has to note that Turkey, which was touted as a model emerging economy a few years back, is also fighting a currency downspiral). And a predictable by-product is that some of Argentina's policies have been misrepresented. For instance, it's widely accused of "living beyond its means". Yet as this post shows, the government ran surpluses in eight of the past ten years.
It is also important to recognize that some important elements of its current distress are not of its own making. For instance, two of its biggest sources of foreign exchange were soya and corn exports. The fall in price of those commodities worsened its balance of payments. (Critics conveniently forget that since Argentina ended its hard peg to the dollar in 2001, intervention has been largely selling pesos to curb appreciation and accumulate foreign exchange reserves. That is, the currency has tended to appreciate until recently). Warren Mosler forwarded this note from an insider:
Exporters are not bringing back the dollars since they expect further adjustment of the peso, but also due to the fact that the big grain companies know they harm the government. It is a political problem, not economic. Right wing don't want populist governments. The global crisis affected the government after six years, and they will do what takes to bring it down.
Not surprisingly, the picture is more complex than what you read in the funny papers.
By Philip Pilkington, a writer and research assistant at Kingston University in London. You can follow him on Twitter @pilkingtonphil. Originally published at Fixing the Economists
Paul Krugman is waving his true colours while his followers try to look the other way and pretend that he's not making stuff up. Basically Krugman is saying, following that pundit Yglesias, that Argentina's inflation problems have to do with their fiscal balance. Here is the quote from Krugman,
Matthew Yglesias says what needs to be said about Argentina: there's no contradiction at all between saying that Argentina was right to follow heterodox policies in 2002, but it is wrong to be rejecting advice to curb deficits and control inflation now. I know some people find this hard to grasp, but the effects of economic policies, and the appropriate policies to follow, depend on circumstances. (My Emphasis)
Of course, Krugman — instead of engaging in tough guy rhetoric ("doing what needs to be done" etc.) — could have done two quick Google searches to see if Argentina had been running major deficits in the years when it was suffering from inflation. If he had he would have found that for many of the years after the 2001 default Argentina ran substantial fiscal surpluses. The stats are pretty hard to track down in the original (the website is in Spanish) but Trading Economics has pulled them and their statistics are typically accurate.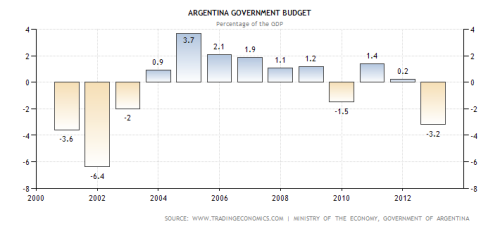 As we can see, the government ran substantial deficits in 2001-2003. This was at a time when GDP was shrinking at upwards of 6%. But once the economy left that major recession the government budget balance swung back into surplus and remained there until a brief deficit in 2010.
Now, if Krugman's story were accurate we would expect to see inflation come down between 2004 and 2010, right? Do we? Nope. Not at all.
The following graph is the official inflation rate. Note that even though these statistics are well-known to under-exaggerate inflation they nevertheless track the unofficial measures insofar as their trends go — i.e. while they are not useful to give us a real picture of the rate of inflation they do give us a good picture of when the inflation accelerates and decelerates.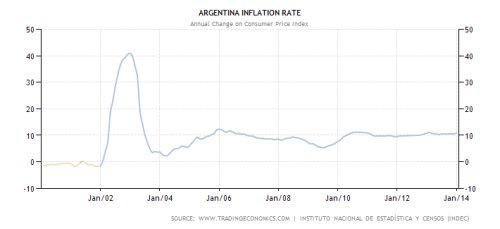 As we can see inflation soared in 2002. This would seem to overlap with the enormous budget deficit of that year. But the correlation is spurious. The inflation soared  that year because the Argentinian peso was devalued to such an extent that it was worth about 25% of what it was worth the previous year. The spike in inflation was due to a sharp, fourfold increase in import prices that were then passed through to the rest of the economy. Something very similar happened in Iceland after the banking crisis there in 2008.
Between 2004 and 2010, however, we see consistent levels of high inflation (the real figures would probably be close to 20-25% a year rather than the government's 10%) — and this was in a period when the country was running substantial government surpluses. What does this suggest? Simply that the inflation is likely due to the value of the Argentinian peso together with a host of other factors. These other factors are basically a classic wage-price spiral with the unions demanding that their standards of living keep up with rising prices, while firms raise their prices to pass on the cost of higher wages.
Since 2011 the peso has continued to devalue and is today worth about half what it was worth back then. Again, this is probably the root cause driving the inflation in Argentina. But it has very little to do with the government deficit. Rather it has to do with the fact that Argentina has been faced with these inflationary problems since at least as far back as the late-1980s when the country experienced a bout of hyperinflation proper.
During the 1990s the government tried to wring the inflation out of the system with a misguided currency board arrangement that fell apart in 2001. And I don't think anyone would openly advocate that they try that again.
So, what are the solutions? Unfortunately, there are no easy solutions. In an ideal world the government would allow the burst of inflation that is going to accompany the recent devaluation of the peso to run through the system and then they would step in with well-enforced wage and price controls. Such controls, if history is to be any guide, are often less popular than inflation — with both trade unions and companies feeling their rights being encroached upon.
So, the likely path that Argentina will have to take is to try to keep economic growth buoyant while navigating the inflation. By not allowing incomes to fall too much the government can ensure that people do not experience their loss of purchasing power as an all-out impoverishment. Meanwhile, the government should bring the trade unions and the management of the firms to the table and try to make them gradually see reason. But again, that's a tough game indeed.
The last thing that Argentina need, however, is the likes of Paul Krugman with his Neo-Monetarist models of inflation telling them to cut government spending. Argentina is already extremely unpopular in the financial press because of the bitterness that still surrounds the 2001 default. When so-called 'friends of the left' like Krugman jump on the bandwagon as an easy way to outline their primitive theories of inflation it just adds fuel to the fire.
With their discredited money supply-growth ideas (as I argued here inflation typically causes money growth and not vice versa), they will only encourage the Argentinean public to vote in another bunch of lunatics who will try some idiotic arrangement like they did in the 1990s. Such a regime may temporarily put a lid on inflation but only at the cost of wrecking the economy and causing much suffering.
Yes, the Argentinian financial elite will be pleased that their money is temporarily sound, but it will only be a matter of time before the riots kick into high gear and the whole thing falls to pieces in an ugly and perhaps bloody mise-en-scène orchestrated by economists who think that their doctrines and their little geometric toys fly in some heavenly space above political and social realities.