US vets find 43 socks in sick dog BBC
Water's edge: the crisis of rising sea levels Reuters
Twitter CFO says a Facebook-style filtered feed is coming, whether you like it or not GigaOm. Twitter CEO Dick Costolo begs to differ. YMMV.
FCC Chairman Tom Wheeler urges more broadband competition LA Times
I just freed an innocent man from death row. And I'm still furious. Post Everything
Class Warfare:
Judge Declines To Intervene As Detroit Resumes Water Shutoffs Think Progress

Artez Hurston's Ferguson The Intercept
Regulators label MetLife a systemic risk Financial Times
Europe's Bank Takes Aggressive Steps NYT. In relative terms.
Secret Network Connects Harvard Money to Payday Loans Bloomberg
SEC Comment Letters Prompt Executives to Unload Shares Accounting Today
Nikole Hannah-Jones and Jennifer Taub on the Housing Crisis: What's Changed? Truthout
McMansions not only survive, they're getting bigger Catherine Rampell, Washington Post
Former Housing-Regulator Head to Join Think Tank WSJ. Fire DeMarco!
Nevada's share of Tesla plant could hit $1.3 billion Las Vegas Review-Journal. An unbelievable example of corporate welfare. Nevada is, amazingly, seen as the "winner" of the Tesla factory in some media reports. For context, the entire annual budget in the state of Nevada is $6.5 billion. So this is 20% of that, to one company, for (maybe, eventually) 6,500 jobs.
BP Found Grossly Negligent in 2010 Spill; Fines May Rise Bloomberg. Could be as much as $18 billion
Ex-Governor McDonnell and Wife Convicted After Corruption Trial NYT
Taylor Will Remain on Ballot in Kansas Political Wire
American slavery: Blood cotton The Economist. "Mr Baptist has not written an objective history of slavery. Almost all the blacks in his books are victims, almost all the whites villains." What else was in this special edition of The Economist, "Jim Crow, Jim Schmo" and an alternate history of the Nice Nazis?
Has Greenwald, Inc. Peaked? POLITICO Magazine. Has laundering national security officials' running commentary peaked?
Joan Rivers, a Comedic Stiletto, Dies at 81 NYT obit. She was a giant. Angry, real, and a giant. Meanwhile, the state is investigating the outpatient facility where she met her demise.
Thomas Pynchon edited Homer slight from Simpsons episode The Guardian
The elephant that flew BBC Magazine
Antidote du jour (a screen grab from that incredible journey):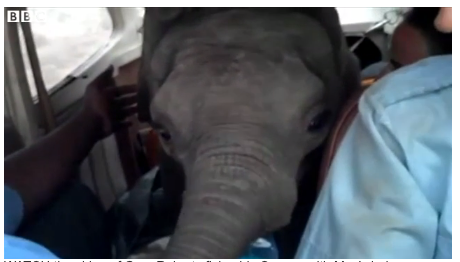 See yesterday's Links and Antidote du Jour here.