By Lambert Strether of Corrente
2016
Elizabeth Warren letter to USTR Froman: "We are concerned that the Trans-Pacific Partnership (TPP) could make it harder for Congress and regulatory agencies to prevent future financial crises" [HuffPo].
Warren and the populist critique [Harold Meyerson, WaPo].
2014 primary wrap-up [Cook Political Report]. It really was a Democratic debacle on every level: Senate, House, and in the states.
Bush v. Clinton [Politico, Bloomberg]. "I am the very model of a Democratic strategist…."
Carly Fiorina hiring for a Presidential campaign [National Journal].
Even if the Democrats don't want a contested primary, the press does [Bloomberg].
Our Man in Philadelphia [Eschaton].
Black Injustice Tipping Point
Police union head advocates "work to rule" [Albany Capital]. Quote: "Our friends, we're courteous to them. Our enemies, extreme discretion. The rules are made by them to hurt you. Well now we'll use those rules to protect us."
Ferguson protesters to visit Cleveland [Plain-Dealer].
Michael Brown's school district was the poorest and most segregated in Missouri [Pro Publica]. But watch for the charters play.
ACLU sues Ferguson-Florrissant school board on Voting Rights Act [USA Today].
Sony
FBI blames North Korea for attack, based on IP addresses, malware used [WaPo].
"[T]here's not a heck of a lot they can do because one, North Korea doesn't have an economy, and two, we've already got every sanction known to man against them" [Reuters]. So this is all security theatre? Say it's not so!
Most likely, the Sony attackers got in through spear phishing — an extremely common tactic using fake email that seems to be from someone you know, but that asks for personal information [Agence France Presse]. Once in, Sonys "data was scantly protected with 'egregious' flaws such as unencrypted files and passwords stored in plain text."
I'm with emptywheel: "We owe Sony nothing except law enforcement. Esp given its security negligence" [Twitter].
"The Administration is already twisting itself in knots trying to retroactively include 'multinational movie studio' into its prior definition of critical infrastructure" [Emptywheel]. Thats's what Goebbels believed!
Stats Watch
Kansas City Manufacturing Index, December 2014: Activity continues to expand at a moderate pace, expectations solid. [Bloomberg]. "However, the new orders for exports index fell from 8 to 0."
Class Warfare
"Privacy as we know it today will become a luxury commodity. Opting out will be for the rich" [Next.gov]. Yikes! Here's the study, from Pew.
Larry Summers, on the board of Lending Club, collects $28 million in cash and prizes from their IPO, which he can do as the Harvard Director he now is, but could not have done at the Fed [Bloomberg]. So, he has Elizabeth Warren to thank, but if the price of not having Summers as Fed chair is $28 million, that's cheap.
Corruption
Payday lenders throw millions at both parties [CNN Money]. When you've lost CNN Money….
China National Petroleum Corporation now target of Chinese anti-corruption drive [Reuters].
America the Petrostate
How Dryden, NY beat squillionaire Philp Anschutz in court, and saved their town and state from fracking [WaPo]. Note that other states, for example Ohio, have removed fracking from local control, which was key to Dryden's victory.
Geologic realities are easy to forget in the midst of a boom [National Geographic]. Our production is Saudi-sized, but our reserves are not, and fracking has a different cost structure from classical oil fields.
Flare at Chevron refinery in Richmond, CA visible for miles, puts neighbors on edge [CBS]. Well, I'd be "on edge" too, given the refinery's history of explosions and fires. Petroleum is bad, icky stuff that shouldn't be touched or breathed. We should treat it as taboo and leave as much as possible in the ground!
Cherokee County passes a moratorum on Board of Commissions discussing fracking, although the public may (!) [Citizen-Times].
Our Famously Free Press
Paul Carr on The Racket's failure to launch [Pando Daily].
Reporting fail on Cromnibus as pension provisions gutting ERISA go unexamined [CJR]. Er, um…. NC readers know all about this.
Twitter co-founder Evan Williams: Following the news is bad for you [Business Insider]. It is "creating anxieties that have no outlet." That sounds dangerously like TINA, to me. People have "no outlet" until they do, and in fact Twitter, as a bottom-up news service, is absolutely rife with people finding one sort or another of empowerment. It's all a matter of curation, and since Twitter's curation tools are miserable — yet another example of executives not understanding the product they created — Williams has created a self-fulfilling prophecy.
News of the Wired
* * *
Readers, feel free to contact me with (a) links, and even better (b) sources I should curate regularly, and (c) to find out how to send me images of plants. Vegetables are fine! Fungi are deemed to be honorary plants! See the previous Water Cooler (with plant) here. And here's today's plant (MM):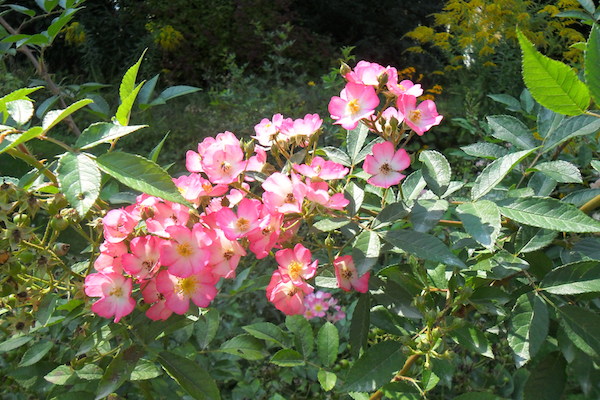 Readers, I'm feeling more than a little angst over fuel, now that the heating season in Maine is upon me, so any help you can give will be appreciated!
If you enjoy Water Cooler, please consider tipping and click the hat:
Talk amongst yourselves!