By Lambert Strether of Corrente.
2016
On Warren and Weiss: "[T]he despair among Wall Street's Democratic elite is growing acute" [Politico]. Interesting, if true.
Hillary camp floats trial balloons for VP: Tim Kaine (D-VA), Michael Bennet (D-CO; Sen. Cory Booker (D-NJ), HUD's Julian Castro, Labor's Tom Perez, California AG Kamala Harris [Talking Points Memo]. Cory Booker? Private equity's BFF? Please kill me now. To be fair, thing the Hillary campaign has down to a science: Sucking all the oxygen out of the early campaign season.
Former Bill Clinton pollster: Warren closer to Clinton in Iowa and New Hampshire than national polls imply, especially with a strong populist message [Wall Street Journal].
Bush the Elder tipped off The Big Dog that Jebbie was going to run, according to [Politico]. Small world…
Bafflegab from Paul, Rubio, Cruz — and these are supposed to be the principled candidates, as opposed to the clown car, or establishment, candidates — on minimum wage repeal, even at Koch Brothers beauty contest [Bloomberg]. And of course, that communist Obama wants a miserably inadequate $10.10. I've always wondered why the dime. Why not round up to a whole quarter?
Red meat for the base at the Freedom Summit (love the name) [WaPo]. Best line, Rick Santorum: "We need to be the party of the worker." Let me know how that works out.
Clown Car
Jindal at prayer rally: "On the last page, our God wins" [Times-Picayune].

Ben Carson's campaign's chief executive, Terry Giles, aims to raise $100 million to $150 million for the first four Republican primary states [Wall Street Journal]. Even today, that's real money.
How does a Republican win the Iowa caucus and then climb off the clown car? Or do they? [WaPo].
Bernie Sanders on deficits [The Hill]. Refreshing:
Sanders, the ranking member of the Senate Budget Committee, said lawmakers must address deficits in jobs, income equality, infrastructure, trade, retirement security and education in their next budget blueprint. "Investing $1 trillion over five years to modernize our country's physical infrastructure would create and maintain at least 13 million good-paying jobs that our economy desperately needs," the report said.
CBO on deficits: To narrow for two more years, increase in 2018 [Wall Street Journal]. So, will the resulting downturn kick in before 2016? And will whoever's president in 2018 get a nice tailwind?
"Which Republican 2016 hopeful might be most like Reagan?" [CNN]. Depends on the results of the neurological exam, I suppose.
Herd on the Street
Stocks "tumble" at opening on data, earnings, S&P 500 down 32 points, or 1.5% [Wall Street Journal, "U.S. Stocks Tumble After Downbeat Data, Earnings"]. But perhaps storm-related light trading caused undue friskiness. Rule of 48 invoked to smooth trading.
Stocks "slide" with S&P 500 down 28 points, core sovereign bond yields "moving sharply lower amid disappointing company earnings and evidence of slowing US growth [FT, "Weak US earnings knock S&P 500"]. Wait, wasn't I hearing at Davos that the US had the hot hand?
Stats Watch
Durable goods orders, December 2014: Unexpectedly fall 3.4% on "plunge" by non-defense aircraft [Bloomberg]. "Overall, manufacturing is soft. The outlook is questionable with the recently sharp boost in the value of the dollar."
Consumer confidence, January 2015: Strongest reading of the recovery. Current conditions up on jobs. Expectations slightly down [Bloomberg]. "16.9 percent see fewer jobs ahead versus 14.7 percent who see more opening up."
Corruption
Sheldon Silver is so corrupt, he corrupted an entire branch of government! [The Albany Project].
Preet Bharara on Albany's "three men in a room" culture [New York Times].
"Why three men?" he asked. "Can there be a woman? Do they always have to be white? How small is the room that they can only fit three men? Is it three men in a closet? Are there cigars? Can they have Cuban cigars now? After a while, doesn't it get a little gamy in that room?"
Zephyr Teachout on corruption [New York Times]. Very good.
"Political Corruption and Capitalism" [Richard D. Wolff, Truthout]. Also very good.
Big Brother Is Watching You Watch
1950s plans for martial law ("Plan C") [Muckrock]. Sure would have been handy to have had something like that to shut down New York in case of a blizzard. Oh… Wait?
Verizon considering allowing its subscribers to opt out of being tagged with its undeletable customer codes [New York Times]. Just the sort of company we want to put in charge of the Internet.
Cops want Google to disable feature where users can add cops to Waze maps [AP].
"Avoiding Internet Surveillance: The Complete Guide" [MakeUseOf]. Can somebody smarter than I am give this a look-see?
Violence
Why not teach cops "tactical restraint"? [St Louis Today].
"The decline in school violence may have little to do with the presence of officers on campuses" [The Marshall Project].
ObamaCare
Adminstration to overhaul Medicare payment structure with HMOs ACOs [Bloomberg]. From the same team that launched the ObamaCare website!
"[T]he government wants to link payments to how well providers take care of patients" [Businessweek]. For some definition of "well."
Class Warfare
The most unequal states in America, by Gini co-efficient, with handy map [HuffPo].
News of the Wired
* * *
Readers, feel free to contact me with (a) links, and even better (b) sources I should curate regularly, and (c) to find out how to send me images of plants. Vegetables are fine! Fungi are deemed to be honorary plants! See the previous Water Cooler (with plant) here. And here's today's plant (MM):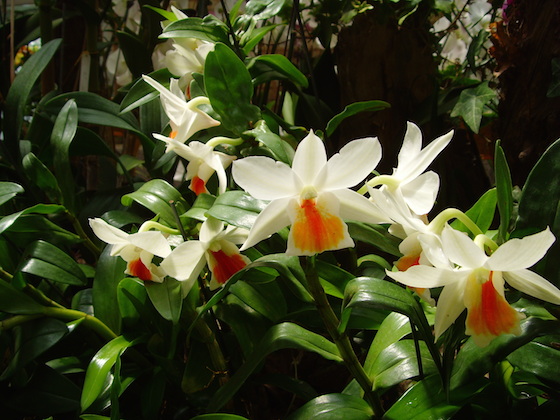 Moar orchids, very nice in winter!
If you enjoy Water Cooler, please consider tipping and click the hat. It's the heating season!
Talk amongst yourselves!